Glacier National Park is an enchanting place to visit. The park is full of blue lakes and tall mountains, all nestled in the thick forest you and your family can explore together.
But planning a family trip is never easy. We've compiled a guide to visiting Glacier National Park with kids, so you can feel prepared and existed for this vacation. 
What To Bring
Before we get into how many activities there are to do at Glacier National Park, let's discuss some items you should bring. Travelling light is always preferred, but there are some things that you'll regret not packing on your trip to Glacier. 
Bear Spray
Some people scoff at the notion, but you can never play it too safe when wandering through bear country. Bear spray or bear mace is something that you'll hopefully only need to purchase once, and then you can keep it handy for years whenever you want to go on a hike.
Some parents fret that their children will accidentally access the bear spray, but they have safety locks on them for just such reasons. Just keep the bear spray secured to your belongings so your kids won't want to pick it up.
And if they're old enough, have a conversation with them about the dangers of bear spray and make it clear that it is an adult-only item!
Extra Clothes
It's not super fun carrying around a change of clothes for everyone, but it will save you a lot of discomfort and frustration on your trip. If you're not a fan of carrying extra clothes, we implore you to – at the very least – have some spare socks for everyone. It's hard to have fun with wet socks!
But as this article will show, there are many fun but dirty activities that your family can take part in while visiting Glacier National Park. You and your kids may get sandy, dusty, muddy, or full-on wet. While you may be okay roughing it in uncomfy clothes, it's best to have spares for your kids who may not be as adaptable.
Ideally, you will carry a complete change of clothes for every person: a shirt, pants, underwear, and socks, plus, a bathing suit. Roll up the clothes so you can pack them neatly, and you'll likely thank the heavens you brought them when your five-year-old falls in a mud puddle.
Snacks
Even if you grabbed a hearty breakfast beforehand, or you're sure you can all make it until lunchtime, don't risk it. Bring snacks that are easy to carry and your whole family will love.
Cheese crackers, peanut butter and jelly sandwiches, fruit gummies, oranges, and granola bars are excellent snacks to pack for a day trip to Glacier National Park. You'll be surprised how fast everyone gets hungry when trekking through the forest all day long. The trip will become significantly less fun if you're towing hungry children depleted of energy.
You may plan a few hours in the park and then head to a restaurant for lunch, but plans can easily change. You may not want to leave the park, or the hunger pangs may start earlier than you think. Whatever the case is, you'll be glad you brought something for everyone to munch.
Water
Bring more water than you could ever possibly need! As a good rule of thumb, you should have 1-2 cups of water for every hour you hike. So, if you are planning a four-hour hike with two adults and two children, you should bring a minimum of two litres of water to be on the safe side. 
If your children are old enough, usually over the age of nine, make them responsible for their own water bottle, so you don't need to carry all of the water weight. Buying them a big new water bottle is an easy way to get them excited to carry it, and they'll stay hydrated. Camel backpacks are also excellent for families that do serious hiking.
Things To Do
Now that you've got all your gear and you're ready to head out to the forest, you'll want to know what goes on in the park. It's hard to be bored at Glacier, as there are gorgeous hiking trails, spectacular lakes, fun tours, and more to keep you and your family entertained.
Hikes
If you are a nature-loving family and want to take every opportunity to soak in the wilderness, you'll surely want to know about some of the hiking trails in Glacier National Park. There are many hiking trails, ranging from less than a mile of easy walking to challenging 17-mile loops.
Below are three of the easiest but still exciting hikes that people recommend doing with kids. Even if you're an avid hiker, a 10+ mile hike is likely not a good idea with small children in tow.
Trail of the Cedars
The Trail of the Cedars is one of the most popular and easy hiking trails in the park. It is wheelchair accessible and perfect for young children. The trail is 0.6 miles long, so it shouldn't take you longer than an hour to complete.
The trail is lined with tall cedar trees, some reaching heights of 80 feet or more. The trail features raised boardwalks that go over small streams or tough terrain, making it a simple walk for people of all ages and abilities. The Trail of the Cedars also splits off into many other trails, so this is a common starting point.
Hidden Lake Overlook is more challenging than Trail of the Cedars but offers some stunning views and a peek at the incredible wildlife. You can expect to see colourful birds and small woodland creatures scurrying around. The trail is just shy of three miles long, so it will take you the better part of a day.
Toward the end of the hike, you'll reach Observation Point, where you can take in the dazzling views of the lake and mountain range in the park. The entire trail offers amazing panoramic views, so you'll be mesmerized by the nature around you throughout the hike.
Avalanche Lake
Avalanche Lake combines a beautiful hike with some water fun, too! The Avalanche Lake trail starts on the Trail of the Cedars, so if you take that walk and want more, you can veer onto this 5.5-mile path. The trail will take you uphill as you pass roaring waterfalls, rivers, and dense forest. At the end of the hike, you'll arrive at the stunning Avalanche Lake, where you can relax on the logs.
You can set up a picnic at this shore and sit on the logs while you admire the views. The kids will be able to play at the water's edge and can even go for a brisk dip if they don't mind how chilly the water usually is.
Water Activities
For families that love spending their whole vacation in the water, Glacier National Park has some fantastic bodies of water. There are lakes, waterfalls, and rivers scattered throughout the park for you to explore and relax.
Some of these water sources are easier to access than others, making it better for families with young children. Check out the top three water sources to visit in Glacier National Park with kids.
Running Eagle Falls
Running Eagle Falls is only a five-minute walk from a parking area, so hardly any hiking is necessary to visit this enchanting waterfall. The falls are in the Two Medicine region of the park and offer an exhilarating swimming experience for all ages.
The falls are not too powerful, and the current is gentle enough to float in the water with ease. You can bring tubes and float about or dive under the waterfall for a refreshing nature shower. You'll likely spot some interesting fish and other wildlife while relaxing on the rocky shore of the falls.
Swiftcurrent Lake
Swiftcurrent Lake is a picturesque and peaceful body of water that many hikers love spending a few hours in before continuing on their adventure. The water is beautifully blue and clear, whereas many other lakes in the park can be muddy and unpleasant. While there are many hiking trails around Swiftcurrent lake, it is also nearby a parking area, so you don't have to hike to it if you don't want to.
There are also boats available, like canoes or rowboats, so you can paddle out to enjoy the water and views. If you want to play for a whole day where you can lounge in the sun, eat some snacks, and splash around in the water, Swiftcurrent Lake is the best place to go.
Lake McDonald
Lake McDonald is a massive body of water, and it's the biggest lake in Glacier National Park. The lake is more than ten miles long and a mile wide. If you want to enjoy the water free from the crowds and other tourists, Lake McDonald offers plenty of space for everyone on its shores.
The blue water creates a stunning reflection of the jutting mountains that you can see from a distance. You and your kids can collect rainbow-coloured rocks along the shore and even teach your little ones how to skip rocks! And like the other two water sources mentioned, this one is conveniently located near parking. 
Rides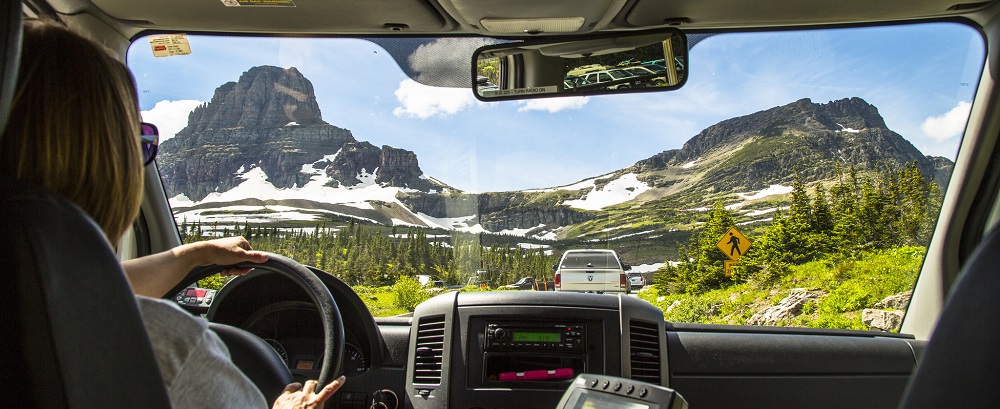 If you're not thrilled about walking miles on foot with your kids, there are plenty of other ways to get around the park. From exhilarating excursions to plain old roads for cars, the park offers many methods of travel.
So, don't worry if you're not a hiker or forgot your sneakers, you can still enjoy the park!
Going-to-the-Sun Road Drive
Going-to-the-Sun road drive is one of the most popular things to do in Glacier National Park. This fifty-mile road curves along the Rocky Mountains, taking you on a miraculous drive through the national park. This road is one way to get to many of the locations throughout the park. Whether you're looking for a hiking trail or a spot to swim, this road will likely be your starting point.
It takes about two hours to complete if you don't make any stops, but we recommend you take your time meandering through the mountains and stop and enjoy the natural scenery when you feel like it. This drive can easily be an all-day activity. The highest point of the drive will be when your reach Logan Pass, and you'll experience one of the most spectacular views in the park.
Go Horseback Riding
There are ranger-led tours that you can take through the park on horseback. This activity is sure to be exciting and memorable for young children, especially if they have an affinity for horses. You can take a whole day horse ride or just experience the adventure for a few hours.
On top of riding these majestic creatures, you'll also get to learn a lot from your tour guides, as they know the park better than anyone. You'll learn about the wildlife and ecosystems as well as any legends surrounding the park.
The Red Bus
The Red Bus is a popular tour you can take in the park. When driving on Sun Road, you'll see plenty of signage offering these tours and where you can embark on one. The buses are extended old-fashioned cars, making for a cool photo op when the car isn't moving. If you don't want to do the driving down Sun Road because you want to take in the sights and relax, the Red Bus tours are a no-brainer.
The kids will love the funky vehicle and enjoy riding around with the top down, so they feel the forest breeze. The tour guides, called Jammers, know everything there is to know about the park, and they provide an amusing yet educational tour of the park.
Other Activities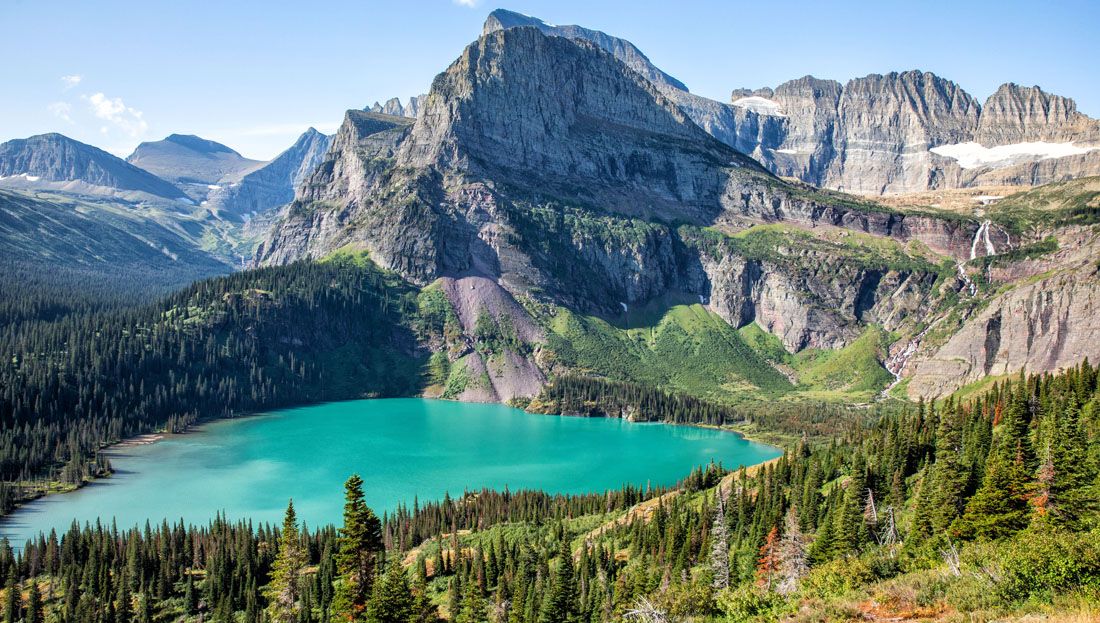 If you know the hiking trails and have already enjoyed the bodies of water in Glacier National Park, you may be looking for some other activities you can do with the kids. Luckily, Glacier National Park has a lot to offer beyond just hiking trails and lakes.
Find Wild Huckleberries
Searching for wild huckleberries with your kids is one of the most fun things you can do in the park. It may seem like a small activity, but trust us, your toddlers and young children will go wild for this homegrown kind of adventure.
Bring a small container or plastic bag with you, so you can take them home or eat them as a snack as you hike around. They're perfectly safe to eat and will be a memorable adventure for your kids, making National Glacier Park a unique and nostalgic spot for them.
Visit Polebridge Mercantile
Right outside the park in Polebridge, Montana, you can visit the Polebridge Mercantile and Bakery with the kiddos. Take a break from the wilderness and explore the quaint, local things that Montana has to offer. You can eat huckleberry ice cream, huckleberry bear claws, or enjoy a cup of fresh coffee.
The kids will enjoy the knickknacks around the store and love the food. They also offer all kinds of rentals, from small cabins you can stay the night to paddle-boats for the lakes or even electric bikes you can zip through the forest on!
Places To Stay
Unless you're relatively local, you'll need to find a place to stay for your visit to Glacier National Park. There are several wonderful spots where you can stay, from full-fledged lodges to quaint little cabins. Check out our top places to stay near Glacier National park to get the most out of your trip.
Glacier Park Lodge
For a luxurious stay, you can make a reservation at the Glacier Park Lodge in the village of East Glacier Park. This hotel is complete with everything you could need, from comfy beds to glowing fireplaces. But there are no TVs, so be prepared to unplug.
Lake McDonald Lodge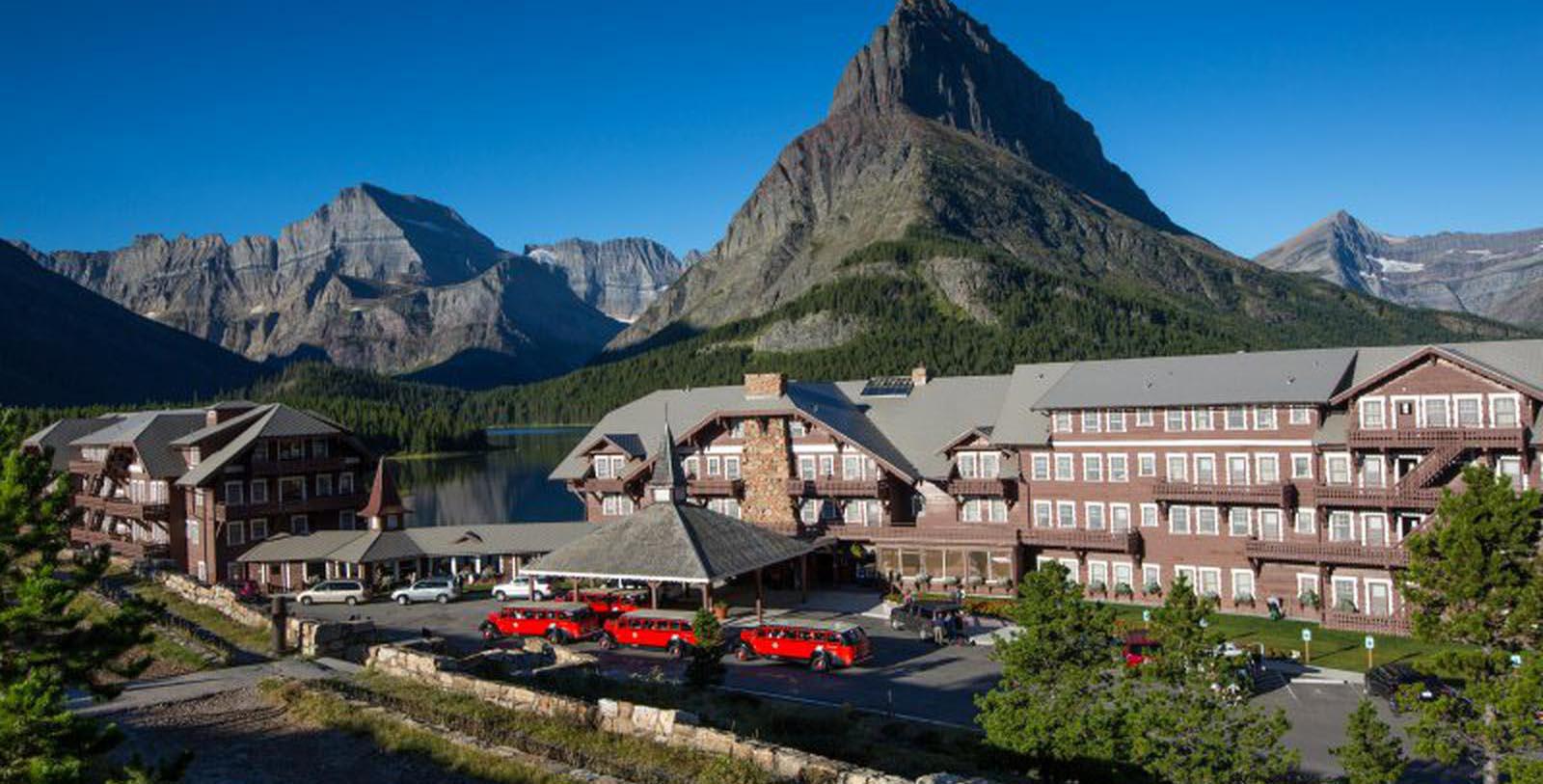 This historic lodge is a bit smaller than the Park Lodge but offers an immersive Montanan experience where you'll get into the spirit of nature. You'll love the rustic rooms and decor, and you and your family will have a chance to reconnect over beautiful mountain views.
Isaak Walton Inn
The Isaak Walton Inn is one of the best spots to stay in because they have lots of amenities to offer kids. They have a restaurant in a train car, and if you book ahead far enough, you can also stay in a caboose! Kids will get a kick out of the experience, and there will likely be other youngins around for them to socialize with.
The Cabins at Polebridge
As mentioned earlier, there are small cabins in Polebridge right outside of the park. You'll be conveniently staying right by the mercantile, so you can consider it your home base, starting your day with a pastry every morning.
Camping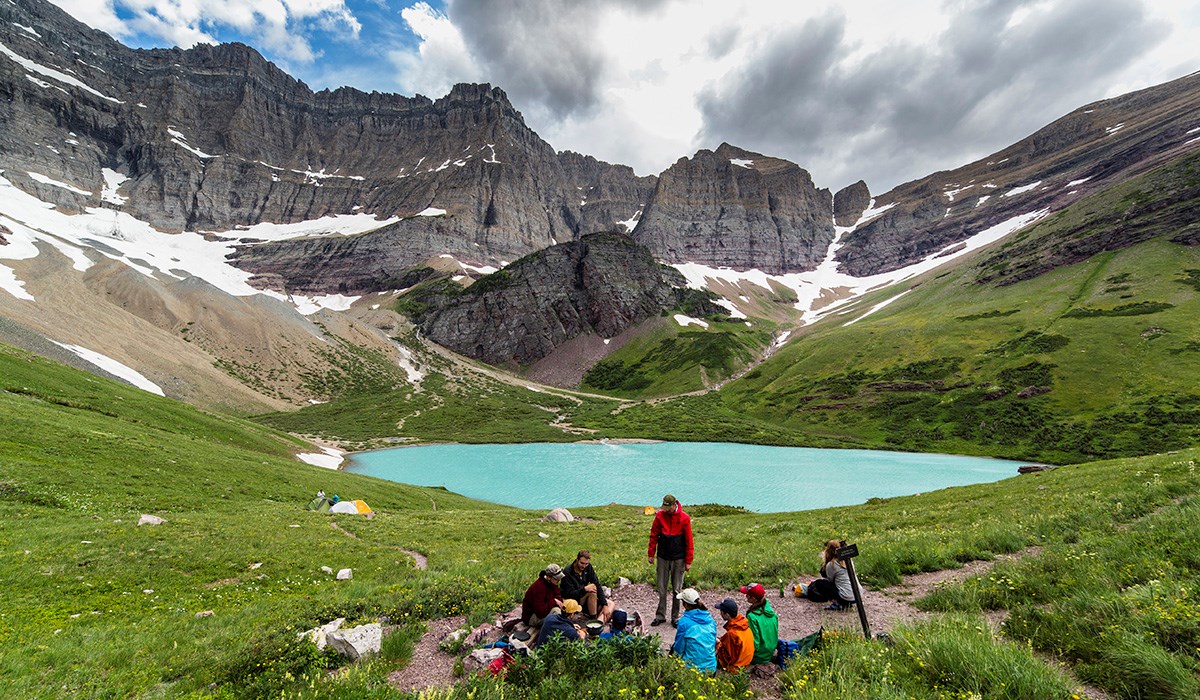 If you really want to get back to nature, you and your family can pitch a tent and camp right inside the national park. There are three campgrounds from the park to choose from, and you make a reservation ahead of time. Whether you rough it in a tent or bring an RV, this is a great way to experience the park.
Tips For Planning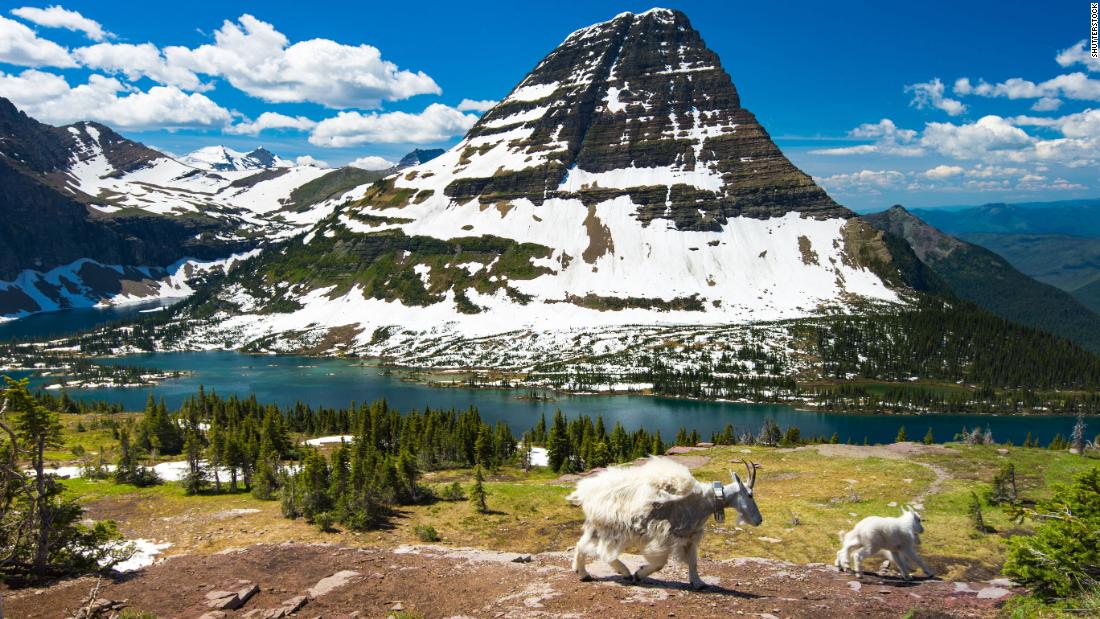 Here are some tips for planning not just your trip to Glacier National Park but practically any family vacation. Travelling with kids can be tough if you don't prepare, so keep these things in mind for your next family trip.  
Plan Early
It's a bad idea to wait until you get to Glacier National Park to start thinking about what you should do. But you're reading this article, so you're off to a great start! Start considering what activities you'll enjoy and what you'll have time to do on your trip. Be realistic about this, as you likely won't have time to do everything you want to do.
Make an Itinerary
It can help if you plan out an itinerary. You can have must-do activities, the things you really want to do, and then optional activities that you can do if you have the time and energy.
The must-do activities will give your vacation some kind of structure, which is always beneficial for children. And the optional activities will prevent you from running out of entertaining things if must-do activities don't fill up your days as you thought they would.
Be Flexible
Whenever you travel, with or without children, you must keep a flexible mindset. Sometimes, attractions are closed, or the weather ruins your plans, but you just have to go with the flow. This is another reason that having an itinerary with optional activities can be a lifesaver if a must-do activity gets unexpectedly cancelled. 
Come Prepared
Bring all of the items that we mentioned at the beginning of this article. Make yourself aware of any rules within Glacier National Park, such as park closing times, caping rules, or litter policies. If you think you might need something, bring it. You'll likely be glad that you did.
Survey the Kids
Lastly, when planning your trip, ask your kids what activities might interest them. If your kids like fish, they'll probably want to do all the water activities, or you may have a kid obsessed with horses that would relish a ride through the park.
Even if something seems like a quintessential activity at the park, you don't need to incorporate it into the vacation if it doesn't interest you and your family.
Final Thoughts
No matter which activities you choose, you and your family are sure to make lasting memories and have a joyous family vacation. From the glittery lakes and waterfalls to the plethora of hiking trails, you'll be able to enjoy nature with your kids and put a smile on their faces.
Just try not to forget the extra pairs of socks, or you may get some frowns along with those smiles!
Check out these other articles about vacationing in some of the USA's best national parks:
More about our TFVG Author
Karly is a The Family Vacation Guide guest travel contributor.