While earning the famous moniker of "sin city," there is a lot more to Las Vegas, Nevada.
The city is synonymous with gambling and a wild nightlife scene, but it is also home to premier live events, including artistic performances, acrobatics, sports, and circus acts. It is also home to some of the finest dining and shopping in the nation.
If you plan a family trip to Vegas, rest assured that the city is packed with several state-of-the-art luxury hotels. There is also no shortage of fun-filled family activities perfect for all ages.
Here is a look at some of the best luxury hotels in Las Vegas for families and what they have to offer.
What screams kids and luxury more than a castle? The Excaliber Hotel combines modern comfort with childhood dreams encapsulated in a real-size giant medieval castle. If you are looking to map out a unique experience, you can't beat the themes offered at Excalibur. While the outside will enthrall kids, the real fun starts once they step inside.
The Excaliber offers a vast range of kid-friendly activities, including the Fun Dungeon Arcade and "The Tournament of Kings," a medieval-themed jousting dinner show. Many rotating family-friendly live events throughout the year offer non-stop entertainment for all ages.
Amenities include a world-class pool with 30,000 square feet of deck space, an on-site spa, an array of delicious dining options, and easy access to transportation to get around the city. There are multiple rooming options, including deluxe and suite options, and Excalibur is also pet-friendly
If you are looking for relaxation, the Four Seasons provides the perfect refuge from the hustle and bustle right outside on the Las Vegas strip. Four Seasons is a non-gaming hotel, so the focus is solely placed on customer comfort, and it shows easily ranking among the top luxury hotels in Las Vegas.
The hotel offers an assortment of enticing room options, including multiple specialty suite options. Rooms offer views of the stip as well as the Mojave desert. Amenities include a spacious pool and cabana, an on-site Italian restaurant, and featured promotions for local shows and stadium events.
The Four Seasons goes above and beyond with attention to detail. Before arrival, guests are encouraged to provide the names and ages of children so that the hotel can prepare age-appropriate customized welcome packages, even offering up popcorn, soda, and board games for teenagers. The hotel also provides a babysitter service upon request.
Take one look at the Mandalay Bay Resort, and you will understand why it is an excellent luxury hotel for families. Rather than a traditional pool, the resort has an expansive outdoor 11-acre "aquatic playground" waterpark. The park includes a lagoon, lazy river, and Beach Bar & Grill. The hotel also offers beach cabanas and bungalows around the park, providing excellent outdoor relaxation to soak up the sun.
Mandalay Bay ranks among the premier destinations on the strip, with no shortage of fun activities for all age ranges. There is plenty to do inside; you could plan an entire vacation within the resort's confines. There are constantly updating live events, including concerts, shows, and live sports. Kids will love the on-site Shark Reef Aquarium, which features over 2,000 animals and a walk-thru sea tunnel. 
Rooms are beautifully furnished with floor-to-ceiling windows offering great views of the strip. While you can choose from an assortment of suites, there are also double queen and king size options that comfortably fit families of four or more.
Circus Circus offers another wonderful thematic option for families that will excite children. A big draw of this MGM hotel is the AdventureDome which features an array of rides, carnival games, arcade games, and treasure hunts. There are also several live circus shows, including the Midway and a smaller free show.
There are many versatile rooming options to best match your needs, including multiple sky towers with excellent views of the surrounding area. The hotel also offers a pool and splash zone equipped with various water slides. While there are plenty of thrills for the kids, there are also on-site casino games for adults.
Another great convenient feature of this hotel is the assortment of dining options, including a steak house, pizzeria, and Mexican restaurant. If you are looking to give the kids a thrill (and yourself), Circus Circus is a great choice to consider.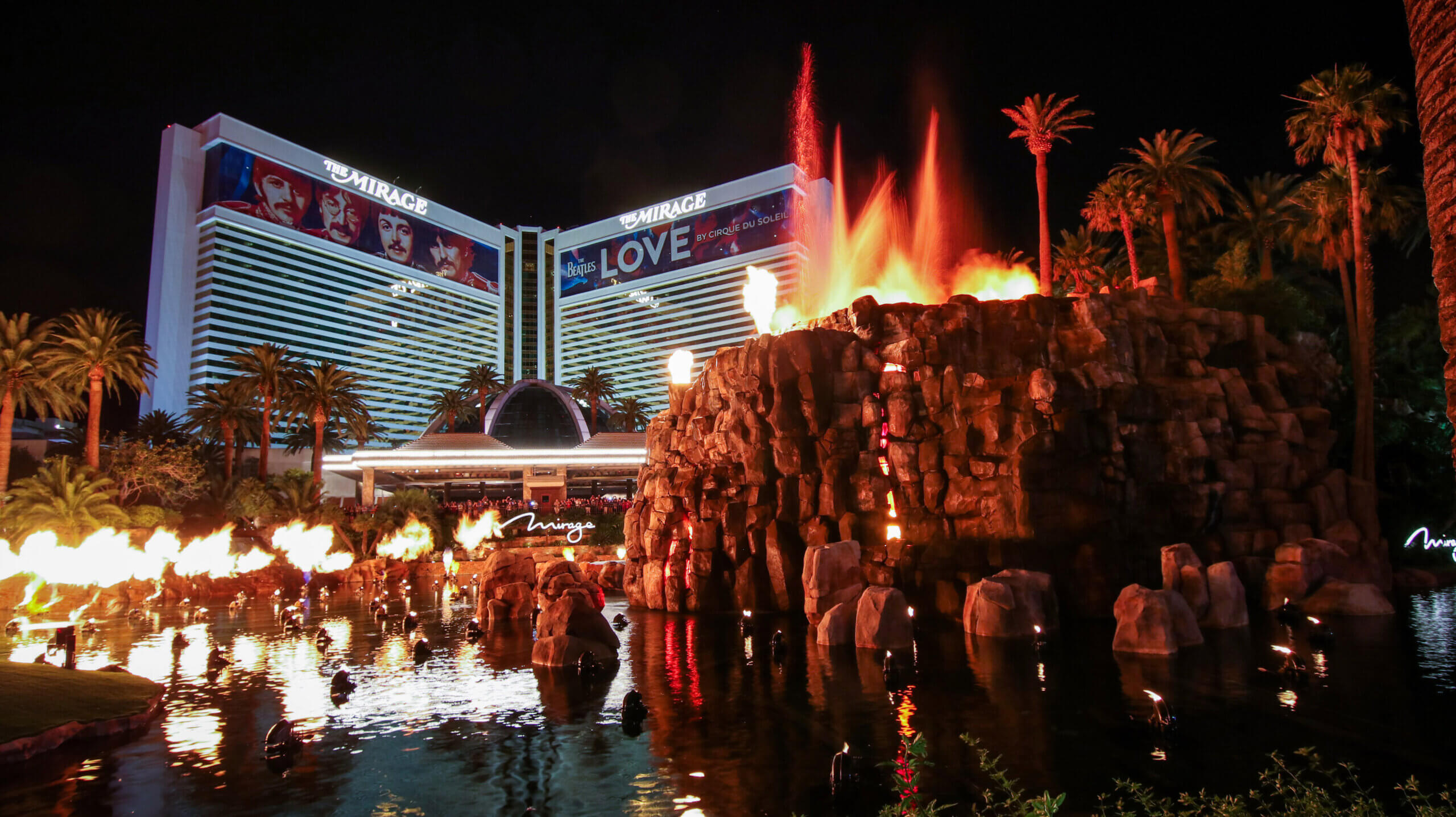 The Mirage offers an excellent combination of amenities that are perfect for all ages, ranking it among the best luxury hotels in Las Vegas for families. The world-renowned fountains out front set the stage for a vacation wonderland with multiple kid-friendly pools, an aquarium, and tons of live entertainment.
In addition to the pools, other amenities include multiple cabanas, a delicious array of dining options, a salon, and guided tours of the surrounding Las Vegas area. Room sizes can easily accommodate families with a flexible range of deluxe rooms and suites.
There is always something worth checking out inside the Mirage with on-site venues such as Cirque du Solei, Secret Garden Dolphin Habitat, and rotating comedy acts. As one of the premier resorts in the city, it is worth a trip, even if you don't choose to stay at the hotel.
Caesars Palace is another fun-themed resort that is an iconic fixture in Las Vegas with its corinthian columns in an ode to the Roman Empire. Guests can take their pick from one of five separate towers and over 3,500 rooms, each equipped with the finest in modern comfort and luxury.
The resort includes seven pools, a fitness room, and a spa&salon in addition to gaming floors with a vast assortment of casino games. Caesars also boasts some of the finest dining options in the city with 22 on-site restaurants, including a Gorden Ramsey Pub & Grill, steakhouse, and upscale Chinese and Japanese cuisine. The resort also hosts big-name headliners for concerts and comedy shows virtually every week of the year.
Caesars stands out among luxury hotels in Las Vegas with its sheer volume of offerings with no shortage of amenities and activities. If you are looking to plan an action-packed getaway, you will find a little something for everyone at this resort.
The Bellagio is another excellent luxury hotel in Las Vegas that packs in much family-filled fun. The rooms are spacious, allowing plenty of room for families of all sizes. Each room comes equipped with modern essentials and a gaming console. The rooms also offer spectacular views of the city.
There are multiple pools on the premises, a lazy river, and cabanas available to book in advance. There is also a fitness center and plenty of shopping options. The Bellagio's live performances are an experience, with several events right on the water, including Cirque du Soleil. There are also frequent live music and comedy shows appropriate for varying age ranges.
The Bellagio also has an on-site arcade that kids are sure to love and a beautiful outdoor space that includes a lush garden, making for great walks inside the property. The prime location provides easy access to many nearby events and dining options.
New York – New York provides a mini replica of New York City for a little taste of the East Coast right in the heart of Vegas. The New York theme is a fun twist that avoids doesn't overdo it. Kids will be enthralled by the on-site theme park that includes a rollercoaster and plenty of arcade games.
Standout amenities include a state-of-the-art pool area with lounge chairs and cabanas, a spa and fitness center, and a nearby golf course. There is also a New York-themed acrobatic show called Bad Apple, plenty of on-site bars and restaurants, and a gaming floor.
If you are looking for a fun theme with classic resort vibes, New York-New York provides everything you are looking for with a unique flair that will excite the entire family. The prime location also makes it ideal to explore other parts of the city and check out nearby live sporting events.  
The Wynn ranks highly among luxury hotels in Las Vegas with a prime location right along the stip. However, what sets the resort apart from others in the vicinity is its peaceful and tranquil atmosphere, neatly tucked away from the chaos surrounding it.
If you are looking to balance all the city's amenities with a relaxed setting, the Wynn is an excellent consideration. There are plenty of live events and entertainment within the resort, and it also provides some of the best shopping in the entire city with an extensive range of luxury stores.
There are tons of rooming options with the flexibility to fit families of all shapes and sizes. The resort also has multiple pools and several excellent dining options on-site. It's always worth checking their website for ongoing seasonal promotions and customized experiences.
The Venetian creates a fun little world of its own, with a Venice-theme complete with artificial canals and gondola rides. The resort is massive, housing over 20 restaurants and a five-acre rooftop pool deck.
Rooms at the Venetian are incredibly spacious, and the assortment of suite offerings can easily fit families of varying sizes. The rooms are sleekly designed with modern furnishings and offer spectacular views of the strip. 
The Venetian is home to an eclectic range of live entertainment venues, providing shows for varying age ranges. There are also two casino gaming floors for adults and swanky cocktail bars and lounges. While the resort offers more than enough to plan an entire vacation, the Venetian's prime location makes it an excellent launchpad for daily excursions.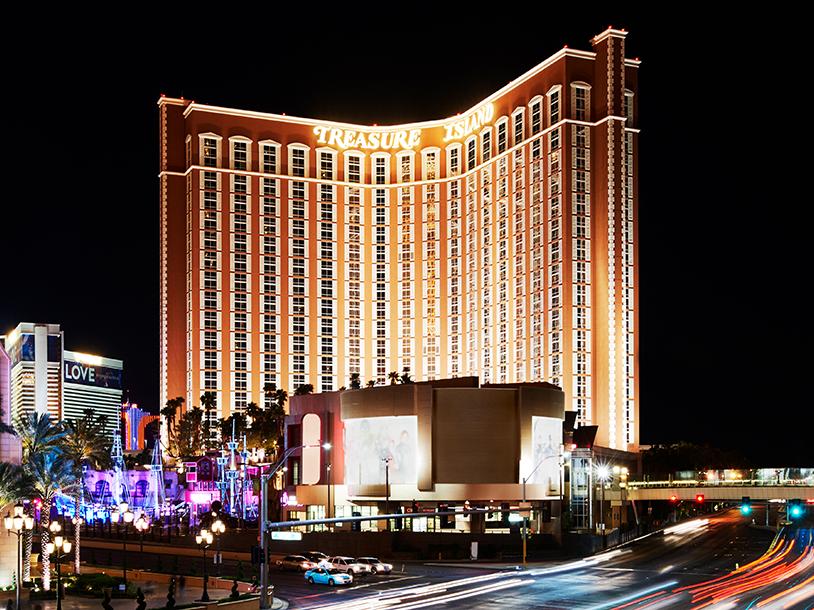 If you are looking for a scaled-back hotel in the heart of the action, Treasure Island Hotel & Casino offers a high-class experience that mixes fun, action, and relaxation. The tropical pool and private cabanas are just some of the standout features. Dining options include a seafood shack, steakhouse, and pizzeria.
While the resort doesn't offer the same extensive offerings as some nearby hotels, there is still a lot to do. Some excellent on-site family-friendly activities include Cirque du Solei and the Avengers S.T.A.T.I.O.N, where kids have a chance to explore and learn about the marvel universe.
Rooms at the hotel are quiet and spacious, providing a comfortable and relaxing vibe. While the resort has plenty to offer, its proximity to other big names such as the Venetian and Mirage provides additional flexibility should you want to explore alternative events, dining, and shopping options.
The Luxor is another excellent luxury hotel in Las Vegas for families to consider with an Egyptian-pyramid theme. It offers some spectacular modern amenities while saving on some of the costs of other options on this list.
The first thing that jumps out is the massive pool with a 19,000-foot complex. Luxor also offers some great family entertainment, including liver performances like the Blue Man Group, and there are some great educational activities, including Titanic: The Artifact Exhibition.
Located on the Southend of the strip, the resort is just a stone's throw away from the Tournament of Kings at Excalibur and Shark Reef at Mandalay Bay. Luxor should be on your radar if you are looking to cut back slightly on cost but don't want to sacrifice on amenities and location.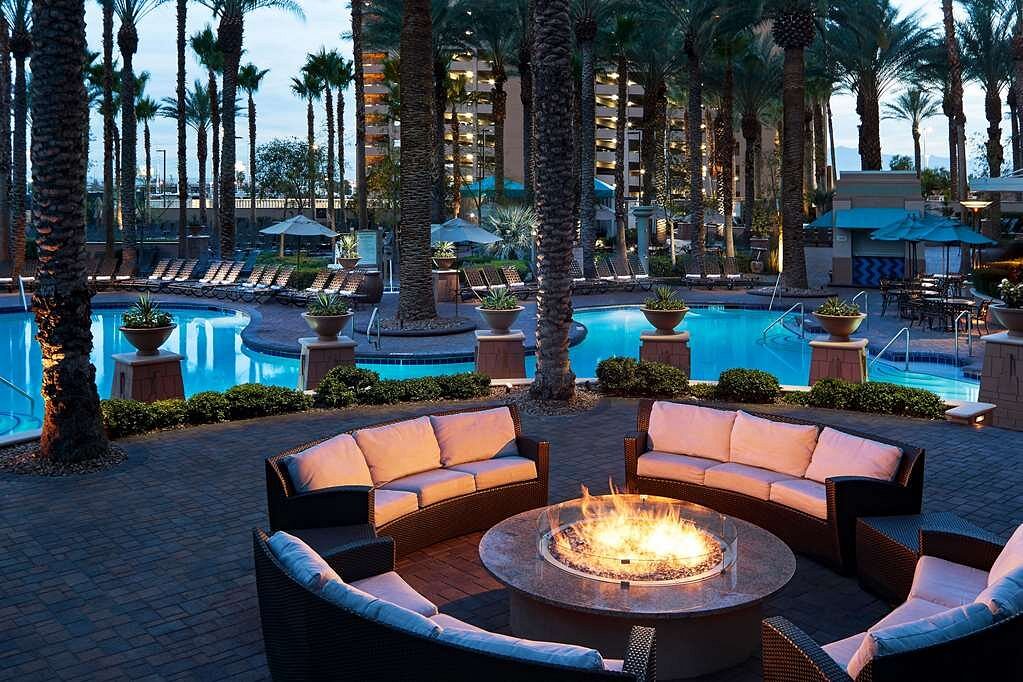 The Hilton Grand Vacations on the Boulevard is located on the northern end of the strip, providing a bit of a quieter atmosphere away from the buzz of the casinos. It is a family-inspired time-share resort with gorgeous grounds complete with pools, palms, and fire pits.
Rooms include one, two, and three-bedroom suites with available kitchen options and barbeque rentals. The resort also includes a spa, gym, business center, and lounge.
The laidback vibes and flexible accommodations make for a great extended stay. If you are planning a longer trip, a stay at the Hilton will provide a great home base and peaceful refuge while also allowing easy access to the heart of the city, making it one of the best luxury hotels in Las Vegas for families.
Moving away from the strip, the Red Rock Resort shows the city's versatility and range and that not all the action goes down in just one place. The grounds include a massive three-acre pool surrounded by smaller kiddie pools. There is also a sandbar pool with private cabanas and cocktail service, creating a leisurely vibe that is perfect for lounging.
While there is an array of casino gaming options, there are also many alternatives for kids, including a bowling alley, arcade, and movie theater. Quest Playground also makes an excellent option for younger children.
One neat feature of this resort is its location, which provides easy access to walking trails. The Red Rocks Canyon across the street is well worth checking out, with a range of hiking trails of varying difficulty. If you want to mix modern amenities with a bit of the great outdoors, Red Rocks offers the best of both worlds.
Following the theme of Red Rock, the South Point Hotel is removed from the strip. However, the resort still offers plenty of amenities and activities with casino floors, showrooms, bingo, and an Arena & Equestrian Center.
There are some excellent family-friendly activities on the premises, including a bowling alley, movie theater, arcade, and large pool. Rooms are also spacious, providing plenty of room and ensuring everyone gets their own space.
It's always worth checking what's new at South Point as there is a frequently rotating range of ongoing promotions and live events. With a mix of casino games for adults and a range of options for kids, everyone will find what they are looking for at this resort.
Another great off-the-strip option to consider is the JW Marriot Resort and Spa. While the hotel is just minutes from the heart of the action, the vibe could not be more different, feeling "worlds away." This is an excellent option to consider if you want the best of both worlds, easy access to amenities and a relaxing atmosphere to unwind.
Amenities include a world-class pool surrounded by palm trees and deck chairs, a spa, a massive fitness center, and nearby golf courses. The resort is also close to Red Rocks Canyon, Hoover Dam, and Spring Mountain Ranch State Park, providing excellent outdoor activities.
Accommodations include spacious rooms with multiple family-sized options. There are also balcony options available with spectacular views of the surrounding region. The JW Marriot Resort and Spa is an excellent twist on the traditional Las Vegas getaway providing all the amenities but scaling back the setting.
More about our TFVG Author
A seasoned traveller, Dad, and avid sports tourist, James foundered The Family Vacation Guide to share his expert vacation experiences- especially when it comes to being a travelling family man.
Featured in Travel articles such as Travel + Leisure, TripSavvy and SFGate, you know you're reading some of the best vacation tips online.