For those who live the New York City grind day in and day out, a weekend away from the hustle and bustle can seem like a breath of fresh air. But where should a family go that isn't a long drive and allows for extensive relaxation in a short period?
For those looking, we have compiled a list of the best family weekend getaways from NYC. The locations listed below are within a short drive of the city and allow for rejuvenation and a mental reset before heading back to real life at the end of the weekend.
Top Family Weekend Getaways From NYC
Each of these towns and cities listed as family weekend getaways from NYC offers plenty of great dining establishments, family-friendly activities, short travel times, convenient shopping, and a bounty of nature enjoying opportunities.
Poughkeepsie, New York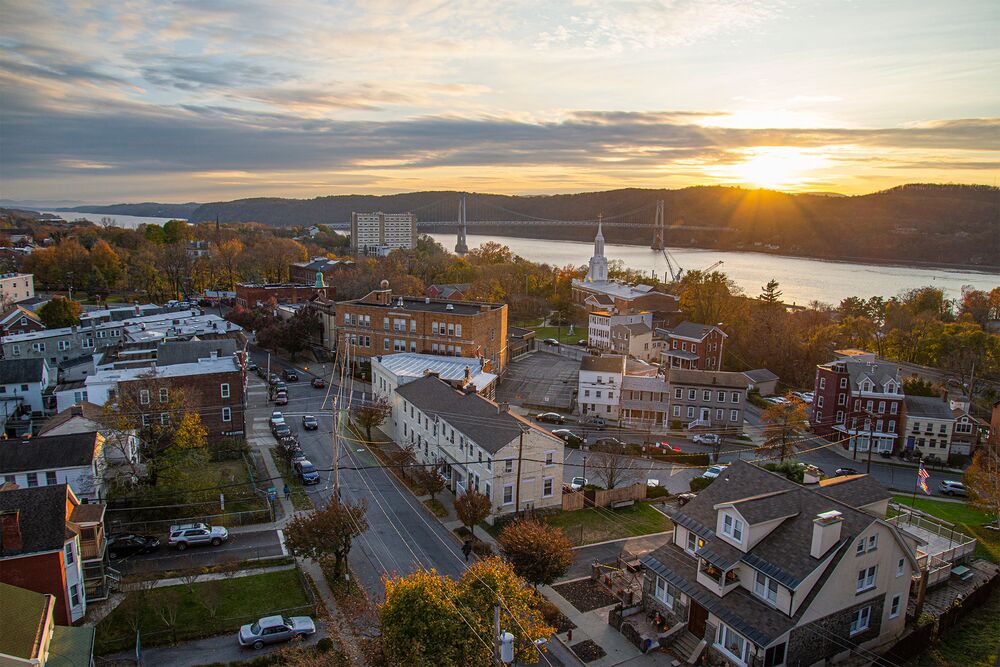 It isn't typical for those who live full-time in the Big Apple to have ample opportunities to be in open spaces and nature. However, all of that can change with a weekend adventure to nearby Poughkeepsie.
From the middle of the city to Poughkeepsie is a little under two hours of travel time. Located within the Hudson Valley, Poughkeepsie also offers several different wineries for the adults in the group to enjoy. If you are a cultural enthusiast, you can check out the Cunneen-Hackett Art Center or the Frances Lehman Loeb Art Center with its ​​Hildegarde Krause Baker Sculpture Garden.
Other fun activities within Poughkeepsie include:
Upper Landing Park
Bardavon Opera House
Barrett Art Center
Clinton House State Historic Site
Victor C. Waryas Park
Mid-Hudson Children's Museum
Mural Square
Locust Grove Estate
As a family-friendly area with lots of open, green space and cultural opportunities, Poughkeepsie offers a bit of reprieve from the busyness of New York City. At the end of the weekend, you'll have had plenty of rest and be ready to tackle the new week.
Cooperstown, New York
Many people know of Cooperstown due to the National Baseball Hall of Fame and Museum. However, the town offers much more than just that. Cooperstown, located about 3.5 hours from downtown New York City by car, and just three hours by train, has various activities that will allow you to destress and refocus.
Located on Otsego Lake, Cooperstown offers outdoor recreational fun as well as fantastic restaurants and shops. Whatever your interest, you will be able to find it in Cooperstown. Outside of the Baseball Hall of Fame, visitors flock to the Fly Creek Cider Mill in the fall for some autumn entertainment. There is also the Farmers Museum, Fenimore Art Museum, and Cooperstown Fun Park.
For those looking for outdoor entertainment, Cooperstown offers a variety of water sports to partake in during your visit. Whether it's kayaking, stand-up paddleboarding, jet-skiing, or swimming, taking in the beautiful waters of Otsego Lake will wash all reservations you previously had about the activities away.
Main Street offers many restaurants that are fitting for all palettes. All of your libations are taken care of right off the bat with breweries, bars, and wineries. However, you can fill up your family's stomachs with an assortment of local cafes, farm to restaurant operations, pizzerias, coffee shops, seafood, and barbeque.
Taking a weekend trip to Cooperstown won't disappoint. You'll want to wish you had gone during a long weekend due to all the activities available to participate in during your stay!
Montauk, New York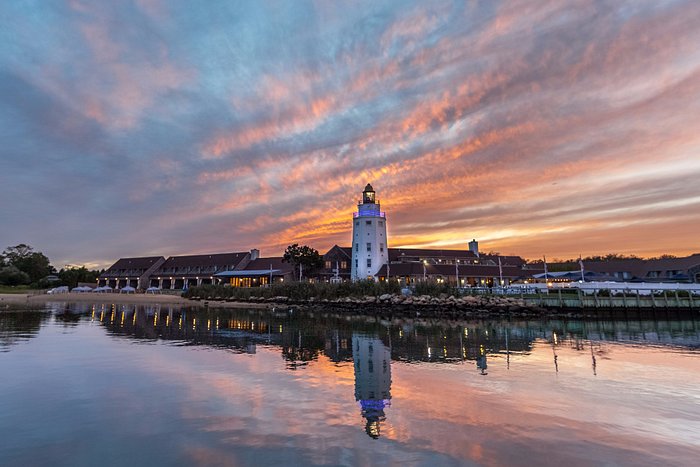 A popular weekend getaway destination, Montauk is about 2.5 hours from downtown New York City. Well known for being a beach city, you will find many water activities to participate in during the summer months. However, that doesn't mean you should sleep on Montauk in the winter! The city offers many attractions that are enjoyable in all seasons.
One of the most iconic images of Montauk, New York, is the Montauk Point Lighthouse. In the light keeper's house is a museum that contains many historical documents. George Washington even signed some!
While Montauk is a popular weekend getaway destination, the number of people who permanently live in the city is shockingly tiny at just 3,000 residents. Therefore, a significant amount of revenue in the town comes from tourism. The offerings throughout the Montauk area reflect that.
Some of the most popular attractions in the city revolve around water and food. The fishing in Montauk is plentiful, and the restaurant offerings throughout the area reflect this. Many people rent a charter to attempt catching their own and take their entire family along for a day of fishing on the water.
Visitors can go sailing or kayaking. Many choose to use their time to paddleboard or jet ski. In the winter, you can go down to the beach and catch the seals on the shore. You can also participate in a round or two of golf or laze the weekend away on the beach.
A visit to Montauk won't disappoint. Going from overcrowded streets to spacious golden sand beaches will replenish your soul and provide much-needed respite.
Catskills, New York
An adventure to the Catskill Mountains is one that everyone should take at least once in their life. At just a little over two hours from New York City, it provides an entirely different way of life than what you get in the city.
The quaint downtown and the beautiful views draw people in from all over. But recreational activities like river rafting provide a different element of fun that you can't get in the city. One of the best things about the Catskills is that you can participate in extreme adventure activities or choose to take a low-impact hike or spend an afternoon horseback riding.
Taking a weekend trip in the fall months is a great experience that you don't want to miss out on. The gorgeous fall leaves that permeate the area make it a picturesque backdrop to all sorts of fun autumn activities. Carving out time to visit the cider mill or find the best pumpkin at the patch will be a momentous occasion for all involved.
In addition to the above, the Catskills offers the following options:
Fishing
Camping
Breweries
Cycling
Motorcycling
Mountain Biking
Paddling
Bird Watching
Wildlife Viewing
Additionally, you can partake in a scenic drive or two around the mountain towns. There are many waterfalls that you can come across while out and about. On your drive, you will also see many beautiful areas of natural scenery.
The Catskills is not a place you want to miss out on. It's a perfect location for a relaxing weekend away from the busy city and will provide endless memories for years to come.
Ocean City, New Jersey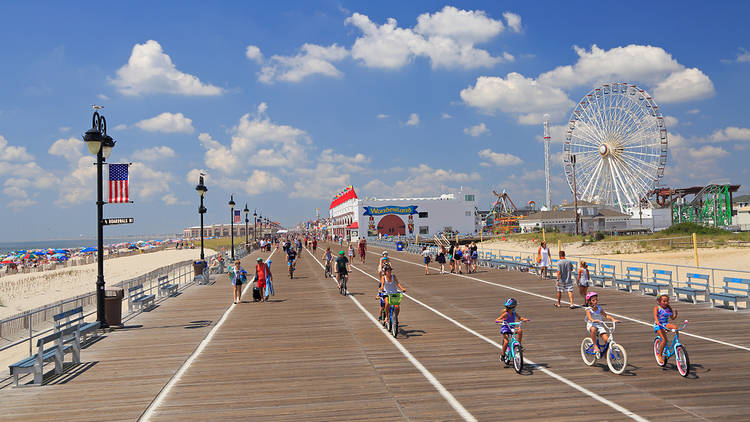 Going outside of New York, a visit to Ocean City, New Jersey, will provide fun beach opportunities and over two miles of boardwalk vibes to enjoy. At just over two hours away by car and with plenty of attractions taking place at all times, you will never have a moment of boredom. Whether it's lounging on the beach or playing a boardwalk arcade game, you can be as busy or lazy as you desire.
While the area is best known for popular television shows depicting frequent chaotic events, Ocean City is actually very family-oriented. It provides a comfortable and entertaining haven for all ages.
One of the most popular points of interest in the area is the expansive white sand beaches. Located directly on the Atlantic Ocean, Ocean City provides endless surfing, kayaking, sailing, wakeboarding, paddleboarding, and swimming. Many beach events target families with children, including movies on the water or fireworks displays.
While in the city, take the opportunity to explore Playland's Castaway Cove, Corson's Inlet State Park, OC Waterpark, Ocean City Beach, Congo Falls Adventure Golf, Ocean City Historical Museum, and Totally Tubular Aqua Park.
While you may find yourself constantly on the go in Ocean City, it's a different kind of busy than what you are used to in New York City. Ocean City provides a laid-back atmosphere with saltwater and outdoor entertainment. Being on the ocean will prove to be a welcome retreat for you and your family.
Hershey, Pennsylvania
For most people, the mere mention of Hershey has them turning their heads looking for chocolate. And that's what makes a trip to Hershey, Pennsylvania, all the more exciting! Not only do you have direct access to chocolatey goodness, but also a wealth of other fun activities.
Located a little under three hours from downtown New York City, you can easily reach Hershey by car, train, or bus. Once there, you can zip right over to Hershey's Chocolate World. You can even get a chocolate spa treatment at the local MeltSpa!
Once you are fully engaged in a sugar buzz, you can check out some other area attractions. Some of the most popular include:
The Hershey Story Museum
Hershey Gardens
Hersheypark
Hershey Bears Hockey
AACA Museum
The Falconry Experience
ZooAmerica
Hershey, Pennsylvania, also offers excellent shopping, a fantastic downtown experience, and various outdoor recreation activities. Participate in golfing, hiking, kayaking, bicycling, and canoeing while in the area to experience some fresh air out in nature.
When it comes to restaurants, there is no shortage of food options in the city of Hershey. Palettes of all types will be happy with the assortment of choices. With everything from fine dining, ethnic cuisines, buffets, seafood, barbeque, and small local diners, everyone will find something that works for them.
There's no question that every member of your group will have an enjoyable time during this weekend adventure. Pack your walking shoes and get ready to engorge yourself with delectable chocolate!
Philadelphia, Pennsylvania
As another Pennsylvania option, Philadelphia is only an hour and a half from the center of New York City. What's more is that you can easily travel there without a car, as many trains make their way to Philadelphia from New York every day.
A weekend excursion to Philadelphia provides a rich cultural experience due to the extensive history that has taken place in the city. It wouldn't be a proper visit to Philly without a visit to the Liberty Bell and its infamous crack. Additionally, going to the city and not attempting the steps from the movie Rocky would be a travesty!
Other popular attractions around Philadelphia include:
Independence Hall
The Love Sculpture
Reading Terminal Market
Barnes Foundation
Franklin Institute
The Academy of Natural Sciences of Drexel University
Philadelphia Museum of Art
Eastern State Penitentiary
City Hall Tour
Cherry Street Pier
Race Street Pier
Spruce Street Harbor Park
Blue Cross RiverRink
Boathouse Row
When in Philadelphia, you have to take the time to indulge in one or more of the famous Philly Cheesesteaks. While there is always the traditional option to fall back on, the past years have brought on new varieties and combinations to try out. Don't like cheesesteak? Philadelphia has an extensive list of restaurants, many of them family-friendly, that you can try out during your weekend away.
Turn a quick trip away into an educational one with a visit to Philadelphia, Pennsylvania. Take in some of the historical sites and enjoy some of the fun activities along the way. And don't forget the cheesesteak!
Mystic, Connecticut
On to Connecticut and a mere 2.5 hours from the New York City center is the unique city of Mystic. Known as a seaport village, Mystic offers many waterfront activities that have a rich source of history.
One of the area's most popular tourist attractions is the Mystic Seaport Museum. Known as a living museum, it displays depictions of past 19th century coastal villages in Connecticut and a shipyard. Walking through the museum gives you a clear image of what life was like back then and how much has changed through the years.
Another popular destination in Mystic is the aquarium. You will experience a vast array of sea life during your visit, including Beluga whales and a Titanic exhibit. Additionally, you will have the chance to touch a stingray, visit penguins, observe the jellyfish, and take in the sharks. Be sure to allocate several hours for your visit to the Mystic Aquarium because everyone in your party will be in awe of their surroundings.
Other fun activities to take part in during a weekend visit to Mystic include:
Olde Mistick Village
Denison Pequotsepos Nature Center
Mystic Arts Center
Argia Mystic Cruises
Oyster Club
Extra Virgin Oil Store
Fields of Fire Adventure Park
Denison Homestead
Fearless Flyers Academy
Haunted Tours
Peace Nature Sanctuary
Eastern Connecticut Symphony Orchestra
Mystic Pizza
Mystic, Connecticut combines the perfect amount of history and modern-day fun. The variety in attractions makes it an excellent choice for families as it provides something for everyone.
The Berkshires, Massachusetts
Taking a weekend journey to the Berkshires in Massachusetts carries a bit more travel time than some of the other options at just under three hours. However, the extra time will definitely be worth it after you arrive and take in all that the area has to offer.
Located in the mountains of Western Massachusetts, the Berkshires is a quintessential and quaint farming town with many nature-oriented and community activities. Depending on the weekend that you visit, it is likely that there will be some form of local festival happening downtown. These events typically include fun activities that include the whole family.
Taking advantage of the setting in the mountains, you and your family can go on a day hike or rent kayaks for the afternoon. In the winter, the Berkshires offer a multitude of skiing and sledding options to take part in, or you can choose to go ice skating and follow it up with a warm cup of cocoa.
Other top attractions in The Berkshires include:
Golfing
Biking
Berkshire 18th Century Trail
Berkshire Art Museum
Berkshire Botanical Garden
Berkshire Museum
Berkshire County Historical Society
Berkshire Scenic Railway Museum
Taking time to get up in the mountains and enjoy a weekend away from the city will do everyone in your family some good. Breathing the crisp mountain air will rejuvenate everyone in your group and allow you time to decompress.
Try These Family Weekend Getaways From NYC
Life in New York City can be hectic, and it's okay to want a break from the constant activity that comes with living in the city. Luckily for those in the area, those looking to get away temporarily can easily travel to many popular destinations in just a matter of hours. These locations provide opportunities for relaxation, as well as fun activities for the entire family.
The next time you find yourself desperately needing a break from the hustle and bustle of the Big Apple, don't hesitate to book a hotel or resort in one of the quick getaway locations listed above. Not only will you enjoy a weekend away, soaking up all the experiences that a new area offers, but you will return to your home of New York City with a new and more relaxed frame of mind. 
Other places to consider for your family weekend getaway
If you're considering other destinations for your weekend away with the kids, take inspiration from our other handy guides below!
More about our TFVG Author
A seasoned traveller, Dad, and avid sports tourist, James foundered The Family Vacation Guide to share his expert vacation experiences- especially when it comes to being a travelling family man.
Featured in Travel articles such as Travel + Leisure, TripSavvy and SFGate, you know you're reading some of the best vacation tips online.