Welcome to the Tar Heel State! North Carolina is known for a few things. People come to this southern state for the history, the barbeque, and the over-300-miles of coastland.
With so much accessible shoreline, North Carolina has a lot to offer when it comes to beach attractions. From historic coastal towns and state land preserves to sea glass hunts, there's something for everyone here!
We've put together a list of what we think are the best beaches in North Carolina for families, and we hope you agree. Keep reading to check out a variety of different North Carolina beaches that your family is sure to love.
Carolina Beach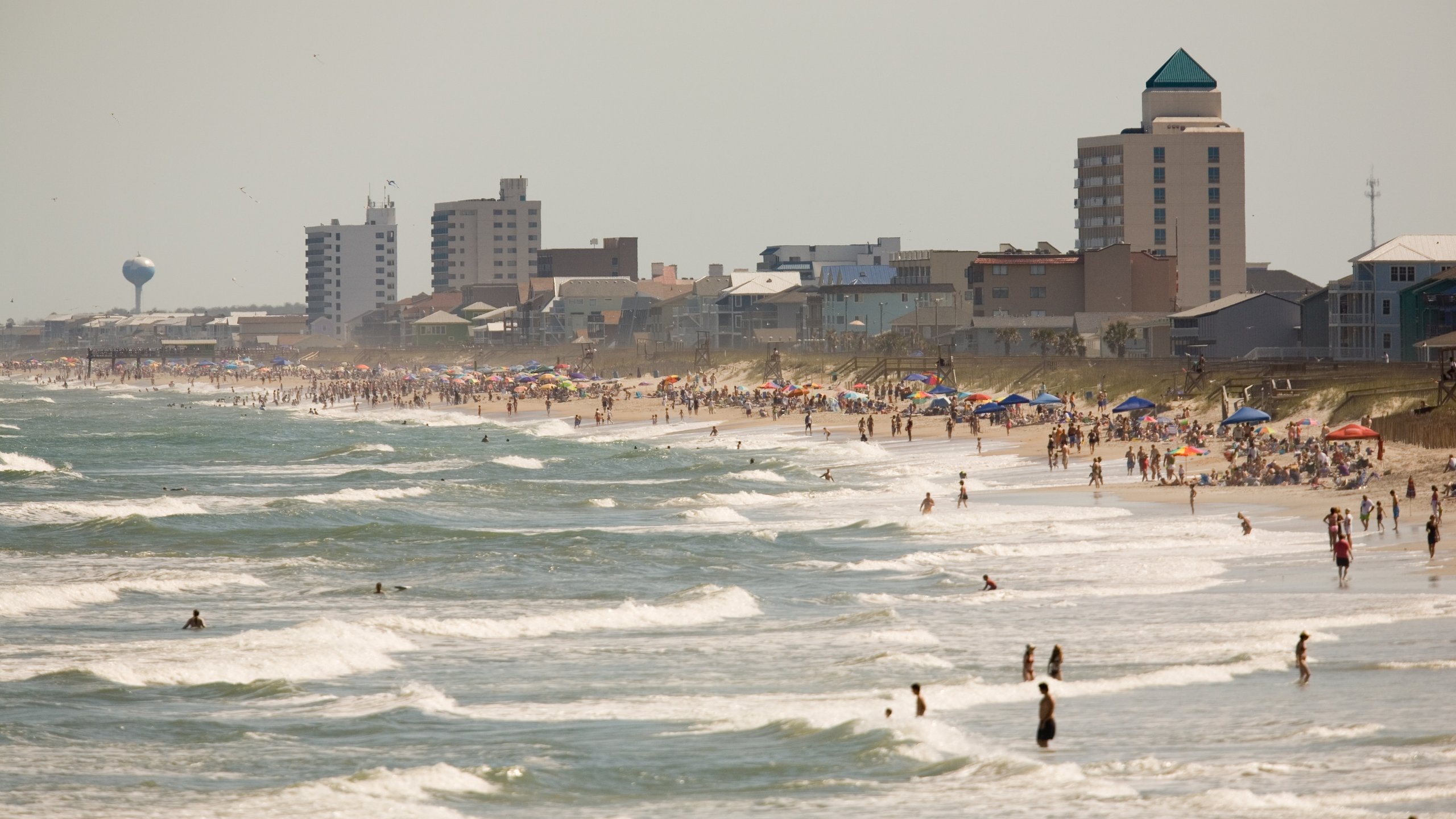 Find the town of Carolina Beach south of Willmington on Cape Fear River. This coastal town is in and of itself deserving of the first spot on our list of the best beaches in North Carolina for families.
Rent a beach house on the shore and take advantage of all the amenities that Carolina Beach has to offer. Relax on the Carolina Beach Strand, a classic, laidback sandy beach that's fun for the whole family.
Take a walk on the 90-year-old Carolina Beach Boardwalk and ride the ferris wheel. There's also Carolina Beach State Park on the Cape Fear River side, which offers great fishing, hiking, and camping.
Come during the summer for the Carolina Beach Music Festival or during the winter for the Annual Christmas By the Sea! Or check out Family Night Tuesdays on Carolina Beach all summer long! There's also regularly scheduled live music, fireworks, and even a Bingo night on other days of the week.
Fort Fisher State Park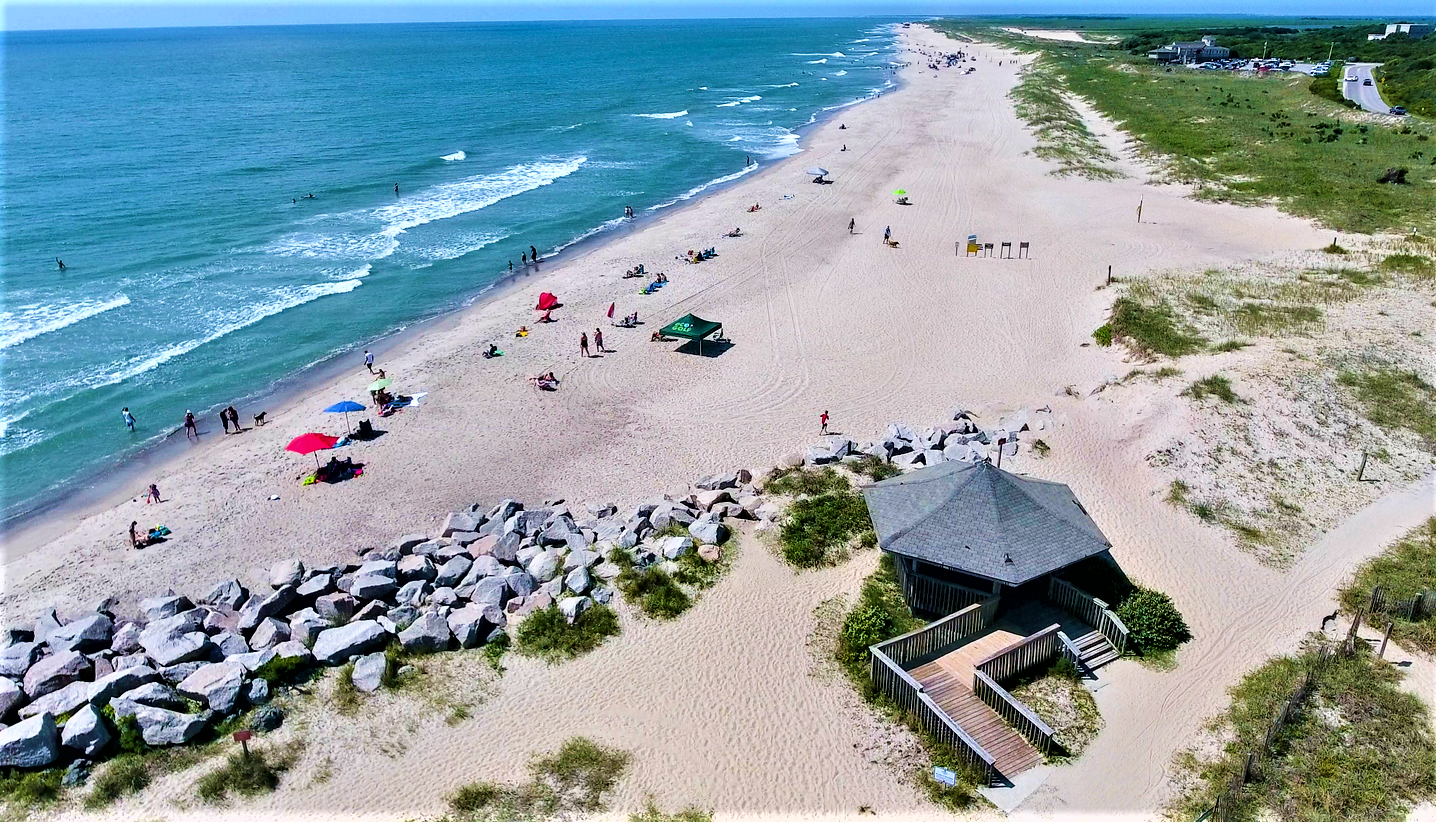 Located on the southern tip of the North Carolina coastline is Fort Fisher Recreation Area. This secluded state park is a nature preserve with over 5 miles of quiet beaches. Take time to visit the Civil War historical sites, monuments, and a World War 2 bunker scattered throughout the park.
We consider Fort Fisher one of the best beaches in North Carolina for families because of the serene swim beaches that can be found here. Enjoy seasonal designated swim areas with lifeguards for your family's safety. There's parking, restrooms, and picnic tables, and grills available for visitors.
When you want to get out of the water, there's an aquarium and a history museum. There are also easy hiking trails, fishing spots, and educational events for both children and adults hosted by park rangers throughout the year.
Kure Beach
Check out the beach town of Kure Beach just north of Fort Fisher State Park. The town prides itself on the family-friendly attractions that have drawn families to its shores for a century.
The Kure Beach Ocean Front Park and Pavilion are open year-round. The park has activities for children as young as three years old, with a toddler park in a green space near the beach, as well as a pirate ship-shaped playground for older kids. Free music and educational events for children are hosted in the park during the summer.
Kure Beach fishing pier is alcohol-free and has classic arcade games and boardwalk eateries. Enjoy a walk on the boards with the family and wait for the fish to bite! A few minutes inland, there's also Joe Eakes Park. Enjoy all kinds of free ball sports, a playground, and a kid-friendly disk-golf course.
Currituck County Beaches
The Currituck County beaches are over 20-miles of outer bank coastline pristinely preserved outside of historic Currituck. On our list of the best beaches in North Carolina for families, find countless once-in-a-lifetime experiences while visiting Currituck county beaches.
Gain access to clean, peaceful sandy beaches from a series of beach access locations, some with parking, restrooms, ramps, and other amenities. Hunt for shells or go for a wild horse tour near Corolla Beach on the north end. Select from a series of vendors to find great fishing, crabbing, and watersports opportunities.
Besides water play, there's also an adventure park, a water park, and numerous historical sites and museums along the outer bank coastline. Take the kids to the Corolla Raceway for bumper cars, or go on a self-guided treasure hunt! Take a ferry to Knotts Island for even more things to do, like visiting the wildlife refuge or going hiking.
Jockey Ridge State Park
Find Jockey Ridge State Park in the town of Nags Head overlooking the Roanoke Sound. 
Home to the tallest living sand dune on the east coast, the park is a preserved ecological system. You'll find a shrub forest, marshes, and several kinds of small animals and birds that make the park their home.
Along the peaceful Sound side of the park, watch the sunset over the water, fly a kite, sunbathe, or try your hand at different watersports. There's an easy mile-long walking trail through wetlands, or check out the more moderate dune trail. Take advantage of the stunning landscape in the park, which is a popular photography opportunity at different times of the day throughout the year.
After you leave the parking lot, stop by the visitor's center and museum on the east side of the park. This educational exhibit explains everything about the dune and its ecosystem in Jockey Ridge State Park. There you'll also find food vendors, picnic tables, and a hang-gliding school where you can take lessons.
Cape Hatteras National Seashore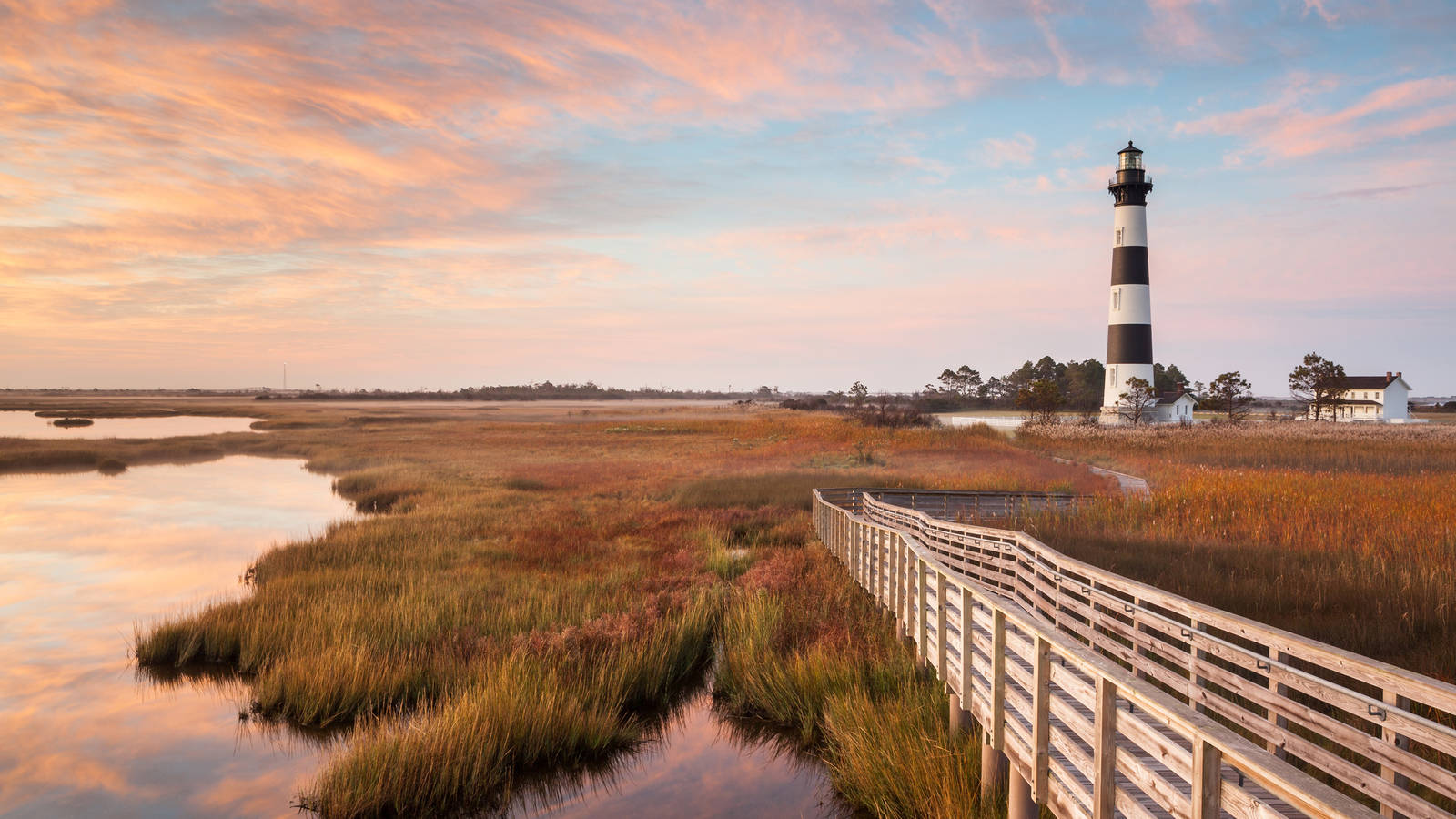 Next on our list of the best beaches in North Carolina for families, don't miss out on Cape Hatteras National Seashore. The country's first national seashore is located on Hatteras Island, off the Pamlico Sound. From the sound to the oceanside, find 70 miles of preserved shoreline that makes up the largest parcel of beaches on the outer banks.
Visit the wildlife refuge, take a four-wheel-drive vehicle onto the beach at Cape Point, or check out the Cape Hatteras Lighthouse. Camp on the beach, go windsurfing, or take advantage of quality fishing. Enjoy swimming and wading beaches, as well as prime shelling and sandcastle building.
If you love a secluded beach where you feel like you're the only person, this is the spot for you.
You aren't truly isolated, as Hatteras Island and the Cape Hatteras National Seashore contain seven small villages. Find places to eat and shop there, as well as historical and educational sites. Stay on the island in a vacation rental or drive for miles along Highway 12 with peaceful beach views.
Duck
Duck, North Carolina is on the north end of the Outer Banks and frames Currituck Sound. Originally a duck hunting community, today visitors enjoy this cozy beach community for its miles of uninterrupted horizons. Instead of motorized vehicles, residents and guests drive golf carts that can be rented in town!
Duck offers one of the best beaches in North Carolina for families, so you can enjoy uninterrupted views of the Atlantic on one side and Currituck Sound on the other. Take the family for a stay at the famed Sanderling Resort, or rent a condo with private beach access.
There is no public beach access in Duck unless you're a resident or renter, but there are plenty of things to do. Walk the mile-long boardwalk where you'll find excellent shopping and countless restaurants along the entire stretch.
Check out the original Duck Donuts or spend the day at Duck Town Park. There's an amphitheater that hosts live music, including an annual jazz festival on Columbus Day weekend. At the park, there's a playground, a kayak and canoe launch, fishing and crabbing spots, walking trails, and even dog-friendly areas with watering holes.
Emerald Isle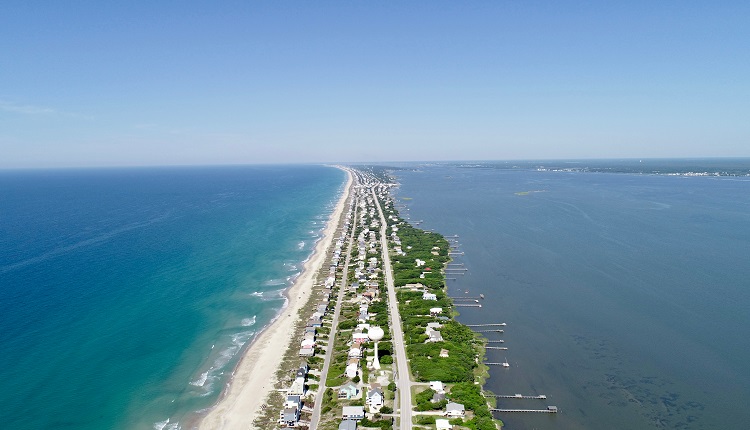 Located off of the Bogue Sound, the town of Emerald Isle is part of North Carolina's Crystal Coast in the Southern Outer Banks. If you're feeling lucky, bring the family to the annual Emerald Isle St. Patrick's Day Festival with live music, food, rides, and arts and crafts!
In Emerald Isle, enjoy all kinds of boutiques and consignment shops, surf shops, excellent seafood, and casual and fine dining. For outdoor activities, check out Emerald Isle Woods Park, which offers hiking trails and a disk golf course. Rent a bike and cycle along 26 miles of multi-use paths that run along highway 58.
There are public beach access points on the western and eastern ends of Emerald Isle. Take a paddleboard lesson, go deep-sea fishing, or enjoy a dolphin-watching cruise! In the winter you can take a 4WD vehicle on the beach at Blackskimmer access point.
Topsail Island
South of Jacksonville, along the Stump Sound, you'll find the 26-mile long Topsail Island. The island was only accessible by boat until the 1940s, giving it a quaint small-town feel. The population stays low, except during the summer when people come to rent, camp, and park their RVs for a stay.
There are multiple public beach access points along both the ocean and sound sides of the island. On our list of the best beaches in North Carolina for families, we highly recommend Topsail Island's Serenity Point. Find this spacious, secluded beach on the southern tip of the island. It's the perfect spot for sunbathing and letting the kids jump in the water while you relax.
On the northern end of the Island, check out North Topsail Beach Town Park, a family-friendly park with fun playground equipment, a basketball court, beach access, piers, and an ice cream shop. Surf City has Kenneth D. Batts Family Park. In Topsail Beach, do some shopping and check out the Missiles and More Museum to learn about the history of the island's involvement during World War 2.
Kill Devil Hills / Kitty Hawk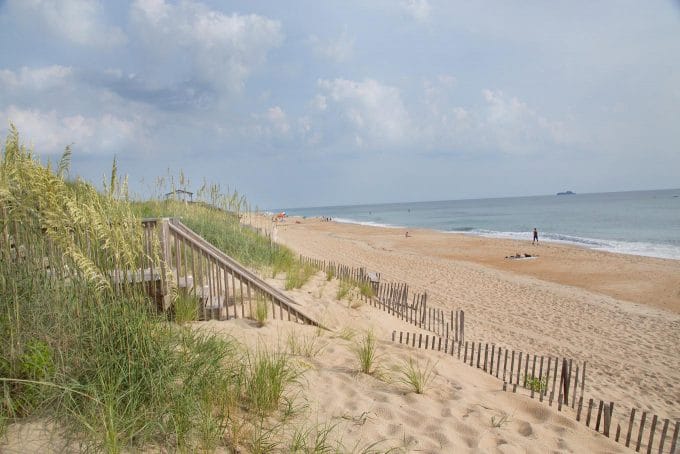 Off of Interstate 158 is Kill Devil Hills, the famed home of the first 1903 controlled airplane flights of the Wright Brothers. Visit the Wright Brothers National Memorial Park and watch planes take off at the active First Flight Airport.
For even more history, check out the Monument to a Century in Flight just 4 miles north in Kitty Hawk. This monument park was built to celebrate the 100th anniversary of the first flights. Kitty Hawk is also where you'll find the Kitty Hawks Wood Coastal Reserve, a maritime forest and educational center. In Kill Devil Hills, walk through the beautiful Outer Banks Arboretum and Teaching Garden.
Kill Devil Hills and Kitty Hawk have miles of beachfront with many access points. Search for shells and sea glass or go surf fishing. There's also the old Avalon Fishing Pier; you can enjoy the catch of the day at one of their beachside restaurants. See if any water sports interest you on the sound side of the islands.
Wrightsville Beach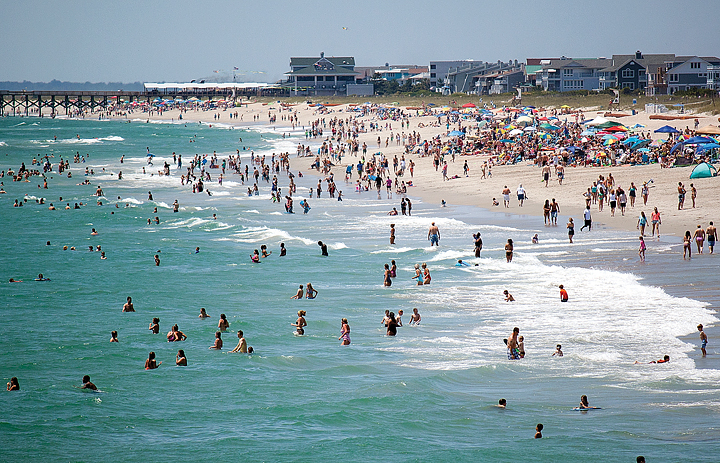 Next on our list of best beaches in North Carolina for families is Wrightsville Beach on the outskirts of Wilmington. This beautiful, old historic North Carolina town has tons of public beaches. The historic Crystal Pier is a great photo opportunity and fishing spot. Or check out the popular Johnnie Mercers Fishing Pier and do some shopping or grab a bite to eat.
Visit Wrightsville Beach Park, which offers sprawling playground equipment, grassy areas, picnic pavilions, and ball fields. Harbor Way Gardens is adjacent to the park and a nice place to see flowers and butterflies or play in the Children's Fountain. Nearby is also the Wrightsville Beach Museum of History that hosts regular events and children's programs.
Bald Head Island
A quick ferry ride from Southport, North Carolina will take you to Bald Head Island. Enjoy stunning swim beaches, like South Beach and East Beach. Take a walk down to the Shoals of Cape Fear on the tip of Bald Head Island.
The Bald Head Maritime Forest Preserve is a great place to learn about the local ecosystem. The Bald Head Island Conservancy oversees the Bald Head Island Natural Area and hosts fun educational programs for children. Take a tour of the history museum and visit Old Baldy, the lighthouse.
There are all kinds of outdoor activities on the island. Enjoy a hike through the nature preserve or rent a bike for the day. Try Stand Up Paddleboarding through the marsh or take a kiteboarding lesson!
Visit A North Carolina Beach with Your Family
The best beaches in North Carolina for families have something for everyone in your crew. From isolated sandy beaches to jazz festivals, from quiet fishing piers to the best shopping, you'll find something for your family on the Outer Banks.
When you're planning your next beach vacation for the family, we hope you'll consider one of our picks. Have fun in the sun!
More about our TFVG Author
A seasoned traveller, Dad, and avid sports tourist, James foundered The Family Vacation Guide to share his expert vacation experiences- especially when it comes to being a travelling family man.
Featured in Travel articles such as Travel + Leisure, TripSavvy and SFGate, you know you're reading some of the best vacation tips online.