With its breathtaking Atlantic beaches, awe-inspiring mountain ranges, and buzzing cityscapes, North Carolina is a fantastic destination for holidaymakers of all shapes, sizes, and needs. However, away from its stunning vistas, North Carolina has a wealth of fantastic indoor activities to pursue, and none are more eyecatching than the state's incredible array of aquariums.
The perfect day-in for families, The Tar Heel State's sensational selection of sub-marine centers is sure to inspire wonder and create life-long memories in equal measure.
So, take the plunge with us and explore 10 of the finest aquariums that North Carolina has to offer.
Here Are 10 of the Best Aquariums in North Carolina
Below you'll find a whistle-stop tour of North Carolina's aquariums.
However, they aren't the only sub-aquatic adventures to be had in Tar Heel State. Thus, before we dip our toes in the tidal touch pools of North Carolina, take heed – if you don't discover your dream sub-marine day out here, it's probably lurking just beyond the horizon.
Founded in 1976, and widely regarded as one of the best places to see marine life in North Carolina, the aquarium on Roanoke Island contains a wealth of underwater treasures for pirates young and old to revel in.
Sistered with the following two attractions on our list, Roanoke Island plays host to some of the world's most fascinating underwater residents. These include mighty freshwater alligators, adorable river otters, and several expansive saltwater exhibits designed to inspire delight and awe.
Perhaps most inspiring of all is the Roanoke Island sea turtle rehabilitation center. Here you can watch as the center's team of conservationists care for, and prepare injured turtles for release – an amazing way to instill environmental care and concern in children from a young age.
Dipping back into the blue, the aquarium's eye-opening "Graveyard of the Atlantic" exhibit sees visitors come eye to eye with more sharks than they can count. Plus, if you're feeling particularly brave (and are a certified open-water diver) you can even jump in with them!
Located in the port city of Wilmington, Fort Fisher Aquarium provides a rarified glimpse at Luna, the Aquarium's resident, and elusive albino alligator, as you trace the path of the Cape Fear River until it flows into the Atlantic Ocean.
Along the way, you'll also have the chance to see a charming family of Asian small-clawed river otters, and even see a rescued bald eagle take flight! However, aside from Luna the albino alligator, the most exhilarating part of a visit to Fort Fisher is surely the aquarium's North Carolina tidal touch pool.
Here guests receive the opportunity to pet bamboo sharks, shake hands with a starfish, and more before posing for a picture in the jaws of a fallen leviathan – the extinct Megalodon shark.
Prefer to keep your hands dry? Happily, the Fort Fisher Aquarium also gives visitors the opportunity to feed flocks of tropical birds and partake in outdoor adventures and camps.
Exciting and educational family fun activities galore.

Located on North Carolina's Crystal Coast, the aquarium at Pine Knoll Shores immediately transports you into a world of water, as entrants are welcomed by the thundering sound of a three-story indoor waterfall.
The site of a jaw-dropping journey from the mountains to the sea, Pine Knoll Shores contains the biggest man-made oceanic habitat in the entirety of North Carolina, a vast exhibit complete with its own living shipwreck.
This fully realized replica of the U-352 German U-boat (that sank off the coast of The Tar Heel State in 1942) is a unique attraction and home to hundreds of fish, sharks, and other creatures.
If endangered species are your things, the aquarium at Pine Knoll Shores also has a swimming miracle lurking beneath its depths; a rare white sea turtle. Only 1 in 1000 sea turtles live to full maturity and, while the North Carolina Coast has had its fair share of sightings, the odds for these rare white reptiles are even steeper, so make sure to catch a glimpse before you leave!
Finally, if you can tear yourself away from the living shipwreck, Pine Knoll also boasts a family fun play park for the kids to enjoy before settling down for refreshment at the on-site snack and gift shop.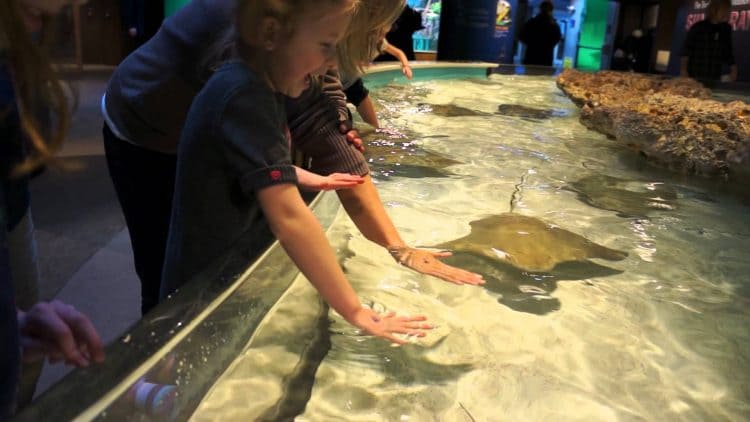 Touch Tank by name, touch tank by nature. The Ecological Marine Adventures Touch Tank Aquarium represents one of the most hands-on experiences available in North Carolina aquariums. Education with a smile is the name of the day, here, and you couldn't be in better hands (and neither could the wildlife).
Yes, from the tactile fossil dig site and shark station (featuring real ancient shark teeth!) to petting sessions with friendly crabs and rays, this aquatic adventure is designed to enlighten, educate and entertain. There are even scheduled dissections for the true scientists among us to absorb!
If you're looking for the only aquatic tunnel experience in North Carolina, then Sea Life Charlotte-Concord is the Atlantic exhibit for you. A stroll through this underwater avenue of marine wonder will see you come face to face with sharks, shoals of technicolor tropical fish, and the site's resident sea turtle, Neptune, as they go about their daily business.
Seeing the Charlotte-Concord's sea life from the public side of the glass is one thing, but if you want to experience what really goes on behind the scenes, you and the family can sign up for a guided tour of this North Carolina aquarium's inner workings.
This 20-minute tour provides a brief but in-depth exploration of life in a working aquarium as the staff prepare to make their daily shark and ray-feeding presentations, and explain how they care for their ocean-dwelling critters. Finally, the Charlotte-Concord's interactive tidal touch pool is a must for inquisitive kids, with 7 different animals waiting to be petted.
Looking for a freshwater take on the aquarium? The Appalachian Rivers Aquarium is just the ticket for families that are keen to investigate the inland aquatics of North Carolina.
A pocket-sized powerhouse of an aquarium full of local and exotic freshwater finds this free-to-enter exhibition provides a stunning window into the great all-American waterways.
From tangerine darters to the increasingly endangered hellbender, (an aquatic salamander that is native to the waters of eastern and central United States) you'll be amazed at what incredible fish, animals, and other creatures call North Carolina's waters home.
Having opened in 2011, the Aquarium & Shark Lab by Team ECCO now welcomes over 10,000 visitors every year, and if you're in the area (Hendersonville, NC), it's well worth adding your name to that list.
The Aquarium & Shark Lab offers a fascinating insight into the world of marine conservation, hosting 6 senior projects, at any one time, for visitors to explore, including reef/mangrove and grass bed ecology, turtle rescue, and local reptile education.
With that in mind, kids and grownups alike can test their animal magnetism during daily reptile feeding and interaction sessions, or witness the feeding frenzy of the aquarium's resident sharks and stingrays. An interactive, informative, and inspirational day out for all.
Ever wondered what life is like in the heart of an estuary? Well, thanks to the North Carolina Estruarium, the first of its kind in the world, you can find out for yourself via means of 200 exhibits.
From hurricanes to hermit crabs and cultural heritage, the Estruarium offers a deep insight into the North Carolina habitat between habitats. Indeed, the Estruarium has something for everyone, with the incredible artwork and engaging riverboat tours a must for those keen to connect with the area.
Of all the North Carolina aquariums on our list, this is, perhaps, the most unique.
The Wiseman Aquarium at the Greensboro Science Center plays host to a multitude of marine marvels including the beautiful lionfish, the adorable Asian small-clawed river otter, and the ingenious giant pacific octopus.
What's more, the center's very own hands-on harbor is a joy for families, with a variety of rays and sharks on offer for petting. However, perhaps its biggest draw is the Shark Reef, a 90,000-gallon exhibit that plays host to its very own fully functioning Caribbean community of underwater animals.
Back on shore, penguin lovers should take note – the center has its own flock of adorable African penguins. Play your cards right and you might just see them diving for fish at feeding time!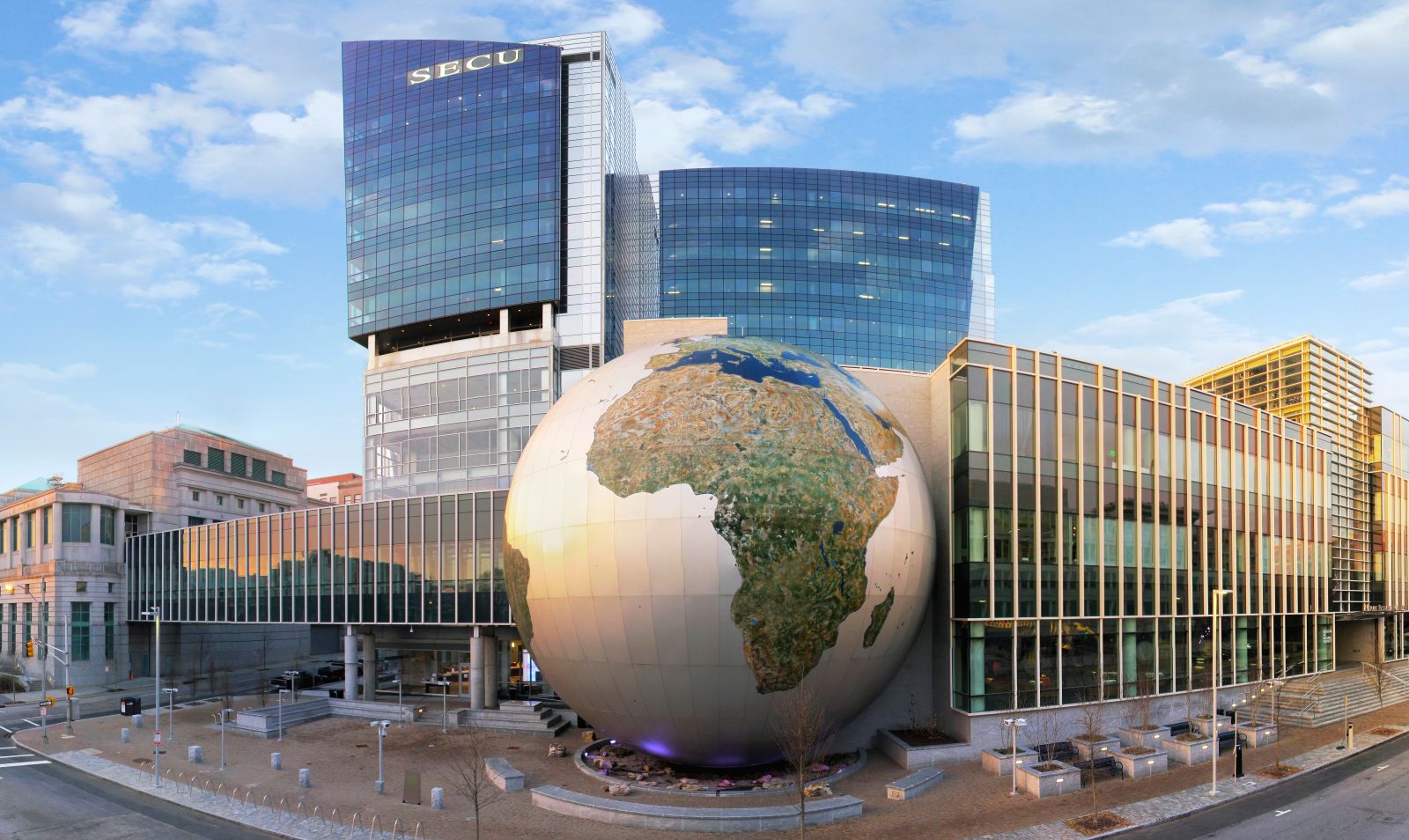 The North Caroline Museum of Natural Sciences takes visitors on a journey through the fresh waters of the Appalachian Mountains to the salty depths of the North Carolinian coast. Manifesting in 5 immersive saltwater exhibits and 9 freshwater displays, the Museum of Natural Sciences is home to over 100 species of aquatic animals.
A must for budding sea scientists and lovers of marine conservation, the museum's Glofish Exhibit even teaches viewers how science has learned to alter DNA.
In addition to its aquarium, the North Carolina Museum also plays host to hundreds of reptiles, amphibians, and arthropods. So, once your aquatic enthusiasm runs dry (unlikely) you can step back onto dry land and sample the other creatures that the North Carolina Museum of Natural Sciences has to offer.
Final Thoughts
Ultimately, from rarified white sea turtles to mysterious sunken wrecks and tactile touch pools, North Carolina boasts a fantastic selection of world-leading sub-marine attractions for visitors to enjoy.
Perhaps most importantly, whether you like sharks, alligators, or even birds, there's something for everyone to cherish in The Tar Heel State's marine life centers. So, if you haven't found a submarine destination that suits your needs here, don't be put off.
Your perfect sea life escape is out there in North Carolina. All you need to do is jump in!
Other fantastic aquariums that the whole family will enjoy
If you're hoping to find other incredible aquariums that the kids will be sure to love, look no further than our round-up below!
More about our TFVG Author
A seasoned traveller, Dad, and avid sports tourist, James foundered The Family Vacation Guide to share his expert vacation experiences- especially when it comes to being a travelling family man.
Featured in Travel articles such as Travel + Leisure, TripSavvy and SFGate, you know you're reading some of the best vacation tips online.