Ohio State Parks cater to kids and adults alike, with numerous parks providing diverse family-friendly activities across the state.
The varied landscapes of Ohio resulted from glaciers receding from the area, which is why so many great Ohio state parks exist today. Though there are many to choose from, these parks are ten of the best state parks in Ohio for families with kids. 
1. Alum Creek State Park
Twenty miles to the north of Columbus, this state park sits on the edge of Alum Creek Lake, making it perfect for families to enjoy a day on the water. Visitors partake in boating of all sorts at the park. From kayaks to canoes, the lake has plenty of places to paddle around. Some boat launch areas provide a limited supply of life jackets for families to borrow.
Alum Creek State Park hosts the largest inland beach in Ohio's state parks. The swimming area provides many amenities like a changing area, showers, restrooms, and volleyball courts. While pets are not allowed at swimming beaches, Alum Creek allows dogs at the dog park and dog swim area if you want to bring your pet.
The park offers lots of activities back on land too. Four easy trails for families trace paths through the park, including a Storybook Trail. Several parks hosting Storybook Trails made this list of best state parks in Ohio for families. These trails combine outdoor exercise and reading for fun, interactive experiences for children.
Alum Creek provides mountain biking with various difficulty levels for families seeking outdoor adventure. Throw a frisbee on the eighteen-hole disc golf course in the park. Rental equipment is available for disc golf, but families can also bring their own.
Alum Creek State Park doesn't close down for winter. The park just has different options for families to enjoy! Visit during snowy months to experience sledding, ice skating, cross-country skiing, and ice fishing.
2. Burr Oak State Park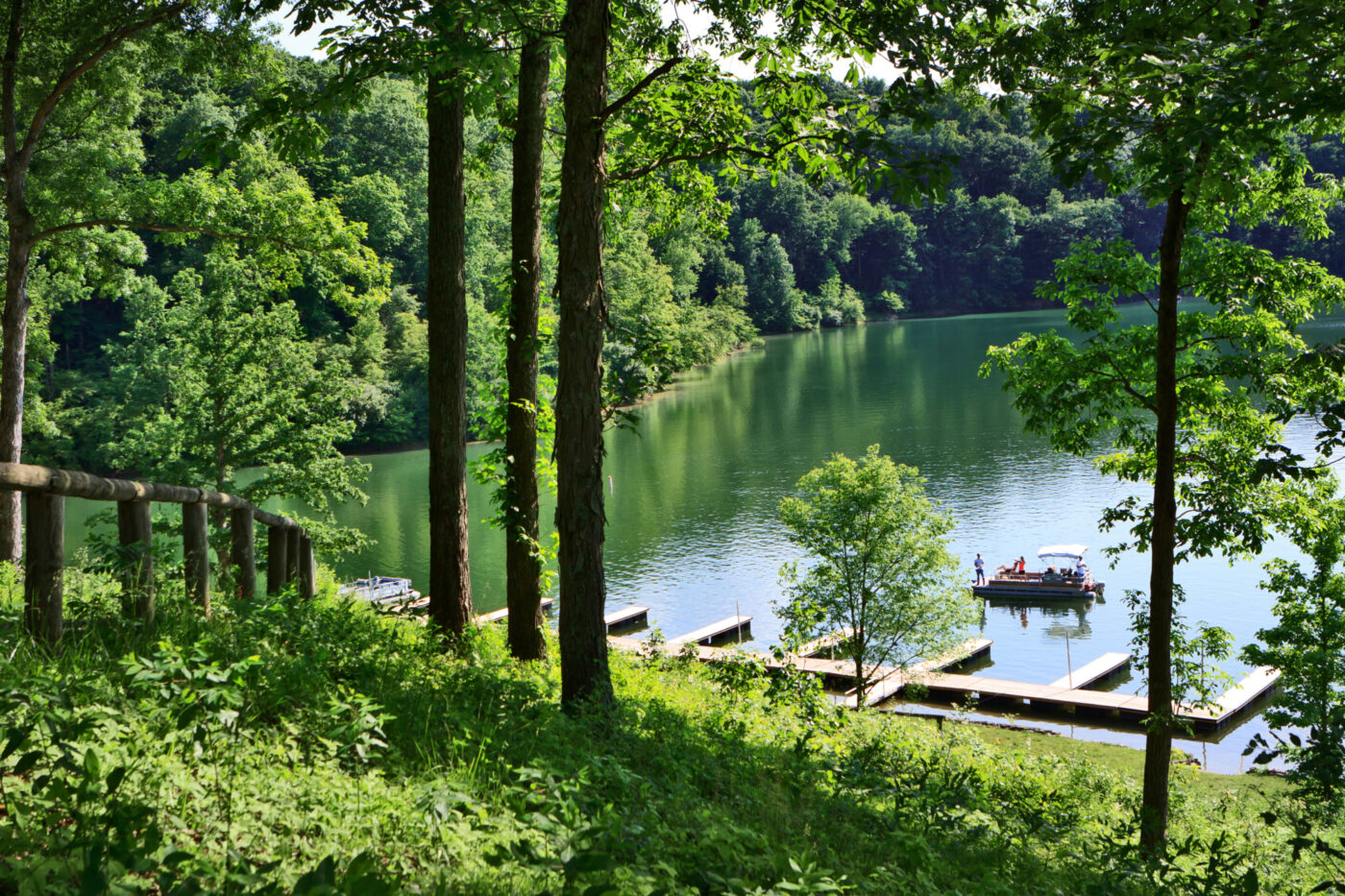 A half-hour drive from Athens, Burr Oak State Park is another state park located on a beautiful lake. Visit this park any time of year for great activities for families with kids. The park offers sledding and ice fishing in the winter months when conditions are right.
During warmer months, swimming becomes one of the park's most popular activities. Lots of families boat on this lake as well. Volleyball courts and a picnic area are nearby when you're ready for a break from the lake.
Plan ahead and pack equipment to take advantage of this Burr Oak's archery range. There are multiple targets to practice aiming arrows. Disc golf is also available. The course contains eighteen holes and is located near the nature center.
Burr Oak State Park sits in the foothills of the Appalachian Mountains. Experience nature on one of the many hikes around the area. This area is home to white-tailed deer, box turtles, and turkeys. Travel to this park in the fall to experience spectacularly colored leaves, from bright yellows to burning reds.
A Storybook Trail near the lodge takes your family around a half-mile trail around the nearby forest. Take a book or share one at the end of the path marked by a Little Library. Young minds have many opportunities to practice reading at Ohio state parks.
3. Deer Creek State Park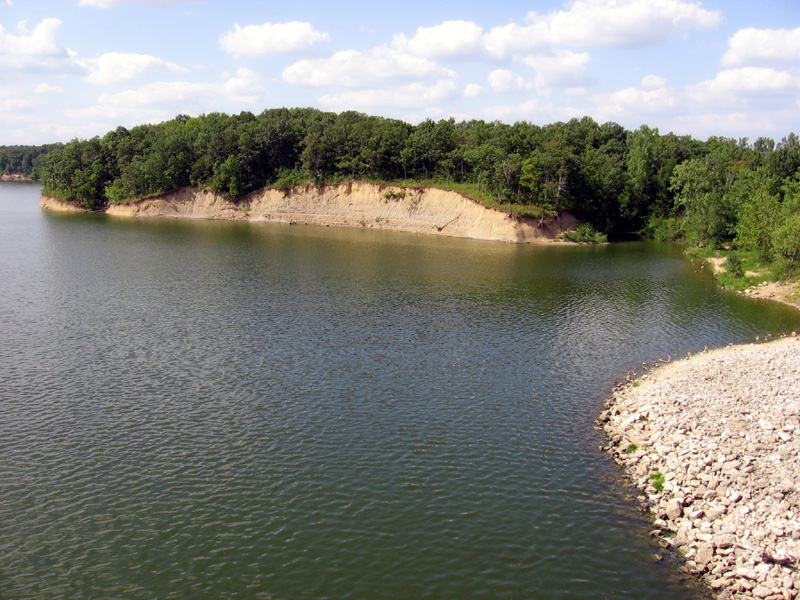 Find Deer Creek State Park less than an hour south of Columbus. The park contains much of the land around Deer Creek Lake and offers accommodation whether your family enjoys camping or resort-style lodging. The historic Harding Cabin provides lakeside accommodations for up to nine people.
Deer Creek is one of the best state parks in Ohio for families, not only for their unique lodging but also for many activities. Boating, disc golf, fishing, and picnicking are popular things in the park.
Deer Creek State Park also has a golf course for families who like to tee off. This state park is great for other sports too. Families enjoy the baseball field, volleyball and basketball courts, a pickleball court, and a gaga ball pit.
In the winter, there's a seventeen-mile brindle trail where snowmobiling is available when conditions are right. Summer visitors rent bicycles at the Campground Check-in Station for pedaling around the park. There are many hiking-only trails to check out too.
Deer Creek Lake makes this park a wonderful place to search for amphibians. Kids love searching for frogs and toads at this park!
While the sun is out, look for turtles basking along the lake's shores. Box turtles inhabit this park too, but they're more at home in the forest than in the lake itself. Box turtles are sensitive species in the area. If you see one on the road, lend a helping hand by helping them to the side of the street they were heading.
4. Hocking Hill State Park
About sixty miles to the southeast of Columbus, travelers come to Hocking Hills State Park in part for the sights of stunning natural rock formations. Many of these natural features were carved out of sandstone deposited when the area was a shallow sea. What remains today is the quartz-rich formations creating cliffs, rock-shelter caves, and waterfalls.
Visitors explore this park on many of the available trails. These trails range from the easy quarter-mile Ash Cave Gorge Trail, which is handicap accessible, to the more challenging Whispering Cave Trail. Whispering Cave may be difficult, but hikers get views of the park's second-largest cave with a seasonal waterfall when they make the journey.
Like many other Ohio state parks on this list, Hocking Hill has a lake. Rose Lake is relatively small, and there are restrictions on the boats used here. Families can still launch paddling boats from a hiking trail off State Route 374 or from the campground if they are registered campers. Rose Lake is a perfect spot for families to enjoy a quiet afternoon on the water.
Hocking Hill also hosts an archery range, mountain biking trails, and picnicking. The park offers nature programs and events year-round at this popular park. Check out the Visitor's Center at Old Man's Cave to see some educational exhibits for kids and adults. Camping is available at Hocking Hill, and they have a new lodge under construction.
5. John Bryan State Park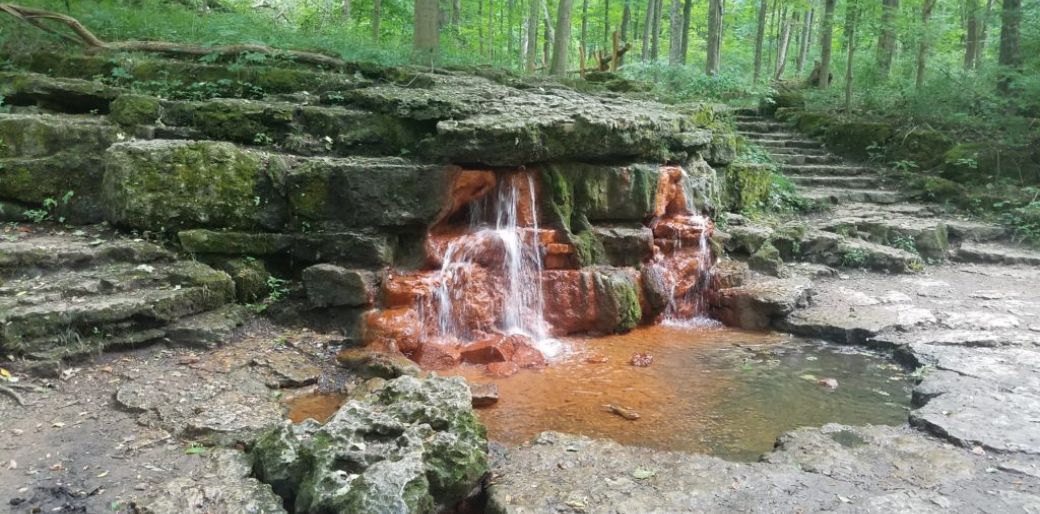 A half-hour's drive east from Dayton takes families to John Bryan State Park. Visitors enjoy the park all year long. There's something to do each season at John Bryan. Fall travelers get to experience the fall foliage near the Little Miami River. Kayakers and other paddle boaters can tour the river by starting at the designated launch area on Jacoby Road.
Hiking opportunities abound at John Bryan State Park. There are ten hiking trails in the park, all under three miles, that are great for kids. This includes another Storybook Trail with a free Little Library to take or leave a book. Older kids can enjoy the ten miles of mountain biking at the park.
John Bryan offers rock climbing and rappelling for adventurous families. Equipment is not provided at the park, so this might not be a great activity unless your family is already familiar with the activity and equipped to do it. The park also has a nine-hole disc golf course, but visitors must bring equipment for this as well.
The Little Miami River is home to many types of fish like species of bass and panfish. Families can fish right off the shore at this park, though people over sixteen will need an Ohio fishing license. The river rarely freezes enough for sports like ice fishing in the winter, but visitors can partake in sledding and cross-country skiing in the winter months.
6. Kelleys Islands State Park
Find Kelleys Island State Park in Lake Eerie. Access the park by ferry for a unique Great Lakes experience. Your family will see evidence of the immense glaciers that helped shape the region all around the island. One of the most prominent features is a tract of groves, an example of glacial striations.
Visitors to this park enjoy boating, especially kayaks that can be rented at the sand beach during summer months. Lake Erie is home to many types of fish, but Walleye is one of the most popular catches here. Families catch fish off a pier or the shoreline with the best opportunities on the north shore.
Many families stay at the park overnight. Tent camping is available in addition to a few cabins and yurts for rent. The 150-foot swimming beach is a short distance from the campground. There are also multiple picnic areas for visitors to use on a first-come, first-serve basis.
The island has lots more to see and explore outside the park too. Kelleys Island has multiple nature preserves as well as a historical museum. Birdwatching is a favorite activity for travelers to the park, and during fall, some guests catch sight of Monarch butterfly migration.
7. Malabar Farm State Park 
Seventy miles to the north of Columbus, visitors will find Malabar Farm State Park. The farm is on the National Register of Historic Places, making it a great place to visit to experience the past. What makes Malabar Farm one of the best state parks in Ohio for families with kids is the animals! 
Bring your family to the main barn at Malabar Farm State Park to see many farm animals. There are horses, ponies, cows, sheep, rabbits, and a barn cat. Visitors in spring can see some newborn kids and lambs too. This park area is free to visit, and opens from 8 am-5 pm most days.
Adults and older kids will appreciate the history of the large farmhouse, which costs a small fee to tour. Unfortunately, this guided tour isn't recommended for small kids, but outside farm tours are offered by golf cart or wagon when the weather is nice.
Families wanting to know more about the farm can explore the Louis Bromfield Visitor Education Center. Stop by the gift shop on the way out to purchase products produced on the farm.
If touring a historical homestead seems low energy for the type of activity your family enjoys, check out the multiple trails in the park. There are two ponds for fishing, where bluegill and catfish can be caught. Camping is also available in the park for families that want to spend more than one day on the farm.
8. Mosquito Lake State Park 
An hour's drive to the east from Cleveland brings guests to Mosquito Lake State Park. The park is located on one of Ohio's largest lakes, making it an excellent place for boating and fishing.
If your family brings a boat to this park, there are multiple places to launch and start your day on the lake. Fishing is quite popular at Mosquito Lake, giving travelers chances to catch the large northern pike with the proper license.
There are plenty of things for guests to do back onshore too. Swim at the designated beach or bring the whole family to the dog swim area to enjoy the lake with your furry friend. Multi-use trails at the park provide places to hike, horseback ride, mountain bike, and snowmobile in the winter. There's more than just the lake to see; explore the woods around the area.
Families will find several playgrounds in day-use areas around the park. The best spot for kids to play is the Nature Play Area near the campground. Kids can explore a teepee and log cabin. Adventurous kids can try the ropes course to cross a small stream.
Winter recreation at Mosquito Lake State Park is quite popular as well. Under the right conditions, the park can be an excellent spot for skating, ice fishing, and cross-country skiing. This park also provides a disc golf course with eighteen holes and an archery range.
9. Salt Fork State Park
Visitors will find Salt Fork State Park in the state's eastern portion, about ninety miles from Columbus. Salt Fork has lodging options for every family. There are plenty of camping choices, including RV hookups, an equestrian campground, and a primitive campground. The Salt Fork Lodge offers impressive views and over one hundred guest rooms and cabins available to rent.
Experience the region's history by touring the Kennedy Stone House. The home was built in 1837 and still stands today. The Kennedy Stone House is also on the National Register of Historic Places. As the name suggests, the building was constructed from locally quarried stone.
Salt Fork has a spectacular variety of plants and animals. Visitors frequently report seeing red foxes, barred owls, and various songbirds in the park. In the spring, frogs can be heard while walking the fourteen different trails in the park.
Salt Fork Lake, located within the park, provides boating, swimming, and fishing for guests to enjoy. Visit the Nature Center at the beach to see informative displays, some with live animals. Other things worth noting at the park include a dog park, a golf course, and an archery range. A miniature golf course opens near the nature center for families to enjoy during the summer.
10. Strouds Run State Park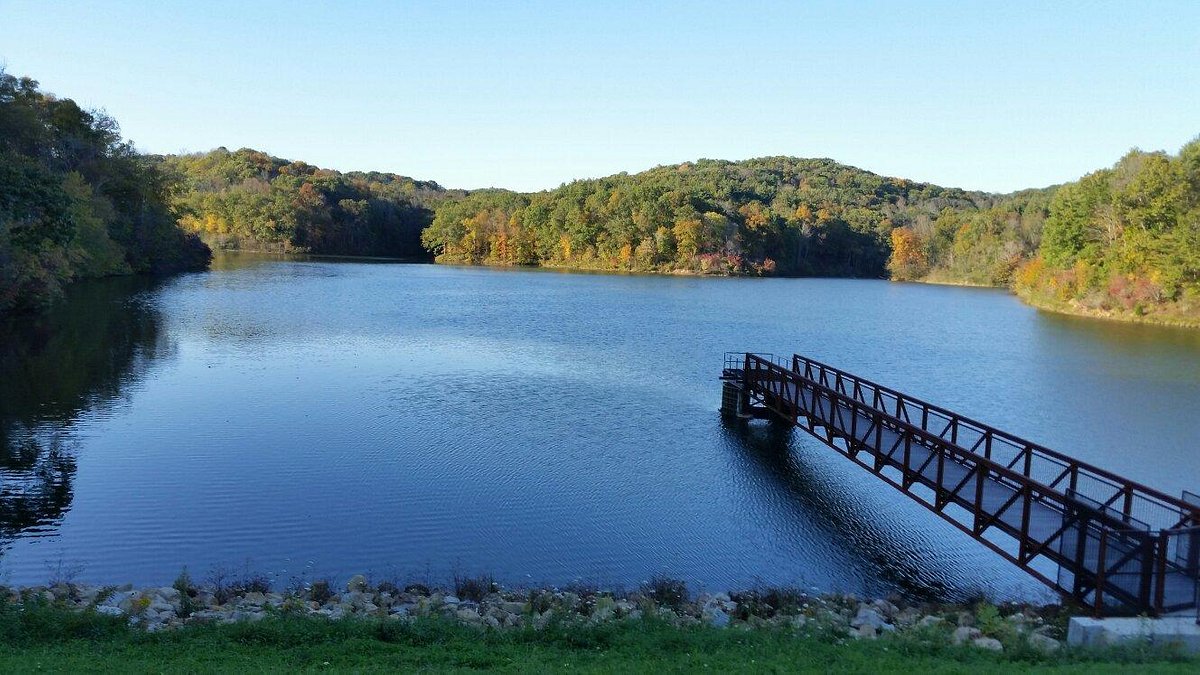 Just outside the city of Athens, travelers will find Strouds Run State Park. The park encompasses Dow Lake. Boating is allowed here, with some limits on the types of crafts being used. Kayaking is one of the most popular activities in the park. A swimming beach along with changing booths and restrooms are also available here.
Strouds Run provides lots of multi-use trails appropriate for horseback riding, hiking, and mountain biking out of the water. The trails take visitors through the valleys, hills, and wood areas.
Though this area of Ohio wasn't covered with glaciers, their effect can still be seen in this area where glacial melt helped create the landscape. The natural beauty of this park brings people back at different times of year to witness wildflowers blooming, stunning fall foliage, and sledding in the winter.
Camping is also available at the state park and a picnic area. Families will find playground equipment perfect for kids at the park and a basketball and volleyball court. Strouds Run State Park has been a favorite spot for families and students from the nearby University. The park was named after the Strouds family, who lived here two hundred years ago.
What visitors like best about this state park is the dramatic landscape that is perfect for catching sight of deer, raccoons, opossums, and songbirds. Rare woodpeckers can be found in the forest too. Eastern box turtles can sometimes be found in this park as well.
Enjoy Ohio State Parks
While these were some of the best state parks in Ohio for families with kids, they aren't the only ones. The extensive Ohio state park system provides many places to enjoy with the whole family.
Ohio state parks feature tons of activities, from archery to mini-golf. Check out these parks and keep your eyes open in The Buckeye State; there are more great state parks to explore with your family.
More about our TFVG Author
A seasoned traveller, Dad, and avid sports tourist, James foundered The Family Vacation Guide to share his expert vacation experiences- especially when it comes to being a travelling family man.
Featured in Travel articles such as Travel + Leisure, TripSavvy and SFGate, you know you're reading some of the best vacation tips online.