As one of the gems of the Midwest, Ohio is an excellent place to plan your summer vacation. It has gorgeous scenery, tons of things to do, and the hospitality is second to none.
Any good summer vacation isn't complete until you've visited at least one water park, and Ohio has some of the best. These water wonderlands are excellent spots for families to visit on vacation if you need a day to cool off and relax.
But with so many to choose from, which are the best water parks in Ohio?
The Best Water Parks in Ohio
If you're planning a trip to Ohio this summer, you'll be happy to know the state offers no shortage of water parks where you and your family can splash away the day.
These parks run the gamut from fun and simple to wild and exciting. Some have full theme parks alongside their lazy rivers and towering slides. In contrast, other parks are small, offering basic water fun without the long lines or crowds.
The ideal water park varies from family to family. You'll probably prefer more kid-friendly slides and splash zones if you have small children. However, older kids might want to take a trip down a near-vertical slide or hit a wave pool for some surfing fun. Finding a balance that will suit your whole family is definitely key to a great day.
Fortunately, Ohio water parks offer everything you could want in a park. So, if you're interested in finding your family's next water destination, keep reading.
Zoombezi Bay – Powell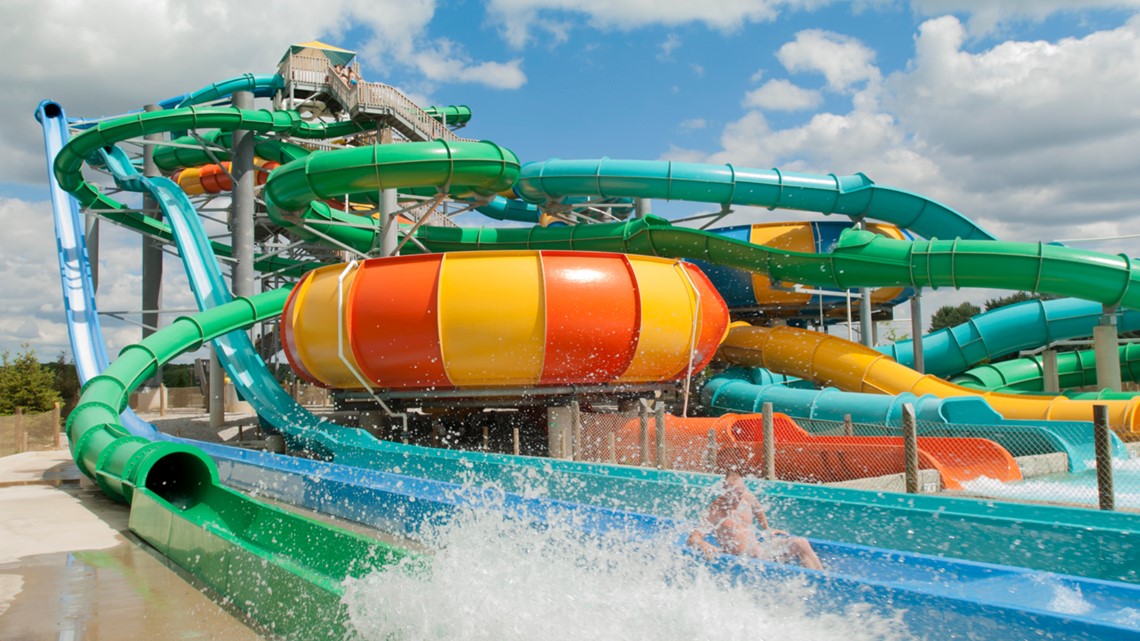 Zoombezi Bay is located at the Columbus Zoo in Powell, Ohio. This park is one of the best for families with kids of varying ages. It offers 17 slides, mat racing, a lazy river, and a kiddie area with dozens of water activities. Even better, the park has cabanas you can rent for the day that'll give you a place to take a break and relax.
This park also has an adults-only section called Cocktail Creek, where you can enjoy a cool cocktail while you kick back and relax on a raft. It offers a walk-up and swim-up bar, so you won't have to set foot out of the pool when you need a refill. For those who aren't of age, there are several on-site eateries where you can grab a quick lunch.
Watering Hole – Port Clinton
The Watering Hole in Port Clinton is a family-owned park that offers a zoo and safari in addition to a full-service water park. If your children are on the younger side and you want a more low-key park to visit for a day, The Watering Hole will be a great choice. It offers a Treehouse with four slides, slide towers that stand three stories tall, and a lazy river for a more laid-back experience.
There are also cabanas available to rent at the Watering Hole, which is great if you plan to be there for the entire day. You'll have a dedicated, secure spot for your belongings, as well as a space to stop for the day and eat. The Watering Hole offers other activities, too, including gem mining, go-karts, and a Jr. Zookeeper program that's perfect for younger kids.
Pioneer Waterland and Dry Fun Park – Chardon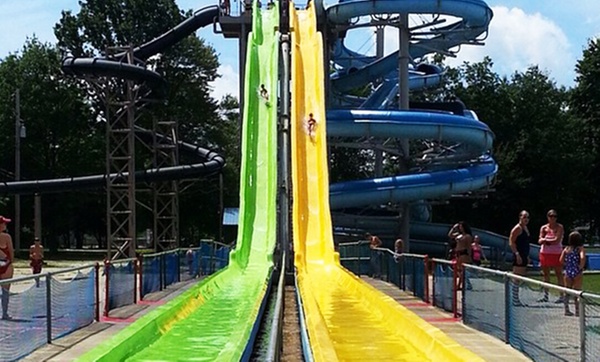 Dubbed "Ohio's premier water park," Pioneer Waterland and Dry Fun Park offers activities for every child's interest. If your vacation plans put you in the northeastern Ohio area, you should definitely work a day at Pioneer Waterland into your schedule.
Pioneer Waterland and Dry Fun Park offers slides, a lazy river, a kid zone, and a sports arena where you can play basketball or volleyball in waist-deep water. The 6-story slides are perfect for older kids, and the water cannon war zone is a great way to team up as a family and cool down. If your kids are really little, they'll have a blast at the Tot-Land Play Area.
When you're not up for taking a dip or the weather simply isn't suitable for water activities, you can take a ride on the paddle boats or get in a round of mini-golf as a way to pass the time. If you want to spend a few days at the park, you can pitch a tent or park your RV right on the property.
Baylor Beach Park – Navarre
The only thing that can make a camping trip more exciting is a water park on-site to give your kids something fun to do. Baylor Beach Park offers precisely that.
Located in Navarre, Baylor Beach boasts a two-acre lake that offers several kid-friendly water features. There's a two-story water slide and diving board for the older swimmers, along with several smaller slides for the little ones. The taller slide and diving boards are at the deep end of the lake, so you won't have to worry about your toddlers getting in the way of the "big kids."
When you're done splashing around, you can grab a bite to eat at the nearby concession stand, then play a round of mini-golf to unwind at the end of the day before heading back to camp. There are also paddle boats if you don't want to get wet and a playground that's perfect for the days when swimming isn't an option.
Soak City – Mason
Located at Kings Island amusement park, Soak City is a full-service water park that offers hours of family fun. There are slides designed for all ages and thrill levels, splash pools perfect for little ones, and a wave pool where you can practice your surf moves. If you want something more relaxing, the Splash River will be perfect.
If you're staying in the Cincinnati area, this park is worth a multi-day trip so you can spend a day enjoying the amusement park, too. With rides designed for older kids and littles, you won't have a problem finding something to occupy your family all day. There are also eateries on-premises, so you'll be able to pause to grab lunch without leaving the park or carrying around your own food.
Great Wolf Lodge – Mason
Another Mason, Ohio fixture is Great Wolf Lodge, a one-stop shop for family vacations. What's great about Great Wolf is that it has a full-sized indoor water park, which makes this a great place to stay all year round. The water park has a lazy river, towering slides, and kiddie areas to entertain the whole family.
The lodge is designed with kids and families in mind, so each attraction will suit any age. In addition to an indoor water park, Great Wolf has bowling, golf, and a Build-a-Bear workshop. The best part is that you don't have to drive anywhere. You can simply park your car at the lodge when you arrive for your vacation, and you won't have to set foot off-site until it's time to head home.
Not planning a visit to Mason? If you're in the Sandusky area, you'll be happy to know there's a Great Wolf Lodge there, too.
Why not also check out our guide to the other Great Wolf Lodge locations in the US?
Land of Illusion Aqua Adventures – Middletown
Aqua Adventures is located at Middletown's Land of Illusion, which is popular for its Haunted Scream Park that opens in the fall. The lake offers an extensive inflatable floating obstacle course and waterslides that are great for kids, along with paddleboarding that gives adults and older kids a fun, relaxing activity to take part in.
Aqua Adventure's Wibit Adventure Zone takes up a sizable amount of space on the blue reservoir and is designed to keep kids occupied for hours. There's also a lovely beach where you can relax while your kids run around all day.
Cedar Point Shores – Sandusky
Cedar Point Shores is another Sandusky landmark. It offers 18 acres of slides, pools, and water fun right on the edge of Lake Erie. It's owned by Cedar Fair, which also operates the adjacent Cedar Point Amusement Park.
This park has a lot of giant slides, as well as kiddie splash areas featuring Lake Erie's very own water monster. The pools are all lined with lounge chairs and tables, so you won't have to worry about finding a place to rest when you need a break or want to refuel with a bite to eat.
If the day isn't quite right for water play, you can pay a visit to Cedar Point Amusement Park, which is right next door.
Coney Island Park – Cincinnati
Coney Island Park is an amusement park in Cincinnati that has a large water park, mini-golf, an inflatable obstacle course, and other fun activities to keep all the kids in your family entertained. There are also a few concession areas around the park where you can grab food or a quick drink when you need a break.
Although Coney Island Park has quite a few taller slides, most of the activities are targeted to the under-10 crowd. However, if you have older kids, they'll enjoy the splash pool, inflatable ax throwing, and the Sunlite Pool.
Something Coney Island Park has that most other parks don't is swim lessons. So if you're hesitant about your little one getting in the water, or you want them to get some pointers on water safety, you can sign them up for lessons to give you both peace of mind.
The Big Splash – Grove City
The Big Splash is a water park located in Grove City that has a huge pool, slides, and water games. It also has a green space where you can relax when you don't want to be in the water.
The main downside to Big Splash is that you'll need a season pass in order to visit. Season passes for residents and non-residents can be purchased online. Depending on how long you plan to be in the Grove City area, the pass might be worth the cost.
Uhrichsville Water Park – Uhrichsville
The Uhrichsville Water Park is a 4.5-acre water park that boasts 2-story waterslides, a kiddie play area, and an 18,000 square foot heated pool. It also has men's and women's locker rooms to safely store your belongings.
Uhrichsville Water Park has a concession stand where you and your family can grab a quick bite when you want to take a break. Or, if you'd prefer your own food, you can bring your own and eat at the available picnic areas outside the pool.
Conclusion
Water parks are a timeless summer tradition and the perfect addition to any family vacation. So whether you're planning a winter getaway or a sunshine-filled summer adventure, you can add an Ohio water park into your schedule easily, as long as you know where to look. 
Other fantastic water parks to consider for some family fun
If you're hoping to find some more of the best water parks, our round-up below will be the perfect place to start.
More about our TFVG Author
A seasoned traveller, Dad, and avid sports tourist, James foundered The Family Vacation Guide to share his expert vacation experiences- especially when it comes to being a travelling family man.
Featured in Travel articles such as Travel + Leisure, TripSavvy and SFGate, you know you're reading some of the best vacation tips online.