The Poconos Mountains have been a popular family vacation destination for over a century. Find stunning mountain views and abundant wildlife while enjoying all kinds of outdoor activities. There's some of the best fishing in the country, and hiking trails are endless.
We've put together a list of what we think are the best Poconos family resorts. Some inns are laid back and outdoorsy. There are resorts with full amenities and indoor water parks, so you never have to leave the grounds!
Enjoy our list of 12 family-friendly Poconos resorts.
Skytop Lodge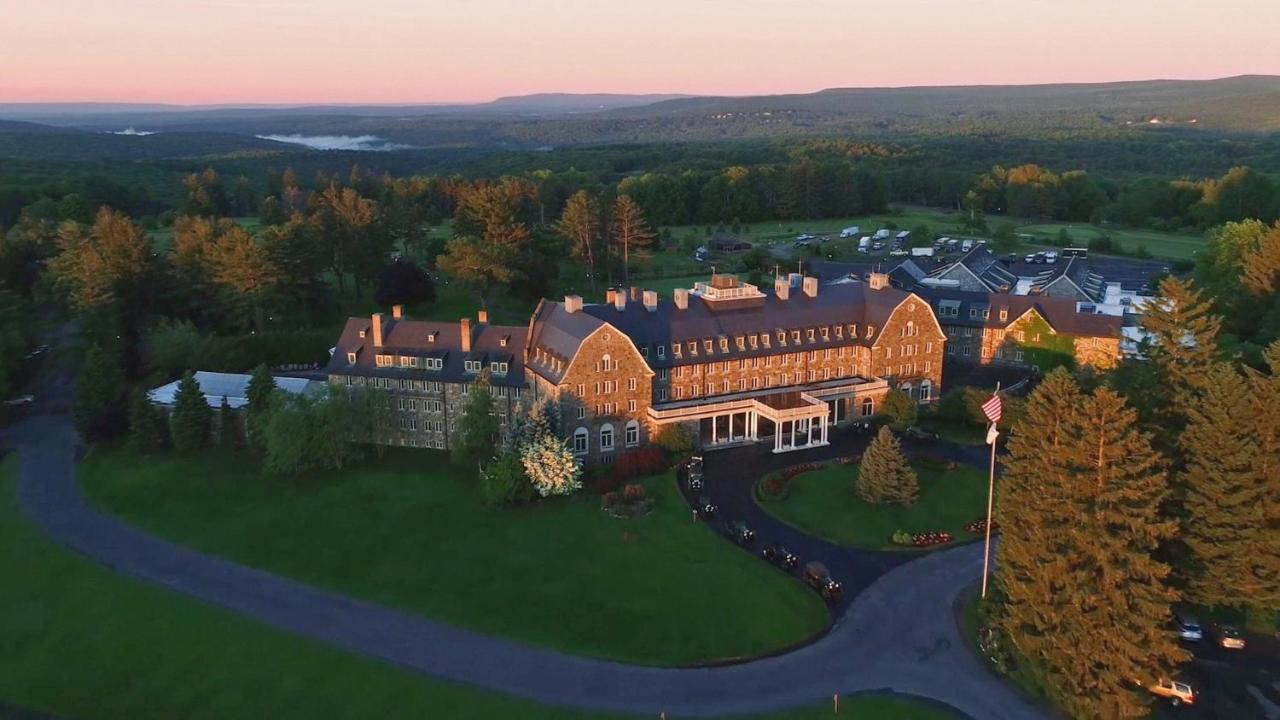 First on our list of best Poconos family resorts is the Skytop Lodge. Located 45 minutes southeast of Scranton, Pennsylvania, this century-old family-friendly resort sits on 5,500 acres in the Pocono Mountains.
Choose from suites, rooms, or cottages in five different buildings. They also have valet parking, self-parking, and electric vehicle charging stations. Guests can enjoy afternoon tea and cookies and evening bonfires.
Join arts and crafts classes and fitness classes in the 24-hour gym. This Pocono Mountain resort includes three restaurants, a coffee shop, a soda shop, a sandwich shop, and a fireside lounge.
Skytop Resort offers activities all year-round. In the winter, go skiing, ice fishing, or snow tubing. Check out the Adventure Center for rock climbing, a treetop adventure course, or archery tag. Get a massage at the spa. At the gun range, you can book a shotgun lesson. There's also fishing, boating, a golf course, and family-friendly hiking trails.
Camelback Lodge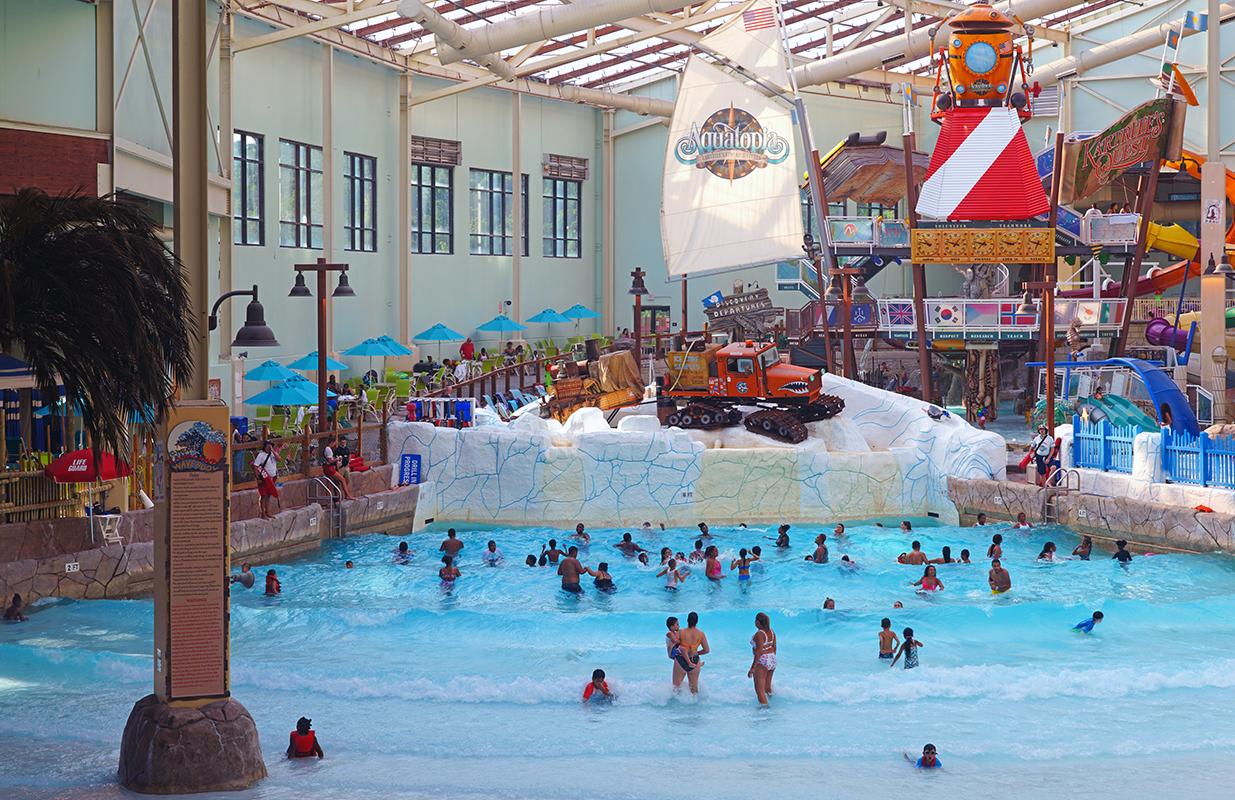 The Camelback Mountain Resort is what people think of when discussing the best Poconos family resorts. Located less than three miles outside of Tannersville, Pennsylvania, Camelback is open all year-round with tons of indoor and outdoor activities for the whole family!
Choose from standard rooms, suites, and multi-level condos. Enjoy over a dozen dining options inside the resort. During the snowy season, there's skiing, snow tubing, and snowboarding. Book the kids a ski lesson. Rent or purchase equipment or bring your own.
This family-friendly vacation spot has both a complete indoor waterpark and an outdoor waterpark. At both waterparks, there are toddler-friendly pools and child-size slides. Book a surf lesson or enjoy a poolside cocktail.
Outdoor activities include the Mountain Coaster for ages three and up. Rent a UTV for the day. Treetop Adventures has child-friendly courses and ones for adults. Brave ziplines or try your hand at ax-throwing. There are lots of indoor activities as well, like laser tag and a rock-climbing wall.
Woodloch Resort
Near the Pennsylvania/New York border is the Woodloch Resort on Lake Teedyuskung. This all-inclusive family resort has dozens of family-friendly activities across two campuses. Choose from rooms, suites, and multi-level rental homes at both locations.
All meals are included as part of Woodloch Resort's meal-plan dining. Eat at one of the three dining rooms. Food is also available for purchase at multiple grocery stores, coffee shops, and sandwich shops across the resort.
Woodloch makes our list of best Poconos family resorts for its variety of child-friendly and child-free activities. Enjoy the spa or a wine-tasting while your little ones play at the kids club for ages ten and under. There are indoor and outdoor pools, kiddie pools, and a splash zone.
There are several outdoor activities available, including go-carts, ziplines, and nature trails. In the winter, try ice skating and snow tubing. In the summer, there are bumper boats. Take the kids to the Woodloch Springs Sports Complex. The resort also hosts regular events like live music performances.
Woodfield Manor
For a low-key vacation, check out Woodfield Manor in the heart of the Pocono Mountains. This historic 12-acre resort has over 200 years of history with rich begins as a hunting club and stagecoach stop!.
Choose from suites, cottages with porches, or apartment-style suites. On the property, enjoy the outdoor fireplace or book one of the Manor's gas-lit grills. Relax by the outdoor pool during the summer and watch the kids play in the children's pool. Dine at Woodfield Manor's own Frogtown Chophouse!
While you're looking for the best Poconos family resorts, consider local attractions. Less than 20 minutes away, visit:
Mount Airy Casino
Pocono Rocks!
Renegade Winery
Great Wolf Lodge Water Park
The Crossings Premium Outlets
Woodfield Manor is surrounded by some of the best state parks and nature preserves in the east. Take advantage of all the great family-friendly hiking and nature trails.
Great Wolf Lodge Poconos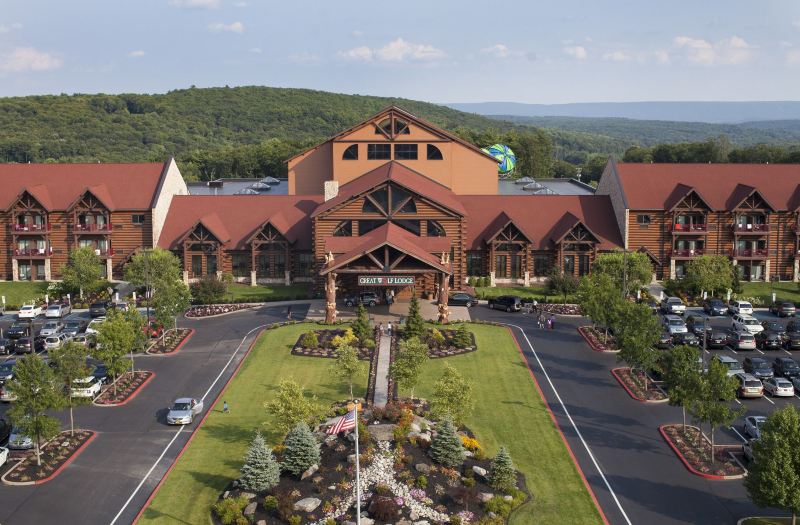 Next on our list of best Poconos family resorts is the Great Wolf Lodge Poconos. It's located outside of Tannersville, Pennsylvania. You'll love the fun rustic lodge theme that doesn't take itself too seriously while still being beautiful.
All the rooms at Great Wolf Lodge are family suites that hold at least four people. Choose from standard, themed, or premium suites for larger groups. In the lodge, grab a coffee at Dunkin', or eat at the breakfast and dinner buffet. There's also a cafeteria-style dining room and a pizza parlor. There's also a restaurant, Ben & Jerry's, and a bar in the waterpark.
Take the kids to try the virtual reality simulator. They'll love the fun mineral mining expedition, child-size bowling alley, and rope course! Play games in the arcade or enjoy a round of glow-in-the-dark golf. At the indoor waterpark, there are indoor and outdoor pools and hot tubs, slides, rides, and pools for all ages.
Bushkill Inn & Conference Center
Find Bushkill Inn and Conference Center across from Bushkill Falls. The Inn is on the Pennsylvania/New Jersey border, not far from the Delaware Water Gap National Recreation Area. Relax on the 160-acre estate surrounded by the lush woods of the Pocono Mountains.
Book a beautiful room or suite. There are also cottages with private decks. Check out the family steakhouse and the cocktail lounge.
Bushkill Inn is on our list of best Poconos family resorts because of the way they care for families. The Inn can help you book a local babysitter so that you can enjoy the spa. There are also several on-site activities that kids and adults can enjoy, like archery or the game room.
There's the fitness center, heated indoor pool, and hot tub. Take a dip in the outdoor pool, and the kids will enjoy the playground. Explore the hiking trails or play lawn games. Play a game of basketball, tennis, or volleyball.
Kalahari Resort Pocono Mountains
Check out Kalahari Resort Pocono Mountains in Pocono Summit. This African-themed resort is one of the best Poconos family resorts. Choose from several rooms and suites, including a 5-bedroom penthouse.
There are several different dining options in the resort, including a steakhouse, a coffee shop, and an ice cream shop. Visit the Kalahari Spa and Salon, book a halotherapy treatment, or visit the full-sized gym that's open 24-hours.
Enjoy the game room, mini-golf, escape room, or even the 7-D motion theater. Spend the day at the Gorilla Grove Treetop Adventure with ziplines and rope courses.
At the indoor/outdoor waterpark, there's fun for all ages. Adults will like the swim-up bars. There are snack bars in the waterpark if you're hungry. Take the little ones to the toddler-friendly aquatic play area. The kiddos can become mermaids for the day or book surf lessons!
Take a look at our guide to learn more about all of the Kalahari Resort locations in the US.
The Shawnee Inn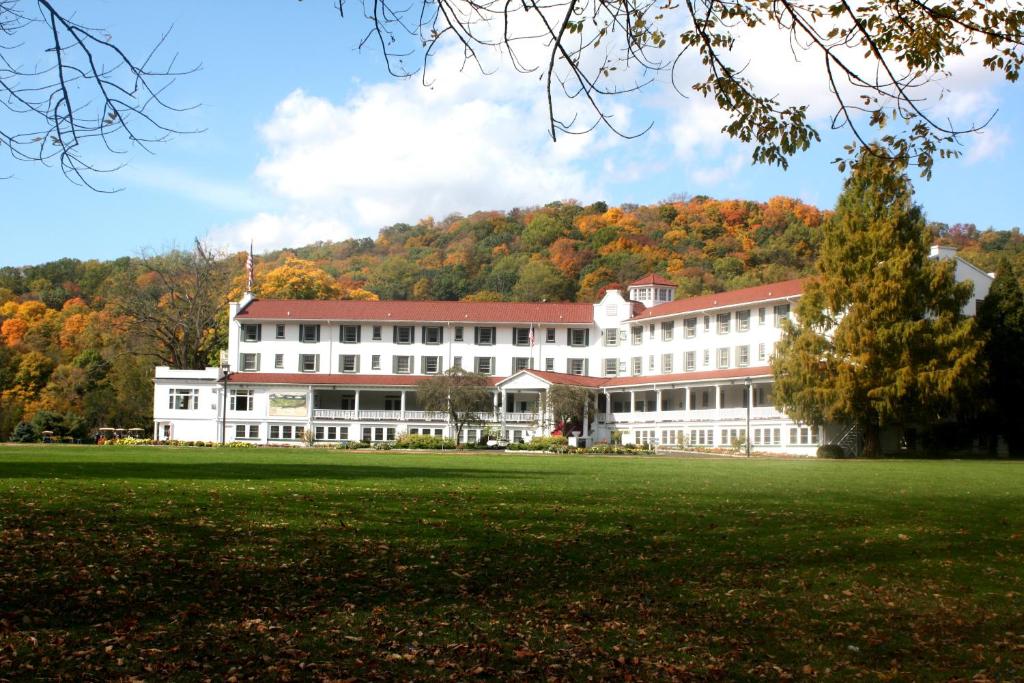 Stay at the gorgeous century-old Shawnee Inn and Golf Resort on the Pennsylvania side of the Delaware River. Take in views of the river and the golf course. At this resort on our list of best Poconos family resorts, you can book a glamping tent! There are also suites or lodges at the Main Inn and cottages throughout the grounds.
During your stay at the Shawnee Inn, choose from a pub, fine-dining establishment, in-house brewery and taproom, or a bakery and café. Check out the Shawnee Playhouse, an active theater at the Inn that hosts everything from professional productions to children's theater and acting camps.
Book services at the salon and spa. Go on a guided hike. There are all kinds of other indoor and outdoor activities for children and adults, including brewery tours and putt-putt golf. Enjoy guest amenities such as an indoor pool and jacuzzi, a sand volleyball court, a beach, and a playground.
The Woodlands Inn
For a more contemporary stay among the best Poconos family resorts, check out the Woodlands Inn in Wilkes-Barre off PA-315. This is a trendy-style hotel with a tower and lush views of the Laurel Run Stream.
Book standard rooms in the main building or tower. There are deluxe rooms offered with balcony views of the Laurel Run Stream. Choose a suite streamside or in the tower, including apartment-style executive suites. You'll have your choice of places to eat with the hotel's 2 bars, nightclub, sports bar-restaurant, and hibachi and sushi restaurant.
Families will enjoy the pools, both indoor and outdoor. Take a peaceful stroll along Laurel Run Stream or check out the fitness center. There's also a salon and spa onsite. Around Wilkes-Barre, you have prime hiking trails for the whole family, the Electric City Aquarium & Reptile Den, and Eckley Miners' Village.
Split Rock Resort
Next on our list of best Poconos family resorts is Split Rock Resort. This sprawling 1200-acre resort is set on the banks of Lake Harmony off I-80 in the heart of the Pocono Mountains. Choose from standard rooms, suites, and stand-alone lodges in 3 locations throughout the grounds.
The amenities available to guests at Split Rock are impressive. Book an appointment at the hair salon. Work out in the fitness center or take a water aerobics class. There are also jogging trails. You'll find dozens of indoor and outdoor sports activities for adults and children, like bike rentals, UTV exertions, a movie theater, and an arcade.
Relax in the hot tub or swim laps in the indoor or outdoor pools. There's a family-friendly indoor waterpark, a bowling alley, and laser tag. On the lake, go water paddling, swimming, kayaking, and more. In the winter, there are slopes for every experience level. Book a lesson or try out dog sledding!
Silver Birches Resort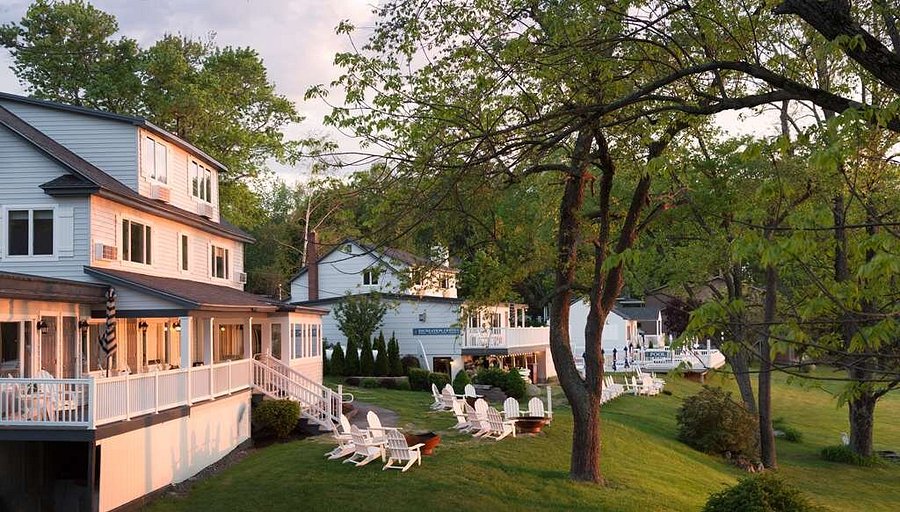 One of the best Poconos family resorts is the Silver Birches Resort. This is a cozy, rustic vacation destination off PA-507 on the banks of Lake Wallenpaupack. Silver Birches has been a family-owned business since it opened almost a century ago.
Book a standard room in the main building or a suite on the resort grounds. There are cottages and houses. All accommodations can be found throughout 13 historic and beautifully restored buildings on the resort, including an old barn.
Enjoy a meal at the lakeside restaurant, The Dock. There's always something going on there, with an evening cocktail hour and free continental breakfast throughout the week. Enjoy live music and drinks at The Dock.
Take the family on the water with your choice of kayaking, canoeing, row boating, or paddle boating. Swim in the lake or the outdoor heated pool. Rent bikes for a ride or snowshoes in the winter. Boat owners can get a free boat slip.
Mountain Springs Lake Resort
Finally on our list of best Poconos family resorts is Mountain Springs Lake Resort. Relax with the family at this laidback mountain resort encircles a private lake outside Tannersville, Pennsylvania.
This is a classic Poconos family resort that's been around for over 70 years. Book a selection of cabins for 2-6 guests. There are vacation rentals for larger groups. Each cabin gets a complimentary rowboat. There's no restaurant at the resort, but all cabins have a full kitchen where you can cook a meal. You can find plenty of places to eat in nearby Tannersville or take advantage of the charcoal grills in the picnic area.
Besides local hiking and outdoor activities available to you in the Pocono Mountains, there are plenty of relaxing activities to keep you busy at Mountain Springs Lake Resort.
There are three children's play areas with games and playground equipment: one in the grass and two on sandy beaches. Enjoy the resort's nature trails or fish on the lake.
Stay at a Family-Friendly Poconos Resort
From the luxurious to the rustic, we think there's a vacation destination for every kind of family on our list of best Poconos family resorts. Book a stay at one of the resorts on our list and have a great time!
More about our TFVG Author
A seasoned traveller, Dad, and avid sports tourist, James foundered The Family Vacation Guide to share his expert vacation experiences- especially when it comes to being a travelling family man.
Featured in Travel articles such as Travel + Leisure, TripSavvy and SFGate, you know you're reading some of the best vacation tips online.