Vacations aren't just for summer! If you prefer a winter vacay with your family, there is no better place to venture than New England.
Home to tons of top-notch ski resorts and challenging slopes, New England ski trips ensure your family will never be bored on vacation.
Whether you're looking for luxury or a more down-to-earth vibe, New England has the perfect ski resort for you and your family. And, the region is one of the most beautiful areas of the United States, so if watching the snowfall from your cabin is more your style, go for it.
Below are the best family ski resorts in New England.
Stowe Mountain Resort
If you are searching for a ski resort for everyone, Stowe has you covered. Perched on top of a mountain in the stunning town of Stowe, Vermont, this ski resort has everything from its shopping and dining to the fifth-highest slope in New England.
Mount Mansfield will give you all of the adventures you need, but its counterpart Spruce Peak has its perks, too.
Lodging
No matter your budget, you can vacation at Stowe! There is a wide range of places to stay, from bed and breakfasts to luxury hotels.
The Lodge at Spruce Peak prides itself as the only luxury ski-in/ski-out resort in New England and is a four-star rated resort by Forbes. This location is for those looking for a relaxing getaway after a long day of skiing or those with family members that want a variety of activities available.
Reasons it might be worth the splurge:
Full kitchens
Year-round heated pool
Spa
Walk to ski lifts—no car needed
You may be coming to Stowe for nature and not so much for luxury, and if that's the case, check out the Stowe Cabins in the Woods. They have affordable options for large families and are pet-friendly. The cabins are a great option if you want a rugged experience.
Dining
Equivalent to the array of lodging available, Stowe Mountain Resort has everything from coffee shops and private dining to high-end options.
When you are out on the slopes, stop by The Waffle (accessible only by the Gondola SkyRide) for a quick treat or the Mansfield Cafe for a hearty lunch to warm up.
Though, the most exceptional dining experience is at Igloo Apres. Located on the pool deck of the Spruce Peak Lodge are reservation-required outdoor domes giving patrons the view of a lifetime. Perfect for date night!
Okemo Resort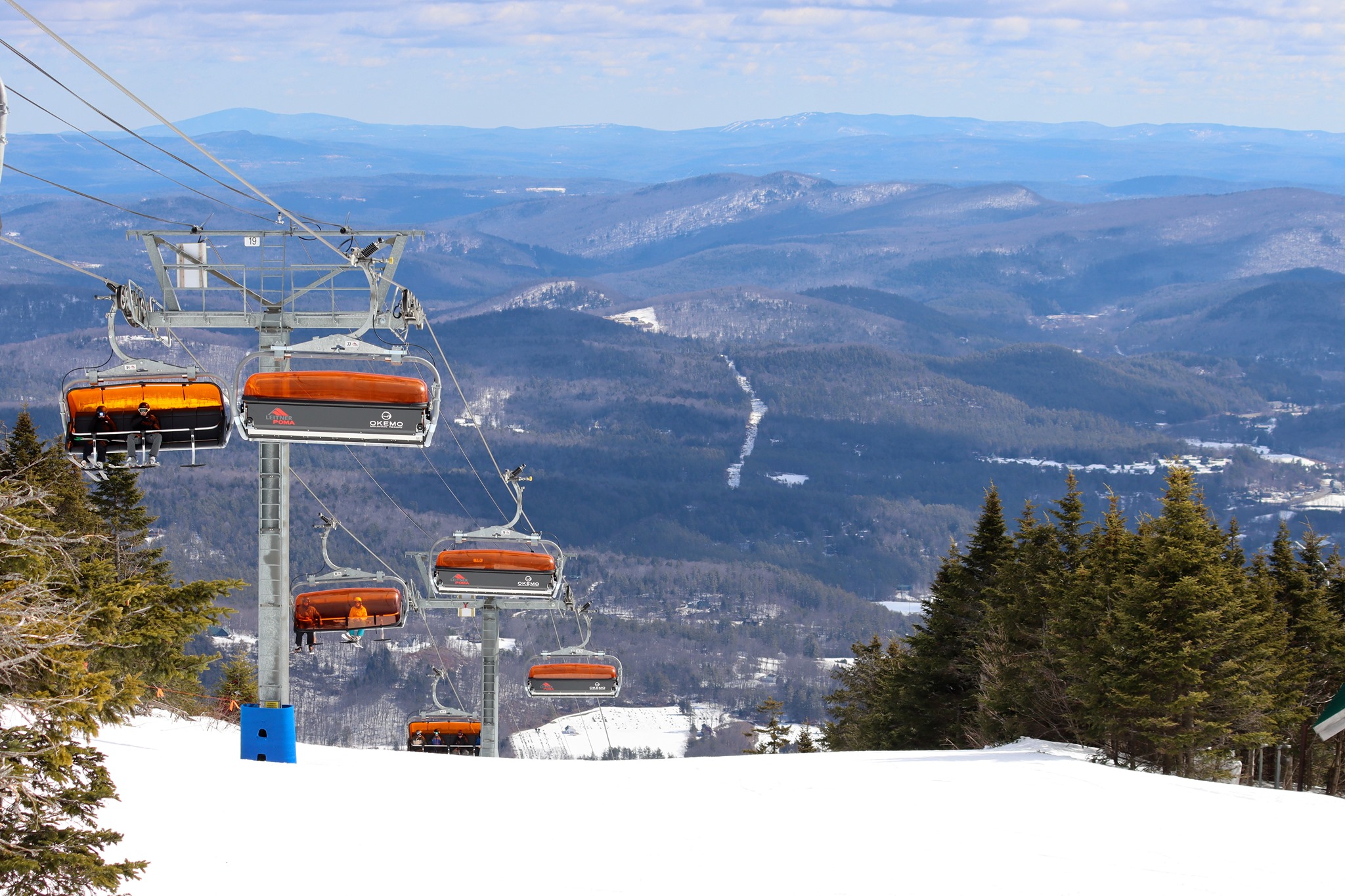 Outdoor enthusiasts, this is the ski resort for you. Okemo Resort has 121 trails, 20 lifts, a vertical measurement of 2,200 feet, and has a skiable area of 632 acres. While this resort is more outdoorsy than Stowe, it still delivers quality and adventure for your family.
As the highest summit in Southern Vermont, Okemo sets the standard for skiing vacations. They even have a skiing competition called Poles and Pipes so you can show off your skills!
Where to Stay
Okemo has affordable and spacious lodging for all, including condo options and cabins/homes ideal for large families or groups.
For example, you may want to check out the Okemo Trailside Condominiums if you want privacy and easy access to the slopes. These condos are trailside and have open lofts to fit everyone in your party.
If you are craving that quintessential Vermont bed and breakfast, don't fret—there's one of those, too! The Pettigrew Inn is a top-rated stay with scenic views and a homey feel. Additionally, your nightly rate includes a daily breakfast.
What to Do
Okemo is at its most active during wintry weather. Some activities include:
Group ski lessons for children and adults
Ice skating
Snow tubing park
The most exciting thing Okemo has to offer is their Winter Mountain Coaster. This coaster takes riders through forests and the resort for the ultimate viewing experience. Drivers control the speed, so no two rides are the same.
Jay Peak Resort
A popular spot for Canadians, this Vermont resort is ideal if you want the option of indoor and outdoor ventures. Jay Peak operates year-round and has countless things to do other than ski.
Jay Peak works best for families with members who have no interest in skiing or facing the outdoor elements but still want to go on vacation.
Activities
The amenities at Jay Peak change slightly per season, except for their indoor waterpark that remains open all year.
Summer options include disc golf, athletic fields, championship golf course, and Indoor offerings ranging from Clips and Reels Recreational Center (available for private rentals), waterpark, and skating rink.
Jay Peak is originally a ski resort at heart, so ski lessons and hitting the slopes are strongly encouraged. They also offer several events every year when ski season starts, such as:
Day of Devotion—free lift tickets, hot dogs, and mini-lessons
Season Pass Holder Party
Weekly Apres Music
This resort provides fun for the entire family and even has two childcare sites for resort guests.
Staying at Jay Peak
Nearly every resort at Jay Peak is ski-in/ski-out, making it perfect for those long days on the slopes.
If you are not looking for frills but still want a nice hotel, the Stateside Hotel and Baselodge are your best bet. It has several bars and restaurants available and has had recent renovations.
You may want top-notch lodging and pampering, however, and Jay Park delivers there too. The Clubhouse Suites are spacious, luxurious, and have mountain views for days.
Sunday River Resort
With 870 skiable acres and over 100 trails, Sunday River is one of the finest ski resorts in New England. Located in Newry, Maine, and home to an abundance of shopping and dining options, Sunday River brings the whole package.
Like Jay Peak, Sunday River operates all year and has a golf course, hiking trails, swimming holes, and river trips down the Androscoggin.
Of course, winter brings intense skiing and snowboarding to the table. A unique offering is twilight skiing, where participants ski under scenic lights on weekends and holidays. Snow tubing is another option, as are snowshoeing and dog sledding.
How to Indulge
No vacation is complete without a spa day or fine dining. Sunday River is home to the Jordan Spa, an opulent space with scenic views and indulgent treatments, like:
Full-body treatments
Couples massages
Facials
If relaxing on vacay is more your taste, the Jordan Spa has your back. While the rest of the fam is adventuring on the slopes, you can unwind and enjoy what Western Maine has to offer.
After your day of relaxation, reunite with your family for a meal at Camp, the casual-but-snazzy resort dining option with sophisticated Maine cuisine. From bison bolognese to Maine haddock, your meal will be authentic.
Next, have an apres-ski drink at the Foggy Goggle—an indoor/outdoor bar with craft brews and cocktails.
Bretton Woods Resort
Famous for its world-class skiing and luxury hotel, Bretton Woods is the best of both worlds. They have almost every type of skiing you can think of, from alpine to Nordic.
The Mount Washington Resort Bretton Woods is the second focal point of the sprawling vacation spot, behind its skiing and other winter activities.
The Hotel
All-inclusive and visually stunning, the Omni Mount Washington Resort will blow your mind, complete with an 18-hole golf course for long summer days to cozy feasts at one of their many restaurants. Your family can enjoy the resort all year.
There are several family-style room options as well, so everyone can get a good night of rest.
The Skiing
Bretton Woods is home to the largest ski area in New Hampshire, with 464 acres and 63 trails. Ski Magazine has rated Bretton Woods as having the #1 best snow, grooming, and scenery—
and rightfully so.
Skiing at Bretton Woods takes patrons down rolling mountains with vista views. There are group and private lessons available, and the new Rosebrook Lodge serves hot and cold drinks, artisan pizzas, and other snacks to fuel skiers for their next venture.
That said, where Bretton Woods truly shines is their Nordic skiing options and experiences. From gear to competitions, Nordic skiing is a lifestyle. Some events offered are:
Geshmossel Race
Mt. Washington Cup
Nordic Marathon
Even if you decide to watch the races, checking these events out is worth it!
Smugglers' Notch Resort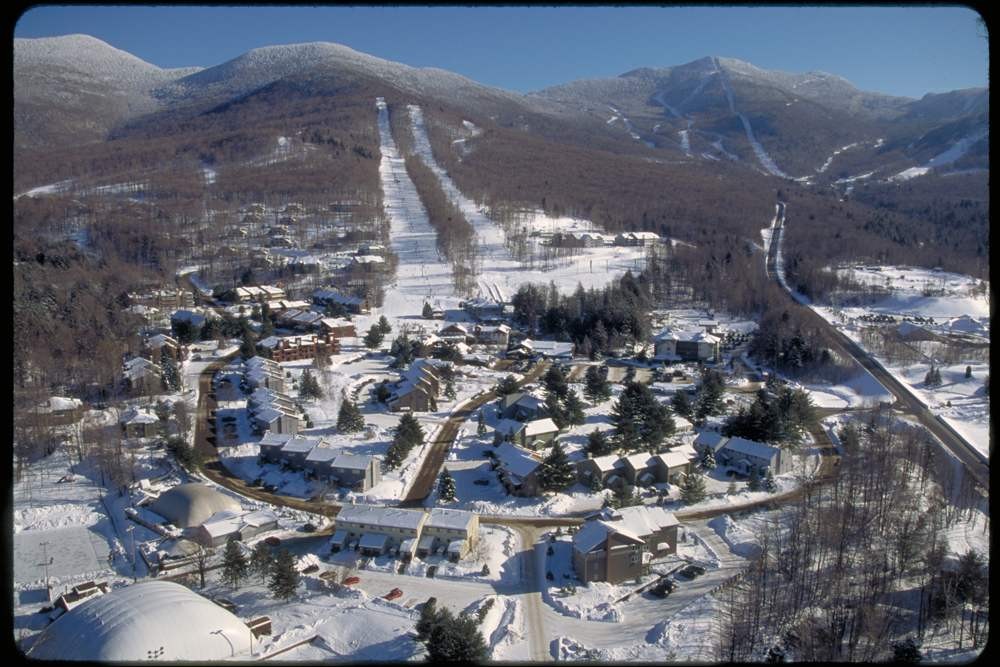 Back in Vermont is Smugglers' Notch, which labels itself as America's Family Resort, and aptly so—they have some of the most extensive child-friendly activities on this list.
Childcare, youth skiing lessons, and a play area for two to three-year-olds are all options for your kids. This resort is perfect for large families.
Indoor Fun
When you get tired of the slopes, pay a visit to the FunZone 2.0, an indoor playground and arcade for kids and adults alike.
Chase your family around in a game of laser tag, or go through one of the Warrior courses to test your physical abilities. Classic games like air hockey, ping pong, and mini-golf are other options if you want less physical activity.
Smuggs also has nightly events for adults, like Jeopardy and live music. Events for families include Pirate Bingo, Science Shows, and Hungry Hungry Humans, a life-sized version of the classic board game.
Get Outdoors
Nordic cross-country skiing is the main attraction at Smuggs, but there are options for non-skiers too. Your kids will love the Glow Tubing event, which entails a ride down a hill lined with twinkling LED lights at nighttime.
There are three mountains available for skiing and snowboarding, with levels of difficulty for all ages. Smuggs also pays special attention to first-time skiers with their Snow Sport University program. This program provides:
Full day Morse Mountain lift tickets
Two-hour beginner level lessons
Ski/snowboard equipment rentals
If you have a first-timer in your group, Smugglers' Notch is a practical vacation option to ensure everyone has a good time.
Sugarloaf Resort
Thrill-seekers and active families, Sugarloaf is for you. This resort has intense skiing available, including Cat Skiing, Fat Biking, and Sno-Go Ski Biking.
Also of note are the indoor activity centers, like the Anti-Gravity Complex, Outdoor Center, and Adventure Center. There is never a dull moment here, as the resort is open year-round.
Where to Relax
Sugarloaf Resort is not only for top-notch adventures and skiing! This resort has some of the best lodging available in Western Maine.
Right in the center of it all are the Sugarloaf Mountain Hotel, a rustic, farmhouse-inspired hotel with restaurants and cozy rooms. The Sugarloaf is best suited for families looking to explore all that the resort offers, as it is in the bustling Sugarloaf Village. Guests find themselves surrounded by shops, dining, and sweeping mountain views.
Privacy might be essential for you, and if that is the case, try renting a private Sugarloaf Resort home or one of their luxury premier properties. Suited for extended stays especially, having a residential home for vacation gives you a home-away-from-home feel.
Events & Things to Do
Sugarloaf has no shortage of events. Some annual soirees for all ages are:
Holiday tree lighting
Holiday Gift Bazaar
WinterKids Downhill 24
If your vacation is during the summer, do not miss their ziplining, paddling, or scenic lift rides for a thrilling and visually stunning summer adventure.
Killington Resort
Sleek, stylish, and all about extreme sports, Killington is ideal for families with teens. They have childcare facilities for younger kids and activities, so do not worry about leaving them at home!
Killington has tons of bundles and packages to help you save on your vacation. From a mid-week package that includes a free night and a discounted lift ticket to their Beast Vacation package, Killington is one of the most affordable places on this list.
Things to Do
If you have active children or a family constantly on the move, Killington is the resort of your dreams. With live concerts, Meet the Mountain Tours, and almost 2,000 acres of skiable land, it is no wonder Killington prides itself on its high-intensity offerings.
Unlike most of the resorts on this list, Killington is not open year-round. Their operating schedule is about two-thirds of the year—they close in late May or early June. They do not set opening or closing dates but go by the rate of snowfall.
Woodward Killington is their latest venture. It is an action sports company to inspire guests to pursue winter action sports, like snowboarding.
Resort Lodging
Killington has two lodging options. They have one full-service hotel, the Killington Grand Resort Hotel. It is the most convenient choice, as it has a bridge to skiing and other attractions.
The other option is the Killington-managed properties, which are condos or homes rented out by Killington. A rented property will not be as close to skiing and such, but you will have more privacy and space for your family.
Sugarbush Resort
Sugarbush in Warren, Vermont, has some of the most outstanding activities on this list. As the first resort in New England to offer Cabin Cat experiences, Sugarbush is a sizable option if it is your first skiing vacation.
If you are looking for a romantic date night while your kids are playing, go for the private Cabin Cat ride to Allyn's Lodge Remote Fireside Dining spot.
Enjoy a heated Cat Cabin, a meal prepared especially for you, and a romantic ride back down to the home base—you can even ski down in the moonlight.
Skiing
Another reason Sugarbush is perfect for first-time skiers is its array of lessons, classes, and levels of instruction. A few of these are:
Group and private kids lessons
First Timer to Life Timer course
Private lessons
All of their instructors are certified by the Professional Ski Instructors of America and the American Association of Snowboard Instructors. Sugarbush strives to create lifelong skiers through their lessons and can handle all ages and abilities.
Your kids can also participate in seasonal group lessons separated by age group. Micro Blazers are three to four, Mini Blazers are five to seven, and Adventure Blazers are seven to 15. If your kids are seasoned skiers, look into the Sugarbush Freeski Team that focuses on aerial stunts and general riding.
Loon Mountain Resort
Loon Mountain Resort is known for its lush scenery and fabulous skiing, but they also have plenty of other activities available during all four seasons.
Summer months mean yoga, ziplining, climbing, and biking. Winter brings skiing, snowshoe hiking, cross-country skiing, and snow tubing.
Although Loon Mountain has something for everyone, take note that they do not have any on-site lodging, condos, or rental properties. If you want to vacation at Loon, make sure you come prepared to drive in harsh winter conditions.
Area Lodging
Despite not having hotels or properties, there are still a lot of places to stay during your vacation. Off-site stays may lead to further exploration of the area and more interactions with locals.
Affordable options include:
Nordic Inn Condos
Inn 32
Kancamagus Lodge
Most of these include free shuttles to Loon and back and offer discounted tickets. If you want to indulge or have something with more space, look into the Maple Lodge Cabins, which are authentic log cabins about five miles from Loon.
The Mountain Club Resort & Spa is the only ski-in/ski-out resort within the Loon Mountain grounds. Look into this resort if you want to be slopeside.
Mount Sunapee Resort
Tucked comfortably in the New Hampshire mountains is Mount Sunapee Resort, an all-inclusive family resort spot boasting 67 trails, 18 miles of terrain, and a summit elevation of 2,743 feet. Sunapee works for skiers of all skill levels and abilities.
In addition to their skiing trails, Mount Sunapee also has terrain parks to test endurance and skillsets. If you have family members wanting to improve their snowboarding skills, Sunapee is the place to go.
Pass Options
Sunapee provides guests with several pass choices for a customized experience. Whether you are looking to have a vacation jam-packed with skiing and lift rides or want a one-day ski pass, there is something that works for every family.
Pass options include:
Epic Local Pass gives guests unlimited access all year to Sunapee and 18 other resorts in the US
Northeast Value Pass—access to Northeast resorts, with discounts for college-age guests, seniors, and teens
Northeast Midweek Pass—same as the value pass, but only for weekday stays
Epic Pass—unlimited access to any resort
Epic Day Pass—most customizable, with the option to choose their desired retreat and length of stay
The Epic Day Pass works best for families with little skiing experience, as it lets you choose how long you would like access.
Shopping & Dining
Sunapee has plenty of dining options, all of which are casual in nature or grab-and-go. Goosefeathers Pub, open only in winter, serves spirits and drinks all day and apres ski.
Pick up snacks and sandwiches at the Sunapee Lodge, or, in the summer months, get a snack at the Summit Lodge.
This resort has a shop stocked with souvenirs, t-shirts, food, gear, and anything you might need on your adventure. Mountain Outfitters has renowned brands like Patagonia and Helly Hansen to keep you warm on the slopes.
Pat's Peak Resort
One of the most famous independent alpine ski resorts, Pat's Peak, is also one of the more remote options on this list. Hidden among the mountains of New Hampshire, Pat's is known for its annual Oktoberfest celebrations, world-class skiing, and family-friendly fun.
Pat's Peak does not have lodging, so, once again, you will have to stay in area accommodations. Fortunately, there are many affordable options, ranging from cabins to bed and breakfasts.
Programs & Events
Pat's Peak is a family resort at heart, so they provide several lesson programs and events to make sure everyone feels comfortable on the slopes.
From Women's Only Wednesday, an event offered for seven weeks to teach women the ins and outs of skiing, to the Cubs Club for kids ages three to six—no one goes ignored.
Also of note are the competitions and races at Pat's Peak. They even have a ski team! If you are confident in your abilities, try signing up for the Adult Corp Race—no vacation will ever be more memorable.
For the family, nothing is better than Oktoberfest. With free admission and countless entertainers and food options, you cannot go wrong.
Transportation
Pat's Peak offers bus, van, and coach rides at discounted prices and special perks. The busses will save you quite a bit of money on your vacation and cut out the hassle of a rental car. All of these services depart from Boston.
Burke Mountain Resort
Owned by the same people as Jay Peak, Burke Mountain resides in the last little corner of Vermont. With stunning foliage and once-in-a-lifetime skiing, Burke is a sight to behold.
While slightly smaller than its counterpart, Burke has a quaintness that gives it a vibe all its own. The Burke Mountain Hotel is affordable but refined, with an outdoor pool (closed during winter) and fireplaces in most rooms.
If you love a small-town, cozy feel, Burke Mountain Resort is the best choice for your family.
Seasonal Activities
Burke offers tons of things to do during the winter and summer seasons. Summer at a ski resort may seem a bit odd, but some of the amazing family adventures are:
Hang gliding
Mountain biking
Horseback riding
Brewery tours
Summer camps for kids are an option as well, which is ideal if you want to bring them with you but want some adult time, too. They have Outdoor Adventure Camp, Mountain Biking Camp, and even Counselor Training Camp.
Winter brings the Burke Mountain Snow Sports Learning Center to fruition, with programs for children as young as three. Enjoy skiing the slopes while your kids learn the basics, or hang out at the View Pub for a few drinks.
Attitash & Wildcat Resort
These are neighboring resorts that share lodging and some restaurants. That said, the skiing at each resort varies quite a bit—in the best way.
Attitash
Attitash is one of the first resorts in New Hampshire to have a freestyle terrain park. Combined with multiple levels of trail difficulty (most of which are intermediate), your whole family can try their hand at skiing.
Wildcat
With a recently revamped snowmaking system and one of the longest seasons in New Hampshire, Wildcat Resort works hard to keep fresh snow on the ground as long as possible. Polecat, one of the trails at the resort, is the longest green trail in the state.
Staying on the Mountain
Attitash and Wildcat have some of the most impressive lodging accommodations on this list. Their hotels and condos are modern, cozy, and clean.
Some of the options for lodging are:
Attitash Mountain Village
The Glen House
Grand Summit Hotel at Attitash
Each location has prime slope access to get you out there ASAP.
Final Thoughts
Finding a ski resort in the New England region can seem intimidating. There are so many options and so many locations that it can quickly get overwhelming.
The 14 resorts above are excellent choices for your family—whether you are first-time skiers, seasoned snowshoe hikers, or solely want to try something different for your vacation, there is a New England ski resort out there for you.
More about our TFVG Author
A seasoned traveller, Dad, and avid sports tourist, James foundered The Family Vacation Guide to share his expert vacation experiences- especially when it comes to being a travelling family man.
Featured in Travel articles such as Travel + Leisure, TripSavvy and SFGate, you know you're reading some of the best vacation tips online.