Vermont should be at the top of your mind if you're looking for the best Vermont ski resorts for families in the United States. The Green Mountain State is great for being a home to numerous ski resorts that offer great skiing slopes for beginners and experienced enthusiasts alike.
Besides the ski trails, each of the resorts offers other amenities like fine dining, ski schools for all ages, lodges, spas, and basic accommodation to cater to people who are low on budget. The amenities, combined with the excellent skiing trails, convert Vermont into a skiing haven for skiers of any experience level.
However, not every resort can offer great amenities for a family. To better your touring experience, we have done extensive research and reviewed the best Vermont ski resorts for families.
1. Bolton Valley Resort
Do not go beyond the Bolton Valley Resort if you are looking for the best ski resort in Burlington and its surroundings. Bolton valley resort rests at the center of North-Central Vermont and is 30 minutes drive away from Lake Champlain and Burlington town. The closest airport to the resort is at Burlington, while the nearest railway station is at Amtrak-Waterbury.
The Bolton Valley resort boasts over 70 trails, including unique ones for beginners, intermediate, and experienced skiers. You can therefore be sure to find your perfect trails for your experience level.
You don't have to worry if you have never done skiing before. All you need is to enroll in the resort's skiing and snowboarding lessons to learn the basics of the game. If you are already a skiing expert, you can still join the classes to take your skills to the next level.
If skiing and snowboarding are not your favorite sports, you can participate in disc golfing, mountain biking, ping pong, football, and volleyball, among other sports that the resort offers.
If you are tired of sporting, you can re-energize yourself from one of Bolton valley's food outlets that are open during fall. These may include:
Bolton Valley (BV) Deli
BV Deli is currently open. It operates from 8 am to 8 pm, seven days per week. You can order your breakfast, lunch, weekend brunch, kids lunch box menu, and groceries in person or through a call.
The BV Deli is also great for last-minute supplies like tobacco, cold beer, baked products, and wine and cheese.
James Moore Tavern
James Moore Tavern is open on Wednesdays and Thursdays from 4 to 8 pm, Fridays from 4 to 9 pm, Saturdays from 12-8 pm, and Sundays from 12 to 6 pm. You can order your favorite meal/drink in person from the bar.
The BV Slopeside inn offers you 60 standard hotel rooms and one- and two-bedroom suites when it comes to accommodation. If you need more intimate space, you can rent three and four-bedroom condos that are also available.
2. Mount Snow Resort
You'll find the Mount Snow Resort in West Dover, Vermont. The resort offers you the best way to explore the Green Mountains as you roll up to the resort since it is the southernmost resort.
The resort boasts more than 588 acres of terrain, with 102 trails spreading over the mountain's main face, Sunbrook, Carinthia, and the North face areas.
Once you land on the mountain, you can subscribe for and enjoy winter activities like cross country skiing, dog sledding, downhill skiing, snowshoeing, snowmobiling, and tubing, among others.
If you love traveling during summer, you will enjoy paddling, antiquing, food festivals, golfing, hiking, biking, music and theatre, art galleries, etc.
At the mountain base, the resort offers amenities like retail shops, dining, free parking, child care, and basic training for different types of sports. So, it would be best if you prepare to learn a new skill as you plan your visit to the Mountain Snow Resort.
With lots of amenities and fun activities, you will likely find that the ski area is bustling during the weekends. However, this should not bother you, given the resort's 20 lifts and four mountain faces with plenty of ski runs.
After skiing, you can enjoy your favorite meal, drink, or beverage at Cuzzins Bar and Grill at the main base lodge or Dover Bar and Grill in Wilmington,15 minutes drive away from the mountain.
Are you wondering where to stay during your tour? The resort has plenty of lodgings to offer, all you need is to book your accommodation in advance.
3. Okemo Mountain Resort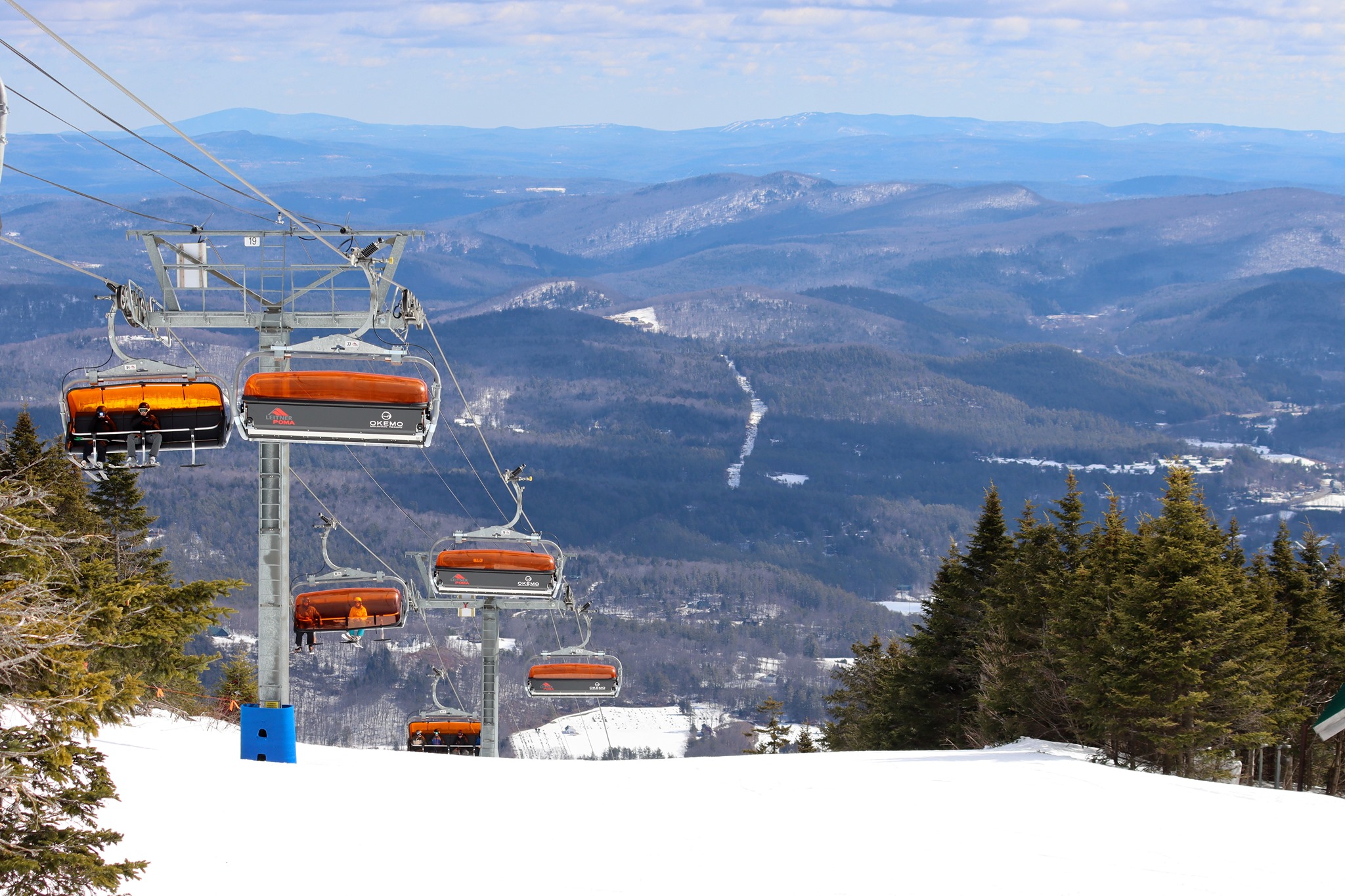 Okemo Mountain Resort is one of the best Vermont ski resorts for families in the United States. It is based in Ludlow Village in Windsor County, Vermont. The resort features a large skiable terrain of over 655 acres with over 120 ski runs. It also boasts of the 2200ft highest vertical in southern Vermont.
The resort offers something for everyone. For instance, the ski trails provide different difficulty levels to favor novice, intermediate, and experienced skiers.
If you love Nordic skiing, the Nordic resort center offers a trail system of more than 22km for Nordic skiing and skating. The resort also has a 13km trail dedicated to snowshoeing activities.
If skiing is not your thing, you can take a guided exploration to the summit using a snowcat. Alternatively, you can head to the slopeside Tubing Park at Jackson Gore and enjoy floating your body on the water.
If none of the above amenities thrills you, then you can enjoy the scenic and exhilarating moves by taking a ride on the Timber Ripper Mountain Coaster.
Thanks to Polaris snowmobiles and the resort's management, the kids also enjoy touring the mountain on tailor-made snowmobiles.
When tired from the mountain activities, you can re-energize yourself from one of the Food Outlets, including the Downtown Grocery, Coleman Brook Tavern @ Jackson Gore Inn, and the Taqueria @ The Adventure Zone.
The resort also offers various lodging options to fit the budget of different visitors. For instance, you can secure a budget-friendly accommodation in the Mountain Lodge at Okemo or contact the Jackson Gore Inn if you need more space.
4. Smugglers' Notch Resort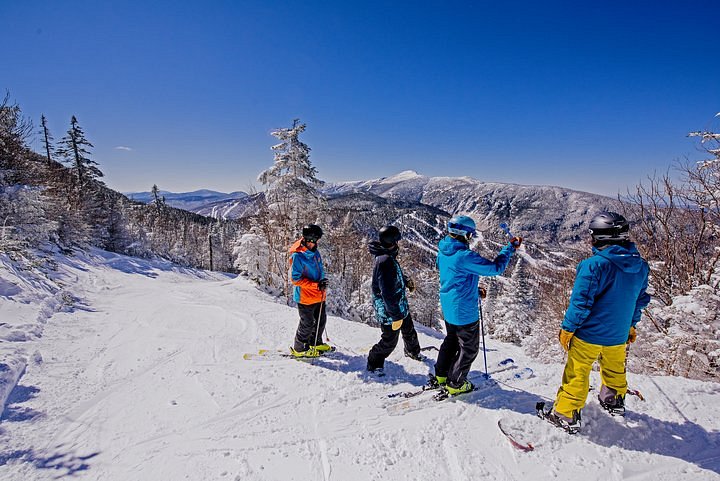 Another excellent ski resort for family skiing is the Smugglers' Notch Resort. The resort is popularly known as "Smugglers" and is located near Jeffersonville village in Lamoille County, Cambridge town.
The smugglers' notch resort features more than 1,000 acres of skiable space with more than 78 trails over the three mountain peaks. The trails offer different difficulty levels to suit snowboarders and skiers of varying experience levels.
For instance, Madonna Mountain contains a natural terrain park for intermediate and expert skiers. Additionally, the Prohibition Park along the intermediate trail includes jumps and rails for the intermediate riders and skiers.
You can find additional trails for intermediate and beginner skiers and snowboarders on Sterling Mountain's Birch-run Terrain Park. The Sterling Mountain also offers more challenging trails for experienced skiers to nail their skills.
The remaining peak is Morse Mountain which contains the Log Jam Terrain Park. The park's trails are well groomed for starters in skiing and snowboarding.
If you are not good at skiing, you can take the skiing lessons or enjoy lots of other activities like mountain biking, mountain exploration, shopping, kayaking at Bert's Boats Park, or engage in any other activity that the resort has to offer.
The resort offers the best dining options for its visitors. You can rock your day with a hearty breakfast from Morse Mountain Grille or have your favorite dinner at the Hearth and Candle. If you want to take something simple, you can get a pizza from the Village Pizzeria or enjoy an ice cream from Ben and Jerry's Scoop Shop.
If you are looking for accommodation, visit the Brass Lantern Inn for more classy accommodation or Stowe Motel and Snowdrift for cheaper options.
5. Killington Resort
The Killington Resort offers the ultimate playground for families during winter. The resort features more than 600 acres of terrain, with over 155 trails and 22 lifts. Its tracks are well-groomed to match your experience level.
You can find easy trails for starters, intermediate trails for less experienced skiers and snowboarders, and challenging ski runs for experts.
The resort also offers other exciting programs for non-skiers and non-snowboarders. Such programs include visiting museums, mountain exploration, entertainment, snowshoeing, sleigh rides, snowmobiling, and dog sledding.
The Killington Resort is also fabulous for its numerous dining options. For instance, you can order freshly made meals from the Beastro Food Truck, or enjoy your dinner from the Base Lodge Food Courts and Bars.
If you are coming to stay, you can book accommodation at the Killington Grand Resort Hotel. Or, rent a private space for your family at the nearby condos and private homes.
6. Jay Peak Resort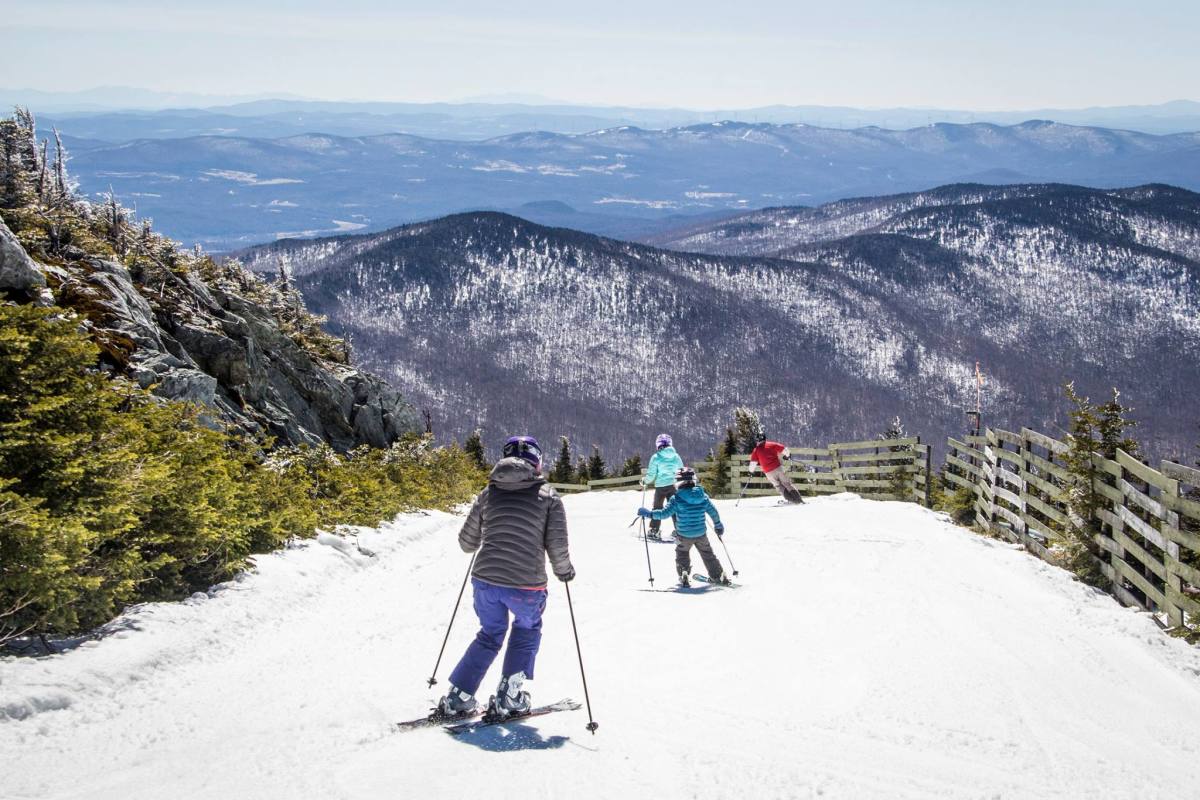 The Jay Peak Resort rests five miles away from the U.S.-Canadian border and is the northmost ski resort in the Green Mountain. The place is unique, with the most natural snowfall and a snowmaking capacity of up to 80%. The snow, combined with the 385 acres of skiing terrain and 78 trails, allow the resort to offer skiing services from mid-November to mid-may.
Out of the 78 trails, 15 specifically cater for beginners, 30 for intermediate skiers and snowboarders, and 31 for experts. If you are interested in skiing but have never done it before, you can enroll in the Jaypeak Resort lessons to get basic skiing and snowboarding skills.
If you are not skiing, you can enjoy other fun activities like fat biking, snowshoeing, surfing in the double barrel, Nordic skiing, and disc golfing.
There is no need to worry about where to stay in Jay Peak during the vacation. The full-service resort at the mountain base offers plenty of accommodations for almost all budgets. It also offers amenities like a spa, sleigh rides, dining, and ice-skating.
Are you looking for a cozier atmosphere? Then you can find your space at the Phineas Swann Inn and Spa. With rooms featuring fine antiques, four-poster beds, Jacuzzi tubs, and fireplaces, the Phineas place is likely to offer you your favorite space at a considerable cost.
However, you can still consider other accommodations surrounding the mountain and compare the costs to secure your pocket.
7. Stowe Mountain Resort
The Stowe Mountain Resort is located in Lamoille County and lies within the majestic Mount Mansfield and spruce peak. With major real estate at the mountain peak and 485 acres with 116 trails for snowboarding and skiing, the place is a sporting haven for families and sole visitors from all walks of the world.
The trails are of varying difficulty to challenge skiers and snowboarders of all experience levels. If you are new to skiing and snowboarding, you can learn these skills by enrolling in the resort's training programs for children and adults.
If your child is too young to join the skiing and snowboarding lessons, you can take them to the resort's Day Care Facility for kids aged between 13 months to 3 years. That means nothing can hold you from enjoying the plethora of fun activities that the Stowe Mountain Resort has to offer.
The other activities that you can enjoy within the resort include:
● The Gondola Skyride.
● Exploring the historic auto to the road.
● Taking a zip tour
You will also enjoy dining on locally made foods or drinking the locally made beer at Stowe Food Outlets and Bars and Grills, including the Mansfield Café, The Den, and The Spruce Camp and Bar.
Are you looking for a place to stay during the vacation? The Stowe Hotels and Lodgings will have your accommodation requirements sorted. All you need is to book your favorite space in advance to allow the resort management to secure and prepare your place in time.
You can also rent accommodation from the lodging and hotels that are close to the mountain.
8. Sugarbush Resort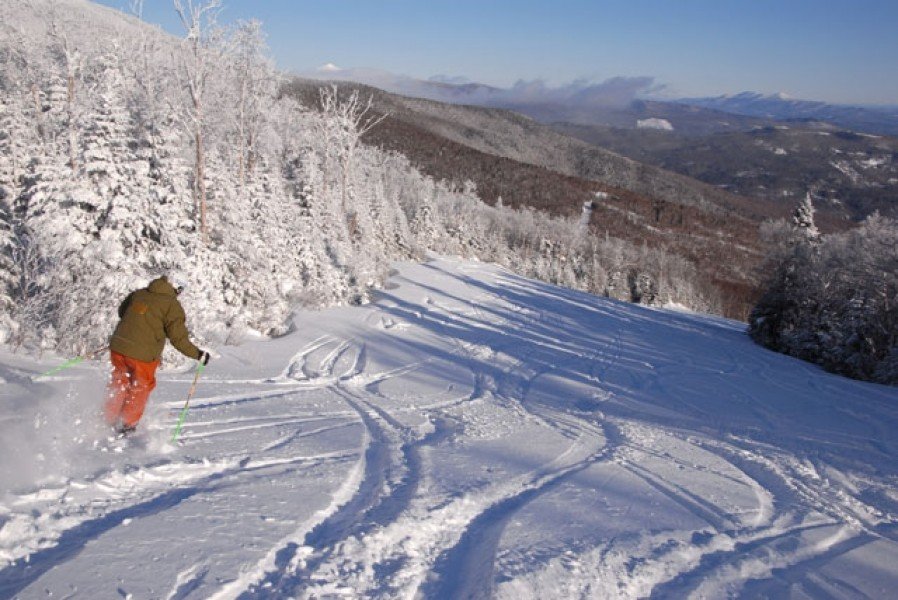 Get rid of your everyday stress by driving your way to Warren via Vermont's most spectacular route, 100. At Warren, you will find the Sugarbush Resort's 110 plus trails on the six mountain peaks waiting to offer you unparalleled skiing and snowboarding experience.
In addition to the numerous trails, the Sugarbush Resort offers Cabin Cat Adventure services to allow visitors to enjoy their way as they cruise down the mountain in a snowcat. Besides exploring the mountain terrain, the snowcats will enable you to access the amenities at the mountain base, like dining, accommodation, and beautiful sites.
If you don't love snowboarding or skiing or you are tired of both activities, then you can head to the Ole Cross Country Center to enjoy cross country skiing. You can also engage in ice skating, snowshoeing, ice fishing, or any other activity that the resort offers.
Better still, the resort offers the best way to stay fuelled and cheered up. There are many dining centers and after-ski zones like the Hogan's Pub, The Lunch Box, Fit To Be Thai'd, and Rumble's Bistro And Bar.
If you want to spend some time at this end of green mountain, the Sugarbush resort offers private rooms, condo rentals, and beautiful inns to make your family's escape memorable. You can be sure to find accommodation in places like the Clay Brook Hotel and Residences and Sugarbush Inn, among others.
9. Mad River Glen Resort
The Mad River Glen Resort can be your perfect destination for family skiing. Located in Fayston, the Mad River Glen Resort boasts 130km of skiable terrain, with 51 trails running down the hill.
The trails are well-groomed for the skiers of all experience levels. For instance, you can find trails for beginners in the Birdland Area, while the trails for intermediate and expert skiers are located higher up the mountain.
If you are interested in skiing but don't have the skill, you can learn the basics by joining the ski training lessons that the resort offers.
If your kid is too young to join the ski training, the resort's Cricket Club Daycare keeps your kid safe as you make turns down the mountain.
The other activities you can enjoy during winter besides skiing include cross country skiing, brewery, distilled tours, Vermont-touring, farm and food tours, and outdoor adventure.
When going out skiing, you want to fuel yourself for the activity. Right? The Mad River Glen Resort allows you to refuel yourself from any of its open food outlets. For instance, from the Lodge Cafeteria, you can enjoy pizza by slice, chicken fingers, hotdogs, and burgers. Examples of the other food outlets include the Mad River Loft Bar and Grill and the loft And Wine Club.
Are you looking for a place to stay during the vacation? The Mad River Glen Resort's Lodging will sort all your accommodation needs. You can also look for accommodation in the surrounding areas.
10. Stratton Resort
The Stratton Resort rests at the heart of Windham County, in the national forest of the Green Mountain. It is the highest peak in southern Vermont, extending over 3,875 feet. The place boasts more than 100 acres of glades, with over 97 ski runs throughout the mountain.
Of the 97 trails, 41 are for beginners. Intermediate skiers can choose between 31 trails, while experienced skiers and snowboarders have 28 trails to explore.
Ascending to the summit is made easy by the Stratton resort's lifts, including the four six-packs, gondola, triple quad lifts, a double lift, and one surface lift.
The resort also offers parks for boarders of all skill levels. For instance, the progression park allows newbies to learn skiing and snowboarding skills. Other parks like the top to bottom border cross course help expert skiers and boarders advance their skills.
Besides skiing and snowboarding, the resort offers many other fun activities like ice skating, tubing, sleigh rides, and 90-minute dogsled tours.
You will find the resort's self-contained complex at the mountain base, which offers off-slope amenities like a fitness center, dining, and spa. The Stratton Resort is well-groomed for those who wish to stay.
You can order your favorite meal from one of Stratton's Dining Zones, including the Stratton Mountain Deli, Fire Tower Restaurant And Tavern, Verde And Snowfish Sushi, among others.
The resort offers numerous lodge options to its visitors. All you need is to book accommodation in advance.
11. Suicide Six Ski Area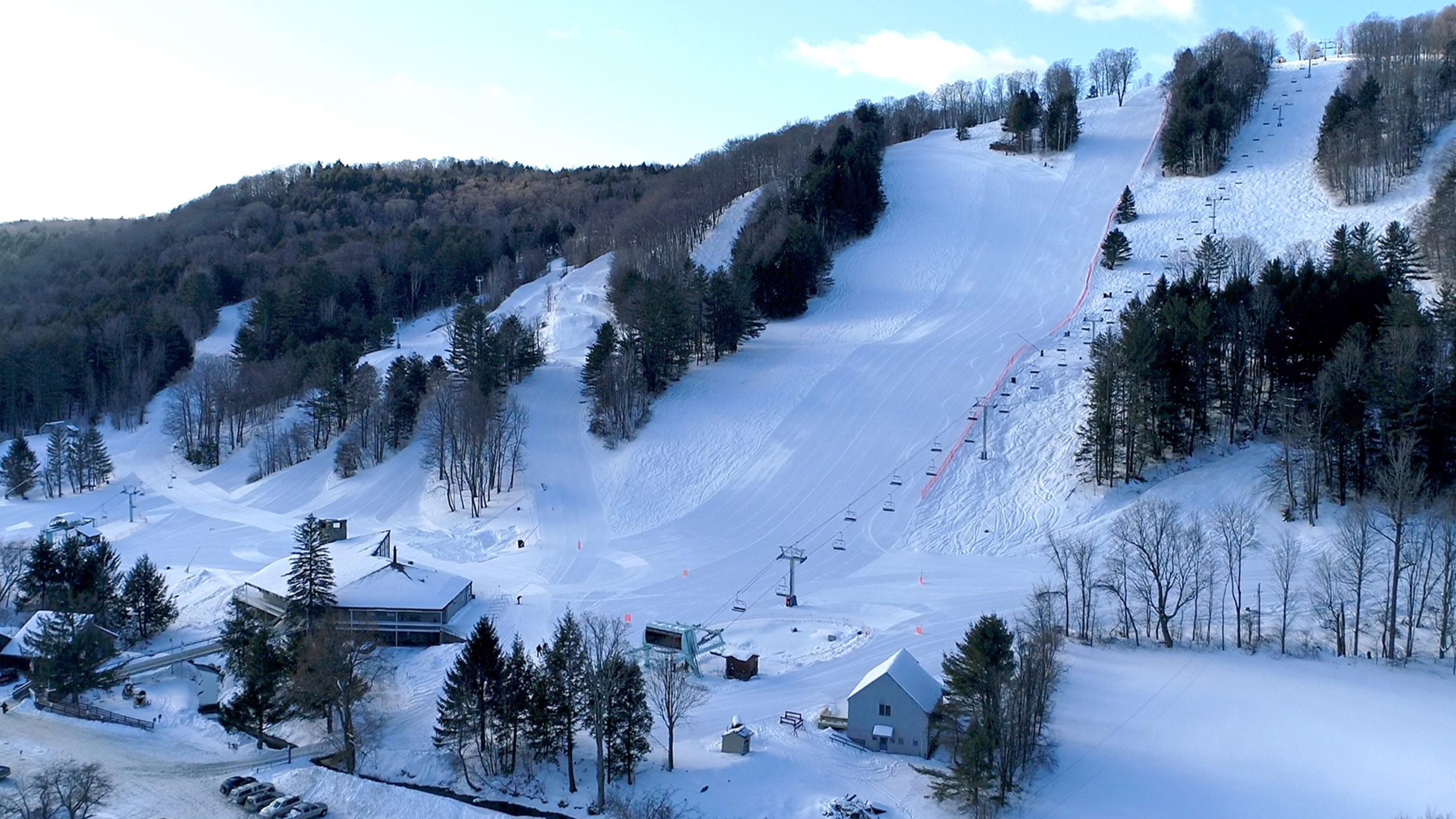 You'll find the Suicide Six Ski Area in Woodstock, Vermont. The resort has a smaller ski terrain than some of the other mentioned resorts, extending over 100 acres with 24 trails running over it. Of the 24 ski runs, 70% are for beginners, and the remaining 30% are for intermediate and experienced skiers and snowboarders.
If you don't have sufficient experience in snowboarding and skiing, you can join the resort's training lessons to improve your skiing, snowboarding, ice skating, and sledding skills.
The other fun activities to enjoy at the green mountain's smallest resort include cross country skiing, fat biking, snowshoeing, etc.
When you want to fuel yourself for skiing, you can buy small snacks from the onsite cafeteria. If you need a complete meal or even a drink after the day's activity, then you can order your favorite meal from any of the restaurants in the Woodstock Inn Resort.
The Woodstock Inn Resort is also famous for offering visitors accommodation options for all budgets. If you need a more comfy space, then you can look for accommodation in the surrounding places.
Wrapping Up the Best Vermont Ski Resorts for Families
Vermont is home to some of the best ski resorts for family skiing in the world. We have discussed 11 of these best Vermont ski resorts for families, highlighting the programs and amenities for each to help you choose the perfect ski resort for your family trip.
Our top pick for the best Vermont ski resorts for families on the list is the Okemo Mountain Resort. The spectacular view of 20 trails running over 655 acres of terrain speaks of great skiing and snowboarding experiences when you land in the resort's vicinity.
You're also guaranteed to have fun on the resort's amenities like the Timber Ripper Mountain Coaster and the Snowcats.
However, we do not mean to discourage you from picking the other resorts. It is important to note that the resorts we have discussed have a slight difference in their offering, meaning you can derive an almost equal amount of satisfaction from any resort.
More about our TFVG Author
A seasoned traveller, Dad, and avid sports tourist, James foundered The Family Vacation Guide to share his expert vacation experiences- especially when it comes to being a travelling family man.
Featured in Travel articles such as Travel + Leisure, TripSavvy and SFGate, you know you're reading some of the best vacation tips online.