Whether you are a first-time skier or have been skiing with your family since childhood, keeping the family memories alive has never been easier than visiting New Mexico. Typically considered a desert state, New Mexico has the ideal weather patterns and conditions for beautiful, snowy mountains perfect for a family ski getaway.
From the Southern Rocky Mountains that reach as high as 13,000 feet tall to the Taos Ski Valley with its breathtaking views, below are the nine best New Mexico ski resorts for families to enjoy and experience during the colder seasons.
Taos Ski Valley
Being the largest ski resort in New Mexico, Taos Ski Valley Resort is considered to be excellent for advanced skiers and beginners alike.
With an opening season date of around November 30th and a closing date of around April 8th, this ski resort is most popular during the holiday season, drawing many families as part of their Christmas crowd.
Along with its rocky terrain, the Taos Ski Valley Resort offers sprawling views of Kachina Peak as well as family-friendly areas that involve children's private lessons, children's group ski camps and classes, and daycare for parents who want to enjoy the day off.
Not only is Ski Valley a versatile resort that the whole family can enjoy, but it is also relatively convenient to get to. The Santa Fe Regional Airport is only about a 2-hour drive away at only 96 miles from the resort, while the large Albuquerque International Sunport is 154 miles away, making it a 3-hour drive.
As New Mexico's most popular ski resort for families, Taos Ski Valley offers 1,294 acres of mountain skiing area every season.
It boasts the internationally acclaimed Ernie Blake Ski School, complete with top-of-the-line instructors as well as varying accommodations ranging from ski-in and ski-out lodging at the Blake Lodge, self-rentable condos, and other Airbnb options throughout the ski village.
With the city of Taos, New Mexico nearby, families can also rent a car to leave the mountain at any time and explore everything that Taos has to offer, from its bustling performing arts center to its beautiful winter hiking trails.
Ski Santa Fe
Known for its high-elevation skiing paired with a rich local history, Ski Santa Fe is considered one of the best places in New Mexico to bring the family for glade skiing and an alternative to the typical alpine ski village.
Located right off of the city of Santa Fe, New Mexico, Ski Santa Fe is perfect for skiers of all levels who want to strap on their skis for a carefree day of fun. With very even terrain and beautifully-maintained powder carpeting the runs all season, skiing is available for all levels from beginners to pros.
While there are no living accommodations available on the actual mountain, Ski Santa Fe offers an extensive array of accommodations for families within city limits, particularly during the on-season from the opening date of December 6th through the closing date of April 4th.
Ski Santa Fe is easy to access by car, making it a great trip to take young children on, with airports nearby as an alternative to driving. Of note, Santa Fe Regional Airport is only 29 miles away from the resort, while Albuquerque International Sunport is a 1.5-hour drive away at 80 miles.
After a long day of fun on the slopes, drop the children off at the daycare and enjoy one of Ski Santa Fe's many bars and restaurants, or attend the Japanese-inspired Santa Fe spa to wind down for the evening.
Angel Fire
Angel Fire Ski Resort is one of the largest resorts in New Mexico. Only 100 miles or 2 hours away from the Santa Fe Regional Airport and a convenient 3-hour drive from the Albuquerque International Sunport, Angel Fire is great for families of all sizes driving to the resort.
This resort has become a family favorite not only due to its gorgeous vistas, high-speed ski lifts, and over 50 acres of skiable terrain and slopes but also because it is the only one to offer night skiing activities in the entire state.
With condos, lodging, hotels, and Airbnbs all available on the mountain starting the opening day around early December through March 22nd, families can get the full ski resort experience, including children's classes, family-friendly restaurants, and occasional holiday festivals without needing to leave and head into a nearby city.
Ski Apache
Ski Apache is located further south than any other ski resort in the United States. With clear and well-maintained beginner and intermediate trails and runs, this is one of the best ski resorts for skiing alongside your kids.
Ski Apache is also a great resort to attend for any family on a budget. With low-cost ski lifts, free daycare, and discounts on group children's ski lessons, anyone can enjoy this 70-acre winter wonderland with the whole family while avoiding breaking the bank.
While there are no hotels or lodging accommodations available within the resort, many options can be found nearby in Sierra Blanca or 30 minutes away in Ruidoso.
Since Ski Apache lift prices tend to be so reasonably priced, it is essential to plan this trip and purchase a pass for their 11 operational state-of-the-art ski lifts ahead of time, as they typically sell out quickly.
With their season-opening December 4th and going all the way through March 26th, Ski Apache is an excellent getaway for Christmas and New Year's family vacations and family reunions alike.
Pajarito Mountain Ski Area
The Pajarito Mountain Ski Area is located in northern New Mexico, giving it some of the best and sunniest weather out of any other ski resort in New Mexico. With around 300 clear days of gorgeous sunshine every year, layers are unnecessary on the slopes, making it a great place for families with kids who hate to bundle up.
The Pajarito Mountain Ski Area is located on the Pajarito Mountain at 9,200 feet above sea level and only 45 minutes away from Sante Fe, New Mexico. Also close to Los Alamos and Albuquerque, Pajarito Mountain Ski Area offers many on-trail and off-trail activities to keep families occupied, from 300-acres of powdered ski space to renowned restaurants and bars.
Pajarito Mountain Ski Area is one of the best resorts for lessons for families interested in getting classes for their younger members. It offers groomed trails overlooking the Ri-Grande river, all-level glade skiing, and the Pajarito Mountain Snowsports School, complete with certified instructors for ages children through adults.
Inn of the Mountain Gods Resort and Casino
The Inn of the Mountain Gods Resort and Casino has a charming aesthetic, 5-star resort feel, and spa accommodations suitable for families with and without children.
Offering beautiful views of the Mescalero Apache reservation, this resort also has many on-site amenities, including a highly rated golf course, bathhouse, restaurants, bars, horseback riding, bicycling, ziplining, boating, and musical performances by nationally touring artists.
After hitting the beginner-friendly slopes with their kids, many parents drop them off at the certified daycare, play areas, or skiing lessons before trying their luck at the Mescalero Casino.
Since opening day varies each year depending on the weather, families are recommended to make their reservations ahead of time for a ski trip that their family is sure to appreciate for the years to come.
Sipapu Ski and Summer Resort
Sipapu Ski and Summer Resort is best known for being a family-friendly ski resort great for kids and ski beginners. Located southwest of Taos, New Mexico, by only 20 miles, Sipapu Ski and Summer Resort has been an established destination for a seasonal holiday and snow-time fun since it opened in 1952.
Situated 2 hours north of Albuquerque, New Mexico, this family-owned resort is also a great road-trip stop for families set on seeing the entire state. Not only is Sipapu Ski and Summer Resort the fastest-growing resort in New Mexico, but it also boasts a handful of kids' activities that can't be found anywhere else.
From affordable lodging prices to riverside dining at the family-friendly Riverside Cafe and Paradise Riverside Grill, this ski village offers a unique opportunity to disconnect from television and internet life and reconnect with the family. While visiting, be sure to reserve their extensive disc-golf course before planning a private event.
Red River Ski & Summer Area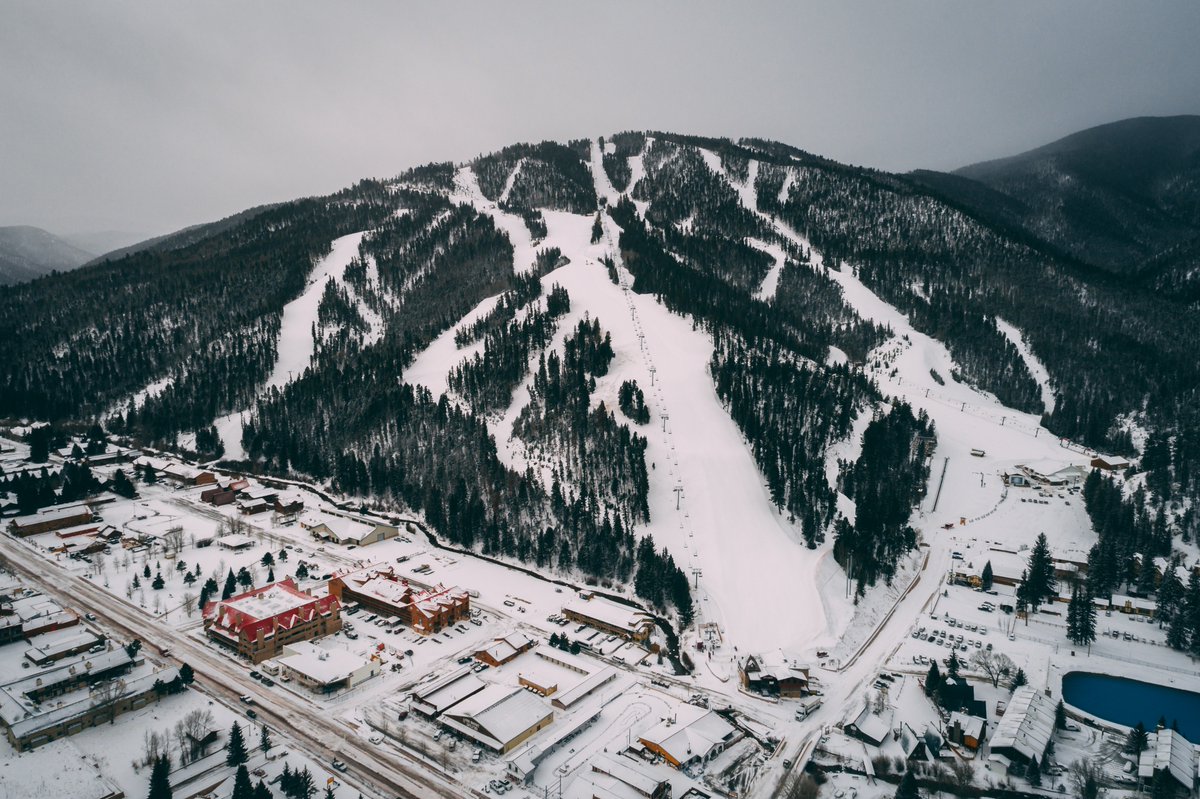 For over 60 years, this resort has been located near the Enchanted Circle next to Texas, Albuquerque, New Mexico, Taos, New Mexico, and Santa Fe, New Mexico. It offers vast views of the Southern Rocky Mountains at over 8,750 feet in elevation.
In December, the resort opens its intermediate slope for skiing, snowboarding, and even sledding. A ski-loving family built the lodge and refused to sell it. Partially for this reason, the Red River Ski & Summer Area maintains a small-town alpine village charm that cannot be challenged by any other ski resort in New Mexico.
Bordering the Carson National Forest under the stewardship of the United States Department of Agriculture and Forest Service, the resort also offers beautiful camping spots and hiking trails for those seeking an immersive winter experience.
Sandia Peak Ski and Tramway
Located close to Albuquerque, New Mexico, this resort is situated next to a long span of mountains belonging to the Sandia Mountains ridge-line.
Originally developed by Ben Abruzzo and Robert Nordhaus, the tram belonging to Sandia Peak Ski and Tramway is one of the major sights that draw families of all sizes from across the globe.
Known as a double-reverse jig-back tramway, the tram at Sandia Peak Ski and Tramway mimics those found in European ski villages and offers beautiful and uncompromising views of the resort's snowy winter hillsides.
Though first rebuilt in 1986, the two tram cars that can carry 50 passengers contain emergency brakes and safety systems to put their riders' minds at ease. In 2009, new track cables were installed, and in 2016, the tram cars got a second update.
In addition to the trams, which children enjoy riding back and forth with the purchase of only a single ticket, the resort also offers a myriad of restaurants, skiing slopes, bars, and children's activities to keep the whole family entertained.
From affordable ski and snowboarding lessons from expert instructors to daycare areas that offer movie nights, playgrounds, and kids' performances, there is something for everyone to enjoy when planning a trip to the Sandia Peak Ski and Tramway Resort.
Since the season start date depends on snowfall and annual weather patterns, parents are recommended to book their family vacation plans in advance to secure the accommodations and reservations of their choice.
Fun for the Whole Family
For those considering a winter getaway ski trip to a resort and who want to bring their whole family along, any one of the nine options detailed on this list would be a great choice.
From Taos Ski Valley with its variety of ski runs and Ski Santa Fe with its accessible ski lessons to Inn of the Mountain Gods Resort and Casino with its family-friendly entertainment and the famous tramway at the Sandia Peak Ski and Tramway Resort, New Mexico has something for everyone to enjoy.
Whether taking a fun and adventurous Christmas holiday, road-tripping across the country with the kids, or planning a ski-filled new-year family vacation, don't miss out on the excitement. Plan a New Mexico ski trip ahead of time and take advantage of all the beauty that the winter wonderland state of New Mexico has to offer.
More about our TFVG Author
A seasoned traveller, Dad, and avid sports tourist, James foundered The Family Vacation Guide to share his expert vacation experiences- especially when it comes to being a travelling family man.
Featured in Travel articles such as Travel + Leisure, TripSavvy and SFGate, you know you're reading some of the best vacation tips online.