Would you like to enjoy some fresh mountain air with your family? Whether it's for a week or just the weekend, hitting the slopes together as a family is undoubtedly a way of creating unforgettable memories, even if you're a beginner!
And where else to ski other than the Mountain State? West Virginia offers some fantastic snowy options that will cater to your whole family.
Here are the best family ski resorts in West Virginia that are worth exploring.
Canaan Valley Resort
Canaan Valley Resort is a great place to ski and enjoy a mountain retreat with your family. This place has a loyal clientele thanks to its beautiful terrains that suit beginner and intermediate skiers. On the other hand, advanced skiers can challenge the more problematic trails that Canaan Valley offers.
This resort, located in the Monongahela National Forest, sits right on the mountain top at 4280ft. It promises hours of fun and entertainment for both snowboarders and skiers of all levels. Those with no experience in either activity but would like to learn can benefit from their lessons. Additionally, this resort offers affordable rentals for skiing equipment.
With a total of 160 rooms, 34 campsites, and 23 cabins, you can surely get accommodation for every occasion at this mountain resort. There's a golf course where you can perfect your swings if you're a golfer, or you can go skiing down their 47 slopes and trails.
If you don't want to end your family ski vacation without exploring the area, there are two unique attractions nearby.
The first is the Smoke-Hole Caverns, home to natural land formations over a million years old – you can even get a free lesson about how they were formed.
The other is the Canaan Valley National Wildlife Refuge, a great place to visit before wrapping up your vacation. While there, you can go hiking, hunting, and fishing.
You can also enjoy whitewater rafting at the Cheat River or strengthen your muscles by engaging in horseback riding. All these, plus a new snowboarding park, ensure you can never run out of family-friendly activities here.
Snowshoe Mountain Resort
If you have a family of thrill-seekers, the Snowshoe Mountain Resort is your ideal vacation spot. You can have a ton of fun skiing here with your family, and it's a guarantee that everyone will love the snowy experience.
From cruising in the Snowshoe Basin, exploring the Silver Creek Area, and skiing the deep runs in the Western Territory, you can create epic memories.
Located on West Virginia's two tallest peaks, the Snowshoe Mountain Resort receives adequate snow each year. The resort receives about 15 feet of snow each winter, but most of it is too light and fluffy to ski on.
That's why the ski resort uses a world-class snowmaking system to add more to what mother nature provides. Snowshoe Mountain Resort invested a whopping $4 million on a new snowmaking device to ensure its entire vicinity remains pristine. This snow production ensures that the visitors don't run out of snow at any given time of the year.
This resort has over sixty trails of different terrains and runs ideal for learners, intermediate and expert skiers. The blue and green level runs take about 75% of the trails and are suitable for beginners and intermediate skiers. The remaining 25% are ideal for experienced skiers.
With a vertical drop of 800 feet and 38 trails, the Snowshoe Basin Area is ideal for the most experienced skiers. Top skiers can also enjoy the Western Region, which has a 1500ft steep drop. The Silver Creek Area offers18 trails; 6 are for the lifts, and the remaining for night skiing.
When you get tired of skiing, you can explore Snowshoe's village. Unlike other resort villages, this village is perched atop the mountain. Here you can dine, shop, and check out condos. If you have kids, ensure they visit the Big Top. This entertainment hub has:
Indoor playing areas
Rock climbing
Coin-operated video games
Inflatables
A mechanical bull
While the kids are having fun, grab a bike and marvel at the mountain's scenic views.
The snowshoe mountain resort is the place to be for a family ski vacation. It boasts year-round activities like hiking, horseback riding, fishing, ziplining, swimming, and golfing. Together with its excellent amenities, there's always something to do here.
Omni Homestead Resort
The Omni Homestead Resort is also one of the best family resorts in West Virginia. Here, you'll have the most luxurious experience ever during your stay, thanks to the championship golf courses and hot springs available.
This resort sits on about 2000 acres of land right in the middle of the Allegheny Mountains. With all the activities and the national tournaments hosted in this resort all year long, you'll never run out of ideas on what to do. However, it only has one ski slope facing the northwest. Three lifts are available at this location for skiers.
The double chairlift offers accessibility to the mountain's top terrain for advanced and intermediate skiers. The other two-surface lifts provide accessibility to the tubing hill's beginner terrain right at the bottom of the hill. Every skier at whatever level will have a lifetime of fun recording unforgettable skiing memories.
When it comes to accommodation, this resort serves the best. The hotel rooms are pretty airy and a lot spacious.
For a more luxurious experience, you can book a room with a private porch and fireplace. As you remain indoors to relax in an indoor pool with some refreshing drinks, the kids can have more fun at the water park.
At the end of your family ski vacation, the resort will offer you a free ride to the airport in their complimentary shuttle. How else can you bond with your family if not by taking them to such a fantastic resort?
Winterplace Ski Resort
For a more intimate family ski vacation, head off to the Winterplace Ski Resort. The resort has a total of 27 steeper runs, but the ten available lifts will bring you back to the mountain's top in no time. Twenty-six of these runs offer night skiing.
They have an excellent ski school where you can join and learn how to ski. You'll be an excellent skier going down the steep terrains with so much ease. The skiable terrain covers about 90 acres of land, with a vertical drop of 603 feet.
If you're a snowboarder, this resort is the one for you – their latest terrain snowboarding park is sure to be a blast.
Though the place receives only about 9 feet of snow in the winter, this amount is complemented with the snowmaking system the resort uses. With this technology, the resort promises its visitors a 100% guarantee of snow, making it one of the best family resorts in West Virginia.
Besides skiing and snowboarding, you can take your family to the largest snow tubing park in West Virginia. The resort's 2-surface lifts are very accomodating, running at 20 chutes and 800 feet long. Later, you can relax on The Deck to watch all the action on the hill. Be sure to utilize the services of Frostie's Child Care if you have toddlers.
Oglebay Resort
The Oglebay is a famous golf and ski resort, covering 1700 acres of land at the top of a hill. During the winter season, you can enjoy skiing and snowboarding on the snowy slopes of this resort. Alternatively, you can head to the wheeling park to indulge in ice skating.
The Oglebay Resort always has something for everyone, regardless of whether they prefer to be indoors or pride themselves as a thrill-seeker. So, don't leave that one member of your family behind because you never know the amount of happiness you can fill their lives with here.
You will never miss a light show during holidays or an exciting event hosted in this place at any given time. If you don't visit them in the winter to enjoy playing in the snow, you can still find plenty of fun activities in summer. You can go swimming, fishing, golfing, and pedal boating.
Oglebay Resort offers various dining options to choose from, plus a complimentary breakfast. After a fun day skiing, you can unwind with a hot tub or the indoor pool before you retire to bed.
Staying at their all-ensuite hotel, which lies along the Wheeling Creek, will give you excellent proximity to all the resort's fun and actions. This hotel has everything you need to keep you pampered and comfortable throughout your ski vacation.
Bryce Resort
On the edge of the Shenandoah Valley sits another excellent family ski resort, Bryce Resort. You can visit this resort at any given time of the year and still have the best moments of your life.
Although you can partake in several activities here during the summer, you will love it more in winter. Bryce Resort is famous for its excellent snowboarding and skiing adventures.
In the summer, you can enjoy golfing and participating in different games like pool and tennis. You can also head to Lake Laura for fishing and boat riding.
They have some quite adventurous hiking trails and ski slopes ideal for skiers of all levels: beginners, intermediate-level, and experts. So, if you belong to any of the three categories, be sure there's enough fun waiting for you here.
Have an unforgettable time participating in snow tubing, ski racing, or ice skating with your family. You can also sit on the hilltop at the northern part of this resort and enjoy some scenic views and take family pictures.
Even though this resort doesn't offer accommodation, the staff can help locate and book nearby lodges for you. They fully understand that besides fun, you still need a cozy place to rest your head as you wait for the adventures the next day has in store. It's no surprise that Bryce is one of the best family resorts in West Virginia.
Besides comfortable sleep, these lodgings usually have other amenities like hot tubs, wifi, fitness areas, sun decks, and indoor pools.
Your family will undoubtedly have an epic time at Bryce Resort. What's more, it's only 2 hours from Washington, D.C.
Wintergreen Resort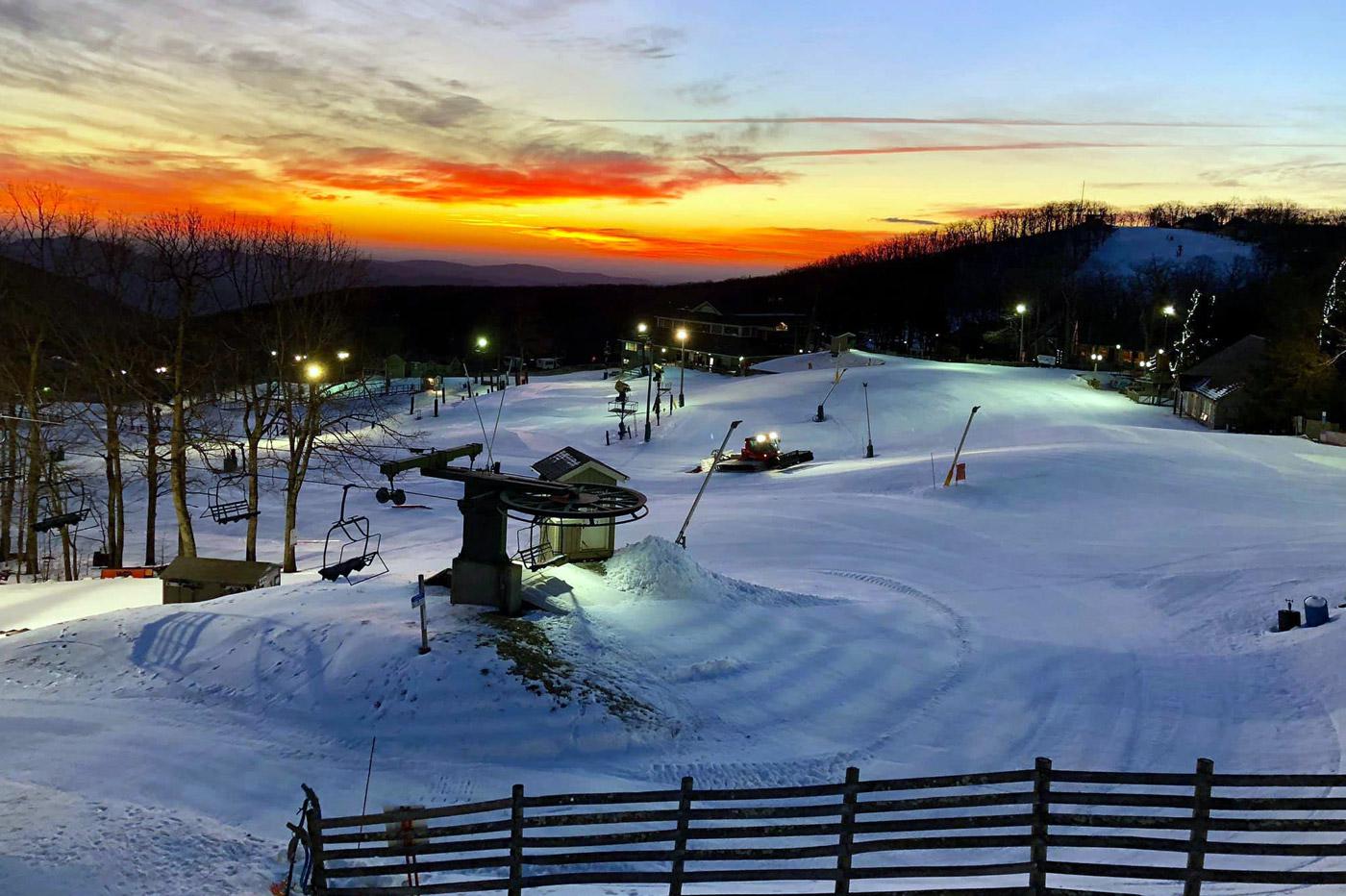 Do you want to have a clear view of the Blue Ridge Mountains? Take your family ski vacation to the Wintergreen Resort. This resort lies on 11,000 acres of land, next to Mount Pleasant.
This family-friendly resort always has something for everyone. As your children participate in their creative programs, the rest of the family can participate in other outdoor adventures. Such activities include snow tubing, ice skating, and skiing.
As a visitor, you have the final say on the activities you want to explore, whether peaceful and refreshing or exhilarating adventures.
This resort ensures that you have a comfortable place to lay after a day full of hitting the slopes. Their polished condos with separate bedrooms, fireplaces, and living rooms ensure you have epic moments in the mountain.
They also have larger houses, like their mountaintop lodge, with nine bedrooms, two living rooms, and fireplaces. You can use such a space to conduct business conferences, parties, family get-togethers, or workshops. All these rooms have 24/7 free wifi to enable you to get in touch with the world around you.
Whenever you need a break from the slopes, be sure to explore the area nearby while you have the chance. The Blue Ridge Mountains area has access to the following attractions:
Oak Ridge Estate
Poplar Forest
Woodrow Wilson Presidential Library & Museum
Frontier Culture Museum
If you find it too cold in winter to go down the snowy slopes and prefer to be indoors, you can spend your time in Wintergreen's game room. This game room is full of different types of games to try out while bonding with your family.
You can enjoy games like pool, ping pong, and octagonal cards. Additionally, other amenities such as wall climbing, spa, and fitness area, mean that your family ski vacation is sure to be memorable.
More about our TFVG Author
A seasoned traveller, Dad, and avid sports tourist, James foundered The Family Vacation Guide to share his expert vacation experiences- especially when it comes to being a travelling family man.
Featured in Travel articles such as Travel + Leisure, TripSavvy and SFGate, you know you're reading some of the best vacation tips online.