Colorado is one of the top destinations in the world for skiing. With its epic beauty, tons of snowfall, endless food and beer, and all the wonder in between, there's a reason it pops into your head when you hear the word 'skiing.' 
There are well-known resorts and ski slopes like Aspen and Telluride, but there are also over 30 other ski resorts, ski towns, and ski areas to enjoy as well. In this article, we will take a look at 7 of them to decide which are best for beginner skiers.
We will also look at what makes each so attractive and special, from skiing to après.
Learning to ski might feel overwhelming, even scary, and we want to ease those worries and help you prepare so that you, too, can enjoy the wonderful world of skiing.   
All of the resorts we will be looking at today are easily accessed from Denver International Airport, Eagle County Regional Airport, or Aspen/Pitkin County Airport if you are planning to fly.
But before we take a look at the seven best ski resorts in Colorado for beginners, let's cover a few things you'll want to know to have a great time. 
Why not also check out our guide to the best ski resorts for families in Colorado?
What Beginner Skiers Need to Know 
Skiing is fun, and it can be for everyone, but it's best enjoyed with the right preparation.
Here are some tips that might save you cold feet or a thin wallet.
First, keep in mind you will be skiing in a very dry climate and at an extremely high elevation. You will want to make sure that you drink plenty of water to stay hydrated and help you adjust to the new elevations. Also, sleep as best as you can at night, and eat a healthy diet before, during, and after you hit the slopes.
You will also want to consider getting into shape before skiing, as it is a demanding sport even before you get on the ski lift.
Keep in mind that there's no shame in going slow. It's important to focus on yourself and make sure you are careful in the beginning. Take your time, breathe, and try to live in the moment— that is what it's all about anyway.
You will want to consider taking a lesson from a trained ski professional on the mountain as well. This will help you form good habits, and learn technique and safety much more quickly. Please don't ski alone for the first time.
Skiing can be expensive, so as a beginner you should rent equipment until you feel ready to buy your own. This is also a good way to find the size of ski you like before spending tons of money on the wrong thing.
The next thing you'll want to consider (and make a checklist of) is what to bring on your first ski trip.
What to Bring on Your Ski Trip
Of course, the first thing that comes to mind is warmth, so we'll cover what you need for that. The right ski gear can go a long way in the experience you have and might dictate if you have a second day on the slopes or not.
Essential items for your ski trip include:
A base layer. Usually, this is made of merino wool and is thin. Getting a good one will keep you dry. Make sure this covers your upper and lower body.
A mid-layer is designed to keep you warm. Many proficient skiers will use a fleece jacket for this.
An outer layer. This should be waterproof and windproof pants and jacket.
Ski or snowboard boots. The rental shop should help you fit these properly. You don't want them to be too loose (risking injury), or too tight (restricting warm blood flow).
Ski or snow gloves. These must be waterproof.
Warm socks (make sure to fit your ski boots with the same socks you plan to ski in).
An insulated ski helmet. This is a big one for not only warmth but safety as well.
Now that we've got a checklist of the essentials to bring, let's think about when you will want to visit the Centennial State. 
When Is Colorado's Best Skiing?
From season to season, the ski conditions vary. Ski resorts such as Arapahoe Basin have been known to open as early as October and stay open as late as July! (It's called "The Beach" at that point and is a great party destination).
But if you want the best snow conditions, you'll want to go between late November and mid-May. Also, make sure to check when resorts are scheduled to close, as they often are forced to shut their doors before all of the good snow disappears.
February is historically the best month for skiing in the Rockies as it sees the most snowfall for your fresh powder turns. So if you plan to visit one of the following destinations in the prime of the season, make sure to book everything well in advance, so that you're not left without.
And if you have a family member (or maybe you are the family member) who doesn't do mountain activities, don't fret: these resorts include plenty of eating, drinking, cross-country skiing, snowshoeing, sledding, rides, and more to fill their time.
Now, let's get to the part we've all been waiting for: which ski resorts are best for beginners!
Let's start with the big one. Aspen/Snowmass is the flagship ski resort, and it is also one of the best for beginning skiers.
The town is alive and you won't run out of things to do when you're not on one of their four ski mountains. Walking through Aspen you might notice its European feel. That's because it was designed with the French Alps in mind. There you will find festive wonders and plenty of live music and culture to choose from. Shopping is top-notch and the food is equally as good. There truly is something for everyone in Aspen.
For beginning skiers, there is plenty to do here, and it is attractive for family vacations as well as solo adults who are learning. First-time skiers should start on Lowdown Park where there are shallow runs and even small ramps to test your first-day skills if you're feeling ready.
Aspen also includes a variety of "Fun Zones" peppered across the mountain. The beginner experience is capped with a boot camp terrain park on Fanny Hill. Kids will also surely like the massive Treehouse Kids' Adventure Center for a play.
Getting from Aspen to Snowmass is simple too. A free shuttle moves between all day. Aspen attracts all ages and skill sets for a reason.
You won't have a hard time finding bites and drinks after a long and cold day of skiing. Venga Venga is a local favorite and often feels like a party. If you are looking for something quieter and more chill, Sneaky's and Base Camp is also great locales for a cold local beer.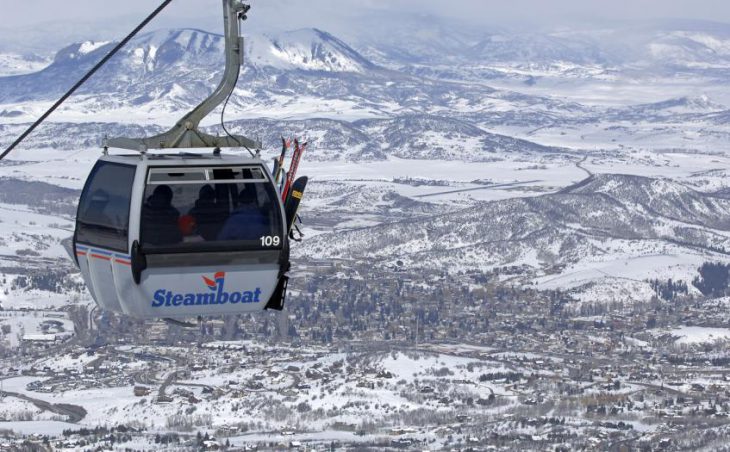 Another family-friendly resort in Colorado is Steamboat. Here, there are many terrains to choose from which are compatible for all skill levels.
The town has been called Ski USA, because of its small-town ski activity and vibe. The town is home to the highest concentration of Olympic athletes, so you know your ski schooling will be up to par.
Steamboat's base has plenty of shopping, eating, drinking, and socializing activities to share stories about skiing with others. Often, Steamboat will have live music playing on their large stage, which is located at the base as well.
Other activities include tubing, dog sleds, sleigh rides, a mountain coaster, and hot springs to ease your muscles after a long day in the snow.
Steamboat's snow is known as some of the best in the country, and because of that, the resort hosts professional skiers training as well as competitions to watch.
One of the best parts about Steamboat is that the easier ski runs are scattered throughout the mountain, so if you are with a more advanced group, you can typically end up at the same place when you've finished your runs.
Breckenridge is the highest of the mountains in altitude and gets the honor of having one of the longest seasons because of it! The slopes at Breck are wide, which is going to benefit new skiers. The runs to try first include Silverthorne and Frontier.
The resort is between 2-3 hours away from the large airport in Colorado (DIA) and spans over 2,900 acres and five peaks.
The town of Breckenridge was once a hub for gold miners, but nowadays, that magic is still in the air and the extravagant lighting throughout the resort and town.
Breckenridge provides plenty of après-ski options to choose from. The town center has nearly 50 restaurants or bars, including an old arcade/pizza place. This town, for all of its wonders, gets busy, so don't forget to book ahead when you can.
A free bus runs around town as well and can get you to everything you'll want to see for a memorable vacation.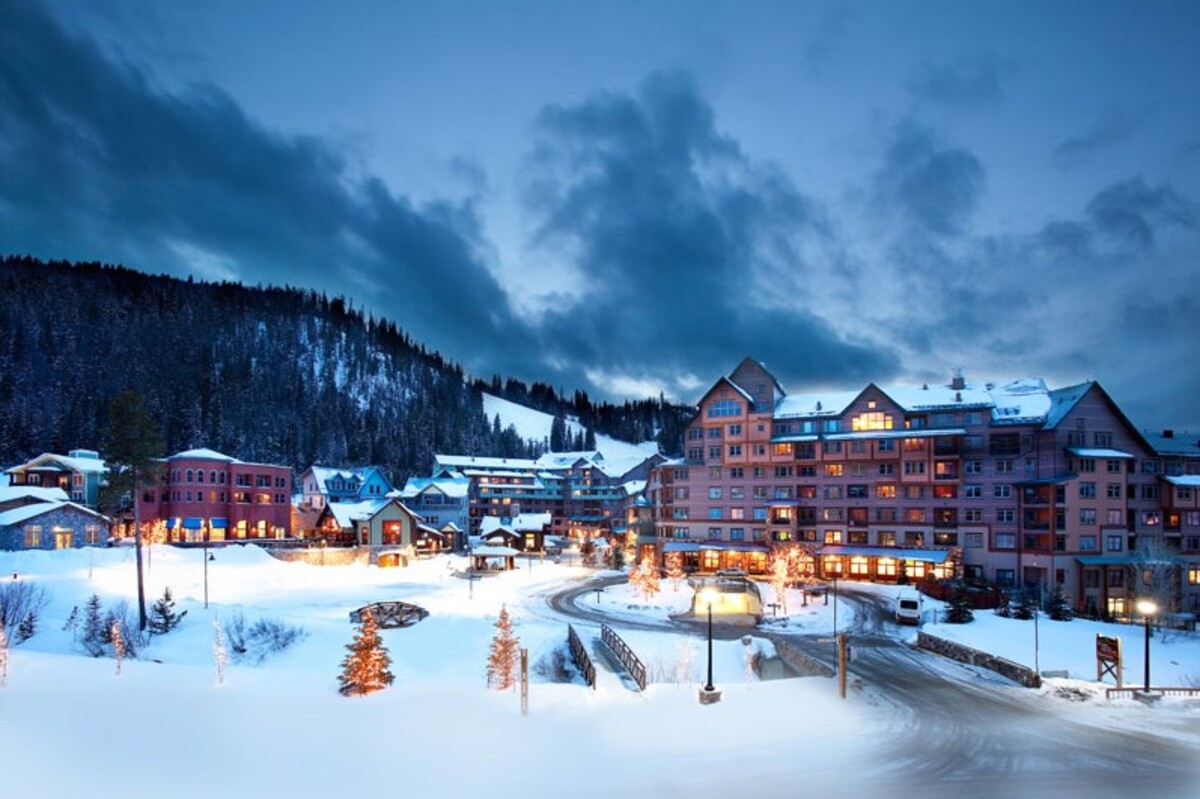 Winter Park is another of the many perfectly suited resorts for beginners (and pros). It is comprised of 3000 skiable acres and has been named by USA Today as the "#1 ski resort in North America."
There are many lodging facilities with incredible mountainous views, from hotels to cabins. It also has one of the best Ski + Ride schools for adult and child lessons.
Winter Park's resort is known as a village and is filled with plenty of food, drink, and shopping.
Other non-ski activities include snowcat tours, tubing, gondola rides, snowmobiling, dog sledding, and snowshoeing, among others.
One of the greatest benefits to Winter Park is that it is much easier to reach than some of the resorts in Eagle and Summit County as it is not located off of the main interstate highway. So you run less risk of getting stuck in a ski-rush traffic jam and wasting time, instead of enjoying serenity with your loved ones and learning to ski!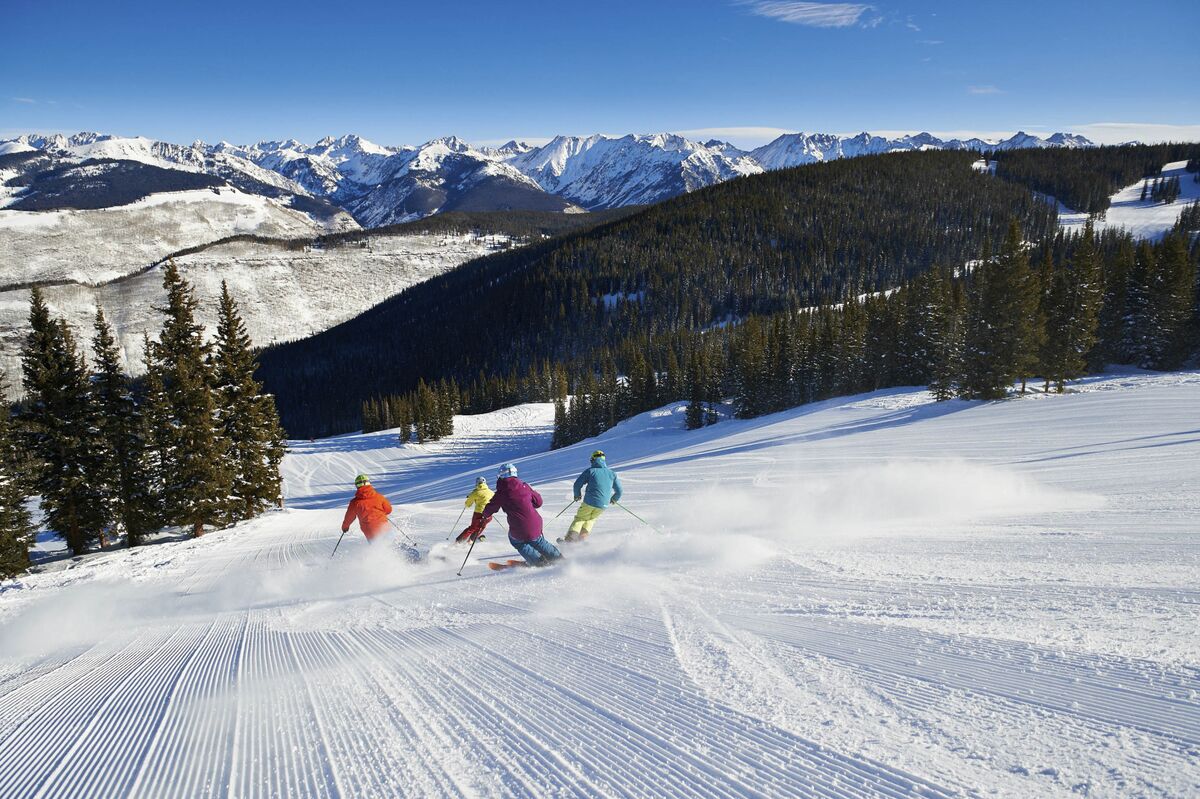 Vail is another of the more popular ski resorts in Colorado, and that's because it too is a good choice for beginners and advanced skiers alike.
Known for its powdery snow and one-of-a-kind terrain, skiers flock to the Back Bowls all season long. And for the new skiers, the ski and ride schools are excellent and for all ages.
And when you've skied as much as you can, Vail Village is available at the base of the mountain to pick you up. It is full of shops, food, and bars, often looking out at the scenic mountain you just got off of. The village is developed to feel European, and its Swiss stylings include Swiss and Austrian dining options as well.
For non-ski activities, Vail has Adventure Ridge, where you can participate in any number of snow activities such as tubing, ski-biking, and snowmobiling.
There are endless options to keep you having the best time in Vail, and there's a reason you know its name.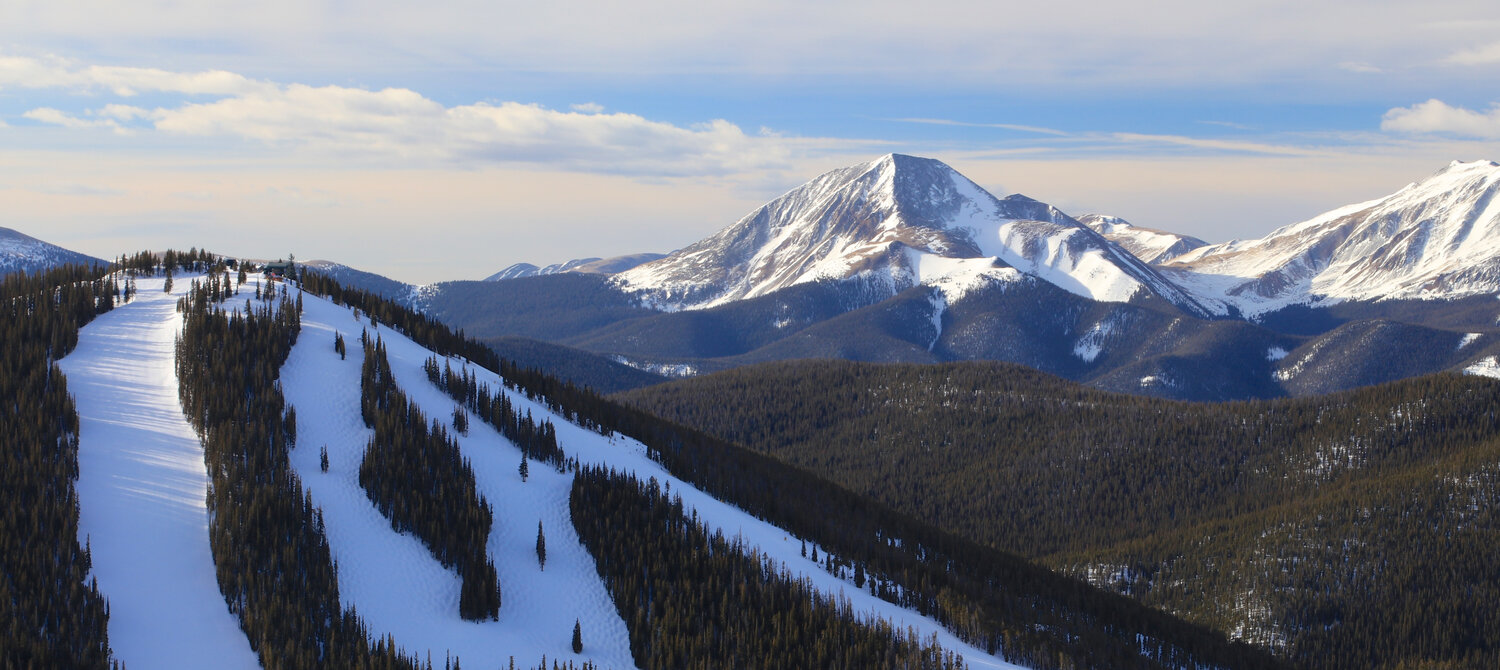 Keystone Ski Resort is around 2 hours from Denver's International Airport and has many shuttle options to get you to and from.
With three peaks across 3000 acres, Keystone is known mostly for its tree skiing. There are nearly 125 runs to choose from at all levels of skiing, but of this number, there is the highest number of easier runs to choose from compared to any other resort.
At Discover Slope, you can find ski and ride lessons. They will take you through a series of easy to progressively move skills along swiftly so that you can cruise the rest of their beautiful mountain.
Keystone has a nightlife suitable for kids and adults. You can ride a sleigh, tube, ice skate, and even ski at night! The best après locations can be found near River Run. Kickapoo Tavern is a favorite for most!
Keystone will also lean towards the more affordable if cost is a consideration, so you'll have more money to spend on fun activities—and at Keystone, there is no shortage of that.
Arapahoe Basin, or A-Basin, is a different sort of ski resort. It's much smaller and easy to navigate. But don't let that fool you into thinking that it doesn't have some of the best snow and terrain in Colorado.
A-Basin is close to Silverthorne, so you can mingle with the Keystone Resort skiers when you're all done with a day on the slopes. It is typically less crowded and a great place to learn to ski, without any pressures.
There are bars and food available at the base of the mountain, and also a party typically happening in the parking lot (locals love A-Basin for its easy-to-access location and tailgating reputation).
Since the mountain is smaller than some of the others we've covered, it is easy to keep your child nearby while they're in ski-school. And when they're done skiing for the day, the A-Frame Lodge is a great family hangout and take a break.
As I mentioned earlier, A-Basin often opens early in the season (sometimes even late-October!) and can stay open until mid-summer as well. So if you plan to spend this season learning to ski, you can get a head-start at A-Basin—one of the many perfect places to begin skiing in Colorado!
Conclusion
Colorado skiing is one of the greatest mountain experiences that you'll ever take part in, and as long as you are well-prepared, you too can enjoy it. From beginner to professional, the Rockies have terrain for everyone. We hope this guide has been useful in finding the right ski resort for you.
More about our TFVG Author
A seasoned traveller, Dad, and avid sports tourist, James foundered The Family Vacation Guide to share his expert vacation experiences- especially when it comes to being a travelling family man.
Featured in Travel articles such as Travel + Leisure, TripSavvy and SFGate, you know you're reading some of the best vacation tips online.