If you're planning a trip to Myrtle Beach, you can find several hotels in the area offering plenty of amenities as you enjoy South Carolina's warmest days.
Although many of these hotels offer indoor and outdoor pools to keep cool, they provide other things for anyone looking for enhanced relaxation during their stay.
If you're a fan of taking in the sun while slowly floating on a river, consider browsing through our list of fabulous Myrtle Beach hotels with a lazy river.
The first place that we recommend on this list of Myrtle Beach resorts with a lazy river is Holiday Inn at the Pavillion, located at 1200 North Ocean Boulevard, minutes away from Myrtle Beach SkyWheel. Their indoor lazy river is an excellent option for relaxing on rainy days, and their indoor and outdoor pools are also excellent alternatives to taking your kids to the beach.
Many of their rooms offer two queen beds, a full kitchen, free Wi-Fi, and a private balcony with oceanfront views.
Their Ocean's Coffee Café is an excellent place to enjoy some coffee or a quick bite to eat to start your morning right. You can also enjoy frozen cocktails at the Tropical Paradise Beach Bar by the outdoor pool and get a nice view of the Myrtle Beach Boardwalk.
Some nearby attractions you should consider checking out during your stay include Family Kingdom Amusement Park, Captain Hook's Adventure Golf, and Ripley's Believe It or Not Museum.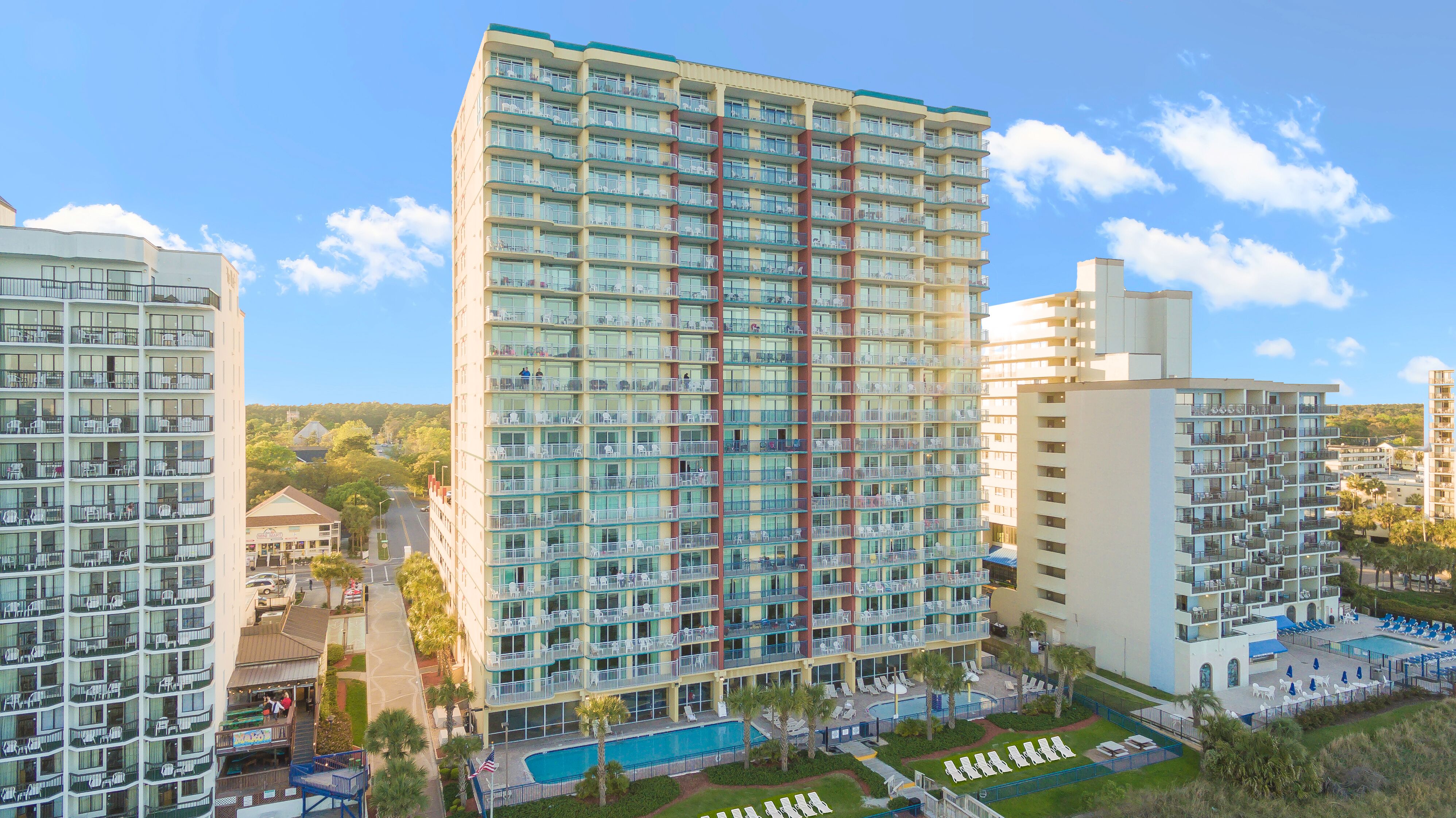 Another excellent hotel option on this list of Myrtle Beach hotels with a lazy river is Grand Atlantic Ocean Resort, located at 2007 South Ocean Boulevard. This resort offers plenty of amenities, including an indoor lazy river, a grass lawn with lounge chairs for enhanced sunbathing, and walkways to the beach.
They offer plenty of room options, but their two-bedroom oceanfront condo is ideal for eight people, complete with a king-sized bed, two full-sized beds, and a sleeper sofa. This room also has two bathrooms, complimentary Wi-Fi, a kitchen, and a washer and dryer set. All of their rooms and private balconies are smoke-free.
Your kids will love this resort's game room and outdoor pool if they're craving hours of fun. In addition, their fitness room is a great place to stay in shape with their weights, treadmills, and stationary bikes.
If you're looking for something fun to do near the hotel, visit Cancun Lagoon Adventure Golf for an immersive indoor or outdoor mini-golf experience. If you're craving Myrtle Beach's best dishes, don't miss out on nearby restaurants like Angelo's Steak and Pasta, Woodhaven Pancake House, or Captain D's.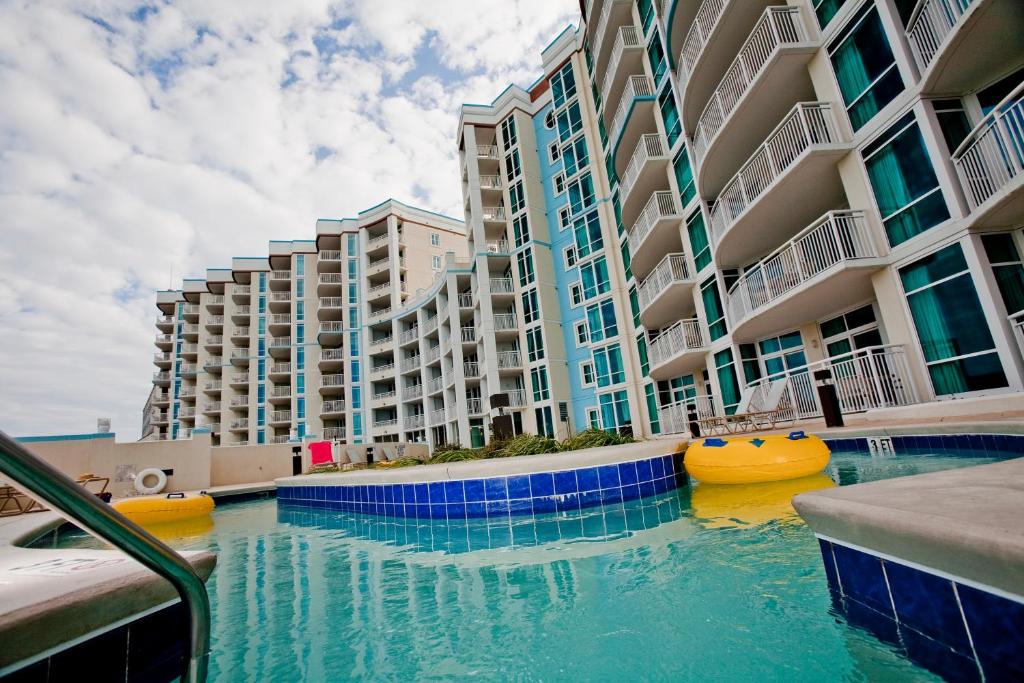 Located at 215 77th Avenue North, the aptly-named Horizon at 77th is your best vacation option for anyone who prefers relaxing in a peaceful, upscale neighborhood.
You can enjoy Myrtle Beach's warmest days at this resort's elevated rooftop water leisure plaza. Their outdoor pool and lazy river are popular amenities for guests, and they stay heated during cooler months. You can also relax in their indoor pool or hot tub.
Their suites offer scenic oceanfront or streetside views and full kitchens decorated with sleek granite countertops. Their one-bedroom suites have one king-sized bed, while most of their two-bedroom suites have one king-sized bed with an attached bathroom, one queen-sized bed, and a living room.
This resort is a block away from the beach, two miles away from the Carolina Opry Theater, and seven miles away from Family Kingdom Amusement Park. You can enjoy a tasty meal next door at the Shoreline Cafe if you're in the mood for a quality breakfast or dinner.
You can find Roxanne Towers at 1604 Ocean Boulevard, minutes away from the Myrtle Beach Boardwalk, SkyWheel, and Pier 14. Their suites accommodate two to six guests, depending on the number of beds each room provides. Each room has a private oceanfront balcony with lovely views of the beach.
Take a dip in their oceanfront pool or relax on their lazy river before visiting the nearby tourist attractions. They also have a heated indoor pool available during the winter months.
The closest attractions for families seeking thrills are Free Fall Thrill Park and The Funplex Myrtle Beach. Their high-speed rides offer plenty of fun for everyone. If you prefer doing something more laid-back, you can go shopping at Broadway at the Beach, located two miles away from the hotel.
If you're looking for a fun place to take your kids out to eat, consider stopping by Epic Arcade Restaurant & Bar or Bummz Beach Cafe.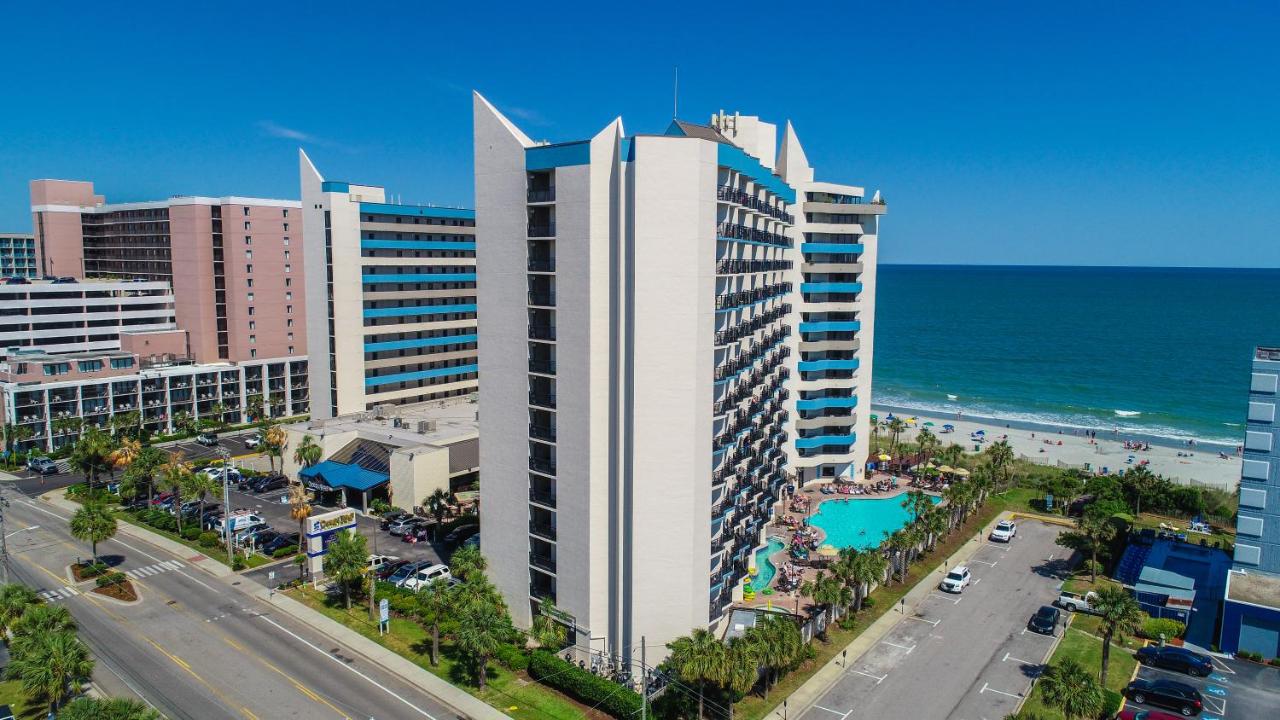 One of the best Myrtle Beach hotels with a lazy river that we recommend booking for your next family vacation is Ocean Reef Resort, located at 7100 North Ocean Boulevard.
Some of their rooms can hold up to four people, while others have space for eight people maximum. Each room has a unique layout that reflects the beachfront lifestyle of Myrtle Beach.
Kids will enjoy the hotel's Shipwreck Water Park and its thrilling waterslide. Ocean Reef Resort's lazy river is an excellent option for families who prefer a more tranquil water experience.
They also have a game room with several arcade machines, shuffleboard, volleyball, and giant chess or checkers.
Don't miss out on their oceanfront breakfast buffet at Café du Port. You can also enjoy dinner and cocktails at their in-house Banana Boat Pool Bar. They offer plenty of kid's menu options for picky eaters, like chicken tenders or a shrimp basket.
This hotel is located at 7200 North Ocean Boulevard, blocks away from Jungle Safari Golf and the Northwood Plaza Shopping Center.
Grande Cayman offers guests free Wi-Fi and breakfast during their stay. However, one thing you should miss out on is their Silly Submarine Water Park. It has several hot tubs, an outdoor pool, and a three-story water slide surrounded by lush palm trees. If you prefer slow, spend time at their 250-foot lazy river.
They have plenty of rooms with oceanfront views. Their rooms can accommodate between four to ten people, depending on your preferences or reservation needs.
If you're looking for something to do without getting wet, Grande Cayman Resort offers plenty of activities, from mini-golf and ping pong to working out in their fitness center.
This Myrtle Beach resort has a few onsite restaurants if you're feeling extra hungry. Turtle Bay Cafe offers tasty seafood and sandwiches, while Due South at 72nd serves a hearty, Southern-inspired menu.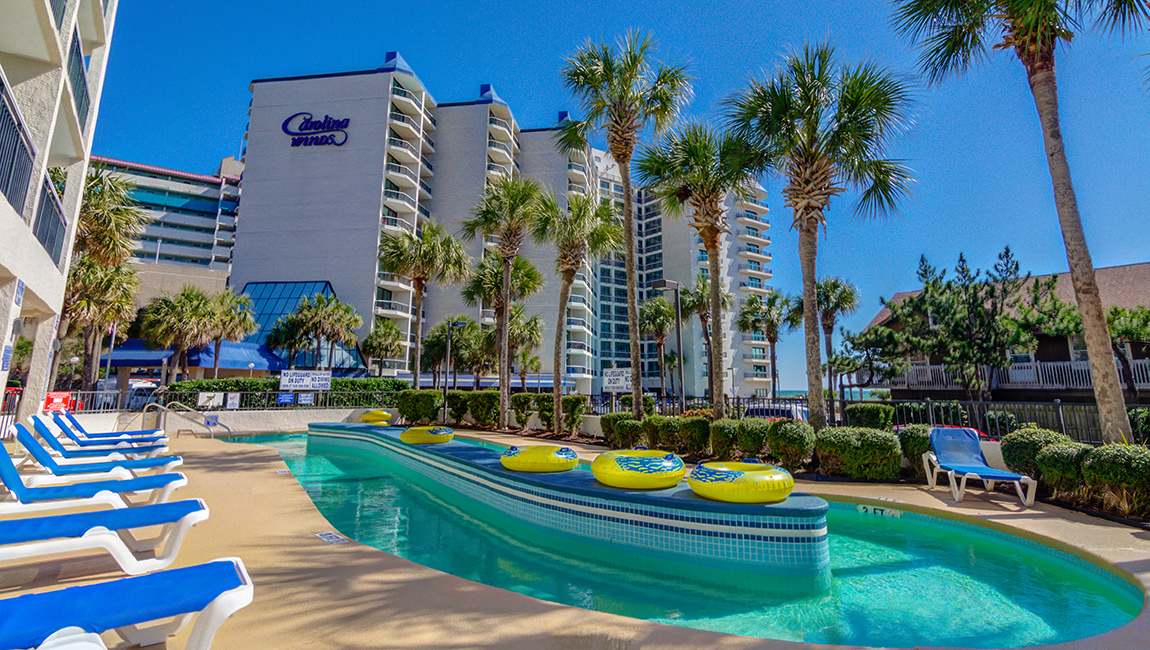 We consider Carolina Winds, found on 200 76th Avenue North, one of the best Myrtle Beach resorts with a lazy river because of its lively, family-friendly atmosphere, beachfront views, and deluxe rooming accommodations.
Carolina Winds has several room options that match your family's needs, from single-bedroom suites with an oceanfront view to multi-bedroom condos for larger groups.
If you're a fan of water activities, they have a spacious outdoor swimming pool, a three-foot outdoor lazy river for tranquil tubing, and a few whirlpools and kiddie pools.
Other on-site amenities include:
Playing air hockey in the game room.
Using the treadmill in the exercise room.
Relaxing on their oceanfront lawn.
Going to the beach.
Don't miss out on mouth-watering burgers, wings, and pizza at The Beach Pit Restaurant & Bar if you're having trouble deciding where to go for dinner or don't want to leave the hotel.
Located on 2500 North Ocean Boulevard, Dunes Village Resort stands as one of the best Myrtle Beach hotels with a lazy river for families who love beachfront destinations and relaxing spas.
Their stylish rooms have high-speed Wi-Fi, a kitchenette, big-screen TVs, and adjustable climate control. Their two-bedroom suites are ideal for smaller groups of two or four.
This resort has two lazy rivers, one indoor and one outdoor. Their indoor water park and outdoor splash area offer plenty of fun that your kids shouldn't miss out on during their stay. You can also sunbathe on their outdoor deck or enjoy refreshments at the Cabana Tiki Bar.
Dunes Village Resort offers plenty of on-site dining options, including a breakfast buffet. Be sure to visit the Lost in Serenity Spa if you're interested in their massage services.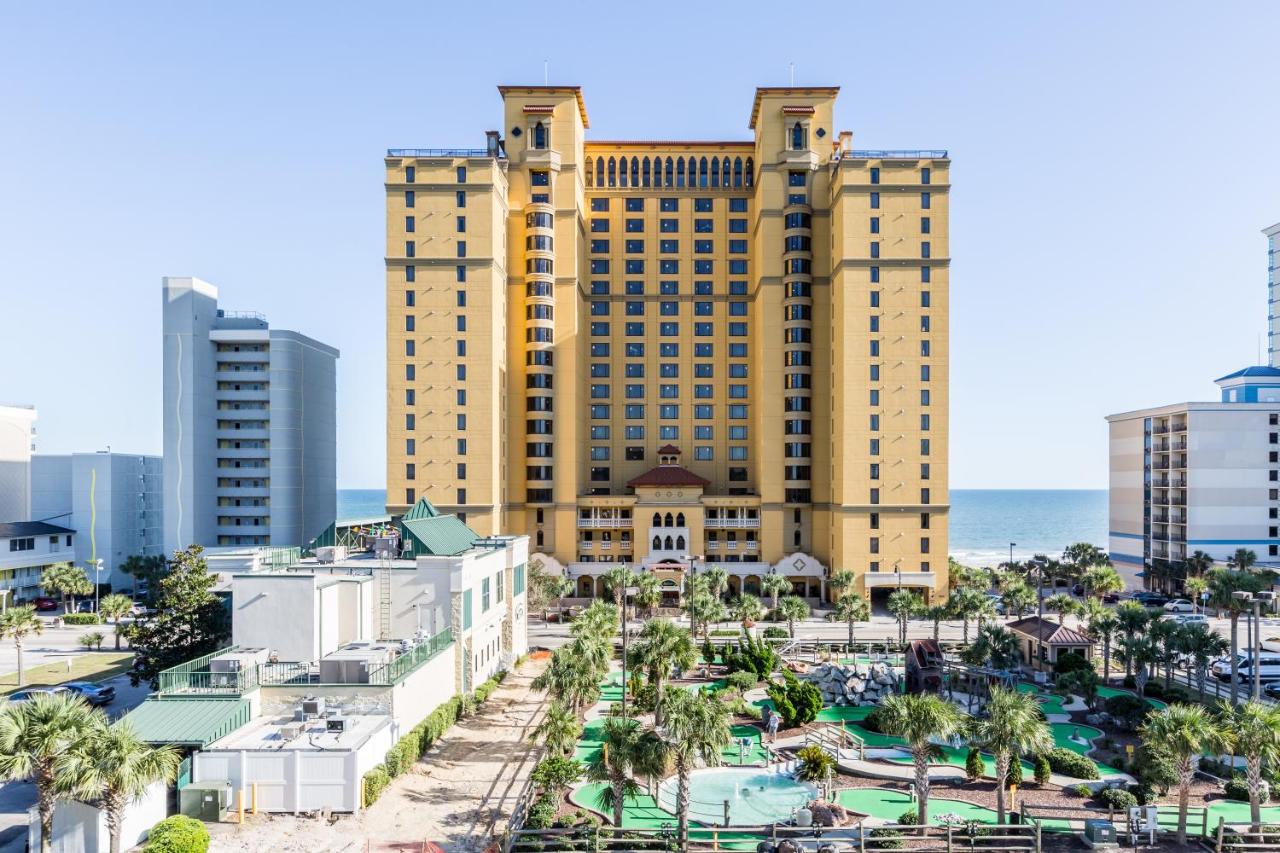 Nestled on 2600 North Ocean Boulevard, Anderson Ocean Club And Spa offers guests plenty of fun and relaxation during their visit to Myrtle Beach. It's across the street from Lost Mine Miniature Golf, and resort guests can enjoy unlimited mini-golf games until 7 PM.
They offer several suites with free Wi-Fi, private balconies, and Posturepedic mattresses in every bedroom.
Enjoy South Carolina's sun while swimming in this resort's expansive outdoor pools or unwind on their lazy river if you prefer a more relaxing activity. They also have a heated indoor pool during the colder months.
Their colorful exercise room offers several stationary bikes and weights for guests interested in maintaining their fitness levels. Consider visiting their Awakening Spa for a rejuvenating facial or massage.
Stop by their C-Bar for breakfast sandwiches and coffee if you're looking for a quick pick-me-up to start your day.
Conclusion
When narrowing down your top options for Myrtle Beach hotels with a lazy river, consider what amenities you'd like to enjoy during your stay. Thankfully, many of the choices on this list offer plenty of indoor and outdoor activities you can enjoy at any time of the year when traveling alone or with others.
More about our TFVG Author
A seasoned traveller, Dad, and avid sports tourist, James foundered The Family Vacation Guide to share his expert vacation experiences- especially when it comes to being a travelling family man.
Featured in Travel articles such as Travel + Leisure, TripSavvy and SFGate, you know you're reading some of the best vacation tips online.