If you're thinking of taking a family vacation and want to go somewhere warm while avoiding overcrowded destinations and certain human-sized mouse traps, South Carolina is a sure bet. 
It may not be the first state that comes to mind when you begin planning your trip, but trust us- you will have plenty of kid-friendly options in The Palmetto State.
If sunny South Carolina sounds appealing, let us help you narrow down your destination choices and settle on the perfect getaway location for you and your children. Here's our review of the best places to vacation in South Carolina with kids.
Columbia
If your family enjoys learning, Columbia could be the perfect destination for you. There are many options for family-friendly fun and education. The capital city is so popular that it is home to more than 100 hotels. Let's go over some of the opportunities in Columbia that make it one of the best places to vacation in South Carolina with kids.
EdVenture
This iconic children's museum is sure to delight children of all ages. EdVenture opened its doors in 2003 and now contains many exciting, hands-on exhibits for children to explore. EdVenture is a fun and engaging museum experience with a focus on education.
EdVenture features Eddie, the world's largest kid. Eddie is 40 feet tall and features a working set of lungs, intestines, brain, and heart. Curious kids can climb inside and explore how Eddie's body functions.
After learning about the body with Eddie, your children can head to the maker workshop and learn about engineering and design while they create one-of-a-kind inventions.
Art Museum
The Columbia Museum of Art contains some of the most beautiful exhibits you will ever lay your eyes on. Seeing these historic pieces of original art and recreations is an incredible opportunity for you and your whole family.
Unlike most stuffy art museums, Columbia's gem had plenty of educational moments for young ones. The galleries feature storytelling, a safari event, areas where your little one can design a masterpiece, and friendly guides throughout the exhibits who are open to answering questions from curious little minds.
State Museum
The South Carolina State Museum is full of fun, educational exhibits. With four floors to explore, there is something for everyone.
While it's easy to get lost in the natural history and art exhibits or to find yourself amazed in the 4D theater, be sure to check out the planetarium.
The dome theater seats up to 145 guests and features a selection of mind-blowing shows, including musical laser shows sure to enthrall your family.
If the exciting astronomy experience in the planetarium intrigues you, try visiting the Boeing Observatory. If the skies are clear, you can observe our far-away celestial neighbors through a vintage 1926 professional refracting telescope.
History
If you've had enough of the local museums, Columbia features several historical landmarks that are open for you to enjoy.
The Robert Mills House and Garden is a beautiful home that you and your family can explore. It was erected in 1823, making it roughly two hundred years old. If the name sounds familiar, that's because it gets its name from the architect, one of the most famous in United States history. You may know him as the architect responsible for the Washington Monument.
For other looks at Columbia's history, like tours of Historic Bull Street, or The Museum of the Reconstruction Era, check out Historic Columbia. There are so many beautiful places to enjoy with your family.
State House
For a double-dose of history and current events, the South Carolina Capitol Building, otherwise known as the State House, is a gorgeous political building on beautifully landscaped grounds. The State House offers both guided and self-guided tours to visitors.
Often the center of controversy, the building is the seat of South Carolina's government. Here you'll find both the House and Senate chambers as well as the Governor's office.
Zoo
One of the most exciting things about Columbia is Riverbanks Zoo and Garden. The zoo is a must-visit for any family, as it features animals native to all parts of the world,
In addition to its expansive botanical gardens, the zoo is home to some of the most impressive animal exhibits around. The Aquarium & Reptile Complex holds predators like Komodo Dragons and legendary creatures like Galapagos Tortoises.
Your little ones will love seeing majestic elephants and huge lions in their carefully replicated habitats. There is even an exhibit that allows the children to get up close and personal with lorikeets, which are gorgeous birds native to Australia.
Riverbanks Zoo has several in-house eateries, so you don't even have to leave to have a filling lunch.
Parks
No family outing is complete without a visit to some beautiful local parks. Columbia is full of them, adding to its appeal as one of the best places to vacation in South Carolina with kids.
Columbia is within driving distance of several state and national parks, such as the Congaree National Park, Dreher Island State Park, and the Sesquicentennial State Park, which feature serene forests and lakes with watersports options.
If a playground is what you're looking for, there are many to choose from in the Columbia area. Saluda Shoals Park in nearby Irmo has a sensory-friendly inclusive playground and a splash pad for hot days. There's also Earlewood Park and Carraway Park.
All of these are great options for a day of play. Pack a picnic for a memorable afternoon with the kids!
Greenville
Greenville, South Carolina, has become a popular destination for people of all ages. In 2011, the city was named number 13 on a list of the best cities for young adults, thanks to its many art and culture spots and the vast number of diverse restaurants available.
While the city is celebrated for its popularity among young adults, we will be focusing on kid-friendly locations around the city to help you see why it's one of the best places to vacation in South Carolina with kids.
Restaurants
Greenville has a thriving "foodie" scene. The city offers a range of diverse restaurants for every taste.
However, when you are dining with children, you want to be sure that you choose a kid-friendly place to eat.
Some of our favorite options are Runway Cafe, which connects to Runway Park at the Greenville Downtown Airport, Swamp Rabbit Cafe and Grocery, and Willy Taco. There are many more options to explore while vacationing near Greenville, South Carolina.
Children's Museum
The Children's Museum of The Upstate is a super fun destination for kids. It's a Smithsonian-affiliated museum with many fun exhibits to explore and learn from.
Featuring an Open Art Studio, Animation Station, Sensory Square, and many more staple exhibits, there's something fun and educational for any child. You and your kids will want to stay all day at the Children's Museum.
Outdoor Fun
There are lots of outdoor activities you and your kids can check out around Greenville, South Carolina.
Paris Mountain State Park features four lakes. You can go hiking, camping, fishing, swimming, kayaking, and more at the park.
Pleasant Ridge Park is a Greenville County jewel that contains many miles of trails, a lake, and a playground.
For some history, be sure to check out Campbell's Covered Bridge, which is the only covered bridge that remains in South Carolina, or nearby Poinsett Bridge, the oldest bridge in the state. Robert Mills of Washington Monument fame designed the Poinsett Bridge.
You may also enjoy a visit to Cedar Falls Park or Swamp Rabbit Trail. Greenville is full of beautiful outdoor fun for the whole family. The city and the surrounding area truly make the perfect getaway for a family with children, especially one that loves to spend time in nature.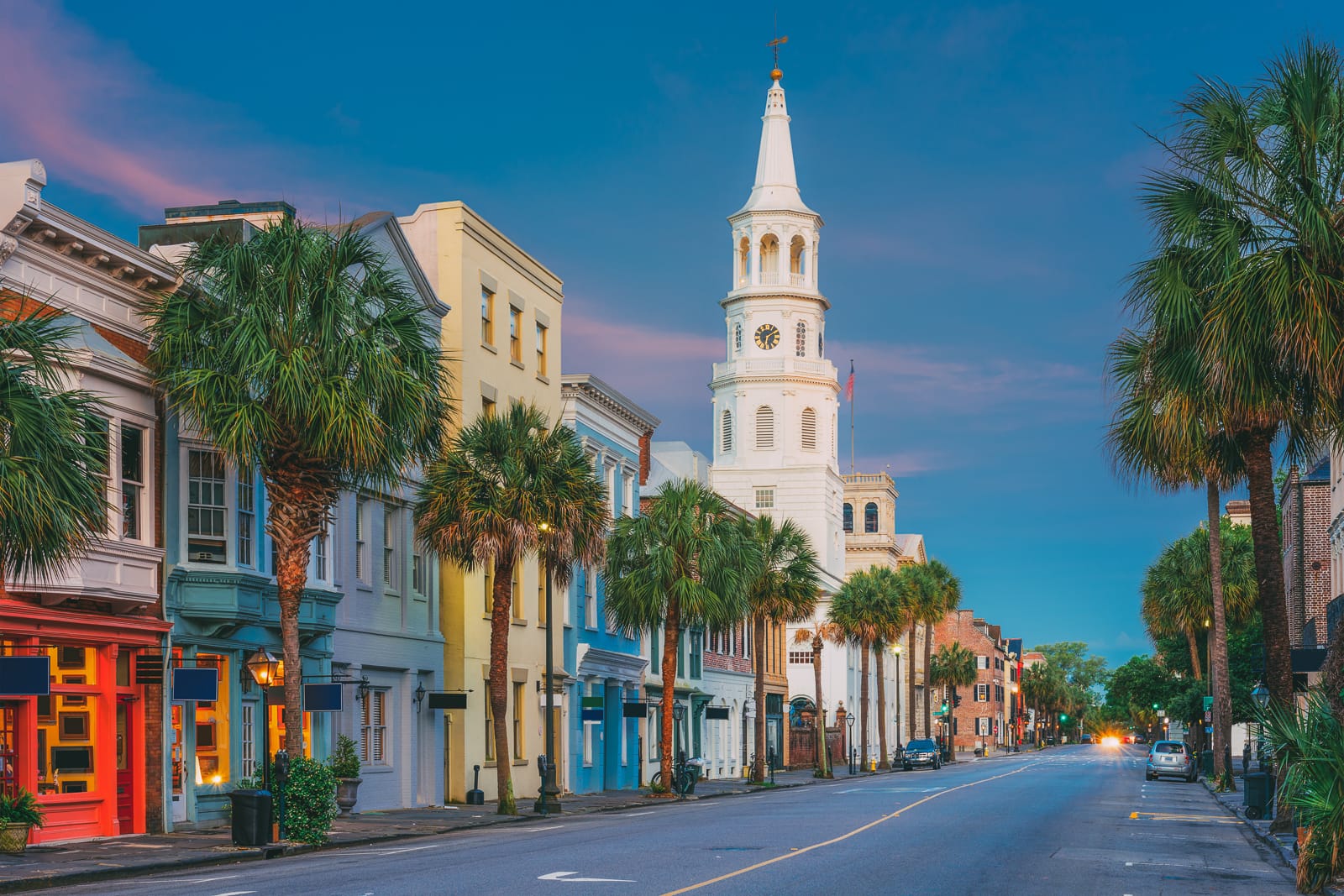 Charleston
Charleston is another coastal city brimming with rich history, along with tons of entertainment, family-friendly activities, and places to eat. With so much to keep you busy, Charleston has a rightful spot as one of the best places to vacation in South Carolina with kids.
History
Charleston is a port city dating back to 1670. Because of its location along the Southern coast and its subsequent involvement in human slavery, Charleston's history is just as troubled as it is beautiful.
In Charleston, you will find sites relevant to both the United States Revolutionary War and the Civil War.
While much of Charleston's past is dark and controversial, you and your children will have ample opportunities to learn about American history just by wandering the large city.
For example, the idea of visiting plantations may leave a bad taste in one's mouth. However, there is no denying that Civil War-era plantations are jaw-droppingly beautiful and that there is much one can learn by attending a guided or self-guided tour. It's important to learn about and honor African-American history in our country.
You can do so by visiting McLeod Plantation, Boone Hall Plantation, Magnolia Plantation, or many more.
There are many other historic sites in Charleston, South Carolina.
A notable one is Fort Sumter and The Battery. The Battle of Fort Sumter marked the official start of the Civil War between the United States Union and the Confederacy.
Charleston is a great place to explore if you want to include some history lessons in your vacation.
Beach
The Charleston area comprises several islands, meaning there are multiple sandy beaches to relax on.
Whether you want to lay back in the sun, walk along the sandy shore, or go for a dip in the ocean, you have several beaches to choose from.
Your little ones will love the shores of Folly Beach. It's a popular destination for surfers, which means your kids might catch a glimpse of someone catching some waves. Or, if you are adventurous enough, your family can get out there and try to hang ten.
Folly Beach has lots of restaurants, so you'd better get your appetite ready to gorge on delicious seafood and traditional Southern and American fare. There is also an abundance of beach houses available for rent if you wish to avoid a hotel. Finally, from Folly Beach, you can catch a glimpse of the Morris Island Lighthouse for a fun educational moment.
Kiawah Island, Sullivans Island, Isle of Palms, and Seabrook Island all offer unique experiences in the Charleston area. Hang out on your favorite beach, or try to make it to all of them!
Museums
For more educational attractions, check out some of Charleston's museums. There are enough that you can spend days getting lost in all of the exhibits and helpful information.
The Charleston Museum on Meeting Street is the oldest in the United States. The museum opened in 1773. Its many exhibits focus on the history of Charleston, including the involvement in both wars.
The Children's Museum of the Lowcountry is a local museum geared towards kids. TCML features interactive exhibits about art, music, science, gardening, and more. Your children will have a blast and learn so much!
Other museums include the Gibbes Museum of Art, The Best Friend Train Museum, and the Postal Museum.
Myrtle Beach
As the most well-known city in South Carolina, Myrtle Beach offers many activities for the whole family. It is a tourist destination filled with beachside gift stores and specialty restaurants. For an adventure-packed family getaway, Myrtle Beach is one of the best places to vacation in South Carolina with kids.
Hotels
Before even going into the attractions available in this big city, we must mention the variety of hotels you can choose. They range from tiny, inexpensive (and possibly seedy) motels to large resorts with on-site water parks and luxury suites.
Choosing the right hotel can make or break your vacation. On a hot day, you may not want to wrestle all the kids into a crowded beach or another public place. You'll want to take a break relaxing in the hotel pool. Some of the beach resorts in the Myrtle Beach area even have a lazy river accessible to their guests!
Why not check out our guide to the best family resorts in Myrtle Beach for inspiration?
Family Kingdom
The Family Kingdom is a local amusement park located minutes from the ocean on Ocean Boulevard. The park features more than 38 rides to enjoy with your family, as well as an arcade and other attractions.
There are roller coasters, bumper cars, kiddie attractions, and other types of exciting thrill rides.
You and your kids can easily spend an entire day enjoying the food, entertainment, and rides at Family Kingdom before winding down just across the street on the beach.
Beach & Boardwalk
No visit to the beach is complete without, well, a visit to the beach!
Myrtle Beach features the popular Boardwalk, the shortened local nickname for Ocean Boulevard, the busy street that runs parallel to the Atlantic Ocean in Myrtle Beach. The Boardwalk is known for arcades, restaurants, gift shops, and other attractions. You and your kids can go shopping, sit down to eat, get henna tattoos, and even visit a haunted house before heading over to the ocean.
There are several beaches to enjoy in the area. There is the main Myrtle Beach location along the Boulevard, as well as Huntington Beach, Surfside Beach, North Myrtle Beach, and more. Make sure to pack sunscreen!
Ripley's
If you remember Ripley's Believe It or Not!, you might want to make a stop at this location. The company dates back to 1918 as a purveyor of the bizarre. Today it is a large franchise that owns attractions across the United States. Myrtle Beach is home to seven Ripley attractions. Your kids will probably enjoy visiting some or all of them:
Ripley's Aquarium
Ripley's Believe it or Not! Museum
Ripley's 5D Moving Theater
Ripley's Haunted Adventure
Ripley's Marvelous Mirror Maze
Ripley's Super Fun Zone Arcade
Ripley's Smash Dash
More
There is no end to the fun you can have with kids in Myrtle Beach. We'd be here all day if we listed every destination and attraction. Besides the ones we have listed, things to do in Myrtle Beach include Brookgreen Gardens, bowling, fishing, Restaurant Row in Murrells Inlet, and much more.
Salem
Salem is a little-known mountain town in Oconee County known as the "gateway to the Blue Ridge Mountains."
While it may not be an extensive metro or a popular vacation destination, Salem is perfect for a low-key, relaxing family vacation because of its beautiful natural sites.
Devils Fork State Park and Lake Jocassee
South Carolina State Parks are known for their beauty and jaw-dropping nature scenes. Devils Fork is no different.
Devils Fork State Park is a beautiful place to go camping. There are two campgrounds and furnished villas available to rent for a few nights.
The pride of Devils Fork is the artificial Lake Jocassee. Several waterfalls, rivers, and mountain streams feed this vast lake. You are allowed to swim, boat, fish, and scuba dive in the lake. There are also canoe and kayak rentals on-site.
In addition to camping and lake activities, Devils Fork features a beautiful one-mile loop called the Oconee Bell Nature Trail. The Oconee Bell is a rare wildflower found only in a few places. If you are lucky, you'll spot them along the nature trail.
Fort Mill
Fort Mill often gets overlooked as a family vacation spot, but this beautiful little city is a hidden goldmine in South Carolina.
There are fun activities for all ages, not to mention beautiful views and fantastic restaurants. After one visit to Fort Mill, South Carolina, you will want to return solely to eat your way through the city!
Food aside, let's take a look at some of the fun things to do with kids in Fort Mill.
Carowinds
This major amusement park is probably the city's most significant draw for tourists.
If you have tiny kids, they might want to play the day away in Camp Snoopy, the park's kid-friendly area featuring Peanuts-themed rides. Thrill-seeking youths can enjoy exciting coasters like the record-breaking Fury 365. One thing's for sure; your family will have a blast at Carowinds.
Anne Springs Close Greenway
If you're looking for outdoor fun, Anne Springs Close Greenway is the place for you.
This gorgeous outdoor complex features nature trails for hiking, running, and mountain biking. There are lakes where you can paddleboard and kayak, and go fishing.
The Greenway offers daily yoga and fitness classes. It's a beautiful place to spend a day in nature with your family.
Museums
There are museums nearby that are sure to provide a great time for you and your young ones.
The Fort Mill History Museum will give your kids an educational look into South Carolina's past.
The Main Street Children's Museum in nearby Rock Hill is an entertaining and creative space for young children, inspired by the work of famed artist Vernon Grant.
Finally, the Museum of York County is a small natural history museum that features life-sized animal recreations. Kids can explore the various regions of South Carolina and the wildlife that inhabits them. There is also a Vernon Grant-themed children's room.
Proximity to Charlotte
Fort Mill is mere minutes away from Charlotte, North Carolina. Charlotte is a major city known for both sports and its involvement in the banking industry.
If you are an NFL fan, you may want to take your kids to see the Carolina Panthers play in their Charlotte stadium.
Otherwise, there are loads of activities in nearby Charlotte:
Are You Going to Try These Best Places to Vacation in South Carolina with Kids?
To conclude this list, it's important to note that many attractions in South Carolina are seasonal. Be sure to check with each location before visiting to verify the dates and times that they are open.
South Carolina is one of the most beautiful states in the country because of its warm weather and vast greenery. The state is very diverse, with coastal cities, marshlands, mountains, and other interesting geographical features.
There are so many things to do around the Palmetto State that will please your children.

We know it can be challenging to plan a vacation when children are involved. Hopefully, with this comprehensive guide to kid-friendly locations, you will be able to choose between these best places to vacation in South Carolina with kids. Now, the only thing left to do is to book your trip!
More about our TFVG Author
Caitlin is one of The Family Vacation Guide's long standing contributors. She enjoys taking vacation to busy, vibrant cities and has stretched her traveling legs out towards Europe in recent months, enjoying new experiences in Barcelona in Spain, and Nice in France.