Thanks to its perfect location on the Gulf of Mexico's shores, Corpus Christi is a favorite destination in Texas. Commonly known as the Gulf Coast Capital, this city offers tons of outdoor activities, from island exploration to kiteboarding. 
The city has plenty of attractions on land as well, like the Texas State Aquarium, the Padre Island National Seashore, and the Harbor Playhouse.
To make the most of this beachside city with your family, you need to first find the perfect hotel. We've compiled a list of the ten top family-friendly hostels in Corpus Christi so you can start planning your Texas vacation today!
Hampton is one of the most well-known hotel brands in the country. Its Corpus Christi location is a solid value hotel located conveniently close to many top destinations within the city. Standard family rooms include two queen-size beds with a microwave and a fridge, and they're nonsmoking, so you won't have to worry about lingering scents in the air.
The Hampton inn also has several accessible rooms, including two options with two queen-size beds.
The Hampton is about five minutes away from multiple notable retailers and twenty minutes away from major sites like the Museum of Science & History, the USS Lexington, and the local airport. Amenities include complimentary hot breakfast and parking, free WiFi, and an outdoor pool.
Overall, the Hampton is a great location that offers courteous staff, clean rooms, and a generally safe area. It all comes at a budget-friendly price, making it our top pick for the city.
The Best Western in the heart of the city is easily one of the best family hotels in Corpus Christi. Like most hotels, it offers many rooms with two queen-size beds, all at consistently affordable pricing.
Rooms at the Best Western generally feature air conditioning, flatscreen TVs, microwaves, and refrigerators. Interconnected rooms are available for larger families, while a safe can help protect your valuables. Family rooms here include the choice of ocean and city views, which is a thoughtful touch.
Property features include free parking and breakfast, a pool, free wireless internet, and a great location just minutes away from the beach. The Best Western is pet-friendly, including dogs, which sets it apart from most other Corpus Christi hotels.
Hilton is a huge hospitality company, so it's no surprise that they appear several times on this list, starting with their Hampton brand above.
The Embassy Suites location is a little further away from the beach than some other hotels, about a 15-minute walk for most families. That's still close, though, and it means the hotel is also a set closer to some dining and shopping options.
The Embassy Suites are more upscale than the Hampton, with the two-queen chambers featuring a two-room design. Child-friendly services include a children's menu for food, plus available playpens, high chairs, and cribs on request.
Notably, the king-size bed suites also come with sofa beds, making them more viable for small families or those with more children who can share a bed.
Other hotel features include made-to-order breakfasts, a complimentary evening reception, and an on-site restaurant for more refined dining. Plus, we can't forget to mention the indoor heated pool! The Embassy Suites also provide free parking and WiFi but don't allow pets.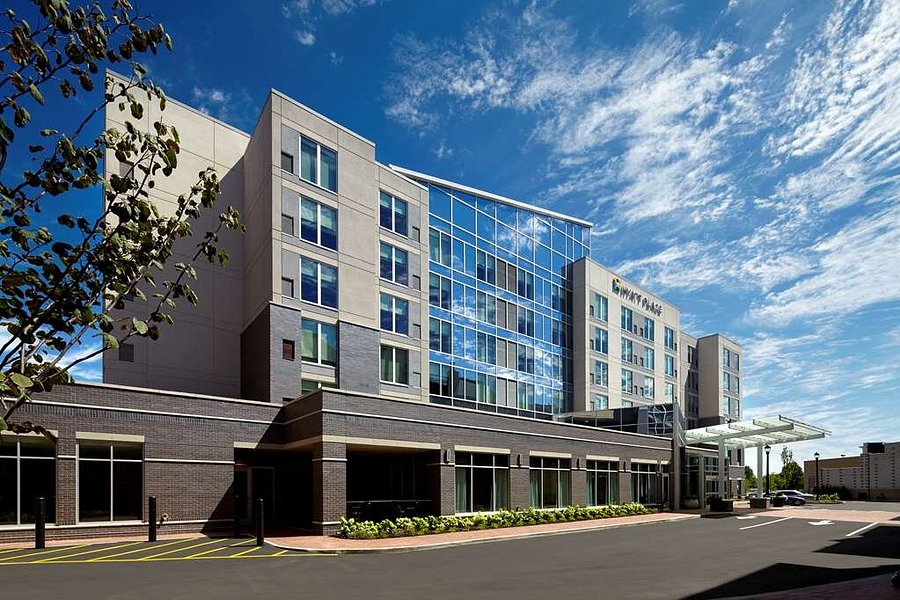 Hyatt's location in Corpus Christi is a little unusual for hotels in the area. Notably, it's extremely close to the Medical Center Bay Area, somewhere with better access to the inner city. The central location makes it a great choice for families who want to focus more on the urbanized areas rather than going right out to the beach.
Sofa beds are standard throughout Hyatt rooms here, making all of them potentially viable for family trips. The traditional two-queen bedrooms feature beds raised comfortably off the ground and with extra room to maneuver.
General amenities include swiveling 42″ televisions, coffee and tea makers, an alarm clock with MP3 connectivity, and a cordless speakerphone. Separate workspaces are available for guests who need to stay in touch while out with the family, while a mini-fridge and a dry bar make meals a little easier.
Accessible rooms in this hotel include roll-in showers, making them more practical for guests with mobility needs. Children can take advantage of the Hyatt Place's Odds & Ends service, which guests can borrow from at no charge while staying in the hotel. Odds & Ends is a rare service for hotels, but the on-demand entertainment is excellent for families.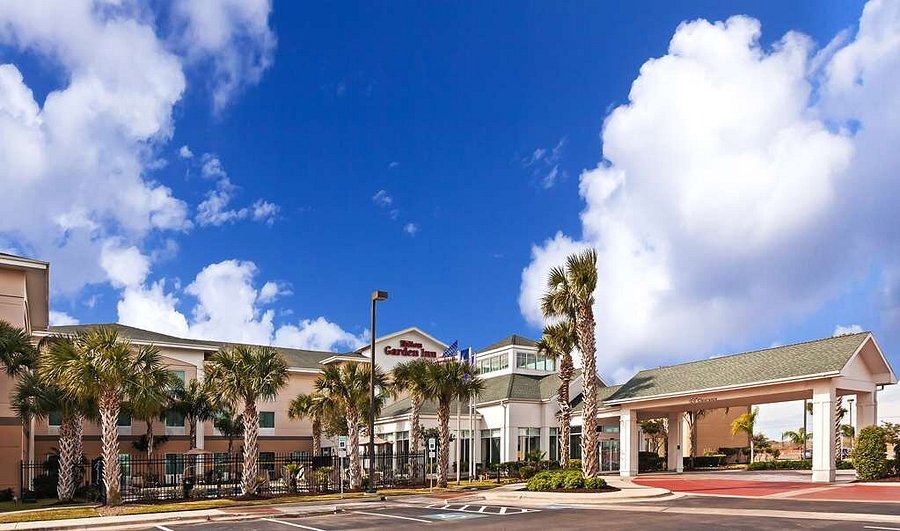 The Garden Inns are a mid-range option in the Hilton family. They're not as luxurious as the Embassy Suite, but they're more comfortable than the Hampton Inn – and for only a tiny difference in price! Together, these factors make it comfortably one of the best family hotels in Corpus Christi.
The Hilton is well inland from the beach. It's about 11 miles from the downtown area and 20 miles from Padre Island. The most viable family rooms are those two queen beds, which face a 40″ television. Granite showers offer reasonable comfort there, while a desk in the corner comes with an ergonomic chair for reading or work.
For kids, the Hilton Garden Inn is located just off the main road through the area, which means quick access to nearby facilities and entertainment. Some rooms are available with additional drinks and snacks, but these tend to sell out faster, so you may need to reserve ahead of time if you want those.
The Garden Inn is a solidly middle-quality location with clean rooms, a pet-friendly environment, and impressive accommodations for its price. The one downside is that it's a little far from the beach, although it's comfortably close to many downtown restaurants and shopping areas.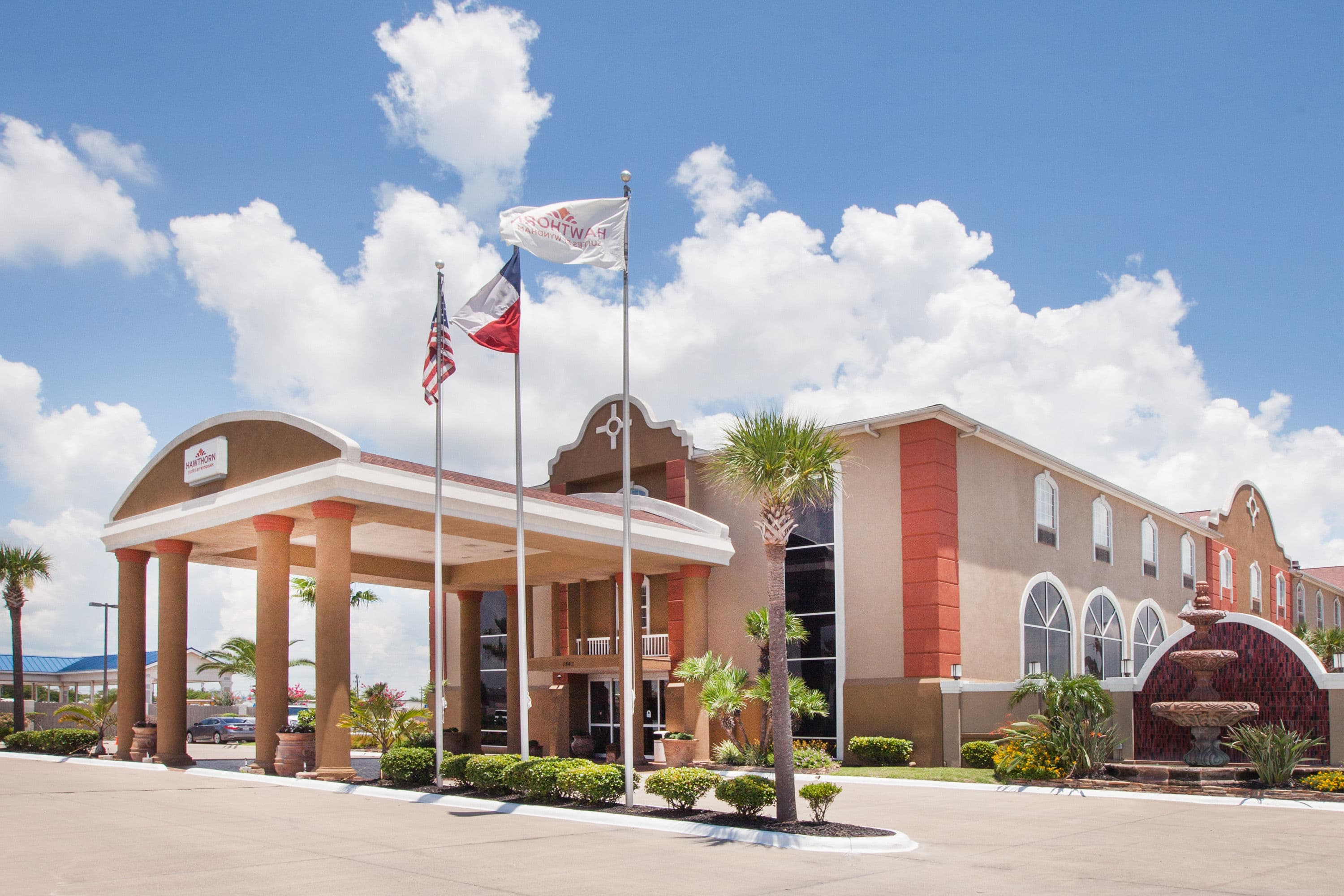 Wyndham isn't quite as well-known as Hilton, but they still offer a comfortably large series of hotels. Their Hawthorn Suites location in Corpus Christi is more budget-focused, costing a little less per night than many competitors while still offering a decent selection of amenities.
Rooms feature the standard array of air conditioning, a fridge, and a flatscreen TV. Somewhat unusually, Hawthorn's rooms also have kitchenettes, plus an on-site convenience store offering food and other goods.
Meanwhile, children benefit from an on-site children's pool, which is a rarity among hotels in Corpus Christi. The Hawthorn Suites also have cribs available as needed, with an option for special family or oversized rooms if necessary. Together, these features make it considerably more child-friendly for all visitors.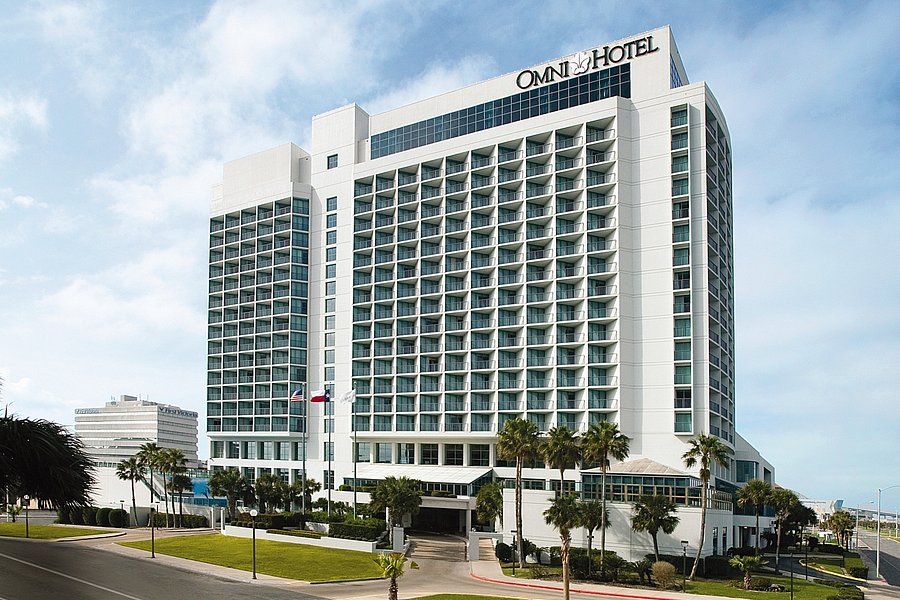 Omni isn't as large or well-known as brands like Hilton or Wyndham, but they have an impressive portfolio of decent locations, and their Corpus Christi location is no exception. Omni is a comparatively upscale hotel with great views of the waterfront.
Family rooms here focus on rooms with two double beds, about six inches less wide than the more-common queens. These might be a little close for some people, so keep that in mind when deciding on a room.
The Omni Kids Crew program offers additional fun for younger visitors, starting with an optional delivery of milk and cookies on the first night. Kids can also receive a backpack that includes an activity book, stickers, crayons, a small tabletop game, and some binoculars to help see things across the city.
General room features include private walk-out balconies, 42″ TVs, and available high-speed internet. Broader hotel amenities include a heated outdoor pool, a full-service salon, and an on-site four-diamond restaurant (AAA's second-highest rating) for great meals.
Optional room upgrades include premier rooms with a better view. These are a little more expensive than standard rooms but often worth the cost for shorter trips.
Between the generally high quality of rooms and service, the outstanding location, and the food, Omni's Corpus Christi is easily one of the best options for families.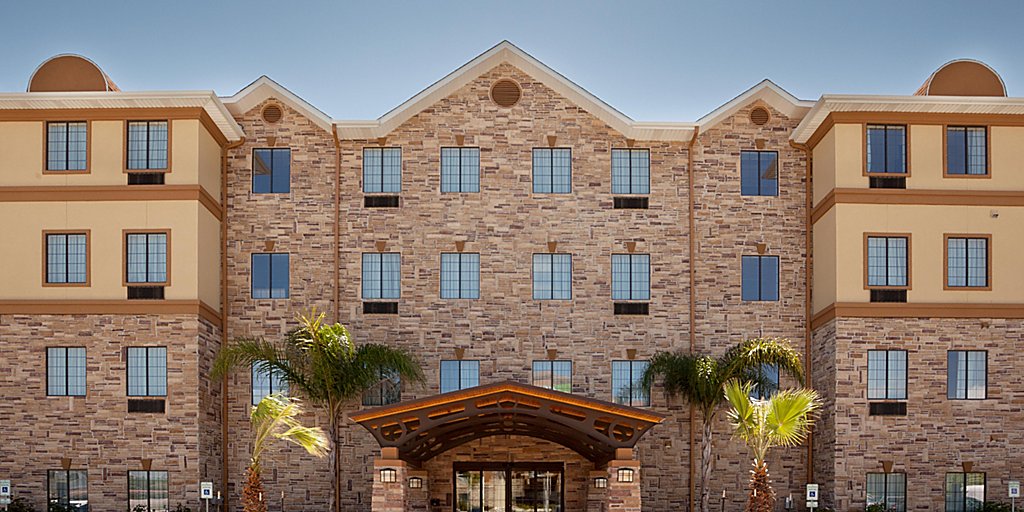 Staybridge Suites in Corpus Christi is a solidly accessible hotel, offering an outstanding balance between price and luxuries. Staybridge is an extended stay hotel, which means it has features like self-laundry facilities for guests who intend to stay for a week or more. The hotel also has social receptions Monday to Wednesday, plus hot breakfasts each morning.
Staybridge's owner, IHG, takes cleaning their hotels seriously. Their commitment is especially valuable for kids, who benefit from rooms that use hospital-grade disinfectants and more in-depth procedures to provide safer rooms.
Interestingly, guest rooms also have full kitchen areas, including stoves, dishwashers, and tableware. The rooms tend to be full of amenities, with wired internet available for guests who need reliable connections. The rooms don't include safes, but the hotel does have a safety deposit box at the front desk.
Overall, the Staybridge Suites are surprisingly high-quality, offering an excellent value at their price point. These suites are especially worth considering if you plan to be in town for a week or two and want a bigger kitchen to help prepare your meals. Most hotels in the area don't have complete kitchens, so that's a standout feature here.
Another family-friendly feature is that kids stay free while traveling with you. If you have two or three kids with you, that can mean a big difference in price over an extended trip. Ultimately, the Staybridge Suites are worth considering for any extended vacation.
Despite the name, La Quinta's Inn and Suites aren't directly at the airport. Although close, the more removed location makes the inn quiet throughout the night. La Quinta is a relatively comfortable modern hotel with a bright and colorful decorating style that appeals to kids.
La Quinta's central location makes it a good starting place to explore the city. Its location also makes it an excellent choice for families flying in late since that means kids can get to sleep sooner and be ready for a fun day of exploring the city.
An in-hotel food area provides meals on-demand, with microwaves available to help heat things up. Some bathrooms have accessible walk-in stalls, but more unusually, a few rooms have bathtubs directly in the main room on a raised section. That's quite rare in hotels. If it's something that sounds like fun for the kids, make sure to check the details of your room.
The childcare policy is also better than at many other hotels, with La Quinta allowing children 17 and under to stay free. Many hotels start adding fees for children over 12, so La Quinta is a great starting point for families with older kids.
Standard features like air conditioning, a flatscreen TV, and a pool are included, and pets are allowed in this hotel.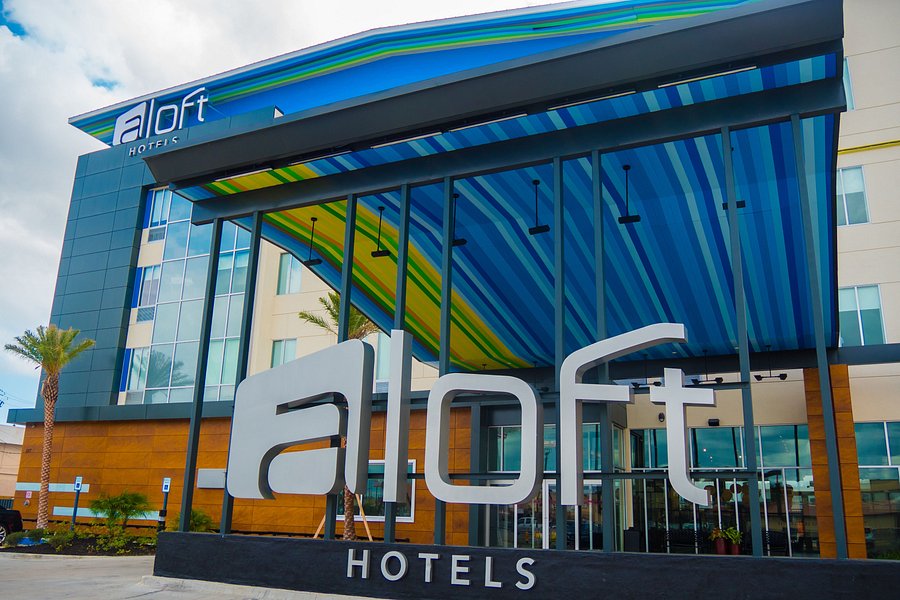 Aloft is part of the Marriott family, and it immediately stands out from the other hotels on this list thanks to its choice of decor. Unlike traditional hotels, which tend to have muted colors and a more relaxing style, Aloft features an Art Deco style with unusual lighting and color choices on the interior.
In other words, just visiting this hotel is significantly more of an experience than going to most other areas. Aloft also has a game room, billiards, and even a bar/lounge, making it a decent choice for families with older children who prefer active hotels instead of quiet ones.
Aloft is close to a few restaurants, and many more are available to families with a quick drive toward Oso Bay.
Final Thoughts
Corpus Christi is a sparkling seaside city, full of family-friendly activities for all ages and interest groups. The hotels in the area match, especially at upscale options like Omni, where there are full programs to help keep kids entertained.
If you're still unsure which family hotels in Corpus Christi are the best option for you, consider the activities you want to do with your family and check the maps to see which of the family-friendly hotels above are the closest.
More about our TFVG Author
A seasoned traveller, Dad, and avid sports tourist, James foundered The Family Vacation Guide to share his expert vacation experiences- especially when it comes to being a travelling family man.
Featured in Travel articles such as Travel + Leisure, TripSavvy and SFGate, you know you're reading some of the best vacation tips online.