Wichita Falls is known for its vibrant arts scene, theaters, and historic architecture. With tons of unique shopping, beautiful nature and wildlife, and great restaurants, Wichita Falls is the perfect place to stop for your family's road trip.
Whether you live in the area or visit with your kids, there are tons of fun activities for the whole family to enjoy. Here, we've compiled a list of the nine best things to do in Wichita Falls, Texas with kids.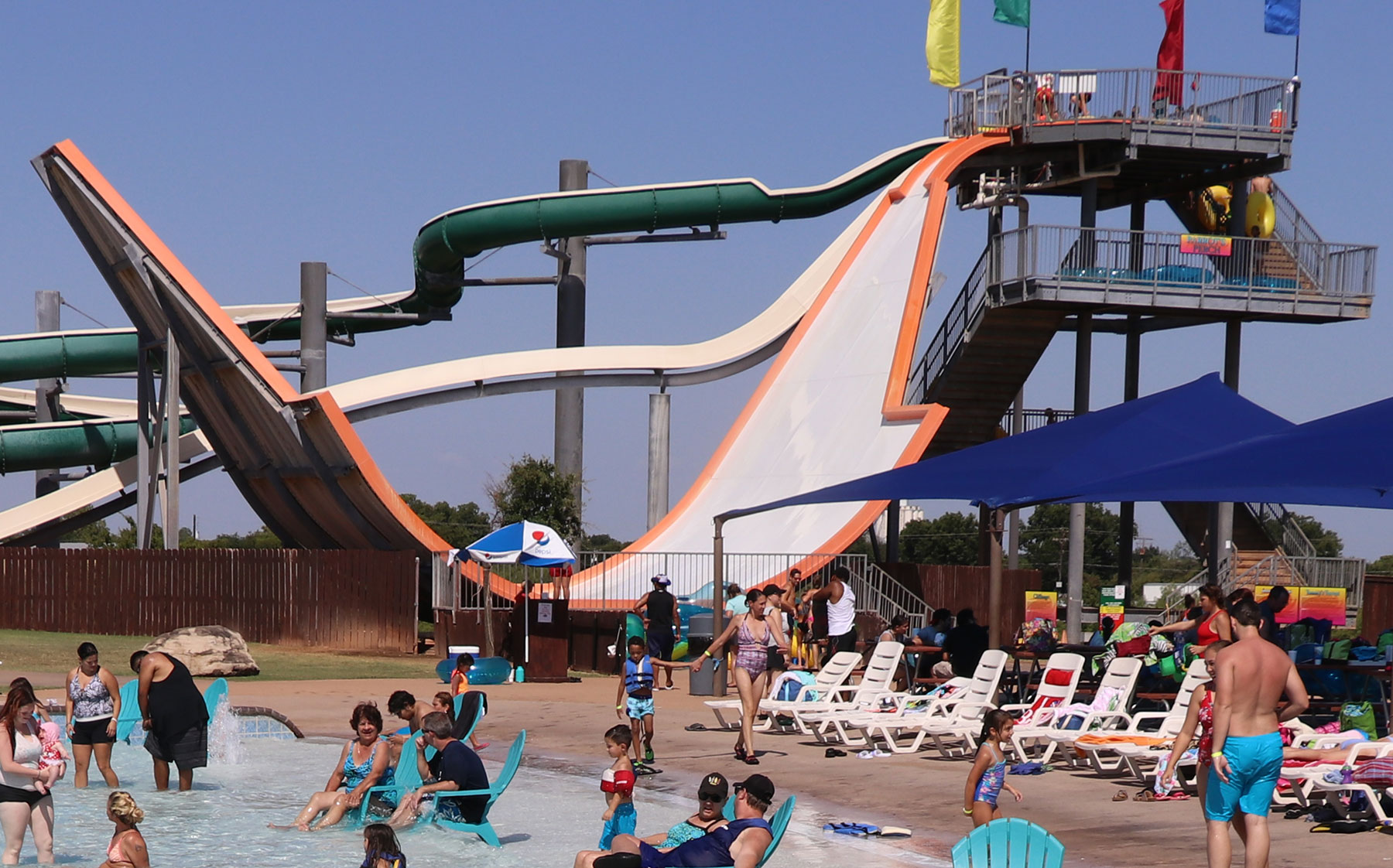 Castaway Cove Waterpark
1000 Central Freeway East, Wichita Falls, TX 76301
940-322-5500
Castaway Cove Waterpark is the perfect place to take your kids on a hot summer day. There are activities for children of all ages and adults. There's a reason why it's one of the best water parks in Texas! 
Younger children will enjoy Nellie's Rolling River, a relaxing lazy river that runs between the other attractions. Little kids can also play in Buccaneer Bay, a multi-level play system with water cannons, small slides, and tons of other water features.
Older children and adults will love Castaway Cove's larger waterslides, including Pirates Plunge, a slide with a 37-foot vertical free fall that can reach speeds of 40mph. Pirates Plunge includes a 360-degree loop and translucent bottom for spectators to watch riders plummet down the slide.
The whole family can play in Shipwrecked Beach, a wave pool with geysers and access to the lazy river, or Hideaway Harbor. Hideaway Harbor has water volleyball for older kids, teens, and adults, and a rope crossing for little ones to practice their coordination and confidence.
When it's time for everyone to leave the sun, you can sit back in one of Castaway Cove's poolside cabanas, which are available for rent with a reservation.
You'll find plenty of activities to fill your summer days. Castaway Cove has senior and military discounts and season passes for individuals and families, making it one of the best things to do in Wichita Falls with kids, especially if your group is large. 
Lake Arrowhead State Park
229 Park Road 63, Wichita Falls, TX, 76310
940-528-2211
Lake Arrowhead State Park is home to fishing, camping, hiking, horse riding, swimming, and more. You'll find 524 acres of activities at this park for the whole family to enjoy.
Lake Arrowhead State Park is known primarily for its fishing spots. You don't need a fishing license to fish in the park as long as you remain onshore. The park is the perfect place for beginners to learn how to fish without buying equipment because you can borrow a fishing pole from park headquarters, though you must bring your own bait.
Children of all ages can become Junior Rangers by doing activities in the Junior Ranger Activity Journal, available for pick up at headquarters. When you pick up the activity book, you can also borrow a Junior Ranger Explorer Pack, a backpack loaded with tools and activities for kids.
Lake Arrowhead has five miles of multi-use trails, many of which are easy enough for little hikers to complete. The Dragonfly Loop is perfect for families. It is just half a mile long and includes signs and placards for everyone to learn about the nature in the area.
If you want to make sure that you can hit all the activities in the park, you can stay overnight in one of their many campgrounds. Lake Arrowhead State Park has campsites with electricity hookups, tent campsites, and a dump station for RVs. 
Lake Arrowhead State Park is open daily. During the busy seasons of Spring and Summer, they recommend reserving passes online, as they often reach capacity. There is a park entrance fee of $4 for anyone 13 years or older.
Lucy Park
100 Sunset Drive, Wichita Falls, TX, 76302
Lucy Park has 178 acres of fun if you need things to do in Wichita Falls with kids. Lucy Park is nestled in a bend of the Wichita River, giving it a unique natural landscape filled with huge trees, ducks, geese, and other wildlife. Families can enjoy a scenic walk through the park on trails that lead to a spectacular view of the falls.
Lucy Park has an 18-hole disc golf course, sand and concrete volleyball courts, and basketball courts for athletic families. There are three different modular playgrounds for smaller children to run around in.
Lucy Park also has BBQ grills and picnic shelters, making it the perfect place for an outdoor get-together. Bigger groups can rent the large picnic shelters for 90-120 people for just $15.
River Bend Nature Center
2200 3rd Street, Wichita Falls, TX, 76301
940-767-0843
The River Bend Nature Center is the perfect place for families with kids to connect with nature. They have tons of educational and entertaining attractions and activities for families with kids of all ages.
The Bryant Edwards Learning Center is filled with many exciting exhibits, such as spiders, snakes, frogs, and bugs. Exhibits change with the seasons, so there will be something new to discover every time you come.
River Bend Nature Center's Butterfly and Nature Conservatory is a 7,000-square-foot structure filled with butterflies, native plants, turtles, prairie dogs, and more. A tall glass tank lets you observe fish and other aquatic life at eye level, perfect for curious little ones.
Peyton's Place is River Bend Nature Center's butterfly enclosure. It's filled with hundreds of beautiful butterflies. Peyton's Place is the perfect place for children to explore and learn about nature up close. If they're lucky, a butterfly may even land on them!
River Bend Nature Center is also home to 15 acres of wetlands with trails, a library, a gift shop, and a terrace for bird watching, so older children and adults will have plenty to do as well.
Check River Bend's events calendar for fun activities with food, music, and games for kids of all ages. You can also look through their program list for even more ways for children to learn and connect with nature.
Family Fun Zone
4131 Southwest Parkway, Wichita Falls, TX, 76309
940-696-1900
The Family Fun Zone is an all-in-one arcade, adventure area, and activity center. No matter what you and your kids like to do, you'll find a fun, adventure-filled day at the Family Fun Zone.
The Game Zone is an area filled with arcade games like Fishbowl Frenzy, Monster Drop, and Ice Ball. You'll find Nascar games, gun games for older kids, and plenty of games for smaller children. 
The Family Fun Zone has two mini-golf courses, race tracks, bumper boats, laser tag, a batting cage, and a roller rink. The Family Fun Zone is perfect for hosting birthday parties and other events.
Museum of North Texas History
720 Indiana Avenue, Wichita Falls, TX, 76302
940-322-7628
The Museum of North Texas History is perfect for families to learn about Texas history. With a rotating arena of featured exhibits, a wide array of permanent collections, and family events, you'll find something new every time you visit. 
The Heritage Hall Exhibit is a permanent museum exhibit containing a collection of 500 hats. The Mary Thomas Doll and Toy Collection is especially fascinating for the kids. If you're in the Wichita Falls Regional Airport, you can visit the Jenny to Jet Exhibit, a collection of decommissioned airplanes for all eras of history.
Be sure to check out the museum's upcoming events page for fun activities all year.
Urban Air Adventure Park
2505 Kemp Boulevard, Wichita Falls, TX, 76309
940-222-6460
Urban Air Adventure Park is a trampoline park, but it has much more than just trampolines. They have adventures available for kids at every level so that older kids won't be bored and little ones will have plenty to do.
The tube playground at Urban Air Adventure Park is for children smaller than 52". It has slides, tubes, an observation bubble, and more. The tube playground allows small children to learn confidence and motor skills.
Older kids can play dodgeball on trampolines, practice flips in the drop zone, learn to tumble on the runway, and play basketball on trampolines in the slam dunk zone. Children taller than 41" can race each other and their parents on the warrior obstacle course, with uneven platforms, hanging rings, and curved running walls.
Be sure to check out Urban Air Adventure Park's weekly activity schedule for one-of-a-kind activities during your visit.
Coyote Ranch Resort Family Campgrounds and Cabins
14145 US Highway 287 North, Wichita Falls, TX, 76310
940-767-6700
Coyote Ranch Resort is bound to keep everyone entertained if you need things to do in Wichita with kids. The resort has RV sites, cabins, cottages, campsites, and a Pacific Yurt to give you and your family a unique and memorable stay.
Coyote Ranch Resort has playgrounds, mini golf, three swimming pools, and tons of other activities. During the peak season, Coyote Ranch has a small animal farm for children and adults alike, gem mining, and catch-and-release fishing.
The Miner's Maze is great for children to run around and explore. It's 6,000 square feet, but don't worry- parents can watch from an outlook to make sure children don't get lost. Coyote Ranch even hosts laser tag, paintball, and scavenger hunts in the maze, so keep your eyes peeled for events during your stay.
Coyote Ranch hosts many events for families, such as a bubble pool, an inflatable obstacle course, hay rides with squirt guns, guided arts and crafts, and giant pillows that send you soaring in the air.
After a day of activities and fun, children and parents can wind down around the campfire with s'mores.
The King's Good Vineyard and Berry Farm
10372 WFM 171, Wichita Falls, TX, 76305
940-631-1798
The King's Good Vineyard and Berry Farm is the perfect place for families to spend time outdoors, complete with picking their own fruit. While the farm is primarily known for its fresh fruit and you-pick options for families, they also host movie nights and concerts throughout the year.
Adults and children can pick strawberries in the field from April to June for just $5/lb. From Mid-June to July, the King's Good Vineyard and Berry Farm hosts blackberry picking for $4/lb. If you catch them at the right time, the farm also allows you to pick grapes as long as they're in season.
When you've finished collecting your fruit, you can head over to the Cafe and Market for homemade jam, local honey, and Texas pecans. The cafe also has a lunch menu available, with all kinds of delicious meals that you can top off with strawberry and blackberry desserts, made fresh with the fruits at the farm.
Conclusion
There are plenty of things to do in Wichita Falls with kids of all ages, from museums to nature centers to water and adventure parks. No matter what you and your little ones like to do, you'll find fun and exciting activities across town all year long, making Wichita Falls one of the best cities for families to visit in Northern Texas.
More about our TFVG Author
A seasoned traveller, Dad, and avid sports tourist, James foundered The Family Vacation Guide to share his expert vacation experiences- especially when it comes to being a travelling family man.
Featured in Travel articles such as Travel + Leisure, TripSavvy and SFGate, you know you're reading some of the best vacation tips online.