When you're investigating a family vacation, two states likely come to mind when you think of west and east coast beaches—California and Florida.
But if you've never been to these states' beaches, it's hard to know which have the most kid-friendly beaches.
We'll offer you a detailed breakdown of California vs. Florida beaches so that you can get logging that vacation time at work and fly your kids to sandy shores during their school break.
Beach Atmosphere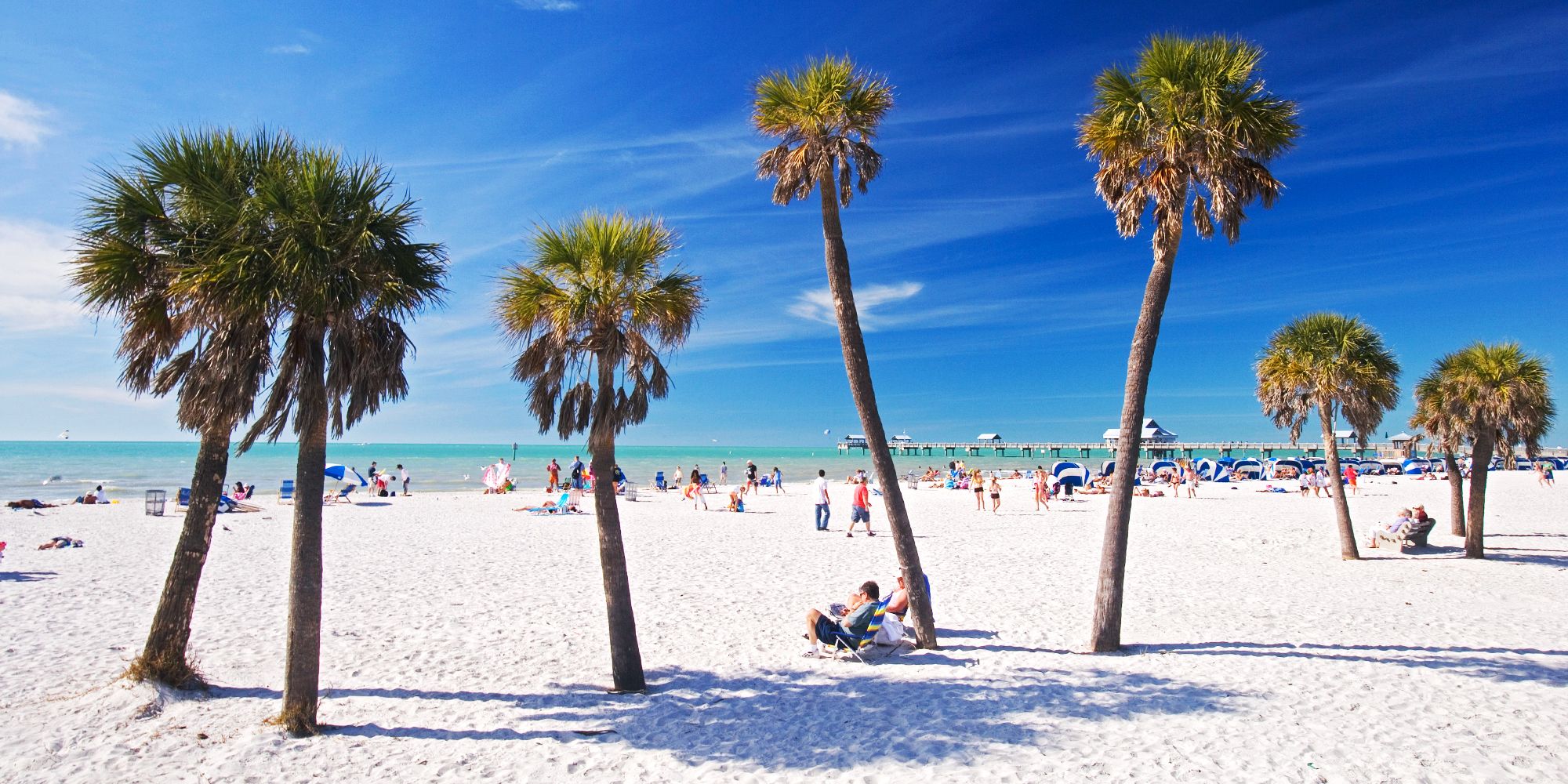 A kid-friendly beach atmosphere is likely one of the first things you think of when you're comparing a trip to California vs. Florida.

Although the atmosphere varies greatly depending on the beach, and there are undoubtedly overlapping situations in California and Florida, we'll point out a few notable items to consider.
For starters, California has a surfing culture. So, you can expect most beaches that you visit in The Golden State to have surfers riding waves, people offering surf lessons, and perhaps even a surfing competition that you'll stumble upon.
So, if you have kids interested in watching surfing (or if you're willing to let them give surfing a go themselves), California's surfing beach atmosphere can be a great fit.
In contrast, Florida's beaches tend to attract a higher number of retirees—especially in the winter. According to a census, over 32% of Florida's population will be 60+ years old by 2030, a 34% increase from 2012.
Needless to say, you can expect relatively less of a party scene from these retiree beachgoers compared to what's often the younger surfing culture in California.
However, both California and Florida have beaches that are famous for their booze, beach bars, and 24/7 nightlife.
So, since you're traveling with children, you might want to stay away from known party beaches. These include:
Daytona Beach (Florida)
Ocean Beach (California)
Santa Catalina Island (California)
South Beach (Florida)
Venice Beach (California)
Virginia Key Beach Park (Florida)
That said, the time of year you take your family beach vacation can impact the atmosphere.
For example, will you be traveling when college students are on spring break? If so, you can expect even the relatively quiet beaches in both California and Florida to get more lively with parties.
Or, maybe you're traveling during the off-season? If so, beach towns that normally have a lively atmosphere could feel a bit like a ghost town. And of the population that's there, you can expect them to be an older crowd, so there may be fewer opportunities for your kids to make friends with children their ages.
Nevertheless, when comparing the best beaches in California for families to Florida beaches in terms of beach atmosphere, in our opinion, Florida wins for having an overall more kid-friendly environment.
Beach Safety
When assessing the safety of California vs. Florida beaches, there are some considerable differences that parents should consider.
California's beaches are known for having massive waves. These are ideal for surfers, but they're often unsafe for swimming—especially for young children.
So, if you choose to visit California, sticking around bays and coves is crucial if your children want to swim. Examples of California beaches that have safer swimming water include:
Heart's Desire Beach (San Francisco)
Carmel Beach (Monterey)
La Jolla Beach (San Diego)
Of course, high winds and other weather conditions can turn a typically safe swim beach into a rip current disaster.
So, before you give your kids free rein to jump in the water, check the flags to understand what the experts recommend. Green flags mean it's safe to swim, yellow flags indicate you need to take extra precautions, and red flags mean to stay out.
It's also a good idea to educate your kids on rip currents before they swim in the ocean. According to the National Oceanic and Atmospheric Administration (NOAA), lifeguards rescue 30,000 swimmers from rip currents every year, and 100 people drown from them.
Here's the good news if this information has you shaking in your flip-flops: Many beaches in Florida have fewer waves than in California. Since rip currents can only form in wavy conditions, this means that many of Florida's beaches are safer for your kids to swim.
Some of the safest swimming beaches in Florida include:
The land-facing side of barrier island beaches (Gulf coast)
Venice Beach (In the town of Venice, Florida, not California)
Bahia Honda State Park (Big Pine Key)
As a bonus, Venice Beach, Florida, is famous for its shark teeth, with Visit Sarasota naming it the "shark tooth capital of the world." Kids can easily spend hours combing the shores of this beach looking for black and white shark teeth souvenirs to take home.
Water Sports
Building sandcastles and looking for seashells will only occupy your kids for so long. So, it's crucial to understand what Florida and California offer in terms of water sports.
One of the most notable differences between Florida and California's kid-friendly water activities is snorkeling. Much of Florida's coastline has Caribbean-like water in terms of warmth and undisturbed turquoise waters. In particular, the Florida Keys is an excellent place to snorkel.
The best part about snorkeling is that there's no minimum age to do it. So, as long as your child can swim, you can rent snorkel equipment and accompany them by snorkeling from shore or signing up for a snorkeling tour that will take you to the best snorkeling spots by boat.
In contrast, California's waters are better for diving than snorkeling. However, a child must be a minimum of 10 years old in most places to receive their PADI Junior Open Water Diver certification.
If your child is afraid or too young to snorkel or dive but they're curious about seeing the underwater world, consider choosing a beach destination that offers glass-bottom boat tours.
Both California and Florida offer this water activity. However, you can expect to see different wildlife; whereas California is home to giant sea kelp and cold-loving fish, Florida's warm water teems with coral reefs and colorful marine creatures.
Other popular water activities at many California beaches include:
Sea kayaking
Wakeboarding
Windsurfing
Kite surfing
And, of course, regular surfing.
Do you notice a trend with this list? They're primarily wind-based activities that require waves to make them extra fun. So, they're better suited for teenagers than young children.
However, there are also water sports you can do with younger kids in both California and Florida, including:
Boat tours (with or without a glass bottom)
Canoeing or kayaking in quiet inlets
Fishing
Jet skilling (accompanied by an adult)
The bottom line?
California and Florida both offer a range of water sports for your kids to partake in. However, California's sports tend to be better for older children with an interest in being active, whereas Florida offers more sports for those who are younger.
Kid-Friendly Land Activities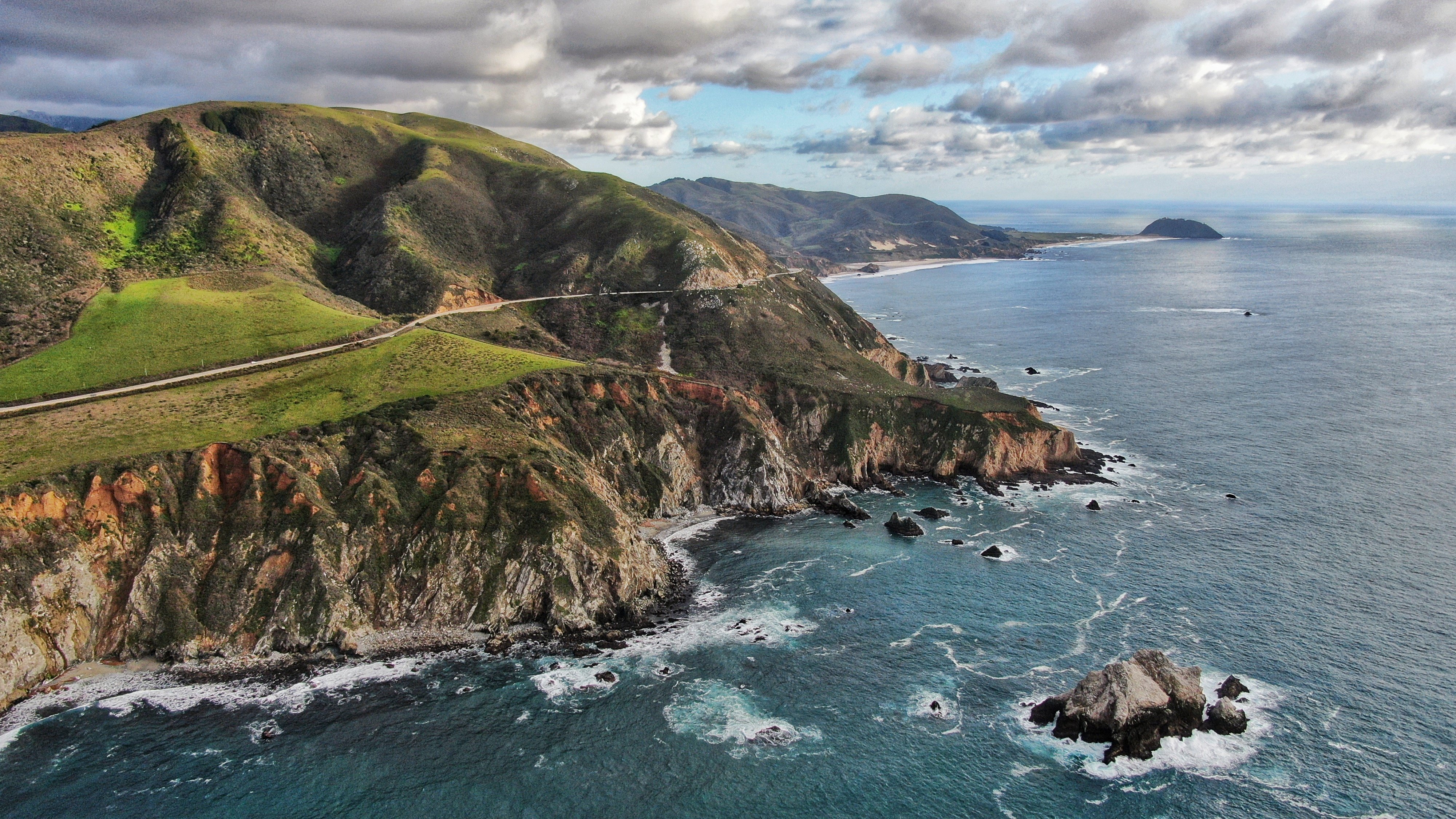 When it comes to land activities near the beach, California and Florida offer a range of options. Let's start with activities on the beach.
If you have a child interested in hunting for seashells, head to Florida, where warm waters bring in a greater amount of seashell diversity.
Destinations like Sanibel Island and Anna Maria Island are extra great for seashells year-round. For an even better chance of snagging a big conch, comb the shore for seashells as high tide begins receding to low tide.
Whereas Florida has a flat landscape, California offers a rugged cliff landscape along most of its beaches. Therefore, a wonderful activity to do at many of California's beaches is hiking the cliffs. Torrey Pines State Reserve is an exceptionally famous site for cliffside hiking by the ocean.
Both California and Florida offer beaches with beautiful oceanside piers and boardwalks filled with vendors, street performers, and stunning sea views. The Santa Monica pier in California even offers a Ferris wheel that hovers over the ocean.
Water parks are another fun land-based activity you can do with your kids when their short attention spans have them wanting to leave the beach.
You'll have access to many great water parks in both California and Florida, including:
Knott's Soak City (Buena Park, California)
Santa Cruz Beach Boardwalk (Santa Cruz, California)
Splash Harbour (Indian Rocks Beach, Florida)
Shipwreck Island (Jacksonville Beach, Florida)  
Take a look at our guides to the best water parks in Florida, or the best waterparks in California to learn more about the great waterparks these states have to offer.
You can also take your kids to look for manatees in Florida or sea lions in California. Some of the best manatee sighting spots from the comfort of land include Merritt Island, Tarpon Springs, and Crystal River.
In California, La Jolla, Monterey Bay, and San Simeon attract large colonies of sea lions and seals.
If your kids are itching to do non-water activities, then California is probably your best bet for unique things to do in beach areas. For example, you can take a trolley ride through the hills of San Francisco or visit the famous Hollywood Hills in Los Angeles.
Timing the Weather
California has notoriously cold water due to its deep ocean upwelling and currents from Alaska. Therefore, even if you visit California beaches on a sweltering summer day, your kids may have a hard time braving its cool water.
In contrast, the ocean water temperature in Florida is pleasant nearly year-round, particularly if you visit Florida's southern beaches. In fact, The Florida Keys have an average winter temperature of 75.2 °F. In the summer, the ocean can get as warm as 86 °F.
Let's compare that to San Diego, one of California's most southern beach destinations. You can expect the ocean to feel a chilly 59 °F in the winter and a perhaps all-too refreshing 69 °F in the summer.
Most of us are familiar with hearing about wildfires in California but not in Florida, and for a good reason—much of California's coastline is hot and dry nearly year-round. That said, blankets of fog commonly envelop seaside cities like San Diego and San Francisco, keeping the humidity level high in these areas.
In contrast, Florida receives rain year-round, giving it a more lush and tropical climate. If you travel during the summer, make sure to have some indoor backup activities, especially from July to September. These months receive an average of over six inches of rain each.
The good news? It's common for rain and thunderstorms to occur in Florida in the afternoon after the heat builds up during the day. So, you can often rely on dry mornings to take your kids to the beach.
Activities When It Rains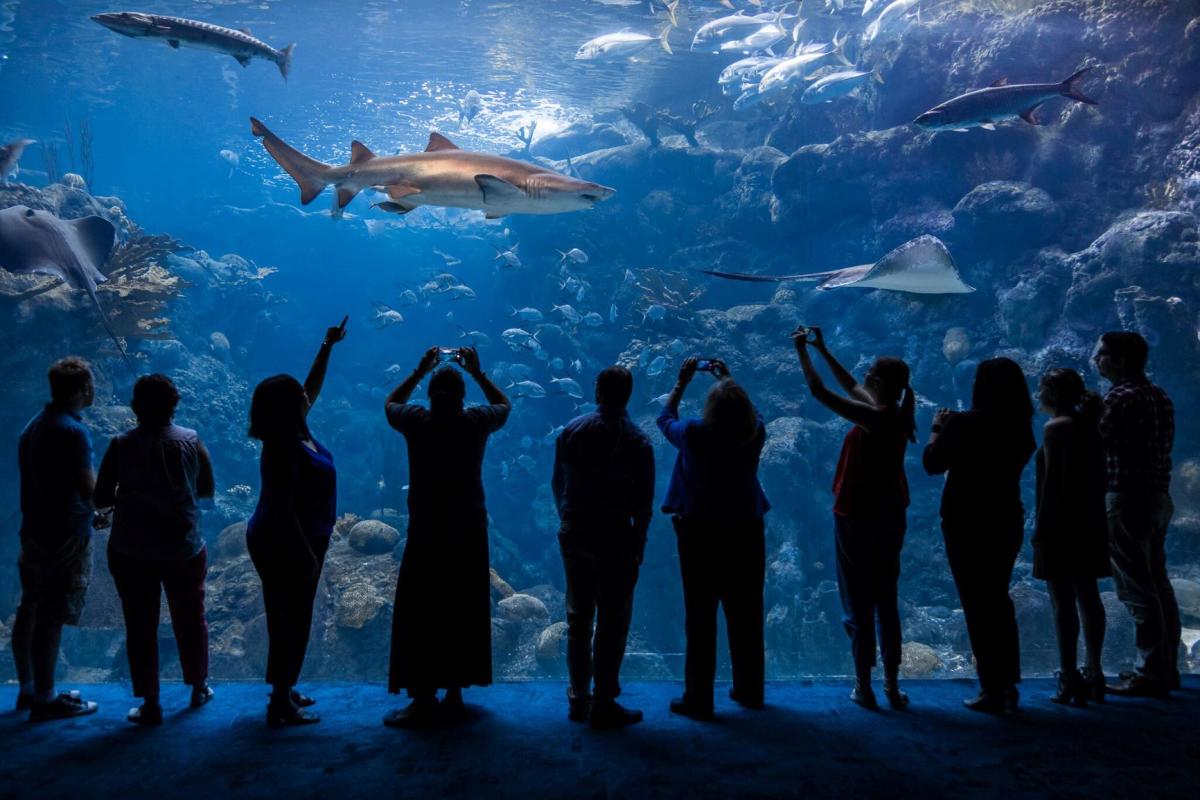 At this point, if you're leaning towards a family trip to Florida, you're understandably wondering, "What indoor activities can we do with the kids when it rains?"
If you're in Miami, consider taking them to the indoor amusement park FunDimension or Planet Air Sports Doral, where they can even snowboard.
Many Florida and California beach destinations also offer aquariums. The Tampa Bay Aquarium in Florida and the Monterey Bay Aquarium in California are among the most popular.
You can also consider taking a dolphin boat tour. Dolphins don't mind the rain, and your boat should have a cover to help keep the brunt of the rain off you.
We have two brilliant guides to help you learn more about the best aquariums in California and the best aquariums in Florida.
Best Kid Hotels
Depending on your kid's ages, you might be spending a significant amount of time at your hotel getting them ready and for them to take naps. So, you'll want to ensure you have family-friendly rooms with plenty of space to change diapers and let your kids sleep while you relax on the balcony or watch television.
But you can kick your kid's hotel experience up a notch by booking a kid-friendly hotel. These hotels often offer kid-friendly pools, interactive activities for different age groups, and playgrounds.
And, perhaps most attractive of all for the overtired parent looking for a vacation from their vacation, some hotels even offer daycare facilities.
Kid-Friendly Hotels in California
Some of the best kid-friendly hotels at beaches in California include:
Disneyland Hotel (Long Beach)
Surf & Sand Resort (Laguna Beach)
Catamaran Resort Hotel & Spa (San Diego)
Kid-Friendly Hotels in Florida
If you're looking for a fun hotel for your kids in Florida, consider giving one of these options a try:
Club Med Sandpiper Bay (Port St. Lucie)
Ponte Vedra Inn & Club (Jacksonville)
Don CeSar Hotel (St. Petersburg)
The Best Kid's Menu
When comparing California vs. Florida beaches, finding kid-friendly restaurants might not be the first thing that comes to mind—until you suddenly have a clan of hungry stomachs.
You can expect many restaurants on and near California and Florida's beaches to offer a kid's menu. However, if you want to kick your kid's experience up a notch, consider choosing a beach near a super fun restaurant.
For example, Laguna's Beach Bar & Grill in Pensacola Beach, Florida, offers go-karts, a splash pad, and a 3-story rope course, all from their beach club restaurant.
On the other hand, The Albright in Santa Monica, California, gives kids an excellent view of the Santa Monica Ferris wheel (consider having them ride it before eating, just in case anyone gets motion sickness). Your kids might also go crazy over their corn dog bites.
In either case, you can expect restaurants to serve up recognized kid-friendly foods in both states, such as grilled cheese sandwiches and pack and cheese. However, your beach vacation could also be a great opportunity to introduce your kids to new, local tastes—and many restaurants include such items on their kid's menus.
Weighing Your Airport Options
When you're traveling with young children, the ease of getting to a destination is often as important as the place itself. So, consider choosing a beach located near an airport.
In California, beach cities with lots of domestic and international flight arrivals include:
Los Angeles (LAX)
San Diego (SAN)
San Francisco (SFO)
If you decide to beach it in Florida, excellent airports close to the beach include:
Jacksonville (JAX)
Key West (EYW)
Orlando (MCO)
Miami (MIA)
Tampa (TPA)
Once you arrive at these airports, your best bet is renting a car. That way, you can get to your kid-friendly hotel faster and let your kids rest up (or exert their energy running down the beach!)
However, if you like going at it with public transportation, the airports we listed in California have better public transportation systems for getting you to the beach from the airport than those in Florida.
California vs. Florida: The Winner
Florida's sandy shores are better for families with kids than California's beaches from a beach perspective.
Warm water, fewer waves, and fine sandy beaches make Florida an excellent place for children. Plus, the water is often clear, particularly on the Gulf Coast and the Florida Keys, making it great for snorkeling.
Do you still need convincing? In 2021, two Florida beaches (St. George Island State Park and Caladesi Island State Park) appeared on the top 10 best beaches in America before a single California beach (Coronado Beach).
Nevertheless, California's steep cliffs and excellent surf waves may draw some families, especially if you have teenagers interested in catching some waves.
Regardless, we hope you have a better understanding of California vs. Florida beaches so that you can choose the best fit option for your family.
More about our TFVG Author
Caitlin is one of The Family Vacation Guide's long standing contributors. She enjoys taking vacation to busy, vibrant cities and has stretched her traveling legs out towards Europe in recent months, enjoying new experiences in Barcelona in Spain, and Nice in France.