With over 95,000 miles of coastline, there are hundreds of beach resorts for you to choose from. When traveling with the whole family, it can be challenging to pick the perfect beach resort that has something for everyone.
Whether you want to hit the chic resorts in south Florida, the glamorous ones in California, or more low-key resorts in Oregon or the rest of the east coast, there's a beach resort for you and your family.
Check out 18 of the best beach resorts in the US for families.
Montage Laguna Beach, Laguna Beach, CA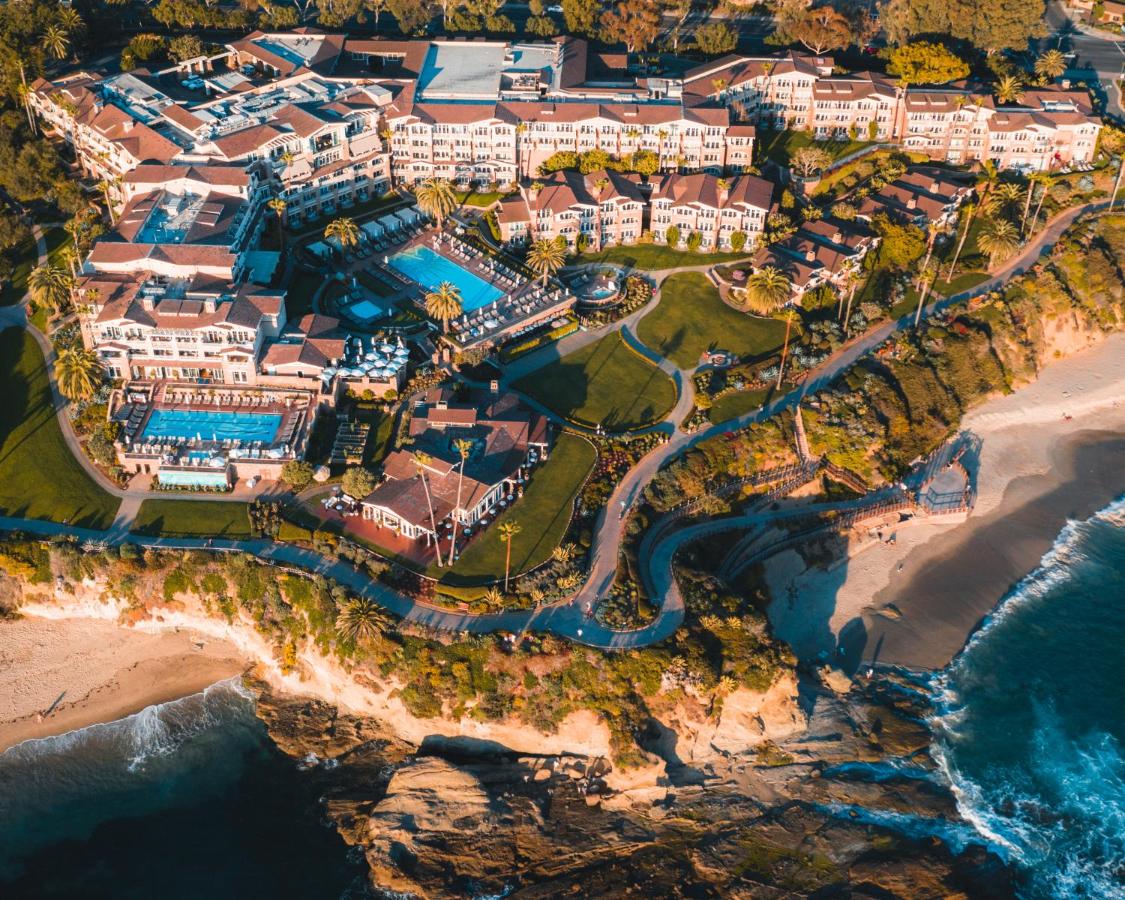 One of the most beautiful family-friendly beach resorts in southern California is Montage Laguna Beach. This five-star hotel is less than three miles from downtown Laguna Beach and is the perfect setting for a beach getaway with the entire family.
The resort stretches over 30 acres and sits directly on a sandy beach. You can walk from their pool and lush green gardens right onto the sand and hang out for the day. There are two pools on the property, so not all the guests have to crowd around at one.
Not all the rooms face the ocean, but if you can snag an oceanfront room, you won't regret it. In addition to the two beautiful pools, there's a large spa where adults can get a facial, massage, or relax in the sauna.
If you're looking for a resort that has a little something for everyone, Montage Laguna Beach is it. They have a family memories package that includes food credits for the three fabulous restaurants on the property and special activities for the whole family. Plus, activities and childcare for adults who want to go out for the night or day.
Planning a trip to Southern California but need more inspiration? We've gathered a list of the best family beach vacations in Southern California to give you the rundown on the best places to stay.
The Setai Miami Beach, Miami, Beach, FL
Miami Beach contains many beautiful and chic beach resorts to choose from, but one of the best by far for families is The Setai Miami Beach. You'll find this five-star hotel directly on the beach and right next door to Collins Park. Not only is The Setai on the beach, but it's also on the most famous stretch of South Beach.
The designers for The Setai drew inspiration from Asian culture and tradition. The resort is peaceful, elegant, and a great place to stay with the whole family. If you want to experience true Miami Beach luxury, this is the place to do so. The rooms come with high-end Italian sheets, espresso machines, and stunning rainfall showerheads.
There are three swimming pools, all close to one another. One of the pools is specifically for families with children. All three provide guests with access to lounge chairs along with the pools and when you access the resort's private beach. That's right! The resort amenities extend to the beach since they own their portion.
You and your family can participate in beach yoga sessions, bike around South Beach with complimentary bikes, and more. You won't want to forget to check out their spa when you need some extra relaxation.
There are three restaurants on the property. One serves delicious Asian cuisine, one with more traditional American cuisine, and one that serves popular international fare.
Wild Dunes Resort, Isle of Palms, SC
South Carolina offers some fabulous beach resorts that you may not initially consider. Wild Dunes Resort is on Isle of Palms and is perfect for a low-key yet fun family weekend getaway. After you've spent some time exploring historic Charleston, you can head 18 miles towards the ocean to reach the Isle of Palms.
Isle of Palms is a barrier island with six miles of white sand beaches for you and your family to play and lounge on. The resort is massive and combines two hotels, beach houses, and condominium rentals. The variety of lodging options makes this the perfect spot for families of all sizes.
The smallest rooms sleep up to four, while some full houses and condos can sleep a minimum of six or seven people. The Village at Wild Dunes is the most popular for families since it's large and has modern spaces for families to stay.
There are several pools on the resort property if you don't want to spend every day at the beach. There's also a vast spa and an 18-hole golf course where you can spend your days. Your kids will thank you for taking them to such a wonderful resort where they can participate in kid activities and make new friends along the way.
Several on-site dining options cater to everyone's taste buds. From classic American to desserts and Italian cuisine, there's something for everyone here.
Hotel Galvez and Spa, Galveston, TX
For a fantastic Gulf of Mexico beach getaway, staying in Galveston is a great idea. This tiny island south of Houston offers you and your family great activities and even better places to visit. An excellent resort for families on the island is Hotel Galvez and Spa.
The Hotel Galvez and Spa is possibly the top property on the entire Galveston Island. You're conveniently right across the street from Gulf Coast beaches when you stay at this resort. The design of the resort features classic Texas and hacienda style. There are ample public spaces, high ceilings, and beautiful curved archways.
There are 224 rooms and suites in the hotel. You'll either end up with an ocean view or a view of the city. You can't go wrong with either option. The beds are very comfortable, and most can sleep four people comfortably. If you need more space, you'll want to book more than one room or book a suite that sleeps more.
Besides the beautiful beach, the pool is the star of the show at the Hotel Galvez and Spa. The columns that line the pool are covered in vines, and there's a hot tub that guests love. There's one on-site restaurant that serves casual seafood and classic American dishes.
Hawks Cay Resort, Duck Key, FL
Taking your family to Florida for a beach vacation is a perfect idea. While everywhere in Florida can be a picture-perfect beach getaway, nothing screams a Florida beach vacation like heading to the Florida Keys. There are plenty of places in the Keys to visit, but Duck Key is one of the best.
Off of mile marker, 61 is Duck Key. As you turn onto the main road of the key, you'll see Hawks Cay Resort. This four-star is the perfect tropical paradise for your family vacation. The resort sits on 60-acres of land and sea, waiting for you and your family to explore.
Their guestrooms range from multi-bedroom villas, smaller rooms for a family of four or less, and suites that can fit a larger family. Some even have private balconies where you can enjoy the sunrise and set. The lodging sits in four little villages on the property, each with a different theme and atmosphere.
You'll love swimming in the pool, the ocean, have and exploring the dining options at the resort. One of the biggest draws to Hawks Cay is that they have a kids' club that provides daily activities for the little ones. They have a kids' night out, scavenger hunts, and so much more for them to enjoy.
You'll want to make sure you make time for snorkeling the coral reefs with your family, kayaking through the mangroves, and maybe even a sunset cruise one night.
The Kahala Hotel & Resort, Honolulu, HI
On the island of Oahu is The Kahala Hotel and Resort. There are dozens of beach resorts in Hawaii, but if you want to stay in Honolulu, then this is one of the best because it's near all the popular tourist attractions and has something for everyone of all ages.
The Kahala Hotel and Resort is one of the best five-star hotels in Hawaii. The location is famous for celebrities, royalty, and families looking for the vacation of a lifetime. The resort sits on its own private beach that's only ten minutes away from downtown Waikiki. Even though you're close to the central city, you'll feel like you're in a private oasis.
The hotel features upscale decor, and the vast majority of the room options are suites. You'll have several beds and a separate living room which can sleep more people if need be. There are five dining options on-site that offer traditional Hawaiian cuisine and more.
Even if you want to eat somewhere off the property, the hotel provides guests with a free shuttle service to Waikiki, where there are dozens of restaurants to choose from. You can also use bikes to get around if you want to explore that way.
You and the kids will love lounging by the pool or on the beach. They offer free paddleboarding, kayaks, and surfing lessons for those who are feeling a little adventurous. Their spa and fitness center are worth checking out while you're there.
Inn by the Sea, Cape Elizabeth, ME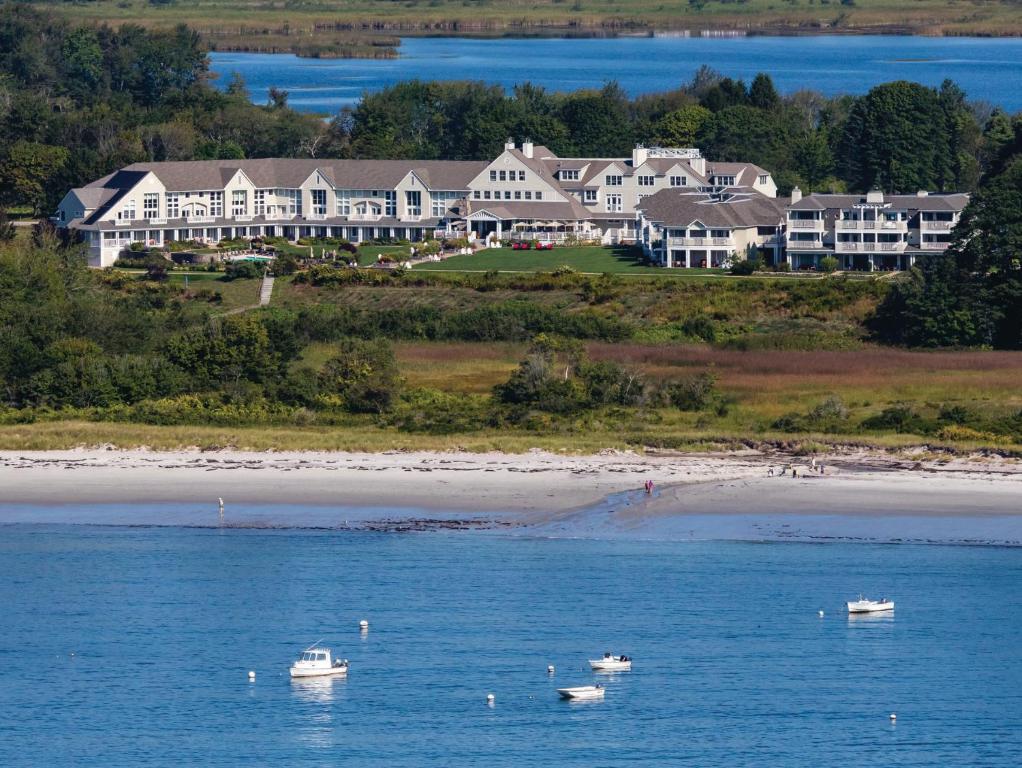 If you're looking to spend time at a beach resort in the northeastern part of the United States, Cape Elizabeth, Maine, is the perfect place. One of the best places to stay in town is the Inn by the Sea.
This beach resort overlooks Crescent Beach, which has gentle surf and extra soft sand. This environmentally friendly resort has modern eco-friendly features but still has a rustic atmosphere and vibe. While it is a resort, the rooms feel more like cottages and are warm and perfect for a family getaway.
Most of the Inn by the Sea rooms view the ocean and have nautical themes. If you can get a room with a balcony or deck, that is a great choice. You can explore the beach, look at local lighthouses, fly kites, and swim in the Atlantic Ocean when the weather is nice.
Their pool works well even when it's chilly since it's a solar-powered, heated pool. Your kids will love the activities they host, including learning about marine life in Maine, garden tours, and learning to juggle.
While your kids are off flying kites or learning how to juggle, you'll want to take advantage of the spa. They have affordable packages that you're sure to love. After you grab a bite to eat at one of the on-site restaurants, head to common areas to sit around the fireplace with your family before heading to bed.
Shutters on the Beach, Santa Monica, CA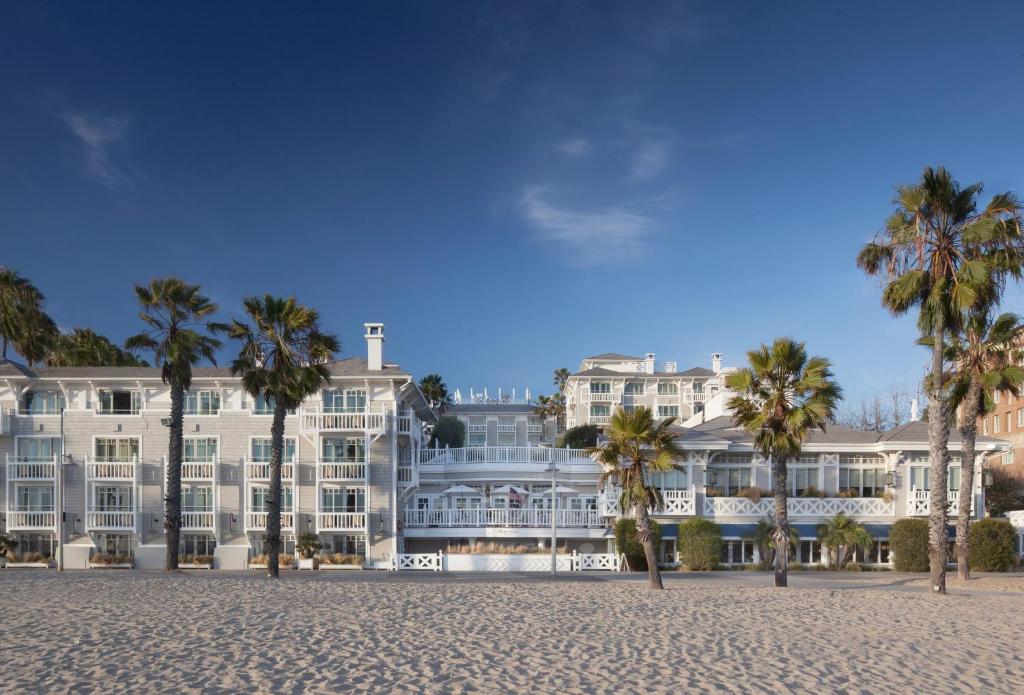 Santa Monica is just to the west of Los Angeles and offers some of the best oceanfront space in southern California. Shutters on the Beach is the best if you want to stay at an excellent beach resort in Santa Monica.
It's directly on the sandy shores of Santa Monica Beach, which guests love to visit while staying here. You can rent lounge chairs or umbrellas when you venture to the sand. Or, you can go the simple route and just use a towel. If you want to spend your days poolside, renting a cabana is the perfect way to make this trip extra special.
There are 186 guest rooms in the hotel and 12 suites for you and your family to stay at. Even in their smaller guest rooms, you'll feel like you're the most important guest in the resort. The whirlpool tubs in the bathroom are popular with everyone.
Being in Santa Monica means you're less than an hour away from all the fabulous restaurants the city and Los Angeles have to offer. There are three restaurants on-site for the days or nights when you don't feel like leaving the resort.
You'll want to check out their activities program too. You can sign up for yoga, cooking classes, and surf lessons for an additional fee.
Surfsand, Cannon Beach, OR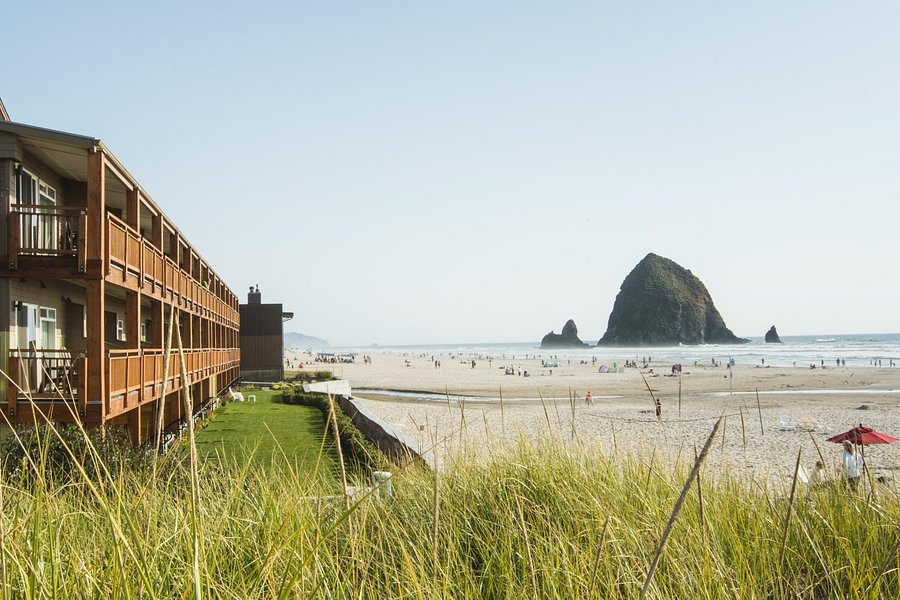 The pacific northwest is known for stunning beaches and beautiful weather. In Cannon Beach, Oregon, sits the beautiful, three-star beach resort, Surfsand. The resort looks like your typical rustic cabin and has a warm atmosphere all year round.
The resort sits on the shores of a beach, and if you can, an oceanview room is the best option. Even if you can't get a room with a balcony facing the ocean, a view of the resort grounds is beautiful too.
One of the main attractions of this resort is the beach. You can have picnics on the sand, go swimming, surf, and participate in other beach activities. When you don't want to get sandy, they have an indoor pool that is perfect for use throughout the year.
The resort is welcoming to everyone in the family, including your furry family members. If you plan to bring your pet, you'll want to look at their pet policy. When you want to escape for date night for a day at the spa, they have kid programs where they can play all day with adult supervision for staff members.
The Lodge at Gulf State Park, Gulf Shores, AL
Even though Alabama doesn't have an extensive shoreline, Gulf Shores is an excellent place for a family vacation. If you want to ensure you're staying at a great beach resort, you need to check out The Lodge at Gulf State Park.
The resort sits in the Gulf State Park, covering over 6,100 acres. The park features a large, white sandy beach that gives you wonderful views of the Gulf of Mexico. Since it got set on a beach within a state park, this resort is eco-friendly in as many ways as it can be.
They have a strict no-littering policy and participate in beach cleanups regularly. The rooms are pretty standard, with guest rooms and suites available. When traveling with kids or a larger group, you may want to inquire about their rooms that have bunk beds.
People of all ages love The Lodge's infinity pool. The kids will love swimming all day while you sip your favorite cocktail and work on your tan. Their family packages are ideal because it includes family and kid-only activities. This way, you can explore how you want while knowing your kids are safe.
They only have one restaurant on-site, but it's fantastic. They serve various cuisines and have a kid-approved menu for the little ones.
Pink Shell Beach Resort and Marina, Fort Myers Beach, FL
Florida is known for its fantastic beach resorts. For a calmer beach getaway, Fort Myers Beach is a great place that offers a beautiful resort that you and the whole family will love. Pink Shell Beach Resort and Marina is one of the top ten resorts in Florida, so you'll want to check it out.
For a quiet beach getaway, Fort Myers is perfect. The area is known for beautiful seashells, so it's not uncommon to see people combing the sand for shells. You may want to give it a try when you're in town. You'll have direct beach access when you stay at The Pink Shell.
You can use the beach chairs and umbrellas to relax while you're on the beach. For the thrill-seekers and water lovers, you can go kayaking, paddleboarding, and participate in other water sports while staying here. The kids and kids at heart will love their aquacycle paddle bikes.
There are daily activities for everyone in the family. The kids and teens will love making sand art, eating ice cream, and having fun pool days with other kids their age. There are supervised activities for those four to 12, so you can enjoy your time apart from the kids if you want.
The best part is that if you book one of their villas, you can get complimentary breakfast for everyone in your party throughout your stay.
Four Seasons Resort, Lanai, HI
Staying on the larger islands in Hawaii is something most people do, but if you want a more secluded Hawaiian vacation, you can take a boat ride from Maui to the tiny island of Lanai. It should only take 45 minutes to an hour. There, the best resort to stay at is the Four Seasons.
The Four Seasons is known for its luxury and elegance, and their resort in Lanai is no different. It's set on the beach, overlooking Hulopoe Bay. The beach that the resort is set on is a protected marine preserve, so you'll be able to see some incredible marine life.
Since the water is a protected area, you'll have to go snorkeling at some point on your trip. They also have two large and beautiful pools on the property, a spa, golf course, and fitness center. One pool is perfect for families and hotel guests, while the other is for adults only.
All the rooms and suites are luxurious with high-end bedding, Hawaiian decor, and some outdoor bathrooms, so you can watch the sunset in a bubble bath if you want. The on-site dining options are perfect for everyone, and they even have an outpost of the famous Nobu.
While you're swimming the day away at the adults-only pool, your kids can head to what they call their kids' club. There are more than enough activities to keep them occupied and happy throughout the day.
Winnetu Oceanside Resort, Edgartown, MA
Nothing screams a New England beach getaway like Martha's Vineyard. The hotel is a beautiful place to bring your family to, and if you need a great place to stay, the Winnetu Oceanside Resort is fantastic.
The thing that makes Winnetu one of the best beach resorts for families is that it's owned by a family who has traveled extensively together. They know what people want when traveling with family and have found a way to make everyone's experience memorable.
Winnetu Oceanside Resort is along South Beach on Martha's Vineyard, and you can access the beach easily from the hotel. There are rooms of various sizes so even the smallest and largest families can stay here comfortably.
Adults will love the swimming pool, kayaking, and other activities. The kids have sandcastle building courses, mountain biking, and other water sports. There's a farm nearby that people love visiting while in town.
Regardless of how you love to spend your time on vacation, you won't want to miss the resort's famous Wednesday evening clambake. Both adults and kids will love gathering, eating delicious food, and listening to music.
Disney's Vero Beach Resort, Vero Beach, FL
The one thing that the property Walt Disney World sits on in Orlando is missing is a beautiful beach resort. Unfortunately, being located in central Florida doesn't allow for this. The good news is that a few hours south of the parks is a beautiful beach resort in Vero Beach.
Disney's Vero Beach Resort gives guests all the magic of Disney without being near the parks. Even though it is a Disney property, they have plenty of things to enjoy for people of all ages. There are miles of unspoiled beaches, state parks nearby, and marine life to see while snorkeling.
Depending on the month you visit, you may encounter sea turtles and their nesting areas. The resort has strict guidelines to ensure you don't disturb them, but you can see the nests, which is a neat experience.
There are two restaurants at the resort and two bars that the adults will love while the kids play with new friends or participate in kid activities. The restaurants serve kid-friendly options and more luxurious options for adults or adventurous eaters.
Amenities at the resort include a large pool, splash pad for the little ones, a miniature golf course, a fitness room, and more.
Why not check out our full guide to Disney's Vero Beach Resort to learn more?
Napili Kai Beach Resort, Lahaina, HI
You'll find Napili Kai Beach Resort is on the island of Maui in the town of Lahaina. The resort sits on ten acres of oceanfront property that you can only dream of. The waters of Hawaii are incredibly blue and will bring a smile to your face every morning you wake up here.
There are swimming pools on-site, beach access, golf courses next door, and one on-site dining option. Beach access comes with the option to participate in water activities like snorkeling, kayaking, and of course, swimming. You can plan on soaking up the sun if you don't want to swim.
Napili Kai Beach Resort is known for entertaining kids wonderfully. They have shuffleboard tournaments, tennis lessons, lei-making classes, and more for the little ones to enjoy while you do whatever you want.
While there is only one restaurant on-site, they're open for breakfast, lunch, and dinner daily. You can reserve a suite if you want to prepare some of your meals throughout your stay or experience any of the excellent restaurants Maui has to offer off-site.
Loews Coronado Bay Resort, San Diego, CA
San Diego is one of the most visited places in California. They have great beaches, a lively culture, and plenty of places to eat and stay. If you want to stay at a resort with your family, you should check out Coronado Bay. This area is home to the Loews Coronado Bay Resort.
The Loews Coronado Bay Resort is a beautiful resort surrounded by water. It's not directly on the beach, but it's a short drive to Coronado Beach and other sandy beaches in San Diego. Your resort fee covers a free shuttle to and from the beaches if you don't have a car with you.
The resort boasts stunning shades of white and blue throughout the common areas and their rooms. When you're not spending time at the beach, their pool is another great way to beat the heat. Lounge chairs and cabanas surround the pool so you can relax in luxury. No matter what room or suite you're in, you'll have a great view of the ocean, marina, or resort.
Loews is known for catering to families. They offer cuisines that can be enjoyed by people of all ages and please the pickiest of eaters. If you're traveling with a baby, you can request a complimentary crib be sent to your room upon check-in.
Sonesta Resort, Hilton Head, SC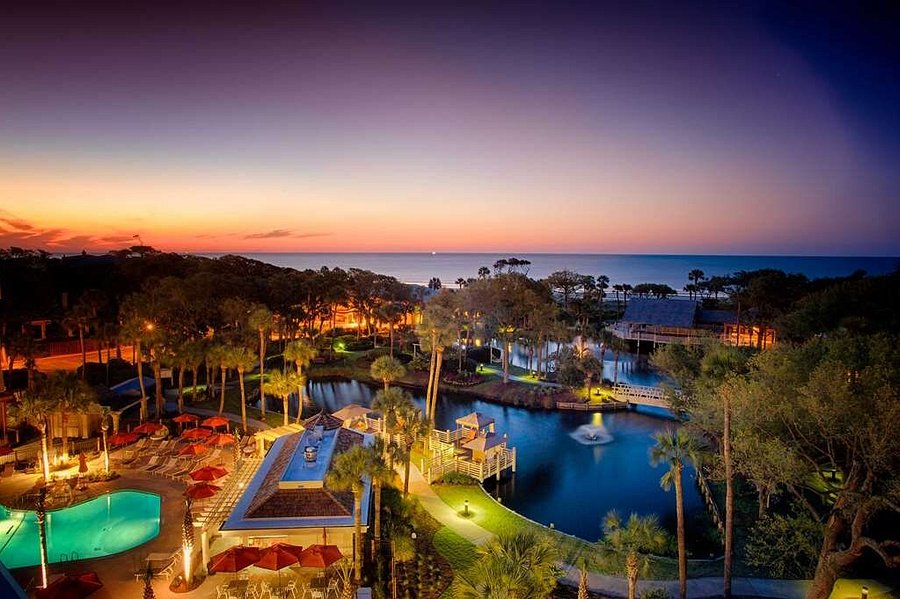 If you ask people where you should go for a beach vacation on the southeast coast, Hilton Head, South Carolina, almost always comes up. This beautiful area has plenty of resorts to choose from, but families love to stay at the Sonesta Resort.
Sonesta Resort is less than a mile from one of the island's most famous golf courses, Shipyard Golf Club. The resort's location puts it within walking distance to the Shipyard beach access. Depending on where your room is, you'll be minutes away from the white sand beaches of Hilton Head.
The resort has 340 rooms, so you'll be able to find one to suit your family. They have standard rooms and suites available, and you can choose between garden, ocean, or pool views. Their standard rooms can sleep up to four people comfortably, while their suites sleep six.
Whether you're five or 85, you'll love their zero-entry lagoon pool on the property. There are dozens of pool lounge chairs lining the pool so you can post up for the day to soak up the sun. There are several tasty restaurants on Hilton Head, but there are four on the property that you can walk to. The resort has a fitness center, spa, and office space.
Sandestin Golf and Beach Resort, Destin, FL
Destin is a popular beach destination in the panhandle of Florida. They're known for crystal clear water and white sand beaches. If you're going to visit, you have to try and stay at the Sandestin Golf and Beach Resort with your family.
This massive resort holds 1,200 rooms for guests to stay. They're divided into four areas on the resort's property. There are beachside condos, lakeside cottages, and three-story townhomes. Regardless of which lodging option you choose, you'll have plenty of room for the whole family.
The resort offers beach activities like water sports, bike rides, sandcastle building contests, and other activities that don't revolve around spending time on the sand. They have tennis courts, fitness centers, and delicious restaurants on the resort property, so you don't have to leave unless you want to.
There are several golf courses in the area where you can schedule a tee time, pools to swim in, and the resort hosts family-friendly activities. They also have a place where kids play and meet other people their age if you want to escape to a nice dinner.
Conclusion
Best resorts are some of the best vacations you can take as a family. There are plenty of activities that people of all ages can enjoy and participate in. Choosing a beach resort for your next family getaway could be the best decision you'll make.
Whether you want to take the whole family to the beaches in Florida, out west to see the Pacific Ocean, or are looking for a New England getaway, you'll find a great beach resort in the United States.
More about our TFVG Author
A seasoned traveller, Dad, and avid sports tourist, James foundered The Family Vacation Guide to share his expert vacation experiences- especially when it comes to being a travelling family man.
Featured in Travel articles such as Travel + Leisure, TripSavvy and SFGate, you know you're reading some of the best vacation tips online.