It's that time of year again. Summer is about over and the leaves are beginning to change colors. It's time for fall foliage, pumpkin spice lattes, and a whole bunch of beach vacations.
There's no better way to enjoy the fall weather than to spend some time at the beach. There are few things more relaxing than listening to the waves crash and taking a walk along the shoreline. Breathing in that fresh ocean air can be so refreshing.
But which beaches are the best? After looking at many beach cities in the United States, we have found the best ones for you. They offer great places to stay, things to do, and they are beautiful during this season.
So, pack your bag, grab some sunscreen (or a sweater), and get ready for an unforgettable fall escape. 
Atlantic Ocean Beaches
Fall is a beautiful season and there's no better place to enjoy it than at an Atlantic Ocean beach. The weather is perfect for taking a walk on the sand, enjoying the views of the water, and relaxing in the sun. And if you're lucky, you might even get to see some whales! So why not take a trip to the coast this fall? There are plenty of great beaches waiting for you.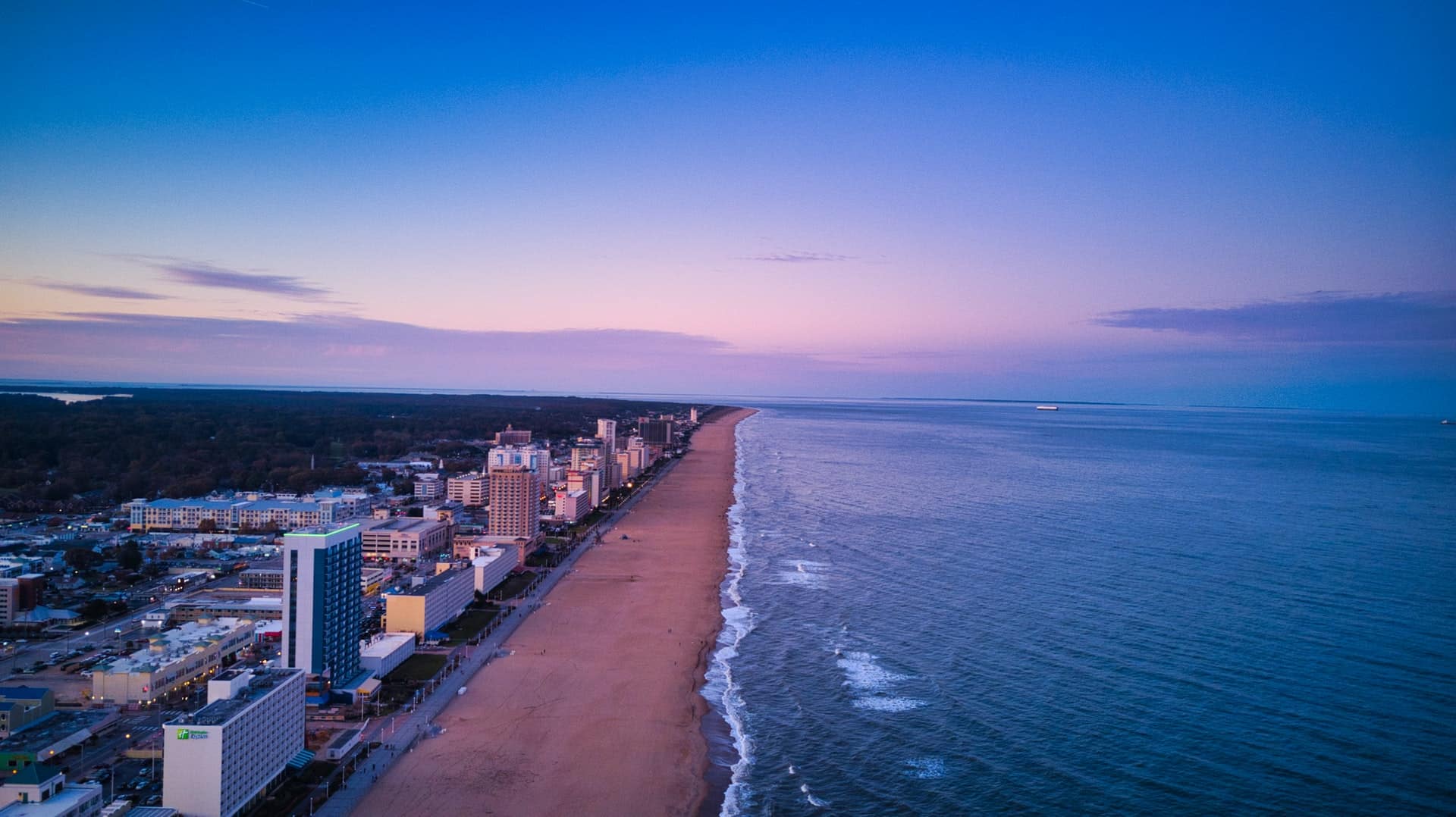 Virginia Beach is the perfect beach town for a fall getaway. The beaches here are quieter than those in New Jersey and Maryland, making it a great location for solitude. There are plenty of things to do on and off the beach.
You can head into Norfolk to check out some great shops or dine at one of its amazing restaurants. Perfect for a day trip on your way home.
While you're there, make sure to check out Virginia Beach's boardwalk. There are carnival games, shops, restaurants, and amusement rides for the entire family.
With plenty of festivals and events in the fall, you'll want to check out all Virginia Beach has to offer! The most popular is the Virginia Beach Fall Wine Festival and International Sandsculpting Championship.
Best times to visit: September-November
Recommended Hotel: The Westin Virginia Beach Town Center
Myrtle Beach has things to do for everyone. This beach is perfect for families and couples. There are plenty of hotels and resorts, making it easy to find a place to stay.
Visit the aquarium or amusement park. Stroll the boardwalk with tons of shops and restaurants. Play a game or two at the arcades or mini-golf courses. Enjoy live music venues, water sports rentals, golf courses with amazing views of the ocean, fishing charters, and so much more. You won't run out of things to do while you're there.
Best times to visit: September or October
Recommended Hotel: Marriott Myrtle Beach Resort & Spa at Grande Dunes
Saint Simons Island, Georgia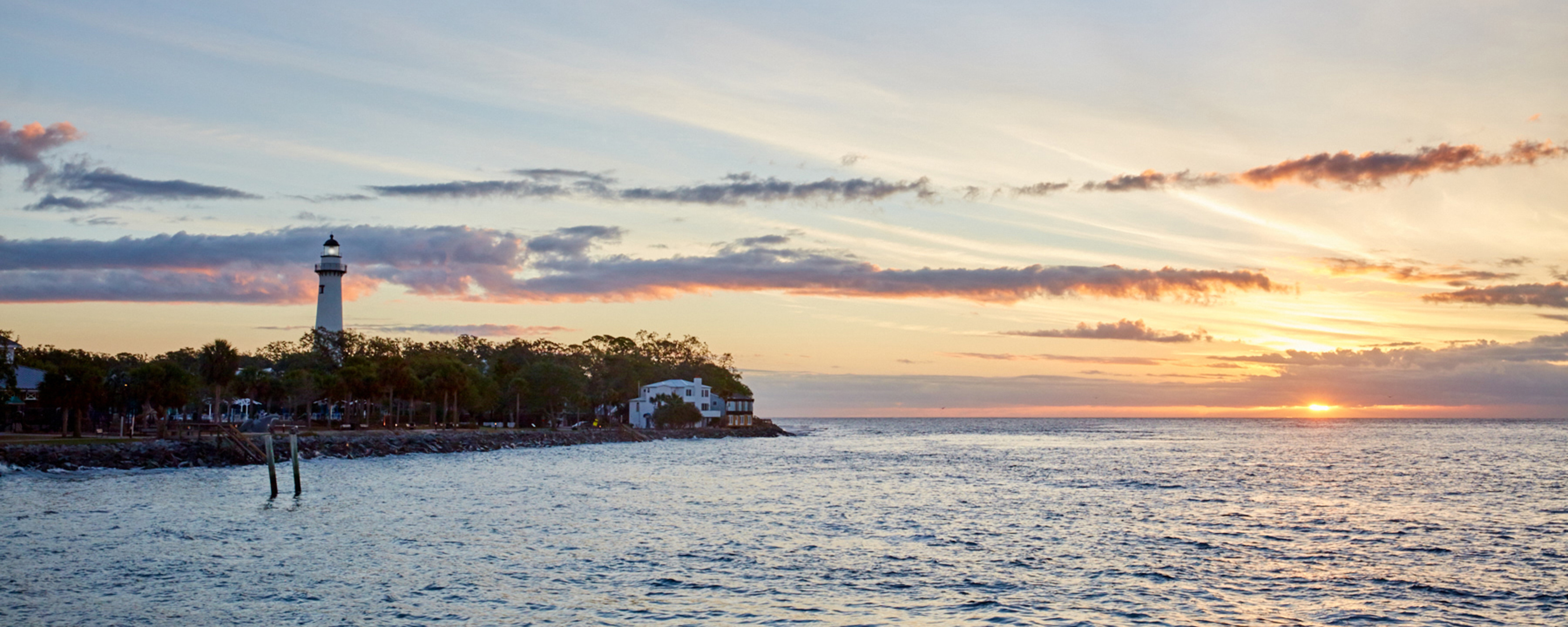 Start planning your escape now—there is so much to do here. Fish for sand crabs along the shoreline or take a boat tour out to see some of the area's famed, historic lighthouses.
There's plenty to explore like the historic Fort Frederica National Monument. There are several public beaches as well as many parks and nature trails for hiking or biking.
Bonus: Annual Food & Spirits Festival
Best times to visit: September or October
Recommended Hotel: Ocean Lodge Resort
Jekyll Island, Georgia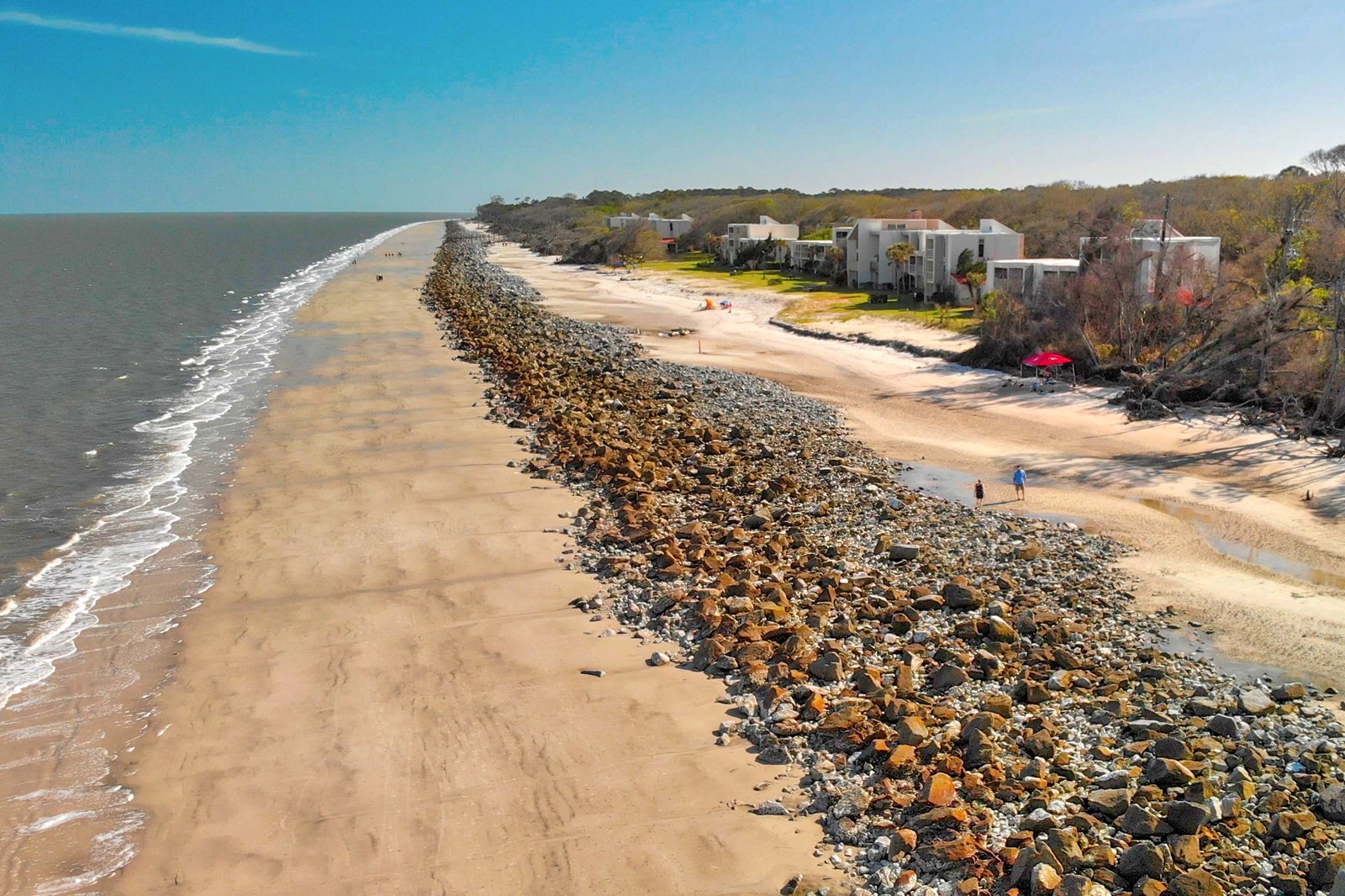 Driftwood Beach on Jekyll Island, Georgia, is a popular photo location. It's also a popular getaway spot for individuals looking for some peace and quiet on the sand. Jekyll is one of Georgia's "Golden Isles," along with St Simons, Little St Simons, and Sea Island.
You can swim, sunbathe and do other activities at the beach all year long! Visit the island's State Park, which is one of the most beautiful in all Georgia.
Their sea turtle rehabilitation center is great for the kids. There are many activities to do on the island, including ranger-led walks, tours of the historic district, biking, tennis, and golfing.
Best times to visit: September-November
Recommended Hotel: Beachview Club Hotel
With beautiful wide-open beaches and miles of untouched coast, the Outer Banks leave visitors spellbound all year. But fall is the most popular season for vacations. Temperatures are pleasant and crowds are fewer. Nags Head is home to one of the world's most photographed lighthouses, Jockey's Ridge.
Bonus: Check out Kitty Hawk for adventures in hang gliding, kayaking, kite flying, and more.
Best times to visit: September-November
Recommended Hotel: Shutters On the Banks
Ocean City Beach, Maryland
Come to the Eastern Shore of Maryland and you'll get picturesque sunsets on one of the country's best beaches. You can also take a stroll along the Boardwalk, which is filled with shops, restaurants, and bars. If you're looking for something a little more active, then go out on a fishing charter or visit one of the town's museums.
Best times to visit: September-November
Recommended Hotel: Hilton Ocean City Oceanfront Suites
Newport, Rhode Island
This quiet city on Rhode Island's northern coastline has plenty of attractions to offer. It's famous for its beaches and whale-watching sailing tours.
Check out the famous Newport Cliff Walk, a scenic stretch of walking trail along the rocky coastline. There are also several beautiful parks where you can go hiking or even pitch a tent during your stay.
Best times to visit: September-November
Recommended Hotel: Newport Beach Hotel & Suites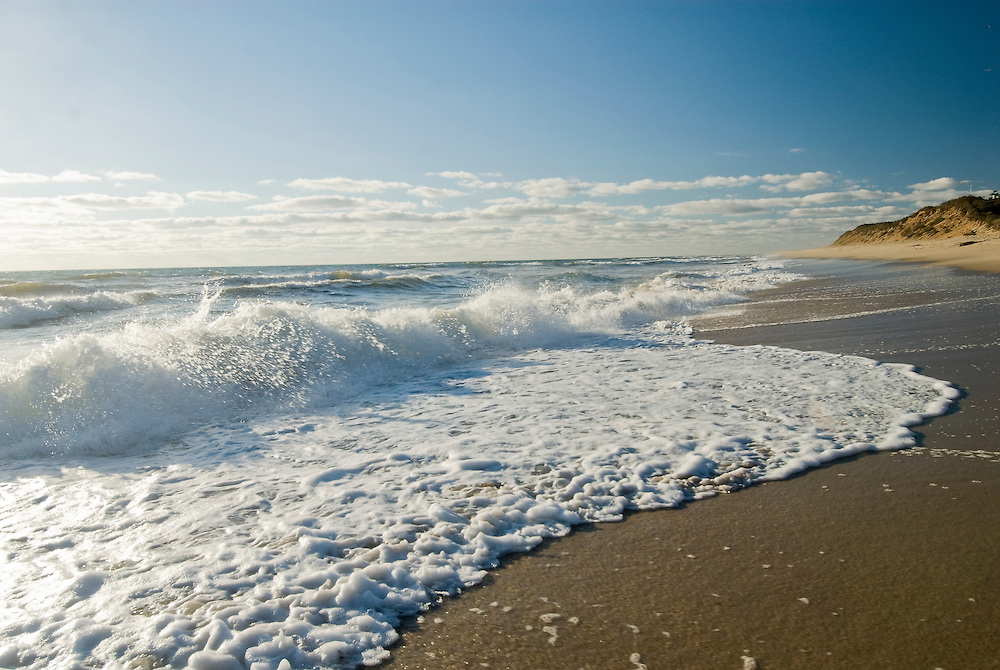 One of the most beautiful beaches on the East Coast is this pristine stretch of sand in Cape Cod. With soft white sand and beautiful views of Nauset Marsh, it's perfect for sunbathing and swimming.
Take a walk along the beautiful shoreline. Go fishing or take a relaxing boat ride during those glorious fall afternoons. Or if you're lucky enough to catch some whale watching before the season ends in October.
Best times to visit: September or October
Recommended Hotel: Sea Crest Beach Hotel
Gulf of Mexico Beaches
If you're looking for a change of scenery and want to escape the chilly autumn weather, why not head down to the Gulf of Mexico beaches? The temps are still in the 70s and the water is crystal clear. You'll have plenty of elbow room on the beach, too — crowds die down after Labor Day. So, pack your swimsuit and sunscreen and get ready for some sunny fall fun!
Bonus tip: Florida is the only continental US state where you can watch a sunrise and sunset from a beach on each side. See the sunrise in Miami, drive about 90 minutes to 2 hours to Naples or Ft. Myers beach to watch the sunset on the same day. Bring money for the toll road.
Pro tip: Hurricane season is June 1 – November 30th for the Atlantic and Gulf states. Keep this in mind when planning a beach vacation.
Sanibel Island, Florida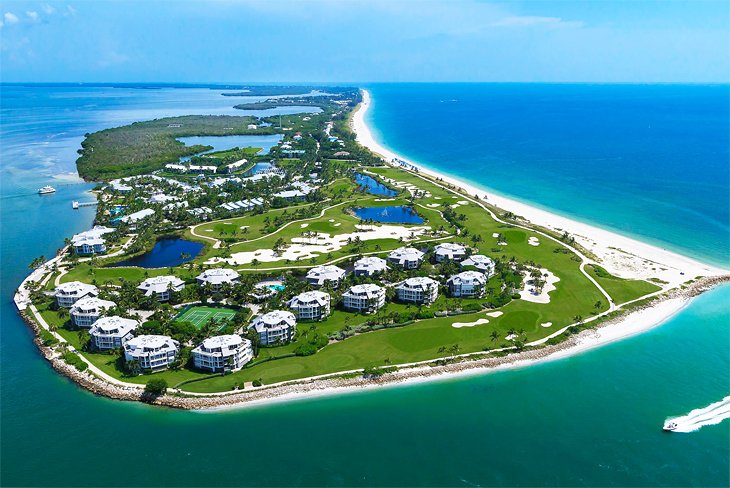 Sanibel is the perfect place to go when you want to get away from it all. It is one of Florida's most gorgeous barrier islands and is home to some of the country's best shelling beaches. Plus, it has some of the most beautiful sunsets you'll ever see. You can go shelling, swimming, or enjoy some fresh seafood at one of the island's waterfront restaurants.
Best times to visit: September or October
Recommended Hotel: Sanibel Island Beach Resort
Siesta Key Beach, Florida
Siesta Key Beach is one of the top beaches in the world because of its wide stretch of sand and pristine water. With its powder white sand beaches and stunning emerald-colored water, the scenery at Siesta Key is jaw-dropping.
This beach provides plenty of activities for families with children or older visitors who want to relax during their stay. Enjoy swimming, sunbathing, kayaking, and paddleboarding. Try something different by going on a glass-bottom boat ride to check out the sea life or go scuba diving. Their annual sand-sculpting festival is in the fall.
Siesta Beach has lively bars and restaurants nearby. Those who want a quieter evening can head over to Turtle Beach where they can enjoy the sunset in peace.
Siesta Key is also known for having the world's most beautiful sunsets, so bring a blanket to watch the sun go down after a long day of playing.
Best times to visit: September or October
Recommended Hotel: Lido Beach Resort
Detour: Clearwater's Stone and Crab Festival in October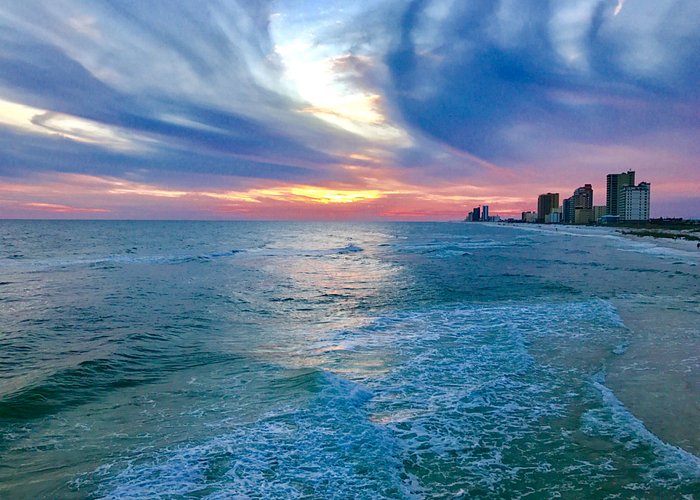 If it's a family vacation you're looking for, then Gulf Shores is the place to be. The town boasts some of Alabama's best beaches and there are plenty of kid-friendly attractions nearby.
Ready for a little history? Check out Fort Morgan, located on historic Mobile Point. You can watch surfers from one of the many public access points. Or pack a picnic lunch and sit on the beach to enjoy the waves and sunshine.
Best times to visit: September-November
Recommended Hotel: Perdido Beach Resort
Bonus: Annual National Shrimp Festival in October
South Padre Island, Texas
South Padre Island has beautiful beaches that span for miles. The water is so clear you can see the fish swimming below you. There are endless activities to enjoy with your family, including surfing, parasailing, fishing, and snorkeling.
And don't forget about the shopping! You'll find everything from high-end boutiques to souvenir shops along the island's shoreline.
This is a popular spot, but if you want to, the crowds head there in the Fall when temperatures are still high and only locals are on the beach!
Best times to visit: October or November
Recommended Hotel: Hilton Garden Inn South Padre Island Beachfront
Pacific Coast Beaches
If you're looking for a breathtaking fall getaway, the Pacific Coast has some of the most beautiful beaches in the world. The dramatic coastlines and Golden Gate Bridge provide a stunning backdrop to nature at its finest. From hiking and biking to whale watching and wine tasting, there's plenty to do on a Pacific Coast beach vacation in autumn. So, come enjoy the brilliant colors and cooling temperatures on America's West Coast!
Cannon Beach, Oregon
There are plenty of opportunities at Cannon Beach to see sea lions and other wildlife that live near the estuary. You can also see otters and seabirds. If you want to go on a hike, go to Ecola State Park. There you can walk on trails with beautiful views.
Best times to visit: September-November
Recommended Hotel: Hallmark Resort Hotel & Spa Cannon Beach
Pfeiffer Beach, Big Sur, California
Pfeiffer Beach is in a secluded area of Big Sur. There's very little on this part of the coast, which allows you to get back to nature and appreciate the California beach!
In autumn, the sunsets over the ocean will take your breath away. Famous for its purple sand, Pfeiffer Beach is a sight to behold. Plenty of opportunities for taking pictures, so pack a tripod and snap away!
Best times to visit: September-November
Recommended Hotel: Big Sur Lodge
Baker Beach, San Francisco, California
Fall is a great time to visit Baker Beach. It's one of the most picturesque beaches in the world and it's close to downtown San Francisco. You can walk from the Golden Gate Bridge to the beach and see the city skyline in front of you.
Pack a picnic lunch and enjoy watching surfers catch wave after wave. The water is cold, even in autumn, so there are usually very few swimmers here. If you're looking for a great place to sunbathe or take amazing pictures, Baker Beach is the place to be.
The waves are calmer than those at Ocean Beach, so it's good for families with children.
Best times to visit: September or October
Recommended Hotel: San Francisco Marriott Fisherman's Wharf
Ka'anapali Beach, Maui, Hawaii
With its warm waters and soft sands, this beach on the island of Maui is one of Hawaii's best. And while it might get a bit chilly during the fall months, it's still worth visiting. There are many things to do in Ka'anapali, like snorkeling at Black Rock and taking a helicopter tour over the island. You can see some amazing sights from up high!
Best times to visit: September-November
Recommended Hotel: Aston Kaanapali Shores
Conclusion
There are so many great beaches in the US, and each offers something unique. If you're looking for somewhere to relax during autumn, then these spots will not disappoint!
Don't forget to take lots of pictures! Fall is an excellent time to visit the beach when the weather is cooling off and fewer people visit.
The leaves and the colors in nature start to change. For the full experience, check out the festivals and events held in these beach cities.
More about our TFVG Author
A seasoned traveller, Dad, and avid sports tourist, James foundered The Family Vacation Guide to share his expert vacation experiences- especially when it comes to being a travelling family man.
Featured in Travel articles such as Travel + Leisure, TripSavvy and SFGate, you know you're reading some of the best vacation tips online.