Going camping is an exciting bonding activity to do with the whole family.
And suppose you live in or are soon visiting the United States. In that case, you're lucky enough to have access to a wide variety of convenient, family-family campgrounds and RV parks that allow you to venture off to some beautiful scenery, hiking, lakes, and more.
If you and your family deeply enjoy the outdoors but are a bit tired of your average camping area, our list of the 21 best family campgrounds and RV parks in the US will be a treat!
Additionally, if your family has never gone on a camping vacation before, this article will open your eyes to the possibilities available for your first camping trip.
We'll demonstrate through this list that camping is a fun, affordable, and exciting way to spend quality family time together on your next vacation.
Top 21 Family Campgrounds and Best Family RV Parks
There are more than 22,000 campgrounds in the US, so selecting just 21 wasn't an easy task.
However, this list provides enough variety to cover many different particular interests in exceptional scenery, outdoor activities, and accessible non-outdoor activities.
Thus, whether you're a hiking family, a boating family, just a family who likes to rest and read while enjoying scenic views, or something in between, you'll be able to find the best family campgrounds here to suit all interests.
1. Winding River Resort – Grand Lake, Colorado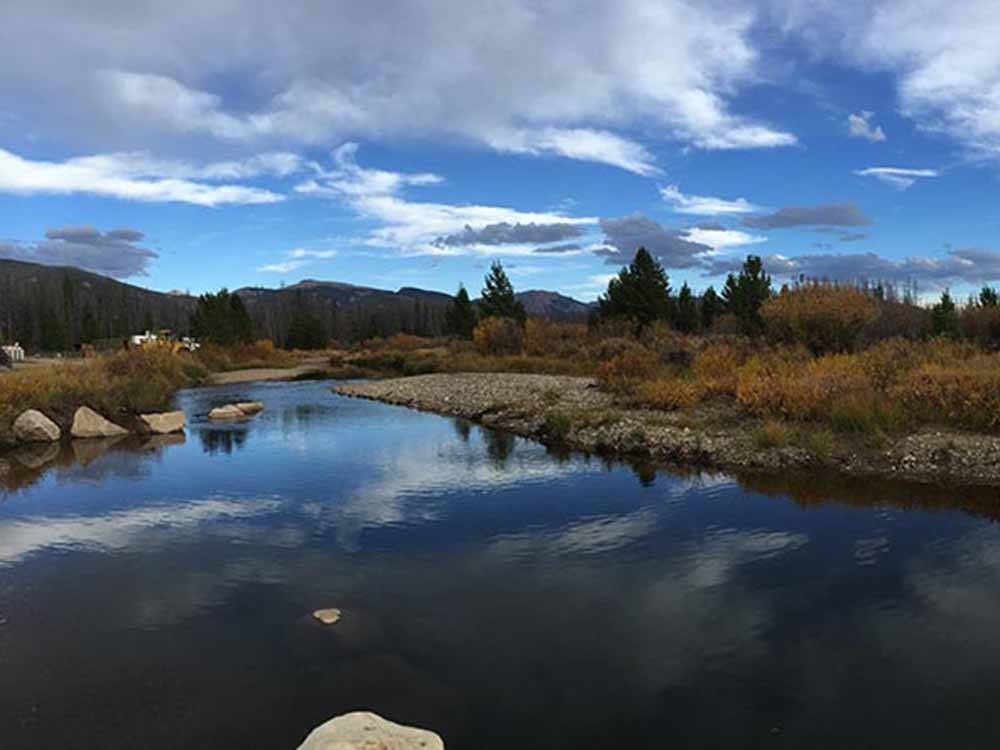 The Winding River Resort is one of the best family campgrounds for scenic-loving families, as it is between two beautiful Colorado areas — Arapaho National Forest and Rocky Mountain National Park.
That said, there is unsurprisingly a vast amount of outdoor and nature activities to get into if you stay at Winding River.
Your family can take various hikes suitable for varying difficulty levels, set up a tent for camping or park the RV, and ride bikes on the trail.
And if you want a more comfortable, "glamping" type of experience, your family can opt for a Covered Wagon lodge.
Aside from more normal outdoor activities, you and your family can spend your vacation days horseback riding, fishing, or riding ATVs if your kids are a bit older.
Your younger ones will enjoy the playground, additional water sport activities, and the occasional ice cream social events during the week.
2. McCormick's Creek State Park Campground – Spencer, Indiana
In Indiana, McCormick's Creek State Park offers an adventurous, nature-loving escape for families looking to connect with their wild sides!
It's set in a wooded landscape and provides access to a range of natural wonders, including waterfalls, wildlife, and caves.
Nature-loving doesn't have to mean dirty or rough, however. The campground is comfortable, clean, and equipped with modern facilities so that you can resort to a cozy environment after a day of exploration.
There are 190 campsites in total, and all of these have access to showers and bathrooms. You can also access easy hikes from these campsites.
Both of those facts will be relieving to the not-so-nature-loving family member if they're willing to give a camping trip a try!
Finally, this is a great campsite to stay at during Halloween, as there are Halloween-specific events, decorations opportunities, and educational talks.
3. Tall Pines Campground and River Adventures – Bainbridge, New York
Tall Pines Campground is in Bainbridge, New York, and as its full name suggests, this RV campground caters to vacationers who want to spend ample time adventuring in the river!
Many exciting river activities are offered straight from this campground, including kayaking, tubing, canoeing, fishing, or simply swimming around in the river.
If you're over there on the weekend, you may be lucky enough to get a visit from Chippy's Ice Cream Truck, which kids love — especially hearing the bell and finding out that it's the sound of ice cream on the way!
If you want a little break from the river, you can visit Frog Pond Farms nearby. Your family can enjoy looking at the animals, picking up some fresh produce, and perhaps checking out the greenhouse.
Finally, to make it a genuinely well-rounded vacation, you can stop at a few sites on your way in or out as well, such as the Baseball Hall of Fame and the Kopernik Science Center.
4. Wallowa Lake State Park Campground – Joseph, Oregon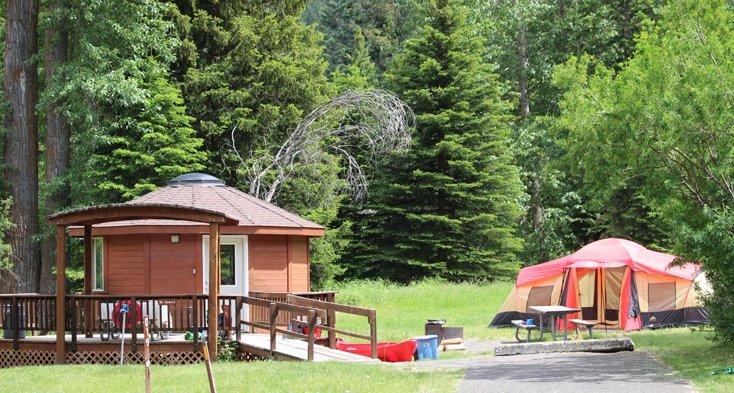 Wallowa Lake State Park offers a massive campground with 125 campsites in a beautiful, natural setting. You can view nearby scenic mountains or the lake from some sites right from your tent or RV!
You can also enjoy the lake by rowing on glass-bottomed kayaks, which allow you to truly feel immersed in nature (without actually getting soaking wet, of course)!
Families also enjoy this campground for its go-karting opportunity. Keep this in mind when your family feels like switching things up from the lake activities, hiking, and camping.
This campsite is excellent for families who don't mind a busy and popular area, as long as the grounds and bathrooms are kept nice and clean.
5. Islander Resort – Lake Havasu City, Arizona
The Islander Resort, located on the shores of Lake Havasu in beautiful Arizona, is a fantastic RV campground location for water-loving families.
If you have a license, you can spend your days fishing on the lake.
Alternatively, you and the family can have adventurous days on the water by renting boats, paddleboards, kayaks, or canoes.
If you're genuinely looking for a thrill, you're also able to rent jet skis at this campground!
And if you're all about going into the water with no devices or simply relaxing on the beach, this campground has more than a mile of beach. You can also take a nice dip in the campground's large, resort-style pool.
Pets are allowed at this RV resort campground so that you can bring your furry friend along. Additionally, there is 24-hour security to ensure your family is safe throughout the entire vacation.
Finally, this resort has classic campground games for the whole family, such as bocce ball, pickleball, horseshoes, and shuffleboard. This resort is definitely one of the best family campgrounds and RV parks to consider.
6. Lodgepole Campground – Three Rivers, California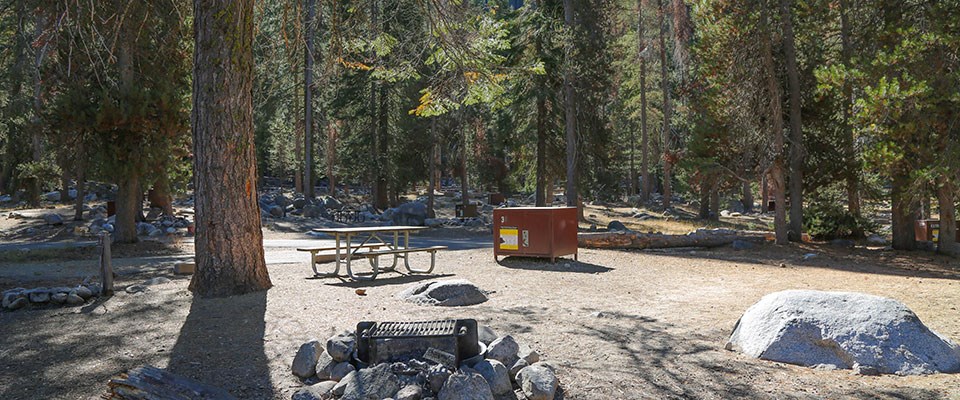 If you're looking to visit Sequoia National Park in California, you have several different options when it comes to locations to rest at the end of an adventure-filled day, but we think Lodgepole Campground is one of the best.
At Lodgepole, you can spend the night under these large, impressive Sequoia trees, as well as have access to boulders, pine trees, and the Kaweah River.
Additionally, families appreciate the clean amenities, flush towels, and free shuttle service to the Giant Forest from this campground.
If anyone in your family is afraid of bears, this might not be the best area to stay in, as bears get seen here on an almost daily basis.
However, as long as you are aware of bear safety, this should not necessarily be a dealbreaker, and a bear-spotting could actually be a memorable highlight of your trip!
Finally, this campsite is near a popular and beautiful trail leading to Tokopah Falls, a jaw-dropping waterfall that's 1,200 feet high!
7. Austin Lake RV Park and Cabins – Toronto, Ohio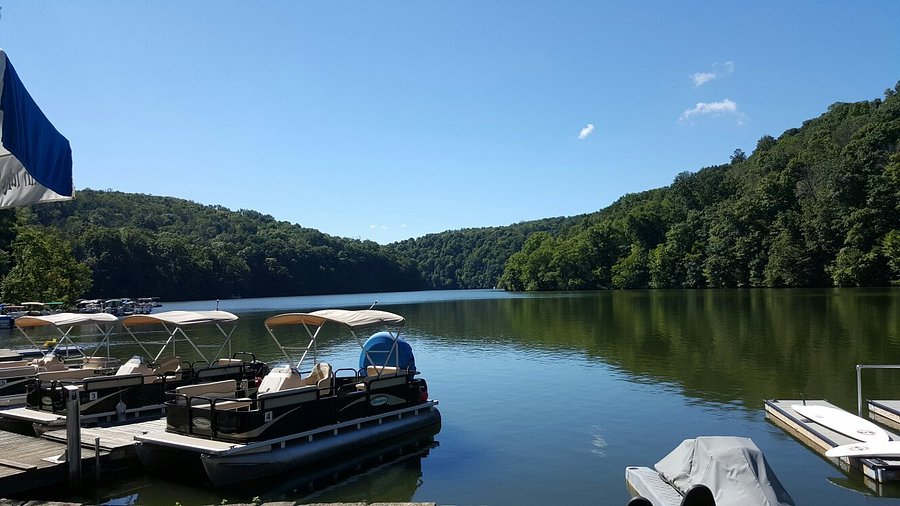 If you like supporting family-owned businesses on your family vacations, you might want to check out the Austin Lake RV Park and Cabins.
This RV park is located on a gigantic, 80-acre artificial lake, providing many opportunities for fun, wet-n-wild play that the kids will love!
Your younger kids will especially love the lake's inflatable obstacle course. Meanwhile, your older ones will have endless opportunities for a good time by taking advantage of the resort's paddleboards, paddle boats, kayaks, and more.
If you and your kids love friendly competition, you may enjoy the resort's bumper boats most of all!
Finally, if you need a break from the water, the Austin Lake RV park provides access to hiking and biking as well.
8. Assateague Island National Seashore – Berlin, Maryland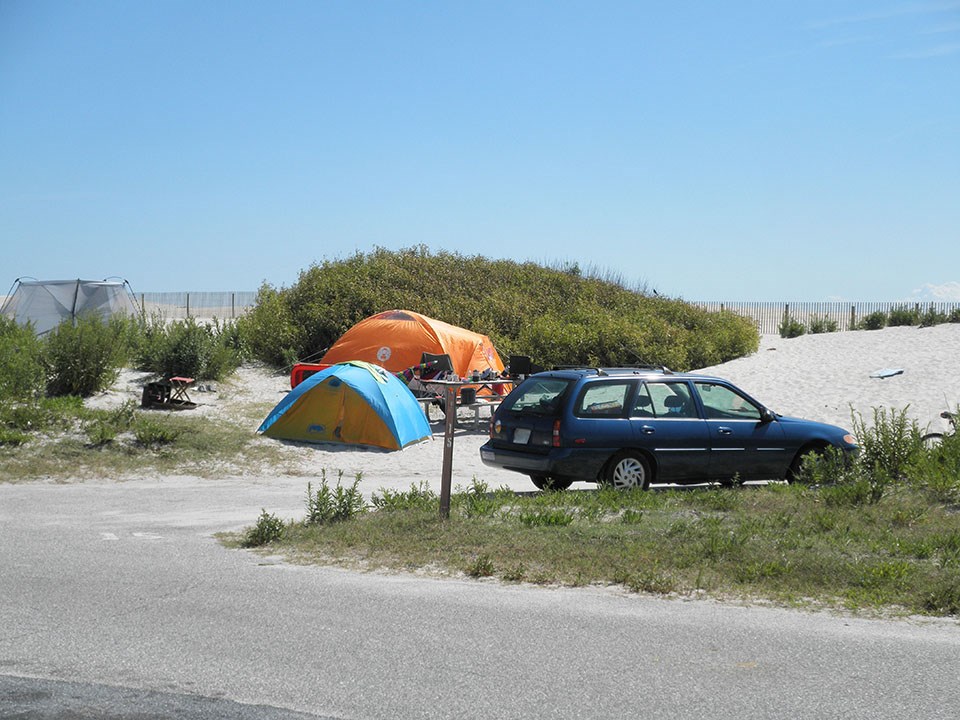 Families who want a rustic, authentic, and bare-bones camping experience without too many frills to distract from true quality family time might opt for a campsite in Maryland at Assateague Island National Seashore.
This campground is a 37-mile stretch of sandy beach where you can simply set up a tent near a picnic table. You'll have access to the beach, a place to sleep, and a place to eat, and that's about it!
But the lack of amenities is the authentic charm of this campsite because you'll be in for some memorable bonding time.
Whether it's playing board games that you've brought along, telling stories while having a picnic on the sand, or watching horses gallop about, there's more to do than what meets the eye at Assateague Island.
9. Splash RV Resort and Waterpark – Milton, Florida
Going on a trip to Florida typically means spending some hot vacation days immersed in water, and the Splash RV Resort and Waterpark promises just that!
You can bring an RV to this resort and enjoy relaxing at your own private picnic table and firepit that each space on the campground gets. Alternatively, you can decide to stay in one of the established cottages or Conestoga Wagons for a glamping experience.
Either way, you'll be able to get into loads of fun activities with the whole family at this large, 60-acre resort. There are several resort pools to swim in, a lazy river to float in, and even a spa to relax in.
Additionally, you can use your fire pit to make outdoor meals if you want an authentic camping experience, or you can opt for purchasing meals at the onsite cafe.
Finally, if you're looking for evening entertainment after an adventurous day, you and the family can enjoy live entertainment and music from Splash RV Resort's Amphitheater.
10. Stephen C. Foster State Park – Fargo, Georgia
The Stephen C. Foster State Park campground is set inside the Okefenokee National Wildlife Refuge in Georgia and provides access to a fascinating Georgian swamp.
Families interested in exploring an exceptionally diverse ecosystem and perhaps getting a little down and dirty will appreciate staying at this campground for various reasons.
Kids can learn about turtles, lizards, frogs, alligators, snakes, and more. The family can enjoy a relaxing pontoon ride or canoe trip or go on a fun hike around the swamp.
Just be careful around the alligators! Especially if you have small kids, we recommend going on an organized tour or a guided hike.
11. Yogi Bear's Jellystone Mammoth Cave – Cave City, Kentucky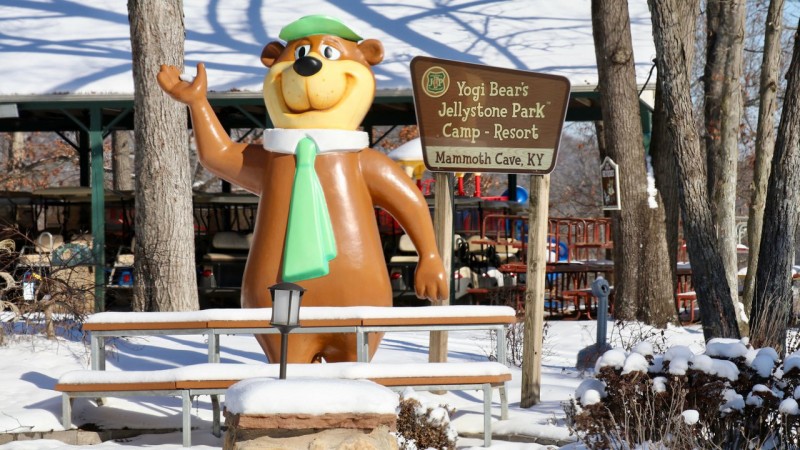 If you're taking a road trip to Mammoth Cave National Park, spending a night or two at Yogi Bear's Jellystone Mammoth Cave would not be a bad idea.
It's an especially interesting and fun campground for families, as there is such a wide variety of things to do that no one will feel bored or left out.
The adventurous family members can have fun taking a zipline or canopy tour at this campground. In contrast, the more relaxed family members can chill out at the beach area or find enough excitement at the giant jumping pillow.
Almost everyone will love the splash pad area, and young kids will have the best time on the inflatable obstacle courts.
If there are sports lovers, they'll be able to get some competition with the minigolf course and the basketball court, while others relax by the pool.
There will indeed be something for everyone at this campground, and when the night winds down, the whole family can spend time together at their cozy campsite — regardless of whether you're camping in an RV or a tent.
Finally, if your kids are lucky, perhaps Yogi Bear will stop by!
12. Highland Hammock State Park – Sebring, Florida
At the Highland Hammock State Park, families can choose from one of 143 campsites to establish as their base for exploring the surrounding oak and sawtooth palm forests.
Families can see a range of wildlife here, including the beautiful whitetail deer and various birdlife.
If your family is more into modern and updated amenities, this might not be the most suitable campsite for you.
But suppose you are more interested in hiking and biking a beautiful forested area and perhaps catching sight of some board, armadillos, and alligators. In that case, you might forgo modern amenities for this more rustic, natural experience.
13. Beaver Lake Campground – Custer, South Dakota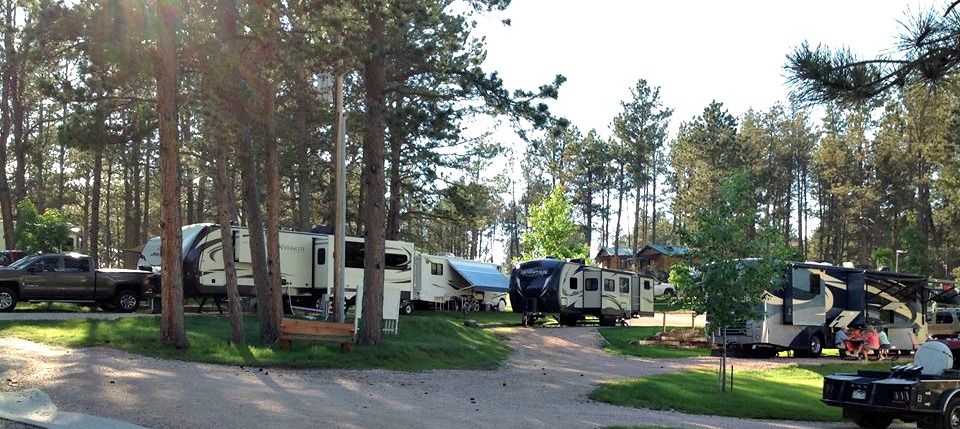 Beaver Lake is a large campground in South Dakota that has 81 sites and is suitable for both RV and tent campers.
There is a water slide that is 360 feet long that your kids will not be able to get enough of. The campground also has a large, relaxing, heated pool to soak regardless of how sunny or hot it is.
This campsite is excellent if your family wants to explore the surrounding popular areas of South Dakota, such as Mount Rushmore, Crazy Horse Memorial, Jewel Cave National Monument, or Custer State National Park.
For families who like sports and some friendly competition, Beaver Lake offers options for playing basketball, volleyball, horseshoes, or tetherball.
If you would like to visit the Beaver Lake campground, please note that this campground is only open from April 1st to November 1st, so make sure to plan your dates accordingly!
14. South Campground at Zion National Park – Virgin, Utah
Zion National Park is an incredible, world-renowned national park offering stunning mountain views, adventurous hiking trails, and outstanding photography opportunities, and jaw-dropping scenery all around.
South Campground offers an excellent base for both RV and tent campers exploring this park, as it provides views of the Red Cliffs right from the campground but remains shaded, which is crucial for hot summer days in southern Utah.
Additionally, this campground provides easy access to many hiking trails, showers and bathrooms, restaurants and markets, and even a shuttle bus to conveniently take you into town if you forget any snacks or supplies.
Finally, if the location by the red cliffs and near the buses wasn't good enough, you'll also have easy access to the Virgin River, which is an excellent place to cool off after a grueling hike on a sunny day.
Additionally, this river is near Pa'rus Trail's trailhead. Pa'rus Trail is a paved, wheelchair-accessible route leading to Canyon Junction Bridge, perfect for watching the sunset.
15. Newport Dunes RV Resort and Marina – Newport Beach, California
California is a highly-esteemed state for family vacations, and taking a trip to the Orange County area is especially sought after when it comes to unforgettable trips.
However, the cost is often prohibitive to many families, especially if you plan on staying at a hotel or resort in the area.
Fortunately, if you already have an RV, you can have a high-value trip at an overall reasonable cost by staying at the Newport Dunes RV Resort and Marina in Newport Beach.
You'll get direct access to a 442-slip marina, a ramp to launch your boat, watersport rentals, a lagoon to take a relaxing swim in, and bike rentals to explore the surrounding area.
Families with young kids especially love having access to a safe beach with calm, waveless waters to swim in.
If you want to have a truly unforgettable trip, you can plan to spend a few days of it at Disneyland, which is only a 30-minute drive from the RV park.  Looking for other camping spots in Southern California? Check out our guide to the best family campgrounds in Southern California to get your ideas flowing!
16. James M. Robb Colorado River State Park – Fruita, Colorado
Exploring the Colorado River — whether on a river raft, a stand-up paddleboard, or another water-friendly device — makes for a popular family vacation that's just adventurous enough to please the risk-seekers but just relaxing enough to satisfy the R&R seekers of the family.
The James M. Robb Colorado River State Park has a campsite on the Fruita side of the park that provides views of the gorgeous Colorado National Monument and an overall quieter, relaxing camping experience.
If you want to go into the town of Fruita, you can visit Dinosaur Journey Museum, which will likely appeal significantly to your younger kids. They can experience an earthquake simulator, check out the paleontology lab, and even dig for dinosaur bones at the quarry!
17. Pineland Camping Park – Arkdale, Wisconsin
The Pineland Camping Park is an RV, tent, and cabin campground, and it's precisely where you and your family need to go if your kids are obsessed with inflatable, fun water slides.
At Pineland, you will find "Pinezilla." At 42 feet high and 175 inches long, Pinezilla is the largest inflatable water slide!
In addition to the water slide, this campground is great for quirky families looking for unique experiences and memorable game time.
Families can enjoy the park's jumping pillow, bazooka ball shoot-out game, and giant chess set!
The fun doesn't stop there. This campground tends to host organized family activities, live music on Saturday nights, and even themed weekend events that everyone in your family can get into!
For the days you're not feeling as social or simply want to spend quality time with your family, you can rest assured that your privacy won't be disturbed, as the campground spaces are very wooded. This thick vegetation also provides an enclosed, cozy, and private atmosphere.
18. Platte River Campground at Sleeping Bear Dunes National Lakeshore – Honor, Michigan
A vacation to sand dunes always provides a unique, unforgettable experience that is hard to beat, and the Sleeping Bear Dunes at Lake Michigan are no exception.
The Platte River Campground in Michigan offers a highly-rated but wonderfully private campground with spaced-out campsites surrounded by massive trees shading visitors from their neighbors.
Families who like hauling hammocks around will also appreciate the number of trees because it's easy to hang up your hammock and chill out after a day on the lake.
Walking along the dunes, going tubing on the lake, and chilling out at the beach are the most common activities around this campsite.
The only downside to this site is the number of mosquitos. So if you or a family member has that sweet blood mosquitoes love, make sure to bring lots of bug spray on your trip!
19. Elizabethtown/Hershey KOA – Elizabethtown, Pennsylvania
Elizabethtown/Hershey KOA is one of the top campgrounds and best family RV parks in Pennsylvania due to its high-quality campsite options. Some even include patios and gazebos with covered dining for those unfortunate rainy days.
There are a lot of interesting sites to visit around this campground, such as Hersheypark for candy lovers.
History-loving families can also visit Gettysburg, the Liberty Bell, and the National Civil War Museum in Gettysburg, Harrisburg, and Philadelphia, respectively.
This campground comes with family favorites such as minigolf, wagon rides, and comfort-providing amenities.
Given its proximity to Hersheytown, there are often themed weekends at this campsite that align with candy, such as a chocolate slip-and-slide!
20. Seawall Campground at Mount Desert Island – Southwest Harbour, Maine
Mount Desert Island is one of the 20 islands that are part of the gorgeous Acadia National Park.
If you're thinking of visiting anyway in the Northeast for a camping trip, Acadia National Park should be on the top of your list, and you should consider staying at the Seawall Campground.
This campsite is remote yet close to the beach of Mount Desert Island, which is known for its jagged cliffs and stunning scenic views.
You also won't be far from Bar Harbor, where you can get ice cream, shop at the gift shops, and fill up on lobster in various forms (lobster rolls, lobster soups, lobster quesadillas, lobster mac, and cheese – you name it)!
There are no showers at this campground, so before planning a trip here, make sure everyone in your family will feel comfortable simply washing off in the ocean.
21. Malaekahana Beach Campground – Kahuku, Hawaii
Hawaii can be quite an expensive state for vacation, but the costs can be significantly lower for families who decide to camp instead!
Not only can you save money, but you can also have access to the main appeal of going to Hawaii in the first place – the beach!
Malaekahana is a kid-friendly, beachfront campground where you can sleep in plantation-style huts, rent kayaks for a day on the water, try out surfing with a lesson, or go sailing.
Many of these activities are available for the public, but staying on this campground provides you access to discounts.
If you plan on staying here, try to stay for at least two nights, as that's what the owner prefers. You'll probably get more out of your stay with two or more nights anyways!
Are You Ready to Explore These Best Family Campgrounds and RV Parks?
Now that we've listed 21 of the best family campgrounds and RV parks in the US, you have a wide variety of locations to choose from.
You may want to feel completely immersed in nature, or you may instead have close access to a town.
You might want to be in a popular campground with many activities and events or stay in a more quiet, secluded area to optimize private family bonding time.
Regardless of what you want, there is undoubtedly an excellent campground for you in the US.
We know it can be pretty challenging to select a location and plan a vacation that the whole family will enjoy. Still, hopefully, one of these options will feel suitable to each family member.
More about our TFVG Author
A seasoned traveller, Dad, and avid sports tourist, James foundered The Family Vacation Guide to share his expert vacation experiences- especially when it comes to being a travelling family man.
Featured in Travel articles such as Travel + Leisure, TripSavvy and SFGate, you know you're reading some of the best vacation tips online.