With so many vacation options, it can be difficult to choose just a few to suggest to your family. Then, just when you think you have a promising list of family vacation spots, a family member decides they no longer enjoy fishing or amusement parks. What now?
Snow tubing is an age-old family favorite. It is exciting without being challenging, and, therefore, accessible for people of nearly any age. Plus, the resorts offer countless activities to appease the skeptics.
You may be surprised by the unique events offered both on the slopes and off. Read on to find your ideal vacation location.
Camelback Mountain Resort in Tannersville, PA
This Pennsylvania resort is one of the largest snow tubing locations across the United States. With 42 lanes, you are sure to have plenty of options. There are also 2 lifts to keep the crowds moving more quickly. Snow tubers can spread out and avoid excessively long lines that often occur at smaller resorts.
Camelback Mountain Resort also allows you to double up as you ride on the tube to fully share the fun with another member of the family. If you are interested in linking tubes, you can form a chain of up to 6 tubes.
At night, the lanes light up for galactic snow tubing. They create a breathtaking scene and allow you to continue the fun into the night.
If you are looking to spend a couple of days or so, the Camelback Mountain Resort has plenty to explore. You can visit the indoor or outdoor waterpark, ski, bungee jump, zipline, take tours, or choose from a few other options.
Keystone Resort in Keystone, CO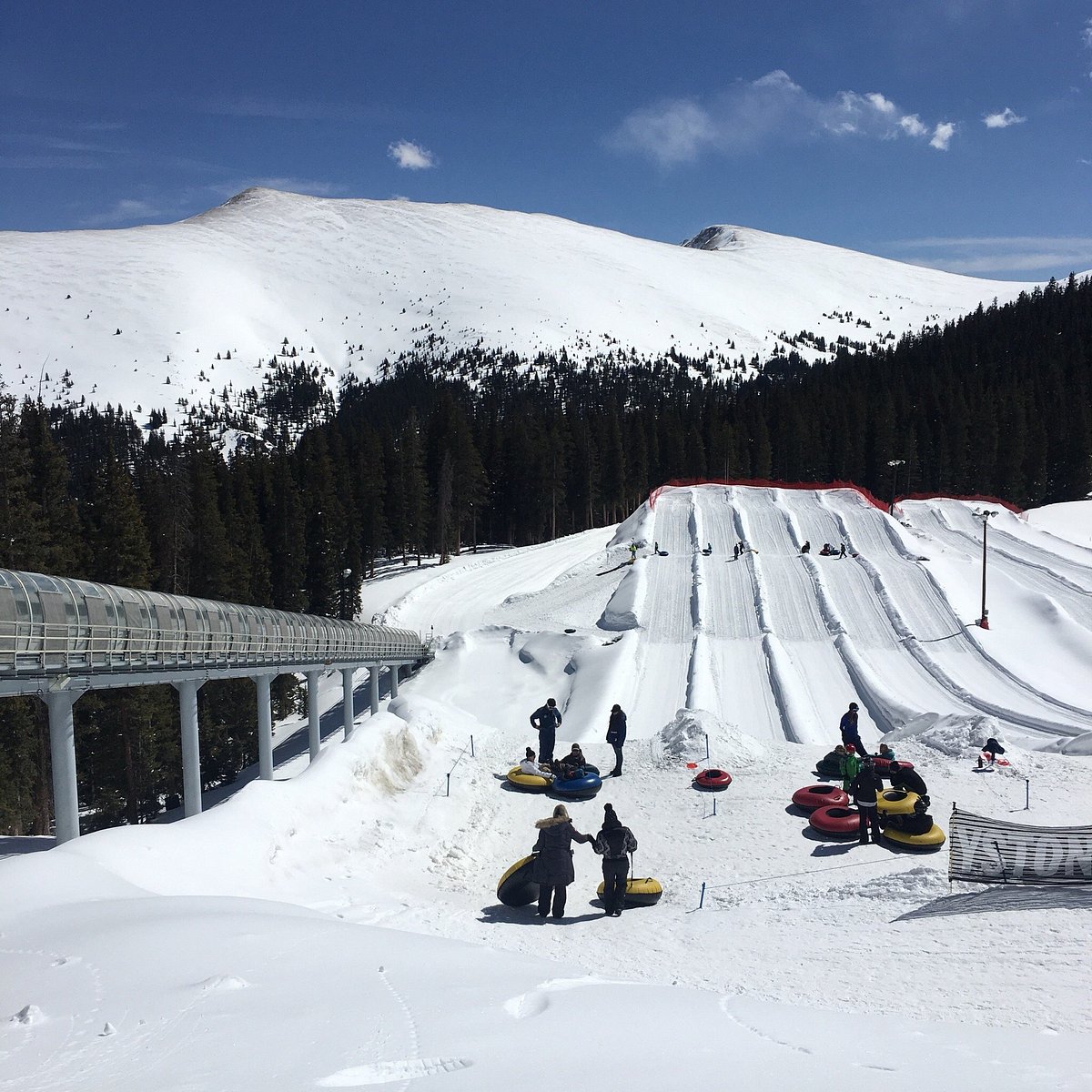 The Keystone Resort tubing hills are so high that they stay snowy all year. This makes for a wonderful, year-long vacation spot! There are 6 lanes, ranging from gentle to steep, and a lift. There is even an area for kids shorter than 42" to snow tube.
On certain occasions, Keystone also offers nighttime snow tubing.
This resort offers various activities to fill your vacation (in between your snow tubing adventures). Kids love the house-sized snow fort, and all family members can enjoy traditional and cross-country skiing, sleigh rides, and other activities.
Many customer reviews of Keystone rave about the view and the friendly staff. Visitors love the comfy resort rooms, as well.
Mt. Hood Skibowl in Government Camp, OR
Mt. Hood is home to the first cosmic snow tubing experience in the world. You may not be familiar with the term, but it's an experience you cannot miss. 600,000 LED lights illuminate the slopes, plus colored, laser, and black lights. On these nights, there is a DJ playing party music from classic rock to dance.
Visitors love the conveyor belt, as it conserves their energy and allows them to enjoy more runs down the hill. They also note that the tubes pass through a sterilization machine between guests.
Additionally, the Mt. Hood resort offers a terrain park, sleigh rides, snowmobile tours, and guided snowshoe tours.
The Resort at Paws Up in Greenough, MT
Blast Mountain at Paws Up offers snow tubing and ice skating. With an awe-inspiring view of mountains and the wilderness, snow tubing here will never become boring. There are 3 runs for tubers with different comfort levels. Each run includes curves that allow you to take in the entire landscape.
One unique offering at this resort is the biathlon, wherein participants practice target shooting while cross country skiing. It also offers dog sledding, electric bike tours, sleigh rides, snowmobiling, and skijoring (being pulled by a dog or horse while skiing) to name just some of the winter activities.
Many customers comment on the beautiful views. Along with snow tubing, they recommend participating in the biathlon and horseback riding to have more time to take in the view.
Wintergreen Resort in Blue Ridge Mountains, VA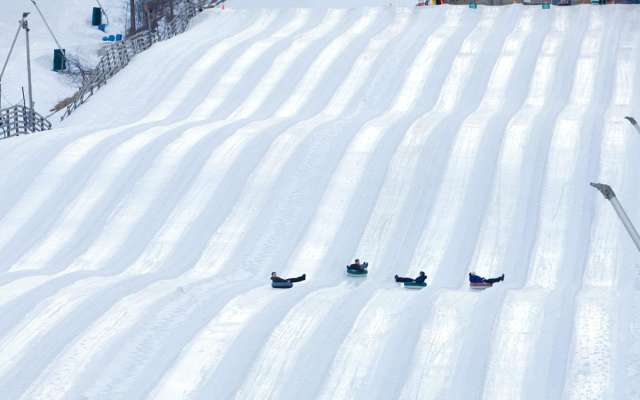 At this resort, you'll find Virginia's largest snow tubing park – The Plunge. The hill is the height of a 10 story building, and tubers can reach speeds of 30 mph on their way down. Luckily, there is a conveyor lift to climb this monster of a mountain.
There is so much to explore at the Wintergreen Resort that you may find it impossible to do it all! It is best known as a skiing and snowboarding resort, and for the racing programs offered for both. However, you can also enjoy the terrain park, swimming, visiting the spa, music events, and other activities.
Visitors specifically mention the wonderful family atmosphere at the Wintergreen Resort, along with the fact that snow tubing is ideal for families and large groups. Many also recommended Wintergreen for snow tubing in the summer.
Massanutten Resort, McGaheysville, VA
Snow tubing at the Massanutten Resort has been called the 'best snow tubing' by the Washingtonian, and for a good reason! There are 16 lanes, each 900 feet long, and a drop of 120 vertical feet. Plus, there are 2 conveyor lifts to keep crowds moving quickly.
Every night, you can engage in northern lights tubing. Under glowing neon lights and surrounded by music, you can continue the snow tubing fun while carrying a glow stick.
Those who visit Massanutten for snow tubing enjoy the mountain view and northern lights tubing the most.
Massanutten offers skiing, ice skating, team sports, a water park, and a family adventure park that features climbing, ziplining, and tubing. There are many indoor activities to choose from within the resort, as well.
Badlands Snow Park in Hudson, WI
Wisconsin is home to the oldest tubing hill in the midwest, which has been open for more than 50 seasons! There are 7 different hills, and some are the steepest, tallest, and longest in the United States. There are also 5 rope tows to keep crowds moving quickly.
Visitors love the variety of hills and the fact that Badlands makes their own snow when necessary, so the slopes are always in perfect condition.
As a park designed strictly for snow tubing, you know that your attraction of choice has gotten all of the attention throughout the design and maintenance processes. Plus, Badlands does offer a snack bar for tubers throughout the day, so you won't be left hungry.
Copper Mountain in Frisco, CO

The Tubing Hill at Copper Mountain is filled with twists – literally! You will find banked turns across the tubing hill which keep you guessing and flying all the way down.
One of the most-commonly mentioned favorite activities at Copper Mountain is snow tubing.
However, tubing is far from the only activity on Copper Mountain. Spend some time on the rocky mountain coaster, the ice skating rink, in the snow maze, or the sledding zone for more winter fun. Once you're ready to warm up inside, you'll find that Copper Mountain has still more to offer.
Rocking Horse Ranch Resort in Highland, NY
The Rocking Horse Ranch Resort offers multiple lanes, each 500 feet long. There are twists on each run to keep the ride exciting, and there is a magic carpet lift to offer you the most runs possible. Although many resorts don't offer double tubes, they are available here depending on the conditions of the lanes.
Visitors of the Rocking Horse Ranch Resort frequently mention snow tubing as a highlight of their trip. They also note that it is a great activity for young children,
This resort also offers an indoor waterpark, nightly entertainment, laser tag, an arcade, a shooting range, and more. Everyone in the family will find something to enjoy.
Big Bear Snow Play on Big Bear Lake, CA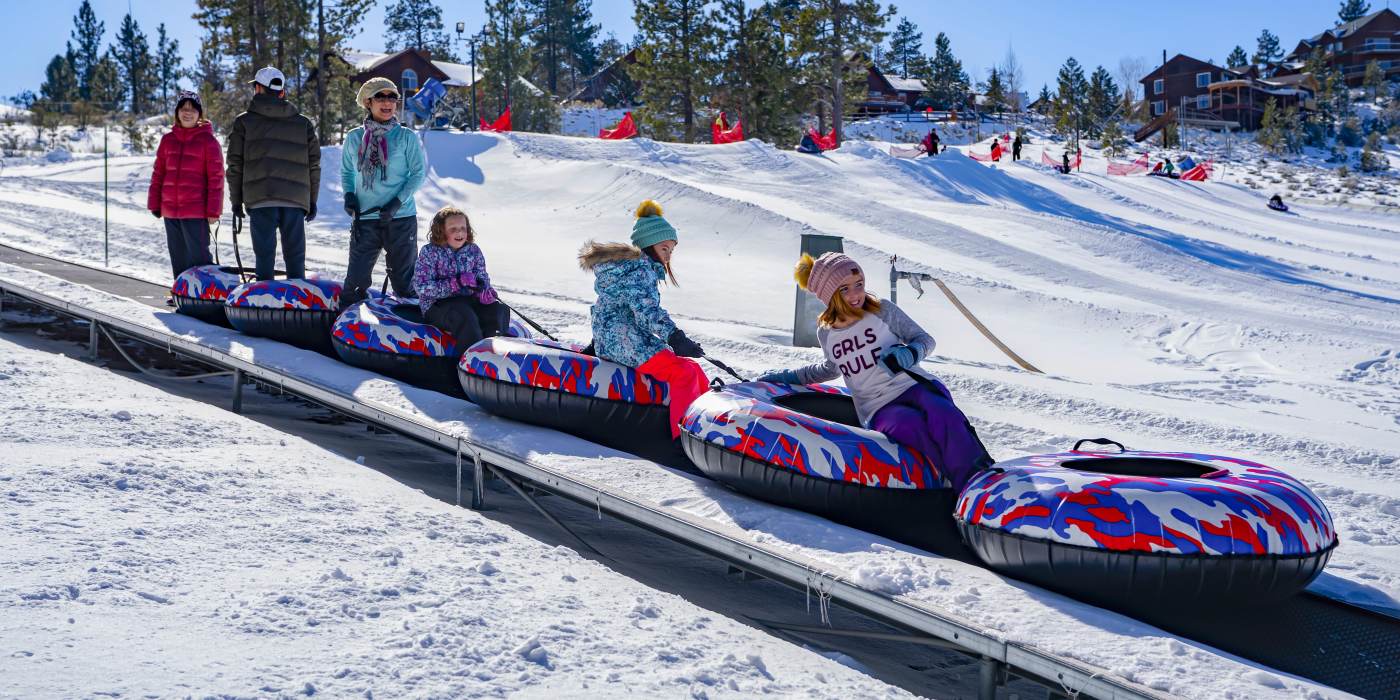 Every night, Big Bear employees groom the snow to keep it white and fluffy; they even make snow when the conditions are right.
On Fridays, Saturdays, and during holiday periods, you can go night tubing. Complete with red, green, blue, and black lights, glow tubing is a favorite at Big Bear.
In customer reviews, glow tubing is often recommended. Visitors also mention great communication from staff, allowing tubers to travel safely and avoid crashing into those at the bottom of the hill.
Aside from snow tubing, you can take advantage of the speedway, featuring mini race cars, and a rope course with 37 obstacles.
Where to Go With Small Children
For many families, any of the above mountains could be a perfect fit for different reasons. However, for those traveling with small children, there is an additional consideration. Below, you will find the height requirements for each of the mountains previously mentioned.
For Riders Under 36 Inches
Only 2 of these tubing locations offer snow tubing for children under 36 inches – Camelback in Pennsylvania and Badlands in Wisconsin.
Camelback allows riders from 33 inches to 43 inches to ride in a double tube or chain with an adult 18 years old or older. However, no riders under 33 inches are permitted.
Badlands offers several hills of varying difficulty, and you can find hills suited for children of any height.
For Riders From 36 Inches to 42 Inches
5 mountains offer snow tubing for children between 36 and 42 inches tall. They include:
The Resort at Paws Up in Montana
Mt. Hood Skibowl in Oregon
Massanutten Resort in Virginia
Rocking Horse Ranch Resort in New York
Copper Mountain in Colorado
Additionally, Big Bear Snow Play in California allows riders between 36 and 42 inches tall to ride in the same tube as an adult.
For Riders 42 Inches and Taller
3 locations only allow riders 42 inches tall and above to ride alone. These are:
Keystone Resort in Colorado
Big Bear Snow Play in California
Wintergreen Resort in Virginia
Camelback has a unique requirement of 44 inches tall as the minimum height to ride alone.
Final Thoughts
Due to the inevitable age and interest differences in your family, it is important to find a vacation spot where everyone can be happy. Snow tubing is easy enough for younger children, but exciting enough for older children and parents.
You don't even need lessons – just a tube, a hill, and the family. Even if certain family members are skeptical about a snow tubing vacation, they are very likely to find an activity at one of the resorts more enticing. Once everyone begins relaxing, you may even find that those picky family members enjoy snow tubing as a family.
Whatever your taste, there is a resort or mountain that is sure to impress. Get your family together for some stress-free winter fun, and cherish those moments spent together.
More about our TFVG Author
A seasoned traveller, Dad, and avid sports tourist, James foundered The Family Vacation Guide to share his expert vacation experiences- especially when it comes to being a travelling family man.
Featured in Travel articles such as Travel + Leisure, TripSavvy and SFGate, you know you're reading some of the best vacation tips online.