When it comes to winter vacation destinations, you have probably heard your fair share of options. Whether people are talking about the Caribbean or the Alps, there are plenty of places that might seem fun for a family trip in December or January.
But what if you're on a budget and want to stay in the US? Which destination is best for families with kids who want to spend less money but still enjoy themselves? In this article, we have composed a list of several of the best locations for families to visit for a winter vacation.
San Antonio, TX
If you're looking for somewhere warmer to stay for your winter vacay, there's no better place than Texas' most visited city, San Antonio.
About
With plenty of 60 and 70-degree winter days, it's no surprise that San Antonio is one of the most popular cities for tourists to visit in the country. Founded in the early 1700s, San Antonio has a rich history and diverse culture that both locals and tourists tend to embrace.
Even today, the city remains full of historical landmarks, museums, and eye-catching sights that make this city unlike any other.
Things to Do
Not only does San Antonio have the third largest zoo in the country, but for history buffs, you can also check out the Alamo, which remains one of the prolific parts of Texas history.
If you're interested in a more scenic route with your family, you shouldn't miss the River Walk, which is a 15-mile urban river tucked just below street level and downtown San Antonio. You can navigate the River Walk on foot and stop at various cafes, restaurants, or shops along the way, or even get a guided tour in one of the available river barges.
Average Budget
For a family of four, the average budget you'll need can run anywhere from $1,500 to $2,200, depending on where you lodge and if you visit paid attractions. Fortunately, San Antonio does tend to be one of the more affordable cities to visit throughout any part of the year, but especially during the winter off-season.
Niagara Falls, New York
Niagara Falls is a bucket-list-worthy destination, and if you visit during the winter, the budget could be more affordable than you might think.
About
While it may not be as warm as Texas, there's nothing like seeing wintertime up close when you visit New York – and more specifically, Niagara Falls.
As America's oldest state park, Niagara Falls State Park, is open every single day of the year and features plenty of observation decks where you can see the Falls up close.
Things to Do
Perhaps one of the biggest reasons to explore this destination is due to the Falls, which is even more eye-catching when it's completely frozen. Besides just the Falls itself, there are plenty of activities to do in Niagara Falls, especially if you've got an active family that prefers outdoors-y activities.
The state park also includes interactive exhibits that teach you about the history of the park and The Falls, miles of hiking trails to take the whole family on, and plenty of family dining restaurants.
Average Budget
With some hotel rooms starting at just $100 per night, the average budget for a family of four could only cost a total of $1,500 – with some variation depending on how far you'll need to travel for Niagara Falls. If you're already located in northeast USA, the Falls could just be a couple of hours in the car, and you may be able to cut your cost significantly.
For travelers that may need to buy airplane tickets, you could see that cost jump closer to $2,500 with the added price of airline tickets.
Santa Maria Valley, California
Bid goodbye to snow and freezing temperatures and say hello to the sunny, breezy weather when you head to the Santa Maria Valley in California for your family's winter getaway.
About
As the midway point between Los Angeles and San Francisco, the Santa Maria Valley is a quieter option if you want to explore California's coast but want to avoid the city traffic.
Besides some of the eye-catching attractions, there's something else that makes the Santa Maria Valley such an ideal destination – from October to February each year, thousands of Monarch butterflies head to the Valley's eucalyptus groves.
Things to Do
If there's one thing the Valley is known for, it's wineries. If you stay in Santa Maria Valley, you'll have the opportunity to explore those local wineries, which may be a great activity if the adults need a little downtime.
For more family-oriented things to do, there's a drive-in theatre, a raceway you can purchase tickets to, the Santa Maria Museum of Flight for aviation enthusiasts, and plenty of beaches that the whole family can enjoy.
Of course, if you'd rather head to Los Angeles or San Francisco for a day trip on your getaway, each city is only a couple of hours away by car.
Average Budget
With hotel rooms ranging from $100 to $150 per night, Santa Maria Valley is especially affordable during the off-season, and you could be looking at an average budget of $2,000 for your family of four.
If you decide to visit any of the nearby cities while you're staying in the Valley, you could see that number rise by a few extra hundred bucks.
Nashville, Tennessee
Another destination that's unlikely to see much snow or sub-zero temperatures during the winter, Nashville, Tennessee, is an attractive destination for everyone – including music enthusiasts.
About
There's a reason Nashville gets called "The Music City" – since it was founded, the origins of Nashville have always (and continue) to be linked to music. In fact, the city is also the birthplace for some of the most popular records as well. From Taylor Swift to Elvis Presley and Bob Dylan, plenty of famous musicians have recorded a few of their biggest hits in Nashville.
Things to Do
Even if the temperature seems a little chilly when you visit, the good news is that most of Nashville's most famous attractions are indoors. Some of the biggest hot-spots you wouldn't want to miss while you're in the city include the Country Music Hall of Fame and Museum, the National Museum of African American Music, the Grand Ole Opry, and more.
Besides the long list of museums, there are also plenty of southern-style eateries to check out while you're in Nashville – and don't be surprised if some of them include live performances while you eat.
Average Budget
With so much to see, traveling and staying in the heart of Nashville can be a little more pricey than some of the other destinations on this list – and for a family of four, you could be looking at an average budget of close to $4,000.
That budget is based on a week in the city, but if you only stay a few days and avoid some of the city's more expensive restaurants, you could cut that number down significantly.
Austin, Texas
Another hotspot in Texas, Austin is one of the state's most vivacious cities, and certainly one worth considering for your winter vacation.
About
In addition to being the state's capital, Austin's size rivals two of Texas' other biggest cities: Houston and Dallas. One interesting fact about Austin is that it also contains seventeen moonlight towers, and it's currently the only city in the world that still operates them.
Moonlight towers, which used during the 18th and 19th-centuries to illuminate cities, aren't used any more, but Austin does still have some.
Things to Do
Besides finding the city's operable moonlight towers, there are plenty of other things to do while you're in Austin. A trip that may be interesting for the whole family, the Museum of the Weird is one Austin's most unique attractions and includes plenty of weird antiques and other odd trinkets.
You can also spend the day at the zoo or head to one of Bull Creek's bike and hiking trails if you're interested in getting some exercise. 
Like what you see? Our list of the best things to do in Austin, Texas with kids should be a useful read when planning your trip.
Average Budget
For a family of four, you'll probably need to budget at least $100 and $500 per day, depending on where you decide to eat and if you'll need to pay admissions to museums. Since many of Austin's hotels can run anywhere from $150 to $300 per night, you can definitely end up dishing out a lot of cash.
Looking for the best hotels in Austin for families? Our handy guide will provide you with a list of the best places to stay during your family vacation.
For something that might be a little more budgetable, you may be able to find some spacious AirBnBs within Austin that don't cost quite as much per night.
Charlotte, North Carolina
Nestled just above the border between North and South Carolina, Charlotte is one of North Carolina's bigger cities, and there are no shortage of things to do if you consider this destination for your winter getaway.
About
Many people consider Charlotte to be one of the biggest (and most accessible) cities between Dallas and DC, and there's definitely a lot of truth to this. For sports fans, it's also home to the NFL's Carolina Panthers, the NBA's Charlotte Hornets, and even the NASCAR Hall of Fame.
And if you're interested in getting out on the water, Charlotte is only about twenty miles from the nearest body of water, Lake Norman.
Things to Do
As already mentioned above, one of the top attractions in Charlotte has to be the NASCAR Hall of Fame, which includes a large portion of the sport's history.
Even if you're not much of a sports or NASCAR fan, there's plenty to do in the city – the McDowell Nature Center and Preserve is a great pitstop for anyone who wants to reconvene with nature, although the weather may be a little chilly while you're there.
Some other highlights include the Bechtler Museum of Modern Art, the UNC Charlotte Botanical Gardens, and SouthPark, which is one of Charlotte's major shopping centers.
Average Budget
For a week-long trip to Charlotte, North Carolina, a family of four can expect to budget around $3,000, with some wiggle room based on where you stay and how much you budget for food. If you're interested in saving a little money on lodging, you may find cheaper hotels or AirBnBs right outside of the city versus directly in it.
As far as food goes, Charlotte is a diverse city, so you should be able to find everything from cheap, quick-eats to expensive, sit-down restaurants with almost any cuisine you desire.
Miami, Florida
There's no better place to soak up the sun than Miami in Florida, and if you schedule your trip in the wintertime, you'll likely see a lot more affordable rates than in the summer.
About
Known for its warm climate and white-sand beaches, Miami isn't just a coastal city where you can spend some time at the beach.
Along with its convenient location to the ocean, it also has the world's largest collection of art deco architecture and is surrounded by two national parks: Everglades National Park and Biscayne National Park.
Things to Do
Not only is it home to the famous South Beach, but Miami is also a cultural hub for art, architecture, and diverse restaurants. For art lovers, you can spend the day at the Perez Art Museum or The Bass, another impressive art museum in Miami.
While the weather may be a little too cool for swimming or a beach day, you can still interact with sea creatures at the Miami Seaquarium, which is also a great attraction for families. As for shopping and dinnertime, the Bayside Marketplace offers a wide selection of restaurants and plenty of little shops for window shopping.
Average Budget
For a week-long trip to Miami that'll cover the expenses of a family of four, you could be looking at close to $5,000 or a little more, including airfare. Since it's a coastal city, you may see a discounted rate for many of Miami's hotels and vacation homes since the wintertime is the off-season.
Keep in mind that many of the museums listed above do tend to include admission rates, so you'll need to factor in any ticket or admission prices for attractions like The Bass or the Miami Seaquarium.
Camden, Maine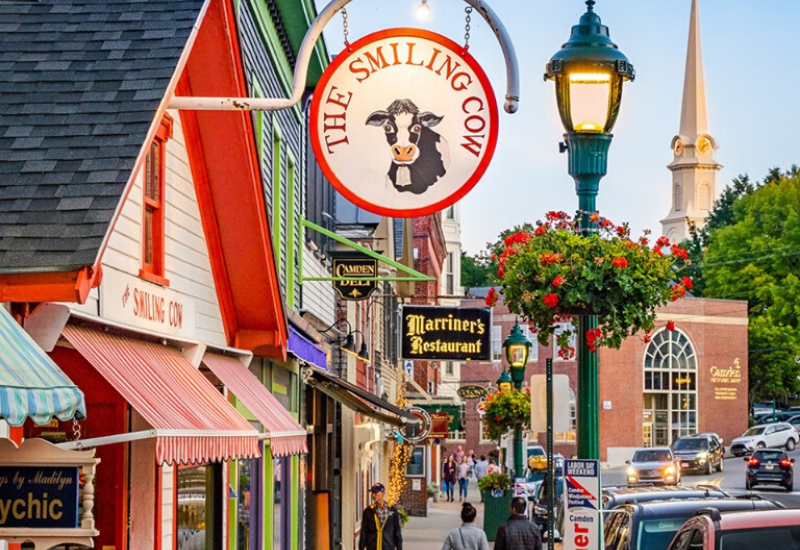 You may want to make sure you bring your winter coat for this vacation, but if you don't mind the cold, then Camden, Maine can be an ideal destination for winter getaways.
About
Also called the "Jewel of the Maine Coast," Camden, Maine is a cozy coastal town equipped with a beautiful harbor that tends to be busy during the summer months. You'll definitely avoid some of the traffic if you vacation here during the winter.
The slogan of this town is "Where the Mountains Meet the Sea," and since it's located at the foot of the Camden Hills and Mount Battie, the phrase rings true.
Things to Do
While it may seem like a quaint town, there's still plenty to do in Camden, starting with Camden Hills State Park and Mount Battie. If you don't mind braving the Maine winter, there's various opportunities for hiking through the state park or climbing Mount Battie.
Camden also has its own opera house, although you may need to check for the availability of shows before you book. If you're interested in getting out on the water, you can take one of the Camden Harbor Cruises or sign up for Sail Camden.
Average Budget
Camden tends to be one of the more affordable trips on our list, with a week-long trip for a family of four costing around $1,500 to $2,000 – with plenty of room to shave off some of those costs.
While you may not have as many options for dining as you would in a big city, Camden's hotels tend to be a little more affordable, and many of the nature-related attractions cost very little to nothing for you and your family to explore.
Corpus Christi, Texas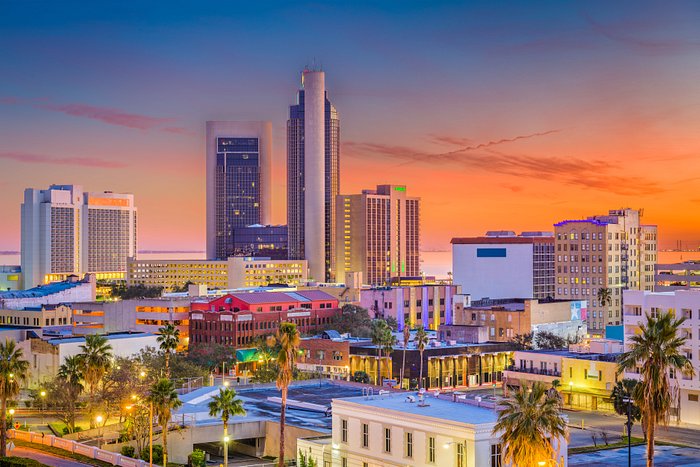 Last but certainly not least, Corpus Christi is another affordable winter vacation to take in Texas, especially if you're trying to soak up a little more sun.
About
Tucked into the Gulf of Mexico, Corpus Christi is a coastal town that's known for its high wind speeds. While that may not always be a benefit, it also means that the city has earned a reputation as being an excellent place to windsurf, kitesurf, sail, or fly a kite.
In fact, Corpus Christi has even previously hosted the windsurfing championships and is a growing hub for wind energy.
Things to Do
Along with trampoline parks and outdoor parks for kite flying, some of the biggest hotspots in Corpus Christi include:
The Selena Museum
Aurora Arts Theater
Hurricane Alley Waterpark
And, after a long day of windsurfing or hanging out at the Selena Museum, there's a diverse selection of restaurants and quick eateries to choose from.
Average Budget
For a three to four-night vacation for a family of four, the average budget is around $1,500. Staying in the heart of Corpus Christi can mean some hotels can cost as much as $450 per night, but if you don't mind getting an AirBnB instead, you can significantly reduce that cost.
More about our TFVG Author
A seasoned traveller, Dad, and avid sports tourist, James foundered The Family Vacation Guide to share his expert vacation experiences- especially when it comes to being a travelling family man.
Featured in Travel articles such as Travel + Leisure, TripSavvy and SFGate, you know you're reading some of the best vacation tips online.