Who doesn't love R2-D2? Or that funny little BB-8?
Have you ever wanted a comical droid of your own to accompany you on your adventures in a galaxy far, far away?
You can make that dream a reality with the Droid Depot, a truly memorable experience that allows you to bring a forever friend back home!
One of the unique features of Star Wars Galaxy Edge is the opportunity for Jedis of any age to build a droid at the Droid Depot, located on the planet Batuu. This unique souvenir will be something die-hard Star Wars fans will talk about for ages!
Read on to discover the magic involved when you visit Star Wars Galaxy's Edge Droid Depot in Walt Disney World at Hollywood Studios or Galaxy's Edge in Disneyland.
Reservations, Guests, and Builders at Droid Depot
The magic starts when you purchase your entrance tickets to Disney's Hollywood Studios or Disneyland, where the awesome Droid Depot resides. Upon purchasing tickets to the park, decide and make a reservation time to start creating that little droid.
Reservations for Droid Depot can be made 60 days in advance, so if booking a trip earlier than that, marking your calendar to remind yourself to schedule a reservation will ensure that you don't miss out.
The Droid Depot attraction is very popular with limited space, so making a reservation ahead of time will make an entrance as smooth as possible without having to wait.
Reservations are made online at the Star Wars Galaxy's Edge page or with the 'My Disney Experience App.' Each reservation will require a viable credit card and can be canceled at any time. Payment will not be applied until the time of reservation at the Droid Depot.
Note that when making your reservation include every builder. The experience allows one builder and one guest at a time, but the guest accompanying cannot also build a droid. It's important to incorporate everyone who wants to build a droid so everyone gets to.
So, for example, if a family of four wants to each make a droid, the reservation should list four builders. If they have extra friends who want to come but not build, they can join as guests because the reservation will make room for four additional guests.
However, if the family of four only mentions two builders, only two family members may make a droid. The other two members can accompany, but only as guests. Note that guests seven years and younger must be accompanied by someone 14 years or older.
Since additional guests aren't allowed past a certain point of the experience, to leave room for all builders, they can still peruse the merchandise section of the Droid Depot.
The builders of the Star Wars Galaxy's Edge attraction spent a fair time on detail, so there will be many fun things to study, find, and admire even if you aren't building.
Everyone in your party, guests, and builders, must be present 15 minutes early to check-in. Late arrivals will not be accepted and will still result in a building fee charge.
At arrival, the guest who made the reservation must present the credit card they used when placing the reservation, photo ID, and reservation confirmation.
What if I Need to Cancel My Reservation at Droid Depot? What if I'm Running Late?
If you can no longer take part in the droid-building experience, your reservations can be canceled online or with the My Disney Experience App.
Please note that failure to cancel a reservation 24 hours in advance, or missing the reservation time via no-show, will result in a credit card charge for the reservation.
It's important to be on time as well! Failure to be late will count as a no-show and results in being charged the builder fee. The builder fee is $99.99 for each droid.
When Is Droid Depot Open and How Do I Find it?
Open from 8:30 am until 9:00 pm, a visit to the Droid Depot can start, end, or happen at any time throughout your visit to that galaxy far, far away. Venture to the Black Spire Outposts Industrial Depot, and find the Droid Depot next to Savi's Light saber Workshop.
Since Galaxy's Edge is created to be as immersive as possible, you'll notice that the only signs present are in Aurebesh, the written language in the Star Wars universe.
While you might get lost in the creativity of the builders, you may be stressed to make your reservation on time if you find yourself running a little late in the Batuu landscape.
Never fear; you'll still be able to converse with cast members, and the courtyard full of droids in front will help you know you're in the right place.
I Just Discovered the Droid Depot While I Was Visiting. Can I Still Get a Reservation?
If the Droid Depot becomes a wonderful surprise during your day at Star Wars Galaxy Edge, same-day reservations may be available but not always.
Check availability with the My Disney Experience App; as long as the reservation is made two hours in advance, you should be good to go! Sometimes walk-ins are available, but it might require waiting in line, which takes away time spent elsewhere in the park.
The most popular time for making a droid, according to a cast member, is between noon and 3 pm. Arriving at the Droid Depot early in the morning or making it the last stop towards the end of the night are excellent times to try for walk-ins.
Choosing Your Droid
Once a Jedi or padawan builder arrives at their reservation, they have different options depending on which Droid Depot they're visiting.
The Droid Depot at Walt Disney World lets padawan builders choose from the BB-series or R-series droids. The Droid Depot at Disneyland lets padawan builders choose from the BB-series, the R-series, and a third option, the C-series droid.
Each droid requires about four main parts and has visual instructions to show what these pieces can look like (the domes for R-units come in 5 different options) and how to assemble them.
BB units require a dome piece, connection plate, body sphere, and motivator
R-unit droids require a dom piece, body, center leg, and set of side legs
C-unit droids need a dome, body, center leg or wheel, and a set of C-side legs
If the builder chooses to add an extender to their C-unit, they will need a side of R legs. Cast members will be available to guide you.
All versions cost the same price at $99.99 and have the same capabilities, so it boils down to what the builder wants their droid to be; don't fret if you've made an online reservation, builders don't have to decide on their droid until they're at the desk.
Guests should note that for extra accessories, the R-series tends to have more options available. If your young padawan builder is excited about jetpacks or a service table, let them know they'd be better off creating an R-series droid. It's the ideal format for many kids.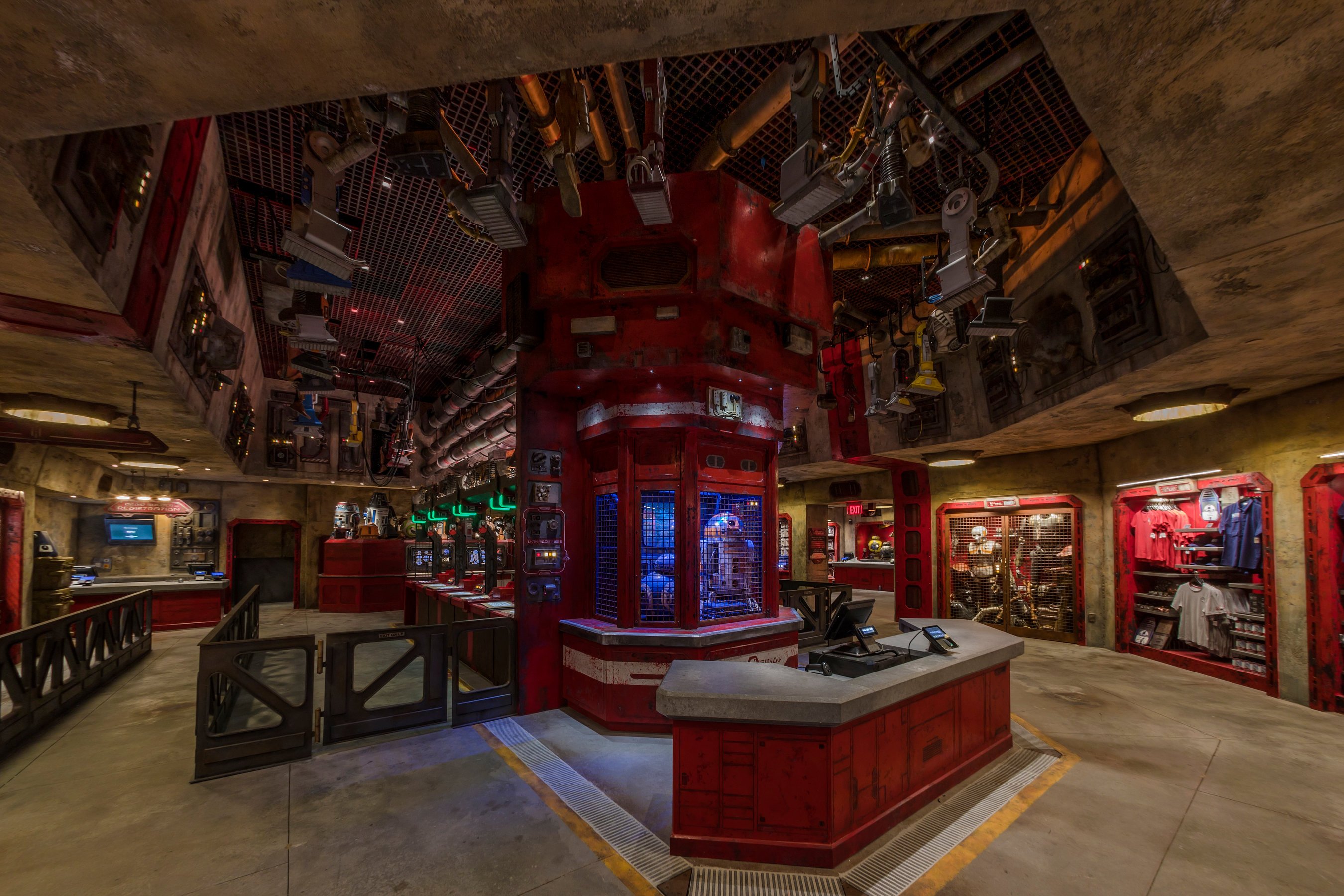 Picking Your Parts
A clerk at the front will register the new droid and provide instructions for droid construction. Then the padawan builder can pick the pieces they want off of a slow-moving conveyor belt at the parts station.
Picking parts for the droid can be one of the most satisfying moments of visiting Droid Depot! With a broad variety of colors, stemming from familiar reds, blues, and oranges into purples, transparent pieces, black, green, and more, visitors can truly make this droid their own.
And because Galaxy's Edge is completely immersive, there is some inspiration for builders up on the ceiling. A shelf of droids of all kinds, parts, and colors sits up there as decoration to make the Droid Depot as full as a droid shop would be in the Star Wars movies.
So when in doubt, guests can always study the view! They just might see something to copy for their droid. The process is always about being creative so guests and padawan builders are encouraged to take their time and to look at the environment around them.
Outside of the various colors, the different parts allow visitors to create something unique, unseen in Star Wars movies or TV shows. The R-unit series, for instance, has five available dome options, which can be fun to explore especially in all those colors.
Since there are no refunds on the droids, as the Bantu people say the droid and person bond for life, guests are encouraged not to rush while picking pieces. Taking their time to create their unique piece is what the experience is all about. You won't have fun if you're rushed!
The conveyor belt moves pretty slowly, but if someone misses a piece, they are encouraged to wait for another similar piece to come around. And if someone gets lost or confused, cast members are around to help out.
After a padawan builder has gathered the necessary parts, they'll move to the building station to start constructing their new friend.
Building Your Droid
The building of your droid is relatively easy; each reservation is about 30 minutes, so most of the time, there should be no trouble for a padawan builder of any age 3+ to put together their companion droid. Cast members will continue to be available for assistance.
Instruction blueprints for each style of droid are provided in the basket for gathering your droid's parts, so guests will have a step-by-step map for how to put their new friends together. There is also a placemat with the instructions in the building section.
That isn't to say you need to rush the building process; it just takes an average of 20 minutes, and it's okay to go longer than that time to make the droid just exactly how a builder wants it.
Visitors are encouraged to enjoy their time in the creative process. Cast members will be around to answer questions or offer advice if needed.
Customizing Your Droid With Extra Accessories
Jedis can continue to customize their new droid with additional accessories available for purchase.
Personality chips are another great add-on and continue to further the Star Wars experience. Guests can pick from the three affiliations: First Order, Resistance, and Scoundrel. Every chip is available in two colors so you can match it to your droid.
These personality chips will change your droid's personality and the sounds that it makes. Personality chips are easy to insert and switch out at any time.
Best of all, if you ever want to change things up or decide not to buy a chip and regret it later, personality chips are available for purchase on Amazon. Other features might be available as well on the Disney store website.
It's important to note that the R-series units will have more accessories; while both droids can be customized with personality chips, the R-series alone has compatible jet packs, colorful decals coming in red, teal blue, lime green, yellow, orange, and black.
A serving tray, similar to R2D2's from "Return of the Jedi" and other options is available.
Other kits, such as model kits, premade droids, and upcycled droids from scrapped parts are also available to enhance the experience.
Activating Your Droid
After assembly is finished, remote controls are given and the droids are activated when a cast member comes and installs the final chip! This is perhaps the most exciting moment of the visit because the padawan builder and their droid meet for the first time.
Your droid will chirp, move its head, and just overall replicate those familiar movements and noises from the Star Wars universe. While the standard noises will be exciting all on their own, adding a personality chip will result in deeper, lower, or higher sounds.
While the remote control capability makes the droid come to life, these new droids must be carried during their time in the park. Carry boxes are included with droid purchases, and backpacks can be an additional purchase.
Testing Your Droid
After you've first activated your droid, there's a mat inside the shop where you can test your droid! With the remote control, you can move him around freely, as long as he stays on the mat.
As soon as you exit, however, you'll need to carry your droid in his box or a backpack.
Even though park rules prohibit guests from letting their droids walk on their own, guests will still notice the Bluetooth capabilities shine through, which enhances the experience.
The Bluetooth will allow your droid to interact with other droids and other various sites around the park, so you'll see his head move as well as hear his familiar, excited bleeps. This is where the personality chips come in!
If you've created a droid that serves the First Order, it'll express friendliness in the face of other First Order droids. But when it comes into contact with Resistance droid companions, it'll alert you that you're crossing paths with an enemy.
Personality chips apply to location too; a droid that serves the First Order will become skittish in Resistance territory, and a droid that fights for the Resistance will likewise become uncomfortable or uneasy in First Order territory, or when crossing paths of Stormtroopers.
And, even after you've left Galaxy's Edge, there are other things around throughout the park that the Bluetooth is designed to interact with. It'll be a fun adventure to see the connections and capabilities your little droid will have.
What if I Don't Want to Carry My Droid?
Unfortunately, the package pick-up service that would usually send droids to a guest's resort or hotel is currently unavailable.
If you don't want to carry your droid, your best bet is to schedule your visit for later in the evening, to make it the last thing you do at Disney's Hollywood Studios. Or if you're planning to park hop during the day, stop at your hotel, or resort to dropping it off between parks.
If you're not walking around for too long, carrying your droid around the Batuu landscape makes for an enjoyable experience, as you see him interact with his surroundings. You'll also receive a box upon exiting the Droid Depot to hold your new friend.
Interactive Bluetooth features surpass the Star Wars Galaxy's Edge section of the park, so your droid will continue to chirp away even as you walk back to your resort!
And if you've chosen to add a personality chip, you'll be able to hear the personality as you take your droid through the Resistance area, or if you hear him get nervous around the First Order if he's Resistance affiliated.
Best of all, you'll feel like a pilot; the way his head will peek out of your backpack or bag will remind you of BB-8 in Poe Dameron's cockpit.
How Will My Droid Act at Home?
Even though you'll leave Batuu behind, you can still keep the Bluetooth magic once you bring your droid back to your home planet. By downloading the Free Droid Depot mobile app, you can unlock plenty of possibilities.
Some of these features include playing tic-tac-toe with your droid. You can choreograph a dance for your droid, and also name him. The app also lets you create virtual droids so you can keep having fun building your own idealized buddies.
The remote control is also a great way to enjoy yourself, as you can invite your droid to explore new territory as you introduce him to his new home planet.
How Big Will My Droid Companion Be?
Guests might be intimidated when they learn they have to carry their droid, but there's nothing to fear!
While our hero R2D2 is a fairly large droid unit in the Star Wars universe, and BB-8 certainly looks heavier than you'd think, these custom R-droids and BB-droids are only about a foot tall, making for easy transport.
BB-units are about a foot tall and 8 inches wide, and both droids weigh approximately 3.5 pounds. You'll hardly notice the weight as they sit in their bag or if you choose to purchase a backpack to carry.
What if My Droid Breaks or My Droid Gets Lost?
Accidents can happen. While droids on their own are fine, they might suffer damage if thrown or dropped, or sent down the stairs with their remote control.
If something happens where a droid breaks at home and no one can remember how to piece it back together, building instructions are available for download. Visit the Walt Disney Website on the Droid Depot page where you made the reservation to access.
Droids from the Droid Depot all run on batteries as well. B-units, R-units, and C-units all require 2AAA batteries and 6AA batteries. Droids will come with batteries upon purchase.
If the droid completely breaks or is lost, there is no warranty or replacement. The only option is to purchase a new droid, so an adult should take charge of the droids. This way any younger padawans won't be left behind.
Final Thoughts
Visiting the Droid Depot is a worthy stop for all Star Wars fans! This experience will make for fantastic fun, awesome memories, and a killer personalized keepsake droid that gets to come home with you.
Younger children and older individuals, all the same, will relish in the careful execution of details and scenery to truly make the Star Wars universe come alive, not just in the Droid Depot but throughout all of Galaxy's Edge.
A stop at Droid Depot is just another step to immerse into that galaxy, far, far away. You'll feel like a real Jedi and walk away with a life companion; nothing can be better than that!
While reservations are recommended, guests still may have the chance to walk in to make that forever friend of theirs; they might just spend more time waiting than doing other things in the park.
More about our TFVG Author
A seasoned traveller, Dad, and avid sports tourist, James foundered The Family Vacation Guide to share his expert vacation experiences- especially when it comes to being a travelling family man.
Featured in Travel articles such as Travel + Leisure, TripSavvy and SFGate, you know you're reading some of the best vacation tips online.