Thanks to its plethora of activities and winter sports, Seattle, Washington, makes for a great winter destination. And being so far north, with so much rain, many people assume it gets a lot of snow every year, which isn't necessarily true.
People's definitions of "a lot of snow" vary with their origins and experiences, but Seattle only gets around five inches of snow. Compared to places like Montana, Wisconsin, and Maine, this falls far below the expected snow.
However, what Seattle does get a lot of during the winter is rain. With an average of 38 inches of rain per year, and 65% of it falling during the winter, there aren't too many clear days. When Seattle does get snow, it's an event that all residents celebrate.
Seattle's Climate: When and How It Snows
Seattle mostly gets rain. Lots and lots of rain. Half of the days of the year are rainy. Snow is a rare occurrence that occasionally happens during the winter and usually melts right away.
This is due to Seattle's climate. Snow happens when warm moist air hits cold air, freezes, and the snow falls out of the sky after condensing. The warm air from the Pacific doesn't clash with the cold northern air of the north.
While this leads to rain, snow doesn't often happen under these circumstances.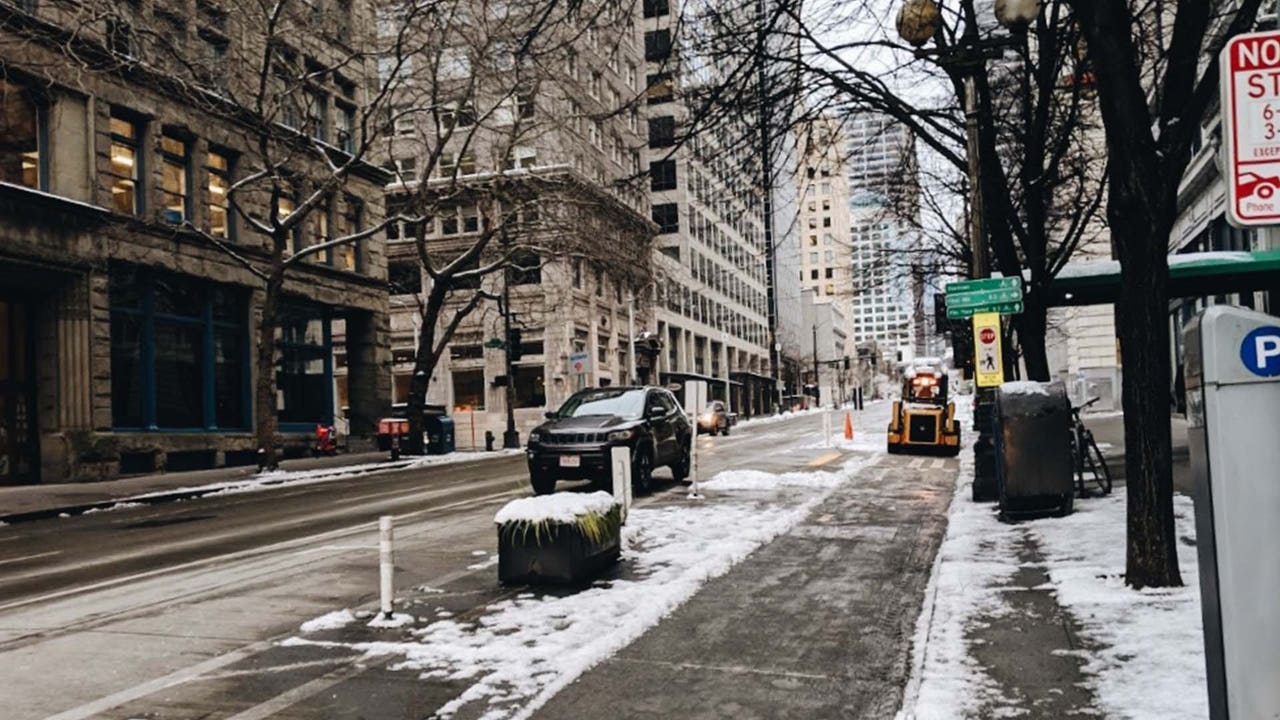 When Seattle Gets Snow
Seattle gets snow in the winter months, but the most typical snowfalls are between January and March. With snow only falling about five days out of the year and barely getting an inch thick, snow days are rare.
However, once every five years, Seattle gets a severe winter with one or multiple blizzards shutting the city down with more than a foot of snow. These are rare, but they do happen, so if you want to visit Seattle, check the last time they had a heavy winter.
How Snow Happens in Seattle
When cold air from the Pacific Ocean's core pushes towards the Puget Sound region (where Seattle is located), it can linger, and the moisture in the air falls as snow. However, snowfall is typically not significant because cold air holds less water than warm air.
Larger blizzards occur similarly around the globe. Warm air fights cold air, and the moisture from the warm air turns to snow and falls. Although its blizzards are rare from its unique climate, Seattle is no exception.
Seattle Snow History: The Most Snow Seattle Has Gotten
1880 holds the record for the most snow in Seattle when the city was blanketed with 64 inches of snow during a blizzard. Other unusual snow amounts include 21 inches in 1916 and 1950.
Getting that much snow is a sporadic event for Seattle, but it can be a significant problem given the city's topography. In 1996 and 1997, melting snow caused avalanches in the town, so a more considerable amount of snow can do significant damage.
Seattle and Snow: How the City Deals With Snow
In Midwest and New England cities, snow during the winter is a given, and they're prepared to deal with it, armed with snowplows, salt, and different levels of warnings. Seattle doesn't have that.
Given the slight snowfall in the city, there are few precautions and fewer snowplows. This can make the city dangerous to traverse during snowfall, as the snow can melt and turn to ice during the night, and ice is far more complex than snow.
Snow and Roads: Take Caution
Anyone driving on the road with snow should go well under the speed limit and keep plenty of space between cars. Black ice is a menace, as the road may appear to be in good condition, only to slide you out onto the road when you try to stop at a stop sign.
Have good snow tires on your car, with chains if possible. Seattle's hilly topography makes driving in the ice and snow a nightmare, so take all the needed precautions, like ensuring your car is in good repair and keeping emergency supplies inside your vehicle.
Most of the city shuts down in the snow for these precise reasons, making snowfall a time to enjoy the indoors.
Snow Days: A Cause for Celebration
Since snow is a rare occurrence in Seattle, most residents love it. It's not weird to see people celebrating on the street, catching snow on their tongues, or building miniature snowmen.
Seattle's zeal for snow can make even the most grizzled, snow-exhausted northerner smile and see the white stuff in a new light. Snow is celebrated in Seattle, and the city closes down to enjoy it.
Snow in The Mountains Surrounding Seattle
Seattle is a popular winter sports destination, and while the city may not get much snow, the surrounding mountains are packed with it. There are several ski and snow areas to enjoy: winter trails, ice skating opportunities, snowshoeing trails, and sledding hills.
Winter means the city comes alive with nature and sports, making Seattle one of the best US cities to visit in the winter, especially if you're a fan of winter sports.
However, just stick to the main roads, drive cautiously, and don't drive while snowing. The mountains may be beautiful in the snow, but it can take long to perform a car rescue.
Winter Activities: How To Enjoy Snow In Seattle
Seattle is one of the best places to visit in the winter due to the many outdoors and inside activities. Sledding, skiing, snowboarding, ice skating, outdoor winter sports, and countless attractions such as landmarks and museums within the city itself.
Popular Sledding Destinations
There are plenty of parks in and around Seattle for sledding, but some popular options for when snow does finally fall.
Hyak Snopark is an easy-to-reach sledding area in Lake Easton State Park. The area has heated restrooms and is occasionally groomed for sledders to enjoy. It's easy to mix it up with the nearby Summit East Ski Hill, but the ski hill is not safe for sledding, so ensure you're at the snowpark.
Snoqualmie is a popular ski resort, but it's also home to a sledding and tubing park for families to enjoy. It's only open on the weekends for two-hour reservations, but the groomed park makes for some fantastic sledding.
Lake Wenatchee is a popular camping destination during the summer. The Lake has a snowpark available for tubing and playing in winter.
Skiing and Snowboarding Areas
There's tons of skiing in the mountains surrounding Seattle, including some famous resorts like Snoqualmie and Crystal Mountain, but there are a tin more ski areas in the surrounding areas and state parks.
The Stevens Pass Ski Area is part of the larger Steven's Pass Resort, with numerous trails and hills for other sports. It is an excellent spot for all winter sports enthusiasts and a great place to enjoy the outdoors.
The Mt. Baker Ski Area is also part of a resort, close to the border with Canada. While it's a bit of a drive from the city, the views and nature are worth it, and you can make a quick trip to Canada to make the journey worth it.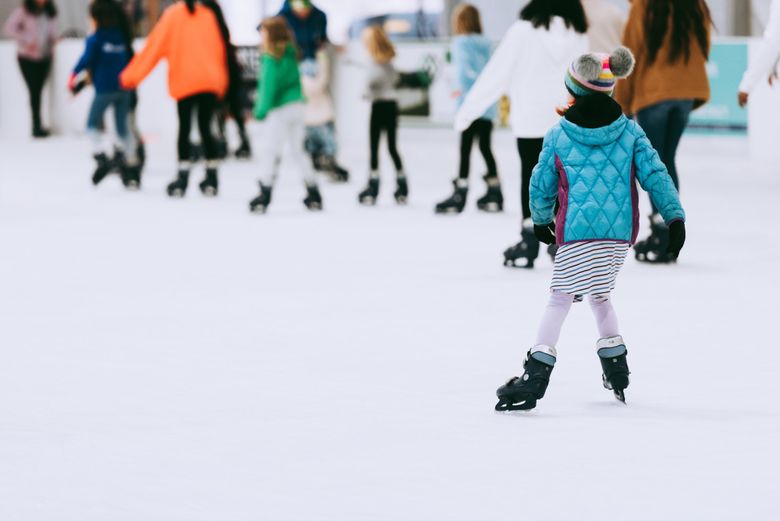 Winter Activities in the City
Seattle itself has a lot to offer in the winter, and anyone visiting should take some time to explore the city. Besides incredible museums, Seattle is filled with plenty of indoor attractions for everyone to enjoy.
Ice skating
The nearby city of Bellevue has an outdoor skating rink that offers free lessons every Tuesday and Thursday from after Thanksgiving to the middle of January. It's a wonderful way to get outdoors, a great date destination, or a family weekend trip.
Space Needle
Seattle's most iconic landmark remains open in the winter, offering stunning cityscapes and photographic moments. Winter has fewer crowds since most winter visitors are interested in the area's ski and snowboard opportunities.
City Tour
There are naturally dozens of tours you can take through Seattle to see the city, from the city's history to the breweries and even the iconic Seattle coffee shops. Touring during the winter means fewer crowds, enabling you to see the city in a more authentic light.
Chihuly Garden and Glass
Chihuly was an artist known for breaking boundaries in art, and his museum includes incredible glass sculptures that blend horticulture and glassware in surprising ways. A visit to the Garden is a must when visiting Seattle.
Snow in Seattle: A Magical Time
Snow means celebration in Seattle. Despite all the problems and road issues associated with the weather, Seattleites celebrate the snowflakes that only fall sparsely on the city and enjoy the event to the fullest.
Sure, snow can make the roads and drives treacherous, but since most of Seattle closes anyway, there's not much of a need to go anywhere, and you can play in the snow almost anywhere outdoors.
Such enjoyment can help anyone see the snow in a different light, and joining in on the fun is one of the best ways to enjoy Seattle. So pack your snow gear, drive carefully, and enjoy one of America's most iconic cities in the snow.
More about our TFVG Author
A seasoned traveller, Dad, and avid sports tourist, James foundered The Family Vacation Guide to share his expert vacation experiences- especially when it comes to being a travelling family man.
Featured in Travel articles such as Travel + Leisure, TripSavvy and SFGate, you know you're reading some of the best vacation tips online.