Washington is a beautiful state that offers a lot for a family vacation, including but not limited to mountains, beaches, forests, adventure sports, and great food.
There are plenty of exciting opportunities for hiking, fishing, swimming, camping, wildlife viewing, waterfall hopping, and more in Washington.
But where you still can optimize your vacation even further by providing convenient access to your preferred attractions, on-site activities, exceptional dining, and a comfortable place to rest after an adventurous day.
In this article, we will describe 17 of the best family resorts in Washington State so that you can make the most of your next vacation to "The Evergreen State."
1. Alderbrook Resort & Spa, Union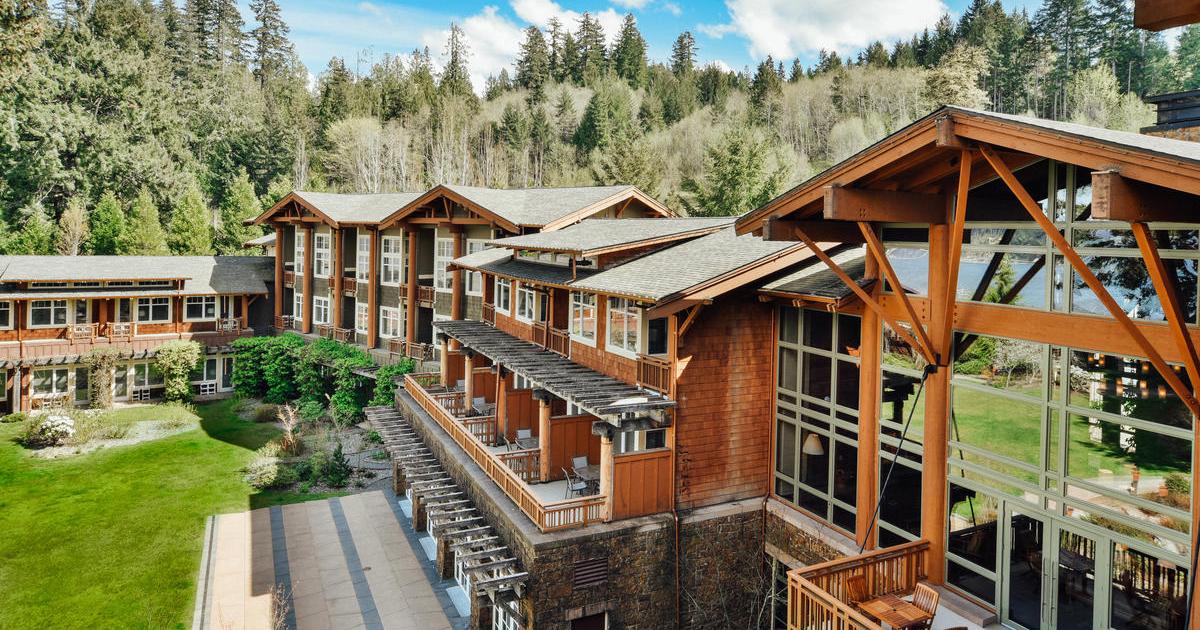 Alderbrook Resort & Spa is a year-round destination resort located on the waterfront of Puget Sound in Union, WA.
The resort provides access to a wide range of activities for all ages, including an award-winning spa, golf course, boating, fishing, and hiking.
There are also plenty of kid-friendly activities on offer, such as a saltwater pool and an arcade.
Alderbrook Resort & Spa is the perfect place to relax and rejuvenate with your family.
2. Paradise Inn, Mount Rainier National Park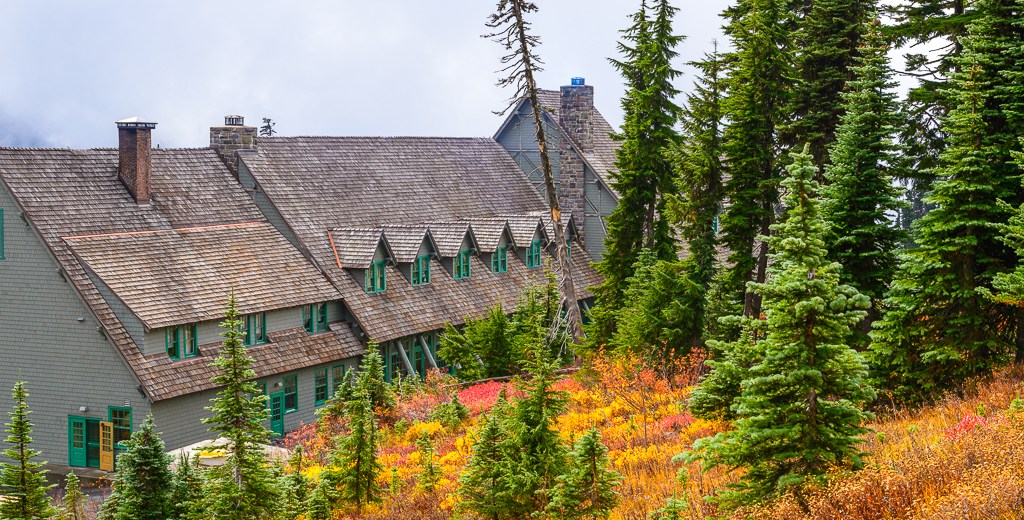 Paradise Inn is a historic mountain lodge located in Mount Rainier National Park.

This resort provides stunning views of Mount Rainier and the surrounding area and easy access to several hiking trails.
In the winter, Paradise Inn is the perfect base for a family ski vacation, with the Paradise Ski Area just a short distance away.
Other perks of staying at Paradise in is access to:
A cozy fireplace area
An informative visitor center
Convenient hiking trails right from the site
A gift shop
A grab-and-go caf
Overall, Paradise Inn is the perfect family getaway for families who wish to hike, dine, and relax within one of the most beautiful parks in the state.
3. Sun Mountain Lodge, Winthrop
Sun Mountain Lodge is a premier destination resort located in the Methow Valley of Washington State.
The lodge provides access to various activities for all ages, including golfing, horseback riding, mountain biking, and hiking.
In the winter, you'll also have easy access to cross-country skiing and snowshoeing, which are fun, exciting, safe, and family-friendly.
The rustic-chic style of the rooms is appealing to both kids and adults. Families also enjoy the outdoor swimming pool and fantastic food.
But perhaps above all else, the exceptional service from the staff makes this resort stand out. The staff is professional, caring, friendly, and highly attentive to guests' needs.
4. Salish Lodge & Spa, Snoqualmie Falls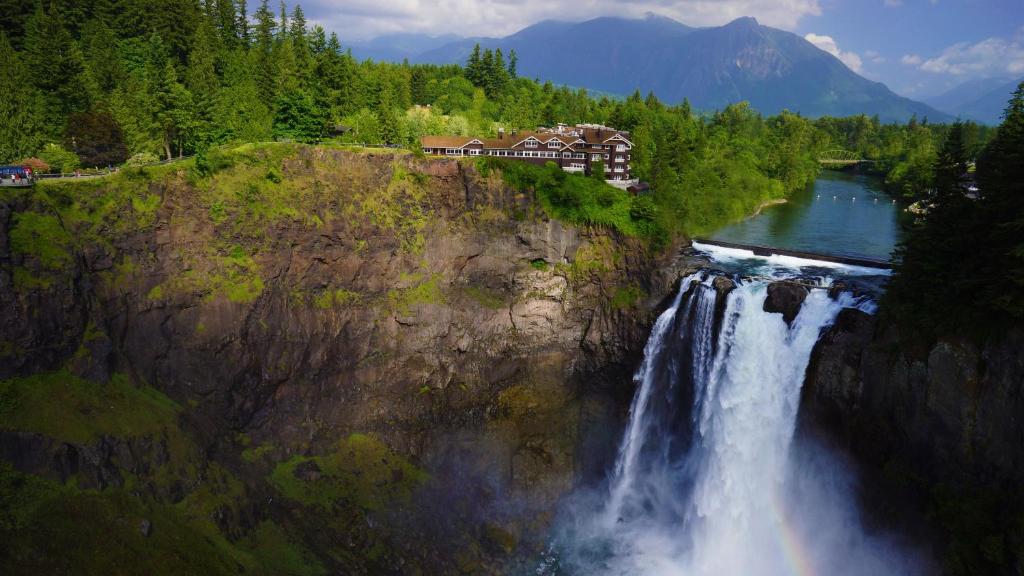 Salish Lodge & Spa is a luxury destination resort located in the Snoqualmie Valley, just one hour from Seattle.
The lodge provides stunning views of Snoqualmie Falls, as well as easy access to a number of outdoor activities such as hiking around Twin Peaks waterfall.
The guest rooms provide a private, spacious, retreat-like feel with luxury features like memory foam mattresses, dual shower heads, and natural views from the windows and balconies.
Families appreciate the cozy fireplaces, relaxing whirlpool tubs, and rejuvenating spa.
Salish Lodge also has an incredible restaurant called the Attic, which serves top-notch meals such as smoked salmon and spicy Italian pizza.
People tend to rave about their cherry pie as well, so it's worth giving it a shot if you decide to stay at Salish Lodge!
5. The Canterbury Inn
If you're searching for a relaxed, friendly, and inviting environment in Washington, look no further than The Canterbury Inn.
The Canterbury Inn is undoubtedly one of the best family resorts in Washington State due to its convenient in-room kitchenettes, well-supplied bathrooms, pool and hot tub area, and lovely ocean views.
It's also an excellent lodging option for families with pets because they have pet-friendly rooms on the third floor.
Families enjoy all the activities The Canterbury Inn offers as well as the surrounding area, such as hiking through the dunes to get to the nearby beach. It's also fun to simply sit in your room and watch the deer and coyotes peruse the grounds.
Ultimately, The Canterbury Inn is an idyllic setting for a family vacation and one you'll be sure to remember long after you leave.
6. Silver Cloud Inn – Mukilteo Waterfront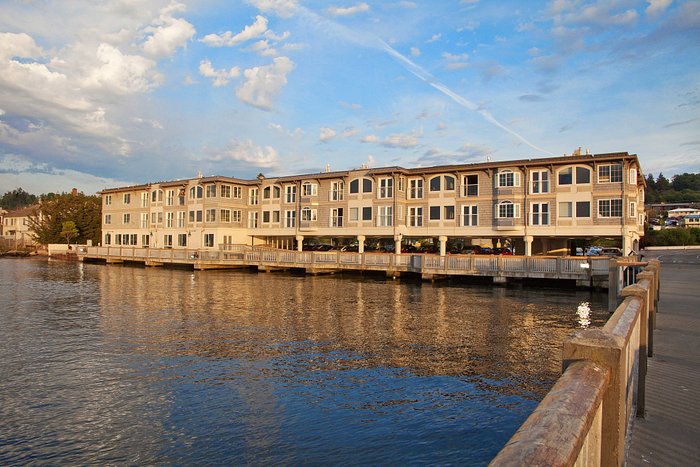 There are a few different Silver Cloud Inns throughout Washington, and all are top-rated for their cleanliness, comfort, and convenience.
The Mukilteo Waterfront location is especially ideal for families due to its incredible views of Puget Sound, the Olympic Mountains, and the nearby islands like Camano Island and Whidbey Island.
It's also within walking distance of a number of restaurants, cafes, and parks. If you want to explore the area even further, the hotel is a short walk away from the ferry, which can take you to the neighboring islands.
If your family would rather stay around the inn and book a suite, you can enjoy the in-room amenities such as fireplaces, jacuzzis, and large windows to spy on the entertaining seals near the dock.
Finally, Silver Cloud offers a decent continental breakfast, which is always a plus in our eyes.
7. The Edgewater Hotel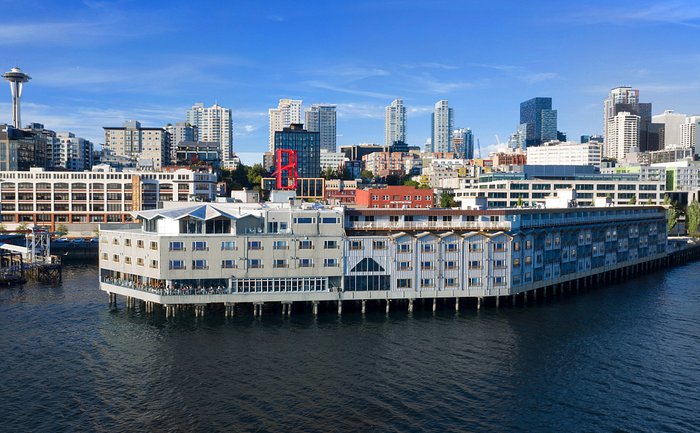 The Edgewater Hotel is a historic landmark in Seattle and has been rated as one of the best hotels in the city.
It's also one of the best family resorts in Washington State, as it offers access to an array of activities and amenities to keep everyone happy and entertained.
For starters, it's Seattle's only over-water hotel, so the window views alone are worth the stay, with views of the Olympic Mountains and Elliot Bay.
You'll also be near Seattle's top attractions like The Space Needle, the Chihuly Garden, and Pike Place Market.
But perhaps the best aspect of The Edgewater Hotel is its musical history. This hotel has hosted many famous musical artists such as Neil Young, the Foo Fighters, Led Zeppelin, and even The Beatles.
Given this musical history, the hotel incorporates rock and roll into its design and even its activity options. There are complimentary guitars and sheet music for guests to create their own hits!
8. Skamania Lodge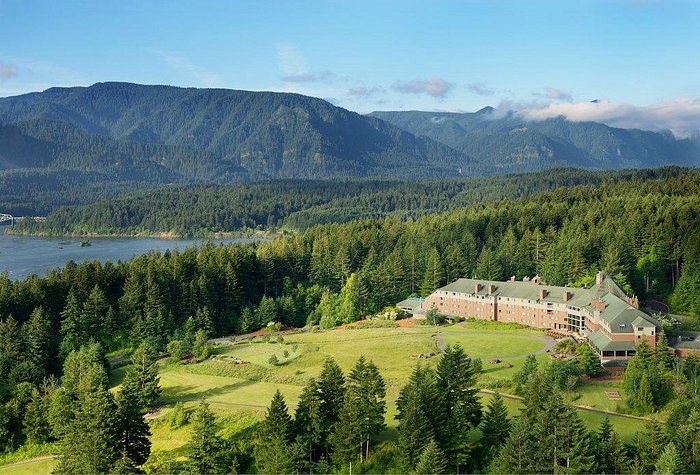 Skamania Lodge is an expansive, woodsy, 175-acre resort featuring a lot of the amenities offered at the best Washington family resorts, such as a golf course, a spa, and exceptional dining.
However, what makes Skamania Lodge standout is its breathtaking views of the Columbia River Gorge, which you can admire from the outdoor pool or hot tub.
On-site, they also have:
An indoor swimming pool
A fitness center
Tennis, basketball, and volleyball courts
Fire pits
Self-guided art tour
and more
If you want to go on hikes throughout your trip, there are many places in the surrounding area to do so. However, you don't have to drive anywhere if you prefer to take a hike on one of the three on-property trails.
Finally, the ADA accessibility measures at Skamania Lodge are also notable.
They have handicap parking spaces, ground-level spa and fitness centers, translation services for the restaurant menus, active listening devices for meetings, and more. If anyone in your family has special needs, this resort will definitely accommodate you.
9. The Grey Gull
The Grey Gull is a cozy beach hotel in Ocean Shores, WA, perfect for families for various reasons.
This hotel provides spacious condos that allow plenty of room for families to spread out and relax. Plus, each condo has a full kitchen, so you can save on eating out costs by cooking some meals.
You'll also have access to a shared BBQ grill if you want to cook up some meats and veggies outside of the kitchen.
The public space includes a fun outdoor pool and an inviting hot tub, while your private space includes a fireplace – perfect for colder nights.
The hotel is also located near Ocean Shores Beach so that you can enjoy horseback riding, kite flying, and other popular activities on this beach.
There's a trail that makes it straightforward to get to the beach, and you may even spot some cute deer along the way!
10. Alta Crystal Resort
Paradise Inn, mentioned earlier in the article, isn't the only family-friendly resort near Mount Rainier National Park.
Alta Crystal Resort is located just northeast of the popular park and provides a nature-oriented escape that will ensure positive memories for your family for years to come.
Going in the spring or summer, you can expect long walks or adventurous hikes on the nearby trails, swim time in the heated outdoor pool, and bonfires with s'mores in the evenings.
In winter, you and your kids can have fun skiing, snowboarding, snowshoeing, or simply relaxing in the hot tub.
Overall, Alta Crystal Resort is a convenient and exciting base camp for all the explorations you want to partake in within and outside the resort. It's perfect for families since there's something for everyone.
11. Inn at Langley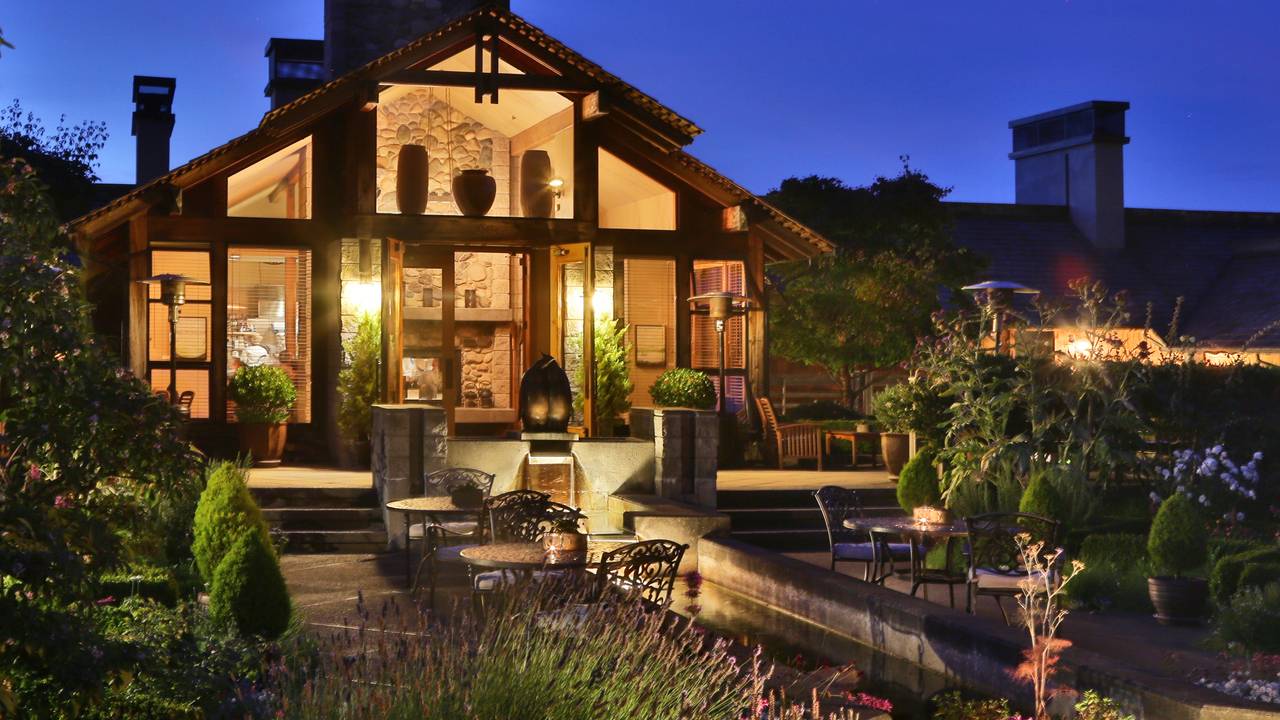 The Inn at Langley is an upscale resort located on Whidbey Island in Puget Sound.
This family-friendly resort is perfect if you want to experience the rural and charming side of Washington State.
The beautiful grounds are ideal for taking walks and enjoying the calming views.That's part of the reason why we recommend the Inn at Langley for older families looking to relax and have a more peaceful vacation.
It's easy to do so here because you can get a massage, get an all-natural body scrub or wrap, experience a body therapy ritual, or even join a wellness retreat.
Families appreciate the Inn because you're not resigned to standard guest rooms. Alternatively, you can request a more spacious suite or even an entire cottage.
Once you're relaxed, rejuvenated, and ready to get back out there, you can explore Langley.
There, you can visit the Langley Whale Center, go on a whale watching tour, go on a kayaking trip, and visit numerous shops and cafes in the area.
12. Fairmont Olympic Hotel
The Fairmont Olympic Hotel is a luxurious and historic hotel located in Seattle, WA.
This hotel has many family-friendly features and amenities, such as a heated indoor pool, a hot tub, a spa, and a spacious fitness center.
Plus, the Fairmont Olympic is pet-friendly, so you can bring your furry family members along for the trip.
This hotel was established in 1924, so the history and astonishing architecture might be the reason you book it. But the friendly staff, excellent downtown location, and innovative dining will be why you love it!
13. Ocean Crest Resort
Ocean Crest Resort is by far the best resort in Moclips, Washington, especially for families.
As its name suggests, families will be able to appreciate stunning views of the Pacific, as well as enjoy homelike amenities that will make them feel comfortable and relaxed.
Plus, it's well-positioned within the state, making it ideal for long-term states. When you want to have a city exploration, you can drive to Seattle, Washington, or Portland, Oregon.
Then, once you and your family are ready for more nature explorations, you can visit nearby parks such as Ocean City State Park, Pacific Beach State Park, and Griffiths-Priday Ocean State Park.
There is also a pool, a spa, and a fitness center. Combine those amenities with easy access to both nature and urban life, and you've got the most well-rounded resort for your family vacation.
14. Suncadia Resort
Suncadia Resort is a 6000-acre resort located in Cle Elum, Washington.
This Hyatt resort is only about an hour and a half away from Seattle, making it the perfect spot for a weekend getaway or a longer vacation for Seattle-based families.
The resort has a variety of activities and amenities that will make your stay enjoyable, such as several restaurants, a spa, pools, golf courses, and more.
There are also plenty of kid-friendly activities, such as organized activities through "CampCadia."
Families will also appreciate the resort's spa services, which give parents some much-needed time to themselves.
15. Robin Hood Village Resort
Robin Hood Village Resort is a cottage-filled woodsy resort in Union, Washington. It's the perfect getaway spot for families wanting to escape the hustle of cities like Seattle, Tacoma, and Olympia.
There are 16 cottages on the Hood Canal, which is on the foothills of the Olympic Mountains. Being this close to nature provides ample opportunities for hiking, kayaking, golfing, diving, biking, golfing, and waterfall viewing.
If your family is filled with seafood lovers, you'll also love the ability to go fishing, crabbing, clamming, and oyster picking through this resort.
The endless number of activities alone should be enough for any outdoorsy family to want to stay, but the cottages themselves are also spectacular. They are charming, quaint, and inviting, and most even include a private hot tub!
Fun fact: This resort is named Robin Hood because it was built in 1934 by the same set designer who worked on Robin Hood. Hollywood asked him to do the movie sets after noticing the design of this beautiful resort.
16. Lakedale Resort
Lakedale is a simple yet charming resort on Friday Harbor, San Juan Island. This 3-star resort is on top of 82-acres of natural beauty, and its wooden architecture fits right in, creating a rustic and homey atmosphere.
The resort is family-friendly, with different styles of glamping accommodations to match different families' preferences.
For example, you can choose to stay in a canvas cabin, a yurt, or a log cabin, each with its own unique amenities and perks.
No matter which type of accommodation you choose, your family can enjoy the stunning views of the islands and Mt. Baker.
There are also many activities on the resort's property, including kayaking, fishing, hiking, and more.
17. Cama Beach State Park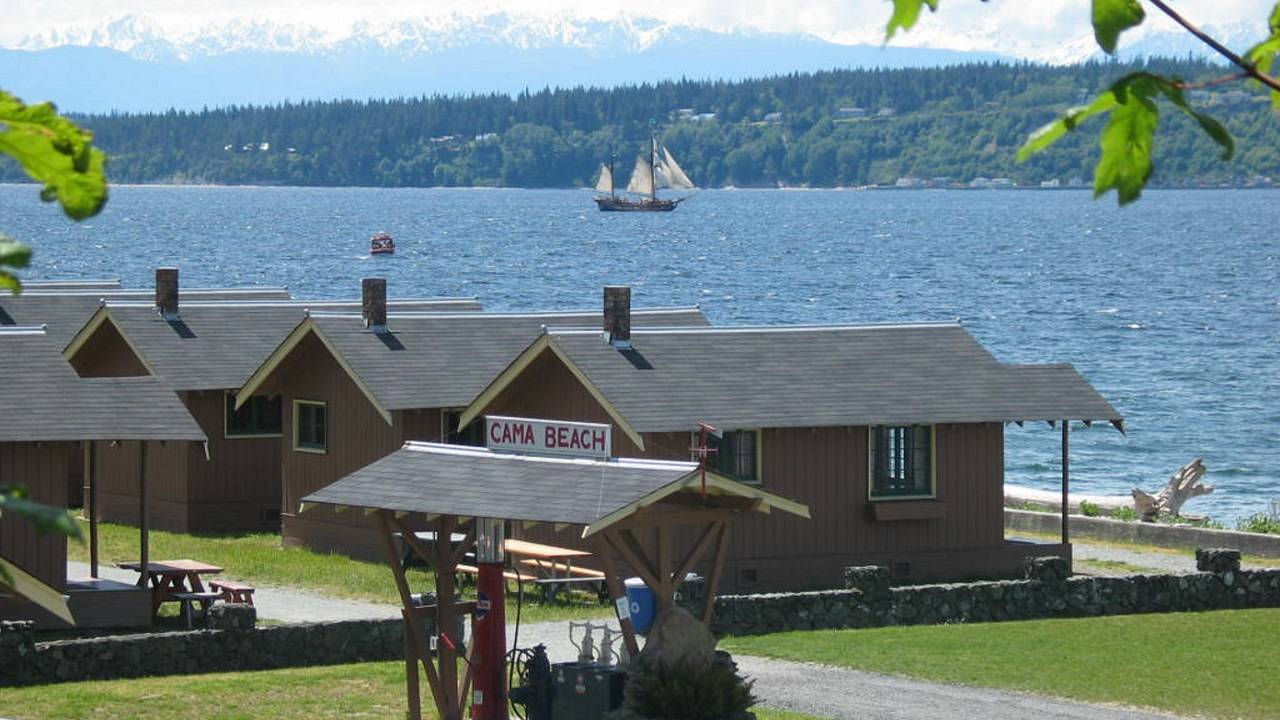 Cama Beach State Park is a unique park and resort on Camano Island in Puget Sound. The resort has a "retro" feel, as it was built in the 1930s by the Civilian Conservation Corps.
Cama Beach is the perfect place to stay if your family loves the water, as there are numerous opportunities for swimming, fishing, crabbing, and clamming.
There are also several miles of hiking and biking trails, as well as a playground, a basketball court, horseshoe pits, and boat rentals.
The wooden cabins are rustic and simplistic, so much so that families have to bring some of their own cookware and utensils. However, they still have microwaves, fridges, and sinks with hot water, so you won't be completely roughing it.
Plus, seals are typically swimming around on the shore, which is fun to watch in between your family's adventures.
Conclusion
There are plenty of family resorts in Washington state to choose from, whether your family is looking for a rustic getaway or a more luxurious vacation.
It would be best if you chose a resort for your family based on your preferences and budget, as well as the activities that your family enjoys.
Some of these resorts offer opportunities for nature exploration, sports, and outdoor activities, while others offer easy access to city life and some of the state's major attractions.
However, all of the best family resorts in Washington State are sure to provide outstanding service, plenty of activity options, and a memorable and enjoyable experience for your whole family.
That said, no matter your preferences, you're sure to find the perfect resort for your family from this list.