Arizona isn't all desert, as there are mountains, forests, and big cities. But it tends to be sunny and hot pretty much anywhere you go.
So, if you're in the state for a visit, you might be looking for a place to cool off in between stops at world-famous attractions like the Grand Canyon National Park. There's no better place to refresh yourself than at one of the 11 best water parks in Arizona.
Arizona is a big state, both geographically and in terms of population. So, it's crucial to think about what kind of water park you want to visit. For instance, if you're going to take a nap under an umbrella while your kids splash in a wave pool, you're probably not looking to visit a massive theme park with hundreds of other families.
Whatever sort of water park you're looking for, you can find it in this guide to the top water parks in Arizona.
Top Water Parks in Arizona
Check out your options for the top spots to enjoy the water in Arizona.
Mesquite Groves Aquatic Center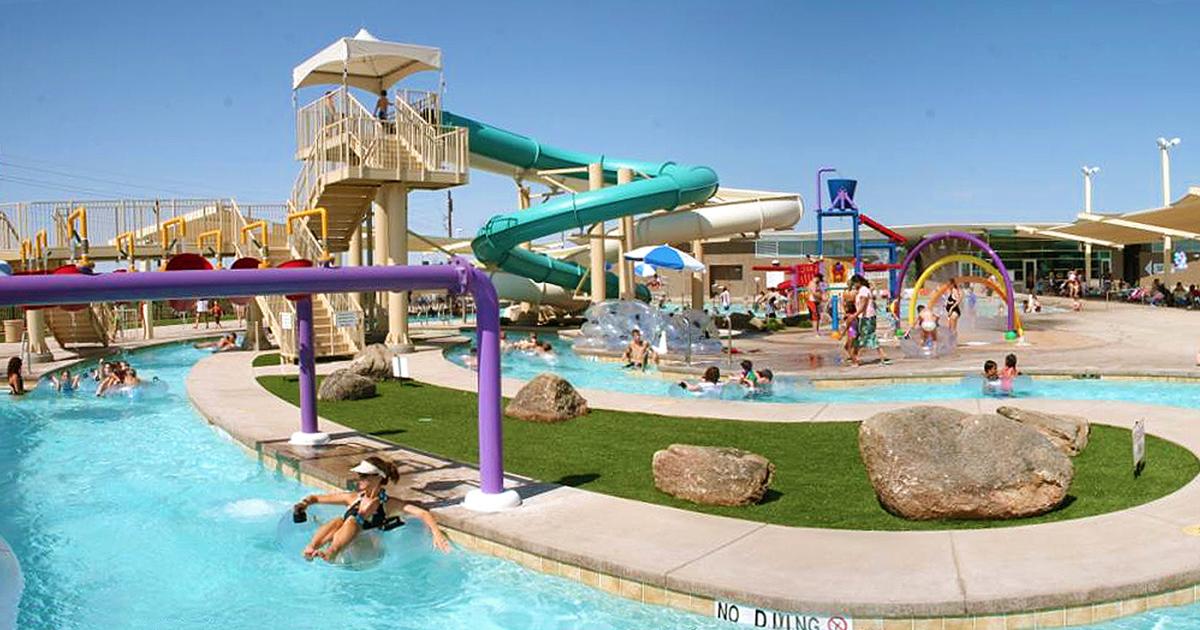 Mesquite Groves Aquatic Center is in Chandler, Arizona, adjacent to a local high school. The amenities include a waterslide, a family play pool with a zero-depth entry for little ones, family dressing rooms, a one-meter high diving board, and a calm, lazy river.
This aquatic center isn't a mega-park, but it's a great place to relax in the water or under an umbrella. If you want to get completely soaked, stand under the 'Big Blue Bucket,' as it dumps more than seven hundred gallons of water over your head. If you're looking to slow things down a bit, this is a great choice.
Golfland Sunsplash, Mesa
Golfland Sunsplash in Mesa features attractions that go beyond the traditional waterpark. You and your family can enjoy miniature golf, laser tag, a large arcade, go-karting, bumper cars, and more. And that's all before you even get to the water.
When it comes to aquatic sports and adventures, Golfland Sunsplash has all kinds of activities. Check out the large activity pool with games for kids, the Ship Wreck, Rock Slides, a toddler pool, an 800-foot lazy river, and an enormous wave pool. Or amp things up with rides like the Sidewinder, Double Dare Storm Rider, and Thunder Falls. There's something fun for everyone at Sunsplash.
Hurricane Harbor Phoenix
Six Flags Hurricane Harbor Phoenix offers families an easy way to cool off under the Arizona sun. With thrill rides for adrenaline junkies, mellow kids rides, and everything in between. Choose from nearly a dozen rides, slides, pools, and adventures in the water. Since Hurricane Harbor is part of the Six Flags franchise, you know you're going to have plenty to do.
It's easy to schedule a trip, but since things get busy during the peak season, make a reservation to ensure you can get in. It's also really easy to find your way around the park, but there are maps available if you need one.
Desert Oasis Aquatic Center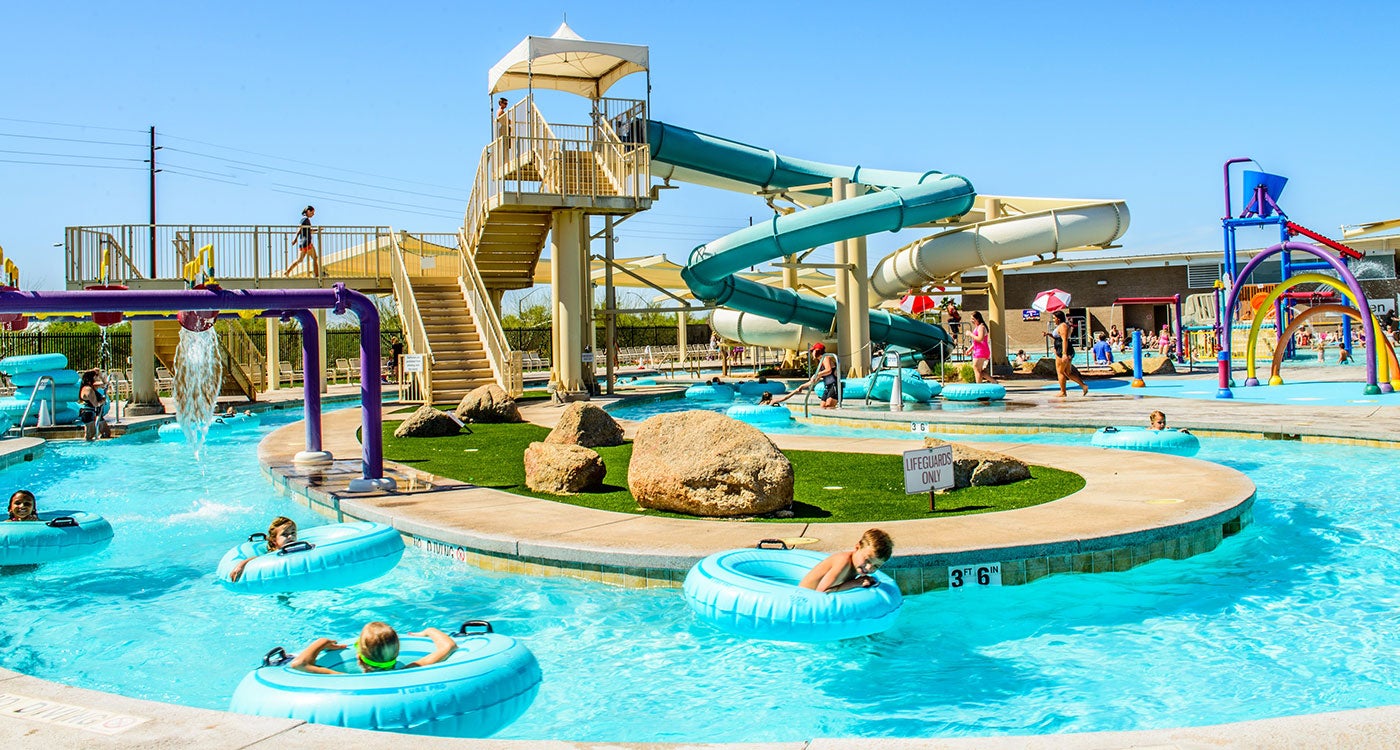 Desert Oasis Aquatic Center in Chandler, Arizona isn't a water park like some of the larger attractions on this list. So you won't see enormous water coasters here. But you also probably won't see huge crowds either. This is a nice stop for finding a different pace than some of the crazier waterparks offer.
The 25-yard long lap pool is a great place to get some exercise. But, the pool area also features a kiddy slide, water table, and deep water drop slide. It's up to you to choose how you want to keep cool in the Arizona sun.
If you're feeling a little bit more adventurous, try the figure-eight waterslide, which is well over 100 feet tall but not an intimidating, stomach-churning water coaster. Or, enjoy a game of volleyball on the sand court, then relax in the shade under an enormous umbrella. It's up to you at this oasis in the desert!
Big Surf Waterpark
Big Surf Waterpark has been open for more than 50 years. It's also a lot more than just a waterpark. It's hosted major concerts with bands and performers like Rod Stewart, the Beach Boys, Elton John, and Pink Floyd have performed on their stage. You can even stay nearby easily, as there are two hotels right down the road.
Check out the Waikiki Beach wave pool, where you can raft and boogie board. Climb to the top of the Black Hole, an enclosed slide that takes tube riders on a twisting, speedy ride through the inky darkness. Let the kids race each other down the Tahitian Twisters, twin racing slides that even fairly little kids can enjoy safely.
And, speaking of little kids, there are other attractions that might be more their pace, like Bora Bora and its climbing toys, the Otter Slides for kids under 48" tall, and Captain Cook's Landing, which is perfect for toddlers to roam.
Surprise Aquatic Center
Surprise Aquatic Center is another smaller facility. But it's not so small that you can't find anything to do. There's an enormous aquamarine pool with a lap area for serious swimmers, a shallow section for casual relaxation, and a diving board for doing some stunts. There's also a pretty tall and quite twisty waterslide that dumps riders right into the deep end.
Or, if you're a bit worn out, relax under a poolside umbrella. This facility isn't just small. It lacks the major attractions and amenities of the mega-parks. But, it's perfect for a change of pace or a quick cool-down, and it's also extremely affordable.
Anthem Aquatics Park
Anthem Aquatics Park is home to the Big Splash Waterpark. It sports two large waterslides and plenty of swimming space, as well as an interactive play structure for little kids to immerse themselves in. It's safe enough for them to play on their own, but if they're not yet able to swim the width of the pool solo, you'll have to stay nearby.
The biggest attraction here might be the enormous red bucket that tips over every four minutes, dumping everyone under it with 200 gallons of water for a huge refreshing splash.
There is also a diving pool and a heated lap pool if you want to get some exercise. If there's a knock on the Anthem Aquatics Park, it's that it's only open to residents and their authorized guests. So unless you know someone who has an active membership, you're out of luck.
Enchanted Island Amusement Park
Enchanted Island Amusement Park doesn't have an admissions fee. Instead, you'll pay only for the rides that you want to go on.
There are single-ride tickets, ticket books for five or ten rides, or you can opt to pay a flat fee for an all-day pass. If you're staying for more than one day, consider the yearly pass. It's likely going to save you money over buying day passes more than once.
Once you're in the park, there are plenty of aquatic amenities and attractions to choose from. There are paddle boats and canoes to ride, a splash zone to cool down, a climbing wall to ascend, bumper boats for playful competition, and even a mini-coaster called the Dragon Wagon.
Enchanted Island Amusement Park is also home to the Encanto Carousel, the oldest continuously-operated carousel in Arizona. If you're feeling worn out, take a tour of the entire park and relax on the C.P. Huntington train, one of the park's most popular leisurely rides and a sure-fire hit for little kids.
Salt River Tubing
Salt River Tubing is also known as Arizona's Floating Beach Blast. It offers a change of pace from some of the larger water parks. If you're looking to relax, visit Salt River Tubing. Here you'll find that the focus is on leisurely floating and chilling out in the water, not thrillseeking slides or action-packed watercoaster adventures.
It's perfect for families with little kids or even just for an afternoon in the sun. One thing to remember if you're visiting Salt River Tubing is that the river has a rocky bottom, and everyone should wear some kind of protective footwear, so they don't scrape their soles when climbing in and out or if they fall off their tube. Tennis shoes are fine, but water shoes would be better.
Another tip: Don't bring any glass bottles to this facility. They have a strict policy against them for everyone's safety.
Great Wolf Lodge
Great Wolf Lodge near Phoenix is home to one of the best indoor water parks in Arizona. If you're near Scottsdale, it's definitely worth checking out. And since the entire park is enclosed in a covered facility, you and your family can get a little bit of a break from the sun. Plus, it's easy to stay right at the Lodge in one of their Standard, Themed, or Premium suites.
Guests staying at the Lodge have free access to the water park. Or, just pick up a day pass for each member of your family. Kids two and under can enter for free, but the whole family gets to enjoy 84° water. The Lodge provides free life jackets for anyone who wants one.
The indoor water park has more than a dozen rides and pools from which to choose. Take a ride on a three-person tube at the Diamondback Drop or climb the Talking Stick Treehouse, a multi-level structure with plenty of opportunities to get splashed. It sits in less than a foot of water, so it's pretty safe for kids of any age.
Wet 'n' Wild Phoenix
Wet 'n' Wild Phoenix is a 35-acre theme park with more than 30 attractions to entertain your group. Chill out by the nearly half-a-million gallon wave pool. Or set your kids loose and take advantage of the junior water park for younger guests.
If you want to ratchet up your adventure, take a ride on the tandem water coaster. There is a range of attractions, pools, and rides to keep everyone entertained and having fun.
Plus, the entire facility sports a roving selection of food and beverage carts, so you don't have to go hunting for provisions. Or, if you're ready for a break from the water, take advantage of the café, pub, or restaurant for something more substantial to eat.
Arizona Water Parks FAQ
Check out some quick answers to common questions about water parks in Arizona.
Can you bring coolers to a water park?
Some water parks allow you to bring in outside food and beverages. Others have rules that forbid you to bring in a cooler. You should check with each particular park for their specific guidelines. One common rule at most all these facilities is that guests can't bring in glass containers due to the risk of breakage. Broken glass and swimmers don't mix.
How much do water parks in Arizona cost?
As you can see from this list of eleven top water parks, the accommodations, attractions, and amenities vary considerably. So, there are some relatively spartan parks that charge only a few dollars for admission.
On the other hand, a day pass to an expansive facility might cost $40 or even $50 per guest. So, if you're thinking about returning for a second visit, look for weekly, monthly, or even annual passes that save you money.
Are the rides and slides safe for kids?
The rides in most water parks have signage that shows how tall a rider must be to access them. For instance, some water slides require the rider to be at least 48" tall. There are often toddler play areas that are a bit more sedate than the more adventurous slides and rides too.
The Best Water Parks in Arizona: Bottom Line
Arizona's water parks are perfect spots to refresh yourself. You can choose from options to best suit your family and your budget. And now that you know eleven of the best water parks and everything they have to offer, all you have to do is book your trip!
Other fantastic water parks to consider for some family fun
If you're hoping to find some more of the best water parks, our round-up below will be the perfect place to start.
More about our TFVG Author
A seasoned traveller, Dad, and avid sports tourist, James foundered The Family Vacation Guide to share his expert vacation experiences- especially when it comes to being a travelling family man.
Featured in Travel articles such as Travel + Leisure, TripSavvy and SFGate, you know you're reading some of the best vacation tips online.