Known for some of the world's most giant Sequoia trees and its stunning and vast mountain landscape, Sequoia National Park is one of the best travel destinations for any family looking for an outdoor adventure.
There's no better way to experience the natural beauty of Sequoia National Park than waking up surrounded by wilderness in one of the park's many family-friendly accommodations.
Whether you're looking for a spacious resort, cozy mountain lodge, or want to sleep under the stars in an outdoor tent, there's a hotel in Sequoia National Park that suits your family's needs.
Here are 9 of the best family hotels in the area that will make your trip exciting and memorable for every family member.
Montecito Sequoia Lodge & Summer Family Camp
If you're looking for a kid-friendly hotel for your trip to Sequoia National Park, Montecito Sequoia Lodge & Summer Family Camp is one of the best options out there. With the lodge's all-inclusive rates, you can enjoy spacious accommodation, delicious dining options, and seasonal activities for the whole family to enjoy.
The lodge's family camp is designed to keep visitors of all ages entertained throughout their stay. Children ages 2-18 can partake in specialized programming and daytime activities that suit their interests, such as:
Arts & crafts
Canoeing
Rock climbing
Nature walks
While kids are busy making friends, you can explore all the lodge has to offer. You can visit a massage therapist, do yoga, soak in the hot tub, or enjoy the scenic park views. Families can meet back up at night for a quality time by a campfire of kid-friendly themed dance parties.
Wuksachi Lodge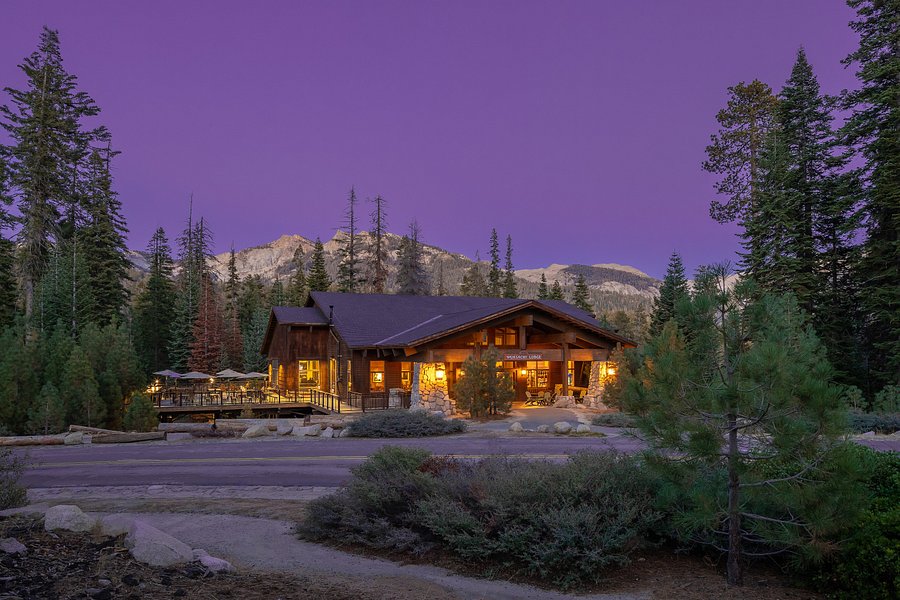 Surrounded by a stunning sequoia forest and Sierra Mountain peaks, Wuksachi Lodge is guaranteed to keep families busy and engaged during their visit.
While the remote location makes this a quiet and relaxing place to stay while exploring the area, it offers plenty of modern amenities and easy access to a wide range of activities. The lodge is surrounded by national park attractions, several hiking trails, and cross-country ski trails.
After a long day of outdoor adventures, Wuksachi Lodge's oversized rock-rimmed fireplace is an excellent spot to relax and warm up with your family. There's also an on-site pizza deck and restaurant, offering plenty of dining options that the whole family will love.
John Muir Lodge
Located in Kings Canyon National Park, John Muir Lodge is a fantastic lodging option for families looking to enjoy the forest and mountain views in a quiet and peaceful environment. With spacious, natural light-filled rooms, this lodge offers a comfortable and cozy place for visitors of any age to stay.
When you stay at John Muir Lodge, you're just a short walk away from General Grant Grove, making it easy for the whole family to explore the national park, hike some family-friendly trails, and get a beautiful view of the Redwood Canyon. There's also a close-by restaurant for even more convenience, as well as a seasonal espresso bar that parents will love.
The lobby offers games, puzzles, and books, which you can enjoy in front of the large stone fireplace after spending the day hiking and adventuring through the park.
At dusk, be sure to stop by one of the public balconies for a stunning sunset view over the Sierra peaks.
Grant Grove Cabins
If you're looking for a more rustic experience during your family getaway, Grant Grove Cabins might be the best accommodation option for you.
Nestled in Grant Grove Village, these quiet and secluded cabins provide a cozy place to stay with a convenient distance to some of the area's most popular attractions. It's within walking distance to the famous General Grant Tree and Grant Grove, so it's easy for families to walk around and explore the scenery during the day.
Along with easy national park access, the history of Grant Grove Cabins makes it one of the most popular lodging options around Sequoia National Park. Built in 1910, one of the Grant Grove Cabins is the oldest standing structure in Grant Grove Village, making this the perfect destination for any history lover.
You can choose from either timber cabin or tent-style rooms, all of which offer a unique and cozy living space. There's also a restaurant, gift shop, and market just across the street from the guest cabins.
Silver City Mountain Resort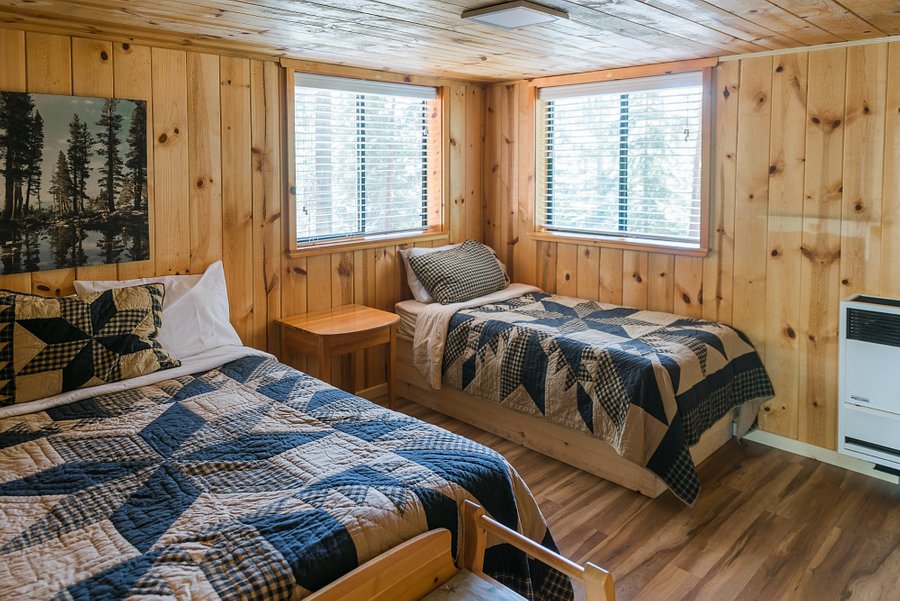 For a secluded, unplugged family getaway full of natural beauty, Silver City Mountain Resort is the place to go. This family-owned retreat boasts a rich history, stunning mountain views, and outdoor activities for every family member to enjoy.
You can hike to mountain peaks and enjoy the view, discover the lakes and waterfalls throughout the area, or take a relaxing stroll as you take in the natural scenery. Silver City Mountain Resort is ideal for avoiding crowded hikes and busy attractions as a more off-the-beaten-track hotel option.
The resort offers a family adventure package, which includes:
Delicious, locally-grown meals
A scavenger hunt throughout Silver City
A family campfire experience
One of the resort's famous fresh-baked pies
Sequoia High Sierra Camp
For a unique and relaxing way to experience the beauty of Sequoia National Park, book your stay at the Sequoia High Sierra Camp.
This rugged wilderness oasis, which is accessed by a short hike, offers a peaceful camping experience with all the modern amenities of a resort. At this camp, you'll stay in a comfortable deluxe cabin overlooking Kings Canyon and entirely surrounded by mountains, trees, and the natural beauty of the national park.
Sequoia High Sierra Camp offers plenty of activities for all ages. You can enjoy:
Hiking trails for any skill level
Bird watching
Meadows full of native wildflowers
Giant sequoia trees
Horseback riding
Additional camp activities
Stargazing
Photography
Fly fishing
Your family and other camp visitors can take in the peaceful outdoor setting at night while sitting around the community campfire.
The camp also includes three meals a day, including a mountain breakfast buffet, a picnic lunch, and a delicious dinner for all the guests.
Stony Creek Lodge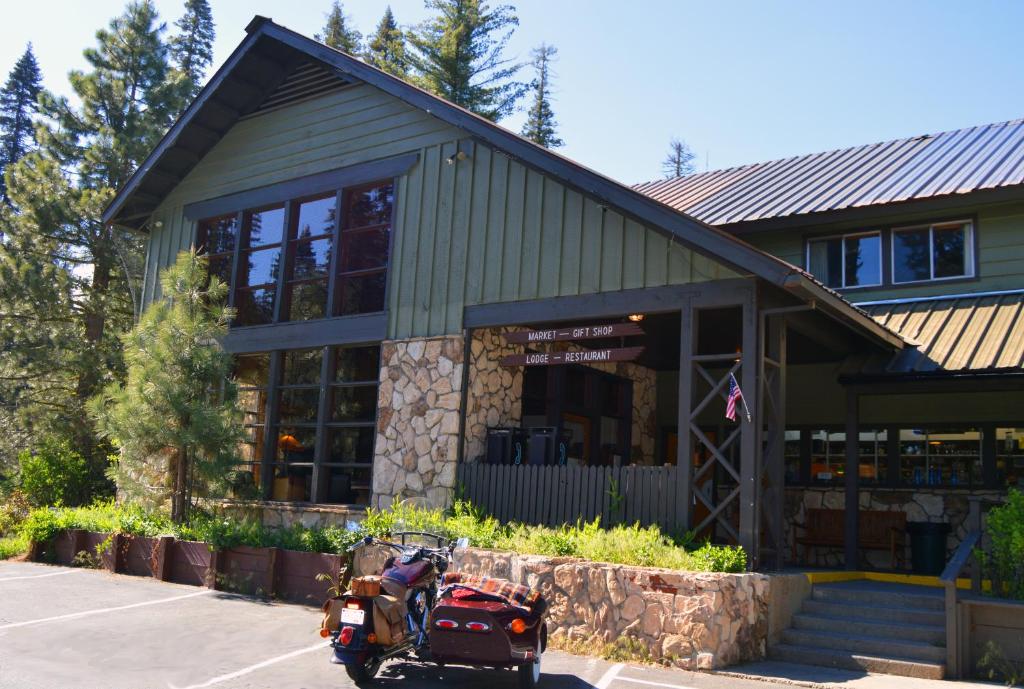 Situated right between Sequoia National Park and Kings Canyon National Park, this small, rustic lodge is an excellent option for families looking to explore all the major attractions at both parks. Its midway location makes visiting the giant forest, Grant Grove, and other national park staples incredibly convenient.
Stony Creek Lodge offers access to countless activities and park programs throughout the year. Visitors can:
Discover numerous hiking trails and caves
Learn about the area on a guided walk
Enjoy horseback riding,
Go swimming
Try fishing
Learn cross-country skiing
Go sledding
If you're traveling with young kids, they'll love a stop at the Giant Forest Museum or experiencing the hands-on activities at the Walter Fry Museum.
The lodge has a market and on-site restaurant with plenty of options for kids, as well as an outdoor dining patio so you can continue to enjoy the natural beauty of the parks as you dine with your family.
Cedar Grove Lodge
Located 35 miles east of Grant Grove is Cedar Grove Lodge, a quaint and picturesque lodge overlooking the banks of Kings Canyon River. With plenty of amenities and easy access to the surrounding wilderness, Cedar Grove is a fantastic place for families to set up their base camp while exploring Kings Canyon National Park.
This lodge is a popular destination for visitors hoping to see some of King Canyon National Park's most beautiful and popular attractions, such as:
The North Dome
Grand Sentinel
Roaring Falls
Muir Rock
Zumwalt Meadows
The lodge is also close to Roads End, where you can find a variety of trailheads for hikes suitable for all ages, horseback riding trips, and a staging site for backpacking trips into the national park.
Between your family's adventures exploring the outdoors, you can stop by the Cedar Grove Snack Bar for breakfast, lunch, or dinner.
Bearpaw High Sierra Camp
For a rustic and unforgettable family getaway, be sure to take a look at the Bearpaw High Sierra Camp. This small, full-service tent cabin camp on the High Sierra trail provides everything you'll need to give your family an extraordinary immersive wilderness experience.
You'll have to start your visit by hiking 11.5 miles along the trail to the campsite, which is situated on a precipice over the Great Western Divide. Throughout the day, guests can enjoy a wide variety of hikes throughout the surrounding trails. Whether you trek through alpine meadows or take on steep vertical climbs, there are incredible hikes and views for everyone to enjoy.
Despite the rustic setting, you won't be sacrificing any comfort when staying at Bearpaw High Sierra Camp. You'll still have access to hot showers and warm, cozy beds. The delicious warm meals are cooked fresh and served family-style, with other snacks and beverages available to buy throughout the day.
With such a unique and dramatic campground setting, Bearpaw High Sierra camp is a perfect way to spend quality time with your family while creating lasting memories.
More about our TFVG Author
A seasoned traveller, Dad, and avid sports tourist, James foundered The Family Vacation Guide to share his expert vacation experiences- especially when it comes to being a travelling family man.
Featured in Travel articles such as Travel + Leisure, TripSavvy and SFGate, you know you're reading some of the best vacation tips online.