The sunshine, the sprawling sandy beaches, the breathtaking National Parks, the painted deserts, the vibrant art, and culture, are you California dreaming? Make those dreams a reality with the trip of a lifetime for you and your family to Southern California.
We have put together some of the best day trips that you and your family can enjoy on vacation in the Golden State. With iconic destinations in abundance, you will be spoilt for choice, but one thing is for sure, you are guaranteed family fun and memories to last a lifetime.
If you need a place to stay with your family during your adventure, check out our guide to the best family resorts in Southern California or if you need ideas for your entire family vacation in Southern California, we have a guide that will give you the inspiration.
Here Are 25 of the Best Family Activities in Southern California
1. Disneyland Park
Disneyland Park, California, was the first Disney theme park and boasts over 50 rides and even more attractions. This iconic destination is packed with adventures for all ages.
Why not brave the Guardians of the Galaxy – Mission Breakout ride or marvel at the Indiana Jones Adventure ride for a big thrill.
Battle the First Order on the Star Wars Rise of the Resistance ride or hold on tight for the Millenium Falcon Smugglers Run.
For smaller children, why not try the Finding Nemo submarine voyage or fly around on Dumbo the Flying Elephant?
There are character experiences where your child can meet their hero, spectacular shows and entertainment put on throughout the day, and plenty of themed restaurants and eateries to choose from, offering everything from burgers to donuts.
If you're looking to plan a trip to Disneyland Park, why not check out our guide to the best hotels near Disneyland, Anaheim?
2. Disney California Adventure Park
This 72-acre theme park is the second of its kind to be built on the Disneyland Resort. It is split into eight themed areas, including Cars Land, Avengers Campus, and Pixar Pier.
Each themed area has rides and attractions based around much-loved films and characters.
Why not jump aboard the Incredicoaster and chase Jack-Jack from the Incredibles, or travel under the sea on the Little Mermaid – Ariel's Undersea Adventure?
Or, for something a bit different, head to the Animation Building and receive step-by-step guidance on how to draw like the Disney animators. Or, immerse yourself in Disney with the 3D fantasy adventure showing at the Sunset Showcase theatre.
There is a great selection of restaurants and shops to explore, so grab yourself a Disney souvenir.
Hoping to find some more family fun in the area? Here is our list of the best family things to do in Anaheim, California to make the most of your stay here.
3. Balboa Fun Zone, Newport Beach
Found in the city of Newport Beach, Orange County, the Balboa Park is right on the oceanfront and mixes classic seaside day trips out with fun rides, shops, and restaurants.
Enjoy a ride on the Ferris wheel or test your nerves on a bungee jump. If you fancy getting wet, you can slide your way down the Fish Pipe slide. There is a Nautical Museum to explore, and you can play arcade games on the seafront.
There are day trips on the harbor cruise where you can look out for whales, or if you prefer to keep your feet on dry land, you could hire a bike and explore the coastline that way.
Why not venture out to Catalina Island? A rocky island with beautiful beaches just off the coast of Southern California, Catalina Island is a short trip from Newport Beach, offering ideal weekend getaways.
Take a read through our guide to the best things to do in Newport Beach with kids to make the most of your visit.
4. San Diego Zoo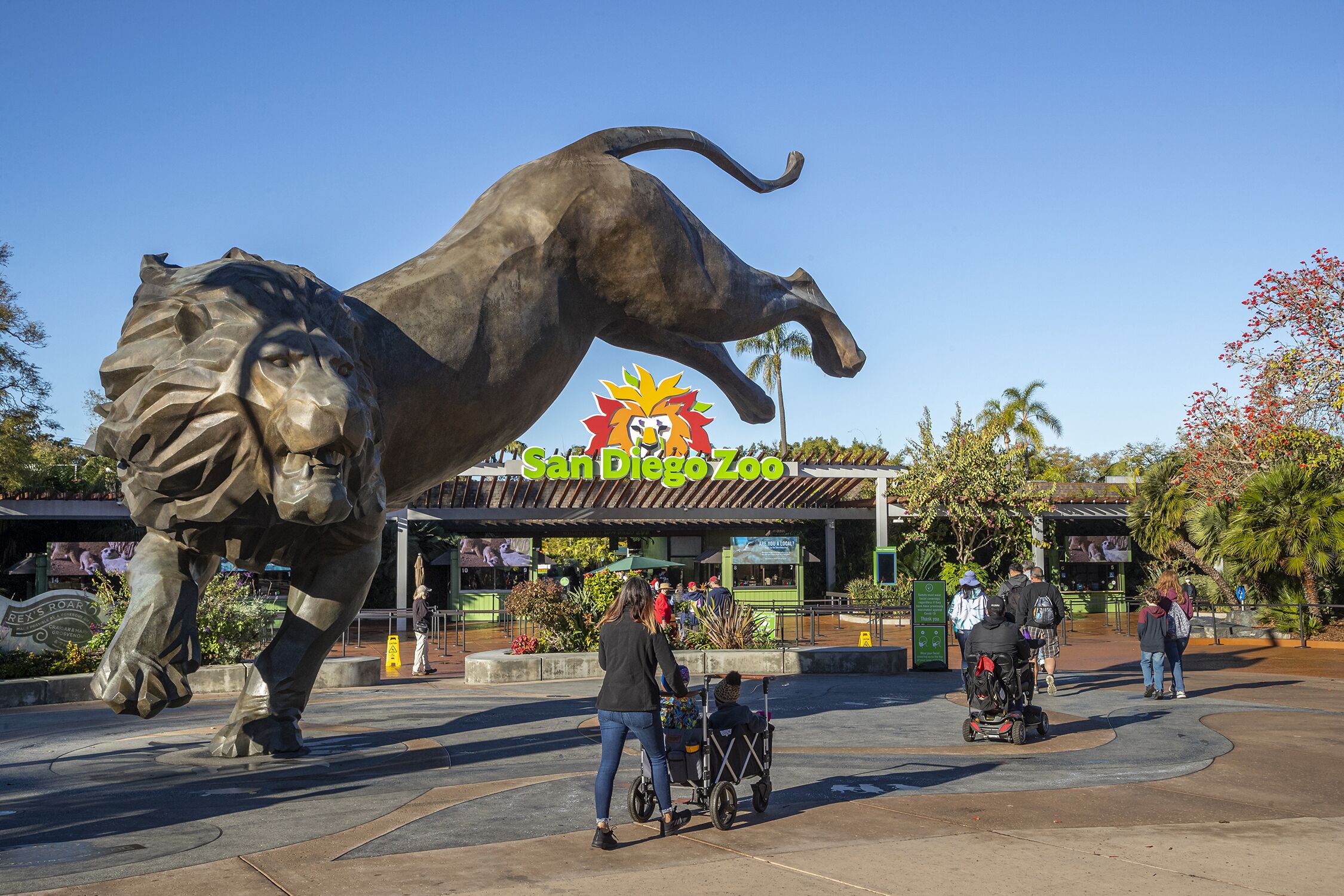 The San Diego Zoo houses over 12,000 animals from 650 species meaning you are guaranteed to see your favorite animals and learn about new ones. It is one of the most popular tourist attractions in San Diego County and perhaps one of the best family activities in Southern California.
As well as checking out all of the amazing animals that live at the zoo including species from all over the world, there are many other activities to enjoy.
Try the fantastic 4D cinema experience bringing films such as Jungle Book to life. Or, take a trip on the Balboa miniature train ride and the Skyfari aerial tram. There are presentations throughout the day and great adventure play areas for your little monkeys!
There are restaurants, cafes, and a large gift shop selling t-shirts, tote bags, and cuddly animal toys.
If you're planning a trip to the San Diego area and are still looking for somewhere to stay, take a look at our guide to the best family hotels in San Diego.
5. California Science Center, Los Angeles
Located next to the Natural History Museum, the Science Center is a museum that inspires scientific curiosity with engaging, interactive exhibits, hands-on experiences, and experiments.
Divided into areas of natural science and general interest, the Science Center has many permanent exhibits such as Life Begining, Fire Safety, and Ecosystems, as well as housing special short-term exhibitions to capture your imagination.
The permanent exhibits are free to get into, and although there is a small charge to see the short-term exhibits, it is well worth the extra money as you can see incredible things such as life-size Lego artwork that showcases the human body.
You can watch films all about various scientific topics on the seven-story high 3D screen or marvel at the sight of the Space Shuttle Endeavor, which is on display.
You can take your own snacks, visit the market shop for prepackaged sandwiches, or check out the restaurants to fill up on burgers and pizzas.
6. San Diego Botanic Garden, Encinitas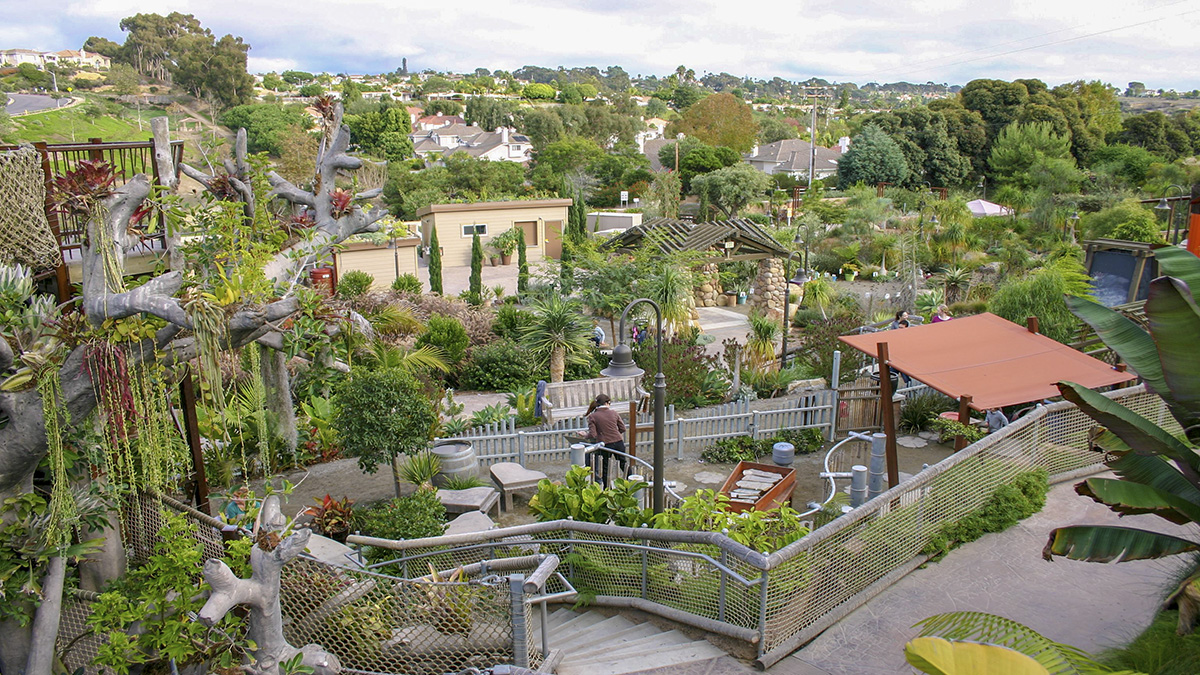 These 37-acre botanical gardens house some of the most beautiful and rare plants on the planet. It also boasts the biggest interactive kids garden in San Diego and the West Coast.
There are over 5,000 varieties of plants from all corners of the globe, including California native varieties, tropical plants, and subtropical natural wonders.
Younger children can participate in a scavenger hunt around the Hamilton Children's Garden, the interactive space built especially for your little ones.
They can climb to the top of tree houses and scramble down the climbing net to make music on the bamboo chimes.
There is a beautiful gift shop selling local art and botanical treasures, and if the plants have inspired you, there is a plant shop too.
7. Knott's Soak City
Situated adjacent to Knott's Berry Farm amusement park, this 15-acre waterpark is full of amazing slides and thrill rides for all the family. There is a huge tidal wave pool where you can pretend you are in the sea and jump the waves or test your swimming skills. Grab the family and jump aboard the inflatable raft for some super-soaking fun!
For the stronger swimmers, brave the speed and body slides or the six waterslide experiences. Race against five others on the Banzai Falls water slide or speed down the 43-foot high Lagoona Storm Watchtower slide.
There is a three-story beach house to climb and explore with interactive surprises and water cannons to shoot at each other. Twist and turn on the Malibu Run slide or simply relax on a rubber ring around the Lazy River.
An on-site restaurant called Longboards is ready to warm you up as you dry off with their selection of burgers, hot dogs, and fish and chips.
8. Irvine Spectrum Center
This shopping and lifestyle center has everything you need to keep the whole family entertained, from quaint shops and restaurant experiences to fun attractions like live entertainment and rides for the kids.
Shop till you drop, with a wide range of high street and designer brands to be found. Relax while the kids enjoy the Giant Wheel, Carousel, or the Spectrum Climber climbing frame with 75 platforms to climb and navigate through.
Try your hand at cake decorating or challenge the family to the Escape Room, where you have to work together to figure out clues and solve puzzles to beat the timer.
There is a selection of restaurants offering full service, casual dining, snacks, and light bites. From seafood to pizza, BBQ to cheesecakes, there is something for everyone.
9. Carpinteria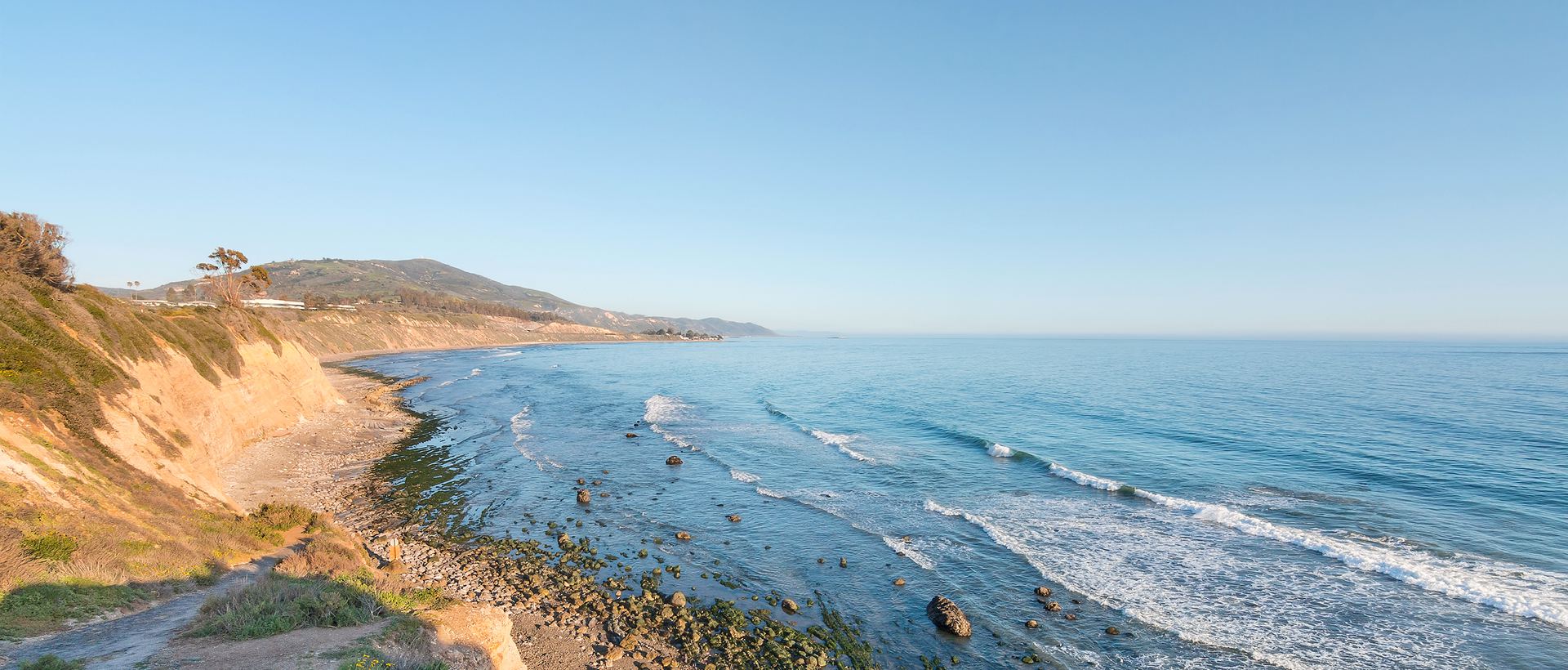 The small but beautiful oceanside city of Carpinteria in South-Eastern Santa Barbara is known for its long beautiful beach, which boasts some good swell for surfing.
Look out for marine life such as seals and the occasional grey whale, or grab a net and bucket and go exploring through the tidal pools to discover all sorts of small ocean life, like starfish or crabs.
The beach is perfect for those day trips where you want to relax and enjoy nature, take a stroll on the sand or jump the waves.
You can take out a boat on the ocean for a spot of whale watching or try your hand at catching some waves with a surf lesson. There are other water sports available too if you are feeling adventurous.
There is also a tennis court where you can have fun practicing that backhand swing or take the kids for a dip in the community swimming pool.
If you're hoping to find other sandy locations for some family fun, why not explore our guide to the best family beaches in southern California?
10. Griffith Park, Los Angeles
The second-largest urban park in California, Griffith Park is spread over 4,300 acres and is a great place to spot some native wildlife. It is a wilderness in the middle of the urban landscapes of Los Angeles.
There are plenty of outdoor activities, including hiking trails, or you can hire a bike and try the mountain bike trails. Maybe even saddle up for horseback riding and pony treks. In addition, you can take a train ride around the park or take in a few rounds of golf on the course.
It is also home to other attractions such as the Los Angeles Zoo, a railroad museum, and the Griffith Observatory, a space observatory, planetarium, and astronomy museum from which you can see the world-famous Hollywood sign. The observatory is free to enter and affords great views of downtown LA.
Or, if you're hoping to find out more about Los Angeles and where to stay, have a read through our guide to the best hotels in Los Angeles for families.
11. Moorpark
Moorpark is a city located in Southern California, known for its 20 parks. There are various recreational activities here, such as a skate park, tennis courts, and soccer fields. There are other exciting attractions nearby too.
Visit the Americas' Teaching Zoo at Moorpark College and get hands-on experience with over 150 exotic animals. Or, make your way to the High Street Arts Center and take in a show.
Enjoy a train ride and feed the animals at the Underwood family farms, a fully working farm where you can pick fruit, learn how the farm runs, and even have a pony ride. The farm has its own market where you can pick up some of the fresh products from the farm.
12. Cabot's Pueblo Museum
A historic house museum built of materials only found in the desert, Cabot's Pueblo Museum is open to the public to explore and offers guided tours. It is home to some fantastic art and artifacts which can be viewed in the museum in the house.
You can grab a Nature Quest leaflet and cross off all the native desert flora and fauna, as well as keep your eyes peeled for some of the native animals in this area.
Take in the beautiful design elements of the house and then take a walk to the Meditation garden. Finally, visit the Trading Post to pick up some truly unique pottery, jewelry, and gifts.
13. Segerstrom Center for the Arts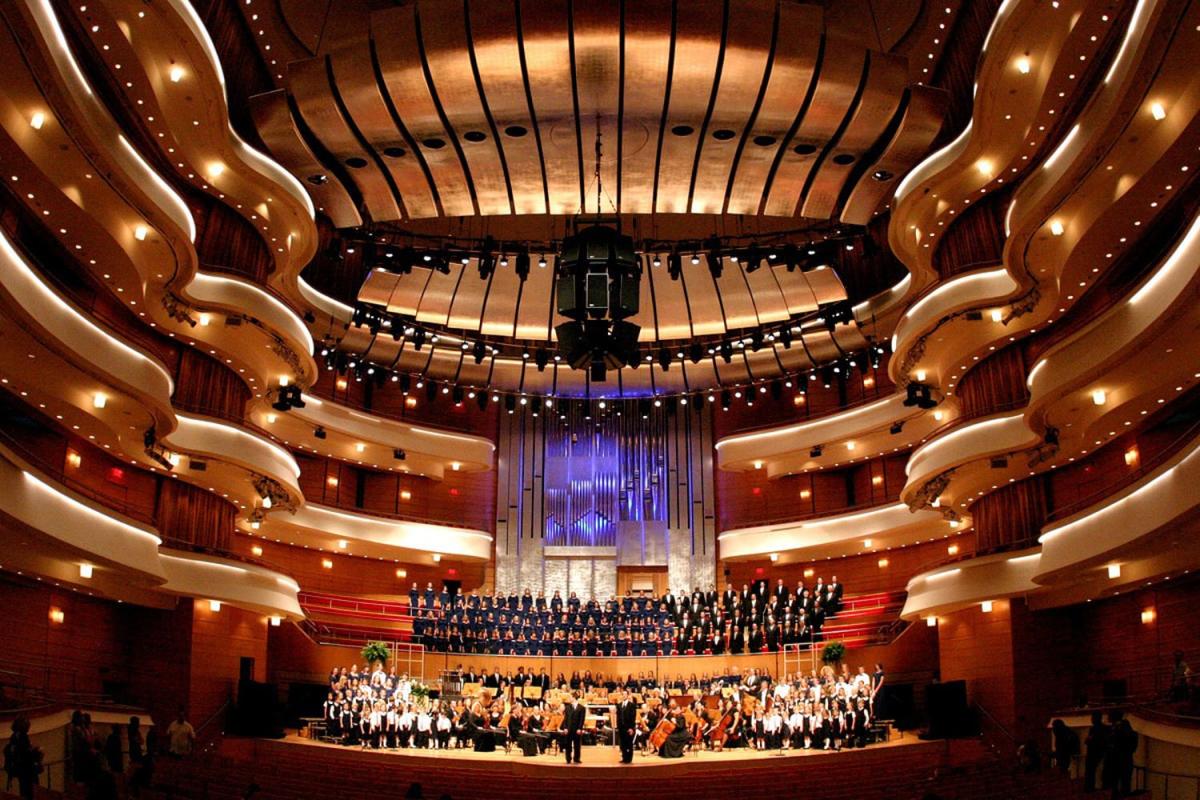 Orange County's biggest non-profit arts center provides an excellent opportunity for you to take the family to see a show.
There are multiple theatres, including an Opera-style house and a smaller intimate venue. Shows range from Broadway musicals to ballet to local theatre company productions, so there is something for everyone.
Once you have enjoyed the show, why not treat yourself to dinner at one of the many different restaurant choices nearby?
14. Magic Mountain
Located in downtown Los Angeles, this 262-acre theme park is one of the most popular, with the largest selection of rollercoasters and rides in the region.
Now called Six Flags Magic Mountain, the park is split into two parts. And although many of the rides are deemed extreme, there are plenty of attractions and rides to keep smaller kids happy.
Parents can ride alongside their little ones on the Speedy Gonzales Hot Rod Racer rollercoaster, or why not spin around in the teacups or ride the classic carousel?
For the older kids, hold on tight on the Batman rollercoaster or make a splash on the Jet Stream log flume. Have your picture taken with your favorite hero with the meet and greet character experience.
There are restaurants and gift shops on-site, ensuring a fun day out for all.
15. Medieval Times Buena Park
Flipping the idea of a traditional restaurant on its head, Medieval Times is an immersive experience from the moment you set foot inside the castle.
Explore the castle grounds and meet the stunning birds of prey and horses. Explore the souvenir shop and don your knight's colors in a show of support.
This is truly a theatrical experience for all the senses.
You order your food, and while you eat, you watch a full re-enactment of a medieval jousting competition complete with horses and knights.
Cheer them on as they go into battle and even take your photo with the winning knight. It is a fun, authentic medieval experience guaranteed to liven up your dinner!
16. SeaWorld San Diego
San Diego SeaWorld is a marine mammal park home to some of the most beautiful marine life, such as orcas, dolphins, and sea lions.
There are many shows to catch throughout the day, including Orca Encounter, Dolphin Days, and Sea Lions Live. Watch as these spectacular sea creatures play, perform tricks and entertain all of the family.
Learn all about them and their natural habitats and behaviors, and even get up close as you watch them swim past and even splash you!
It is a fun place for rides, boasting many attractions for all ages, including the wet and wild Shipwreck Rapids, the Bayside Skyride, and the thrilling Riptide Rescue. There is also an interactive children's play area called Sesame Streets Bay of Play for all the little ones.
There are restaurants and eateries on-site, catering to all needs. Then why not treat yourself to a stuffed marine animal toy from the many gift shops as a souvenir of your day?
17. Adventure City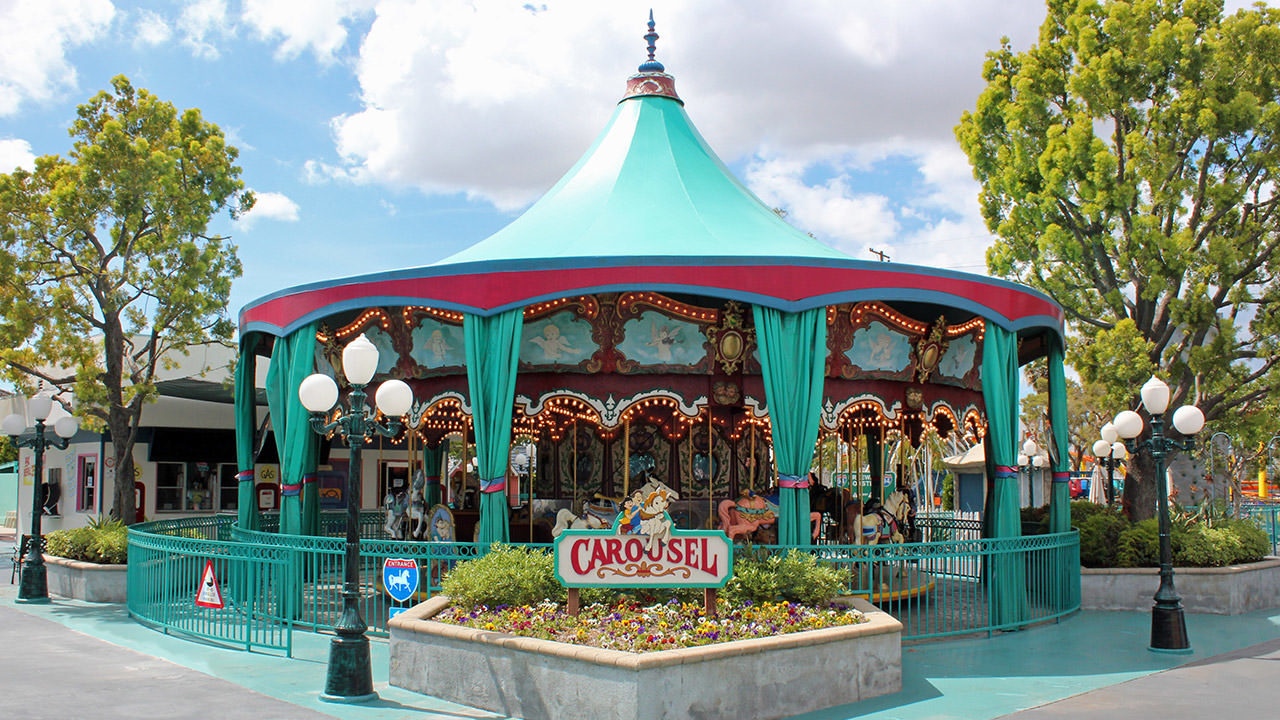 Although it is one of the smallest amusement parks, it sure packs in a lot for its size, with 17 rides, shows, and attractions to enjoy.
Choose your color balloon and hop into the basket for the Balloon Race ride, or try your hand at flying your own mini plane on the Barnstormer Planes. Jump on the classic carousel, or for a little more speed, why not brave the Freeway Coaster?
If you are looking for something more adventurous, why not try your hand a rock climbing, ascending the 24-foot rock climbing tower. You can also spend time with some animals as there is a petting farm on-site with sheep, goats, and pigs waiting for a cuddle.
There is an assortment of snack bars and ice cream huts, too, for when you need to refuel. Why not end your day taking in a live show at Stage 39?
18. California Citrus State Historic Park
This open-air museum celebrates the importance of the citrus industry in Southern Californian history. Guided tours are available, as well as displays of the old citrus grove equipment from the 1900s, a picnic area, and an amphitheater.
You can also explore by hiking, biking, or even horse riding in the surrounding park.
Why not have a go at the Tag Hunt, a scavenger hunt designed to keep the kids busy looking for animal footprints, burrows, trees, and flowers?
There is plenty to discover around the park, including a visitor center, growers' house, and over 100 citrus grove plants.
19. Universal Studios Hollywood
One of the most recognizable attractions when thinking about day trips in Southern California is Universal Studios Hollywood. There is so much fun to be had, including incredible experiences for film fanatics and amazing rides for those thrill-seekers among you.
Have fun with all your favorite Minions in the Despicable Me Minion Mayhem or join Snowball, Duke, and Max in the Secret Life of Pet's new ride Off The Leash.
Are you brave enough to jump aboard the speeding cars in The Fast and the Furious Supercharged 3D experience or scare yourself silly riding through the desert in the Revenge of the Mummy ride?
There are themed restaurants and character experiences to be had – have your picture taken with your film and TV favorites, then grab a souvenir from the gift shop.
This is a great day out with so many more film-themed rides and attractions for all the family.
20. Whitewater Preserve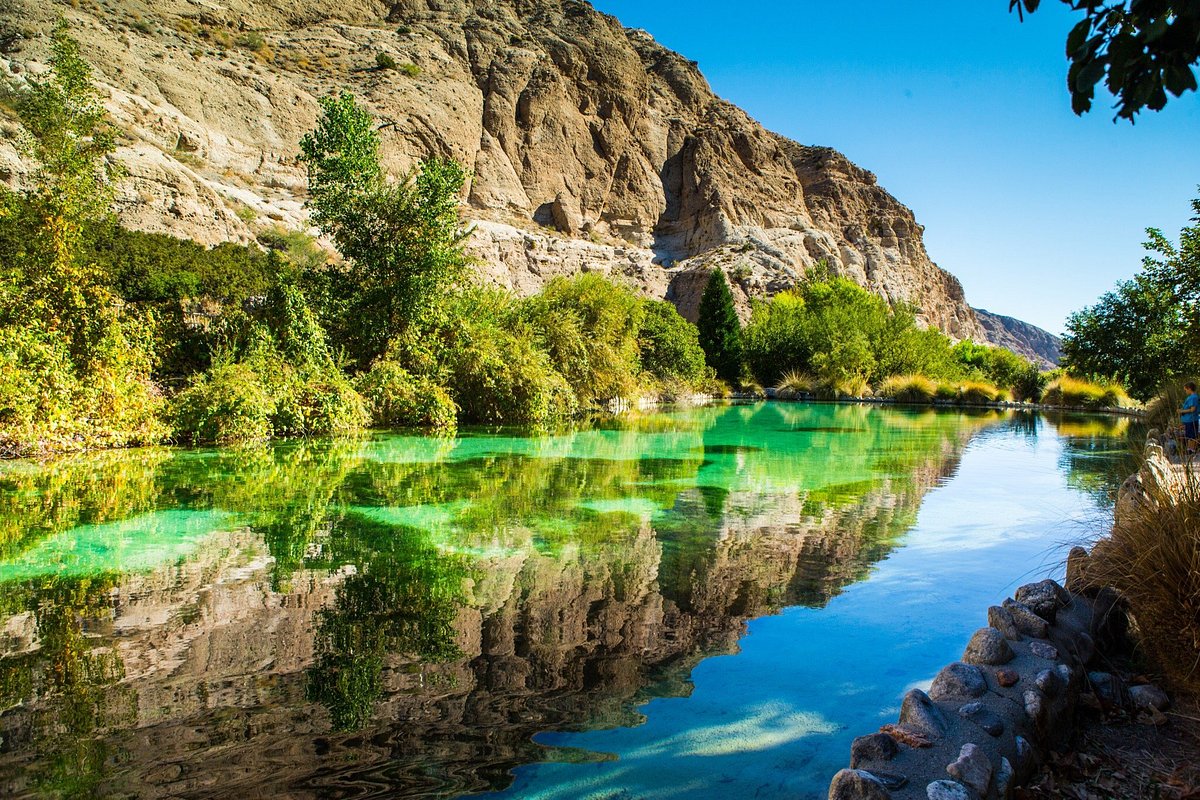 This is a place of stunning natural beauty with 2,851 acres of natural landscape to explore, including the white water river. There are plenty of hiking trails to take you through the area, too.
There are picnic areas and a visitor center for more information on the area's flora, fauna, and wildlife.
Grab a checklist from the visitor center and get the kids to check off all the amphibians, reptiles, birds, and flowers you find on your trail.
There is also an opportunity to camp for the night, perfect for those weekend getaways, ensuring the kids have a real back-to-nature adventure.
21. Legoland
Lego is one of the most recognizable toys globally; we have all played with the small colorful brick at some point in our childhood. So why not explore the fantastic Lego world at Legoland California?
There are over 60 rides, attractions, and shows to enjoy at Legoland California, and even a SeaLife Aquarium and Legoland Water Park. The themed areas are great for fans of films with Star Wars, Fun Town, Ninjago, and more.
Get dizzy as you spin around on the Bionical Blaster, where the more you turn the wheel, the faster you spin. Or climb aboard the Skipper School as you become the captain of your own Lego boat.
Keep your eyes peeled for the gigantic Lego dinosaurs as you race round on the Coastersaurus rollercoaster or climb up the triple-decker flying couch and experience the Lego Movie world in 3D on Emmet's Flying Adventure ride.
There is also plenty of themed restaurants and a gift shop full of Lego memorabilia.
22. Santa Monica Pier
This National Historic Landmark was built in 1909 and is an iconic part of the Californian coastline. There is an amusement park at the end of the pier, and it is free to enter.
The famous solar-powered Ferris wheel stands proudly at the end of the pier giving its riders a 130-feet high view of the ocean below.
Join the high seas on the Sea Dragon, the 180 degree swinging pirate ship, or brave the 45-foot plunge at the end of the gondola ride on Pacific Plunge.
Bounce up and down on Inky's Frog Hopper drop tower or get behind the wheel of the mini bumper cars on Inky's SIG Alert. There are 12 fun rides to enjoy at the amusement park.
Head to the arcade to try your hand at over 200 classic games, or if you are feeling peckish, why not grab something to eat at one of the many restaurants and cafes?
There is no admission charge making it a perfect day out for the family. You can even buy a trinket or souvenir at one of the many little shops on offer.
We've created a guide on the best Santa Monica family hotels, ready for you to plan your next trip.
23. Knott's Berry Farm
With 40 attractions, this 57-acre amusement park is divided into four themed areas. There is plenty to discover, including a classic stagecoach ride for the family so you can relax while you take in the sights of Camp Snoopy, Fiesta Village, and the Ghost Town.
In the Fiesta Village, you will find rides such as the Jaguar roller coaster. Or, especially for children, the Dragon Swing pirate ship and the Wave Swinger.
More rides specifically built for small children and families can be found at Camp Snoopy. You could relax on the classic High Sierra Ferris Wheel, climb into the basket of a balloon as you go up and away in the Balloon Race, or practice your flying skills as you climb aboard your own plane on the Flying Ace.
There is also an assortment of rides at The Boardwalk and Ghost Town areas. There are also dozens of eateries and restaurants, or why not do a bit of window shopping in the numerous shops on-site? It is adjacent to Knott's Soak City waterpark, perfect for maximizing two-day trips.
24. Orange County Great Park
This disused Marine Corps air station is now home to some unique attractions. For aircraft fans, there is a large hangar with a variety of aircraft on display.
Or, if art is your thing, there is a rotating art gallery showcasing some of the best local artists' work. For the little ones, there is a classic carousel ride. Or, for the more adventurous, why not take a ride in the iconic helium Great Park Balloon and be lifted 400 feet in the air for a spectacular view of the park and surrounding areas.
If you are feeling brave, try the new ice skating Great Ice Park attraction which is open all year round. There is also a playground and picnic areas. Look out for performances at the 12,000-seat outdoor amphitheater, or grab a bite at one of the eateries on offer.
25. San Juan Capistrano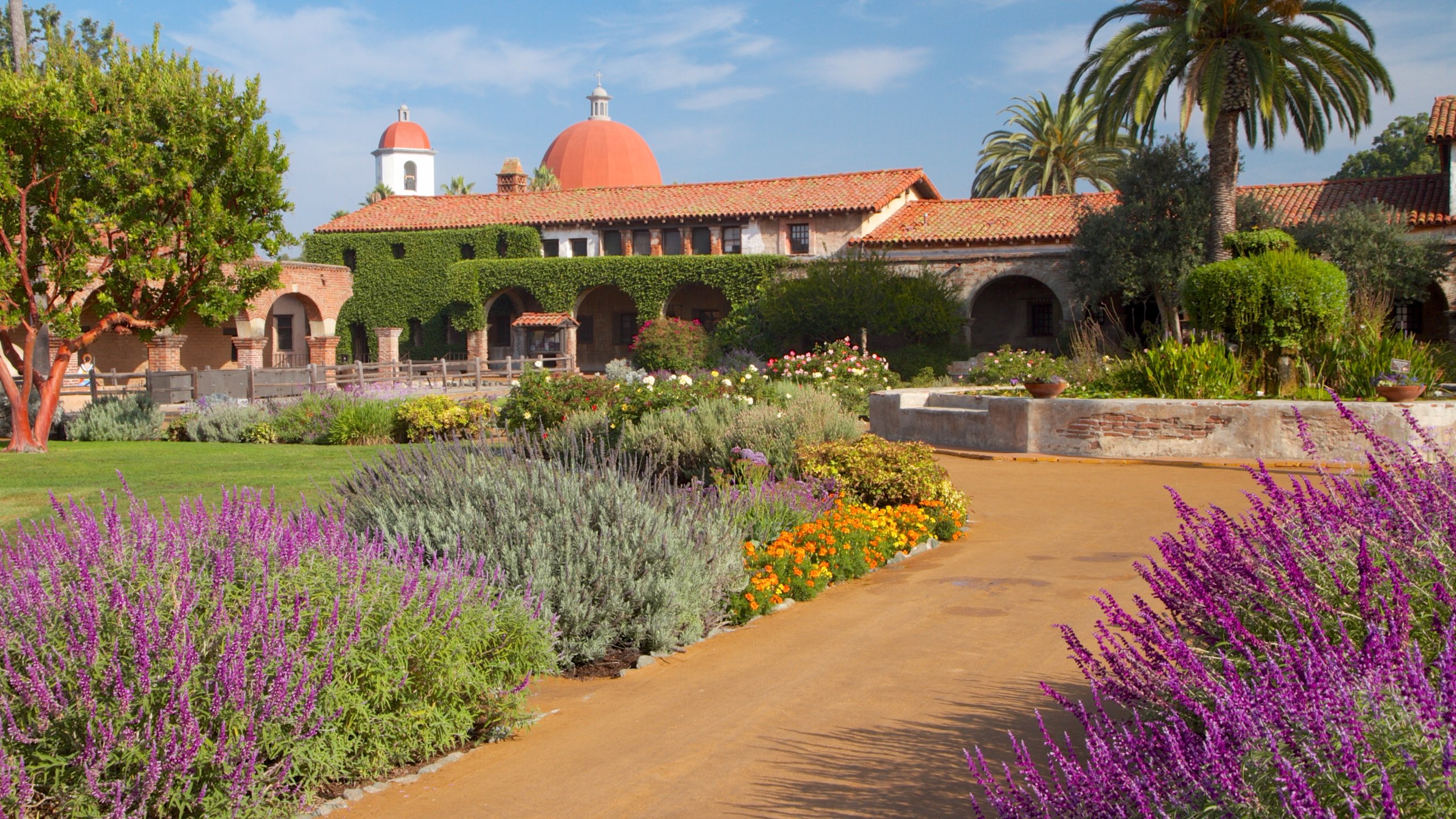 This city is a short train ride from Los Angeles and is packed with culture. Why not visit the historic buildings, churches, and monasteries in San Juan Capistrano?
Head to Ronald W. Caspers Wilderness Park and see the sights following hiking trails; you can hire a bike and cycle your way around, or perhaps even on horseback. There are special horse riding tours you can join and hiking guides to avoid getting lost.
Take the kids to the Los Rios park to burn off some energy on the climbing frames and slides. Or why not take your little ones to meet some friendly animals at Zoomars, a little petting farm, where they can feed guinea pigs, groom goats, and even have a ride on a pony.
Eateries, cafes, and markets offer all kinds of artisan food creations, pottery, and art.
FAQs
What is the total number of rides at Disney California Adventure?
Disney California Adventure has 34 rides with many more attractions to be enjoyed.
When is the best time of the year to visit the San Diego Zoo?
Spring, late fall, and early winter are the best times to visit the San Diego Zoo, you miss the crowds in the summer, and because the weather is cooler, the animals tend to be more active in the afternoon. Also, kids go free in October.
Are there dining options at the California Science Center?
An on-site coffee bar and a market sell prepackaged salads, sandwiches, snacks and bottled drinks for on the go. If you prefer, you could dine in and have a burger or pizza at the Trimana Grill. You are permitted to bring your own snacks and bottled drinks if you prefer.
Are dogs allowed at the San Diego Botanical Garden?
Unless it is a licensed service animal, no dogs are allowed to ensure the preservation of the gardens.
Final Thoughts
There is so much to discover in Southern California that it would take a lifetime to fit it all in. There is something for everyone here, from landmarks to museums, amusements to water parks, pony treks to hill hikes.
Hopefully, you have been inspired and can look forward to planning your amazing Golden State adventure, turning your California dream into a reality.
Are you planning on visiting Southern California but are still looking for somewhere to stay? We've gathered a list of the best family beach vacations in Southern California that will be perfect for your next family trip.
More about our TFVG Author
Caitlin is one of The Family Vacation Guide's long standing contributors. She enjoys taking vacation to busy, vibrant cities and has stretched her traveling legs out towards Europe in recent months, enjoying new experiences in Barcelona in Spain, and Nice in France.