Although it may not carry the same appeal as Los Angeles, San Diego, or San Francisco, a family vacation in the city of Monterey will not disappoint. It's where families can view, explore, and immerse themselves in some of California's most exquisite natural wonders.
While sojourning in Monterey, California, the expansive Monterey Peninsula is your oyster, helped by the convenient 17-mile route that commences on the outskirts of the city and continues through the neighboring city of Carmel. As families travel along this coastline, they can awe at Pescadero Point and Del Monte Forrest, and may even catch a glimpse of a harbor seal along the way!
If having such wonders sounds befitting for your next family vacation, this may be the perfect destination for you.
Here are our picks of the 12 best family hotels in Monterey, California. Why not also take a look at our guide to Monterey beaches to inspire you?
Hotel Monterey Tides marries ocean views with a chicness you would normally have to stay downtown to get. Seaside located, guests at Monterey Tides can watch the ebb and flow of Monterey Bay from the comfort of the resort's own private beachfront.
If you've got a family of sunbathers, expert sandcastle constructors, or kids who simply love to swim in the ocean, Monterey Tides provides you with the best opportunity to satiate all three. If you get tired of the lapping waves you can retreat to the resort's heated outdoor pool, which can provide a calmer reverie.
Never lose sight of Monterey Bay by selecting a family room with wide windows looking out onto the beachfront. Catch golden hour as you luxuriate in the lounge or dine at the Tides Waterfront Kitchen.
The Monterey Bay Inn rests right on the beachfront and is a good choice if you can see yourself spending long afternoons on San Carlos Beach. Spoiling each guest for choice with numerous prime-luxuriating spots, the crowning feature of the Monterey Bay Inn is the rooftop whirlpool, which commands undefeatable views over Cannery Row and the Bay.
After a long day of swimming, why not grab a quick in-room massage back at the hotel before heading out for a sunset stroll along the coast. Renowned eateries such as the Osteria Al Mare and the Chart House are a short meander away.
When it comes to the evenings, the family-friendly suites offered by Monterey Bay Inn are undeniably cozy, with a private balcony and minibar providing all the necessities of some late-night family time.
Not just any old motor lodge, the Lone Oak Lodge provides all the conveniences you'd expect in addition to a sauna, hot tub, and workout area. With its wide-ranging amenities, the Lone Oak Lodge makes for the perfect vacation spot in Monterey, and with a genial atmosphere provided by the staff, is a great spot if you're vacationing with young children.
Each of these family suites is benefited by a kitchenette, refrigerator, and safe that can store any of your kids' holiday must-have gadgets.
Daytime can be spent at either Monterey State Beach or Laguna Grande Regional Park, each being around a mile away. Evenings can be spent around the on-site BBQ firepits, which often inspires camaraderie between guests.
The Holiday Inn Express Monterey can be found on the famous street on the waterfront, Cannery Row, making it one of the best family-friendly hotels in Monterey for reaching ocean-side activity hubs.
With San Carlos Beach on one side, and the Monterey Bay Aquarium (which we included on our list of California's Best Aquariums) on the other, you'll rarely have to leave this area during your stay! Along the waterfront, you'll encounter a number of intriguing eateries, including El Torito.
Book a room with an ocean view for an idyllic backdrop to your family suite. These rooms feature a flat-screen TV, a coffee maker, and a refrigerator – all you need to kick back in style!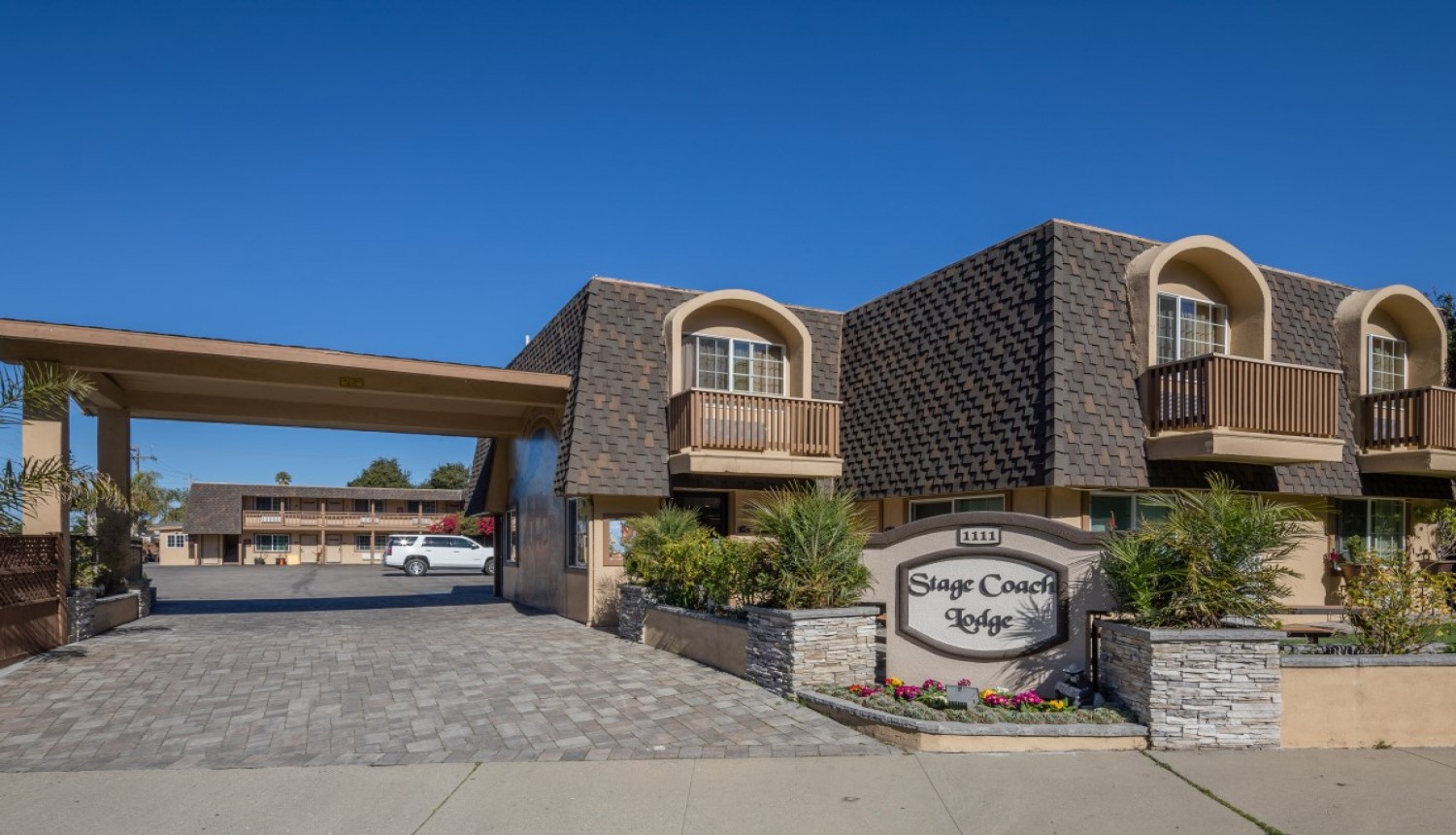 The recreational activity comes in abundance at the low-key Stage Coach Lodge. Guests can swim and lounge around the circular outdoor pool and calming outdoor garden, or perfect their putting at the onsite mini-golf course. Found just off Highway 1, the Stage Coach Lodge is one of the best family hotels because it offers tranquility, away from the hustle and bustle of the city center.
Although away from the main hub of activity, it's possible to reach all of the key landmarks and must-visits of Monterey, CA within minutes by car.
The rooms are designed with families in mind, with large double rooms available, each of which comes with a 40″ TV. Some even boast everything the avid diver could possibly seek in accommodation, including diving hooks and washbasins.
Located conveniently near Roberts Lake, the Hampton Inn Monterey can make a lot of the city's highlights walkably close. At the same time, the property keeps a distance from the city center, which provides guests with the best of both worlds.
This Hampton resort is also a good option if you need quick access to and from the Monterey Regional Airport, which is just a 5-minute drive away.
The hotel is contemporary and attractive in style, and the rooms are even more so. Comfort can be found in the sizable family rooms, which come in a variety of sizes and look out onto Monterey Bay. Each room is the perfect place to retire to after a long beach day, a round of golf at Pebble Beach Golf Course, or an amble through Cannery Row, Monterey.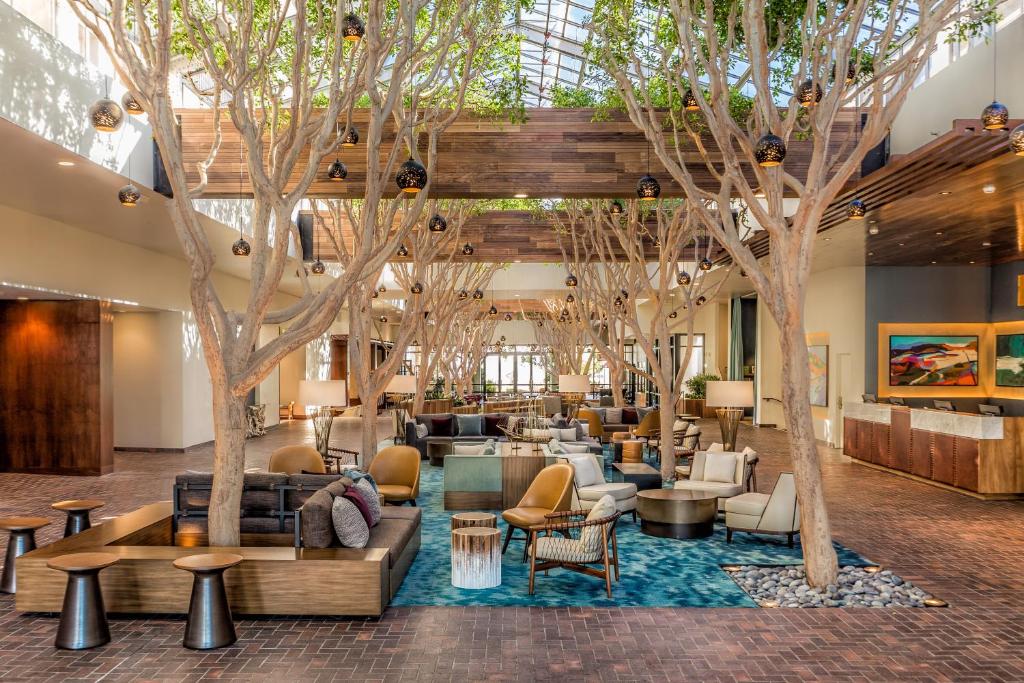 By far one of the most opulent, modern, and swanky family-friendly hotels to make this list, the Portola Hotel has a unique ambiance that's sure to make your visit to Monterey Bay one to remember. Winner of several hotel awards in 2021, this is the first hotel in the city to be LEED® Certified.
Onsite amenities at the Portola Hotel include the Portola Hotel Spa, a pleasurable outdoor pool, a gym, boating facilities, golf course access, and 60,000 square feet of socializing space for guests. The library can provide kids with some vacation reading material, as well as DVDs and games.
Choose between an ocean view, pool view, or skyline view suite – the king room with a harbor view being our top pick of Portola Hotel rooms for families.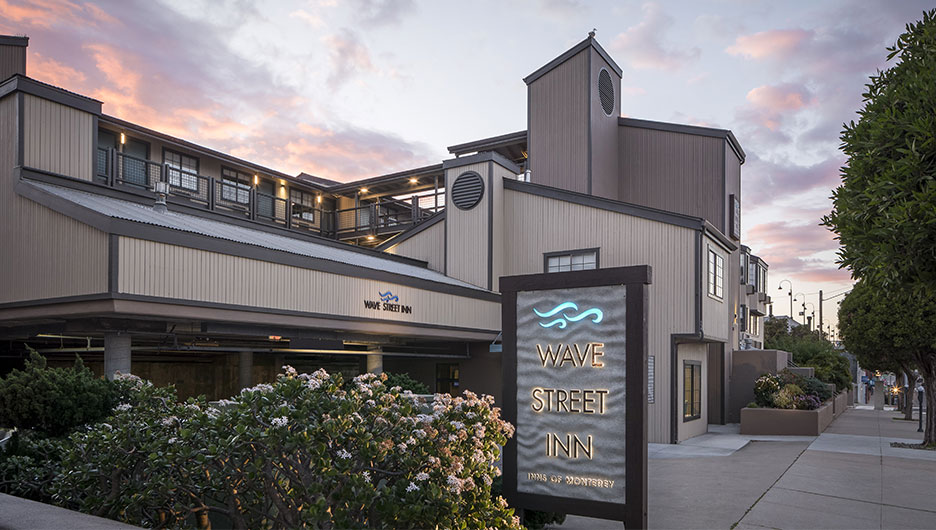 Wave Street, running parallel to Cannery Row, provides families with just as many amenities as its more popular counterpart street, but with a slightly more laid-back atmosphere. The Wave Street Inn is one of the most popular family hotels found on this street, with helpful staff, an affordable price, and a bike hire service which makes exploring the coast easy for the whole family!
The outdoor fireplaces at Wave Street Inn make socializing easy for both kids and adults, while the comfortable bedding found in each suite – some of which feature unbeatable views of the oceanfront – makes getting a good night's sleep a guarantee.
Wave Street guests can enjoy easy access to Cannery Row, San Carlos Beach, and McAbee Beach.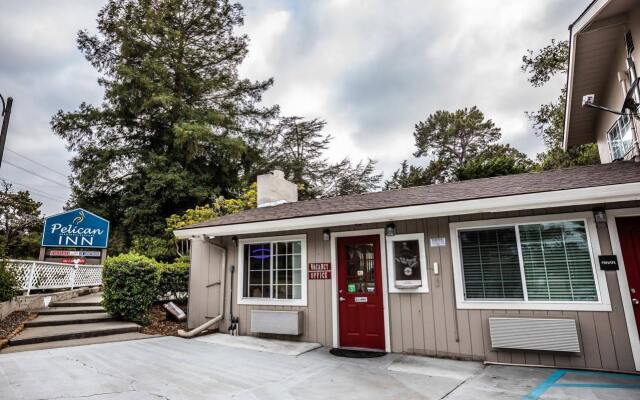 The comfortable Pelican Inn Monterey, CA, is a lovely residential abode full of home comforts such as long double beds, fireplaces, free WiFi, and a writing desk. Just a 7 minute drive away from the Monterey Regional Airport, and with express check-in and check out, guests can unload their luggage and get out to explore the sights and sounds of Monterey at a record speed!
Positioned a little bit out of the way from the center of the city, the Pelican Inn is just a short drive down Munras Avenue, only a small distance away from all of the city's highlights, including the Monterey Bay Aquarium, Pacific Grove Gate, and the Monterey Museum of Art.
The Del Monte Shopping Center is just along the road and is packed with restaurants, shops, and outlets.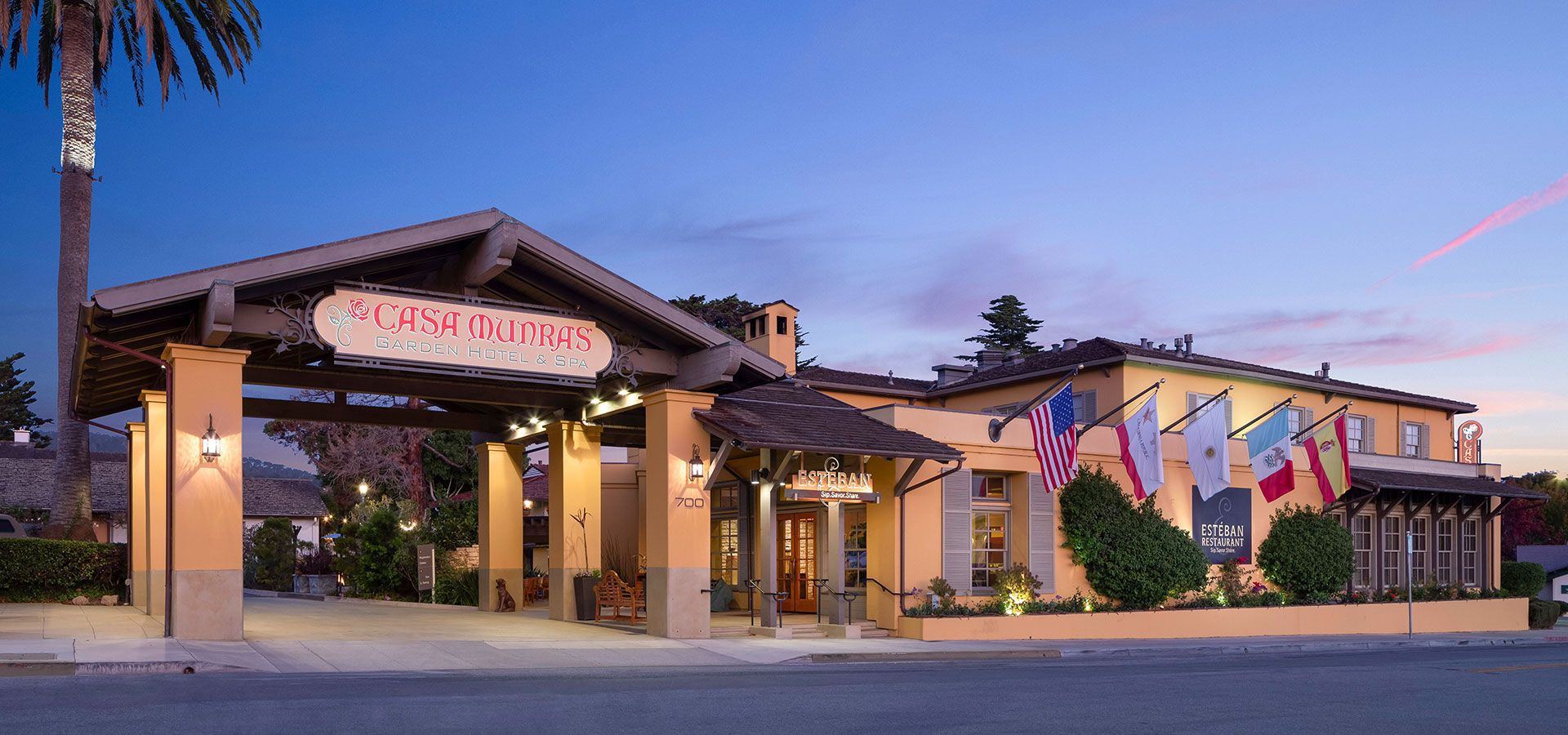 The Casa Munras Garden Hotel & Spa stands as a piece of the city's history, being the first-ever hotel built in the whole of Monterey County. Located in the city's Old Town, this hotel is just a short walk away from Monterey County Fairgrounds, Pinnacles National Park, and the Monterey Bay Aquarium.
The style of the Casa Munras Garden Hotel is traditionally elegant, with a luxurious cream decorating most of the walls. The outdoor heated pool is resplendent, especially when lit up at night, at which time guests can lounge next to the fire and spend some quality family time.
Spanish cuisine is available at the on-site restaurant, with kid-friendly options available and high chairs provided. Active family members can take advantage of the bike hire service and bowling alley access.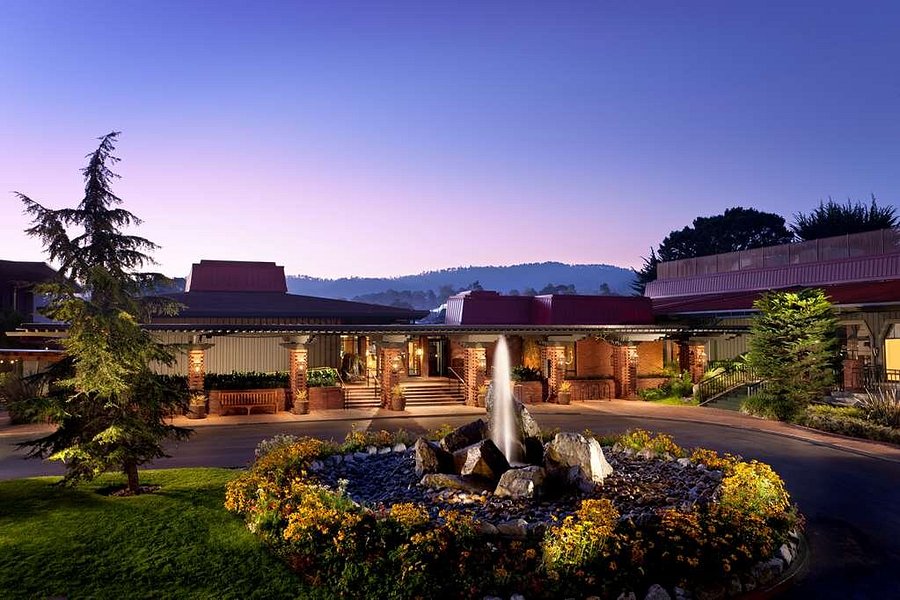 The Hyatt Regency Monterey Hotel is conveniently located on the outskirts of the Del Monte Golf Course: an 18-hole green that can be accessed by guests. Additionally, the Hyatt Regency kid-friendly hotel features two heated outdoor pools, tennis courts, and a full-service spa.
Convenience plays a big part in the Hyatt Regency Monterey Hotel experience. Shuttle buses running to and from the Monterey Peninsula Airport can be arranged for all. Guests will also find themselves in a great location being nearby Del Monte Beach and within 3 miles of Cannery Row.
On-site dining is provided by TusCa, which serves a fusion of Californian and Tuscan delicacies. Family rooms contain every amenity required for guests to feel right at home. They offer either a balcony or patio which opens up onto the surrounding greenery.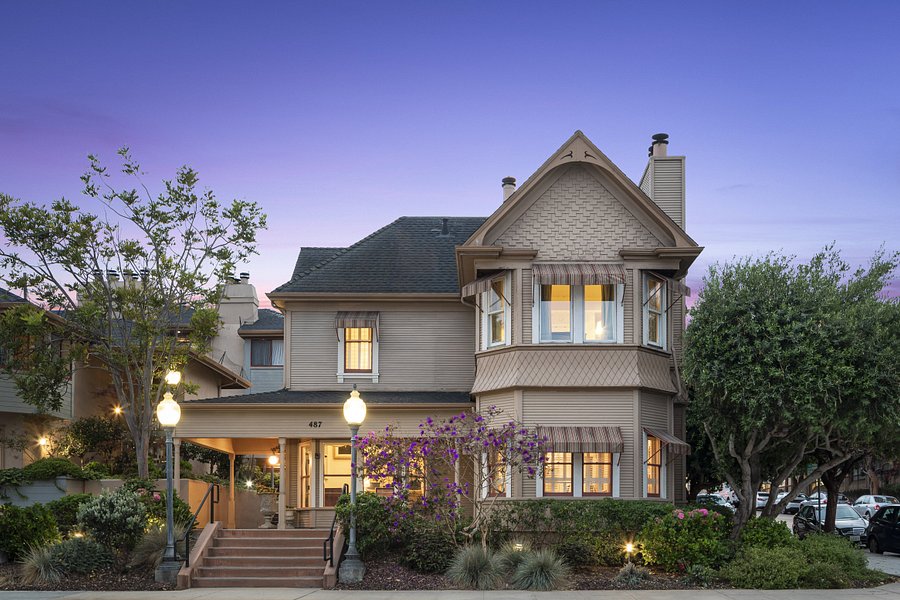 Get a sense of the traditional pleasures of Monterey County by staying at the Victoria Inn. Situated in the heart of the city, this quaint hotel offers serenity from the main tourist hubs.
The plush upholstery and rich oak furniture found in the guest rooms will make retiring at the end of the day all the more appealing. The interconnecting suites are family-sized, with King, Queen, and pull-out sofa beds found in each. A giant writing desk can be found next to the grand fireplace, with a flat-screen TV above.
Guests can wake up to a free continental breakfast each morning to get set up for the day ahead. Energy is definitely needed if they plan to spend the day on the bay kayaking, canoeing, or swimming. Later on, parents can partake in the civilized wine and cheese hour.
In Summary
Monterey, CA clearly has a high level of quality family hotels to match its surrounding natural wonders.
Whether you have young children to entertain or older kids to satisfy, you'll be able to find an abode to match the needs of the entire family! Don't just settle for the Monterey Plaza Hotel, use this article to find a better-suited kid-friendly resort.
More about our TFVG Author
A seasoned traveller, Dad, and avid sports tourist, James foundered The Family Vacation Guide to share his expert vacation experiences- especially when it comes to being a travelling family man.
Featured in Travel articles such as Travel + Leisure, TripSavvy and SFGate, you know you're reading some of the best vacation tips online.