Are you looking for a fun getaway with the family?
Whether you're looking for fun, adventure, or relaxation, there is no shortage of hospitality options in Southern California. There is a little something for everyone with a mix of luxurious, casual, and unique locations.
If you live in or are planning to visit the Los Angeles area, our comprehensive list of the best hotels for families near Los Angeles will give you the insight you need to plan the perfect family vacation.
The Knott's Hotel blends an exciting mix of fun and adventure with no shortage of family-friendly activities. The hotel is ideally situated near world-renowned Knott's Berry Farm, Soak City Waterpark, and many other Buena Park attractions. Knott's hotel is a great getaway destination with all sorts of fun activities no matter the season. The hotel offers a variety of discounted rates, seasonal packages, and reduced admission costs to nearby theme parks.
With over 320 rooms, you are sure to find an option that best suits you and your family.
Knott's hotel offers something for everyone with no shortage of amenities, including a snoopy-themed wing. The hotel has a large outdoor pool with a kid-friendly splash zone, a state-of-the-art fitness center, and plenty of dining options.
Whether you are looking for relaxation or non-stop activities, Knott's Hotel has it all. Located just a thirty-minute drive from downtown Los Angeles, this hotel makes for a perfect getaway weekend the whole family is sure to enjoy.
Looking for the ideal combination of leisure and luxury?
Kona Kai Resort is an island getaway right in the heart of San Diego. Kona Kai offers a great mixture of spa packages and relaxation along with fun family activities. Enjoy both family-friendly and adult-only pools, kick back in a relaxing cabana, and enjoy the privacy of an exclusive ocean-front beach. The resort offers no shortage of amenities with activities and stunning scenery that will leave every guest impressed.
Take out complimentary cruiser bikes to explore the surrounding area, and enjoy nightly bonfires on the beach with some of the best sunsets in Southern California. You won't run out of fun activities to do with the San Diego Zoo and Seaworld nearby. Kona Kai is a breathtaking experience the whole family will be sure to remember. Although a two-hour drive, it represents one of the best hotels for families near Los Angeles.
Kona Kai offers an assortment of rooms and suites that are nicely furnished and cozy, equipped with balconies and stunning views of the San Diego Bay. The Resort is also pet-friendly, meaning the whole family is welcome (even the furry ones). Get away from LA and head south to explore all San Diego has to offer while relaxing in an island paradise.
Miramonte Resort is an experience unlike any other. The resort features a stunning desert oasis in the heart of Palm Springs with breathtaking and unique scenery. The resort is the height of luxury with extensive amenities, spa packages, pool, dining options, and sports. Take in the beautiful surrounding scenery and enjoy an assortment of modern and stylish guest rooms, suites, and villas.
Miramonte is one of the most mesmerizing family hotels in the Los Angeles area with tons of activities. Check out the Palm Springs Aerial Tramway and visit the world's largest rotating tramcar. Travel 8,500 feet high and take in amazing views of the Chino Canyon. Kids will be sure to love the Living Desert Zoo and Gardens, which is a fantastic wildlife experience. Other fun family adventures include hiking trails, a big wheel jeep tour, and hot-air ballooning.
Located just over two hours from Los Angeles city center, Miramonte is a unique and luxurious desert experience that is not to be missed, with a little something for everyone. Create and customize your own vacation with an array of compelling options. This is a perfect option for adventurous families seeking new experiences.
Are you looking for a fun beach weekend?
The Surfrider is a sleek and modern Southern California Beach House located on the iconic Surfrider Beach. The hotel pays tribute to its Malibu roots and surf culture within a laid-back setting that offers unique local experiences, high-quality service, and fun-filled family activities that includes an on-site surf shop. The Roof Deck Bar and Restaurant combines top-quality service with spectacular views.
There is no shortage of fun family activities, including surfing lessons, stand-up paddleboarding, horse riding, picnics, and beach yoga. If you're looking to escape the city and unplug, the Surfrider Malibu is a perfect alternative.
If you and the family are looking to unwind in a scaled-back, relaxed setting, the Surfrider is easily one of the best hotels for families near Los Angeles, with tons of fun and exciting activities. Located just 35 minutes from downtown on the Pacific Coast Highway, this hotel makes for the perfect beach weekend getaway for the whole family. Hit the beach for the weekend and kick back at the Surfrider Malibu.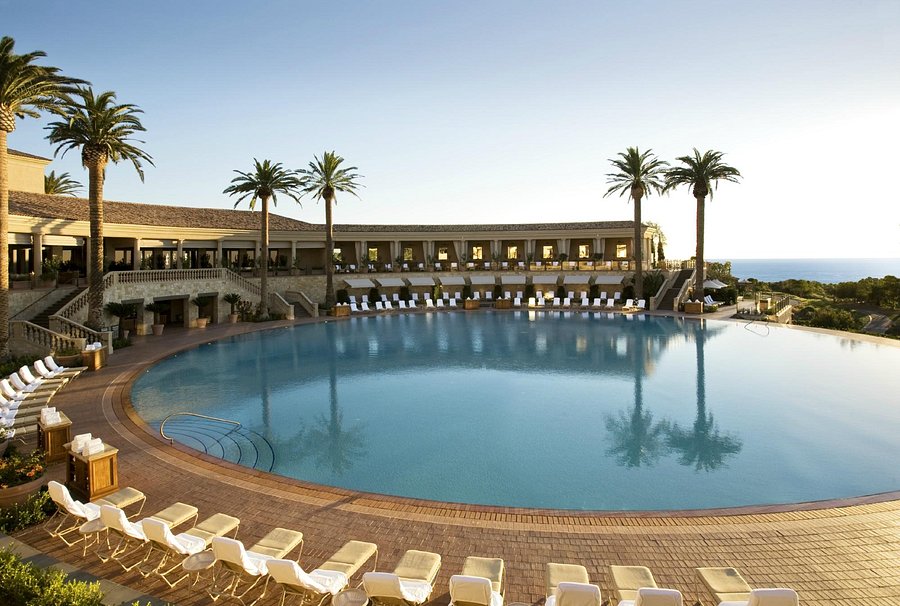 Pelican Hill is five-star luxury at its finest. Located in Newport Beach, the resort offers stunning views, world-class facilities, and an extensive array of amenities. Some notable features include a vast circular pool overlooking the coastline, beautiful ocean-view dining, spa packages, and accessibility to Crystal Cove.
If you and the family prefer a bit more privacy, the resort offers an array of two, three, and four-bedroom villas and bungalows that are both spacious and luxurious with easy access to outdoor space. Feel free to roam the grounds and explore the coastline at your convenience.
The rooms come equipped for more extended stays, including a private garage, kitchens, and washers/dryers. Whether you are planning a weekend trek or a week-long extravaganza, a trip to Pelican hill is sure to be met with the perfect blend of adventure and relaxation.
Pelican Hill is a welcome addition to our list of best family hotels near Los Angeles. The resort is a very manageable 50-minute drive from downtown, making it easily accessible for a weekend trip. Pack up, get away, and unwind in some of the most beautiful scenery in the world.
The Waterfront Beach Resort is the ideal Southern Californian vacation, neatly nestled in beautiful Huntington Beach. The hotel has excellent amenities, including a family pool with two water slides, hot tubs, bonfires, coastal dining, bike rentals, and easy boardwalk access. You can hang out at the hotel or explore all of the nearby sites and attractions, including the Huntington Beach Pier, International Surf Museum, and Bolsa Chica Ecological Reserve.
The hotel offers two rooming options, Twin Dolphin Tower and Huntington Tower. Rooms are beautifully furnished and include balconies with ocean views. The resort offers the perfect blend of luxury and laid-back Southern California vibes, earning its place among the best hotels for families near Los Angeles.
About 45 minutes south of downtown Los Angeles, the Waterfront Beach Resort is sure to exceed your needs and expectations, making for a fun family vacation everyone will enjoy. Take in incredible coastline views and explore local culture in beautiful Huntington Beach.    
Are you hoping to find the best family beach vacations in Southern California? Our brilliant guide will help you plan your next trip in no time!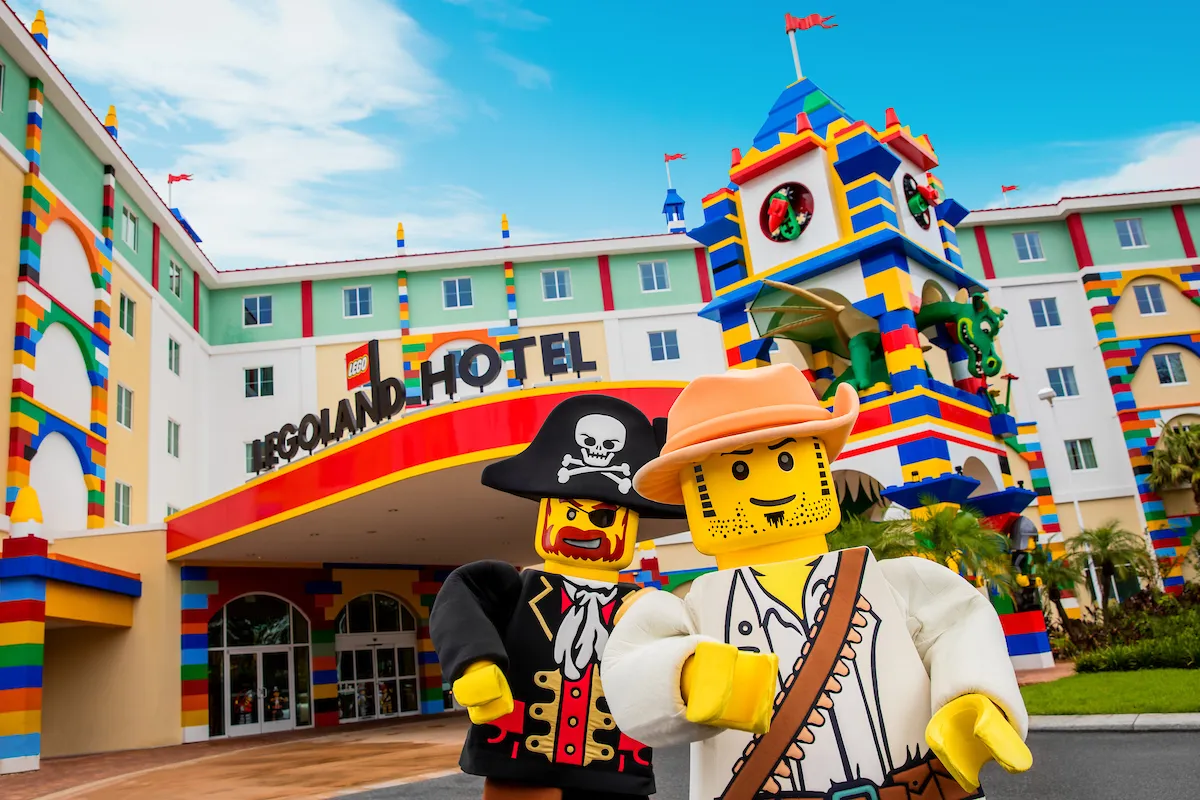 LEGOLAND is an unforgettable experience the kids are sure to love. The hotel offers various LEGO-themed rooms, including pirate, adventure, ninja, or LEGO friends, and includes nightly children's entertainment and complimentary breakfast.
Upon arrival, you can participate in an interactive treasure hunt, searching for clues throughout the hotel to find the code for a treasure chest in your room with a LEGO-themed surprise inside. Other fun amenities include a state-of-the-art pool, relaxing cabanas, and a LEGO shop.
The Hotel is located right at the main entrance to LEGOLAND California, with easy access to the theme park. Once inside, you can enjoy a variety of rides, shows, shopping, and dining options. The SEA LIFE aquarium provides up-close experiences with sharks, octopuses, and stingrays and is an interactive child experience that is both fun and informative. Spend the whole day inside the park with no shortage of fun activities.
The hotel offers a vacation package that includes a two-day pass, providing entry to the theme park, aquarium, and water park. The LEGOLAND California Hotel is a unique experience your kids are sure to love and will never forget. Located about 90 minutes from Los Angeles, this family destination is well worth the trip.

Another one of the best family hotels near Los Angeles is the Great Wolf Lodge Anaheim resort. The resort offers a giant indoor water park with water sports, tubing, and slides that vary in thrill level to best match the needs of all ages. Some favorites include the lazy river-themed Crooked Creek, vortex spinning Coyote Canyon, and thrill-seeking Howlin' Tornado. Booking at the hotel consists of exclusive deals and day passes to the park.
After finishing up at the park, guests can enjoy a variety of rooming options, including standard, premium, and themed suites. Fun themes include the Wolf Den Suite and Kid Cabin Suite. There are several on-site dining options with kid-friendly options.
Great Wolf Lodge is a fun place for a birthday party, group getaway, or brief family excursion. The kids will love it, and there is a little something for everyone. Great Wolf Lodge is an ideal destination if you're looking for something different for the kids or love a good thrill yourself. The lodge is located about 40 minutes from the Los Angeles city center, making it easily accessible for a day trip or overnight getaway. Treat yourself and the family to a fun water park adventure.
Malibu Beach Inn is a mystical seaside inn with views that are not to be missed. The hotel hugs the pacific coastline, and all 47 guest rooms come with balconies overlooking Carbon Beach. The Inn offers beachfront accommodations, spa packages, and the excellent Carbon Beach Club Restaurant. It's an easy addition to the list of best hotels for families near Los Angeles.
At Malibu Beach Inn, there is no shortage of customized offers ranging from private dinners to beach picnics to fliteboard lessons. There are also many places to explore in the surrounding area, including nearby Santa Monica and Beverly Hills. Other nearby attractions include shops, restaurants, hiking trails, boutiques, and water sports. If you are looking for a scenic and relaxing family vacation, look no further.
The inn is located about a 30-minute drive from downtown Los Angeles and is a welcome reprieve from the hustle and bustle of city life. If you're looking to take a break and just unwind, this is a perfect nearby option.
If you're looking for something more centrally located, you can't do much better than the Hollywood Hotel. This pet-friendly, contemporary hotel is located less than ten minutes from the city center and is another one of the best hotels in the Los Angeles area. The hotel offers numerous packages for nearby attractions, including Universal Studios, Six Flags, and Warner Bros.
The Hotel offers a wide variety of delicious dining options. Treat yourself to a delicious gourmet breakfast buffet before hitting the town and exploring all LA has to offer. The Route 66 Bar and Grill makes for a fun and relaxing dinner and features an attached comedy club with frequent high-profile headliners.
Whether you're coming from out of town or looking for a staycation, this is a great place to get an authentic Los Angeles experience with world-class service. The neverending list of nearby attractions makes it ideal for adventure-seeking families.
Take advantage of the greater Los Angeles area and all it has to offer. Find excitement, adventure, and luxury, just a stone's throw away.
More about our TFVG Author
A seasoned traveller, Dad, and avid sports tourist, James foundered The Family Vacation Guide to share his expert vacation experiences- especially when it comes to being a travelling family man.
Featured in Travel articles such as Travel + Leisure, TripSavvy and SFGate, you know you're reading some of the best vacation tips online.