During Halloween, Disneyland transforms into a spooky playground that is a lot of fun for park guests of all ages. The theme park becomes a spooky-fun place for Halloween parties, Halloween-themed treats, attractions, and even trick or treating! Disneyland even offers its guests tickets to exciting, Halloween-themed events such as the Oogie Boogie bash, a Disney Halloween Party at the California Adventure park, and Mickey's Not So Secret Halloween Party at the Disneyland Resort.
When Does Halloween Start At Disneyland?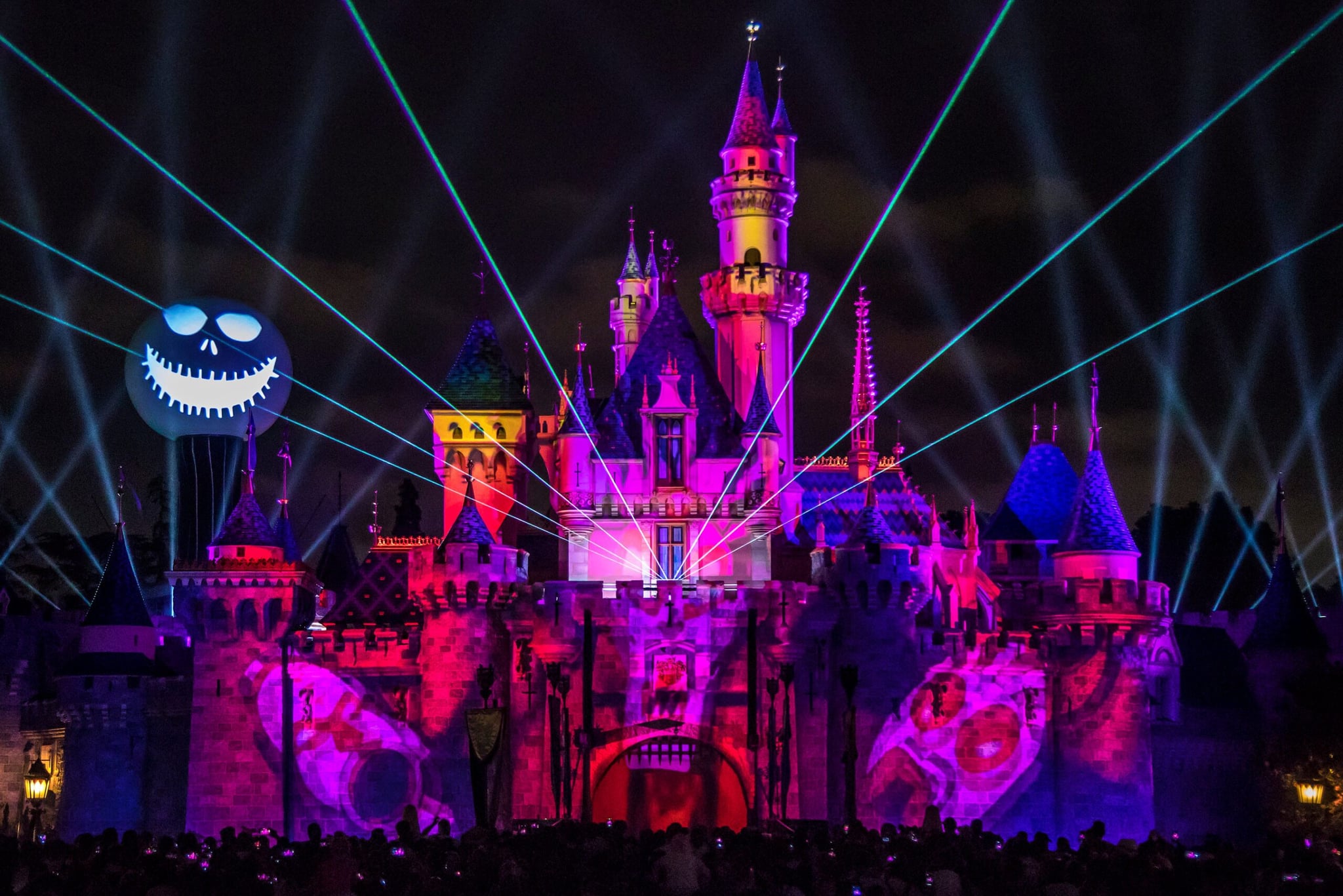 Disneyland's Halloween extravaganza usually runs from the beginning of September to the end of October, providing plenty of opportunities for you to enjoy the Halloween fun!
Main Street, U.S.A, greets you with a giant Mickey Mouse carved pumpkin head, immediately setting the tone for the Halloween decorations you will find throughout the park. The park decorations are often themed by location, such as those found in Frontierland, which are inspired by Dia de Los Muertos.
Fans of Tim Burton's Nightmare Before Christmas will get to see Jack Skellington along with the rest of Halloween Town at Disneyland's Haunted Mansion!
Have a Cars fan in the family? The main attraction at California Adventure Park is the spectacle "Haul-O-Ween," which is sure to get those engines revved.
Keep an eye on the Disneyland website for exact details of when the Disney Halloween season is due to begin this year; you definitely won't want to miss it!
What Is There To Do At Disneyland During Halloween?
There is never a dull moment at the Disneyland theme park during Halloween, with locations such as Downtown Disney and Disney California Adventure offering hair raising rides and frightfully-fun entertainment.
Not to forget all of the ghoulishly-dashing Halloween merchandise available to purchase, delicious Halloween desserts, and guided tours throughout the theme park, touring you through every piece of the Halloween action.
Make sure to purchase a park hopper ticket to gain access to everything Disneyland Halloween!
Halloween Rides And Entertainment At Disney
The Haunted Mansion Holiday
Halloween season at Disney is when The Haunted Mansion Holiday takes centre stage!
In the ballroom is a show-stopper gingerbread house that is decorated differently each year; see if you can spot the changes if you're an annual Disneyland Halloween goer! Sally, Jack Skellington, his ghost dog Zero, Oogie Boogie, and the Nightmare Nasties take the lead at this attraction. The voice of the Ghost House guides you on your journey throughout the night.
Space Mountain: Ghost Galaxy
This 3-minute long space-themed roller coaster takes you on an incredible intergalactic adventure!
Eerie space-like music plays as you are strapped into your "space shuttle." Next, you are whisked down a dark tunnel, lit only with the stars of the galaxy. But what is sure to get you and your family screaming on this ride is the space ghost that haunts and tries to grab you along the way!
Halloween screams
Best to view from Main Street, this 12-minute display takes place at the infamous Sleeping Beauty Castle and usually starts at around 9:30 PM. If you visit over the weekend, this projection show will be accompanied by a spectacular fireworks display.
Jack Skellington hosts the event with appearances from some of the most notorious Disney villains. The display showcases flying ghosts and colourful lights that tower over the princess castle, always keeping with the Halloween theme.
Always check the event schedule for dates and times of the Halloween Screams show, as it is only shown on selected days at specific times.
Disneyland Halloween Characters
Disneyland Halloween time is frightfully fun! Especially with appearances from the Halloween version of all of the characters!
Witness your favourites such as Mickey and Minnie Mouse and many of their friends decked out in their Halloween costumes around the theme parks.
At Disney California Adventure Park, the town of Radiator Springs is transformed. Outside Witchy Miss Lizzie's shop, you will see a broken-down zombie car coming out from the ground as if it were rising from the dead!
There are plenty of attractions and characters with uniquely added Halloween elements. You will find that Halloween entertainment does not fall short during this time!
Halloween Happiest Haunts Tour
A must when experiencing Disneyland at Halloween time is the Halloween Happiest Haunts Tour! You will learn all about the Haunted Mansion mixed with ghost stories, tricks, and spirits. Tours depart in the evenings at around 5 pm and last for about two and a half hours, with cast members recommending that you arrive at least 15 minutes before the tour starts.
A flat fee with no separate cost for children is set at $85 with a 15% discount for annual pass holders. Tickets for the tour can be purchased separately from your Disney park ticket.
You can book 30 days in advance for the tour, and because there is only one tour per day, it is best to make your bookings ahead of time. Specific dates and times have not yet been confirmed, so you may want to visit the Disneyland website regularly to stay up to date.
Main Street Pumpkin Festival
Main Street, USA, during the Halloween season, is completely decked out in Instagram-worthy pumpkins and carved to depict your favourite Disney characters at the Disneyland resort! A staple decoration for the Halloween season! In fact, a giant Mickey Mouse pumpkin even greets you right in the middle of Town Square.
The Main Street area is also brimming with live entertainment. From meet and greets with Disney characters to musical performances by the Disneyland band and the Dapper Dans Barbershop quartet.
Halloween time with Disneyland decorations
Nothing better sets the Halloween spirit at Disneyland like the decorations, and the parks are full of them!
You are immediately transported into Disney's weird and wonderful world with Halloween decor incorporated right from the beginning. Disneyland is divided into two theme parks, Disneyland and Disney California Adventure park. Both are showcase towns that correspond with the many characters of Disney.
In Disneyland, you will find Main Street, U.S.A, filled with fall and Halloween overlays. Pumpkins are carved into Jack-O-lanterns that fit with the theme and character of each store – the windows of the store display fall and Halloween-themed merchandise. There are scarecrows, buildings decorated with wreaths, and garlands made of fall leaves, turning it into an orange wonderland.
At the California Adventure Park, the popular Radiator Town is transformed into "Radiator Screams" with a "Haul-O-Ween" theme. With zombie cars rising from the dead, Luigi's Rollickin' Roadsters turn into Luigi's Haunkin Haul-O-Ween, and Mater's Junkyard Jamboree turns into "Mater's Graveyard JamBOOree."
You will also see Buena Vista Street with swarms of black bats overhead inside of Carthay Castle and the statue of the Headless Horseman.
Halloween Rides And Entertainment At Disney California Adventure Park
Guardians of the Galaxy-Monsters After Dark
Guardians of the Galaxy-Monsters After Dark is a drop tower ride sure to send your hair flying!
This ride takes place every evening at the resort and is a fan favourite. On this thrilling ride, you will be immersed in the story of a mission gone wrong. With sirens and flashing lights, you are taken on the adventure with Rocket to find Baby Groot, who has been left behind. All while listening to "Monsters After Dark," written by Tyler Bates, the original composer for the "Guardians of the Galaxy" films.
Be sure to check out the times and ticket booking information for this ride on the Disneyland website.
Mater's Graveyard JamBOOree
On the outskirts of Radiator Screams, you will find Mater's Graveyard JambOOree. A tractor ride for all ages! The ride is about 2 minutes long, with lots of swirling and jolts. At the same time, Mater sings his favourite songs, Halloween versions, of course. These include "Monster Truck Smash" and "Welcome to Radiator Screams."
Luigi's Honkin' Haul-O-Ween
A fun dancing ride where you get to sit in a colourful car of your choice! You are whirled away as the cars ride in a choreographed way around the space. With Luigi and his cousins singing songs like "Terror-antella" and "The Top Chop of Carsoli."
The Oogie Boogie Bash Halloween Party at California Adventure
The Oogie Boogie Bash, a Disney Halloween party, is an extra-ticket event purchased separately from your admission ticket. It is part of the Disney after-dark events. Your ticket includes after-hours access to the park, entertainment, ride, and meet-and-greet with your favourite characters.
During this event, you can go on rides, watch the spooky fun parade headed by the headless horseman, trick or treating, and dance the night away to live entertainment.
The Oogie Boogie Bash is only on selected nights, so be sure to pre-book and add it to your list of things to do while you are there. It is expected to start at 6 pm and carry on until 11 pm when the park closes.
See the Disneyland after-dark directory for bookings, costume guidelines, and more.
Musical Celebration of Coco
The film comes to life in this event as Miguel and some of the cast of Coco lead the parade along with living entertainment by Mateo, traditional Mexican dances, and the Mariachi Divas, who are GRAMMY-award winners.
Plaza de la Familia
Plaza de la Familia at Paradise Gardens Park is an immersive event by the characters of the Disney and Pixar film Coco. It includes live entertainment such as mariachi music. You can even enjoy yummy Mexican food to fit with the cultural theme.
You can also enjoy photo opportunities with Miguel next to the mural "Recuérdame"(Remember Me) and at the "Árbol de la Vida"(Tree of life).
Día de Los Muertos
This is a special event ticket at the Disneyland California Adventure Park and The Disneyland Park.
This event honours the traditional festivities of celebrating those whom we have lost. Keeping with the Mexican culture, you will be entertained and mesmerised by live music, dancing, and decorations. There is even mask decorating and a time to add remembrance notes on the Memorial Wall.
As part of the Musical Celebration of Coco, you will hear sounds from the Mariachi Divas and Miguel and his friends. Eat delicious Mexican home-style foods at the Rancho del Zócalo Restuarante at El Zócalo Park. The park is beautifully decorated with many traditional-style ofrendas decorations, such as skeleton figurines and colourful flowers.
California Adventure Park Halloween Decorations
As much as there is plenty to do at the California Adventure Park, there is also plenty to see.
Disneyland Halloween time is a chance to get you in the spirit of Halloween with tons of decorations. You will find the infamous boogeyman, Oogie Boogie, overheard on a massive light display at the entrance. The headless horseman statue in Buena Vista Street and Radiator Springs completely transformed into Radiator Screams.
Halloween Snacks And Foods At Disneyland
Food and snacks come hand in hand with your experience at Disneyland. One of the best ways to experience the resort and its theme parks is to go on a guilt-free eating adventure!
Some of the restaurants and cafes that you can eat at, at Disneyland Park:
Loaded fries and onion rings at Hungry bear
Beignets at Mint Julep Bar
Halloween cake at Plaza Inn
Some of the restaurants and cafes at California Adventure Park:
Halloween candy funnel cake at Award Wieners
Vampire Mickey sourdough bread at Boudin Bakery
Halloween and fall-flavoured ice cream at Clarabelle's Hand Scooped Ice Cream
There are plenty more restaurants and cafes available to enjoy. Check this food guide for where to go and what you can expect.
How Much Are Disneyland Halloween Tickets?
It is crucial to consider the types of tickets you are going to need as there are a few options depending upon specific locations and events.
Annual passes are the same prices for adults and children over 3.
Is the Disneyland Halloween party worth it? The following tickets are available for purchase, so you can decide if the price is right for you:
One park per day tickets – you are only able to visit one park in one day
With this ticket, the price is dependent on the date you plan on going, not on the date you buy them. They are priced at $104 per person.
These tickets are valid until December 30th, 2022.
Park Hopper tickets – you can visit both parks in one day
Multi-day tickets – split into two-day, three-day, four-day, and five-day tickets.
Two-day (park hopper) = $300 children, $315 adults.
(one park p. day) = $240 children, $255 adults.
Three-day (park hopper) = $370 children, $390 adults.
(one park p. day) = $310 children, $330 adults.
Four-day (park hopper) = $400 children, $420 adults.
(one park p. day) = $340 children, $360 adults.
Five-day (park hopper) = $420 children, $480 adults.
(one park p. day) = $360 children, $380 adults.
Disneyland Park Costume Guidelines
Dressing comfortably is essential when visiting Disneyland as your days can get long. You are not required to wear costumes to Disneyland; however, if you do, here are the costume guidelines from the Disneyland website.
How To Prepare For A Visit During Disneyland Halloween?
Planning is vital when planning a visit to Disneyland during Halloween time!
Buy your tickets online
Park hop
Arrive early to avoid wait times
Download the Disney app on your mobile for easy scheduling
Pack essentials
FAQs
You probably have many questions about visiting Disneyland during this season. It's not surprising when there is so much to see and do and just not enough hours in the day to do everything!
Let's look at some of the commonly asked questions when trying to plan a trip to Disneyland on Halloween.
What should I wear to Disneyland on Halloween?
You are not required to wear any costume for Halloween when visiting Disney. However, it would be loads of fun to dress up and get in the Halloween spirit. The key to your wardrobe when visiting this time and any other time is to dress comfortably!
Is Disneyland crowded on Halloween?
As Disneyland is known for many things, crowds are no exception! Special holidays like Halloween and events make the theme parks even more packed. It is best to plan your day to know exactly what you want to do on your trip.
How long do Halloween decorations stay up at Disneyland?
The Halloween decorations remain in the parks until November 6th. After this time, Disneyland begins preparing for the next big event, Christmas time.
Do you need a park reservation for the Oogie Boogie Bash?
Yes, you need a park reservation for the Oogie Boogie Bash as it is an extra ticketed event. This can be purchased online from the Disney After Dark Directory.
Final Thoughts
It is important to be specific about what you want to see, eat and do at Disneyland during Halloween time. Make sure you download the Disney mobile app to have an on-the-go schedule and keep up with the dates and times of the special events.
The most important thing to remember is to have fun and simply enjoy the experience. It is truly one that will have lasting memories for you and your family!
Here are some more great articles about Disneyland, California!