Yes, it does snow in the Golden State, and there is lots of it. Palm trees and sunny beaches are the more resonant and familiar images of California, but while iconic, they don't tell the whole story of the state's weather or the breadth of travel and recreation opportunities for families that enjoy winter vacations.
November through April is the rainy season in California, and at higher elevations, this can mean snow. Places with snow range from southern California to the northern border of the state.
Why not check out our guide to the best California ski resorts to stay at with kids for recommendations on where to enjoy the snow?
Near Los Angeles
At Big Bear Lake just north of the Los Angeles area, you'll find yourself quickly at almost 9,000 feet in elevation, surrounded by a National Forest and a recreation area. In winter, between November and February, the average snowfall can be 25 inches per month.
The Sierra Nevadas
For serious snow, you'll have to travel several hours further north and east from the Big Bear area, along the Sierra Nevada Mountain range to Mt. Whitney, which is the tallest mountain in the lower 48 United States at 14,505 feet and where the snowpack can reach over 30 feet. And further north and westward, Mt. Shasta near the Oregon border.
The Sierra Nevada range begins in Bakersfield in California's Central Valley at 1,360 feet in elevation in the foothills and extends 191 miles to 14,505 feet in elevation at the top of Mount Whitney in the northern part of the state. The Sierra Nevada Mountain range can have as much as 100 inches of snow per year.
Moving northeast through the mountain range, the National Parks Service has four national park units on the north slope of the Sierra Nevada range. The Sierra Nevada Network consists of Devils Postpile National Monument, Sequoia & Kings Canyon National Parks, and Yosemite National Park.
Mt. Whitney is on the far eastern boundary of the Sequoia and Kings Canyon National Park, where the snowfall can be as much as 30 feet per year. In these parks, there is winter cross country skiing, snowshoeing, and scenic drives. More information is available on the National Parks website should you consider a visit to this area).
Two hours north of Mt. Whitney (and 5 hours north of Los Angeles and 3 hours from Reno NV) is the Mammoth Lakes area. Billing itself as the highest four-season resort and playground in the United States, the area boasts 300 days of sun and year-round family recreation and averages 93.2 inches of annual snowfall.
Five hours north of Mammoth Lakes, is Lake Tahoe where multiple resorts in the surrounding areas are open 365 days a year for recreational activities and tourism. Annual snowfall can be over 100 inches per year.
Yosemite National Park
Also in the Sierra Nevada mountain range, Yosemite National Park is 1187 square miles and is best known for its gorgeous scenery and features like El Capitan, Half Dome, and Cathedral Rocks, but the park also has the Badger Pass Ski Area. With snowfall from December through February of up to 15 inches, the area is home to skiing, snowshoeing, snowboarding, cross-country skiing, and snow tubing for the whole family.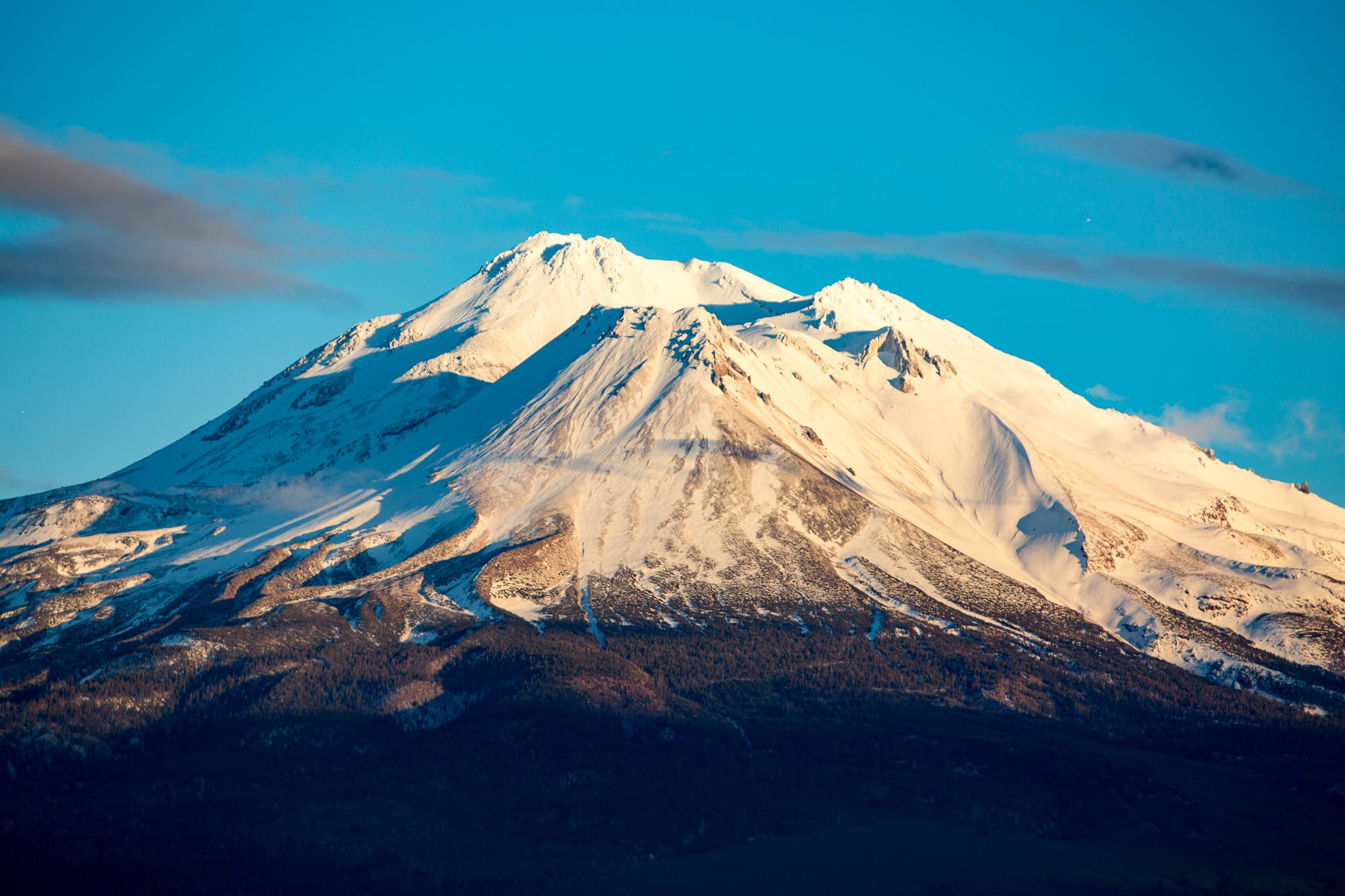 Mount Shasta
Mount Shasta is a potentially active volcano at the southern end of the Cascade Range in northern California. It is 5.5 hours from Lake Tahoe toward the Oregon border and has 60 inches of annual snowfall. While the recreation area is smaller than that of Lake Tahoe, the laid-back atmosphere is ideal for family vacations.
Winter family vacations in California
Sequoia and Kings Canyon Park
If your family loves the outdoors and nature, the Sequoia and Kings Canyon Park is a great place to experience them intensely, up close and personal. If you like to enjoy scenic drives, some of the park roads remain open all year (and occasionally close due to storms – check the park website for details).
A unique family-friendly aspect of national parks is that there are rangers and volunteers that conduct guided events, and spaces such as Snow Play areas in the Sequoia and Kings Canyon Park, where everyone can sled, tube, and even build snowmen! It is important to check the park website before traveling for weather and closure information.
Mammoth Lakes
With its high elevations at over 10,000 feet, the Mammoth Mountain ski area provides not only thrilling ski adventures, but fun activities like the Mammoth Trampoline Club, or the gondola ride which is a unique experience for the whole family. Ride to the top of the mountain for scenic views and opportunities for selfies. And kids under 12 are free.
If you need a more 'feet on the ground' type experience, there's also a snowcat tour up the mountain with a picnic at the top!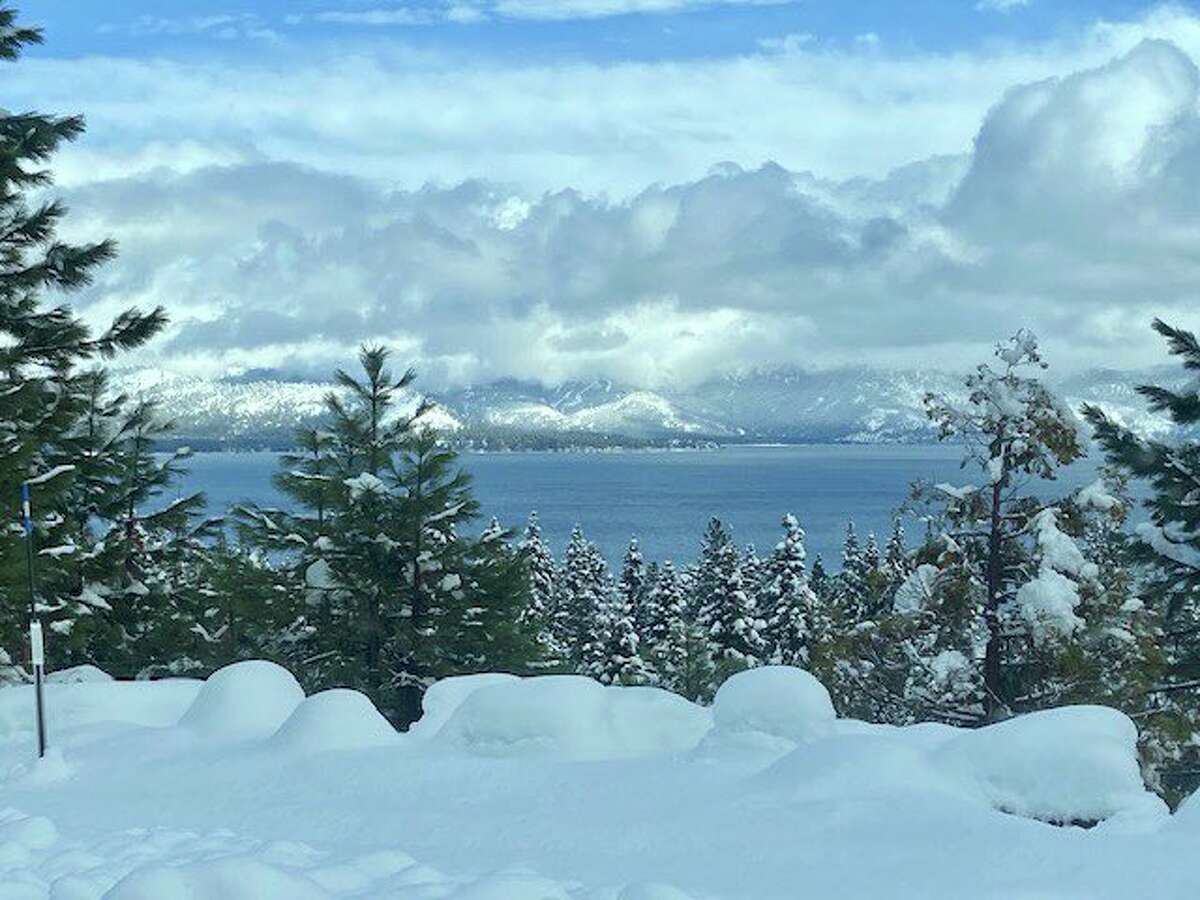 Lake Tahoe
For snow sports, the Lake Tahoe area has everything you could want. With five major ski resorts around the lake, your family can not only enjoy a day of snow sports adventures, but later you can head out for shopping, dining, and ice skating at nearby villages. There are shuttles that run the resort loop which makes this really easy. But travel by car around the area might be challenging in winter, so plan accordingly.
The weather can be temperamental, with storms and lots of snow so checking the forecast is a must before making your plans. You'll also need a 4 wheel drive vehicle or chains to enter the area in the winter. And for a more nature and family-oriented visit, stay on the California side of the lake. The Nevada side is somewhat more developed and commercial.
Yosemite National Park
There is no better place to visit than Yosemite National Park for the intrepid adventurer. Because of its vast size of 1187 square miles, reaching the park is a long trip – 6 hours from Mammoth Lakes to the east, 2-3 hours from San Francisco on the west, and 5 hours from Los Angeles to the southwest.
Hiking, camping, backpacking, and nature study are only a few of the things you can do in the park. In milder weather, visitors go biking, bird watching, and fishing, as well as horseback riding. In winter, it is more peaceful and quiet with fewer visitors, but the park provides special activities for that time of year as well.
Mount Shasta
Mount Shasta is located 60 miles north of Redding California and easily accessible by road from the I-5 highway. The volcanic mountain is 14,179 feet high, snow and ice-covered on its peak, and renowned for its beautiful vistas. The area boasts 15 miles of groomed cross country ski trails, a ski park with 32 trails, and a snowboard and sledding park.
The Mount Shasta area doesn't have the crowds of Tahoe, and things move at a slower pace. It is especially good for families with older children who want to experience winter sports like skiing, and for younger children who can enjoy sledding down Snowman Hill. It can be significantly cheaper for ski lessons for kids than Tahoe and Mammoth, too.
If you need a day off from outdoor activities, you can visit the Sugar Pine Candy Company at the McCloud River Mercantile. There's even a movie theater in the local mall, so you can shop and catch a show to wind down the day.
What are the best family lodging choices for winter vacations in California?
Sequoia and Kings Canyon National Park
For the truly adventurous family, there are four lodging accommodations right in Sequoia and Kings Canyon National Park, ranging from luxurious to wilderness tents, and three of them are generally open year-round. Sadly, they are currently all closed due to the KNP fires but most will reopen in 2022. You can find updated information about park closures on the website.
Wuksachi Lodge is an AAA-rated three-diamond hotel set in nature and beautifully decorated with stone, oak, and hickory details. There are 102 rooms with modern conveniences, a restaurant, and an event facility. As of November 27, 2021, the Wuksachi Lodge remains closed due to the fire.
John Muir Lodge is currently closed for the season but will reopen on March 25, 2022. The lodge is named for famous naturalist John Muir who was instrumental in advocating for the preservation of wilderness in the U.S. There are 32 rooms with hand-crafted furniture in this rustic oasis in Kings Canyon.
Grant Grove Cabins are currently closed for the season but will reopen on April 15, 2022. These timber or tent cabins are within walking distance of the 274 foot tall General Grant Tree.
Bearpaw High Sierra Camp is a tent camp located at 7,800 feet of elevation with 11.5 miles of hiking along the High Sierra Trail into the national park wilderness. Unfortunately, the camp has been closed for the 2021 season for repairs to the water infrastructure at the camp.
There are also more accommodations in the Family Vacation Guide.
Mammoth Lakes
With a wide range of lodging options including luxury hotels, B&Bs, motels, lodges, and cabins Mammoth Lakes has something for every family and every budget. For large or extended families, there are ski-in, ski-out chalets that sleep up to 16.
Do you bring the family pet along on your travels? There are even lodging options available for them. For families that want to be away from the hustle and bustle of the resorts, there is June Mountain, which is just 35 minutes north of Mammoth and known as the 'family mountain' of the Eastern Sierra.
Yosemite National Park
You'll really have to plan ahead to book lodging at Yosemite. Reservations are requested to be made 366 days in advance. Accommodations range from tent cabins at the High Sierra Camps to deluxe rooms at the Ahwahnee. Some are open for the winter season.
Rooms are available at Curry Village, which has hotel rooms, cabins, and a tent camp (open for weekends only in winter). Most of the rooms are very affordable and would fit any family vacation budget. But you'll need to be hearty and experienced campers if you choose the tent cabins in the colder weather especially with kids.
Yosemite Valley Lodge is close to Yosemite Falls, and a family vacation favorite. There are a variety of family-friendly rooms that sleep the whole crowd.
The Tenaya Lodge is in the Mariposa Grove of Giant Sequoias, a must-see for any family vacation to Yosemite. It is located at the park's south entrance, has guided nature hikes, a flashlight snowshoe hike, and guided bus tours of the park too.
For pure luxury set in the natural wilderness of Yosemite, the Ahwahnee has classic hotel rooms and cottages.
Mount Shasta
You'll truly have a wide range of lodging options when you visit Mount Shasta destinations. While there are traditional hotels and motels, there are also vacation rentals, RV parks, and B&Bs throughout the area.
Families can stay at the beautiful Mt. Shasta Resort where there are chalet rooms that include a kitchen, dining room, and deck, or opt for more traditional hotel-style rooms.For families that like to have camping adventures, the Mount Shasta KOA campground has everything you need, from full hookup RV sites to tents and deluxe cabins. All this is set at the foot of beautiful Mount Shasta and open all year.
More about our TFVG Author
A seasoned traveller, Dad, and avid sports tourist, James foundered The Family Vacation Guide to share his expert vacation experiences- especially when it comes to being a travelling family man.
Featured in Travel articles such as Travel + Leisure, TripSavvy and SFGate, you know you're reading some of the best vacation tips online.