Congratulations! You've decided to take a family vacation to California. You'll have a wonderful time exploring one of America's most beautiful states. From Northern California's hills to the beaches of Malibu, Venice, and Santa Monica, theme parks, tourist meccas, the Hollywood sign and more are all there to charm families.
But how much does it cost to go to California? The answer is complicated. Based on figures from vacation booking websites, the average price of a seven-day trip to California is just over $4,500 for a family of four. That can give you a starting point for setting your vacation savings goal, but that figure should be fine-tuned a little. 
If you're looking for inspiration for your next California family vacation destination, check out our handy guide which will help you choose somewhere the whole family will love!
The Cost of a California Family Vacation
So many factors can influence the price of a family vacation. Are you traveling from a neighboring state by car, or flying from across the country? Are you booking one hotel room or two, or are you reserving a vacation getaway on Airbnb or VRBO?
If your family is flying to California, are you renting a car? Are you visiting theme parks? Shopping? Going to the beach? Hiking?
All these factors can add to the cost of a family vacation to California. If that seems like a lot of questions to answer, don't worry. The Family Vacation Guide has done some of the work for you, showing price ranges, how much visiting some of the best family vacation spots in California costs, and where to find more information.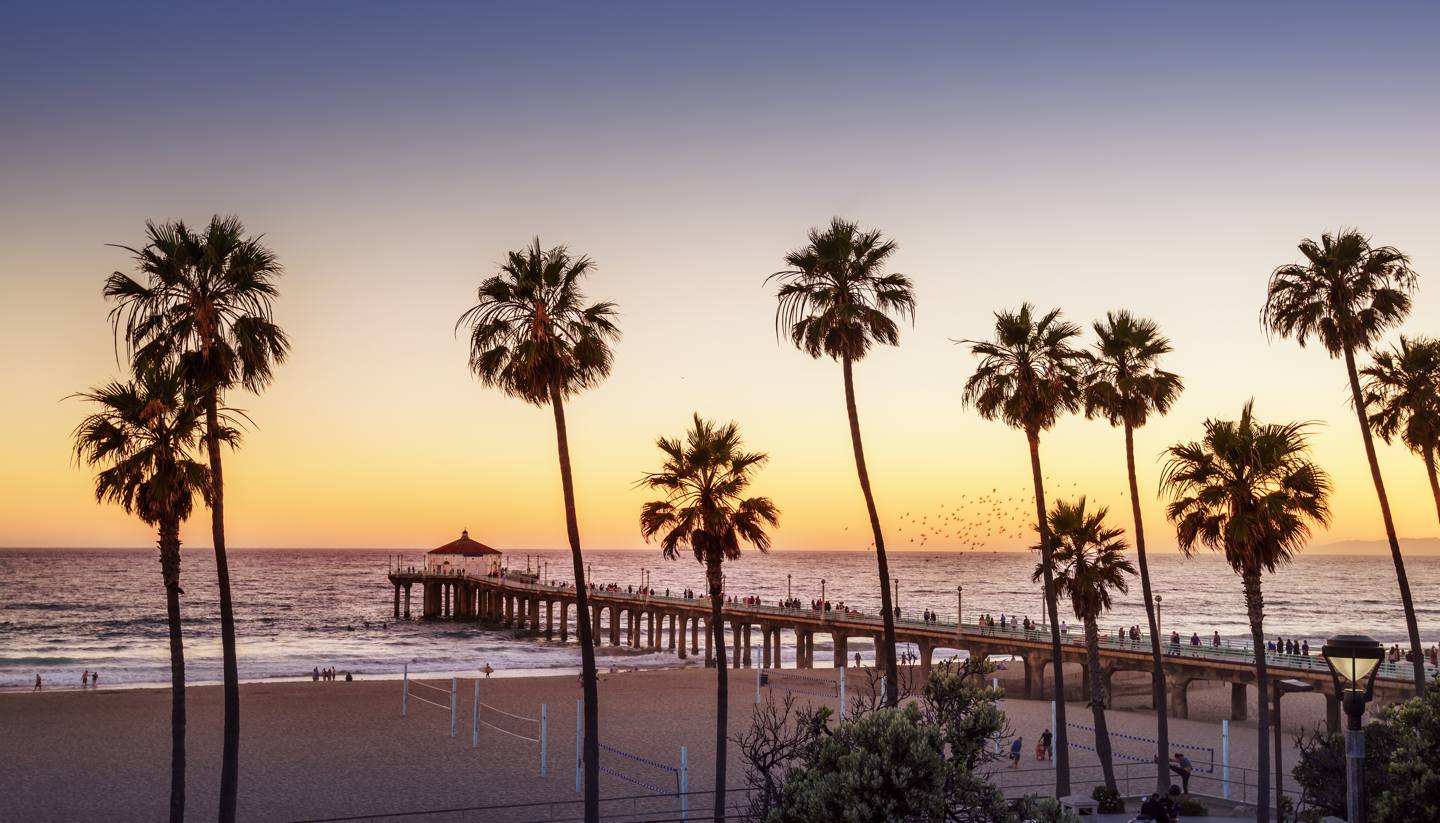 How Much Should We Save?
Visiting California with your family is an unforgettable vacation for all ages. Here we note some family vacation costs in California, ranging from budget-friendly vacations to luxury.
A California Family Vacation on a Budget
A family of four can spend about $110 to $225 a day per person, or anywhere from $3,192 to $6,300, on a seven-day trip to the Golden State. This figures in economy plane tickets, $150-per-night accommodations at a one-star hotel, and dining at casual establishments.
Vacation costs can be even less than this, though. Families who rent vacation lodgings on Airbnb or VRBO have the advantage of a kitchen. While eating out is part of the fun of family vacations, breakfast at your vacation rental and packing a picnic lunch for later can be fun as well as budget-friendly. Travel costs are even lower for those who live close enough to California to drive there.
The Average California Family Vacation
Based on vacation bookings, the average price of a California family vacation is about $75 to $325 per person per day or about $2,100 to $9,100 for a weeklong vacation for a family of four. This includes a vacation rental costing about $250 a night and first-class or economy airline tickets. Those close enough to drive to California won't have airfare as an expense.
A Luxury Family Vacation to California
If money's no object, or at least not as much of one, a family of four could spend about $450 to $1,000 per person per day, or from $3,150 to $28,000 for a week of California luxury. This includes stays in four-star or five-star hotels, first-class airline tickets, and daily expenses at the state's finer restaurants, attractions, and, for the adults, day spas.
Luxury family vacations may seem like something only for the rich or famous, but families can splurge on the luxury treatment to make a family vacation more fun and memorable.
How to Get There
Getting to Planet Hollywood isn't impossible for family vacations. Here are a few ways for families to get to California.
By Car
Los Angeles may seem far away from the nation's midwest or east coast, but it's really just two to three days of driving away from the eastern seaboard. For families who live in the southwestern United States, Los Angeles is as little as five to six hours away.
By Air
Driving isn't the only way to take a family vacation to California. Airlines can fly families to California in the space of five to 10 hours of flying with a layover. First-class flights or private air services are the most expensive ways to fly into LAX. Economy tickets are more affordable.
Check out our guide to the best flight booking sites for the very best deals.
By Train
Amtrak is another way to take your family adventure to California. Trains and connecting buses serve more than 150 California cities, including San Diego, Los Angeles, San Francisco, Sacramento, and Santa Barbara, as well as national parks and beaches.
The California Zephyr can take families to California by rail over three days, going from Chicago to San Francisco through some of the country's most beautiful sites.
Best Places for California Family Vacations
So, how much does it cost to go to California? California has loads of spots that are perfect for a family vacation. Among them are these jewels of the Golden State.
Why not check out our guides to the best all-inclusive family resorts in California, the best California family beach resorts and the best family resorts in California for inspiration on where to stay?
Los Angeles
Exploring the City of Angels will take you from Venice Beach and the Santa Monica pier to quaint shops and TV studios in Burbank and multicultural neighborhoods, restaurants, and shops. Visit the Griffith Park Observatory to get a glimpse of the Hollywood sign. Universal Studios Hollywood is a must for theme-park fans.
Many of these locations are free to enjoy, but plan on bringing money for parking. Admission to Universal Studios Hollywood is more than $100 per person.
Anaheim
If theme parks are what your family's looking for, Anaheim has Knott's Berry Farm and Disneyland, which includes Disneyland Park and Disney California Adventure. The city also has a Japanese garden and an arboretum for nature lovers.
Disneyland costs $76 per person per day. Knott's Berry Farm admission is $54 per person per day.
Are you planning a trip to Anaheim and searching for the best family activities? We created a list of the best family things to do in Anaheim, California to help you plan your visit.
Professional Sports
Seeing a professional football, basketball, hockey, or baseball game in California is a must for families that include sports fans, so this is more of an activity than a location.
The state boasts three NHL teams (The Anaheim Ducks, Los Angeles Kings, and San Jose Sharks) and five Major League Baseball teams (The Angels and the Dodgers from Los Angeles, San Francisco Giants, San Diego Padres, and Oakland A's).
The Los Angeles Rams and Raiders and San Francisco 49ers play in the NFL, and NBA teams include the Los Angeles Lakers and Clippers, the Sacramento Kings, and the Golden State Warriors.
National Parks
California has some of the most beautiful national parks in the country. Visit Sequoia National Park for breathtaking hikes year-round. Joshua Tree National Park showcases desert vistas. Redwood National Park and Yosemite National Park are also among the choices for families that want to experience nature together. Carlsbad Caverns National Park will take the exploration underground.
San Francisco
From driving across the Golden Gate Bridge to visiting the San Francisco Zoo and Fisherman's Wharf, San Francisco has plenty of offer families. The Children's Creativity Museum is a must, as is an excursion to Alcatraz.
Catalina Island
Catalina Island, a rocky island off the California coast, is a great spot for family vacation rentals and watersports or just beachcombing or ziplining. Lodgings range from charming bed and breakfasts to campgrounds. Catalina Island is a perfect spot for getting away from it all as a family.
San Diego
Kayaking, whale watching, visits to the La Jolla sea caves, and a trolley tour of the city are a few things that make San Diego a fun family vacation spot. Its coastline is among the most beautiful in the state. Trolley tours are $46 per adult, and whale-watching cruises are about $85 per person. Kayaking through the sea caves is about $32 per person.
Sacramento
The state's capital, Sacramento boasts museums galore, plus the American River Bicycle Trail that families can explore together. There's also the Sacramento Zoo and Sutter's Fort Historical Park that will let families learn about the state's early days, including the gold rush. Museum admission is generally less than a theme park's, and the educational opportunities are enormous.
Little Costs Add Up
When planning for a family vacation, set a savings goal and then add to it. The little costs here and there can add to vacation bills.
How much does it cost to go to California? You might be surprised on how much you can save on family trips by making a few of these cost-saving moves:
Make Your Own Coffee
If your hotel room or vacation rental has a coffee maker, put it to good use by making your own coffee first thing in the morning and filling a travel mug to take along when sightseeing or enjoying that famous California sunshine.
Free Breakfasts
If you're staying at a California family hotel that offers breakfasts as part of the price of your stay, plan to dine at the hotel each day. Over a week's stay, that adds up to 28 free meals, and they're not all continental breakfasts, either.
Limit Souvenirs
A souvenir here and there adds up. Before you decide to buy T-shirts and visors everywhere you go, set a souvenir budget. Chances are, that $20 souvenir you've just got to have will be in a garage sale a few years from now.
Eat Where the Locals Do
Not only is going off the beaten tourist path less expensive, but you'll also get more local flavor. Instead of heading to a Starbucks just like the one back home, try out a coffee shop where the locals go. Want Korean barbecue? Look to L.A.'s Koreatown neighborhood.
Shop for Snacks at the Supermarket
Granola bars, fresh fruit, and bottled water are priced at a premium when you go to theme parks and tourist attractions. Stock up on healthy snacks at a local supermarket and bring them along on your travels. You'll save plenty of money and be less tempted to run through the In-and-Out Burger for fast food between meals.
Rent in the Middle of the Week
Vacation rentals and hotel rooms can be higher on the weekends, so for shorter family vacations, book rooms and rentals between Sunday and Thursday for better prices. If you're wondering if California has an off-season, it doesn't. California sunshine makes it a vacation destination year-round, but you can still save by renting in the middle of the week.
Make Time for Togetherness
Family vacations don't have to be all tourism and travel. Enjoying a family game night at your vacation rental or a picnic by the beach might be the most meaningful part of your family vacation because your family is together and having fun. These are low-cost activities that your family will remember long after the vacation is over.
Looking for some amazing family fun? We've collated a list of the best places for families to visit in California that the whole family will be sure to enjoy!
Involve the Whole Family in Planning
If your kids are old enough, involve them in vacation planning and budgeting. The results might surprise you – you might find out they're more interested in surfing than theme parks, for example. When you get everyone's input, the family vacation usually includes something for everyone while being within budget.
Get the Family Vacation Facts
If you're planning to visit California for a family vacation, make sure to stop by tourism websites and listen to podcasts first. You'll be able to get travel guides tailored to your family. Then visit websites for places you'd like to go to look for special prices. With a little online homework, you can get inside information and family vacation deals.
Start Saving for Your California Family Vacation Getaway
By now, you're probably ready to start planning your California family vacation. While California has plenty of luxury experiences, a California family vacation is within reach of most families. Whether you take to the theme parks and tourist meccas or take a hike in some of California's national parks, you'll get loads of memories for your vacation dollars in the Golden State.
Set a date for your California family vacation and a budget, then divide that number by the months between today and when you leave. That's how much you'll need to set aside each month, so your California family vacation won't leave you with a stack of bills later.
Careful vacation planning and a budget will make your family getaway to California everything you dreamed it would be.
Are you planning some big family days out ahead of your vacation but need some more inspiration? We've created a list of attractions and fun things to do in California with kids which should come in super handy!