The perfect adventure for thrill seekers, Six Flags Magic Mountain offers a fun-filled day for the entire family with an exciting theme park and an impressive water park for cooling off in the hot Californian sun.
Set in Valencia, a short distance from Los Angeles, California, Six Flags Magic Mountain features over 260 acres of thrilling amusement rides. Featuring 20 giant-sized roller coasters, Magic Mountain is the largest roller-coaster park in North America.
If you are in California and looking for an entertaining way to spend the day, stick around to discover everything you need to know before visiting Six Flags Magic Mountain.
Items to Bring to Six Flags Magic Mountain
Unfortunately, you can not bring food, drinks, coolers, or barbeques to the park, with the exemption of baby foods and food for allergy sufferers. Not to worry, plenty of places to grab a bite to eat once inside the park. All details of restricted items can be found on the Park Policies page.
Here is a list of items that are permitted in the park that we encourage you to bring to help make your visit to Magic Mountain more enjoyable:
A backpack to carry your belongings
Some spending money, or a debit or credit card
Sunscreen, hat, and sunglasses
Your bathing suit and towel for the water park
What to Wear to Six Flags Magic Mountain
The weather in California is generally hot, so dressing light and comfortable is crucial. Bringing a raincoat or an umbrella in your bag on cloudy days helps to ensure you enjoy the park attractions.
Planning your trip to the park on a cloudy day also offers some advantages, such as fewer people and cooler weather for enjoying your adventures on Magic Mountain.
Because the park is over 260 acres, comfortable footwear is a must. We suggest wearing sandals or running shoes that are easy to walk in. Avoid wearing flip-flops or shoes without heel support because you might lose them on certain fast-moving rides.
Magic Mountain does not allow graphic clothing that is rude or offensive to others. So, keep this in mind when choosing your outfit for the day.
Swimsuits are also not permitted inside the amusement park and must be worn only in the water park area.
Purchasing your Magic Mountain tickets ahead of time online can help save time waiting in long line-ups at the entrance gates. Print off your tickets or save them to your phone for quicker gate entry.
There are several options when buying your tickets, including:
Annual Membership – $9.99/month
One Year Season Pass – $99.99
Day Ticket $85.00
Under 48" – $60.00
You can also save money by purchasing meal deals, group tickets, and parking passes and shopping around for discount codes to use at purchase.
Prices may be subject to change.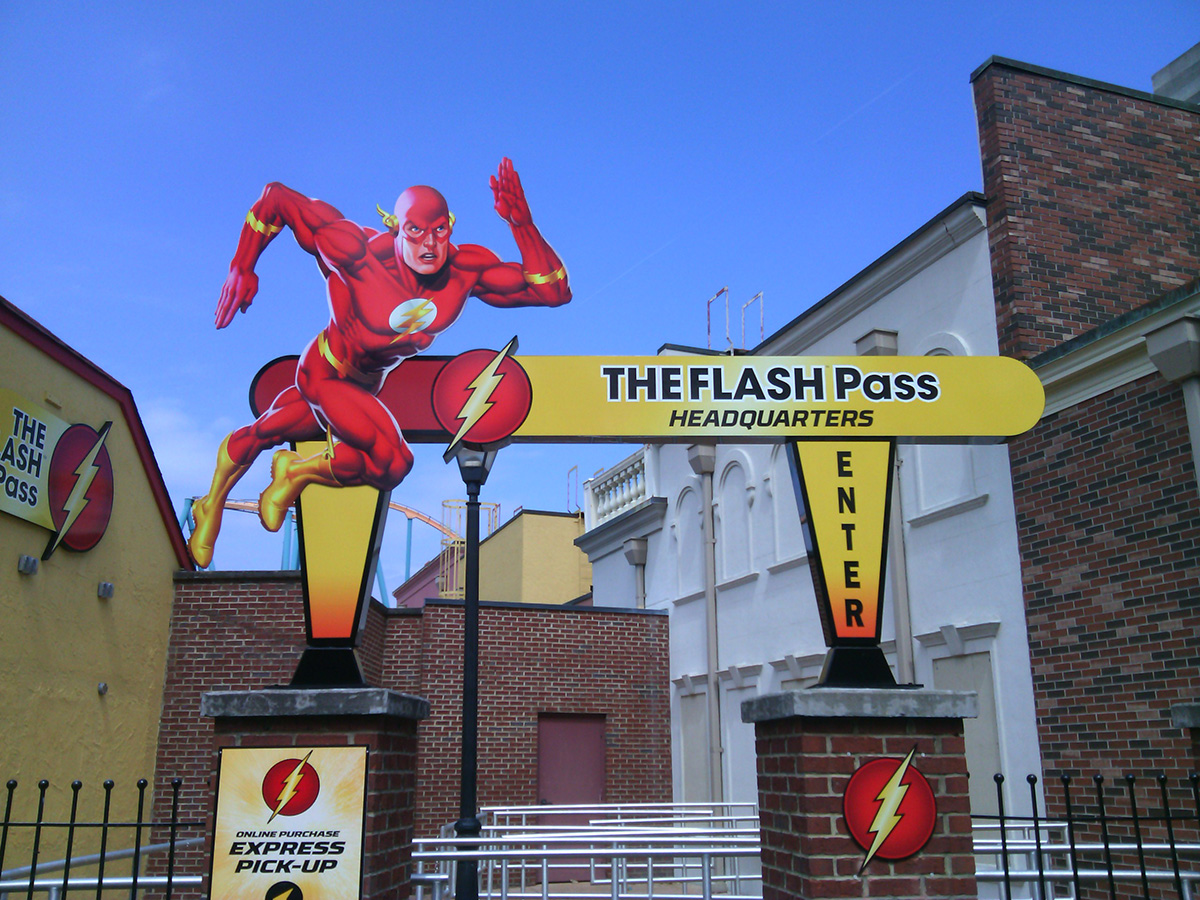 Sometimes the wait times for rides at popular amusement parks can be annoying and extremely long. On a busy day, it's nothing to wait in a 90-minute stand-still line-up to enjoy the thrill of a three-minute roller coaster ride.
At Six Flags Magic Mountain, you can skip the long waiting lines by purchasing a flash pass. Flash Passes come in several options, depending on how much money you are willing to spend, including the following options:
Platinum Flash Pass – $190.00 – enjoy faster lines by 90% on all eligible rides
Gold Flash Pass – $105.00 – cut your wait-time in half on rides
Regular Flash Pass – $80.00 – wait virtually on your choice of rides while you enjoy other attractions
Junior Flash Pass – $30.00 – cut the wait-time in half for riders under 48 inches tall
The price of the Flash Pass is additional to park entrance fees and can be costly for a whole family to purchase when visiting Magic Mountain, especially during peak seasons when the prices are up in price.
However, if you are not willing to fork out the extra money for a day at the park, Six Flags Magic Mountain also offers single-use Flash Passes that let you ride your favorite rides from $5 to $25 extra, depending on the ride. Alternatively, you can completely opt out and tackle the waiting lines.
How Does the Flash Pass Work?
The Flash Pass looks like a watch that you wear on your wrist. View attractions on screen by swiping up or down. Scroll through alphabetically and see the current wait times for each one.
When you find an attraction that interests you, click on it to reserve your spot in the line. After booking, the flash pass device will beep when your time slot is coming up.
You can only book one attraction at a time. Up to six guests can use one flash pass device. The device is also water resistant and safe to wear on water rides.
What is the Best Time to Visit Six Flags Magic Mountain?
Six Flags Magic Mountain is open all year, so anytime is a good time to visit the park. However, park hours vary per season, so check the park's calendar before booking your tickets to ensure the time is ideal for your visit.
If you are looking for the quietest time to visit the park, plan your trip when the children head back to school in September or January, when most people are out of money after the holiday shopping.
The park sees its busiest times during the summer and spring break when children are out of school and families can vacation together.
Visiting the park on a weekday will also offer a break from the busy weekend crowds. Tuesdays and Wednesdays are generally the quietest days of the week. Some families enjoy visiting the park on a long weekend off work and plan their vacations from Friday to Monday. These days are often the busiest.
Arriving at the park early in the morning can also help to beat some of the rushes and save you a bit of waiting time on the first rides of your visit without a flash pass. By noon, the park is at peak levels of visitors and the wait times are long for rides.
Visiting the park on a rainy day is also not a bad idea if you want to beat the crowds. Just dress according to the weather and enjoy a less-crowded park.
Ways to Save Money When Visiting Six Flags Magic Mountain
Whether traveling with your family or a single traveler on a budget, here are some easy ways to save a few bucks when visiting Magic Mountain.
Become a Six Flags Member
Join a Six Flags membership program and pay a monthly membership that offers savings and skip-the-line perks each time you visit the park. If you visit the park often, becoming a member can save you more money than buying flash passes.
Visit the Park During Off Season
Plan your visit to the park during off-season times when the prices are lower. The prices are often much higher during busy peak seasons.
Shop for Coupons
Many hotels and businesses offer discount coupons that can help to reduce the cost of your visit to the park.
Reserve Your Tickets in Advance
If visiting during peak season, book your tickets to the park months in advance before the prices get raised.
Special Events Taking Place at Six Flags Magic Mountain
There are certain times of the year when Magic Mountain holds special events for guests. From September 10 to October 31, enjoy Halloween Boo Fest for the kids, Fright Fest featuring 14 creepy haunted houses, fright zones, scary shows, and Halloween treats.
Oktoberfest also takes place for the adults featuring seasonal craft beer and mouth-watering German cuisine.
Other special events at Magic Mountain include:
Tailgate Weekends – August 27 to February 12 – enjoy watching professional and college football games over drinks
Grad Nights – May and June – Highschool seniors can take advantage of discounts and party features
Mardi Gras and Spring Break – March – enjoy special activities during your break away from school
Six Flags Pride Week – select days in June – featuring activities honoring gay pride
Magic Mountain offers something for everyone, from roller coasters to kiddies rides and everything in the middle. Here is our list of the top five roller coaster rides at Magic Mountain:
Experience the ultimate thrill of this old-fashioned roller coaster with super-fast speeds, three tunnels, and plenty of turns and bumps that leave butterflies in your belly.
If you are a roller coaster fan, the X2 Coaster is another favorite that will have your heart racing in your chest with every twist, turn and drop. This superb ride is one of the scariest in the park.
This 70-foot steel roller coaster will have you screaming at every drop as you ride face down, up steady climbs, down huge drops, and around twisty trunks with every scream.
Experience the thrill of giant loops, backward and forwards launches, and some of the best hang times of any roller coaster ride in the park.
Celebrate the bicentennial at Magic Mountain with a flashback to the seventies in this looping roller coaster that's the first ride you see when you enter the park. The New Revolution has earned its title among the top 5 rides.
Best Water Rides at Six Flags Magic Mountain
The best feature of Magic Mountain on a hot Californian day is the water theme park. Here is our list of the top 5 rides to help cool you down on your next visit to Magic Mountain:
One of the fastest water slides in the park, the Black Snake Summit is a fan favorite for many thrill seekers looking to cool off in California fashion.
Another incredible water slide favorite, the Taboo Tower, takes you up 65 feet. And, what goes up, must come down as you blunge down the water slide at incredible speeds.
Enjoy your choice of three waterways down slippery walls as the sun helps to direct you down the zig-zig waterways with a refreshing plunge to the bottom of the Lightning Falls.
Enjoy the thrill of riding through an enclosed Tornado slide on a water tube. Experience unexpected drops and darkness until you reach the bottom of the ride.
An incredible tube ride, the Lost Temple Rapids is the ultimate ride for the whole family as you float down the Lost Temple ruins in a white foamy river, sure to provide plenty of splashes and laughter as you go.
Other favorites of the water theme park include the River Cruise Lazy River and the Children's Hurricane Harbor featuring these favorite rides for the wee ones:
Cast Away Cove
Splash Island
Python Plunge
Six Flag Magic Mountain offers several restaurants and snack bars throughout the park to please every taste bud, from pizza, burgers, and fries to salads, oriental cuisine, and full-course meals.
Magic Mountain also offers a variety of desserts throughout the park, such as ice cream, milkshakes, popcorn, and cotton candy. Or, sit and enjoy a cold beer in the hot southern sunshine.
Choose from reasonably priced meals for children and adults at Magic Mountain. There are also private nursing stations for breastfeeding mothers at the First Aid Station.
Finding the perfect souvenir can make lasting memories when you visit Six Flags Magic Mountain. Whether you are searching for a unique gift for a friend, or yourself, you are sure to find something in one of the many souvenir shops scattered around the park.
Cool souvenirs from Magic Mountain may include:
Park-themed t-shirts or hoodies
A cuddly stuffed animal
A unique sketch or photograph of your exciting visit to the theme park
There's no better way to remember the unique vacation experience of visiting Six Flags Magic Mountain than by looking at your souvenirs years ahead.