A trip to the Bahamas always promises a fun and magical adventure for the whole family. With two mega properties fighting to be crowned King of the Bahamian Getaway, it's essential to know which one has the most value for your specific wants and needs.
Without further ado, let's dive in to compare Atlantis vs. Baha Mar for the ultimate family vacation.
Atlantis vs. Baha Mar: An Overview of the Properties
While you can enjoy a family vacation at either site, certain nuances may lead you to select one over the other. Here is a general overview of the properties themselves based on first impressions.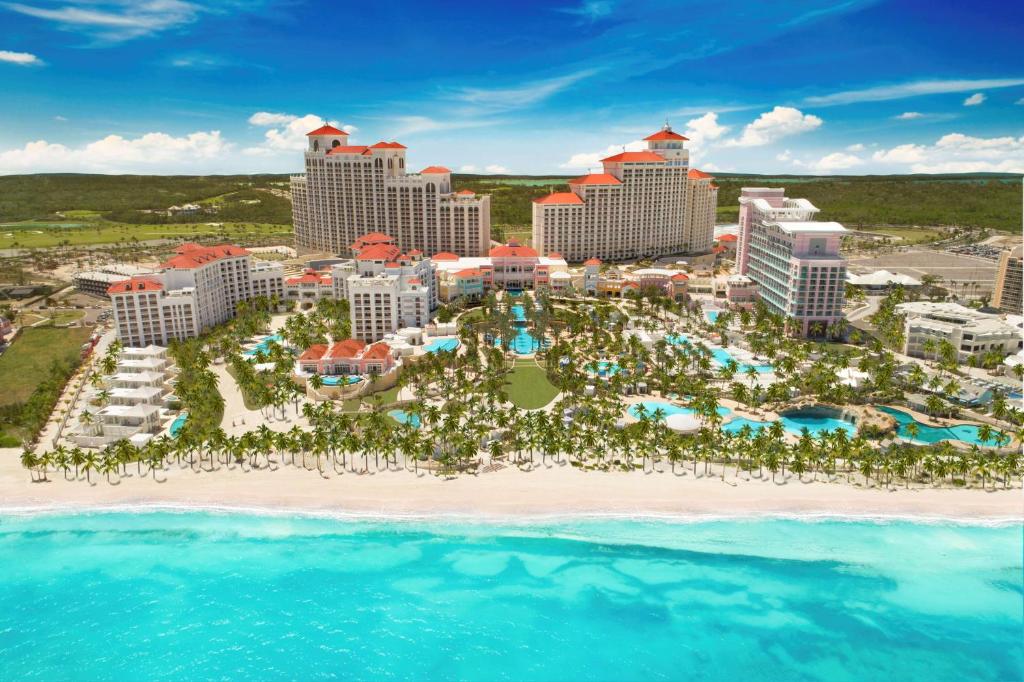 Baha Mar
At just two years old, Baha Mar is a newer property made up of three iconic oceanfront hotels. Choose between the chic and hip SLS, the ever-sophisticated Rosewood, or the modern and stylish Grand Hyatt.
You can't go wrong with either because each one boasts spectacular beach views and great pool selections. However, out of the three choices, the Grand Hyatt is the most family-friendly based on its amenities and activities.
The Hyatt's 1,800 units are replete with two three-bedroom suites, ideal for families. The drawback to choosing the Grand Hyatt is the casino located in the lobby and all clubs surrounding it.
On the other hand, the positive is the unbridled and convenient access that you have to the litany of restaurants and pools. Although the Rosewood and SLS Resorts welcome families, there's a higher price point due to the heightened degree of luxury.
The resorts have recently developed a smaller, more manageable assortment of family activities. Despite this convenience, this too can contribute to an expensive vacation. However, Baha Mar's Cable Beach has affordable dining and a plethora of off-site attractions.
In all, Baha Mar happens to be more connected to the true culture of the Bahamas.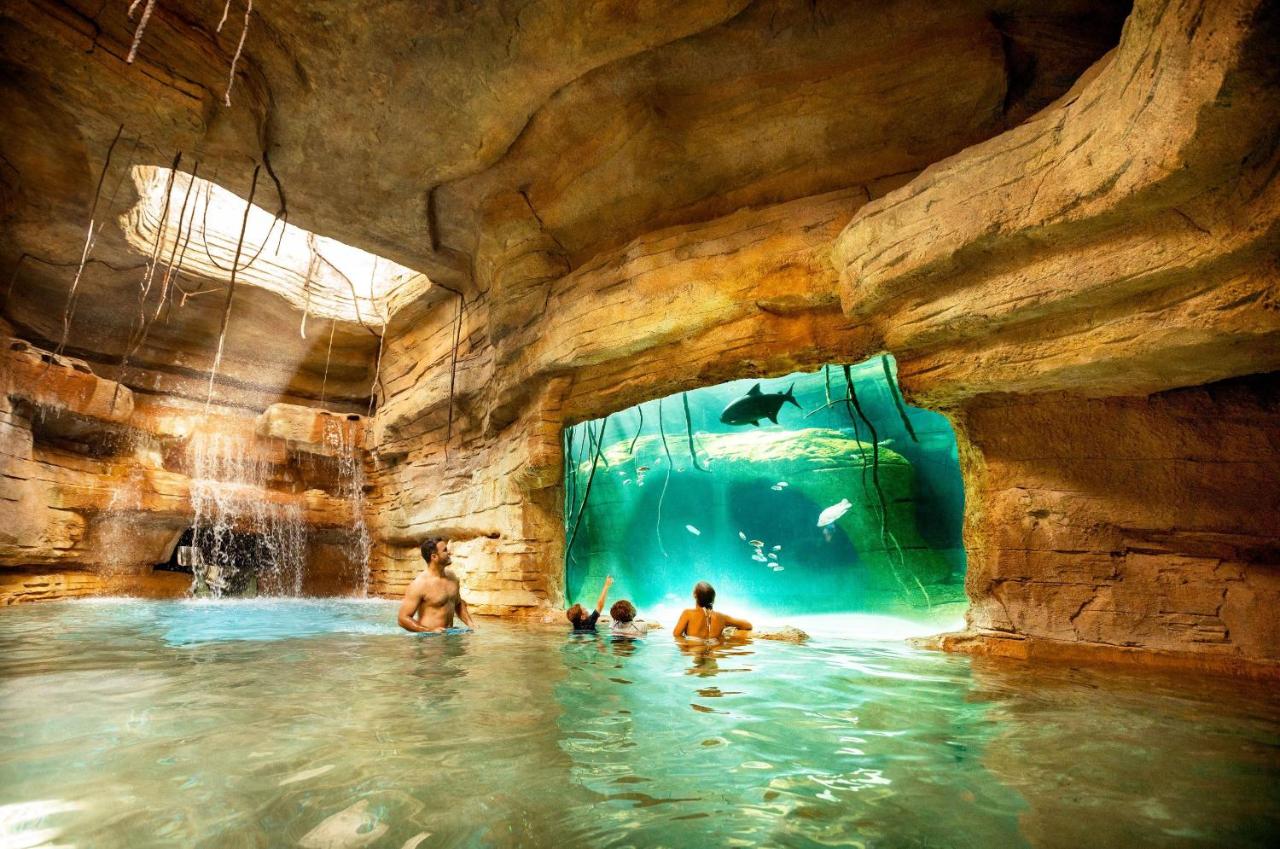 Atlantis
For starters, Atlantis offers even more extensive accommodations than Baha Mar. What's more, the website is more catered to families as well. But, choosing the Atlantis means that you'll pay a little more, including the family programs, room rates, and restaurant prices.
Having said that, the Comfort Suites Paradise Island, which happens to be a mere five-minute walk from Atlantis Towers, is most likely the best deal that families can find in all of the Bahamas. The rates begin at around $250 per night.
This viable option gives families the freedom to vacation in the Bahamas and Atlantis without spending above their means.
Moreover, you'll have full access to the Atlantis Resort as a guest of the Comfort Suites Paradise Island Hotel. Don't worry about space because all of the rooms are suites—plenty of room for the little ones. Additionally, there's a complimentary hot American buffet breakfast daily, making it a breeze to get the family up, fed, and out of the door.
On another note, The Coral is definitely the most family-friendly resort of Atlantis' many resorts and hotels. Furthermore, in 2018 the place was given an update, and it now boasts a new lobby with a concierge desk for kids and a gelateria in the premises.
You can also stay at The Reef, which is a little costlier, but is also more spacious, offers direct access to the aqua parks, and has a kitchenette.
Atlantis vs. Baha Mar: Dining Options
Both areas had fantastic options for family-friendly restaurants, but Baha Mar certainly had a more interesting array of eateries.
Baha Mar
When it comes to restaurants, Baha Mar has a spectacular selection of places to eat. There are casual spots all over the place, and if you desire more refined dining, there are restaurants with renowned chefs for you to try out at your leisure. All of these spots are available to you and your family no matter which resort you choose to stay at.
Furthermore, there are over 22 food establishments at Baha Mar, which means there is something for every budget and appetite. Interestingly, children under five eat free inside the Grand Hyatt at the Regatta Buffet. They even serve Bahamian classics as well as American favorites, so you shouldn't have a problem finding something for your little ones.
The atmosphere is mesmerizing. Seaside airstream trailer areas are lined with colorful beach shacks offering delicious and convenient meals. The Bahamian vibe is everywhere, and it's a perfect place to be when you're enjoying the beach out in the sun.
While you and the family are out enjoying the beach, feel free to stop by Four Airstream food trucks. You can try a variety of gourmet and quirky hot dogs, topped with unique items like scrambled eggs, or even the waffle dog.
El Jefe will serve you authentic Mexican favorites, and Scoops will serve you some ice cream to cool down in the sun. Fortunately, most of these restaurants have kid's menus.
Atlantis
An overwhelming majority of the 22 food outlets in Atlantis have kid-friendly options and kid's menus; moreover, if you get an adult meal plan, kids six and under eat for free during certain hours.
Seagrapes is a great restaurant that caters to families and they have live cooking stations if you wish to dine in. Find traditional Bahamian seafood at Frankie Gone Bananas, or Italian delicacies at Carmine's.
Baha Mar seems to have more impressive restaurants that will make your trip a memorable one. The food selections are creative and cater to the young a great deal.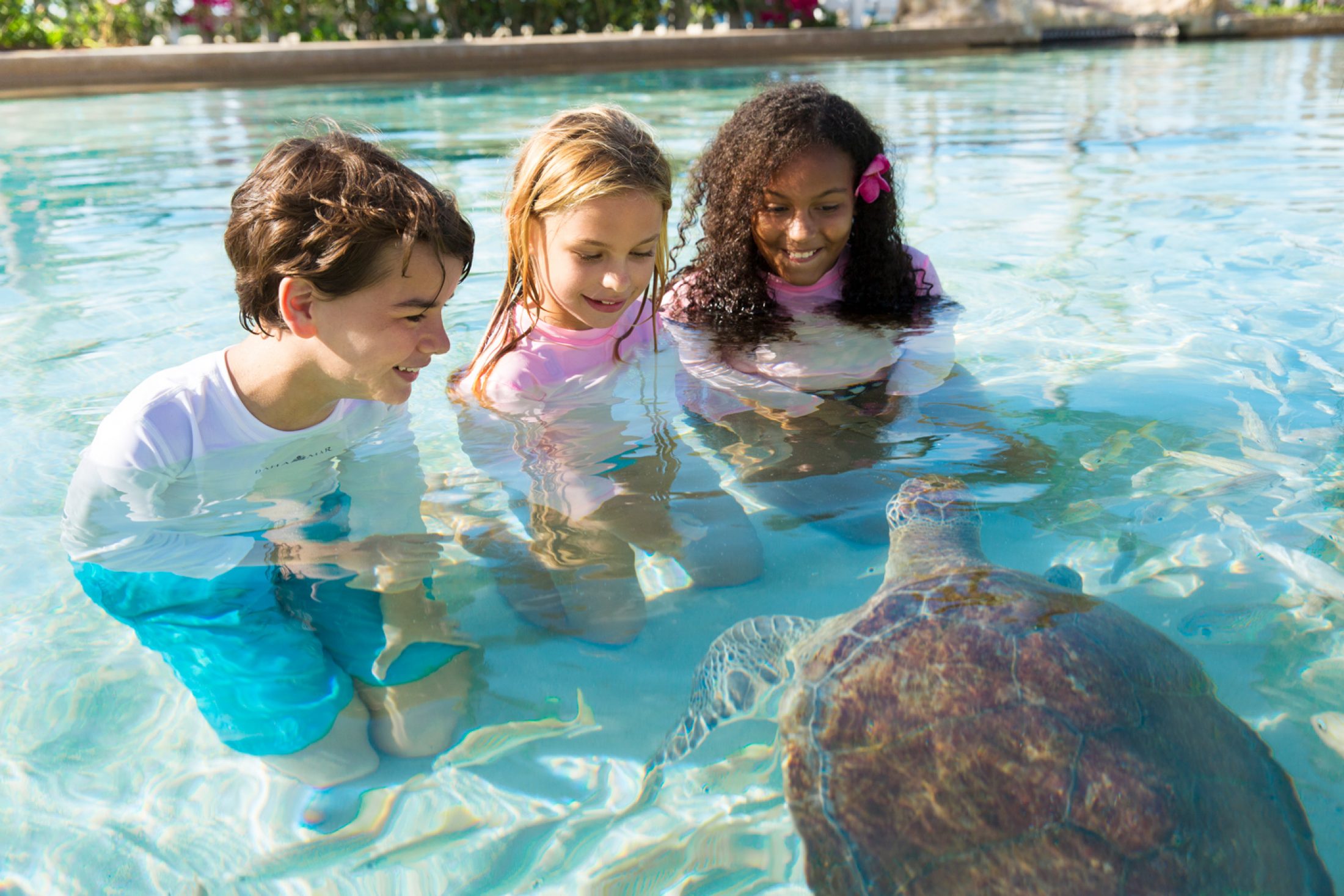 Baha Mar vs. Atlantis: Kid's Activities
There's so much to do on the island that it's hard to describe it all at once. So, we've broken it down into kid's activities, water activities specifically, and parent activities.
Baha Mar Kids & Family Activities
Most resorts and hotels offer similar programming for children. The Explorers Club has programs for children ages three to twelve. There are sessions from morning until evening whereby the children can participate in art, free play, movies, games, and even marine life interactions.
Every Friday evening, the resort hosts a special event for teens at the Drift Pool where they can watch a movie. The 13-18 crowd can also enjoy exclusive benefits from the ESPA Baha Mar like facials, mocktails, and manicures.
Be sure to drop by The Sanctuary to experience the wonders of Bahamian marine life. There's a host of creatures to see, such as rays, sea turtles, tropical fish, nurse sharks, and more. Drop by and watch an exciting feeding or schedule an interactive encounter.
The resort partners with the local art gallery, which showcases artists' work around the island. Thanks to this collaboration, Baha Mar hosts art workshops for children and even classes for adults.
There are also special programs at Flamingo Cay, a small habitat for the island's iconic bird. Guests can interact with them up close and join the daily parade while learning more about the species.
Guests get access to the bocce ball equipment and the outdoor basketball court. There are also racquets and classes for children and adults at no extra cost at the tennis courts. 
Atlantis Kids & Family Activities
Atlantis has programs for young and older children, beginning with their Sea Squirts activity, which lasts for one hour and caters to ages three to six years old. The kids interact with and feed the young marine animals, which is quite the experience for youngsters.
There's also the Atlantis Kids Adventure, the main activity club for children ages three to twelve. Parents may register their children for workshops from morning until the evening. The club hosts tea parties, LEGO construction, culinary workshops, water activities, and more. Atlantis also has a gamer's arcade on the premises.
For the tween crowd, ages nine to thirteen, there are numerous activities, like Club Rush, a program for karaoke, and video games. There's also a hangout spot for kids up to seventeen years old, called CRUSH, where they can socialize and enjoy music, Mocktinis, snorkeling, scuba diving, and other activities geared toward older children.
There's no shortage of activities for the family to do together, ranging from the wildlife interactions to the blockbuster shows at the Atlantis Theater. The admission to these venues comes with the cost of the room. And, of course, families can always gather together for fun on the beach, participating in water sports, having a picnic, or just lounging around and swimming.
Atlantis is also the best location for shopping. They have over 65 high-end stores, along with Marina Village, which has ice cream and candy shops and themed stores that kids love.
Overall impression: You'd have to say that Atlantis takes the cake when it comes to activities, as they have more variety for all ages. Still, you can enjoy activities at both priorities, with the least expensive voice being Baha Mar.
Baha Mar Water Activities
Baha Mar has 11 water features and pools, and Dean's Hole is at the forefront. You can find a private grotto, rock walls, waterfalls, and a window where children can view the animals from the Sanctuary.
Cable Beach is a well-known location that is easily accessible from Baha Mar. Guests of the resort can also take advantage of the complimentary water equipment, including stand-up paddleboards and snorkeling gear.
Atlantis Water Activities
Aquaventure Aquatic Park, the main attraction for water activities at Atlantis, raises the bar for fun in the sun. The sea lion and stingray interactions are a must, and Dolphin Cay is an adventure for kids of all ages.
The Dig is a large and vibrant aquarium filled with various species, and the habitat lagoons are also the perfect complement to the water park. They have trainer programs for those who want to get up close and personal with the dolphins through feeding, swimming, and training with them.
Overall impression: This one is tough, as each area has unique experiences that will be enjoyable for kids of all ages, depending on what they want to do. The dolphin experience is a highlight for most children, but Dean's Hole is a formidable opponent. It's a tie!
Baha Mar Adult Activities
Besides the casino that spans over 100,000 sq. feet and the full-service spa, parents can visit the Privilege Pool if they stay at SLS. They offer handcrafted cocktails and hip music, and it's pretty much an all-day pool party for adults!
After the sun goes down, the BOND lounge sets the stage for a lively, sensual atmosphere where adults can dance the night away. There's also Skybar, a rooftop hangout at SLS for those who want excitement after dark.
Adult beverages are available at 17 different venues, including the lounges, pool bars, and even the Royal Bike Golf Club.
Atlantis Adult Activities
Once you get the kids tucked away into an entertaining program, parents can sneak out to the local spa and casino for hours of fun for themselves. Guests of Atlantis receive certain privileges at the Ocean Club Golf Course located on Paradise Island. There are gaming tables, a pool, a restaurant and bar, and more for your enjoyment.
At night, take a trip to the Aura nightclub, which is a trendy spot for adults to get together and socialize. Three restaurants, including the newly renovated Cafè Martinique, restrict guests younger than six years old at their dining facility. Check out these eateries for a more mature scene for kid-free dining, replete with adult beverages and music.
Overall impression: Because of the night vibes in Baha Mar, we're going to say that's the property that hosts the most entertaining events for adults that want to enjoy themselves while the kids play.
Atlantis vs. Baha Mar: Cost
Of course, for any family vacation, cost plays a huge part in deciding where The family will comfortably reside for the getaway. Below is a breakdown of general expenses for the rooms, dining, and activities at Atlantis and Baha Mar.
Baha Mar General Room, Food, and Activities Cost
The Grand Hyatt charges about $215 for standard but spacious rooms and $1,200 for a suite. There are also resort fees and taxes. Additionally, Baha Mar includes the use of equipment for select water activities (non-motorized). The Explorers Club costs $55 for each child for a session from morning through the evening.
A trip to the Sanctuary lasts for one hour and costs $65 for each person. Basic meals for kids and adults range from $6-$18 on average, depending on the restaurant.
Atlantis General Room, Food, and Activities Cost
At the Coral, rooms cost between $270-$300 and upwards of $450 if you stay at The Reef. This price does not include the resort fees or taxes. The suites can cost around $1,200 like at Baha Mar, depending on the accommodations you select at either tower. Guests get access to the Aquaventure water park, which is usually between $160-$170 for a wristband during the peak season.
The half-day programs for the Atlantis Kids Adventure club are $48.38 per child and $64.50 in the evenings. Basic meals for adults and kids can range from $7-$17 on average, depending on the restaurant.
Overall impression: Atlantis is usually more expensive overall, but it depends on what amenities and activities you want and the number of people traveling together. Also, there are ways to mix and match your package so that you can save in specific areas like food, but the budget you have will ultimately determine the least expensive property.
More about our TFVG Author
A seasoned traveller, Dad, and avid sports tourist, James foundered The Family Vacation Guide to share his expert vacation experiences- especially when it comes to being a travelling family man.
Featured in Travel articles such as Travel + Leisure, TripSavvy and SFGate, you know you're reading some of the best vacation tips online.