Are you wondering which Caribbean island is better for a family vacation with kids? The answer is…both! The Bahamas and Puerto Rico both offer beaches, scenery, warm weather, adventure activities, food, and culture.
Both destinations offer plenty of activities and attractions for kids as well. So when comparing the Bahamas vs. Puerto Rico, how do you decide which one to choose?
There are many different islands, and each one is different in many ways. So, before you decide on an island for your family's vacation, think about what your family prefers.
Take into account your children's interests. Are you looking for something laid back or a full-on adventure? Are your kids younger or older? The answers to these questions will play a role in which is a better fit for your family.
Here's a breakdown of what each destination has to offer families with kids:
Best Time to Go
Weather is an important factor when considering when to travel to either location. Hurricane season goes from June 1 to November 30 every year. This is a great time to visit Puerto Rico, as many tourists avoid the area during this time.
You can view up-to-date information on hurricane season at the National Hurricane Center website. 
Bahamas
Fall is the best time to go to the Bahamas if you're traveling with kids and on a budget. It's right before the peak season, which is mid-December through mid-April.
During peak season, the weather is at its absolute best, but you're also likely to see an increase in prices for hotel rooms and flights. The peak season is when the most regattas and celebrations take place, so this may be considered a pro for some families when planning their trip.
The Bahamas is known to have fairly consistent warm weather year-round. The trade winds help to keep the temperature mild, and it rarely gets too cold or hot.
The shoulder season in the Bahamas is mid-April to June, low season is July through November. During these months, you can catch great deals on flights and hotels, but the weather will be pleasant and slightly cooler than summertime.
Puerto Rico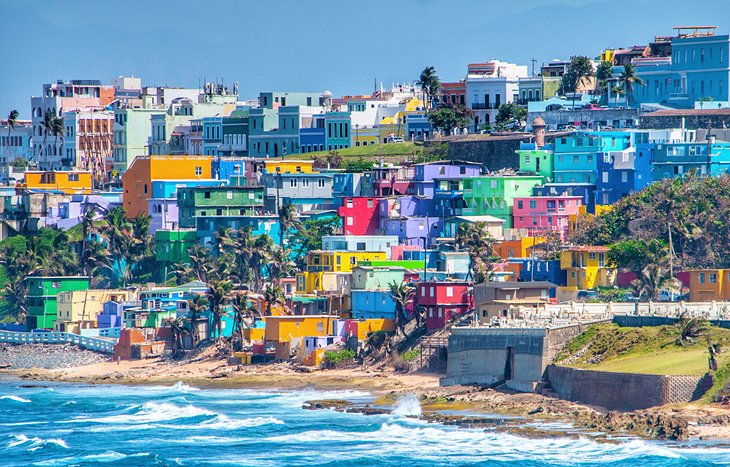 Puerto Rico is a fantastic choice during most months of the year. July and August can be extremely hot and humid, with tropical rainstorms that jump up to 9″ on an average day. Puerto Rico also has similar weather patterns to the Bahamas with warm temperatures year-round.
If you want to travel to Puerto Rico, it's best to do so during the off-season. This way, you'll be sure to get a place to stay and won't have to deal with too many crowds while sightseeing.
If you want to visit popular tourist destinations, try going during their shoulder seasons. This is from May to November when the crowds are smaller and the prices are cheaper.
The high season for travel in Puerto Rico is in the winter months between mid-December through April. It is best to avoid going during these times as it will be the most expensive, crowded and busy.
Transportation
Flying from the US into either island is fairly affordable with many direct flights to San Juan and Nassau from major US cities.
Getting around either island is easy with public transportation options like buses and taxis. Additional transportation options are listed below.
Bahamas
The main airport in the Bahamas is located on New Providence Island and is known as the Lynden Pindling International Airport (NAS). You'll have the following transportation options to choose from:
Taxis
Public buses
Ride-shares (Uber & Lyft)
Car rentals
Boats
Inter-island flights and ferries
Puerto Rico
In Puerto Rico, you will find that flights from most major international cities land in the Luis Muñoz Marín International Airport (SJU). The main transportation options are:
Public buses
Taxis
Trolleys
Car rentals
Ride-shares (Uber)
Urban train (The Tren Urbano)
Inter-island flights and ferries 
Where to Stay
All in all, your family will have access to a wide range of Bahamas and Puerto Rico accommodations that can suit any budget.
No matter what you choose, you will find many kid-friendly amenities onsite so the whole family can enjoy their time together.
Bonus: Many resorts in the Bahamas are all-inclusive, so you will have access to many onsite dining options.
All-Inclusive Luxury Resorts:
When choosing between the Bahamas vs. Puerto Rico, consider the following options for the most renowned and luxurious resorts:
Bahamas
In the Bahamas, some luxury resort properties include The Cove Atlantis and Rosewood Baha Mar.
Puerto Rico
In Puerto Rico, some luxury resort properties include the Paradisus Palma Real Golf & Spa Resort, and the Grand Bahia Principe La Romana.
Mid-Range Resort Properties:
If you're looking for a balance between comfort and affordability, then look no further than these highly recommended mid-range picks:
Bahamas
Viva Wyndham Fortuna Beach is great for families looking for an all-inclusive resort hotel in the Bahamas. It's located on its own island and is surrounded by white sandy beaches and warm water lagoons.
Puerto Rico
In Puerto Rico, you will find some mid-range options like the La Concha Renaissance San Juan Resort and the Condado Vanderbilt Hotel.
Affordable Guest Houses:
Lastly, if your budget is tight or you want to allocate it to traveling or tourist attractions, Puerto Rico and the Bahamas both offer plenty of affordable guest houses.
Bahamas
In the Bahamas, Comfort Suites Paradise Island is an affordable option, with free access to the Atlantis resort facilities and walking distance of Paradise beach.
Puerto Rico
In Puerto Rico, you can find affordable guesthouses with a private beach and fewer amenities like the Villa Montaña Guest House, or Hyatt Place San Juan if you want a lively scene at the pool for the kids.\
Everything to See and Do: Can't-Miss Experiences
Both islands offer plenty of ways for you and your family to explore the outdoors. These will most likely be the deciding factor for your family when deciding between the Bahamas vs. Puerto Rico. Here are some of the things you can't miss on your vacations to Puerto Rico and the Bahamas.
Bahamas
Your kids will enjoy every minute of their time in the Bahamas. Check out some of these can't-miss experiences:
Puerto Rico
Looking for history, culture, and some thrilling adventures? Check out these can't miss activities with your kids: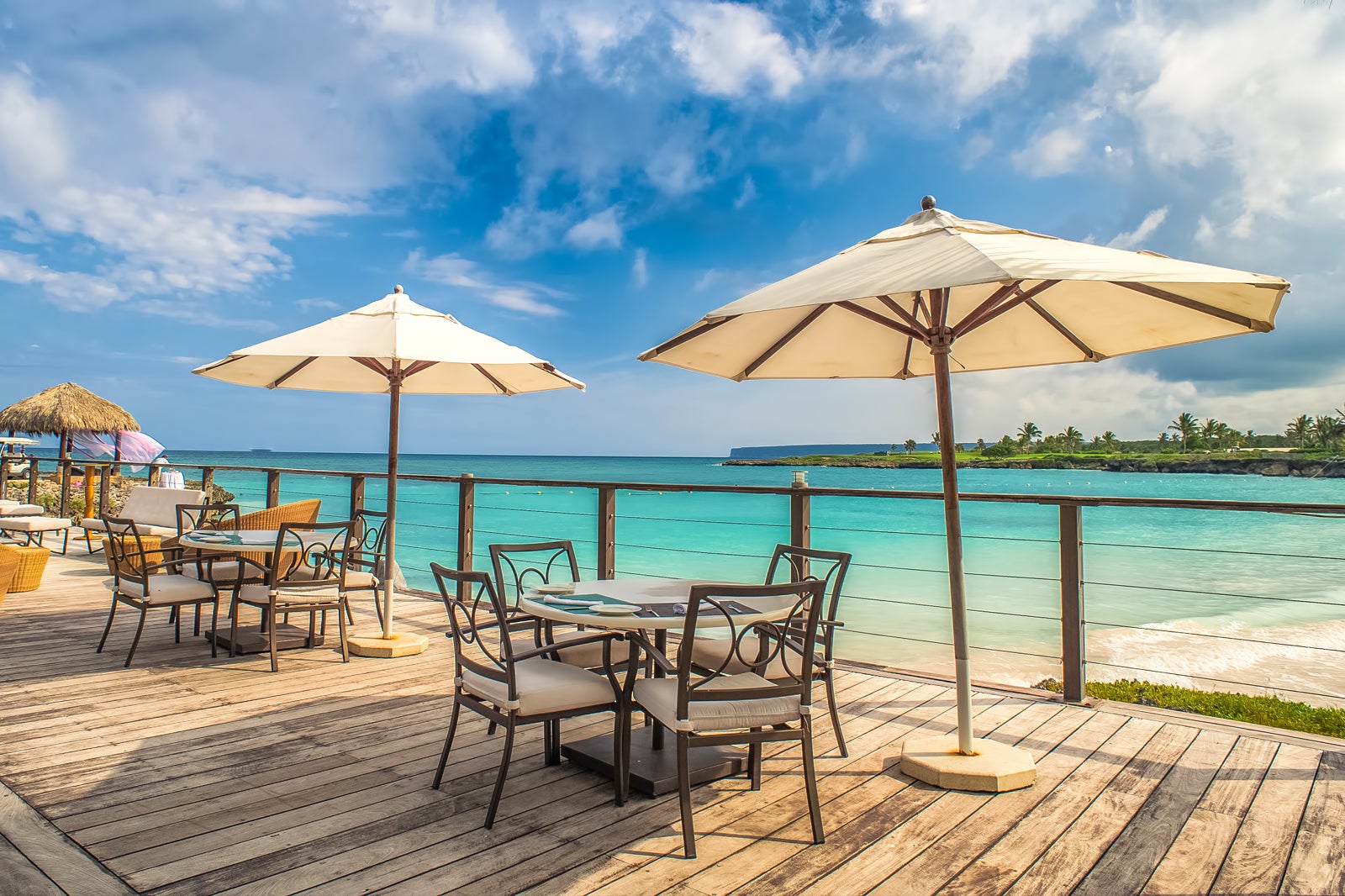 What to Eat
Craving something that is unique to each location? Let's go over how the Bahamas and Puerto Rico compare when it comes to each island's delicacies.
Bahamas
If you would like to try conch, this will be found all around the Bahamian islands in many different dishes. Conch is actually pronounced 'konk' and can be eaten in salads, added to conch fritters, or just enjoyed by itself!
If seafood is what you desire most, look no further than the Bahamas for your wish. Fish is always available on menus, but you can also check out conch, crab, lobster, shrimp, and more.
If you want to try something new and exciting, why not try some of the Bahamian dishes that are available at local restaurants? Some of the most popular dishes include Stew Fish, Johnnycakes, Baked Crab and Souse.
Puerto Rico
There are outdoor eateries in Guavate that specialize in slow-roasted pork. Some popular ones are El Rancho Original, Lechonera El Mojito, Lechonera Los Pinos, and Lechonera Los Amigos.
Street food in Piñones includes fritters from plantain, fresh fish, oysters, and a lot of seasoning. You can also buy cold coconut water, drink it from the coconut itself, or try the crabmeat alcapurrias and bacalaítos (codfish fritters).
Cost of Each Trip
There are a lot of factors that can determine how much your family would pay for their vacation. The number of people going, age of the kids, when you travel, how many activities you take part in, where you stay, and whether it's all-inclusive or not.
If you're looking for a family-friendly vacation to the Caribbean that's not too expensive, Puerto Rico is the way to go. You get beautiful scenery, great food, plenty of activities, and your kids will love it!
If you're looking for someplace that has more beaches and is easier on the wallet, your best bet would be to travel to the Bahamas.
There are many resorts where you can relax on white-sand beaches and be surrounded by crystal clear water. You will also gain access to many activity options, like snorkeling, diving, and kayaking.
The only drawback is that the Bahamas tends to be more expensive than Puerto Rico. Although some resorts offer affordable rates, be aware that the costs of food and entertainment can add up quickly. This could mean that your total vacation budget is more than you had hoped for.
Safety
Both the Bahamas and Puerto Rico are relatively safe, but there are some precautions you should take in either location.
When you're visiting Puerto Rico, keep your cell phone and wallet close to you on the plane ride over. When you land, pay attention to your surroundings as there have been some incidents of robberies near hotels, so use caution if you need to walk from an airport.
In Puerto Rico, be sure to watch your stuff. Theft is a very common occurrence and happens when people's attention is diverted toward something else. 
In the Bahamas, when visiting the islands of Andros or Abaco, it's best to keep an eye on your things while enjoying any of the water activities as there have been incidents where some people's belongings were taken.
This also goes for some areas in Nassau like Cable Beach and Cabbage Beach, as well as some parts of Grand Bahama Island, such as Port Lucaya and Garden City.
Final Thoughts
Whether you are visiting Puerto Rico for family-friendly activities or the Bahamas, you will find plenty of ways to enjoy yourself. You can visit one of the many local attractions where your family can learn about the history and culture of the destination.
You can also explore fun local attractions which highlight the natural beauty and history of the destination. If your family prefers to enjoy water sports, you can head out on a boat tour or book the kids in for some snorkeling, scuba diving, and more!
When choosing between the Bahamas vs. Puerto Rico, each offer many unique activities available for your family's preferences and budget.
More about our TFVG Author
A seasoned traveller, Dad, and avid sports tourist, James foundered The Family Vacation Guide to share his expert vacation experiences- especially when it comes to being a travelling family man.
Featured in Travel articles such as Travel + Leisure, TripSavvy and SFGate, you know you're reading some of the best vacation tips online.