If you've been pondering the perfect beach vacation in the Caribbean, chances are you've considered Jamaica—and with more than 900 miles of coastline, it has a beach for every type of traveler.
Some might be in search of a quiet, tranquil destination. If that's you, Doctor's Cove might be up your alley. On the other hand, you might consider Ocho Rios or Negri if you're looking to let loose with beach parties until dawn.
Jamaica has plenty of both categories, and everything in between!
Lets take a look at some of Jamaica's best beaches so you can find the right one for you and your family, and start planning your beachside holiday! 
Why not also check out our guide to the best all-inclusive family resorts in Jamaica for inspiration on where to stay?
Negril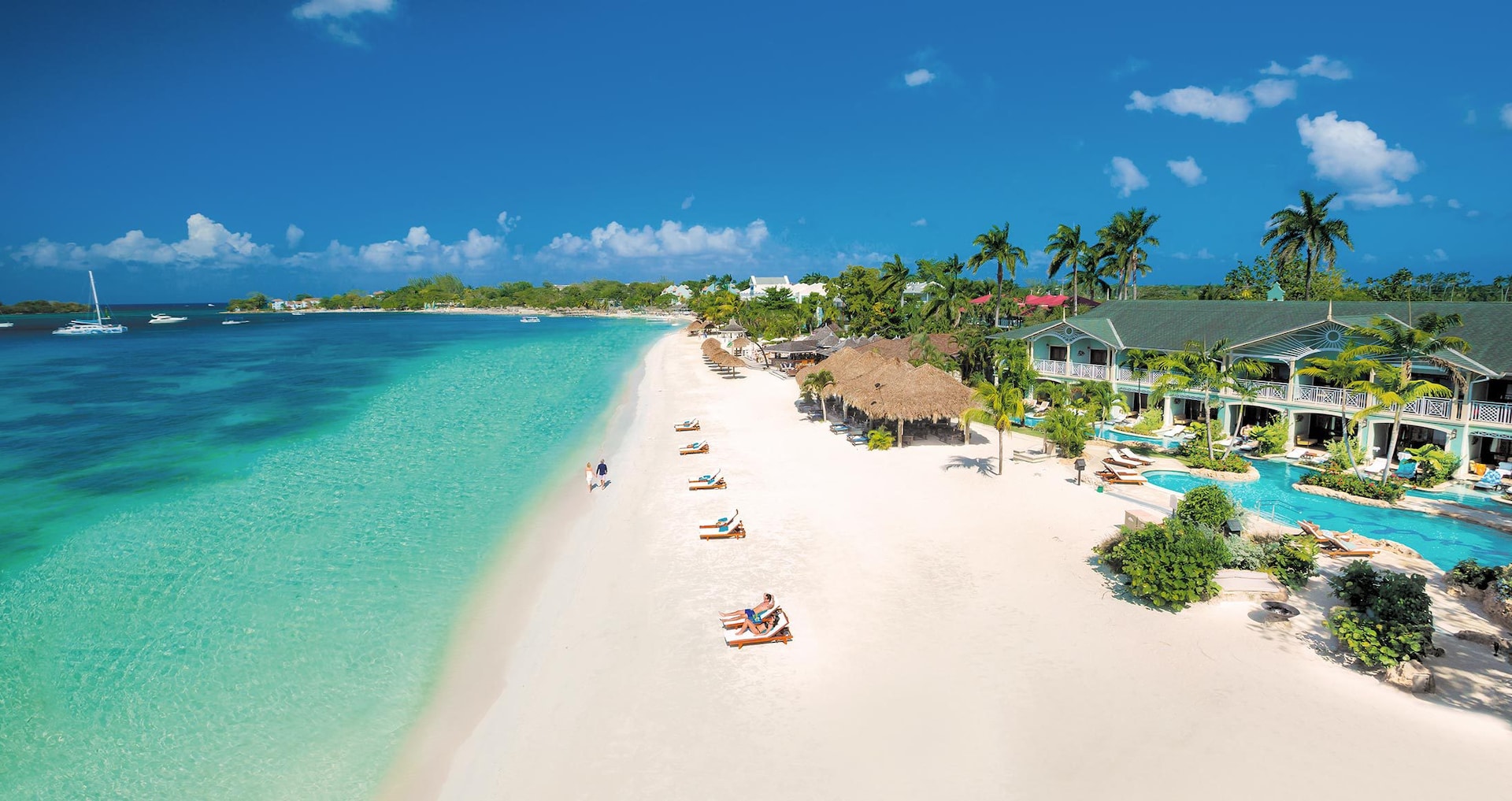 Negril boasts one of Jamaica's best beaches for families. The city is a popular destination for tourists and offers many hotels, shops, and restaurants that cater to vacationers. Negril's beach has crystal clear waters with stunning white sand, making it a great place to swim or just relax on the shoreline. The waves here are also gentle, making it an excellent choice for families with children who want to splash around in the water. The beach is large and clean, with lifeguards on duty to keep watch over the swimmers. There are also a variety of vendors selling food and crafts to tourists.
Montego Bay
If you want a little more action than your average beach, Montego Bay is the spot for you. This is a perfect destination for families who want to enjoy the beach without missing out on the fun. There are plenty of water sports to try at this location, such as snorkeling and kayaking. Plus, with activities such as horseback riding and tennis, Montego Bay will keep your family active even after you're done beachcombing for the day.
Ocho Rios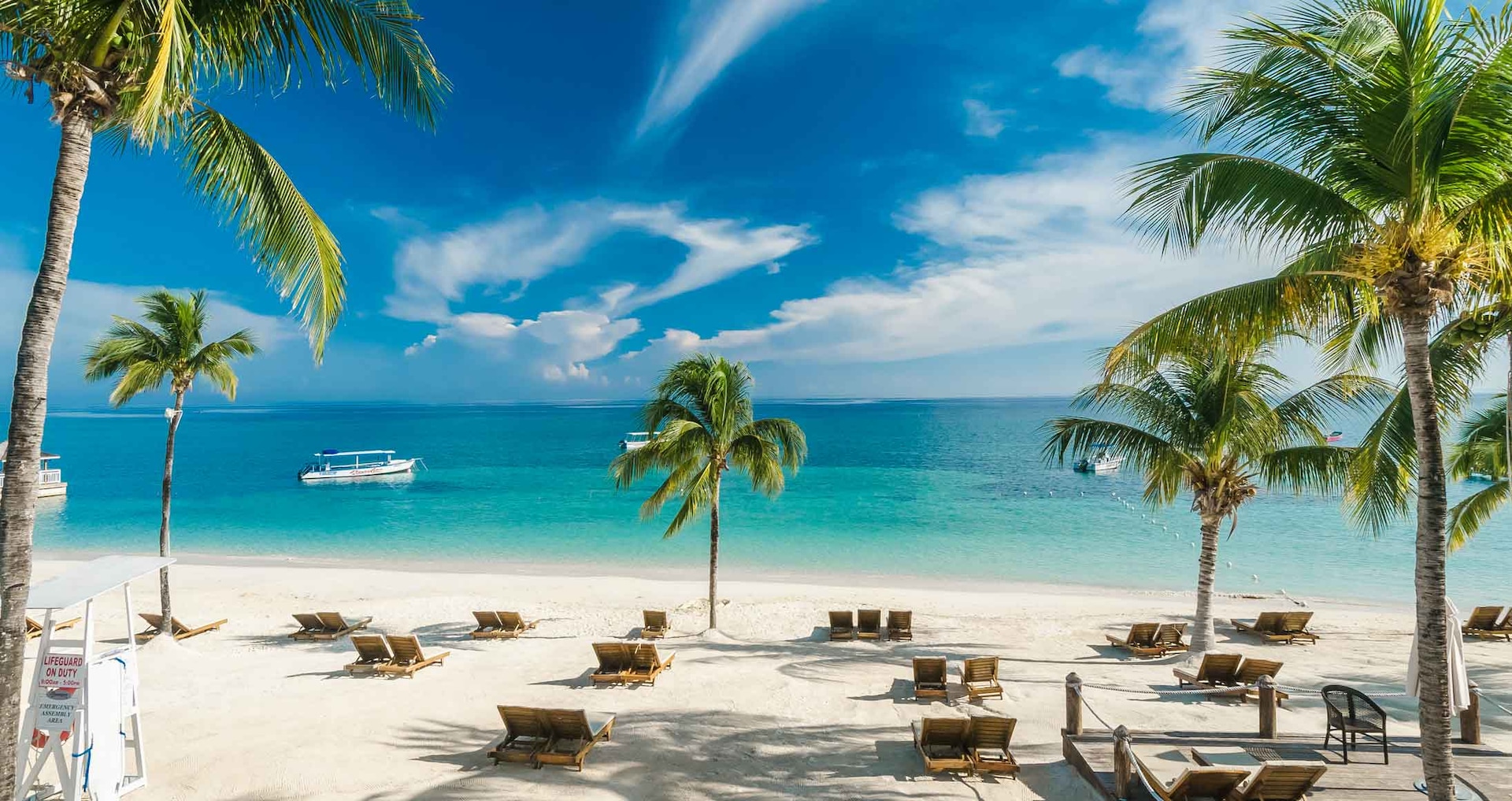 Ocho Rios is a popular tourist destination located on Jamaica's northern coast. The beach is long and sandy, and visitors can enjoy activities like snorkeling and deep-sea fishing. Also located in Ocho Rios is Dolphin Cove, where visitors can swim with dolphins for a fee. There are numerous attractions to explore nearby, including the famous Dunn's River Falls.
Runaway Bay
One of the best family-friendly beaches in Jamaica is the famous Runaway Bay. This pristine beach is home to a stunning array of natural wonders, including beautiful coral reefs and crystalline waters. There are clean restrooms, changing stations, and local shops for snacks and souvenirs nearby. Another feature that makes this beach family-friendly is the affordable cost.
The beach also has a number of amenities for families, such as cabanas, lounge chairs, and hammocks for rent. The water here is calm and perfect for kids to play in. Water shoes can be rented at the facility to protect your feet from urchins and other potential hazards while exploring the shoreline. It's also a great place to go snorkeling!
Runaway Bay supports numerous businesses in the area as well; visitors will find plenty of food vendors offering delicious Jamaican cuisine. There is even a bar with fresh coconut water taps!
Golden Eye Beach
Located on the North Coast, this beach is a popular tourist destination with many amenities. There are restaurants, shops, and an amphitheater all within walking distance of the beach. It's easy to spend a day here; you can enjoy swimming in the ocean, playing at the waterpark, or shopping along the road leading up to the beach.
The convenience of having so many amenities and activities so close to the beautiful beach is what makes Golden Eye Beach one of Jamaica's best beaches for families. The sand is also very soft, making it a comfortable place to lounge around, play, and take in some sun.
Port Royal Beach
One of the best beaches in Jamaica for families is Port Royal Beach. Its wide stretch of coast lined with palm trees makes it perfect for relaxing in luxury. The waves are gentle and perfect for children to play in, and there are plenty of water sports available nearby.
Doctor's Cove
If you're looking for a more secluded beach experience, you might consider Doctor's Cove. This beach is tucked away on the north coast of Jamaica and has a private feel to it. It's a popular spot for locals and tourists alike. There's only one resort that overlooks this small sliver of sand, so there are virtually no crowds.
Doctor's Cove Beach has calm waters and a palm-tree-lined coast, and is particularly scenic when the sun sets behind the mountains in the distance. It also has a kids' club and many activities for families to enjoy, including snorkeling, paddleboard and kayak rentals, and small fishing boats that can take you out on the water.
These activities will provide ample opportunities to go on adventures with loved ones, but you might be just as happy to simply spend quality time in nature while soaking up some sun at the same time.
Doctor's Cove is the perfect place for a day trip, but if you're looking to spend your whole vacation at this beach, there are plenty of places to stay the night within walking distance.
The Blue Lagoon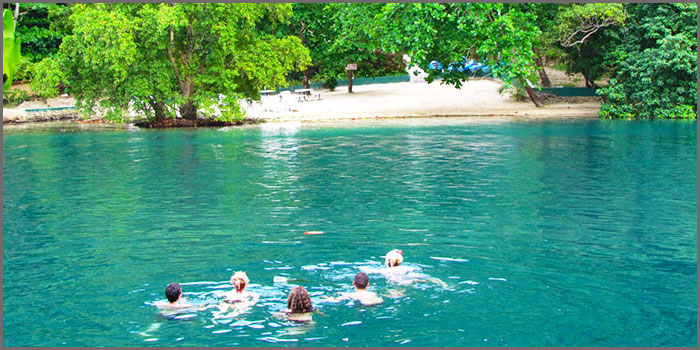 Blue Lagoon is one of Jamaica's most well-known beaches, and it's easy to see why. The water is so clear and the sand is so soft that you might find it difficult to leave! This beach is on the North Coast of Jamaica, near Ocho Rios. It features a restaurant with views overlooking the Caribbean Sea.
Children will love Blue Lagoon's beaches, where they can wade in the water or build sandcastles, and parents can relax on the beach or have a refreshing drink at the bar.
Worthy Park Beach
This beach is located in Montego Bay and has a lot to offer families. If you're looking for great snorkeling, Worthy Park is a fantastic option for you. The clear water offers great visibility, so you'll easily be able to spot different species of fish and coral. There are also plenty of activities available for children, ranging from playgrounds to trampoline parks. There are picnic tables on-site so you can enjoy a nice meal with your family while your children play nearby.
Bloody Bay Beach
Don't let this beautiful beach's name deter you! If you're looking for a destination that offers white sand, crystal clear waters, and warm sunshine, then Bloody Bay is the beach for you.
Bloody Bay Beach is located on the north coast of Jamaica, just a few miles from Ocho Rios. It's one of the most popular beaches on the island, since it's known for its great surfing and stunning scenery.
How to Choose the Perfect Beach to visit in Jamaica
Now that you've read up on our recommendations, you're probably thinking, "But how do I choose?" And we don't blame you! You can't go wrong with any of these stunning destinations, but to help you in your research, you might consider what makes a beach family-friendly.
Some beaches are better for children and families than others. Before making plans to visit, you will probably want to check out the water quality and safety of a beach. You might also consider whether or not there is a lifeguard on duty, how crowded the beach is, what amenities (restaurants, shops, bathrooms, etc.) are nearby, and if there is any coral in shallow waters near where kids play (coral can be dangerous because children can step on or trip over it, leading to cuts, scrapes, and bruises). Let's dive into some of these factors, as well as a few others.
Water Quality
For the people who like to go swimming, clean water is an important factor, since dirty water can cause disease and illness. Do some preliminary research beforehand for information on ocean pollution levels, and consider asking the local authorities if they are testing the quality of the seawater in order to protect your health.
Safety from Natural Hazards
Beaches should be free from dangerous objects so that people can enjoy themselves without the fear of getting hurt. Beaches are a place where families and friends come to have fun in the sun without having to be on high alert at all times. Natural features such as rocks and ledges are commonly found at many beaches, but the more of them there are, and the closer they are to the shoreline, the less freedom you and your children will have to enjoy yourselves with abandon. Here are some things to look for in a safe beach:
The water should be deep enough for children to play in, but not so deep that they can't touch the bottom.
The beach should have a gentle slope that allows for easy access to and exit from the water.
The beach should have lifeguards on duty when lots of people are in the water (especially children). The lifeguards will watch out for rip tides and other hazards.
Soft Sand
Soft sand is very important for everyone's safety and comfort, and makes the best beaches for children to play on. It absorbs impact, which helps children avoid injuries when they jump or fall. Soft sand also has a more forgiving surface than rocks and pebbles do, so it won't scrape their skin as much if they are running around barefoot or lying on the beach. The best sand for a care-free family vacation will have the following characteristics:
The sand should be free of rocks, shells, and other sharp objects.
The sand should be free of dog feces (yes…dog feces can make people sick), and the beach should have a policy to clean up after dogs.
The beach should be free of cigarette butts, glass, and other trash that could cut feet or get stuck in the bottom of shoes.
Nearby Amenities
Beaches should have bathrooms and food nearby to help make your day at the beach more comfortable and convenient. Having a toilet close by is important for when you need it, especially if there are no other options. If bathrooms are too far away or too few, portable toilets can be rented from many different places on the shoreline. Many vendors also offer food conveniently close to the beach, which is sure to come in handy while trying to cool off in the water all day without having to worry about packing food or walking back to town for lunch.
A good family beach should have plenty of accommodations available to make the time spent there comfortable, convenient, and safe.
Privacy
Although many people enjoy beaches where there are lots of other people around, privacy is a very important consideration for families with young children. It's can be hard to feel comfortable and relaxed when in a crowded, hectic place full of strangers. Beaches should also have a policy about photography so that families can enjoy their time there without worrying about being photographed by strangers.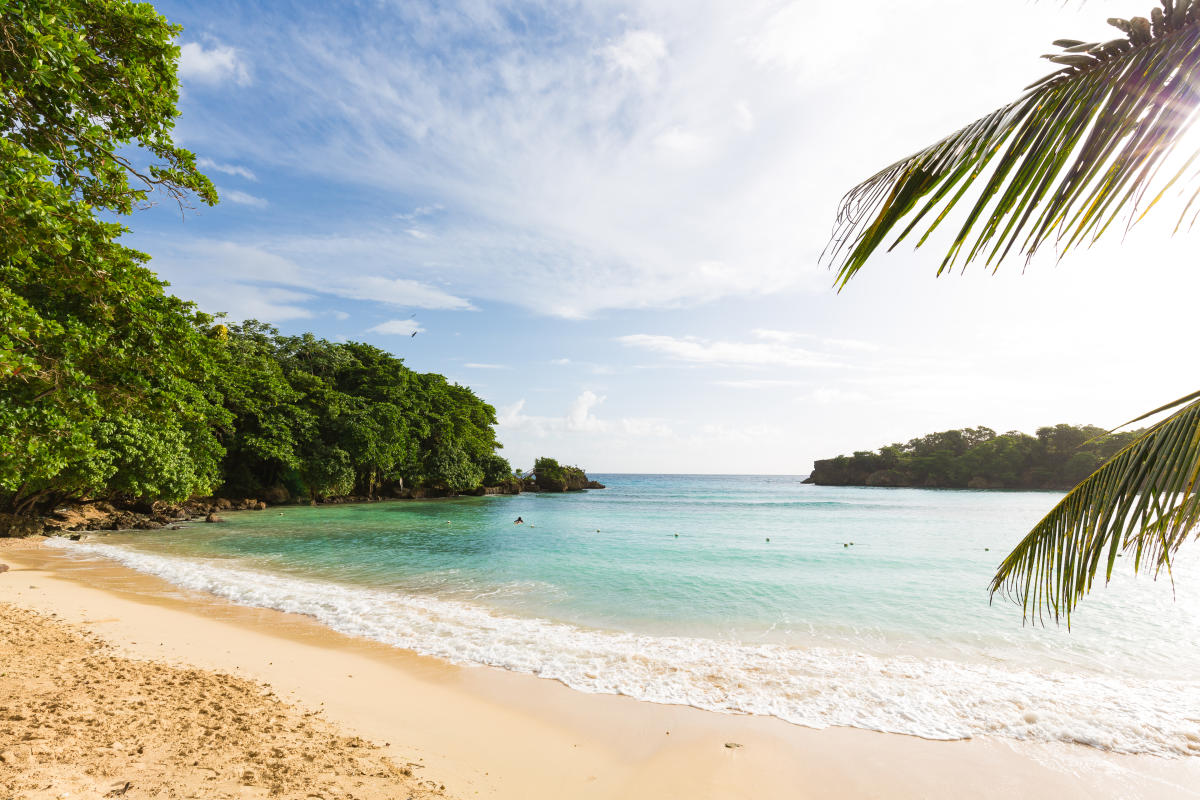 Beach Tips for Families
Are you planning on taking your family on a beach holiday this summer? Want to make sure you are getting the most out of your trip? Here are some beach tips for families that will leave you feeling relaxed and ready to enjoy each day.
Research the Destination: Research your destination online before arriving. You'll want to know what places in the area might appeal to you and your family so that you can plan ahead. Be sure to include factors like activities, food, and natural attractions as part of your research. Check reviews too; they'll help you get a better idea of what to expect.

Pack Light: Pack a few changes of clothes and fewer toys than your children think they'll need. This way, if the weather is bad or if your plans change, it's easy to pack up again quickly and hit the road. Plus, having fewer toys means that there's less to clean up before heading home, and fewer items lost or forgotten.

Hydrate: Everyone needs to drink plenty of water when they're outside all day in the sun; this will help prevent heat-related illnesses like dehydration and heatstroke. Keep an eye on kids and make sure they have plenty of water as well.

Bring Protection From the Sun: Protect yourself from the sun by wearing a hat, sunglasses, and sunscreen every day! And don't forget about covering up any exposed skin with clothing or sunscreen lotion! Wear long sleeves, pants, and wide-brimmed hats during peak hours of sunlight is highly recommended, and will often be more effective than relying on sunscreen alone.
Beach Safety
One of the most important things to consider before visiting a beach is safety. When you're at the beach, you might want to keep an eye out for rip currents and jellyfish. Rip currents are strong, fast-moving channels of water that can carry people out to sea. Jellyfish stings can be very painful and should be looked at by professionals if they occur. It's also important to ensure that your kids are wearing a life jacket if they're near the water.
You should never swim after eating heavily, or drink alcohol when it's hot outside! Alcohol and sun exposure together can lower your body temperature quickly, which could lead to hypothermia or even death.
Beach Etiquette
Before you pack your bags and head out on vacation, remember to be respectful of local customs. Although most of us are familiar with common beach etiquette, there may be some customs you're not aware of.
While it is not necessary to cover up at traditional clothing-optional resorts, many Jamaicans consider nudity a deeply spiritual experience and therefore do not like others gawking. If you are visiting a Jamaican resort that isn't clothing optional, please respect their wishes and dress appropriately. If you're visiting a Jamaican resort that is intended for nudists, then feel free to enjoy paradise in the nude!
Conclusion
While every beach on this list is a popular and spectacular destination, they each have different characteristics that will make some more suited to you and your family than others, depending on what you're looking for. Some people prefer the more popular attractions, while others are in search of a more peaceful and secluded beach. Ultimately, finding the right beach is all about finding the right balance.
The best beaches for families can be different things to different people. For one person, the ideal beach is a popular tourist attraction with plenty of amenities like food and drink vendors and other attractions nearby. For others, it's more about finding a secluded spot where they don't have to worry about any crowds or noise—even if that means traveling farther away from civilization in order to find beautiful views.
Ultimately, everyone has their own idea of what makes up the perfect family day out at the beach–it just takes time to explore all of your options until you discover yours!
More about our TFVG Author
A seasoned traveller, Dad, and avid sports tourist, James foundered The Family Vacation Guide to share his expert vacation experiences- especially when it comes to being a travelling family man.
Featured in Travel articles such as Travel + Leisure, TripSavvy and SFGate, you know you're reading some of the best vacation tips online.