The Bahamas is an extraordinary destination to plan your next family vacation. It's made up of over 700 islands, with incredible scenery, beaches, weather, and cuisine. You'll have all the luxury and first-rate service within reach, from extensive excursions and sporting activities to nightlife, shopping, and plenty of beautiful accommodations.
One of the top reasons to visit the Bahamas is the fantastic beaches, and there are some excellent options to consider for your next family vacation. The following coastal destinations and shorelines are the best beaches in the Bahamas for families, whether you're booking a weekend getaway or an extended trip.
If you're looking for suggestions on where to stay, why not check out our guide to the best all-inclusive family resorts in The Bahamas?
Pink Sand Beach, Harbour Island
This incredible shoreline is unique for its pink sand and crystal-clear water. You'll find this impressive beach on one of the smaller islands, and it stretches about three miles. The entire coast of this unusual spot is covered in pink sand, which is soft to touch.
This fantastic rose color is caused by white sand and foraminifera, a red-shelled marine animal that crushes and mixes to create a pink hue. Pink Sand Beach is a clean, relaxing place to visit, where you can:
Sunbathe
Swim
Fish
Snorkel
Enjoy nearby nightlife entertainment and shopping
You'll find this one of the best beaches to visit in the Bahamas and considered one of the top coastal destinations in the world.
When you walk along this shore, you'll find the sand is always warm, making it comfortable to touch. There's a great resort nearby and the Devil's Backbone, which features underwater rocks and caves.
Pig Beach, Exuma
Pig Beach is named accurately for its famous pigs who enjoy swimming alongside guests to this area. While they are not native to the islands, these pigs were likely left behind by sailors or other visitors to the Bahamas who may have planned on returning to the island.
Today, there are approximately 20 grown pigs and piglets who enjoy the spectacular conditions of the islands and daily visits from tourists and locals.
If you plan on including Pig Beach, Exuma as part of your vacation to the Bahamas, you can take a selfie with the pigs. You can plan your trip to the Exumas with a boat tour and visit the swimming pigs during your stay.
This fantastic beach is truly unique to all other places in the Bahamas. It's a memorable experience for kids if you plan on traveling with the family and love interacting with animals.
Cable Beach, Nassau
This fabulous beach covers two and a half miles of shoreline with crystal waters and pristine sand. You'll find Cable Beach just a few miles west of Nassau, including:
Luxury resorts
Nightclubs
Casinos
A golf course
Regular entertainment
It's the ideal place to plan your next vacation if you enjoy an upscale, all-inclusive stay in the Bahamas.
Cable Beach is the ultimate destination for sunbathing, scuba diving, swimming, and other water-based activities.
It's an ideal place for couples and groups of friends to spend the week, with over ten swimming pools, a water park, fantastic dining, and lounging areas to sip on a mimosa or cocktail.
Jolly Hall Beach, Georgetown
If you're looking for one of the most secluded and quiet beaches during your stay in the Bahamas, Jolly Hall Beach in Georgetown is one of the best spots on the islands.
Most of the beach is natural, without any infrastructure or equipment so that you can relish the surrounding beauty thoroughly. Jolly Beach offers crystal clear waters and a few attractions nearby in Georgetown, including the Emerald Reef golf course and several beachside restaurants.
Jolly Hall Beach is popular with nature enthusiasts and avid swimmers. It's ideal for visiting if you're looking for an easy escape from the island's attractions and entertainment and prefer spending a bit of time in solitude or with close friends and family.
Gold Rock Beach, Grand Bahama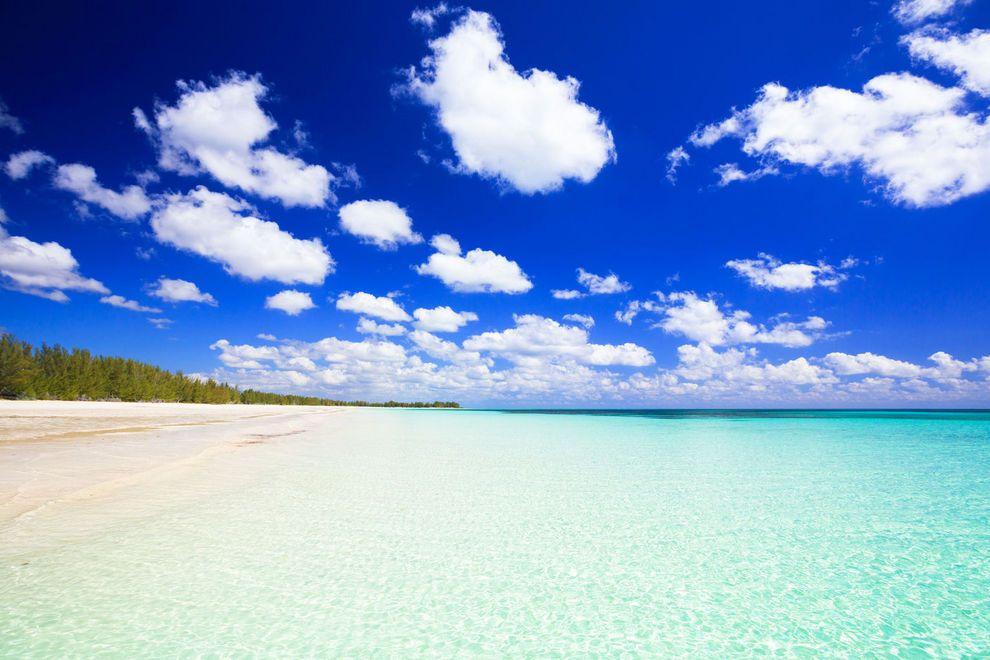 Gold Rock Beach is one of the most secluded and protected shorelines, just 25 miles from Freeport. It's a naturally gorgeous beach protected by the Bahamas National Trust, including the Lucayan National Park. When you visit this area, you'll want to bring along your hiking shoes and a few snacks to enjoy during your stay.
This welcoming beach provides lots of picnic tables, benches, and barbecue and firepits. You can easily explore the fantastic Lucayan Caverns, which are just north of Gold Rock Beach. These caverns are considered the longest known underground cave system in the world.
When this beach's tide is low, the expansive beach is known as the "welcome mat." It's the perfect place to include in your itinerary for visitors looking for a quiet excursion into one of the Bahamas' natural wonders.
Three Sisters Beach, Georgetown
This famous beach is known as a romantic destination. Three Sisters Beach is set in the heart of the Exuma Islands and offers unique rocks and scenery that spark the imagination and a sense of adventure.
The beach is named after local folklore, about an English sailor who fell in love with three beautiful women, who were also sisters and lost their lives swimming after him when he had to leave.
One of the main features of the beach is Mount Thompson, which offers spectacular views of the Exuma Islands and surrounding nature. It's also a great beach to enjoy snorkeling and diving. You'll encounter:
Mollusks
Crustaceans
Annelids
Echinoderms along the shore
Lots of colorful, tropical fish
While this beach is quiet and serene, you'll find some great nightlife and attractions just a short drive away in Georgetown.
Junkanoo Beach, Nassau
Junkanoo Beach is a fantastic spot to visit in Nassau and a popular area with locals and tourists in the area. If you're touring around the Western Esplanade, you'll find this beach nestled between Long Wharf, Arawak Cay, and a cruise ship dock.
It's close to downtown Nassau, where you'll have access to all Bahamian cookouts, markets, and other activities and events.
It's a fantastic area to observe the cruise ships entering the harbor, with many benches, restaurants, and local shops. There are pony rides, horseback trails, and other activities ideal for the family.
Tropic of Cancer Beach, Exumas
Also known as Pelican Beach, the Tropic of Cancer is the longest beach you'll find on the island. This elegant coastline on Little Exuma is coated in white sand that's light like powder, and vibrant blue-green water, offering a stunning contrast. The vastness of this beach provides a lot of quiet solitude with impressive caves, cayes, and natural wonders to explore.
Tropic of Cancer Beach is one of the top beaches to visit in the Caribbean, and tourists come from around the globe to spend their vacation year-round. The beach is named after the meridian line that divides the northern area of the tropics. It's a fantastic destination for sunbathing, picnics, swimming, and snorkeling.
Cabbage Beach, Paradise Island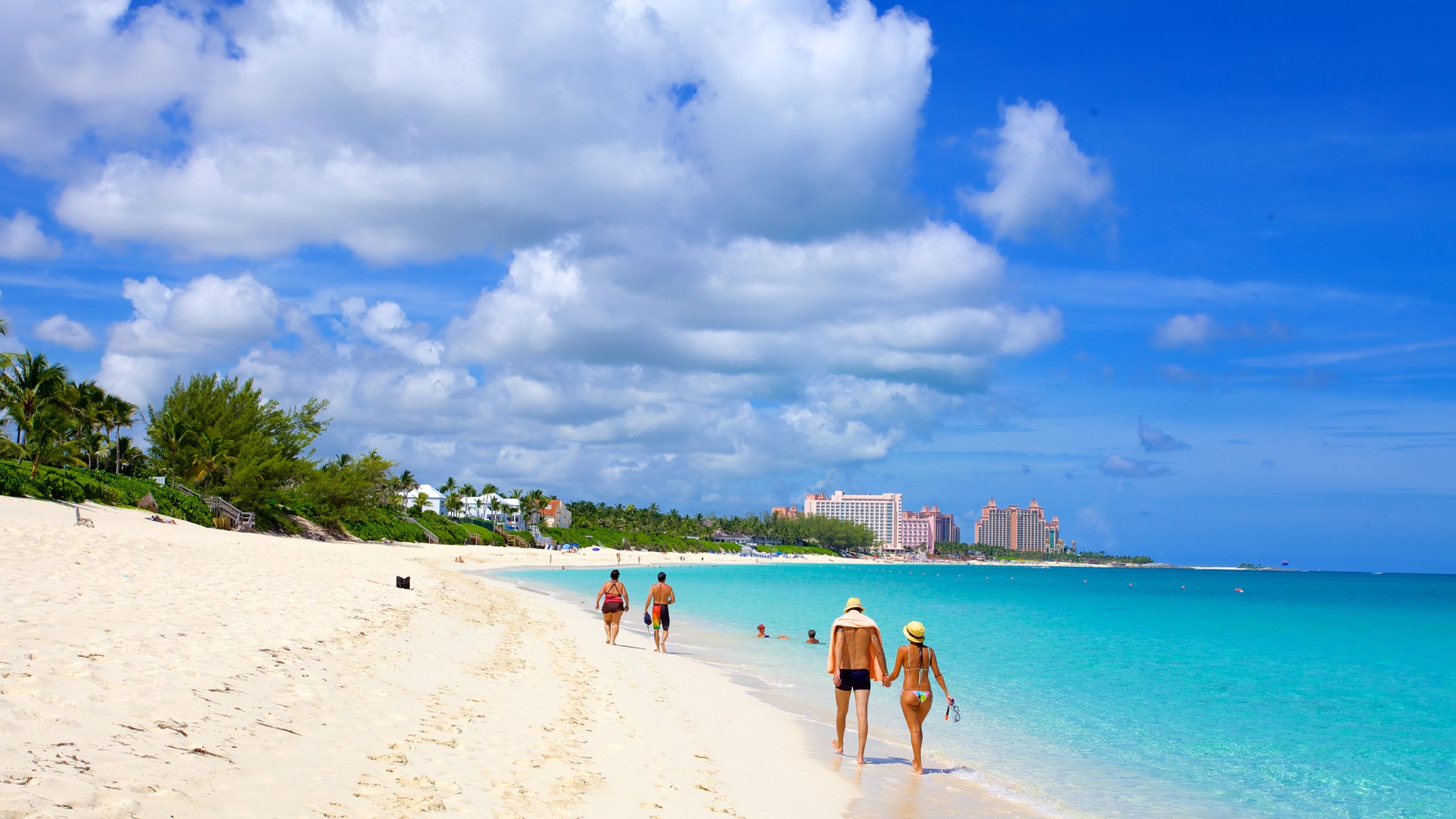 Rated as one of the top beaches in the world, Cabbage Beach is known for its trendy luxury resorts, coconut and palm trees, and scenic shoreline. It's close to some of the most famous properties globally, including Ocean Club Estates and Paradise Island. Cabbage Beach is home to some of the largest exclusive resorts, including:
Riu Palace
Atlantis
The One and Only Ocean Club.
This scenic beach is public and easily accessible within walking distance from many of the nearby resorts. If you're planning a stay in Nassau's downtown, you can take a water taxi to Paradise Island's ferry dock. If you approach Cabbage Beach from Ocean Drive, you'll find a set of wooden steps leading to this coastline's eastern part.
You'll enjoy some great activities on this beach, including:
Jet-skiing
Parasailing
Banana boating
There are plenty of umbrellas and lounge chairs, food, and beverages close to the coast. If you plan on staying at one of the local resorts, you'll have access to equipment and outdoor areas to enhance your experience of Cabbage Beach.
Treasure Cay Beach, Abacos
This fantastic beach is located on Abaco Island in the Bahamas. It's roughly 200 miles from Florida's coast and close to Treasure Cay, a village that features a beach of the same name. Treasure Cay Beach is well-known for its diving, snorkeling, and excellent fishing.
There's also a championship golf course and marina by this pristine white sand beach with clear, turquoise water. Treasure Cay Beach is the perfect spot to unwind after a day of golf or hiking in and around the area. It's the ideal place to find your balance between indulging in your favorite activities and savoring the sounds of the ocean as you rest on a lounge chair with your drink.
This region is served by two local airports, Treasure Cay and Marsh Harbor, which offer multiple flights daily, making Treasure Cay Beach accessible if you're feeling spontaneous for a quick excursion.
There are plenty of great restaurants, bars, and Wi-Fi services. It's a fabulous place to spend the day or for the weekend.
Tahiti Beach, Abacos
Tahiti Beach is privately-owned and located in the south part of Elbow Cay on Abacos Island. This beach is calm, serene, and lined with coconut trees and white sand that's soft to touch. It's a secluded place ideal for spotting sand dollars, shells, starfish, and other aquatic life. Tahiti Beach is serene and peaceful for swimming and lounging on the shore.
Tahiti Beach is perfect because it's not generally open to the public, though the owners allow tourists to visit and enjoy the area's tranquility.
Since this beach is not widely available to the public, it's only accessible by walking, so you'll want to set aside some time during the day to explore this paradise. If you're an avid cyclist, you can rent a bike or take a boat to this hidden gem.
Great Guana Cay Beach, Abacos
Guana Cay is where you'll discover this beautiful beach, which is easy to access by boat while you're exploring the nearby islands. If you're planning on a trip to Guana Cay, the beach is a must-see to include on your itinerary. The entire island is unique because there's a lot of incredible sights to view on foot.
To cover the entire island of Guana Cay, you can rent a golf cart or bicycle so that you can take in all the unique spots in this place. This one-of-a-kind island varies from one area to another, so you'll want to stay to soak in the incredible beach and breathtaking scenery.
Once you arrive at Guana Cay Beach, you'll have access to some of the best activities to enjoy in the Bahamas, including:
Sailing
Scuba diving
Kayaking
Surfing
Shopping
If you're planning an island hop around the Bahamas, or more specifically, the Abacos Islands, you'll find incredible spots to explore, including one of the largest Barrier Reef, an extensive map of the best diving and snorkeling areas, and fantastic views of starfish and coral reef.
You can rent a boat to explore the waters or enjoy a tour with certified divers and take diving lessons. Guana Cay Beach is one of the most exciting places to visit in the Bahamas if you're looking for the best relaxing vacation with many activities and excursions to take part in.
Stocking Island Beaches, Exumas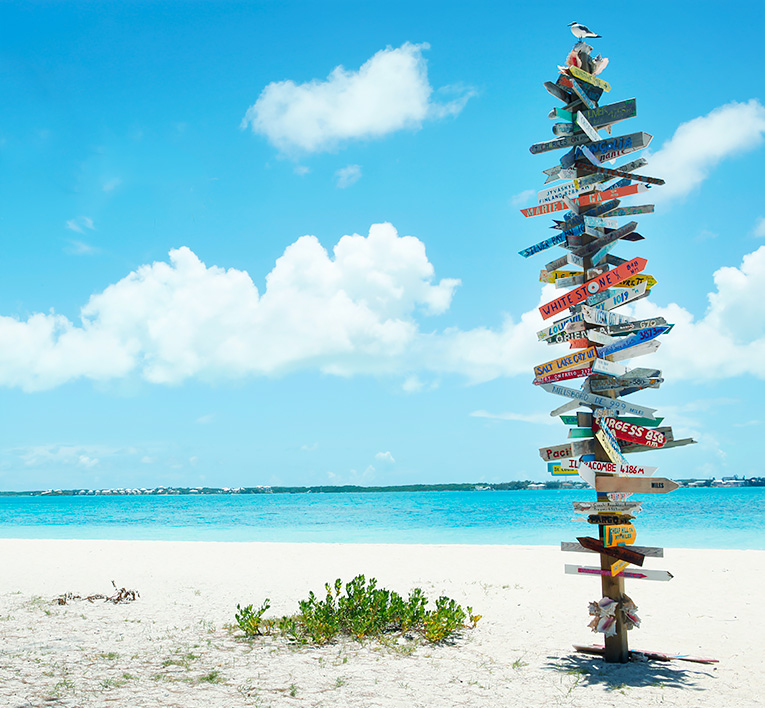 You'll encounter this beach on Stocking Island, which provides a barrier or protection against the seaside cliffs and Elizabeth Harbor. It's a long, narrow island that provides the ideal hiking trails, white sandy beaches, and some incredible fossils, some of which are the oldest known in the world.
You'll find unusual and unique spectacles on Stocking Island Beach, including the Jacques Cousteau Mystery Cave, the Hurricane Hole (the island's center), and the Angelfish Blue Hole. This island and beach are known for the Salt Beacon monument, which performs like a beacon for nearby chips in the harbor.
Stocking Island Beach is a hidden oasis accessible by water taxi or renting a boat to navigate on your own. If you stay at the island's hotel, there's a free boat transfer that's very convenient. Stocking Island Beach offers:
Incredible food and drinks at the Beach Bar
Outstanding hospitality
Beautiful cottages
Friendly shops
Places to explore
This Bahamian beach offers clear, transparent turquoise water, with powdery white sand and many shells to discover. One of the highlights of this beach is the stingrays, which you can feed by hand.
You'll find lots of picturesque views and unforgettable experiences to capture on film. If you're creating a "to-do" list for your next trip to the Bahamas, you'll want to see this fantastic spot.
Fernandez Bay Beach, Cat Island
If you're searching for one of the most laid-back resorts in the Bahamas, you'll find a great destination at Fernandez Bay Village and the local beach. This resort town offers generous access to the Fernandez Bay Beach, located on Cat Island, a tranquil shoreline with crystal clear water and soft, white sand.
You can enjoy all the local amenities, including cottages, villas, gardens, and restaurants. A clubhouse is open to tourists twenty-four hours a day and serves various delicious meals and a tiki bar.
The island is serviced by private planes, and this beach is a popular spot for weddings and honeymoons. It's also a fantastic place to celebrate a birthday or anniversary, with great dining and scenic areas for couples to enjoy a romantic getaway.
This Cat Island resort and beach are among the best places to consider for your next vacation, with everything you'll need and want to explore in one location.
Fernandez Bay Beach is one of the friendliest coastline destinations, situated on one of the most southern islands of the Bahamas. It's a terrific place where tourists feel at home and enjoy the best of this adventurous island and beach.
Conclusion
The Bahamas is one of the top destinations globally for travelers. It's the ideal place where you'll find your private paradise, tranquil coastlines, and fantastic resorts with all the entertainment, restaurants, sports, and local tours.
While the islands offer countless beaches and amazing views, these top resorts and secluded beaches are among the most amazing places to visit, and they'll leave an impression long after you return home from vacation.
Some of the best beaches in the Bahamas offer unique sights, aquatic life, and natural wonders, from hidden caves and extensive coral reefs to pink sand, community cookouts, and local shops to visit during your stay. The Bahamas is home to many thriving communities and villages that are built around these spectacular beaches.
You'll find each resort offers exceptional staff and service for all your unique travel goals and plans. Each of these beaches offers personalized travel by renting bicycles, golf carts, cars, or an organized tour or excursion into some of the less-traveled terrain and beach areas.
The Bahamas offers endless possibilities for any travel, whether you're looking for a luxury, all-inclusive resort with access to top entertainment and amenities or a secluded, quiet place to enjoy the natural side of the islands.
More about our TFVG Author
A seasoned traveller, Dad, and avid sports tourist, James foundered The Family Vacation Guide to share his expert vacation experiences- especially when it comes to being a travelling family man.
Featured in Travel articles such as Travel + Leisure, TripSavvy and SFGate, you know you're reading some of the best vacation tips online.