The Dominican Republic is a majestic island that offers sunshine, beautiful all-inclusive hotels, and plenty of sandy white beaches to explore along the Atlantic Ocean and the Caribbean Sea.
With so many exquisite beaches to consider, picking the best places to visit can be a daunting task.
We have composed a list of the best 15 beaches in the Dominican Republic to help make your decision a little easier. 
1. Bávaro Beach, Punta Cana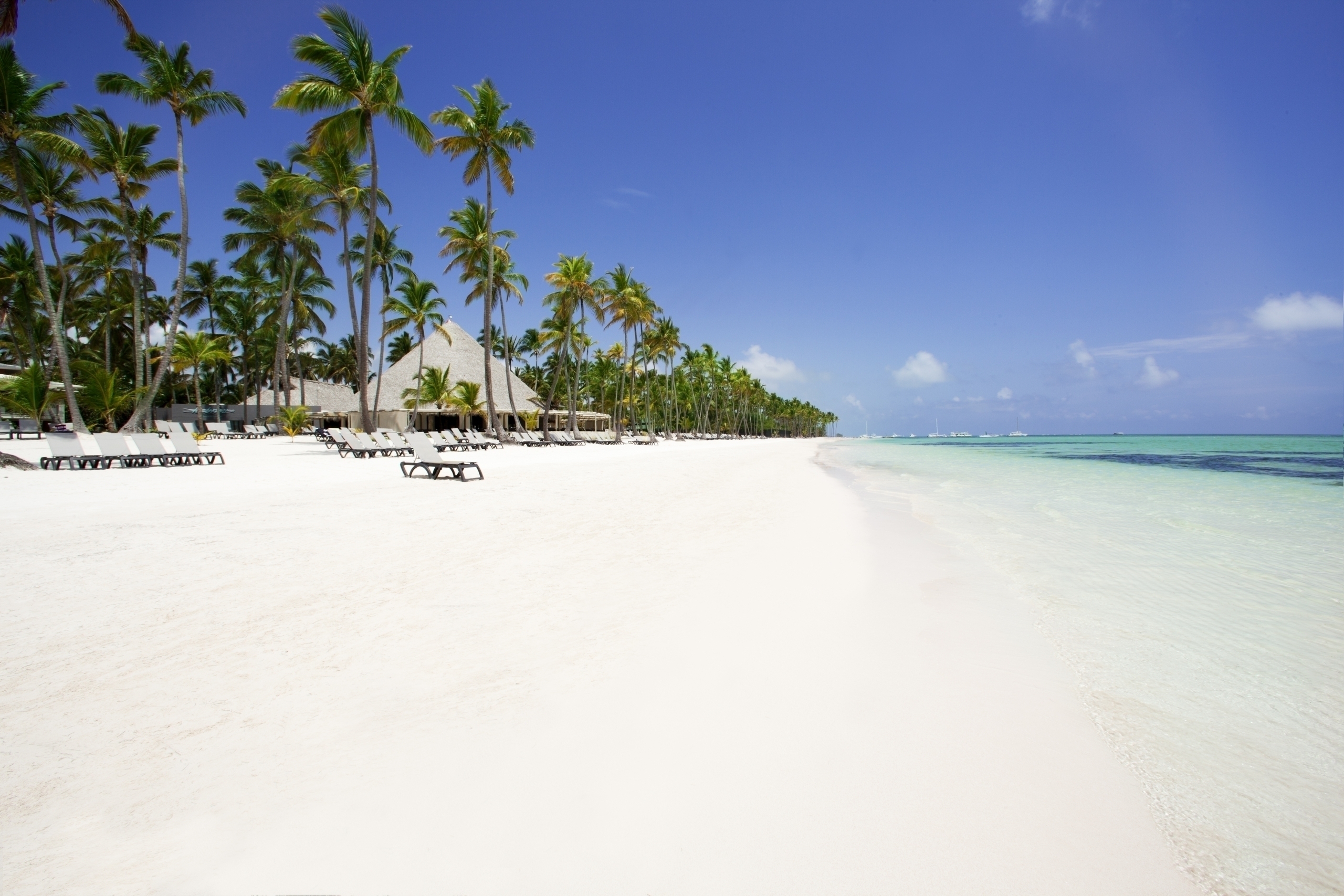 Quoted by many as the best beach in the Caribbean, Bávaro beach boasts stunning views and an all-inclusive adult-only resort. Its gorgeous coastline features soft, white sand and ocean temps that sit around 66 to 93 degrees Fahrenheit (19 to 34 degrees Celcius).
It is a wildly popular destination, some calling it one of the top three beaches in the world. With all of its tourist attractions, you will find no shortage of things to do. Go snorkeling in the crystal clear waters, visit one of the many water parks, enjoy the nightlife, explore the beach in a buggy, and even take a tour in a helicopter.
The possibilities and the relaxation are endless at this beautiful beach. Here you're sure to find something suited for everyone.
2. Playa Rincon Beach
This post-card-worthy beach offers palm trees, sandy shores, and turquoise views of the picturesque Samana Peninsula. Rated as one of the best beaches in the Dominican Republic, you will not be disappointed with a visit to Playa Rincon Beach.
Visitors to Playa Rincon Beach can enjoy the tropical scenery by partaking in beach-side activities, such as sunbathing, snorkeling, or hitting the waves with some bodysurfing adventures.
Other tourist activities in Playa Rincon include trying fresh fish from one of the beachfront restaurants, ziplining, taking an inland safari tour, or checking out this tropical paradise with a local boat tour.
Playa Rincon Beach is best suited for anyone interested in discovering the local beauty of the area and enjoying the warm water and lush vegetation in this tropical oasis.
3. Cabarete Beach
If it's the best beach waves in the Dominican Republic you're searching for, then you have come to the right place. Cabarete Beach offers visitors plenty of waves to explore body surfing, windsurfing, or kite surfing along the north coast of Puerto Plata.
Enjoy palm trees, and sandy shorelines surrounded by restaurants and bars where you can take in the culture of the island and meet some locals. Cabarete is the perfect Caribbean beach destination if you're interested in learning more about the history and culture of the area.
Other tourist attractions to enjoy in Cabarete Beach include ATV tours, catamaran boat trips, snorkeling, and horseback riding in the scenic area.
Discover the beauty and culture of the Dominican when you visit Cabarete Beach on your next trip to this gorgeous tropical destination. A must-see beach for all culture lovers.
4. Macao Beach, Punta Cana
Nestled in a small peninsula along the Atlantic Ocean, Macao Beach is one of the best beaches in the Dominican Republic to take in all the natural wonders of the area.
Relax on this crystal clear beach with just enough waves for beginner surfers to enjoy, or soak up the sandy shorelines, lush vegetation, and breathtaking ocean views.
While you are in the area, why not visit some local restaurants offering mouth-watering cultural foods? Other tourist attractions in the Mocoa Beach area include surf lessons on the beach, off-road buggy rentals, the scenic water cave, and the Punta Canta Safari.
There's always plenty to do for the entire family when you make a stop at Macao Beach in Punta Cana.
Macao Beach is the ultimate beach to head to for your relaxing getaway in the sunny destination of the Dominican Republic, guaranteed to provide the perfect amount of sunshine, waves, and relaxation.
5. Playa Bonita
Set alongside the Atlantic Ocean, Playa Bonita Beach boasts golden shores, palm trees, and a gorgeous backdrop of tropical vegetation. This beautiful tropical paradise has earned the right to be considered one of the best beaches in the Dominican Republic for its outstanding beauty.
Playa Bonita is a popular tourist destination for visitors interested in paddle boarding, surfing, snorkeling or simply catching some rays beachside. There is a public beach area available to anyone, even if you are not a guest of the Playa Bonita resorts.
Other things to do nearby in Playa Bonita include boutiques, restaurants, horseback riding along the beach, zip-lining, visiting nature parks, or checking out the tropical beauty of local waterfalls with a guided tour.
There is something for the whole family to enjoy when you visit Playa Bonita Beach on your next visit to the sunny destination of the Dominican Republic.
6. Playa Grande, Rio San Juan
Playa Grande is nestled between Cabrera and Rio San Juan along the northern coast of the Dominican Republic. This beautiful beach boasts red sandy shores, scenic hills, and palm trees surrounded by freshwater streams, and lush vegetation.
A popular tourist destination, Playa Grande is one of the longest beaches in the Dominican and offers plenty of waves for watersports, including windsurfing, body boarding, and kite surfing. Or relax in the sunshine and spend the day lounging on the beach.
Other local attractions include street vendors, restaurants, and bars featuring drinks out of coconuts, public washrooms, rental stores where you can rent beach chairs and umbrellas, and shops offering souvenirs, swimsuits, and sun hats.
The mile-long beach of Playa Grande is known for having some of the best seafood in the Dominican Republic. Freshly served along the beach in rows of fish shacks, visitors to the area can feast on a lunch plate served up with music softly echoing in the background.
Other attractions to the Playa Grande include the Cabarete Coffee Shop and shopping, a visit to the cultural art center, the Chocolate Factory, checking out the area parks, or taking in a waterfall adventure at Ciguapa Falls.
You are sure to find something fun to do for the entire family when you make a stop at the Playa Grande in Rio San Juan. Prepare to make a fun-filled day out of your adventure, or consider booking a resort in the area.
7. Punta Rucia
One of the most stunning beaches in the Dominican Republic, the Punta Rucia boasts white sandy shores and a backdrop of breathtaking mountain views for the perfect vacation photos.
Located in Peurto Pata, visitors to Punta Rucia enjoy swimming, and snorkeling in the shallow blue waters along the beach featuring an assortment of marine life including colorful corals, and tropical fish. The perfect beach location for anyone interested n catching some unique underwater views.
Other local attractions in Punta Rucia include restaurants and clubs, visiting National Parks in the area, touring a Marine Mammal Sanctuary, taking a catamaran cruise with lunch, or visiting the Cayo Arena on Paradise Island.
Clear waters and amazing aquatic life, make Punta Rucia a favorite beach for many visitors to enjoy this little piece of paradise set along the northern coast of the Dominican Republic.
8. Playa Dorado
Set on the Dominican Republic's northern Amber Coast, Playa Dorado Beach boasts soft golden sand, warm waters, and plenty of palm trees and tropical views, attracting visitors to the pristine area each year.
The public beach area offers lounge chairs and umbrellas, public restrooms, restaurants, bars, and vendors. Visitors can enjoy watersports such as swimming, snorkeling, surfing, and kite surfing.
Other things to do at Playa Dorado include sunbathing, golfing, testing your luck at two area casinos, watching a movie at the town's theatre, shopping, or checking out one of their many restaurants and bars for a great meal or a refreshing drink.
If you are feeling adventurous, take a cable car ride to the top of Mount Isabel for phenomenal city views, explore the beautiful botanical gardens or visit the Ocean World Adventure Park to enjoy swimming with the dolphins, or visit a sea lion or shark up close.
With several top-notch resorts in the area, why not make Playa Dorado on Peurto Plata your next vacation destination?
9. Beach Alicia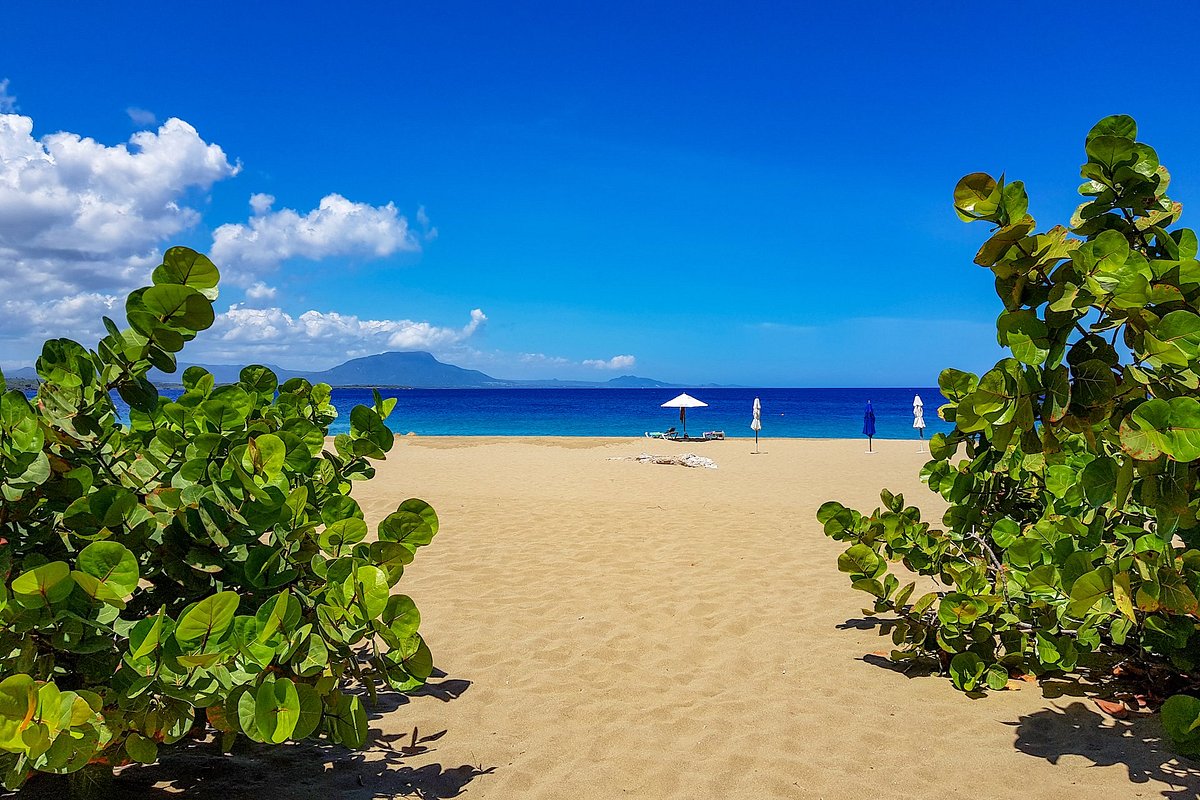 Found along the northern shores of the Dominican Republic, Alicia Beach offers a quiet, calm, and crowd-free atmosphere with soft, golden sands, clear blue waters, and breathtaking scenery.
Enjoy lounge chairs and umbrellas to rent on the beach and several restaurants with patio ocean views of the lush scenic area. If you eat at one of the restaurants, enjoy all-day free beach chairs and umbrellas along with a belly full of fresh local seafood.
Visitors to Beach Alicia can take in swimming, snorkeling, and sunbathing along the sandy shorelines. Other things to do near Beach Alicia include making a short trip to Coral Reef Casino or visiting the Mundo King Art Museum.
If you are looking for something more quiet and peaceful than the usual crowded Caribbean beaches, then Beach Alicia is the perfect destination for your visit to the Dominican Republic. Relax and catch some much-needed sunshine in beautiful Beach Alicia.
10. Playa Los Mino
This gorgeous stretch of golden sand and gentle waves is located in Santo Domingo and offers plenty of shaded areas along the beach for visitors to enjoy a fun-filled day in Playa Los Mino with enough shade to get out of the sun when you've had enough.
Beach activities at Playa Los Mino include free entry to the beach area, surfing, snorkeling, sea kayaking, and swimming. There are rental areas for kayaking and surfboards onsite. There are no washrooms at this beach site. However, you can use the nearby hotel laboratories by making a small donation to the hotel.
Other local attractions in Santo Domingo include discovering the history and culture through a guided city tour, checking out the swimming cove, the Three Eyes National Park, taking in some retail therapy at the Agora Mall, or visiting the National Botanical Gardens.
There is so much to do near Playa Los Mino. Plan to have a full day of exploring the beautiful scenic area, or consider staying in one of the luxury resorts nearby to ensure you have plenty of time to take in all that Santo Domingo offers.
11. Playa Publica Dominicus
Playa Dominicus is one of the longest beaches found in the area of Bayahibe Dominicus. Known for pristine white sandy shorelines, shallow blue water, and beautiful offshore reefs, the Playa Publica Dominicus sees several tourists flocking to the area.
Visitors to the beach enjoy swimming, snorkeling, deep sea diving, lounging beachside, and taking in the tropical views of the breathtaking scenery.
The public beach area offers lounge chairs and umbrella rentals, and a restaurant to have a bite to eat or a drink. Local attractions include taking a catamaran to Soana Island, E-bike rentals to tour the area, ziplining, buggy rentals, or making a visit to the Rum Factory.
There is plenty to do at Playa Publica Dominicus and the surrounding area for the whole family to enjoy the perfect sun-filled day at one of the best beaches in the Dominican Republic.
12. Cayo Levantado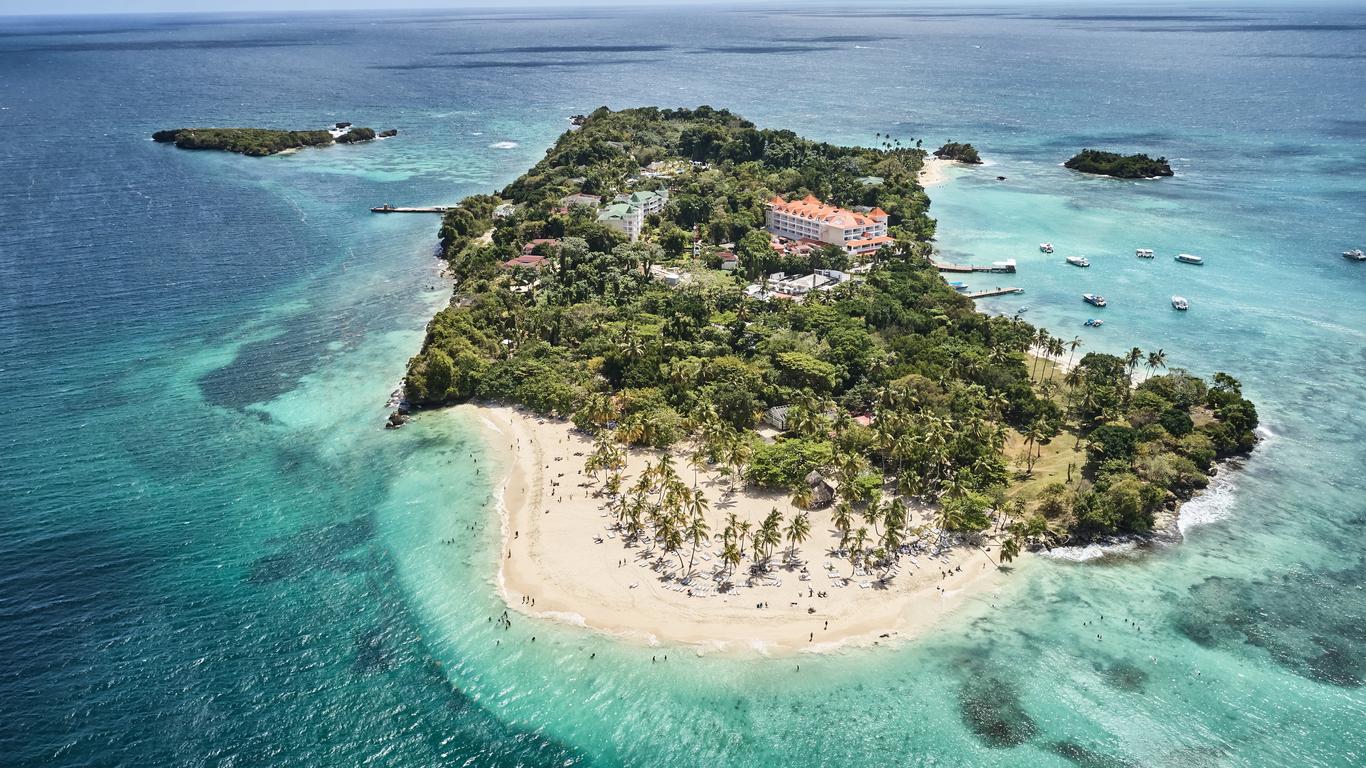 If you are looking for one of the best beaches in the Dominican Republic for relaxation on your sun-filled adventure, then you have found the perfect spot. Situated on a tropical island along the Samana Peninsula, Cayo Levantado boasts sandy shorelines and beautiful turquoise water.
Enjoy soaking up the sun beachside, or partake in some water activities, such as swimming, kayaking, surfing, snorkeling, or paddle boarding at this gorgeous tropical paradise.
Other local attractions near the beach include restaurants, ziplines, catamaran boat tours, or a visit to the nearby mangroves and rainforests at the national parks.
Cayo Levantado is the perfect pit stop on your vacation to the Dominican Republic to spend some quality time on one of the best beaches in the area.
13. Isla Catalina
This tropical island paradise is located in the southeastern Dominican Republic and offers shallow reefs, picture-perfect water views, and unspoiled scenery. Isla Catalina is near Punta Cana and is the ideal beach if you're looking for a less-populated peaceful location away from the hustle and bustle of the Caribbean crowds.
Enjoy soaking up the sun and beach activities including swimming and snorkeling at this beautiful Island beach. If you have your own equipment, Isla Catalina is also an excellent location to go kayaking and paddle boarding.
Other things to do in the area include restaurants, catamaran boat rides, diving excursions, and discovering wildlife and birds on the island. Go for a walk along the beach and take in the views of iguanas, birds, and sea creatures along the way.
One of the most beautiful beaches in the Dominican, Isla Catalina is an excellent choice to visit on your next vacation to the Caribbean when you are looking for a quiet place to relax and unwind in the sunshine.
14. Playa El Valle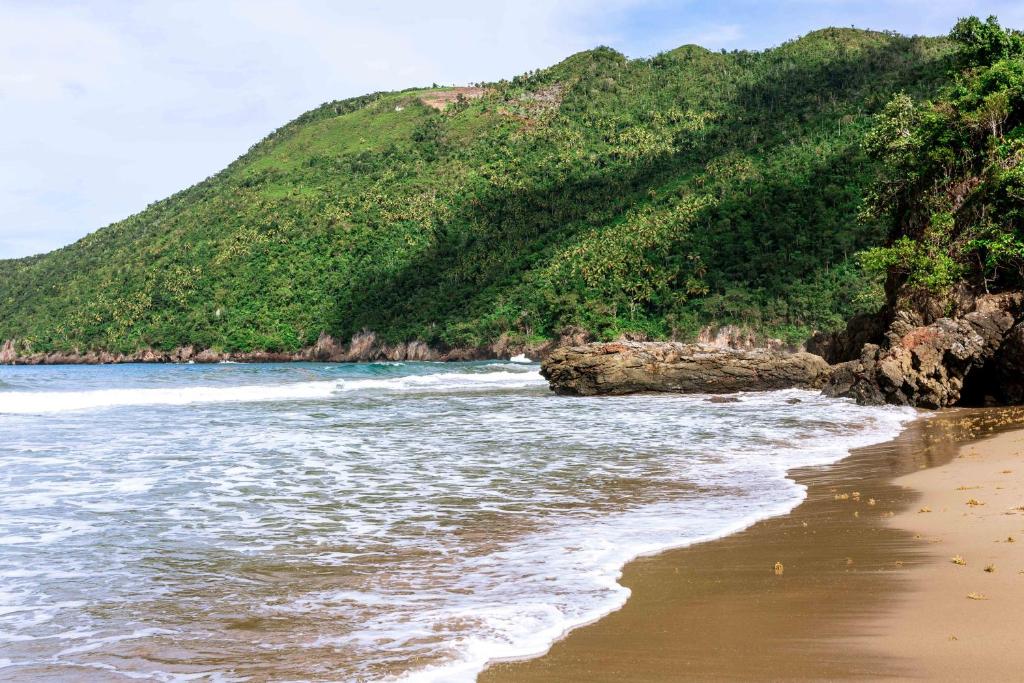 This 4-kilometer golden sand beach is located about half an hour from Santa Barbara and features panoramic views of towering bluffs, turquoise waters, and lush vegetation. Enjoy a walk along the beach and spot local fishermen along the way.
Enjoy a meal of fresh fish on the beach, or explore the beautiful landscape and all its nature. The water current is strong here, so ensure not to swim out too far when exploring the waters.
Other local attractions near Playa El Valle include the Cano Hondo Ziplines, an Island safari rental, or a visit to the Los Haitises National Park to take a look at the rock formations and mangroves dotted with caves along the way.
Playa El Valle is the perfect beach in the Dominican Republic if you're looking for a break away from the crowds. Relax and take in all the beauty that this lovely Caribbean destination offers.
15. Playa Bayahibe Beach
Playa Bayahibe is a beautiful public beach surrounded by sandy shores, clear blue water, and plenty of palm trees. Located on the Caribbean Sea shore, the Playa Bayahibe offers tranquility and relaxation on your visit to the Dominican Republic.
Enjoy the quietness of this beach situated in a small fishing town offering swimming, and water sports such as snorkeling, kayaking, and sunbathing along the sandy beach.
This small fishing village offers a few all-inclusive resorts, and several excursions including Saona Island Sailing Tour, Bayahibe E-bike tours, horseback riding, cave swimming, and whale watching. 
Playa Bayahibe Beach is an excellent choice if you're looking for a quiet getaway from the everyday busy tourist areas of the Dominican Republic. It is a great way to spend a day on your next vacation to the area, or look for a resort nearby to take in all the area offers.
Final Thoughts
Whether you are traveling with your family members and looking for a family-friendly beach, traveling with friends and searching for a more upbeat beach, or traveling with your partner and looking for something cozy and romantic, there are plenty of breathtaking beaches in the Dominican Republic to pick from.
With so many fantastic beaches to choose from in the Dominican Republic, I hope we were able to give you some valuable options for your next venture to this sunny tropical destination.
More about our TFVG Author
A seasoned traveller, Dad, and avid sports tourist, James foundered The Family Vacation Guide to share his expert vacation experiences- especially when it comes to being a travelling family man.
Featured in Travel articles such as Travel + Leisure, TripSavvy and SFGate, you know you're reading some of the best vacation tips online.