The Caribbean islands receive millions of visitors each year, and as the pandemic slows down and people begin to travel again, numbers are likely to continue to increase.
This is because with white sand beaches, turquoise waters, friendly local people, delicious food, ample opportunities for relaxing, and various adventurous activities, there's so much to love and not a lot to hate when setting your eyes on the Caribbean!
Families, in particular, enjoy visiting the Caribbean because there are numerous family-friendly resorts that offer things to do to meet every family member's interests. 
That said, families often don't like breaking up into separate hotel rooms. The primary purpose of a family vacation is bonding time, and some families must be able to settle down in the evenings together.
This is why we've made a list of nine of the best Caribbean resorts with villas for families. We'll discuss the rooms, the resort amenities, the location, and what guests particularly appreciate about their stays in these resorts.
All of these resorts have villas with enough space for small families (3-5 people) to comfortably rest in, while some of them have enough space for large families (6-10 people) as well!
Look through this list to identify which of the following Caribbean resorts with villas for families will best suit your family's vacation needs. 
Sublime Samana Hotel & Residences — Las Terrenas, Dominican Republic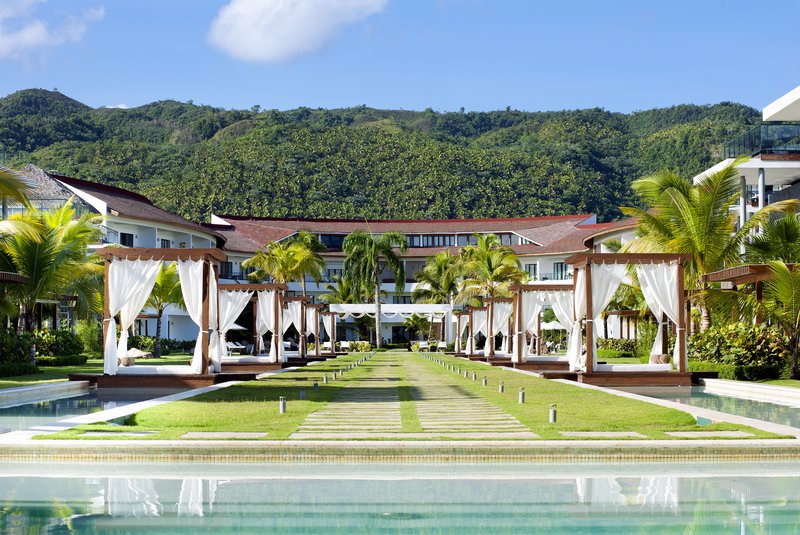 The Sublime Samana is a 5-star hotel in the beautiful Dominican Republic that will give your family's vacation an authentic paradise feel.
This is an ideal family resort due to the many group accommodation options.
A family of up to five people can choose from a two-bedroom suite or a two-bedroom casita that has around double the total space and a private entrance.
If you have a more prominent family of up to 7 people, you can choose between a three-bedroom casita or a four-bedroom presidential suite.
All of the suites and casitas have private outdoor jacuzzis, making them much more appealing for a relaxing family vacation.
And even the one-bedroom suite can fit either three people or two adults and two kids under 12, although you won't get a private jacuzzi.
The hotel also offers a spa, exquisite dining, and easy access to Dominican Republic highlights such as wild beaches, rainforests, coconut plantations, and scenic mountains and valleys.
Families can also go whale watching, ziplining, and kitesurfing or plan a trip to El Limon waterfall. There is clearly plenty to do, all of which is not too far from the resort.
Plus, if you want to stay at the resort, you're right on the after and can partake in various water activities!
People love the extraordinary service, the paradise-like surroundings, and the quiet stay.
Half Moon — Montego Bay, Jamaica 
If you want a luxurious, stylish, and spacious Caribbean vacation, Half Moon in Jamaica is an excellent choice. Forbes Travel Guide named it Jamaica's Highest Rated Resort in 2021, and we can see why.
With fresh and locally-sourced cuisine, an internationally-inspired spa, an outstanding golf course, plenty of activities, and three distinct accommodation experiences, there is a lot of choice at Half Moon, and it's hard to go wrong with any of them.
For accommodation, they are a total of 210 rooms and suites and 27 villas, all elegantly designed and accessible to the main resort areas.
The villas, in particular, provide 5-, 6-, and 7-bedroom options, all with indoor living rooms, outdoor living rooms, dining rooms, and private pools.
When you book a villa at Half Moon, not only are you granted ample space for your family to spread out, but you also get a butler, a housekeeper, and a cook. So more space doesn't mean more stress; you won't have to worry about anything.
Additional family-focused perks at Half Moon include tennis and squash courts; use of water sports equipment such as kayaks, paddle boats, snorkeling gear, and stand-up paddleboards; and the ability to book activities like scuba diving, sailing, windsurfing, and water skiing.
Finally, families love the Children's Village, which is a Jamaican-folklore-inspired kids outdoor club that highly trained children's counselors supervise.
Overall, guests appreciate the welcoming and safe environment, the chic boho visuals, and the spacious outdoor seating from the villas.
Infinity On The Beach — Oistins, Barbados 
Infinity On The Beach is an affordable, intimate hotel in St. Lawrence Gap in Barbados. Located directly on the beach, this hotel offers easy access to the beautiful Barbados waters, family-friendly service, and a beachfront restaurant.
There is enough space for a family of three in their Duplex Penthouse. You'll get 800 square feet of living space, a living room, a kitchenette to cook meals, and large balconies on both floors to soak in the ocean views.
In the two-story penthouse, your family can enjoy nice views of the pool and courtyard areas, panoramic views of Dover Beach, and cozy settings both indoors and outdoors.
This hotel also provides a tranquil spa offering therapeutic treatments, two swimming pools your kids will love, and local cuisine served right on Dover Beach.
The spa, in particular, is a true gem, offering a wide range of relaxing and rejuvenating services, including massages, nail care, facials, and waxing.
People love the breakfasts, the professional staff, and the fact that the hotel is within walking distance of all that St. Lawrence Gap has to offer.
Dorado Beach, a Ritz-Carlton Reserve — Dorado, Puerto Rico
If you're not on a budget and want true luxury for your family vacation, then look no further than Ritz-Carlton's Dorado Beach resort.
Built in the 1950s, the resort takes on a historical, rooted, and traditional approach to welcoming its guests and sharing its story.
There are numerous accommodation options for families, including suites, rooms, and villas called residences.
Some of the suites are two bedrooms, and thus can fit small families up to three and four people, but if you're looking for prime luxury, privacy, space, and service, the residences are ideal for you.
For two bedrooms, you can book a standard residence, a residence with a den, or a gorgeous penthouse with a private plunge pool facing the ocean. If you need a three-bedroom, there is a standard and den option as well, both with incredible views.
Larger families can book a stunning four-bedroom penthouse with both a den and a private pool or the resort's massive five-bedroom villa that will provide everything your family needs and then some.
All of the residences have easy access to the ocean, outdoor living space, nature-inspired artwork, and an Embajador for additional attention and service.
Beyond the high-class accommodations, families love the COA restaurant, which uses local ingredients and has the largest wine cellar in Puerto Rico.
They also appreciate the two TPC golf courses with incredible scenery, access to adventures like the Rockefeller Nature Trail, and the ability to partake in various land and sea experiences.
Divi Village Golf & Beach Resort — Oranjestad, Aruba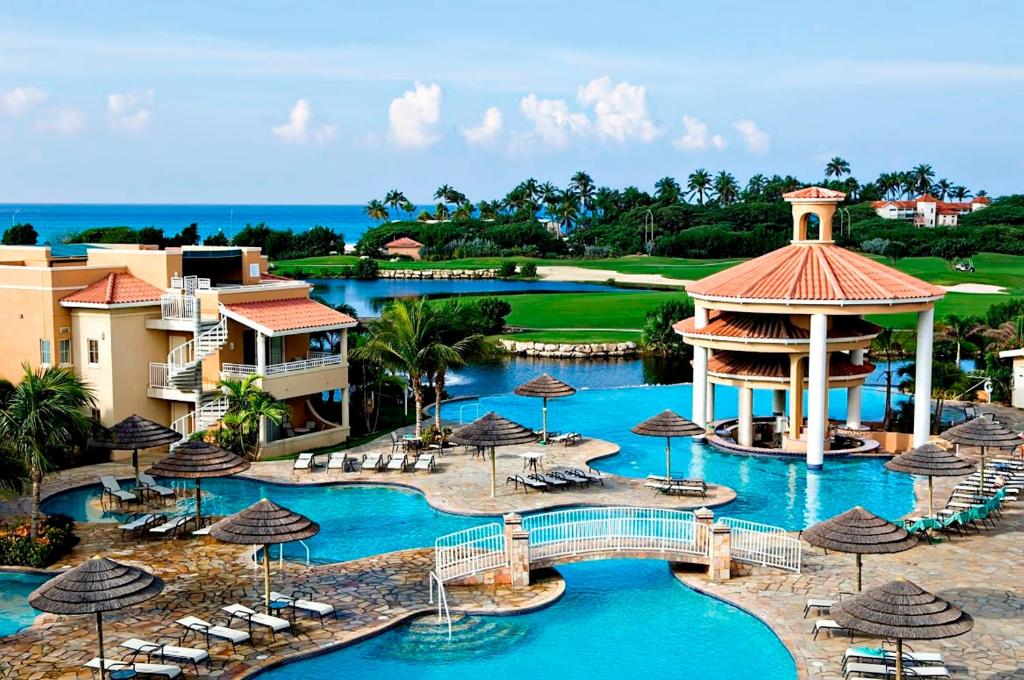 The Divi Village Golf & Beach Resort is an all-inclusive four-star resort that provides many five-star luxuries and ample opportunities for both fun for the family and relaxation for the parents.
There are three eateries, two outdoor pools, a swim-up bar, a top-notch spa, and a 9-hole golf course.
Plus, with the all-inclusive deal, you'll be able to leave your wallet behind and simply enjoy access to unlimited meals, a wide range of activities, comprehensive services, unlimited free golf, and access to neighboring Divi resorts.
But one of the greatest advantages of staying at the Divi Village for families is the ability to stay in one of their spacious villas, all featuring sleek, modern design and up-to-date amenities.
The 930-square-foot Golf Villa Studio Suite provides adequate room for a family of up to four, with one king and one bathroom.
However, they also have a 2,012-square-foot Two-Bedroom Golf Villa that fits up to eight people and a 3,162-square-foot Three-Bedroom Golf Villa that amazingly fits up to 12 people.
These villas are all close to the golf course and have balconies or patios, fully-equipped kitchens, and — perhaps their most unique and valuable feature — washer and dryer units right within the villa!
In this area of Aruba, you can snorkel a shipwreck, swim in natural pools, go on a horseback riding adventure through the desert, and relax on a sunset sailing trip.
Plus, children under 12 stay for free on room-only bookings, and children under 5 stay for free on all-inclusive bookings.
ACOYA Curaçao Resort — Willemstad, Curaçao 
The ACOYA Curaçao Resort is a lovely, warm, and refined four-star resort that offers proximity to beautiful beaches and fun-filled activities in Curaçao.
This resort also has a spa and wellness center, a fitness center, a pool bar, and a restaurant serving innovative fusion cuisine.
But what really makes ACOYA one of the best Caribbean resorts with villas for families is their well-equipped and spacious villas, with some even equipped with private pools.
The theme of the villas is zen, providing a tranquil experience for any family member due to its luxury design that incorporates natural elements.
There are 1-, 2-, and 3-bedroom villas with all the appliances and amenities you need for a safe, comfortable, and family-oriented stay. This includes but is not limited to a stove, oven, fridge, microwave, toaster, coffee maker, dishes, and cutlery.
If you like the sound of all of that but want to take it up a notch, you can book a 1-, 2-, or 3-bedroom villa with a private pool, equipped with all of the same amenities as the standard villas but providing a relaxing and private pool for your family to enjoy.
Jumby Bay Resort — Jumby Bay Island, Antigua & Barbuda 
Antigua & Barbuda is an incredible, exclusive island known for turquoise waters, sea turtles, and prime relaxation.
The high-end resort available on the island is called the Jumby Bay Resort. Once you land in Antigua, the resort will pick you up and shuttle you off on their private yacht to the smaller, quieter island of Antigua & Barbuda.
Jumby is a five-star hotel with two outdoor pools, a world-class spa, and five different restaurants to choose from so that you get a private island feeling, but not a deserted island feeling!
In terms of accommodation, your family will have 14 villas to choose from which all come with an all-inclusive package so that you don't have to worry about a thing.
There is one 2-bedroom option, and the rest are comfortable and spacious 3- and 4-bedroom options. All of the villas are gated off from the resort and have private pools and an incredible amount of space to play or unwind.
You also have access to private water sports adventures and a supervised kids club called Camp Jumby, where you kids can take cooking classes, explore wildlife, and zipline through the rainforests.
Your kids can also learn a lot from the Hawksbill Turtle program, which teaches visitors about turtle nesting and allows families to help release hatchlings after the nesting season.
Overall, visitors love the private spaces, serene beach, and overall heavenly getaway environment.
The Somerset on Grace Bay — Turks & Caicos Islands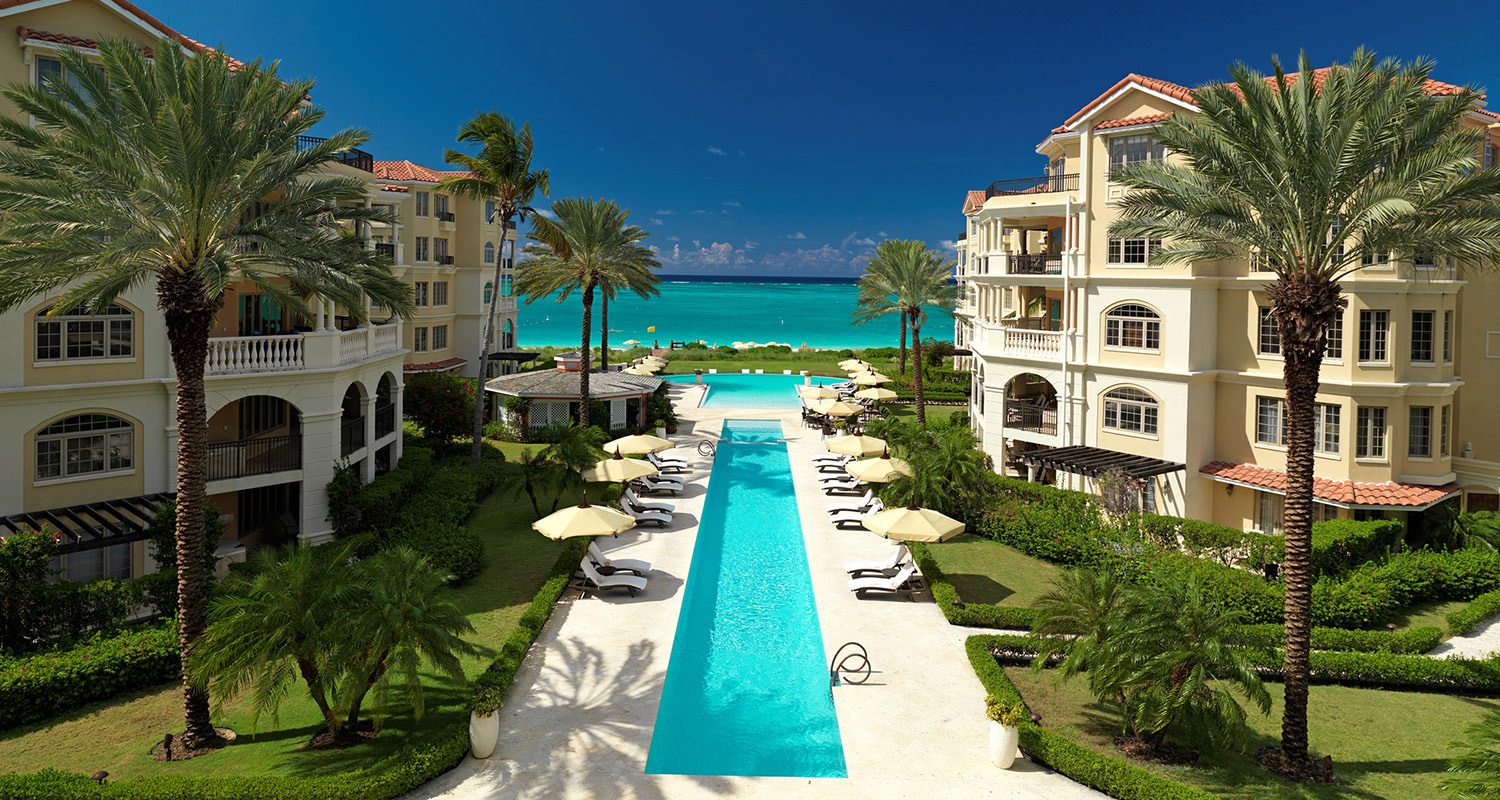 The Somerset on Grace Bay is an intimate, five-star, family-friendly boutique resort with amicable and accommodating resort staff, spacious and comfortable rooms, and delightfully uncrowded pools.
Right out front of the resort, you'll find a beach that dreams are made of with white, soft sand and bright, crystal clear waters!
In their accommodations, you can get a "home away from home" experience in a villa, a townhouse, or a full beachfront estate. All offer a charming and warm vibe with Colonial British design.
The villas and townhouses are 1- to 3-bedrooms, and the estates are 3- to 5-bedrooms. Thus, most families up to 10 people can find an agreeable vacation home for them. And if you have 11 or 12 people, you can book the most spacious Penthouse Estate.
Additional family perks of staying at The Somerset are bach bonfires with s'mores, cooking classes within your villa, and complimentary access to kayaks, paddleboards, and snorkeling gear.
Plus, Somerset has a kids club — called Caicos Kids Club — where your young ones can have fun participating in treasure hunts, sandcastle competitions, arts & crafts, and more.
Families can feel safe here, too, even during these unprecedented times, due to the resort's SafeStay Promise.
Their Triple S protocols were created with strong attention to local Ministry of Health protocols, Caribbean Public Health Agency (CARPHA) protocols, and the World Health Organization (WHO) standards.
Families appreciate being able to have their own space while immersing themselves in this beautiful tropical location.
Eden Rock — St. Barths, St. Barths 
If you have a huge family or are looking to have a multi-family large group vacation, the resorts mentioned above might not do the trick.
However, Eden Rock, a five-star hotel in St. Barths, might suit your large group needs as they offer not 1, not 10, but more than 150 luxury villas across the island!
They are all uniquely designed and offer incredible views of the scenic, diverse natural environment, as most are sitting on top of stunning cliffs.
There are plenty of 4-, 5-, and 6-villas that can hold large groups, but if you need a space for up to 18 people, there is a villa called Ohana with nine gorgeous bedrooms.
In Ohana, there is a main house with five bedrooms and a guest house with an additional four, allowing a supreme amount of space and providing an excellent option for a huge family gathering or reunion.
Regardless of which luxury villa you choose, you'll have access to a personal concierge service to make sure you and your family's needs are met.
You'll also have the option to partake in private tours and excursions. Plus, your kids will have a fun time at Eden Rock through bodyboarding, playing with sand toys, and exploring all the games the staff can provide.
There, unfortunately, is no dedicated kids club, but we imagine if you're booking a 5-9-bedroom villa, you may very well be hosting your own kids club anyways!
Caribbean Resorts with Villas For Families — Alternative Options
The resorts mentioned above are our top picks, but if you'd like to see more family resorts with villas in the Caribbean, we've listed our runner up options below:
Conclusion
The Caribbean has a lot to offer — from water sports to adventure trails to relaxing massages and more — making it an ideal area of the world for families to vacation, bond, and create lasting memories.
However, if you're split into several rooms, bonding opportunities are cut off when you want to relax in your accommodation. Instead of a standard hotel, why not book one of the best Caribbean resorts with villas for families?
That way, you can spend even more time and enjoy the stunning, natural surroundings together.
We hope this article helped you find the best resort with a villa for your family's particular size, needs, interests, budget, and overall preferences.
More about our TFVG Author
A seasoned traveller, Dad, and avid sports tourist, James foundered The Family Vacation Guide to share his expert vacation experiences- especially when it comes to being a travelling family man.
Featured in Travel articles such as Travel + Leisure, TripSavvy and SFGate, you know you're reading some of the best vacation tips online.