The Dominican Republic has been, currently is, and will undoubtedly continue to be a one-stop-shop for unforgettable family vacations.
With its beautiful beaches, delicious food, and welcoming people, it's no wonder that many outstanding resorts have made their way to the shorelines of the Dominican Republic.
And because of the competition, many of these resorts are all-inclusive. This accommodation feature typically includes all meals, snacks, and beverages, as well as unlimited access to pools, non-motorized water sports, recreational facilities, and entertainment options.
That said, if you're looking for the best all-inclusive resort for your next family vacation, you might feel quite overwhelmed by all the choices out there. We've outlined 21 of the best all-inclusive family resorts in the Dominican Republic and categorized them for your convenience. 
Best Dominican Republic All-Inclusive Family Resorts for Entertainment
These resorts below will surely leave you and the family highly entertained every day of your vacation.
1. Paradisus Punta Cana Resort 
The Paradisus Punta Cana Resort is a luxurious yet welcoming 5-star hotel and an excellent choice for your next family vacation. 
Given the variety of activities and sports, as well as its open-air architecture and its location directly on a beautiful beach, you will wonder whether this accommodation is a resort or a gigantic playground for the whole family.
Your kids can enjoy hanging out on the beach, or they can decide to get a little bit more active with tennis, golf, and a wide variety of water sports.
Families love the resort for the location, cleanliness, and service. You can even request a personal butler if you so wish!
2. Grand Palladium Punta Cana Resort and Spa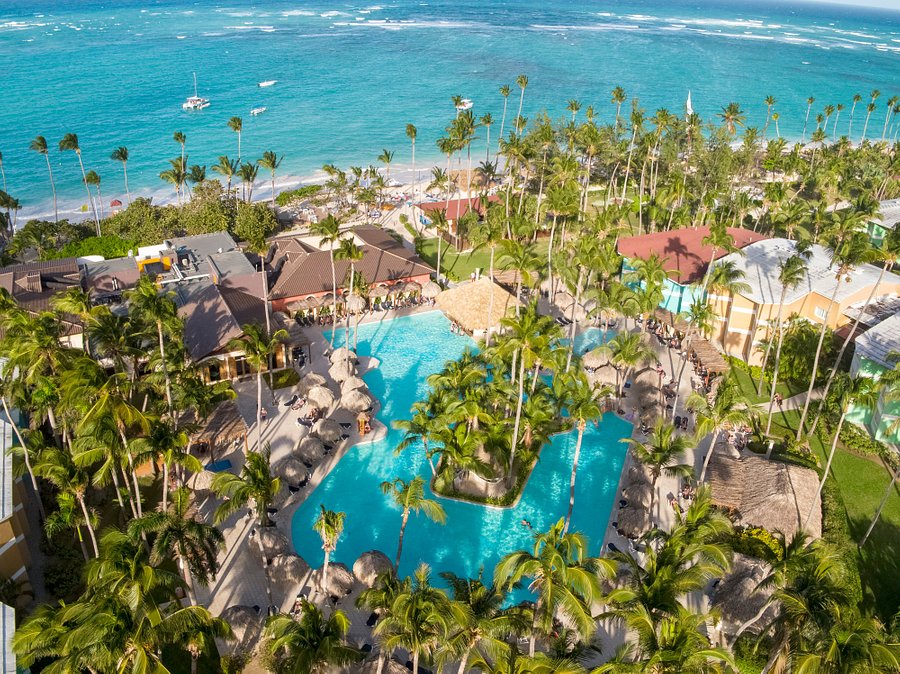 The Grand Palladium Punta Cana Resort and Spa offers a variety of entertainment options that the whole family will enjoy due to their self-described Entertainment Crew.
Your family will find it impossible to get bored with the range of activities available, including but not limited to kids clubs, a Sports Center, a Merengue Theater, an aquatic park, and several large pools.
If you're looking for a fun-loving, activity-filled vacation, the Grand Palladium might be a perfect fit for your family.
3. Hodelpa Garden Suites Golf and Convention Center
If your family loves golf but doesn't want to spend an excessive amount of money to play, check out the Hodelpa Garden Suites Golf and Convention Center.
The Hodelpa Garden Suites has a beautiful golf course and a nice fitness center for the more active types in the family.
And if you have family members that aren't so interested in golfing, they can spend time relaxing by the massive, lagoon-style outdoor pool.
4. Royalton Splash Punta Cana, Resort and Casino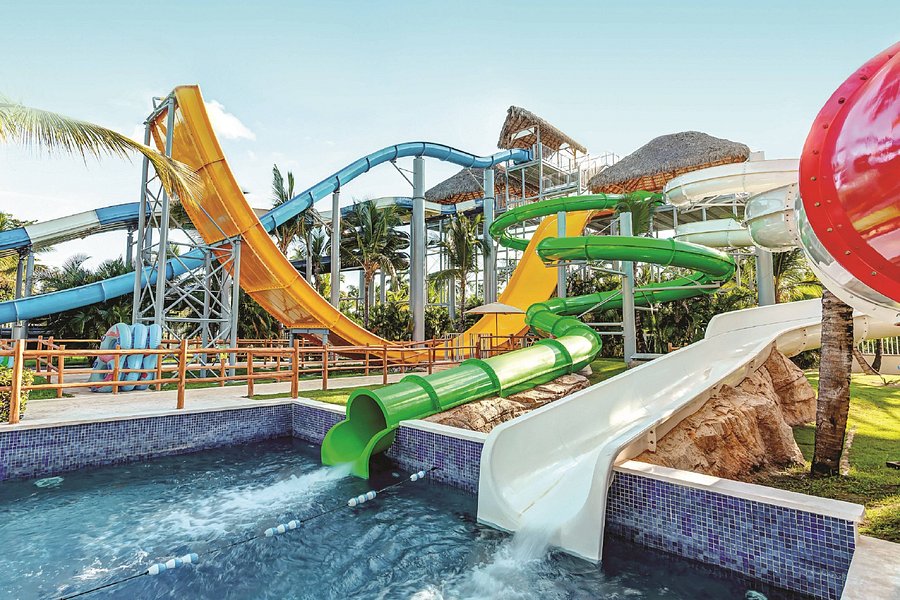 The Royalton Splash Punta Cana is a highly-rated resort and casino in the Dominican Republic. This resort, specifically located on the pristine Bavaro Beach, offers luxury accommodations with high-class service. 
Most notably, the Royalton Splash offers just that – a lot of splashing – due to their gigantic water park that your younger kids will absolutely love. This waterpark includes all of the water park favorites — wave pools, spray grounds, and, of course, heart-pounding water slides.
If you can pull your kids away from the water park, you and the family can also enjoy several other activities, live performances, dining experiences, and even theme parties on occasion!
For sports lovers, Royalton provides a Sports Event Guarantee that ensures you won't miss your favorite international sporting events. You can catch your game at the SCORE sports bar.
Families staying at the Royalton Splash will have additional access to the casino and spa located at the neighboring Royalton Punta Cana. Every family loves getting two for the price of one!
5. Nickelodeon Hotels and Resorts Punta Cana
The Nickelodeon Hotel focuses on kids, so it's clear why this is on our list for the best Dominican Republic all-inclusive family resorts. 
Nickelodeon lives for entertaining your kids on the screen, so you can be sure they will do anything they can to make sure your little ones — and you! — have the best time.
Your family can enjoy the AquaNick water park, where you can have fun in the water and a bit of iconic Nickelodeon green slime!
There is also a Gourmet Village featuring an array of luxury meals that suit both your kids' tastes and your own. If you desire a unique meal experience, you can join the Character Breakfast and have your young ones meet Nickelodeon's famous characters.
Outside of Character Breakfast, there are other opportunities to see the Characters, such as meet-and-greets, theater performances, the "orange" carpet, and even character dance parties!
If your kids are obsessed with Spongebob, you can't miss out on their most iconic villa — the Pineapple Villa — created after Spongebob Squarepants' fictional home in Bikini Bottom.
6. Grand Paradise Samaná
The folks at the Grand Paradise Samaná do not want their guests to experience a single dull moment. 
They offer every type of activity or form of entertainment you can think of.
If you want to relax, you have three adult pools to choose from, a children's pool to take your kids, and access to a beautiful beach right out front.
If you want to get active, several activities include tennis, volleyball, badminton, bicycle tours, bocce ball, mini-golf, archery, and even dance lessons.
Of course, should you want to take advantage of the beautiful Caribbean weather, you can try scuba diving, windsurfing, snorkeling, pedal boats, pool aerobics, or kayaking.
If you've had a day full of activities but still have plenty of energy to spare in the evening, your kids can enjoy Kiko's kids' club while you find a spot at the bar. Alternatively, you can all watch the nightly entertainment at the Amphitheater.
The options are seemingly endless at the Grand Paradise Samaná!
7. Bahia Principe Grand El Portillo
The Bahia Principe Fantasia Punta Cana is a clear addition to this list. It's one of the best Dominican Republic all-inclusive family resorts because it has castles!
Your kids likely inspire you by their creativity and dream-like imagination. Why not treat them to a resort that aligns with their inspiring imagination?
In addition to the beautiful castles along with the expansive pool areas, your family can enjoy a children's water park, six different restaurants, and a family-friendly disco.
Best Dominican Republic All-Inclusive Family Resorts for Relaxation
The following resorts are perfect for families looking to chill out, rest, and rejuvenate on vacation.
8. Be Live Collection Marien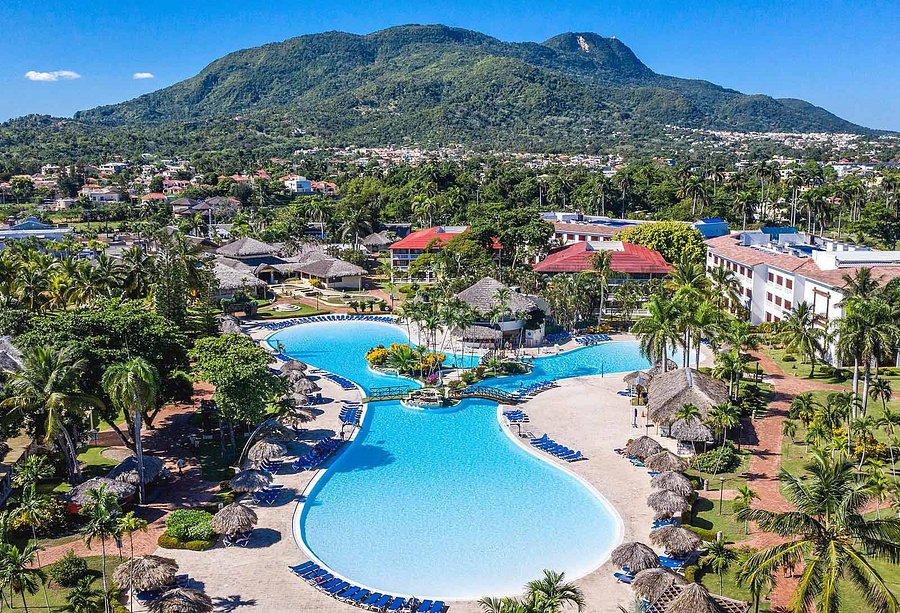 Located on the Northern coast of the Dominican Republic in Puerto Plata, the Be Live Collection Marien is a 5-star resort ideal for a relaxing, soothing holiday experience.
This getaway is perfect for the family that simply needs to chill out, featuring numerous cabanas, hammocks, umbrellas, pools, and a prime spot on a less crowded beach.
This hotel offers a kids club for your children who are 8 to 12 years old, as well as a mini club for your younger children of 4 to 7 years old. Every family member will have a spot to go that's perfectly suited to their needs.
9. Gran Ventana Beach Resort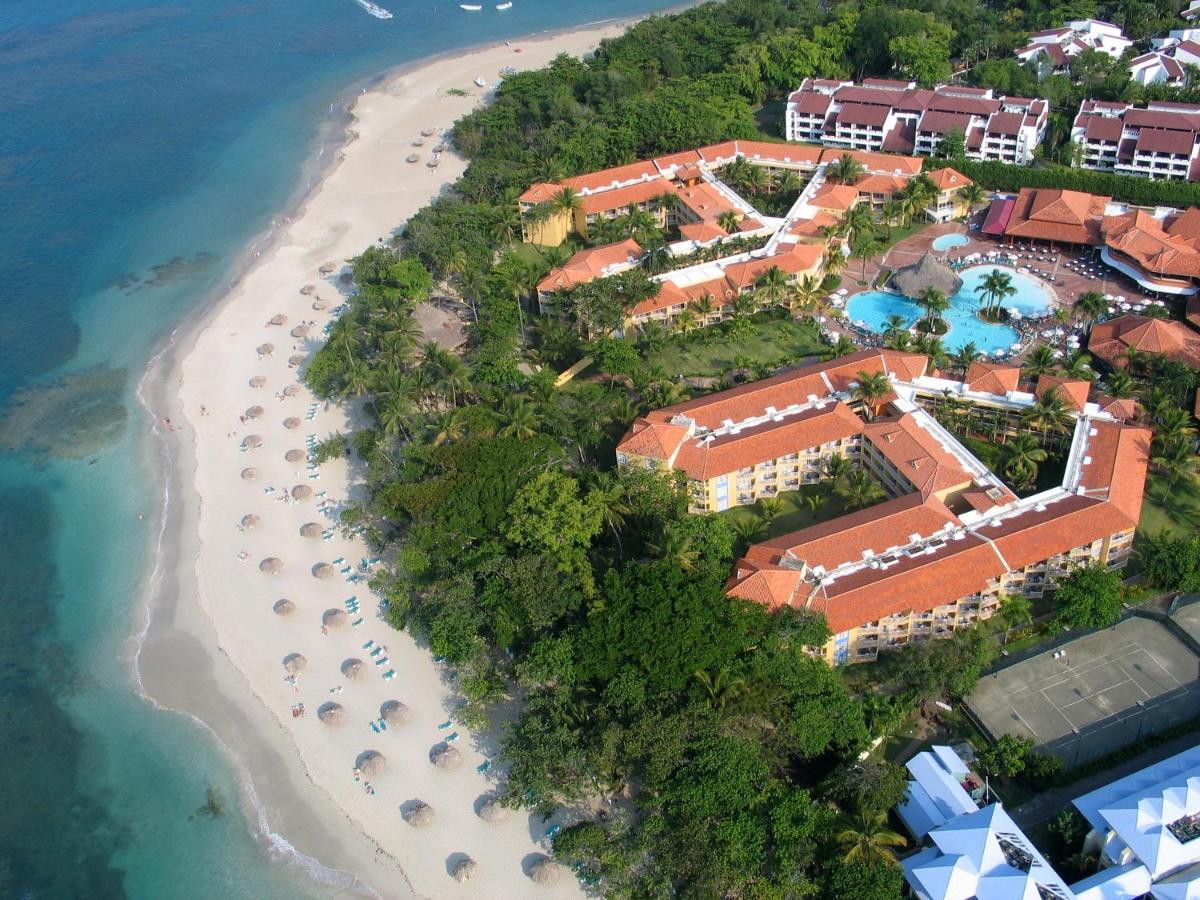 You'll find the Gran Ventana Beach Resort within Playa Dorada, a gated community right on the oceanfront in Puerto Plata. 
This Gran Ventana resort is one of the best all-inclusive oceanfront beach resorts in the Dominican Republic for families looking to get away from it all. So, if you're looking for adventure or exploring around town, this might not be the best option for your family.
The Gran Ventana is for families who want to lounge around a private, exclusive area, enjoy a clean, spacious beach, and relax at a world-class spa.
If you'd like to get a little bit more active after a few days of lounging, the resort offers various recreational activities such as tennis, golf, water polo, bike tours, and even darts.
Should you or one of your older kids feel like being really pampered, this resort offers not just a spa but a beauty salon as well.
10. Vista Sol Punta Cana Beach Resort and Spa 
If you and your family can use a significant break from the hustle and bustle of life, Vista Sol Punta Cana is a pristine beach resort and spa that can soothe you and rejuvenate your whole crew. 
This resort prides itself on providing a peaceful haven for you to enjoy a relaxing vacation.
We recommend this resort for families with older children. Still, if you do have kids on the younger side, they will surely enjoy the kids club, theater, and showroom — all while you're enjoying your massages, facials, and other wellness treatments!
Best Dominican Republic All-Inclusive Family Resorts for Value
These two resorts are a great bang for your buck.
11. Emotions by Hodelpa Juan Dolio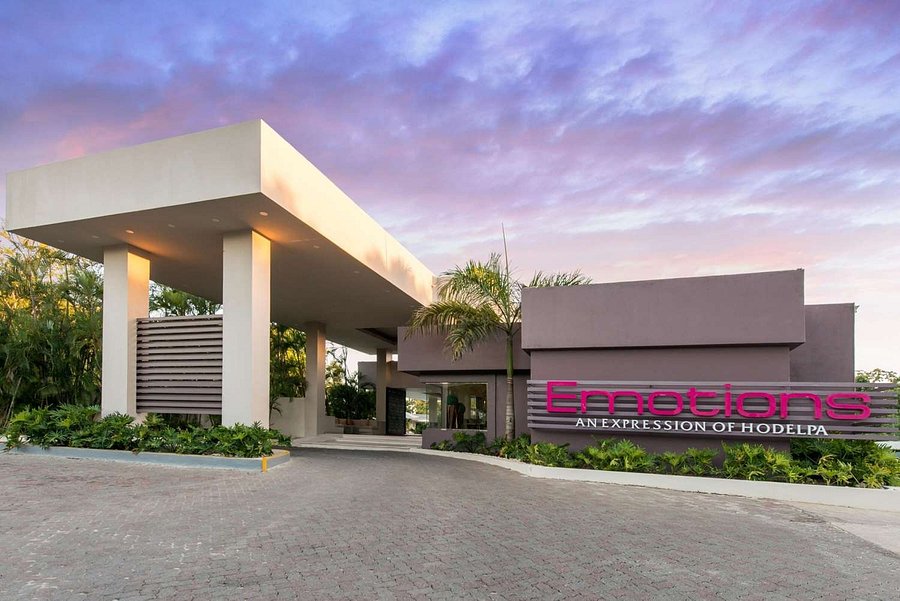 If you're looking for a squeaky clean, ultra-comfortable, and super inviting family-friendly environment, you might appreciate the Emotions by Hodelpa Juan Dolio all-inclusive resort. 
Emotions resort is a high-value option for families seeking a bit of choice and luxury for their vacation but families that don't need a million and one restaurant and entertainment options.
This resort by Hodelpa is an excellent choice for families who want to spend a lot of time on the beach or exploring the town and want a safe, clean, and cozy room to relax in at the end of the day.
12. Occidental Caribe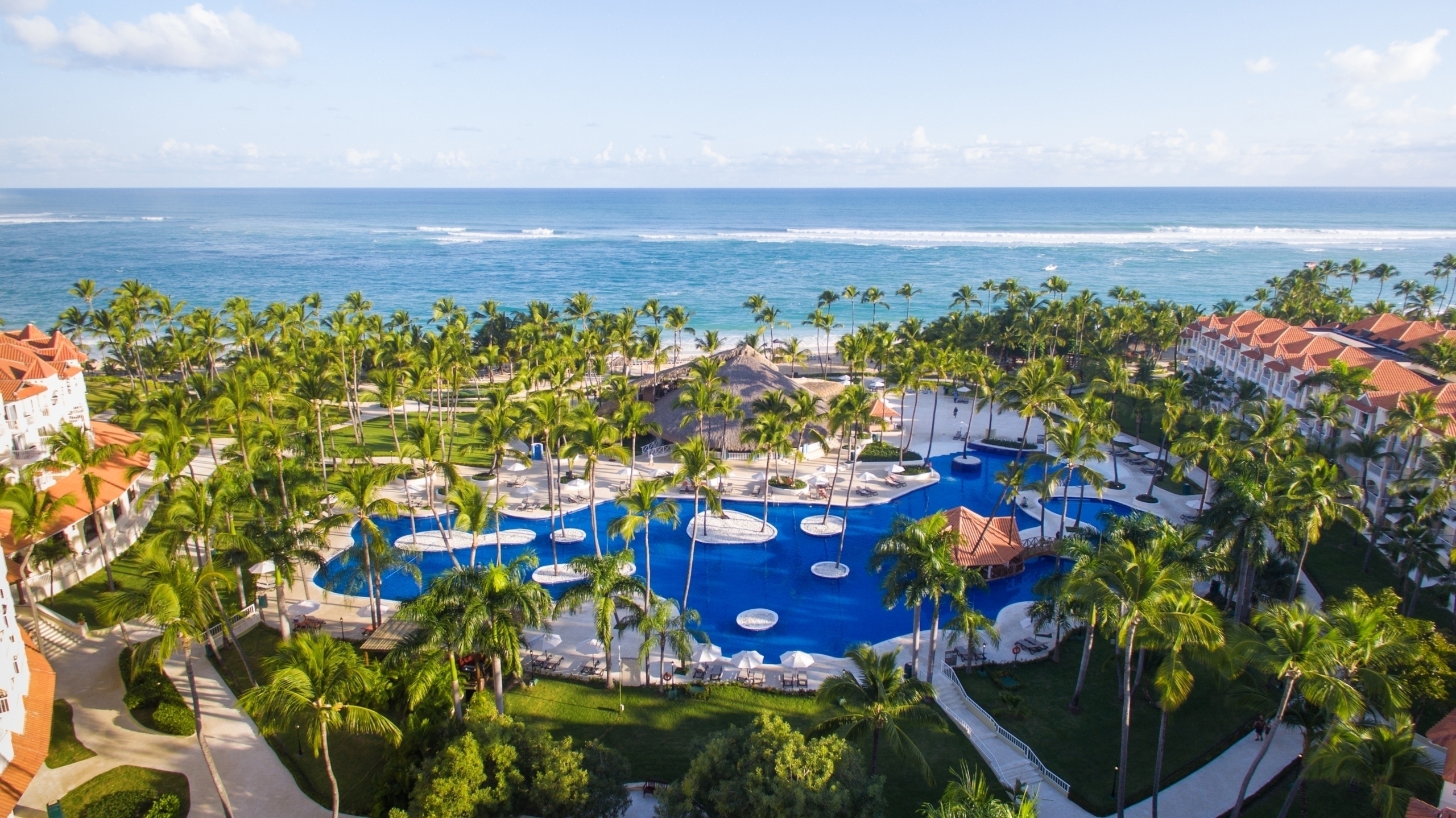 The Occidental Caribe is a value resort that offers many of the privileges of the other all-inclusive resorts on this list but at a more affordable cost. 
At the Occidental, you can get the white sand beach just a short walk away from your room, a kids club and a water park for your young ones to enjoy, and seven nice restaurants to treat your pallet all vacation long.
You can be sure to feel comfortable and cozy, as well as a part of a vibrant community, in one of their 798 rooms and suites.
Best Dominican Republic All-Inclusive Family Resorts for Variety
The resorts below are perfect for families with a variety of interests. You can expect something for everyone at the following resorts.
13. Cofresi Palm Beach and Spa Resort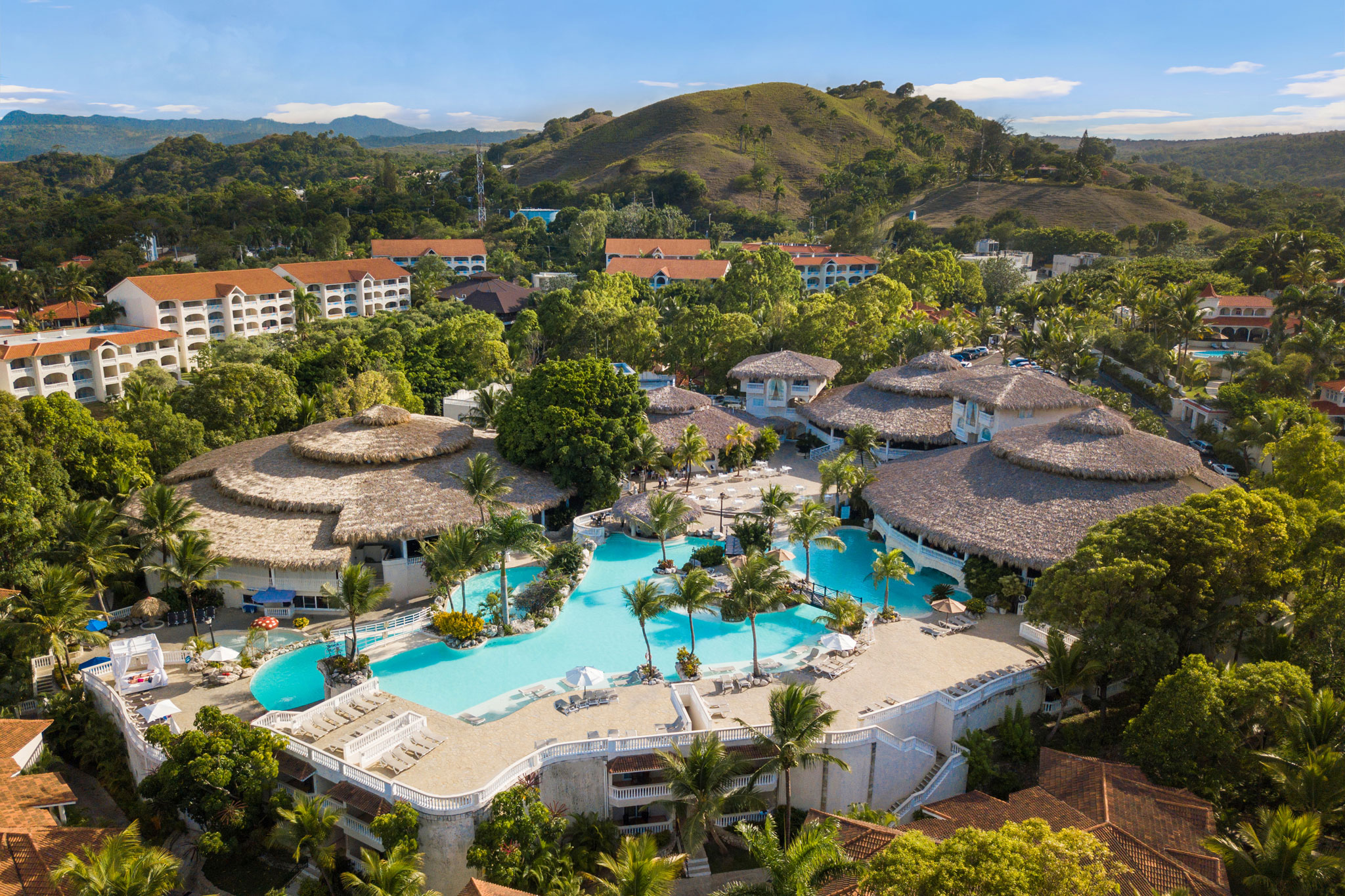 The Cofresi Palm Beach and Spa Resort is a vast all-inclusive resort in the Dominican Republic that offers 468 accommodations, ensuring that every type of family will be able to stay in a room that aligns with their requirements. 
Given the size of this resort, you might not be surprised to read that the Cofresi includes 11 restaurants, 12 bars, and 12 pools. Your family won't even know where to begin!
Additionally, if you have small children, they have three kids pool options for you to choose from so that everyone can have fun while staying safe. This resort is a perfect family spot, given the kids club, teen club, ice night club, playground area, and shopping area.
If you admittedly want some time away from your kids for some relaxation, don't hesitate to reserve their babysitting services!
14. The Tropical at Lifestyle Holidays Vacation Resort
The Lifestyle Tropical Beach Resort and Spa, otherwise known as The Tropical, is similar to Cofresi. This similarity isn't surprising, as they are both Lifestyle resorts.  
The Tropical also offers 11 restaurants,12 pools, three kids pools, a playground, a tennis court, and other family-friendly activity options.
The only main difference between The Tropical and the Cofresi resorts is the location. The Tropical is better for true beach lovers, as access to the beach is closer and more convenient.
15. Impressive Premium Punta Cana
The Impressive Premium Punta Cana is located on El Cortecito Beach in Punta Cana. 
Impressive offers a variety of activities and recreations for anyone at any age to enjoy, making it a great all-inclusive resort option for a family with a wide age range.
The Kids Club includes active games, video games, painting, mini disco, while the Play Zone Teens Club includes ping pong tables, video games, and a pool table.
If you don't want to roll the dice at the casino, you can watch shows at the theater every night, including live music, circus performances, and more.
Any family member might enjoy the walk through the gardens when they need a relaxing time but want a break from the beach or the pools.
And if you're kids are a bit older, or they go to sleep early, you can all enjoy a fun nightclub right there at the resort.
The Impressive Premium Punta Cana is right next to Impressive Punta Cana, but we recommend Impressive Premium Punta Cana as they offer junior suite accommodations instead of standard rooms.
These suite-styles rooms are better for keeping families close and comfortable.
Best Dominican Republic All-Inclusive Family Resorts for Location
The following two resorts are at a prized location in the Dominican Republic, in Bayahibe. Bayahibe is in the south of the Dominican Republic and is known for its stunning beach stretches, diving access, and laid-back vibe.
16. Viva Wyndham Dominicus Palace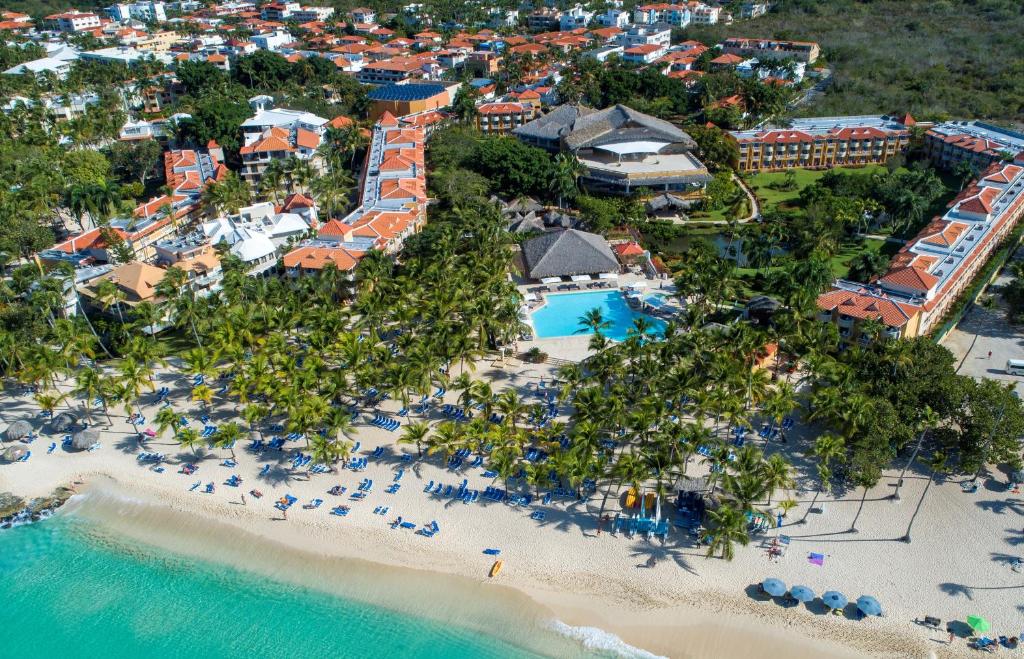 If you're looking to stay in the Bayahibe area, the Viva Wyndham Dominicus Palace is an excellent option. Many guests love the location of this resort more than anything else. 
You can stay easily connected with your immediate family as well as your family and friends back home with reliable and free internet access.
If you're looking to explore the Bayahibe area, the resort is near Conquistador Park, an excellent art museum that can appeal to your whole family.
And if your family loves lobster, check out Las Palmas, La Cueva, or Captain Kidd, all of which are a reasonable walk or drive away from the Viva Wyndham resort as well. You can also try local food near the resort at a restaurant called Polito de Coco.
17. Hilton La Romana Resort and Waterpark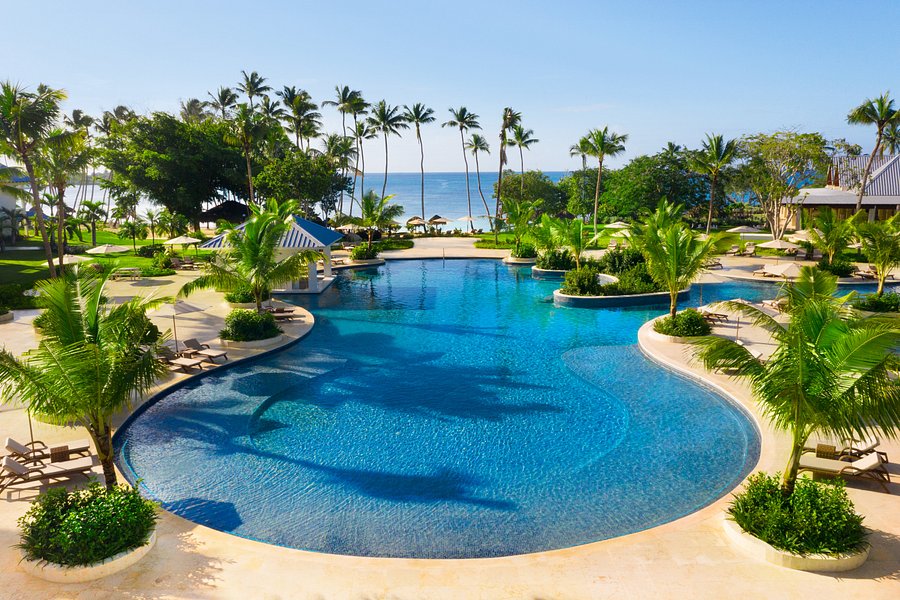 The Hilton La Romana Resort and Waterpark is a 4-star family-friendly hotel in the perfect location — right in front of Bayahibe beach. 
Your family can enjoy a white sand beach and crystal clear ocean waters just steps from your room. You can even enjoy it from your room if you request a balcony with a view!
This resort includes organized and supervised kids and teens programs so that you can enjoy family time when you want but also split up and get some adult time away from the kids too.
The Hilton itself offers many things to do and several excellent dining options, but the resort's location gives you endless opportunities for entertaining, relaxation, and exploration.
Near the resort, you can visit Altos de Chavón, take a beautiful boat ride to Saona Island, or snorkel above the coral reef at Catalina Island. Don't forget to get a taste of the authentic Dominican Republic at the local markets!
Best Dominican Republic All-Inclusive Family Resorts for Dining
The following resort wins when it comes to offering high-rated food options.
18. Meliá Caribe Beach Resort
The Meliá Caribe Beach Resort provides a beautiful setting for the perfect family vacation. 
This stunning resort offers an upscale experience at a reasonable, high-value cost. Guests are impressed by the elegant, cozy, warm room and suite designs.
Families seem to especially appreciate the delicious food, which spans a wide variety of international options, including Spanish, Italian, Tex-Mex, Vietnamese, Japanese, and, of course, Caribbean dishes.
Once your stomach settles, you and the family can visit Splash Island Water Park and enjoy some thrilling slides and games. Or, you can continue eating at the O Grille buffet if you so choose.
Best Dominican Republic All-Inclusive Family Resorts for Sophisticated Style
If you weren't particularly impressed by the designs of the resorts mentioned above, you might be looking for a more sophisticated style. Check out the resorts below.
19. Paradisus Grand Cana
Formerly named the Grand Reserve, the Paradisus Grand Cana is an excellent option for families with sophisticated tastes in design, comfort, and food. 
This all-inclusive resort is great for families with older kids who will appreciate the fine dining, high-class architecture, and swim-up suites to enjoy their private pool area.
The Paradisus Grand Cana offers an astounding eight different restaurants, as well as a world-class spa that offers exquisite spa and wellness treatments.
20. Presidential Suites – Puerto Plata
This Lifestyle resort called Presidential Suites is a wonderful all-inclusive option for families that want to feel right at home in ample space and have a private place to gather. Many other hotel options require a family of four or five to split up into two separate rooms. 
These luxurious suites will allow families to have two rooms in a suite-like fashion, providing a gathering space to plan your adventures in the morning and swap stories in the evenings. The bedrooms combine wood and stainless steel elements for a crisp and modern yet regal overall look.
Presidential Suites resort also includes a basketball court, tennis courts, and a pool with a waterfall. On-site, there is also a delicious French fusion restaurant and ten other highly-rated dining options.
If your children are younger, they might enjoy the arcade, mini-disco, two children's pools, and the playground.
21. Majestic Elegance Punta Cana
The name of the Majestic Elegance Punta Cana resort speaks to its design and style. It truly is elegant, which is why this resort will appeal to families looking for an upscale, highly photogenic vacation experience. 
The lush, natural surroundings and modern, distinguished design come together for a truly breathtaking environment. But this resort isn't all about beauty. You can golf, partake in various water sports, and dine at several internationally-inspired restaurants at the Majestic.
Are You Looking Forward To Your Dominican Republic Trip Yet?
Now that you've read about these 21 beautiful, relaxing, and highly entertaining resorts, we hope you've found the best Dominican Republic all-inclusive family resort for your next vacation!
More about our TFVG Author
A seasoned traveller, Dad, and avid sports tourist, James foundered The Family Vacation Guide to share his expert vacation experiences- especially when it comes to being a travelling family man.
Featured in Travel articles such as Travel + Leisure, TripSavvy and SFGate, you know you're reading some of the best vacation tips online.