Aruba is the perfect destination if you want to treat your family to a place with stunning beaches, a vibrant culture, and plenty of activities for kids!
Aruba is full of sunny beaches, luxury resorts, and plenty of family-friendly activities sure to please visitors of all ages, which is why it's one of the Caribbean's most popular tourist spots.
In addition to beach activities such as swimming, snorkeling, fishing, wreck diving, surfing, parasailing, kitesurfing, and more, the island also has land-based activities like golfing, hiking, and horseback riding. That said, even on a relatively small island, it would be challenging for any family member to get bored!
Deciding to take a family vacation to Aruba should be the easy part. What might be more challenging is deciding which area to stay in throughout the trip.
At 70.9 square miles, Aruba is a relatively small island. However, each area still maintains a distinct vibe and offers specific opportunities, so it's important to get a sense of each area to choose which one will fit your family's preferences, budget, and needs.
So, without further ado, here are the best places to stay in Aruba for families with kids.
1. Palm Beach – Best for Beaches and High-Rise Resorts
Palm Beach is the most popular area to stay, located on the sunny west side of the island, known for its white sand beaches, calm waters, and gorgeous sunsets.
Accommodation
Palm Beach is full of high-rise resorts and hotels, giving it a Miami look but with much more family-friendly energy.
There are plenty of all-inclusive resorts, with options to suit a range of budgets, although you'll likely pay more in this area than any other area in Aruba.
Activities & Attractions
These mega resorts make Palm Beach a top choice for families who love vacation entertainment. They all have plenty of activities to choose from.
You can enjoy beachfront activities like swimming with your kids and building sand castles, then enjoy on-site attractions and nightlife. Many resorts are home to bars, casinos, and clubs, which is helpful to note if the whole family is of age (18+ for most bars and clubs but 21+ for some).
Otherwise, you might enjoy more family-friendly options such as dinner shows, magic shows, dance performances, theater acts, and even carnivals.
Food
Palm Beach is home to many restaurants, ranging from high-end options found in resorts and hotels to casual beach bars and even fast-food chains like Taco Bell and Domino's Pizza.
However, we recommend visiting places where you can experience international fare in a lovely setting, such as Moomba Beach Bar & Restaurant, right on the beach.
Atmosphere
The atmosphere of Palm Beach can be chaotic at times due to the sheer number of tourists, but it's also bustling with locals, especially when you go a few streets away from the resorts, giving the area a warm and lively energy.
2. Eagle Beach – Best for Beaches and Low-Rise Hotels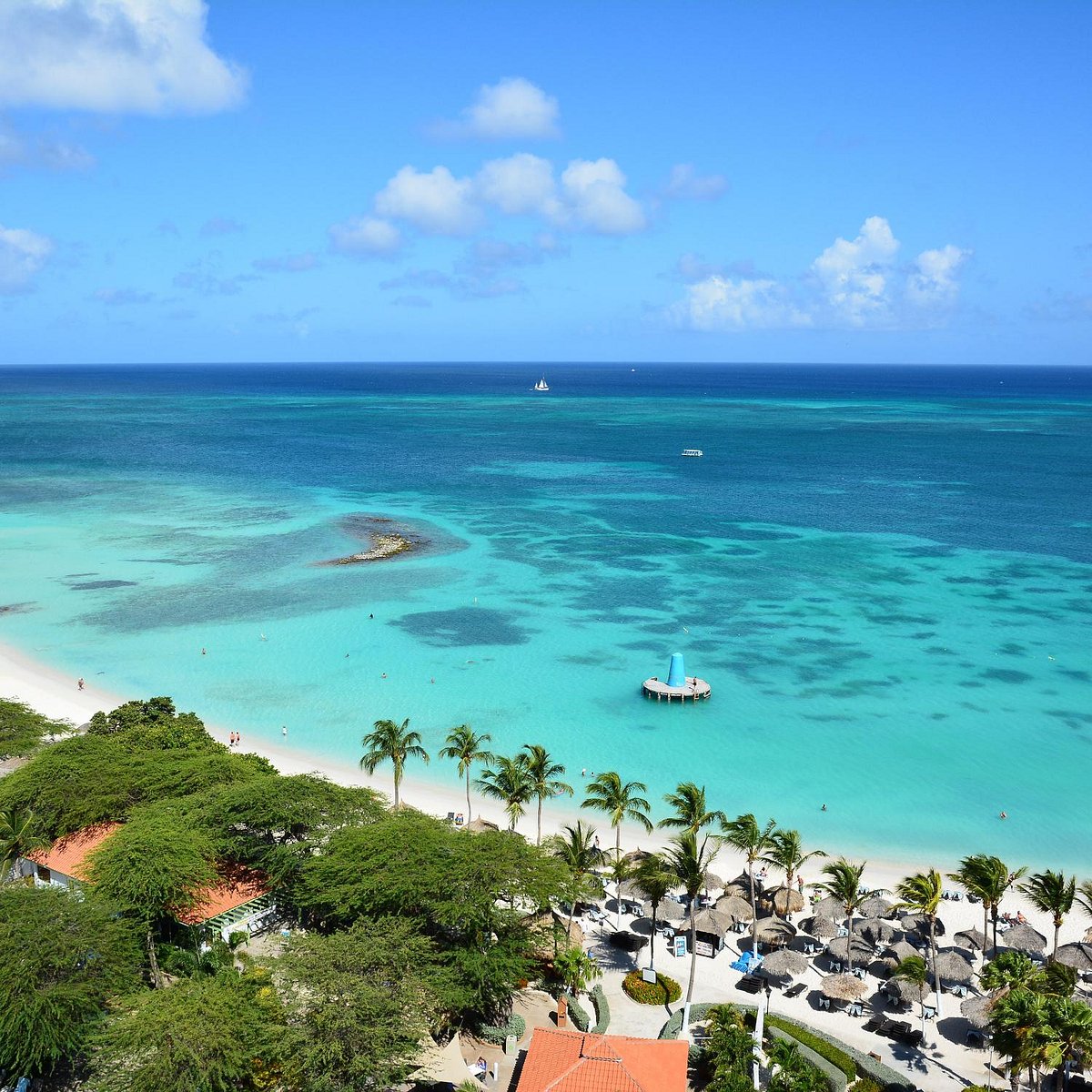 Eagle Beach is another lovely beach area for vacationers and arguably an even better spot for families with kids. Like Palm Beach, you can expect calm, glistening waters and gorgeous Caribbean white sand.
Accommodation
Eagle Beach has a variety of smaller, low-rise hotels and guesthouses that offer a more quaint atmosphere and personal touch.
You can also find many villas and apartments, which are great for larger groups. So, if your family prefers a home away from home experience, and if you have a big family or are coordinating a family reunion, this may be the best area in Aruba for your trip.
Activities & Attractions
Eagle Beach offers an array of activities that are not tied to resorts, which many families prefer so that they don't feel confined to one specific location.
Aquatic sports are a big attraction here, as well as shopping and dining. The location of Eagle Beach is also ideal, between Oranjestad and Noord, making it a great place to stay if you want to plan day trips to other parts of the island.
Another great attraction near Eagle Beach is Bubali Bird Sanctuary, a sanctuary with 80+ species of birds. This sanctuary offers a fantastic educational and engaging activity that kids love. Plus, that same day, you can visit the nearby Butterfly Farm and the iconic Divi Tree.
Finally, Aruba Aloe Factory Museum is near Eagle Beach, and this is a unique attraction for families who want to learn more about the island's aloe production.
Food
Eagle Beach is home to many restaurants. With mom-and-pop establishments, beach bars, high-end restaurants at resorts, and even Aruban BBQs, there'll be something different to try every day on your vacation.
Atmosphere
Eagle Beach is a relaxed and peaceful area with a very family-friendly atmosphere. It's free from the noise and chaos of Palm Beach, making it a welcoming spot for families who are looking to recharge and spend quality time with each other.
3. Arashi Beach – Best for Quiet Getaways and Snorkeling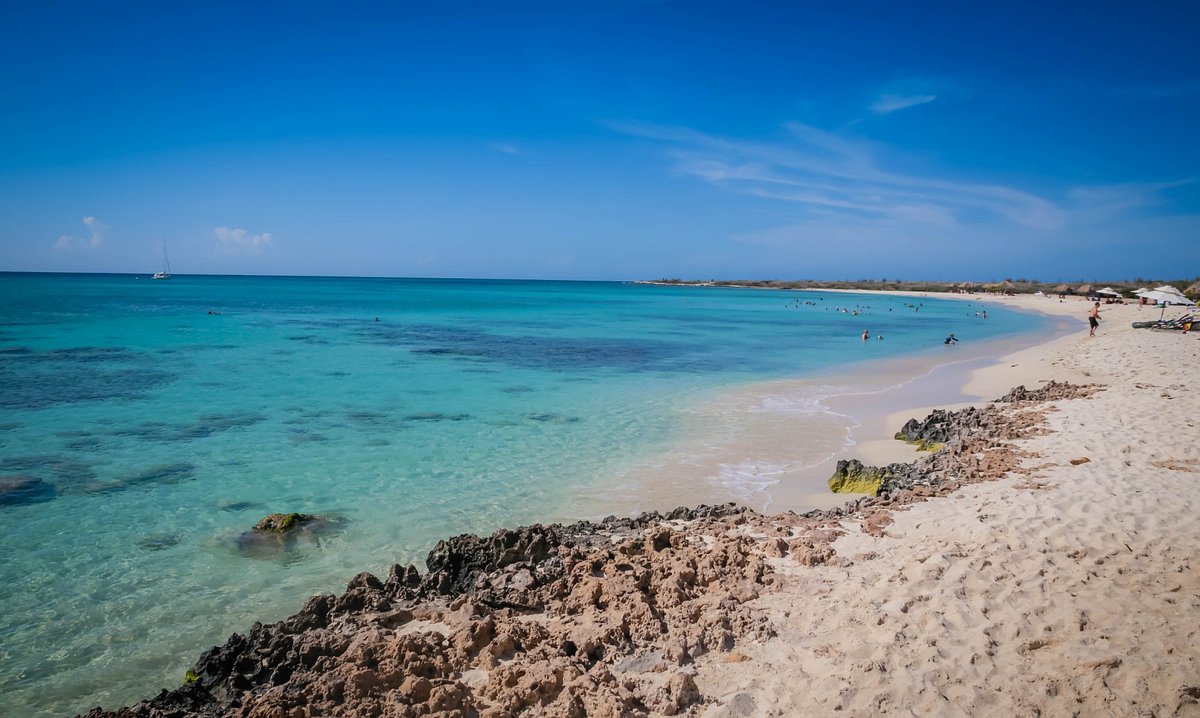 Arashi Beach is the least populated beach in Aruba, located in the Noord District. It's a great spot for families looking to escape the boisterous vibe around the main attractions.
Accommodation
Accommodation around Arashi Beach is more sparse than the other two beach areas mentioned above – Palm Beach and Eagle Beach – but you can find a few resorts and small guesthouses in the area.
Activities & Attractions
Arashi Beach is a great spot for families who want an adventure, as the area offers some of the best snorkeling and diving around the island.
The currents are usually quite calm, meaning it's generally safe for even young snorkelers. And there's plenty of marine life to capture your attention. If you're lucky, you may get to swim with a sea turtle or two!
People also visit the California Lighthouse, an iconic landmark where you can take pictures and gawk at the scenic coastline views.
Because it is such a scenic area, renting bikes or going on a bike tour here is an excellent, family-friendly idea.
Finally, there are several beaches nearby that offer similar snorkeling and diving opportunities. One of them is Boca Catalina, a secluded beach where you can dive into "Antilla, a wrecked German warship.
Food
At Arashi, you'll mostly find beach palapas and small beach shacks selling snack-like foods. However, you won't be far from nearby beaches and towns with plenty of other options, including Italian, Spanish, seafood, and more.
Atmosphere
We recommend Arashi Beach for families hoping to experience a local, authentic feel rather than a hyper-touristy one.
4. San Nicolas – Best for Local Vibe and Art
After Oranjestad, San Nicolas is the second largest city in Aruba and is on the southeastern coast. Even more than Arashi, it's a wonderful place for families who want to feel more ingrained in the local culture.
Accommodation
The accommodation choices here are fairly limited, but there are still a few resorts nearby that offer excellent packages for families.
If you want to stay deep within San Nicolas, vacation homes, such as ones you'd find listed on Airbnb, are the way to go.
This option might not be as "all-inclusive," but it'll offer your family a more private, authentic experience. Plus, some Airbnbs can be just as if not more luxurious as resorts, even at half the price!
Activities & Attractions
San Nicolas offers plenty to do, such as strolling around the old town area full of colorful architecture and buildings.
The local art scene here is vibrant, so if you're a family of creative types, you'll find plenty to explore. There's the ARTISTA Gallery that features original work from local artists, as well as an array of unique street art.
But just because you're interested in local culture and art doesn't mean you won't have any time for or access to the beach! This is still Aruba we're talking about, so there are still excellent beaches nearby.
The most popular one in San Nicolas is Baby Beach, which is also the calmest, family-friendly one. Nearby Bachelor's Beach and Rodger's Beach are similar to Baby Beach, but Boca Grandi on the east side is more popular for windsurfing and kitesurfing.
Finally, if nobody in the family is too frightened by caves, you can take a short trip to Quadirikiri Caves where you can admire the petroglyphs inside.
Food
There isn't as much diversity of international fare in the San Nicolas area, but you will be able to find some delicious local restaurants.
Particularly, we suggest trying out the cuisine at Kamini's Kitchen, highly rated for its fabulous goat curry, curry shrimp, and coconut ice cream.
Atmosphere
San Nicolas is the local's Aruban destination. You'll find no shortage of colorful street art, friendly locals, and plenty of great places to eat. It's where you can get a real feel for how Arubans live, so we recommend it!
5. Santa Cruz – Best for Romance and Luxury Cruises
Santa Cruz is a central Aruban town home to Arikok National Park. It's a relaxed, romantic area, perfect for both easygoing and adventurous families.
Accommodation
Like San Nicolas, there aren't as many hotel and resort options in the area, but a good number of private guesthouses and B&Bs. These accommodation options fit the more local, relaxed, and private vibe of the area.
Activities & Attractions
Santa Cruz is a great destination for families who love nature and wildlife.
The Arikok National Park offers plenty of activities, such as exploring caves, viewing wildlife, hiking trails, and more.
There are also plenty of water activities on the coastal side of Santa Cruz, such as snorkeling, paddle boarding, and kayaking.
For a dose of history, you can take a trip to Bushiribana Ruins, the remnants of a 19th-century gold mill, or the nearby Alto Vista Chapel.
If you want some romantic time away from the kids for a day or two, you can take advantage of a yacht and catamaran cruise along the Caribbean Sea.
Food
Santa Cruz is great for local flavors, with plenty of seafood dishes, such as fish and chips or grilled lobster. But the most iconic dish here is the Keshi Yena, Aruba's national dish, a delicious stuffed cheese dish filled with chicken and other delicious ingredients.
Atmosphere
Overall, the Santa Cruz area is arguably not as family-friendly as palm beach, but a good option for parents with older kids who can get away for a night or two of romance or for families who primarily want to explore Arikok National Park during their vacation.
6. Oranjestad – Best for Sightseeing and Shopping
We have to include Oranjestad on the list of best places to stay in Aruba for families with kids because it's the capital of the island and home to many major attractions, shops, restaurants, and more.
Accommodation
Oranjestad has a good selection of hotels and resorts, as well as some private villas. Since it's one of the most touristy areas of Aruba, there are many options to choose from, so you're sure to find something that fits your needs and your budget.
Activities & Attractions
Oranjestad is home to many major attractions and museums, the most popular being the National Archaeological Museum Aruba, where you can learn about the history, culture, and artifacts of Aruba in a Dutch Colonial building.
Shopping is another major attraction here, as the town of Oranjestad is where most of the shops on the island are. At Aruba Mall, Aventura Mall, Royal Plaza Mall, and Main Street, you'll find clothes, jewelry, souvenirs, and more.
If you're looking for more adventurous options for the family, you can take a jeep tour around the Oranjestad to see some of Aruba's most unique spots.
Food
Oranjestad is the perfect place to sample some of the island's most popular dishes. At the local restaurants, you can find traditional Aruban dishes like keshi yena, pastechi (Aruba's version of an empanada), and pan bati (Aruba's version of a pancake).
However, like any touristy town, you can get a variety of international cuisine options, from Mediterranean to Peruvian, to Dutch, and beyond. If your family is going on vacation to enjoy delicious foods, this area is one of the best options for your tastebuds.
Atmosphere
Overall, Oranjestad is a great destination for active, engaged families with kids who want an exciting mixture of sightseeing, shopping, and food.
This vibrant town has plenty to offer in terms of attractions, shops, and restaurants. It's also a great base to explore the rest of Aruba if you plan day trips around the island.
7. Savaneta – Best for Off-the-Beaten Path Trip
Another spot on our list of the best places to stay in Aruba for families with kids is Savaneta, a small fishing village and historic town only 25 minutes from the Conchi natural swimming pool and Arikok National Park.
Accommodation
There are limited accommodation options in Savaneta since it's a small town, but there are some decent hotels, private cottages, and villas for rent.
There are also several beach resorts that your family might want to stay in if you're interested in snorkeling, kayaking, and stand-up paddleboarding.
Activities & Attractions
Savaneta is home to a few unique attractions, such as Mangel Halto Beach, where you can go snorkeling or paddle through the mangroves on a kayak or SUP board.
Food
There are many family-friendly restaurants in Savaneta, especially seafood restaurants. You can choose a casual one like Zeerover with plastic chairs and no-frills plates or a more fine dining experience on the beach like Flying Fishbone.
Atmosphere
Savaneta is another area that provides a more authentic, local vibe than you might get in other places, such as Palm or Eagle Beach.
However, you'll still be closer to shops and tourist attractions than you would be if you stayed in San Nicolas north of Savaneta, so this might be an optimal choice for families who want access to it all while staying in one place.
Is Aruba Safe for Families with Kids?
The U.S. identifies Aruba as a Level 1 destination in terms of safety, meaning that it is generally safe, and you only need to exercise normal precautions.
Some tips for keeping you and your family safe while traveling to Aruba include:
Avoiding walking alone, especially a night
Staying in well-lit areas
Keeping your wallet and other items secure at all times
Avoiding leaving money or valuables unattended
Avoiding leaving any valuable items in your car if you rent a car
Avoiding dark alleys or secluded areas
Using the ATMs inside banks and keeping your receipts
Palm Beach and Eagle Beach are the two safest areas to stay in when visiting Aruba, but if you follow these tips, you shouldn't run into many issues no matter where you choose to explore on the island.
Frequently Asked Questions
Now that you know much more about the best places to stay in Aruba for families with kids, you might want to view our answers to other frequently asked questions about traveling to Aruba.
Is Aruba a good place to take kids?
Yes! Aruba is a great destination for families with kids of all ages. The island offers a variety of activities and attractions that appeal to adults and children, including beaches, water sports, casino resorts, shopping centers, and more.
Plus, the island is generally very safe, with a low crime rate.
Are the beaches in Aruba family-friendly?
Most beaches in Aruba are suitable for families with kids, especially those on the island's west side with calmer waters and soft sand. The best beaches for families in Aruba include:
Eagle Beach
Palm Beach
Arashi Beach
Baby Beach
What are the best kid-friendly attractions in Aruba?
There are many family-friendly attractions for families of all ages and interests in Aruba. You can stay in your resort and enjoy a live show, visit one of the many incredible Caribbean beaches, take easy hikes in the national park, or explore the Arikok Desert.
Other great attractions include the Butterfly Farm, Donkey Sanctuary, and Alta Vista Chapel.
Where do kids stay free in Aruba?
The choice of where to stay may be heavily influenced by where your kids can get a free stay – and rightfully so! At Divi Dutch Village Beach Resort, kids 12 and under can stay completely free of charge.
Is Aruba good for toddlers?
Maybe you've heard Aruba is a lovely place for kids, but you're unsure if your toddler will enjoy it. Aruba is incredibly safe for toddlers, and they love playing in the fine, white sand and wobbling around in the calm ocean water.
What Caribbean island is best for children?
If you're wondering whether Aruba is a perfect choice or if you should consider other Caribbean options, here's a list of other fantastic vacation destinations in the Caribbean that offer similar family-friendly atmospheres, beaches, resorts, and more:
How do I find a family-friendly resort in Aruba?
Now you know some family-friendly areas, but if you want help picking family-friendly resorts, here are some tips:
Check the age policy of the resort: Some resorts may have an age requirement or a minimum stay requirement for children.
Choose a resort with family-friendly amenities: Look for resorts with kid-specific programs, playgrounds, and pools to keep everyone entertained.
Look for all-inclusive options: An all-inclusive resort can be a great way to keep costs down and ensure that everyone in your family has everything they need.
Read reviews: Look at reviews from other families to get a better idea of the resort's atmosphere, amenities, and customer service.
What items should I bring for a family trip to Aruba?
No matter where you choose to stay in Aruba, there are certain things you shouldn't forget to pack, including but not limited to sunscreen, bug spray, swim gear, hats/visors, sunglasses, and beach games.
Conclusion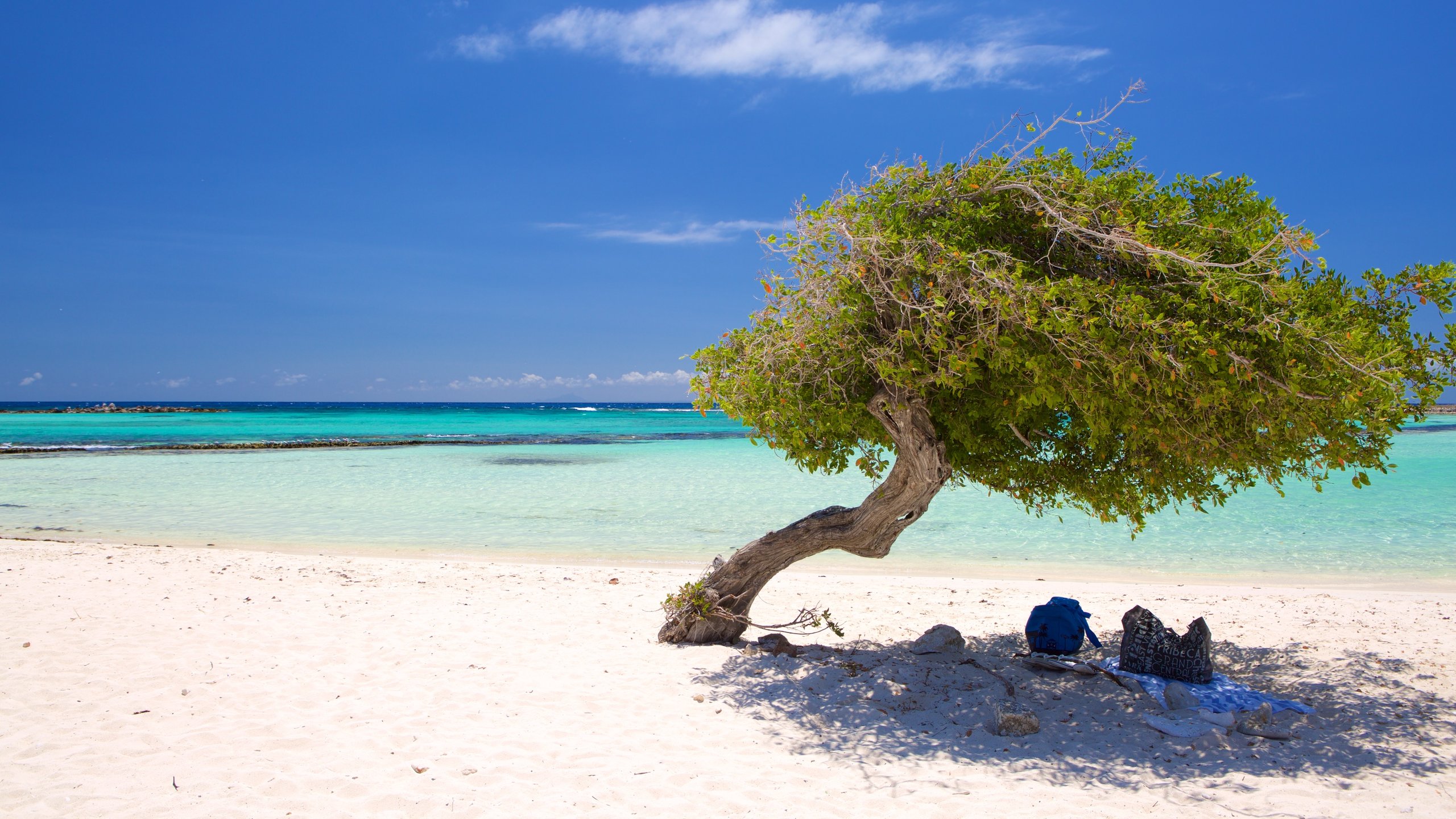 Aruba is a great destination for families with kids looking for a relaxing vacation. With its many family-friendly beaches, resorts, attractions, and activities, you will surely have an unforgettable trip.
These are just several of the best places to stay in Aruba for families with kids, but we hope it helps you narrow down your options and choose the perfect area for your vacation goals!
More about our TFVG Author