In the South Caribbean Sea is the stunning country of Aruba. This island is a popular destination for people worldwide because of the white sand beaches, clear blue water, and ample things to do and see.
Planning a vacation for you and your kids can be daunting when you're trying to decide on a place that everyone will enjoy. Aruba isn't just for adults. Kids love spending time in this tropical paradise.
Besides lounging on the beaches, building sandcastles, and sunbathing, there are so many activities that you and your kids will enjoy on this island.
As you plan your vacation, check out 14 of the best things to do in Aruba with kids and don't forget to check out our guide to the best all-inclusive resorts for families in Aruba, too, as well as our look at how much it costs to go there on vacation.
Stay at the Eagle Aruba Resort and Casino
While there are dozens of wonderful places to stay in Aruba, the Eagle Aruba Resort and Casino is one of the top options for families with kids. This resort sits right on the beach and offers families more than enough to do during their stay.
The resort is within walking distance to Eagle Beach, has multiple pools and activities that people of all ages will enjoy. The kids will love playing with other kids at their kid's programs, while you can venture to the adult-only pool or hit the casino. Plus, there's a kiddie pool that the littlest of ones can safely play in.
There's a restaurant on the property that's not only delicious but offers plenty of dishes that your kids will approve of. They host different activities at the pools and on their beach and indoor activities if it's raining or if your skin needs a break from the sun.
We love this place because even if you prefer to stay at a different hotel or accommodation, you can purchase an Eagle Aruba day pass. This grants you access to their beach and pools for the day.
Hit the Trails at Arikok National Park
For the outdoorsy family, taking a trip to Arikok National Park needs to be on your list of things to do while in Aruba. This national park encompasses almost 20% of the entire island and offers some beautiful hiking trails and views that you have to see.
You'll be able to see desert lands, cacti, and then beautiful views of the ocean from the higher elevations. Since the park is so large, you'll want to choose which attractions you want to do most, unless you plan on hiking your entire trip.
Jamanota Hilltop is the highest point on the island and is worth the trek. This hike is better for older children but is still reasonably easy. Other beautiful areas of the park include Dos Playa. This is a small beach that's popular for surfing and bodyboarding. Even if you don't plan on doing these activities, it's a beautiful beach to relax on before heading back.
Boca Prins and Quadirikiri Cave are the best if you want to see the caves. Quadirikiri Cave has natural light, so you don't need a flashlight to see anything. Boca Prins has sandy floors and is an excellent place for family photos.
Visit the Aruba Butterfly Farm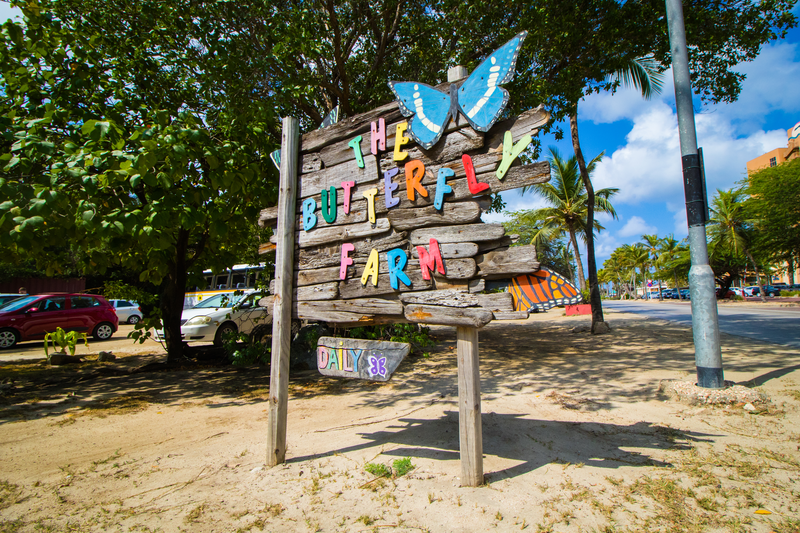 When you need a break from all the beach fun, the Aruba Butterfly Farm is one of the best things to do. The Aruba Butterfly Farm is only a few steps away from Palm Beach and offers visitors a view of some of the world's most colorful creatures.
You and your kids can take a guided tour of the farm, where you'll learn about the lifecycle of butterflies. It's fascinating and educational, which is great to have while on vacation with kids. They'll tell you stories about the various butterflies and their habitats as you make your way through the farm.
If you want a unique experience, you may want to get to the farm early in the day. When you do, you may be able to see butterflies emerging from their cocoons and taking their first flights. Another perk of visiting the Aruba Butterfly Farm is that your admission ticket grants you access to the farm for the duration of your stay on the island.
Soak Up the Sun at Baby Beach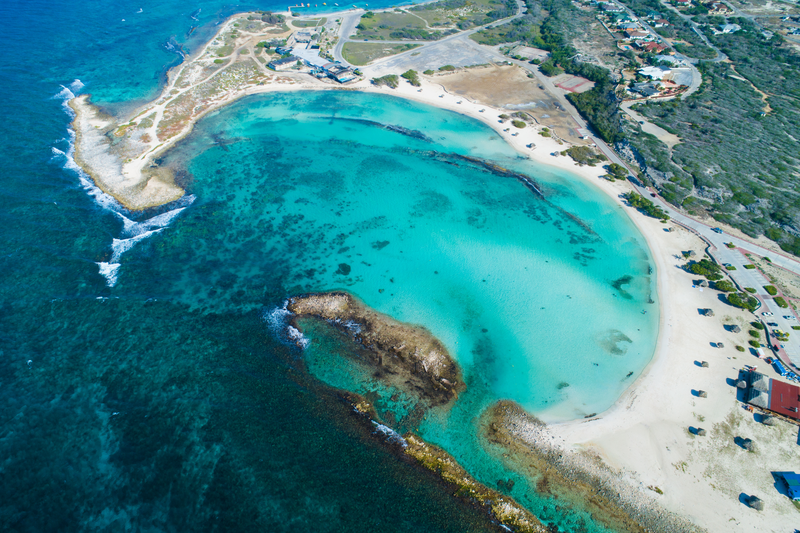 In San Nicholas, Aruba is the best beach for children: Baby Beach. Even though the name has the word baby in it, people of all ages will love spending time at this beach. The beach is curved, making the waves much calmer than other island areas.
The water at Baby Beach is light blue and relatively shallow, which is perfect for the little ones. The shallow waters are great for adults, too, who like to go further into the water but still be able to touch the bottom.
Snorkeling is popular at Baby Beach because your kids can participate in calmer waters without venturing out too deep. If you plan on snorkeling here, you have to stay within the designated snorkeling area.
There are beach chairs and snorkel gear available for rent at the beach, but you're welcome to bring your own if you have them with you. If you get hungry, there are two delicious restaurants within walking distance of the beach.
Go Below the Surface on Atlantis Submarine
Not many people can say they've gone underwater in a submarine. With Atlantis Submarine Tours, you and your kids can go below the ocean's surface for one of the most memorable activities in Aruba.
You and your kids will ride on a submarine that's part of the largest passenger submarine fleet in the world as you descend 130 feet. The sub has plenty of windows so you can see all the marine life from wherever you are in the boat.
The submarine driver is also your knowledgeable tour guide. As you travel underwater, you'll visit several shipwrecks where fish and maybe sharks are swimming around and Barcadera Reef. This is a beautiful thing to see that you wouldn't be able to otherwise.
Your underwater tour lasts about an hour and 45 minutes. If you decide this is something you and your kids want to do, you will purchase tickets and book a time slot online before arriving.
Attend the Bon Bini Festival
If you happen to be in Aruba on a Tuesday, you need to add the Bon Bini Festival to your itinerary. The festival happens in Oranjestad outside of the oldest building in downtown, Fort Zoutman.
Bonbini means "welcome," and this festival is all about welcoming new friends and celebrating the culture in Aruba. The festival happens every Tuesday evening so visitors can learn more about the island's culture and traditions.
There's live Aruban folk music that you can listen to and watch the locals perform dances to. One of the most popular things about this festival is the local food you can enjoy while visiting. It's perfect for children because not only will they learn more about another culture, but the festival is only a few hours so they can still get to bed at a decent hour.
Meet Ostriches at the Ostrich Farm
Did you know that Aruba has an abundance of ostriches? Whether you did or didn't, one of the biggest tourist attractions on the island is the Ostrich Farm. Kids are huge fans of this activity, but adults will have a great time too.
The staff at the Ostrich Farm take care of these animals to ensure they don't go extinct. They have a large enclosure for the older animals to live, and they have a hatchery where the babies live until they can be with the older birds.
They offer guided tours every 30 minutes, seven days a week. Your tour guide will educate you on these animals, from their mating habits to their life span and how they defend themselves against predators in the wild.
After seeing the large birds and exploring the incubator, you can have lunch at the Savana Restaurant. It's an outdoor restaurant, but it's covered and provides some much-needed shade. You'll find plenty of kid-friendly options here.
Before you leave the Ostrich Farm, you'll want to check out their gift shop. It's a great place to get a souvenir that you can't get anywhere else on the island.
Tour the National Archeological Museum 
In the city of Oranjestad is the National Archeological Museum. The country first opened this museum back in 1981 and has collections that date back to 2,500 BCE. Their collections are from then up to the 19th century.
The museum is another great way for you and your family to learn more about Aruban culture and history. It showcases Aruba's history since it is today via artifacts and skeletons before it was the country.
They're open seven days a week, and the best part is that it's a free activity that you can do on the island.
Hang out at Arashi Beach and Climb the Lighthouse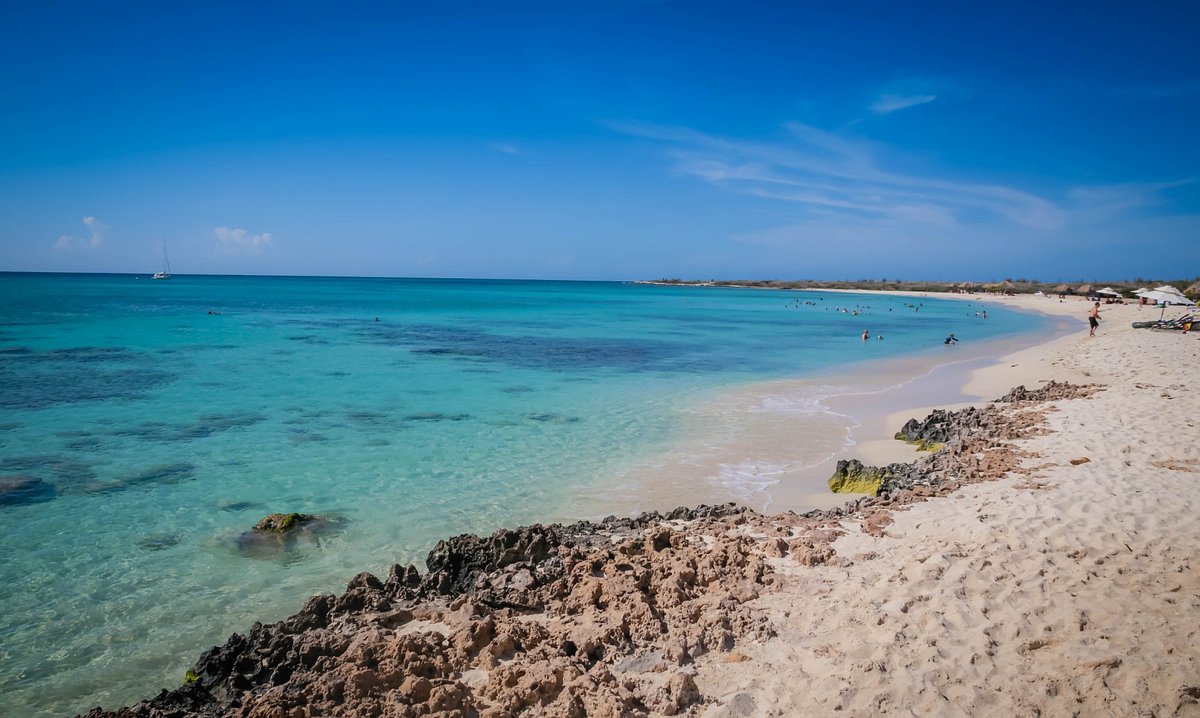 Arashi Beach is on the island's northernmost tip, and many claim that it's the most beautiful beach for snorkeling in Aruba. While there are dozens of great beaches in Aruba, this is one that the locals love to spend time at.
This beach has plenty of parking, beach huts, a tiki bar, and a place where you can rent snorkeling gear. You and your kids will love swimming in the blue water and looking at the fish and shells below the surface. There's more surf here than Baby Beach, but it's still considered moderate and great for families.
You can enjoy tropical drinks at the tiki bar while your kids build sandcastles and play on the beach. There's live music at the bar that everyone loves.
If you need a break from the sand, the California Lighthouse is within walking distance. This is a beautiful white lighthouse where you can climb the stairs and get some beautiful views of Aruba.
See the Donkey Sanctuary
Aruba is home to various animals, and they have a decent size donkey population on the island. Donkeys aren't originally native to Aruba, but they've lived on the island for more than 500 years. If you want to see these lovely creatures, The Donkey Sanctuary is the place to do it.
Wild donkeys used to roam the island, and unfortunately, an illness wiped out the vast majority of the wild donkey population. They were down to 20 wild donkeys, and this sanctuary is a place where they're taken care of, and it helps with their preservation.
They take hurt and sick donkeys to ensure they can live happy lives. You can tour the sanctuary and see those friendly creatures up close. Many of the donkeys love to be petted, and if you arrive early enough in the morning, you can help feed them and care for them.
They have a concession stand that sells cold drinks and snacks to keep you full as you wander through the sanctuary. You won't want to miss stopping at their souvenir shop before you head back to your hotel.
Ride the Waves at Aruba Surf and Paddle School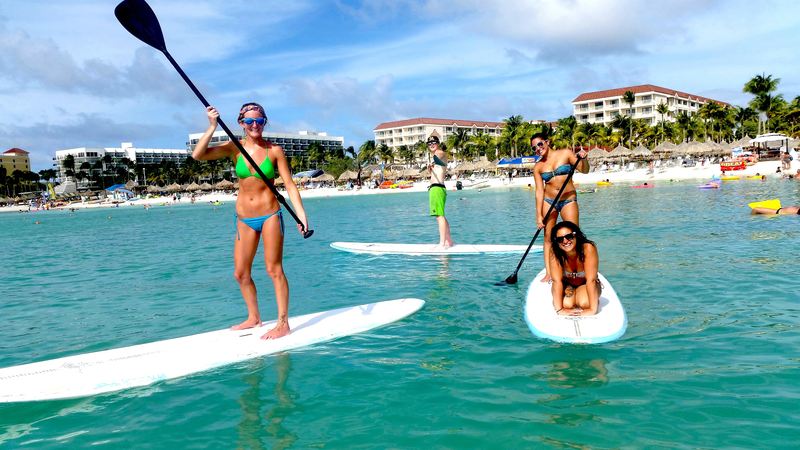 There's nothing better than spending a day in the ocean while in Aruba. If you have older and adventurous children, why not learn to surf and paddleboard at the Aruba Surf and Paddle School? The staff here have over 20 years of experience on the water and are more than qualified to help you learn.
You can choose paddleboard or surf lessons depending on what you prefer. They're prepared to help you and your kids learn how to paddle and surf in calm and safe waters. As you learn how to paddleboard, you'll glide through the blue waters of the Caribbean Sea and see areas that paddleboarders have only reached.
Take a Tour of the Aruba Aloe Factory 
Aloe plays a critical role in Aruba's economy. For over 160 years, aloe cultivation has been important to everyone on the island. The Aruba Aloe Factory is a great place to learn more about how this product comes to be and its importance to Arubans. 
You can take a guided tour of the factory where you see how they take aloe from the plants and create the products you find in your local stores. They offer tours every 15 minutes in several languages to accommodate all visitors.
As you walk through the factory, you'll see the room where they cut the aloe, their testing lab, the filling room, and then finally, where they package their products. After your tour of the building, you can stop at their gift shop, where you'll see aloe deodorant, hair products, body mists, and more.
Take a Sunset Cruise With Jolly Pirates
Jolly Pirates offers a beautiful sunset cruise that you and your children will love. You'll leave from Moomba Beach and sail through the water as the sunsets.
The tour lasts for about two hours, and the best part is that the ship is designed to look like an actual pirate ship. The kids will love being able to go home and tell their friends that they rode on a pirate ship, and you'll love the photo opportunities and great atmosphere.
This sunset cruise is the perfect way to wind down after a long day. If you want to take a ride on a pirate ship but aren't interested in their sunset crust option, they have snorkel trips to coral reefs in the morning and afternoon.
Spend a Day at De Palm Island
De Palm Island is a small island near the mainland. It's a short five-minute ferry ride to this private island that has a wonderful little waterpark on it. It's an all-inclusive island that offers day passes to everything they have to offer.
They have drop water slides, a sandy beach with activities, banana boat rides, and a waterpark made especially for kids. They have swimming areas in the sea that are enclosed by rock formations, making them calm and perfect for families.
You can rent cabanas or beach chairs if you want a place to plant yourself for the day. It's a great place to relax while your kids run around and have the time of their lives. You may get to see wild flamingos on the island, and you can take salsa lessons if you like.
You don't need to worry about going hungry while you spend the day here. They have a buffet that you can visit whenever you need something to eat, and there's a bar if you want an alcoholic beverage.
This is one of the best places to spend a day with your kids in Aruba because it has something for everyone.
Final Thoughts
When visiting Aruba, you'll want to spend some time at the beach and in the water. While that's one of the biggest draws to this beautiful country, you won't want to miss out on everything else it has to offer.
From seeing donkeys to butterflies to hiking a national park, there's no way you'll leave Aruba without memories that will last a lifetime.
More about our TFVG Author
A seasoned traveller, Dad, and avid sports tourist, James foundered The Family Vacation Guide to share his expert vacation experiences- especially when it comes to being a travelling family man.
Featured in Travel articles such as Travel + Leisure, TripSavvy and SFGate, you know you're reading some of the best vacation tips online.