Puerto Rico is a wonderful vacation destination for families with kids. Located in the Caribbean, Puerto Rico has all the amazing activities of a tropical island. In addition, it's a United States territory, so no one needs a passport.
That said, there are many cities and areas that attract visiting families, and it can take time to decide where to stay.
Below, read about the ten best places to stay in Puerto Rico with kids. That way, you can find the part of the island that best suits your family's interests and needs.
Old San Juan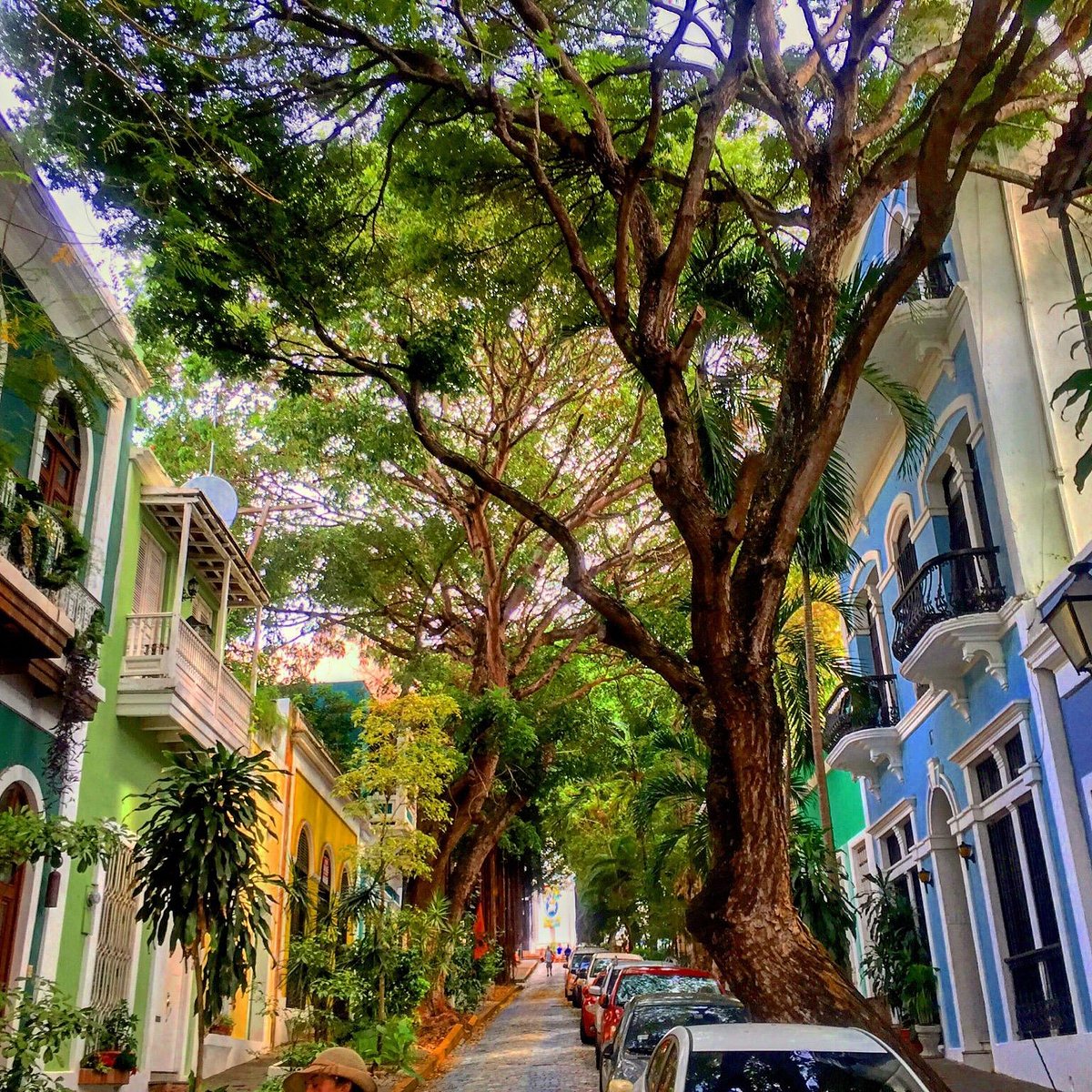 San Juan is the capital of Puerto Rico, and Old San Juan is the original part of the city. It has historic Spanish architecture, cobblestone streets, and colonial fortifications. It's also a vibrant city center with many resorts that cater to families.
If your family likes having many options for things to do, then you'll love staying in Old San Juan. First, there are many historical sites and points of interest. Viejo San Juan is the second-oldest European settlement in the U.S.
Explore Castillo San Felipe del Morro, one of the city's old citadels. There are also many museums, including Museo de las Américas, Museo de Arte de Puerto Rico, and Casa Museo Felisa Rincon de Gautier.
For little nature explorers or kiddos who need to run out of energy, head to Paseo de la Princesa Promenade. This trail runs alongside the bay. It has plenty of room to walk, run, bike, and more. You'll also encounter plenty of breathtaking spots to stop and take a photo.
For authentic shopping, visit Plaza Las Americas, where you'll find tons of stores and boutiques. It's the perfect place to find a souvenir. There are also street vendors and makers selling their wares throughout the tourist parts of the city.
Many Puerto Ricans live in the city of San Juan, and there's a thriving food and nightlife culture. Try to visit restaurants early in the evening if you're dining with kids away from your hotel.
Since you'll find San Juan on the Atlantic coast, the city has tons of beachfront hotels and all the ocean activities you expect from a tropical vacation. Major American chains, including Marriott and Hilton, have gorgeous hotels here.
You can swim, snorkel, kayak in some of the inlets, and more. The city's most popular beach is Condado Beach, which boasts miles of clear water and soft sand. Head here to enjoy a lovely day with plenty to do.
Vieques
Vieques is on a relatively small island east of Puerto Rico's main island. If your family wants to go somewhere remote and away from it all, check out Vieques.
Nature holds some of Vieques' best things to see. There are bioluminescent waters, as well as Vieques National Wildlife Refuge, which covers about half of the island. There's much to discover inside this protected area, including natural bays and inlets, beaches, forests, and trails.
In part due to its size, there's less to see and do on Vieques than on the main island. There's only one major hotel (W Retreat and Spa Vieques), though you can get home rentals. Look for a home equipped with kayaks, surfboards, snorkels and masks, and other outdoor essentials.
The bioluminescent waters of Mosquito Bay attract many visitors every year. You can even rent kayaks with clear bottoms to experience this natural wonder more fully.
There are plenty of other things to do and see in nature on Vieques. You must see the fabulous black sand beach, Playa Negra. While you're at it, spend some time beach-hopping. Even though the island is small, each beach has distinct characteristics, and you'll likely see some of the island's wild horses roaming.
You can explore Vieques in several ways, and we recommend trying as many as you can. There are numerous hiking and biking trails and businesses that rent paddle boards and other water equipment. You can also schedule guided tours to learn more about the island's history and ecology.
Vieques isn't wholly remote, either. In fact, there's a bustling (albeit small) town center with shops, restaurants, and more. You can taste some of Puerto Rico's best dishes at family-owned eateries in Esperanza. There is also fine dining available at the W Retreat.
Fajardo
You'll find Fajardo on the northeastern end of the main island of Puerto Rico. It's close to the coast as well as El Yunque National Forest, so there's plenty to explore outdoors.
Much of the island caters to tourists, but Fajardo does it exceptionally well. You'll find numerous hotels and resorts along the shore. Many are all-inclusive and provide most of what you'll need for your trip.
The El Conquistador Resort (owned by the Waldorf Astoria) is the most popular in the area. It even has its own waterpark.
If your family is into snorkeling or scuba diving, Fajardo is a terrific destination to enjoy these hobbies. The off-shore Cayos de la Cordillera Natural Reserve has coral reefs and other breathtaking underwater life to see.
You can also see bioluminescent waters. Lake Laguna Grande in the Cabezas de San Juan Nature Reserve has them, and you can take a guided tour or rent kayaks on your own.
Fajardo isn't the best destination for exploring local businesses or towns. Because so many tourists flock to and remain at their resorts, Fajardo hasn't seen the kind of boom as other locales.
Still, if you want to explore outside your resort, you have options. Fajardo is an ideal location for island hopping. If Vieques sounds exciting, but you don't want to spend your whole vacation there, you can visit from nearby Fajardo.
There's a ferry that runs to Vieques several times daily. You can also explore other islands, especially the Cayos de la Cordillera Natural Reserve and Culebra, which also have ferries.
Fajardo is also excellent for watersports of all kinds. Moreover, most of the larger hotels in the area provide all the necessary equipment. Your family can try kayaking, stand-up paddleboarding, fishing, and sailing.
Rincon
Situated on the western tip of Puerto Rico, Rincon is ideal for families who prefer less-touristy destinations. You'll still have the amenities you need to enjoy your vacation, but without the large hotels and throngs of people.
Still, Rincon has a lovely community that welcomes a steady flow of tourists. You'll find small restaurants serving authentic Puerto Rican dishes, and the region is famous for its outstanding food trucks. You can also explore shops for handmade souvenirs.
You'll find many of these businesses in and around the Plaza Publica del Rincon. This city center hosts celebrations for holidays throughout the year and a farmer's market. Christian (particularly Catholic) holy days are great for catching festivals. January 6, the Epiphany, is a popular one.
Rincon is a surfer's paradise. Not only are there killer waves, but you can also visit the Galeria del Surfing. Multiple businesses in the area rent boards and give lessons for beginners.
Prime surfing season is from late fall through early spring. That's also the best time to go whale-watching. Let your surfers catch some waves while the rest of the family spots rare wildlife.
Most of the other activities in Rincon revolve around the water as well. Your family can enjoy snorkeling and scuba diving (scuba certification classes available). You can also take a catamaran out for a sailing adventure or charter a deep-sea fishing adventure.
If your family likes relaxing on the beach, you have ample opportunities in Rincon. There are 12 beaches here. Some are livelier than others, so ask a local for their recommendation based on your preferences.
Rincon is picturesque for more than just its breathtaking sea views. Two historic lighthouses in the area make excellent backdrops for family photos. The most popular is the Punta Higueras Lighthouse.
Cabo Rojo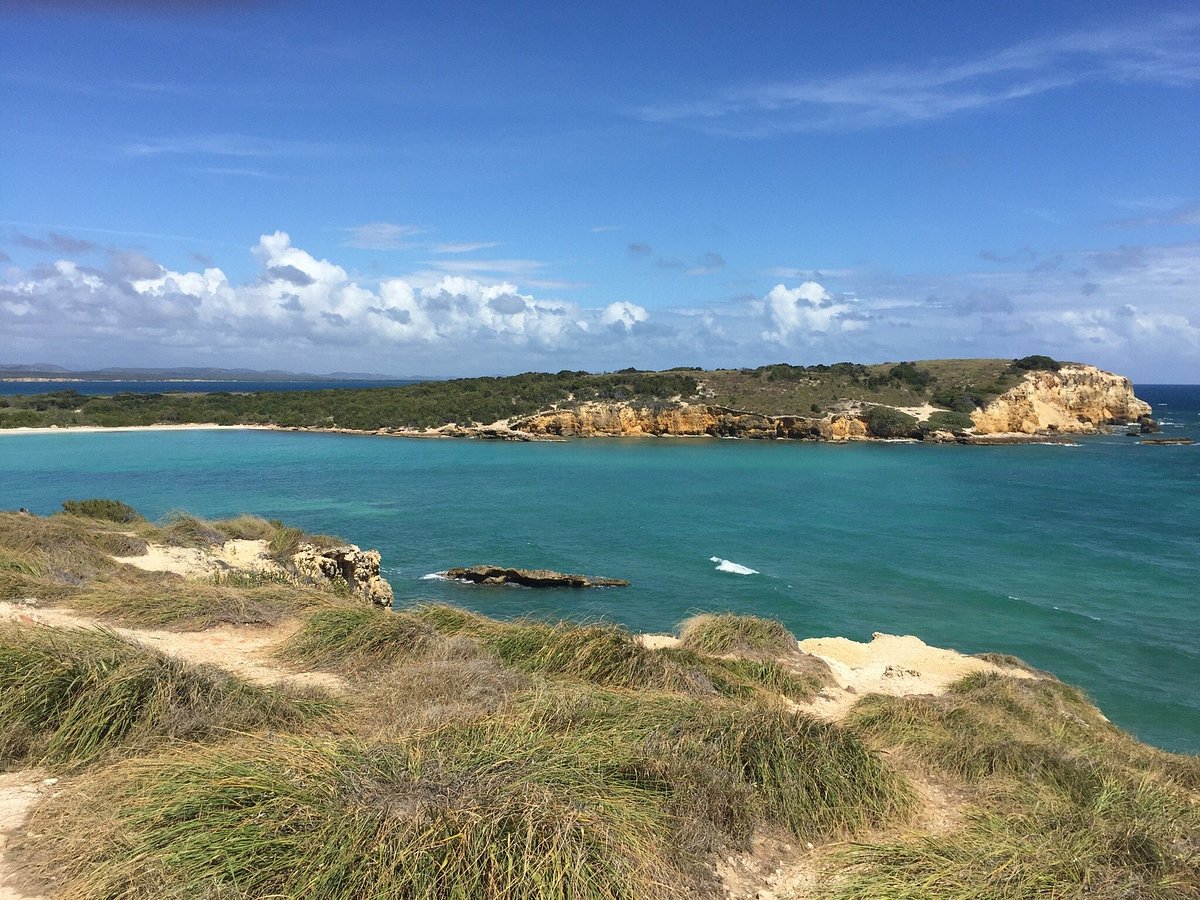 Cabo Rojo is south of Rincon on the eastern coast of Puerto Rico. Because of its location, it's also great for surfing and whale watching from late fall until early spring. But other than that, it has a distinct vibe and culture.
Cabo Rojo is laid-back and doesn't get a lot of tourists. Most visitors are interested in spending as much time outdoors as they can, so local businesses tailor activities in this way.
The best beach in Cabo Rojo for families is Boqueron Bay Beach. The calm waters stay warm, and there's plenty to see if you want to snorkel or even scuba dive.
If your family enjoys hiking especially, you should look into visiting Cabo Rojo. Built by the Spanish in the late nineteenth century, trails surround the Los Morillos Lighthouse, offering spectacular views of the startlingly blue water.
Your family can hike to the lighthouse and back to town for a real challenge. There are also salt flats and other natural wonders to explore in the region. It's a great place to take a day trip to see the bioluminescent waters of La Parguera.
Travelers rave about La Playuela Beach, called Playa Sucia by the locals. It's often rated among the most beautiful beaches in the Caribbean, and it's worth a visit. Even though it's well-known and popular, it tends to be a quiet, tranquil space on most days.
Part of the reason it's so quiet is that you'll find it on the tip of a remote peninsula inside a wildlife refuge (although it's easier to reach than it sounds).
In addition to whale watching, your family can explore animals at the Cabo Rojo National Wildlife Refuge. Try to count how many species of birds you can spot.
Isla Verde
If you want to enjoy the best of San Juan without staying in the hustle and bustle of the city, then check out Isla Verde. It's just west of San Juan on the coast and has gorgeous beaches and seas.
Isla Verde Beach is lined with resorts. Other vacationing families will surround you, so you don't need to worry about your rowdy kids disturbing anyone. Most of the resorts have direct beach access and reserved seating for their guests.
Most of the resorts along Isla Verde also have elaborate, waterpark-style swimming pools, watersports equipment, planned excursions, and tons of other amenities. Some of the most popular resorts include the Royal Sonesta San Juan, Fairmont El San Juan, and Courtyard by Marriott Isla Verde Beach Resort.
Most of the major hotels have full-service day spas. Indulge yourself with a massage, facial, or body treatment. Some even have drop-in daycare services, supervised kids' activities, or babysitting, so you can find something fun for your kids to do while you relax.
The great thing about staying in Isla Verde is you'll have many dining and entertainment options. Each of the hotels has multiple restaurants and eateries. In addition, there are independent shops, businesses, and bars in the area as well.
Speaking of bars, if you and your partner can get away for a night, you'll love being in Isla Verde. Many travel experts rate it highly as a destination for couples. In addition to bars, there are also nightclubs, cigar bars, and other adult entertainment.
Because of its location, Isla Verde makes a terrific starting point for day trips if you want to see more of Puerto Rico. You'll have access to all the amenities of San Juan with just a short taxi ride.
El Yunque National Forest, which is a beautiful rainforest habitat and one of the best natural attractions on the island, is only about 30 minutes away. You could even plan a day trip out to explore Vieques or Culebra.
Arecibo
Arecibo is a small beach community on the northern coast of Puerto Rico, west of San Juan. It has easy access to San Juan's airport (about an hour by shuttle or rental car) but feels far from the pace of a city.
It's slightly reminiscent of beach rental destinations in other parts of the eastern seaboard since there are more house and apartment rentals than large resorts. That makes it ideal for a family reunion since you can find houses large enough to accommodate a crowd.
Arecibo also boasts pristine beaches with golden sand. You'll find plenty of tall palm trees for shade. Most of the area directly behind the beach is still undeveloped, but plenty of kids are laughing and playing, so there's no need to hush your little ones.
Obizpo Beach, Abacoa Beach, and the other beaches line a small natural bay (much smaller than San Juan's). That keeps the swells relatively calm and free from riptides. Always check warnings before heading into the water, but you'll more than likely be safe in Arecibo.
Besides the beaches, there's plenty for kids and families to do outside. You'll marvel at how many unique natural features you can explore in Arecibo, including limestone formations, watery caves, and even underground waterways.
Cueva Ventana is one of the most fascinating places, a beautiful cave naturally carved into a limestone cliff. Just outside the city, you'll find Cueva del Indio Nature Reserve. The cave itself contains evidence of ancient human art, and your family can explore the ample trails and grounds.
In addition, be sure to visit the Arecibo Lighthouse and Historical Park. There's a recreated colonial village and even pirate ships for kids to climb and discover. You can also stop by the museum and aquarium.
Finally, the park also has a water park where kids can splash and play if they need to cool off. That feature, along with the beaches, makes Arecibo a popular destination for day-trippers from San Juan.
Culebra
Like Vieques, Culebra is an island off the eastern tip of Puerto Rico. It's north of Vieques and much smaller. Families staying here enjoy a slower pace in a less commercial atmosphere. However, there also aren't as many activities and amenities.
Culebra has many rental properties. Some are equipped with snorkeling gear, kayaks, a pool, and more. You can even have the kitchen stocked before your arrival, which is convenient on a small island.
Culebra is only ten square miles, and other than a small village, a few places to stay, and the Museo Historico de Culebra, you'll encounter very little else other than beaches and nature. The quiet, less populated beaches are pristine white, and the water is sparkling blue.
Two of the most popular are Tamarindo and Carlos Rosario Beaches. Both are located inside the Luis Pena Natural Reserve.
The exception to the quiet beaches is Flamenco Beach. Day-trippers from the main island flock to Flamenco, so it has a livelier vibe. It's just as beautiful as the others, and it's a fun experience to beach hop and see the contrast between the crowds.
Culebra is the perfect place to vacation if your family enjoys snorkeling or especially scuba diving. There are multiple cays and inlets to explore. Also, since much of the island and its waters are protected, you'll see some exotic fish.
Because the water is clear and calm, it's also a terrific place to kayak as a family. You can explore otherwise inaccessible parts of the island and get out to swim when you find somewhere you like. You can also book an excursion with a local guide.
If you want to take a day trip to Culebra, the ferry departs from Fajardo. It only takes about 30 minutes to get there, and the ferry ride is inexpensive.
Isabela
Isabela is a bit more remote than some other destinations on this list, located on the island's western end. Still, it has a unique local culture and astounding natural beauty. And with three miles of coastline and scores of other activities, your family will be happy here.
One of the best things about staying in Isabela is your proximity to the Guajataca River and the Guajataca State Forest. Some parents aren't comfortable taking their kids on the open ocean in kayaks. The river offers a safer opportunity to get on the water and try paddling.
The state forest is smaller than some of the others on the island. Nevertheless, kids will love it. In addition to trails, trees, plants, and animals, they can also explore caves, underground waterways, and a manufactured tunnel intended to house a railroad. The most popular attraction in Guajataca is the Cueva del Viento, or Cave of Wind.
Like many places worth visiting in Puerto Rico, one of the main draws of Isabela are the beaches. If your kids love wildlife, head to Blue Hole Beach to look for exotic tropical fish, sea turtles, manatees, and more. Don't forget to bring your snorkels!
If you've got a surfer in your clan, you must visit Middles Beach. While it isn't the best for swimming (too rough), it's ideal for surfing. In fact, it's home to the annual Corona Pro Surf Competition.
Bicycling is another popular activity in Isabela. You can utilize the bike paths that take you along the shore. One goes past Middles Beach so that you can watch the surfers.
To make everyone happy, a good alternative is Jobos Beach. You can catch some waves, but a natural coral barrier also protects it. There are calm spots to swim and snorkel.
For the ultimate natural beach experience, head to Playa Pastillo. Surrounded by forests, caves, and coral, you'll sense Puerto Ricans' reverence for this space right away. You can certainly frolic, explore, and have fun–just don't disturb the landscape or leave anything behind.
Isabela also has lots of options for accommodations. There are large resorts, including some all-inclusive, smaller hotels and inns, and home rentals. While you're here, don't forget to check out the hub of the town's activities, The Plaza de Recreo de Isabela. Your family can dine on some local cuisine and check out the shops.
Finally, if you have some flexibility when you visit, you should time your arrival with the Fiesta de Reyes Isabelinos. It's a religious holiday marking the arrival of the three kings (or three wise men) at Jesus's birthplace on January 5-6. The town goes all out for this event.
FAQs About Traveling to Puerto Rico with Kids
Before we go, let's answer some common questions from parents and caregivers about vacationing in Puerto Rico with little ones.
What's the best time of year to visit Puerto Rico?
The best time of year to visit Puerto Rico is during the winter and spring, from November through April. The weather is warm and pleasant. It also safely avoids hurricane season, which is from June-September.
What's the weather like in Puerto Rico?
Puerto Rico has beautiful weather. Like most of the islands of the Caribbean, temperatures stay in the 70s and 80s most days. It's usually sunny with some cloud cover.
Afternoon showers and passing storms are also common. The hottest summer days reach the 90s, and cool winters can drop to the 50s. Hurricane season begins in late May and lasts through early October.
Can you rent a house in Puerto Rico?
You can definitely rent a house in Puerto Rico, and many homes are available. You can check websites like Airbnb, Vrbo, or similar sites.
You can find small beach shacks for a bargain or large mansions with infinity pools for a grand family reunion. Many timeshare companies have properties in Puerto Rico as well.
What are the best activities for kids in Puerto Rico?
Most families who visit Puerto Rico do so to enjoy the beach. Kids love to play in the sand, and they're drawn to the clear, warm water.
Parents and older kids don't have to worry about boredom, though. The beaches across the islands provide ample opportunities for snorkeling, surfing, exploring, and more. Many are also close to restaurants and shops.
Other than the beach, kids love the caves! They just aren't as common in most places in the world, and the mystery is especially intriguing for young people.
Where is the best beach in Puerto Rico?
Puerto Rico has many beautiful beaches, and we've discussed several of them above. Lots of visitors make a pilgrimage out to Flamenco Beach on the island of Culebra. It's also remote, which makes it unique.
Because of the natural inlet, Playa Sucia in Cabo Rojo is also great for families. Not only does it boast pristine white sand and crystal-clear water, but there aren't a lot of waves.
Finally, visitors and locals generally agree that Condado Beach is the best beach in San Juan (Puerto Rico's capital and most popular destination).
Enjoy Puerto Rico with Your Family
Puerto Rico is packed with incredible destinations for a family vacation. Even though the territory is relatively small, it has a great deal of diversity and lots of things to do with your family.
There's something for every family in Puerto Rico. Peace-seekers love Vieques, surfers dig Rincon, and those of us who like upscale hotels will adore Isla Verde.
Regardless of where you stay, the most critical element is that you enjoy your time together as a family. You'll come home from the stunning islands of Puerto Rico with beautiful memories of your own.
More about our TFVG Author