Puerto Rico is a complete picture of paradise. From glorious palm-lined beaches to breathtaking landscapes, it has it all. It's no wonder its tourism market is worth well over $5 billion.
While this Caribbean island is a fantastic place to visit with friends and family, there are some entry requirements you need to be aware of.
So, do you need a passport to go to Puerto Rico? Well, yes and no. You do not need a passport to head there if you are an American citizen. However, you might need one if you come from any other country.
But that is not the whole story. Read on to learn more about all the entry requirements before you start packing.
If you're looking for where to stay, why not take a look at our guide to the best Puerto Rico all-inclusive family resorts?
Why Don't You Need a Passport to Go to Puerto Rico As an American Citizen?
Puerto Rico has been considered a United States commonwealth or territory since 1917. Although its government and citizens cannot vote in federal matters, they are US citizens and are entitled to the rights that come with citizenship and vice versa.
This factor means that Americans don't need a passport to go to Puerto Rico from the US, nor do Puerto Ricans need one to enter and exit the United States.
However, it is essential to remember that this only applies within the United States and its territories. So, if you are traveling to Puerto Rico from another foreign country, you will have to show your passport at the airport.
Even though you do not need a passport to go to and from Puerto Rico as a US citizen, you still need some identification documents according to the United States Customs and Border Protection.
Among these documents include:
A copy of your US birth certificate
A US Department of Motor Vehicles driver's license
The purpose of these identification papers is to prove that you are indeed a United States citizen.
Do You Need a Passport to Go to Puerto Rico if You Are a US Legal Permanent Resident?
No, you don't need a passport to go to Puerto Rico if you are an American permanent resident, but you still need to bring a couple of documents with you.
According to the United States Customs and Border Protection (CBP), US legal permanent residents must carry their immigration papers, such as a government-issued photo ID, when traveling to and from Puerto Rico.
The CBP still recommends carrying your green card or passport if you are a US LPR in case they ask you to prove your legal resident status.
Do You Need a Passport to Enter Puerto Rico if You Are a Non-American citizen or Legal Permanent Resident?
Yes, like most other foreign countries, you need a passport to go to Puerto Rico if you are a Non-US citizen. You may be wondering if you also need a visa. Well, it depends on which country you come from. Similar to US citizens not needing passports to travel to Puerto Rico, about 40 countries' citizens don't require a visa to travel to Puerto Rico. These countries include:
Andorra
Hungary
Australia
Austria
Croatia
Czech Republic
Belgium
Japan
Italy
Ireland
Iceland
Monaco
Netherlands
Norway
Poland
However, these citizens still need a US-approved Electronic System for Travel Authorization (ESTA) visa waiver to enter Puerto Rico. This waiver allows citizens of these 40 countries to stay in Puerto Rico or any other US territory for 90 days consecutively. It is valid for two years from the date of issue.
There are about nine countries other than the USA whose citizens don't need a passport or an ESTA to enter Puerto Rico. Some of them include:
Canada
Bahamas
Bermuda
Federal State of Micronesia
Marshall Islands
United States Virgin Islands
Palau
Other Things You Need to Consider Before Traveling to Puerto Rico
Other than ensuring you have the necessary immigration documents, there are other factors to consider when preparing for your trip to Puerto Rico. These include:
Cell Phone Service
Most US cell phone service providers work in Puerto Rico, so chances are you will not need to get a new sim card.
Currency
Puerto Rico's official currency is the US dollar, like all other territories of the US. Locals may refer to it as the peso, but it's the same thing. Prices here are mainly similar to the US, so there will be no shocks.
There are also lots of American banks and ATMs around the islands, so you'll be able to replenish your cash quickly. You can bring your credit card to use as payment, but it will be convenient to bring cash when shopping in smaller restaurants or shops.
Language
Puerto Rico has two official languages: Spanish and English. Then, of course, there's Spanglish, a mixture of the two.
Most locals in the tourist-heavy areas, such as San Juan, can speak English well, so you may not have to worry about the language barrier if you visit the cities. But, if you'll be traveling to remote towns, you'll need as much Spanish comprehension as you can since locals there rarely speak English.
Booking Accommodation
Book your accommodation in advance before traveling to Puerto Rico. The good thing is that there are lots of hotels and Airbnbs in the major cities.
Some hotels will go beyond trying to make you comfortable. For instance, they might offer to pick you up at the airport once you land in Puerto Rico at little or no extra cost. Such deals can make your vacation stress-free and more enjoyable.
Getting Around
Taxis are your best bet if you're getting around a city like San Juan during a short stay. For more extended stays, you can rent a car from one of the agencies in San Juan or on the Vieques and Culebra islands. You'll need a driver's license and a credit card.
There's a public bus service that's relatively cheap, but it doesn't have the fixed departure or arrival times you'll need to keep up with your itinerary. Plus, you might need to change buses several times before getting to your destination.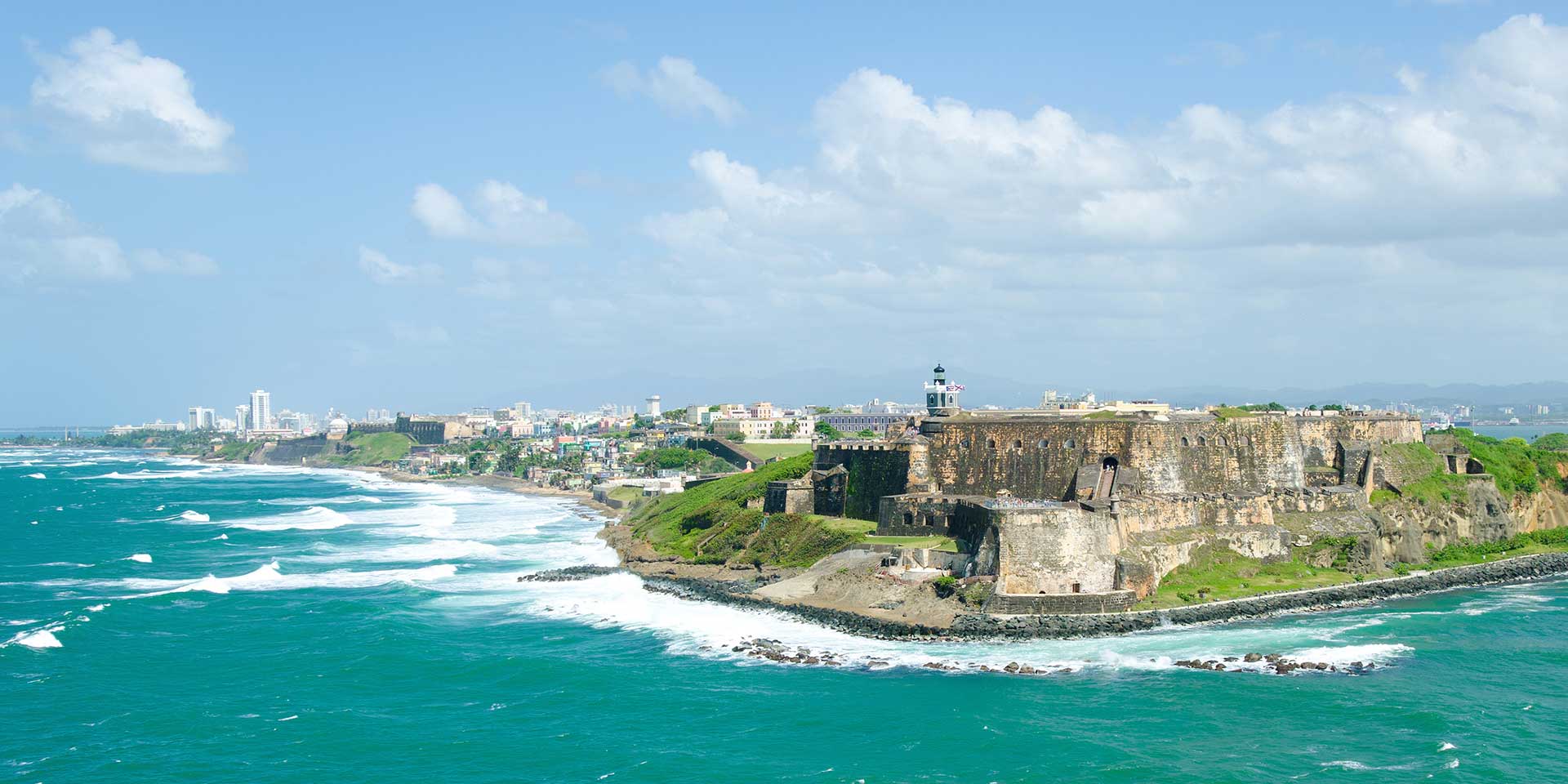 FAQs
Here are some common questions about the passport requirements of Puerto Rico.
Is Puerto Rico Safe?
Puerto Rico has a crime rate of 47.50 crimes per 1,000 residents annually. The central cities in the territory are safer than the outer regions. You have a 1 in 18 chance of falling victim to a crime in the north, while central Puerto Rico drops to 1 in 26. Furthermore, northeast Puerto Rico has 35,038 crimes per year while southeast has only 8,810.
Overall, Puerto Rico has minimal violent and property crimes. Most illegal activities involve drugs and vandalism.
Do You Need to Go Through Customs If You Come Here From the US?
US citizens do not need to go through customs in Puerto Rico. However, the rules differ for non-US citizens traveling from the states and other international travelers.
Are There Vaccine Requirements?
According to the CDC, you should get a COVID-19 vaccine before visiting Puerto Rico. The organization also recommends vaccines for:
Chickenpox
Polio
Flu
Diphtheria-Tetanus-Pertussis
Shingles
Measles-Mumps-Rubella
Hepatitis A
Hepatitis B
Rabies
Typhoid
The CDC's other health recommendations include avoiding contaminated water and bug bites.
What Can You Not Take From Puerto Rico?
The USDA prevents travelers from bringing in some fresh produce, pork, plants, and flowers. You can visit the website for a comprehensive list of the allowed produce. However, they exclude:
Sweet potatoes
Pigeon peas
Cotton
Citrus leaves and plants
Cactus
Plants in soil
Live insects
Palm frond handicrafts
Sugarcane
Soil
Land snails
Pulpy nuts and seeds
Any fruit or vegetable not on the approved list
So, Do You Need a Passport to Go to Puerto Rico?
It's no doubt that Puerto Rico is a great place to visit with your friends and family. The good thing is that you don't need a passport to get there if you are a US citizen. Just pack your bags and catch your flight! You don't even have to change money or worry about roaming charges.
Check out our other entry requirement guides…
Why not also check out our other guides to help you figure out where you do and don't need a passport to travel to:
More about our TFVG Author
A seasoned traveller, Dad, and avid sports tourist, James foundered The Family Vacation Guide to share his expert vacation experiences- especially when it comes to being a travelling family man.
Featured in Travel articles such as Travel + Leisure, TripSavvy and SFGate, you know you're reading some of the best vacation tips online.