If your family loves gorgeous white sand beaches, super friendly locals, delicious seafood, cute island pigs, and tropical weather, The Bahamas is the perfect getaway destination.
The Bahamas is also one of the safest islands in the Caribbean in terms of low violent crime, calm swimming beaches, and ease of communication, making it ideal for novice travelers and families with young kids.
But with over 700 coral islands and 2,400 cays to choose from, it can be overwhelming to decide where to stay. And the decision-making process can become extra complicated when you factor in kids because you may want to prioritize safety, comfort, space, and many other factors.
There is so much natural beauty to explore throughout these islands. But for most 1-to-2-week vacations, it'd be nearly impossible to see all the best sites. That's why it's crucial to plan and know where to go to maximize your trip for your particular interests, preferences, and needs.
So, to help you make the best location decisions for your family, we've gathered a list of the best places to stay in The Bahamas for families with kids.
1. Nassau – Best for Budget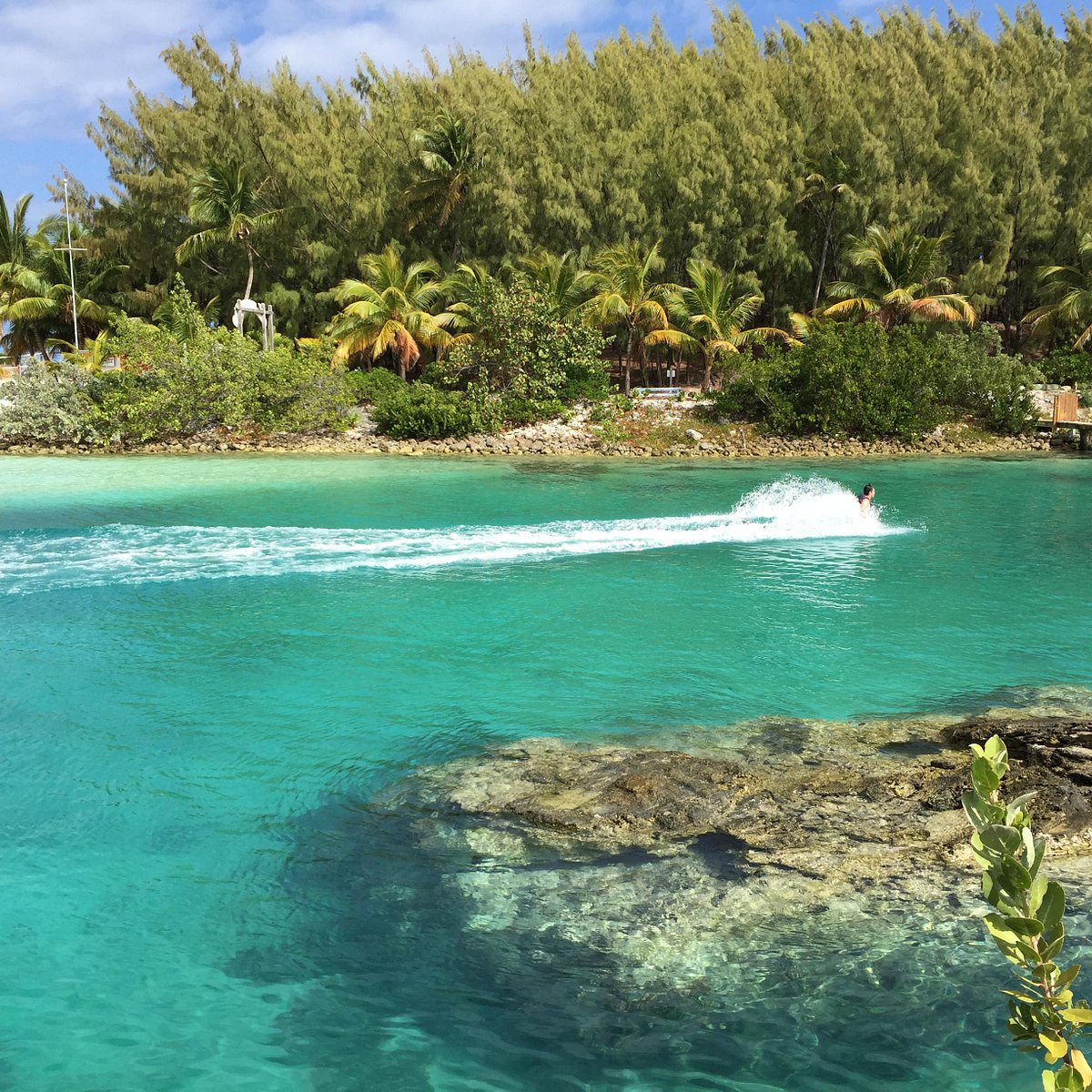 Nassau tends to be the very first stop for many travelers to The Bahamas because it's the capital city and where an outstanding 70% of the entire population resides.
Accommodation
Because there are many residents and people coming in and out, this area of The Bahamas is unbeatable regarding the variety of accommodation options.
You can get luxury hotels if you'd like, but you can also get budget-friendly stays if that's what you're looking for too. It's a simple matter of supply and demand.
Since there is more supply and not as much demand as in the more remote (and arguably more visually appealing and less crowded) areas of The Bahamas, it's easier to find high-value accommodation.
However, if you want a more luxurious accommodation option, you can certainly find that, especially towards the tip of the island at Lyford Cay, where many celebrities reside or vacation.
Activities & Attractions
History is the number one appeal of staying in Nassau, as generations of settlers, merchants, and pirates have left their mark on the island.
The Pirate of Nassau Museum is an especially popular attraction among kids. Here, they can learn about the history of The Bahamas and the intriguing past of buccaneers.
You can also visit the Pompey Museum about the history of slavery and emancipation in The Bahamas and the National Art Gallery of the Bahamas, which focuses on Bahamian art, and other educational experiences.
There are plenty of active water activities in Nassau you and your family can enjoy, such as swimming with dolphins or sharks, snorkeling, going on fishing charters, and taking scenic boat rides.
It's also important to note that while it's the capital city, you can still access some of the best beaches in the country. They may be a little more crowded than elsewhere, but don't miss out on visiting beaches like Cable Beach, Sandyport Beach, Blue Lagoon, Love Beach, Coral Harbor Beach, Goodman's Bay Park, and Balmoral Island Beach.
Food
Nassau is also an excellent area for food, as you can find a slew of wonderful restaurants throughout the town. Local Bahamian eats are easy to find here, as well as seafood restaurants, Greek places, Italian restaurants, and more.
Atmosphere
The environment around Nassau is lively to some but too boisterous for others. Nassau may be the perfect spot if you're looking for an exciting, active, and energetic vacation with your kids.
However, if you're hoping for a more quiet, peaceful, and relaxing time, you might want to head out immediately upon landing.
Safety
Nassau isn't necessarily the safest area of The Bahamas. Still, it's simple enough to keep you and your family safe through common sense practices such as not walking alone at night and being aware of your surroundings.
In particular, it's helpful to avoid going to the neighborhoods south of Shirley St, south of downtown Nassau.
Overall, Nassau is an excellent option for a budget-friendly family trip to The Bahamas.
2. Paradise Island – Best for Resort Attractions
Paradise Island is a more specific location within Nassau that's excellent for families with children. It's here where you'll find the iconic Atlantis Resort, one of the most luxurious of its kind.
Accommodation
Its resort culture sets Paradise Island apart from the rest of Nassau. Suppose you're looking to stay in an all-inclusive resort with many amenities and activities to keep everyone in the family entertained and happy. In that case, Paradise Island is where you'll find some of the best options!
The most popular accommodation is Atlantis Paradise Island, a huge resort located on the island that comes up on Google when you search "Paradise Island Bahamas" or even "Nassau."
This mega-resort is a fantastic choice for families, as there's an extensive list of activities and amenities for kids, including waterslides, lazy rivers, mini golf, and so much more. However, it comes at a high price, and even the less expensive resorts still offer plenty of attractions.
Activities & Attractions
The waters at the main beaches, Cove and Cabbage, are gentle and inviting, making them perfect for young kids who want to splash around and parents who want to keep them safe.
Atlantis Paradise Island is not only a great resort option but also an activities hub for both guests and non-guests. This means that even if you'd prefer not to stay there for one reason or another, you'll be able to access certain attractions like the Marine Adventures experience or the waterpark.
In addition to resort amenities and activities, there are plenty of non-resort shops, restaurants, spas, and more. The Versailles Gardens is an attractive place to take a family stroll, and the Marina Village is the island's shopping center.
Paradise Island Golf Course is located on this island, designed by Dick Wilson, and is a world-renowned course. Golf-loving families would be remiss not to stay here for this reason alone!
Plus, this island is connected to the rest of Nassau by a bridge, so it's easy enough to head into the main area if you want to get out of the resort town and have a few more "authentic" travel days with the family.
Food
When it comes to food, Paradise Island offers a wide range of options for families, as you might expect from a resort town.
Most restaurants serve amazing seafood dishes, but you can also find Middle Eastern restaurants, steakhouses, Asian fusion restaurants, burger joints, and more.
Atmosphere
The atmosphere is similar to many Caribbean resort towns. If you want a local experience or a true feeling of the Bahamas, this may not be the place for you.
However, Paradise Island is an excellent choice if you want to stay in a fun and lively area with tons of activities for all ages. Just keep in mind that it's a more expensive location that comes with a particular type of atmosphere.
Safety
Given the ease of access, resort culture, and tourism that come with staying on Paradise Island, this is one of the safer, more family-friendly places to stay in The Bahamas. However, it's still important to be aware of the safety considerations.
The crime rate is generally lower than in the main towns of Nassau, so you can safely explore the area without concern. Just be mindful of your surroundings and always stay in public, well-lit areas.
All in all, Paradise Island is an excellent choice for those looking to have a luxurious and "paradise-like," well-rounded vacation experience.
3. Exuma Islands – Best for First-Time Visitors
The Exuma Islands are an archipelago located in the Bahamas, and they offer a unique, stunning experience to first-time visitors. Here, you'll find the most beautiful beaches, so if you're looking to prioritize eye-catching beach scenery, this might be the best area for your family to stay.
Accommodation
There are three main regions of The Exumas, which include Great Exuma, Little Exuma, and the Exuma Cays.
The majority of accommodation is in Great Exuma, the biggest of the Exuma islands. More specifically, you'll find many lodging options in George Town.
Activities & Attractions
One of the most popular activities to do in the Exumas is to go swimming with pigs on Big Major Cay. Kids often enjoy this activity, and adults too, as it's a unique cultural experience.
If your family loves snorkeling, this is one of the best regions to do it in the Bahamas. You'll find many incredible coral formations and marine life to explore while enjoying the stunning backdrop of the Caribbean Sea.
Given the beautiful reef, scuba diving is also popular in this area, so it's a great place to use your certification or learn how to dive. For experienced divers, diving in sinkholes is highly recommended, especially Dean's Blue Hole.
Other attractions in the Exuma Islands include the relaxing Tropic of Cancer Beach, the Thunderball Grotto, where some James Bond films were made, and the Stocking Island Monument.
Food
The Exuma Islands are known for their seafood, so if you're a lover of fish, shrimp, lobster, and crab, it's likely that you'll find something to tantalize your taste buds here.
The food options range from traditional Bahamian fare in casual digs to upscale restaurants with beautiful beach views. Additionally, many of the resorts offer in-house dining.
The conch shell is a local specialty, and it's best on The Exuma Islands, so take advantage of staying here by trying it out for yourself!
Atmosphere
The atmosphere of The Exuma Islands is much more relaxed than places like Nassau or Paradise Island. It caters to easygoing types and people who can get behind "island time," meaning you should be comfortable with longer wait times and a more laid-back pace in general.
This is an excellent place to come and spend some time if you're looking for a quiet, peaceful getaway with your family.
4. Eleuthera – Best for Beach-Lovers
Eleuthera is where families go when they want to be around the most beautiful natural scenery The Bahamas offers. The name refers to an archipelago of islands and a single island, but we'll be primarily discussing the main island for this description.
This island is also historic, home to the country's first settler constitution.
Accommodation
Accommodation on Eleuthera is mainly rental homes, villas, and cottages. They're widely available, from the more remote locations to more developed residential areas.
Activities & Attractions
The island of Eleuthera is renowned for its stunning natural beauty, having some of the most jaw-dropping, awe-inspiring beaches in The Bahamas. If you want to get away, take a few days to relax, bond with your family, and explore this beautiful island.
The most popular attractions include the Glass Window Bridge, which connects Eleuthera to nearby Spanish Wells and allows you to experience the changing hues of the ocean. There are also a number of walking trails, such as Preacher's Cave and Lighthouse Beach, that allow you to explore the island's history and pristine beaches.
Pink sand beaches are a common attraction around Eleuthera, as they are stunning but unique and "Insta-worthy." It's also a great idea to rent a charter boat to explore the surrounding islands.
If you're a family who loves taking group photos in picturesque places, Eleuthera is certainly worth a visit.
Food
Eleuthera, like most of The Bahamas, is known for its seafood and seasonal specialties. That said, if you're looking for a unique yet fresh eating experience, you'll find plenty of options.
From beachfront shacks to informal restaurants and upscale eateries, you won't be searching for good food.
Atmosphere
Because it is a more remote and quiet part of The Bahamas, you won't find too many shops or nightlife options here; but that's part of the appeal.
Eleuthera provides the perfect space to unwind, rejuvenate, and connect with your family members without too many distractions and crazy activities, making it a great location for families with older kids.
It also has a very romantic vibe, so it's a lovely place to stay if you're kids are older, and you can sneak away for a few nights for date nights.
Safety
Eleuthera is generally a safe area of The Bahamas and is considered safer than the more popular areas like Nassau and Paradise Island.
The island experiences very little violent crime. And although a bit more remote, it's easy enough to get there by taking a water taxi from Harbour Island.
5. Harbour Island – Best for Isolation, Safety, and Luxury
If safety is your priority, Harbour Island should be on your list of places to stay in The Bahamas. Harbour Island is a part of the greater Eleuthera archipelago.
Accommodation
Harbour Island is a celebrity hot spot, likely due to its wide range of high-end hotels and resorts, many of which come with private beach access. There are also luxurious rental homes and villas available for those who need more space or privacy.
Activities & Attractions
Harbour Island is a very peaceful island, so its attractions center more around relaxation and privacy. The beaches are stunning, and you can easily spend the day exploring them.
Going to Condé Nast Traveler-worthy beaches is also a popular attraction, as is exploring the colorful marine life.
Food
Like the accommodation, the restaurants tend to be on the more high-end side, and you can find upscale seafood, Italian, steakhouse, and other restaurants across the island.
Safety
As mentioned, Harbour Island is arguably the safest place to stay in The Bahamas. Not only are crime rates low, but the waters are calm for swimming, and the weather is close to perfect during the peak season between December and March.
Harbour Island is the perfect destination for families or couples looking for somewhere to relax and unwind away in a luxurious, picturesque beach setting.
6. Grand Bahama – Best for Festivals and Events
Grand Bahama is known for its lively nightlife scene, which might not be the first option for families with kids.
However, its proximity to the United States, its modern amenities, and its many art and cultural attractions make it appealing for some families to try it on their vacation.
Accommodation
The town of Freeport is where most visitors to Grand Bahama choose to stay, as that's where many of the attractions are. Like Nassau, there are many accommodation options, meaning that you'll be able to find both budget and luxury options.
Activities & Attractions
There are many events and concerts throughout the year, but the festival, parties, and live music scene is especially prominent during the holiday season from Christmas to New Year's.
The Junkanoo street parade is a family-friendly parade around Christmas time that brings a festive feel to the entire town.
However, if you have very young kids or would otherwise prefer not to be around that much loud music, drinking, and dancing, there are plenty of natural attractions around Grand Bahama as well.
For example, your family can visit the underwater caves and mangroves or go horseback riding at Lucayan National Park.
Food
Like many of the other best places to stay in the Bahamas for families with kids, there are plenty of options when it comes to dining. You can find authentic local fare, modern Bahamian seafood, upscale steakhouses, and family-friendly beach clubs.
Atmosphere
Grand Bahama certainly has one of the most party-heavy atmospheres in the Bahamas, which some families might not mind while other families may want to actively avoid.
Ultimately, if you're the type of family that doesn't mind bringing your kids along to a family-friendly bar, live music event, show, or festival, you may love staying in Grand Bahama. Otherwise, another option may better suit your preferences.
7. Andros Island – Best for Scuba Diving Families
Andros Island, the largest island in The Bahamas, is a mecca for scuba diving and snorkeling. But it's also a great place for families looking for something a bit more low-key.
Accommodation
Andros Island offers visitors a wide range of accommodation choices, ranging from luxury resorts and villas to quaint bed-and-breakfast properties.
Activities & Attractions
The main attraction here is the amazing underwater world, with some of the best scuba diving and snorkeling in the Caribbean. It's home to the third largest barrier reef in the world, so it's unsurprising that people flock here for these activities.
Andros is also home to some incredible wildlife, including parrots and iguanas. There are actually over 200 species of birds native to the islands.
Plus, there are some outdoor activities to keep the whole family occupied, such as kayaking, canoeing, and hiking.
Food
The restaurants on Andros Island specialize in fresh seafood, as well as local favorites like cracked conch. There are also many family-friendly eateries that offer everything from pizza to burgers.
Atmosphere
The atmosphere on Andros Island is laid-back and relaxed, with a focus on outdoor activities like scuba diving and snorkeling.
Safety
And, as you might expect from a place so laid-back with true "Island Vibes," it's a very safe place to stay with your family.
All in all, if you're headed to The Bahamas with the underwater world in mind, looking to explore via diving and snorkeling, this area is a fantastic choice for at least part of your stay.
8. Bimini – Best for Boating Families
The tiny island of Bimini, just off the coast of Florida, is an excellent choice for families who are looking to explore the Caribbean by boat.
Accommodation
Bimini offers traveling families a variety of accommodation options, ranging from hotels and resorts to private villas, apartment rentals, and even houseboats.
Activities & Attractions
The main attraction in Bimini is the beautiful clear waters, perfect for swimming, snorkeling, and fishing. There are also several popular dive sites in the area that offer fantastic underwater explorations.
These activities make it a great option for families who want to take their boat around the islands.
Families looking to explore on land will find plenty to do in Bimini, as well. There are beautiful beaches perfect for sunbathing and cultural attractions like the Bimini Museum and Caribbean Cultural Center.
Additionally, if your family is feeling adventurous, you can try out swimming with dolphins and manta rays!
Food
Bimini is known for some of the freshest and tastiest seafood in The Bahamas, so it's an excellent spot for families who want to try some local dishes. There are also several restaurants that cater to visitors, with a wide range of cuisine options.
Atmosphere
The atmosphere in Bimini is relaxed and peaceful, making it a great place for families who want to enjoy quality time together.
Safety
Finally, Bimini is a very safe destination for families, with low crime rates and friendly locals.
So, if you're looking for a Caribbean destination to explore by boat, Bimini is an excellent choice.
Frequently Asked Questions
Now that you know a few of the best places to stay in The Bahamas for families with kids, you may have some other questions that need answering as well. Here are our answers to some commonly asked questions about traveling to the Bahamas.
What is the best time to visit The Bahamas?
The best time to visit The Bahamas is during the high season, between December and mid-April. The weather is generally very pleasant during this time, and there are plenty of activities to try out.
Plus, you will avoid hurricane season, which is not pleasant or safe, especially for families with kids.
Are the Islands safe for children?
Yes, The Bahamas is generally very safe for children. However, it is important to know the possible risks and dangers, such as strong currents in the ocean when swimming. That said, it's best to keep an eye on kids when your kids are in the water.
Is The Bahamas a good place to vacation with kids?
The Bahamas is an excellent vacation spot for families with kids because of the generally calm waters, gorgeous views, family-friendly resorts and activities, and much more.
You'll be able to find what you're looking for to please the entire family, whether it's relaxation, adventure, culture, or entertainment.
Do I need a visa to visit The Bahamas?
No, you don't need a visa to visit The Bahamas for up to 90 days if you are a U.S. citizen. However, you will need a valid passport for international travel.
What is the best way to get around the islands?
The best way to get around The Bahamas is by boat, as the islands are quite spread out and a bit difficult to navigate. Tour operators offer boat rentals for exploring. Alternatively, you can rent a private boat for the day.
However, if your family is only visiting a single island, then you might be able to rent a car to get around.
Conclusion
These are just several of the best places to stay in The Bahamas for families with kids. We hope this article helped narrow down the hundreds of options and got you and your family excited to explore your top picks!
More about our TFVG Author