The small island of St. Maarten is easily one of the most beautiful places to stay in the Caribbean. It's also a fantastic location to take a family, with stunning beaches, amazing outdoor activities, and fascinating historical areas to explore.
St. Maarten is home to a selection of luxurious all-inclusive resorts, each with its own unique style and atmosphere. With so many options available, picking out the right hotel for your family can be tough. But fear not, we're here to help you out.
Below you'll find our guide to the top all-inclusive family resorts in St. Maarten, all of which are guaranteed to make your Caribbean vacation an unforgettable experience.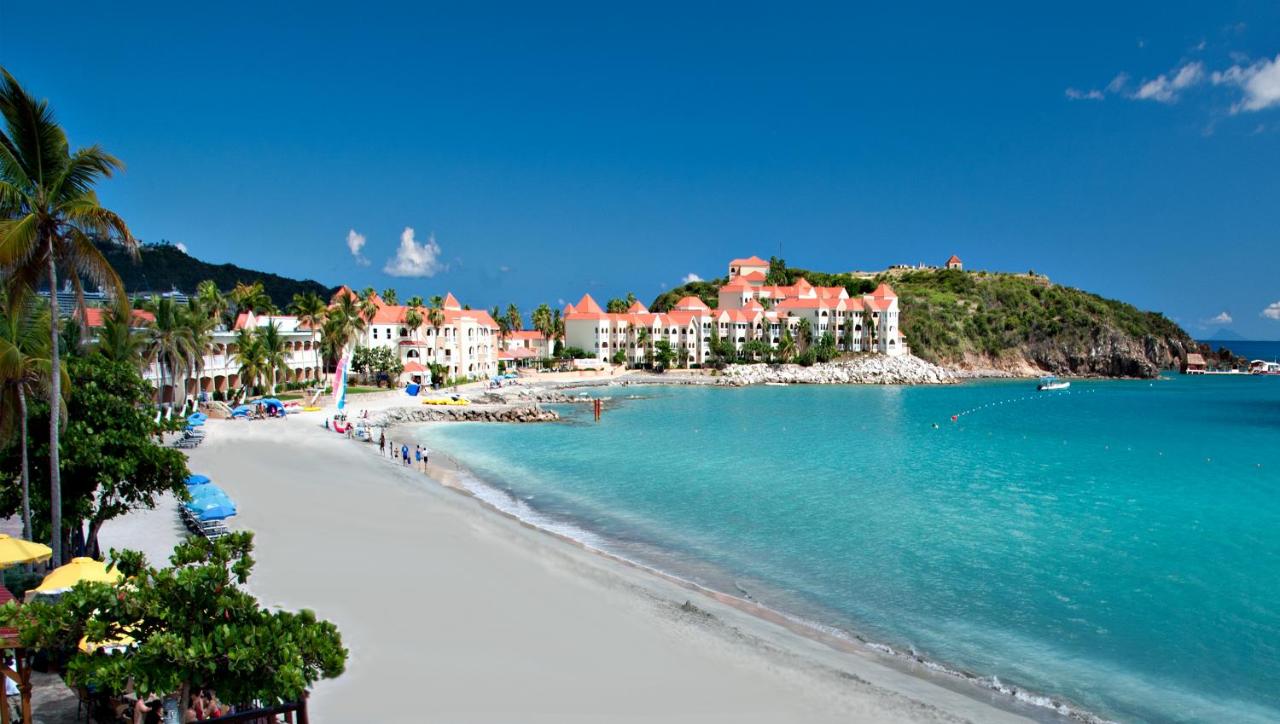 This recently-renovated resort is one of the gems of the Island. Little Bay Beach Resort is situated on a glorious private stretch of coastland, sandwiched between two crystal-clear bays. You'll struggle to find a more picture-perfect setting anywhere else on the island.
The resort itself is complete with refreshing swimming pools, exceptional dining, and endless activities. The range of fun pastimes at the Little Bay Beach Resort makes it absolutely ideal for a family visit – your kids will never find themselves without something to do.
The complex is within walking distance of a number of the main attractions on the Dutch side of the island, such as Fort Amsterdam and Downtown Philipsburg. That said, once you get to Little Bay Beach Resort, we doubt you'll ever want to leave!
Boasting the title of St. Maarten's largest all-inclusive resort, Sonesta Maho Beach Resort is undoubtedly a fantastic place to take a family. Some of the resort's key attractions include an oasis pool, the Beach House Kids Club, a variety of restaurants, and of course, the Aqua Park.
There are clearly plenty of activities to get stuck into during your stay at Maho Beach, but that doesn't mean you won't find time to relax. The Serenity Spa is a great place to kick back and unwind, whilst the on-site casino is an essential visit for a night of fun.
The Maho Beach Resort all-inclusive package includes everything you need for a blissful stay, from unlimited food and drinks to the use of the private gym. Of course, you'll also have easy access to Maho Beach itself.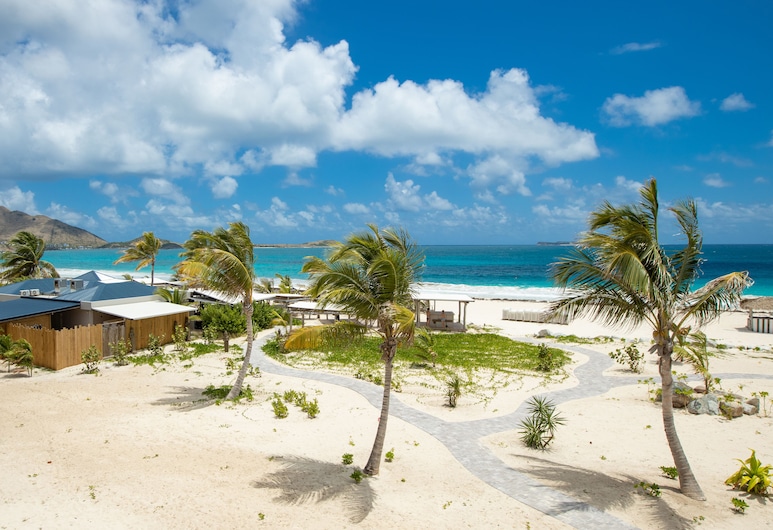 The Orient Beach Hotel is one of the leading resorts in St Martin (AKA the French side of the Island). This resort is clearly designed for anyone looking for an extra bit of luxury during their stay. The rooms are absolutely fantastic here, decked out in welcoming "island-chic" style.
As you might have guessed, the hotel is situated on Orient Bay Beach, which is a glorious sandy and clear-watered piece of coastland. Although it's not a private beach, the hotel has secured a selection of exclusive lounge chairs, umbrellas, and bar seats across the bay.
Orient Bay is known for its watersports and is one of the best places on the island to have a go at something new. If you're in need of a slightly more low-key and relaxing all-inclusive location, then the Orient Beach Hotel is definitely somewhere to consider.
La Playa Hotel near Orient Bay is another blissfully relaxing location in St Martin. We've already talked about the beauty of the bay, and guests at La Playa can enjoy the same watersports and stunning sandy beaches that the area offers.
The hotel itself is 4 star-rated and certainly feels luxurious. The suite rooms are complete with breathtaking sea views that you could stare at all day long, while the beach-side restaurant and bar is a beautiful place to enjoy a great meal.
The Orient Bay is simply one of our favorite locations in St. Martin. La Playa makes your stay even more appealing thanks to its comfortable nature and exceptional all-inclusive provisions.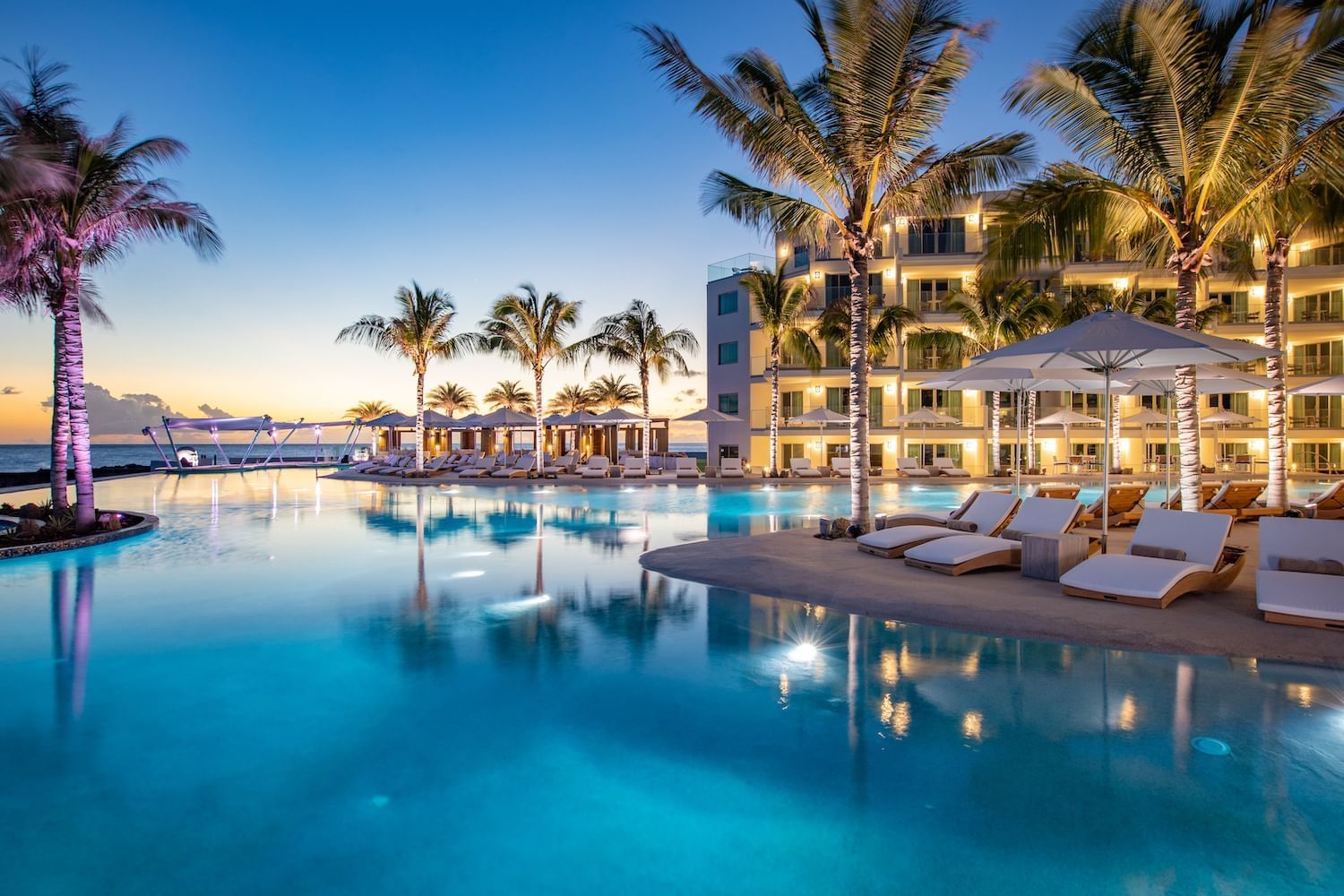 The Morgan is an unapologetically contemporary destination situated right on the St. Maarten coastline. With 124 stylish guestrooms, The Morgan is an intimate resort and guests can expect amazing all-inclusive service from the wonderful team of staff.
Built around a beach-style infinity outdoor pool, the resort's main outdoor area looks out over the Caribbean Sea. There's really no better place to kick back and relax with a great book. Whilst you sunbathe, you can let the kids have fun on the water slides and volleyball court.
The dining experience at The Morgan is also second to none. Serving a range of cuisines, there's bound to be something to suit everyone in your family. Once the kids are in bed, you might consider heading back down to the bar for some drinks in the sunset.
The Oyster Bay Beach Resort is one of the most well-known hotels on the island. Over the years, the resort has built a reputation for having a beautiful location, friendly atmosphere, and luxurious all-inclusive packages.
Oyster Bay is located just below the French/Dutch island divide. Aside from being a fantastic area to look at, this location also provides access to attractions on both sides of the island. There's plenty to do in the hotel itself though, from swimming in the infinity pool to working out in the private fitness center.
This hotel is absolutely ideal if you've got a family that loves adventure. You can find horseback riding, snorkeling, and hiking opportunities within walking distance of the resort. Oyster Bay also offers a trip out to the uninhabited isle of Prickly Bear, which we highly recommend taking part in if you can.
The Grand Case Beach Club is another one of our favorite resorts on the French half of the island. Grand Case has a calm, secluded setting that is heaven for families looking for a quiet escape. Despite its serene environment, the resort is still full of activities to enjoy.
The Club is built on a peninsula between two incredible white-sand beaches. In fact, these beaches are amongst the most beautiful on the island and are reason enough to consider Grand Case as your destination.
Accommodation and dining don't drop the ball either. You can relax on your private balcony before heading down to the Sunset Café, which backs onto an exceptional panoramic view of the Caribbean Sea. If you can't tell, we absolutely love the Grand Case Beach Club.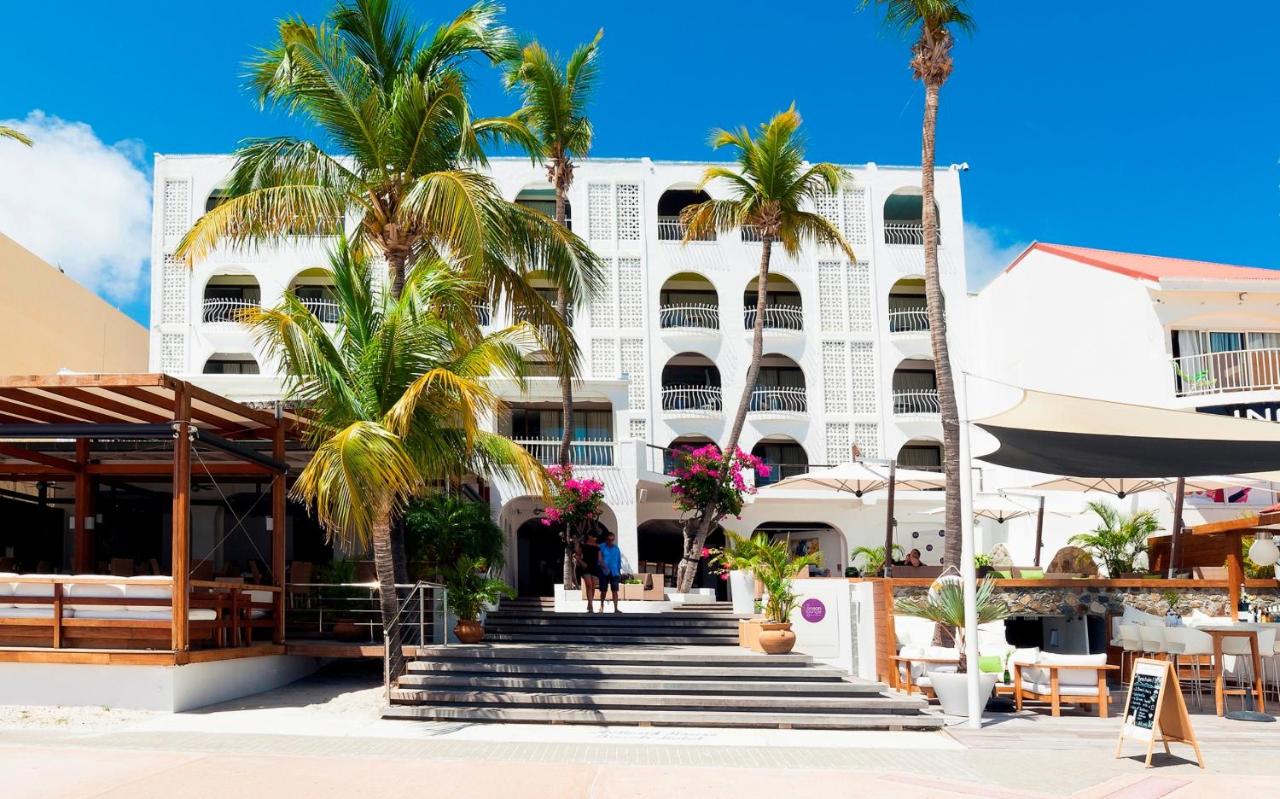 Our final recommendation in our list of the best family resorts on St. Maarten is the Holland House Beach Hotel. This resort holds a prime location in the heart of Philipsburg with great access to the town's amenities, shops, and historical locations.
The hotel is truly a luxury experience, especially when you take out an all-inclusive package. The spacious bedrooms feature private balconies, walk-in rain showers, and attractively chic styling. The Junior Suite is particularly great for families, with a double bed and a sofa bed that doubles as a place to relax during the day.
As you'd expect from a high-quality Caribbean hotel, the food at Holland House is fantastic. The restaurant specializes in seafood dishes, which are always the perfect accompaniment to an evening overlooking the water.
In Summary
As we come to the end of this guide, we hope that some of our recommendations have caught your eye. Whichever place you choose to stay in St. Maarten, you're pretty much guaranteed to have an amazing experience.
More about our TFVG Author
A seasoned traveller, Dad, and avid sports tourist, James foundered The Family Vacation Guide to share his expert vacation experiences- especially when it comes to being a travelling family man.
Featured in Travel articles such as Travel + Leisure, TripSavvy and SFGate, you know you're reading some of the best vacation tips online.