The US Virgin Islands has been a popular vacation destination for decades, and families from all over the world have traveled there to enjoy the beauty, hospitality, and novel experiences that the islands have to offer.
This unincorporated US territory is known for its beautiful, pristine beaches with coasts on both the Caribbean Sea and the Atlantic Ocean. The Virgin Islands are a great place to take advantage of an all-inclusive resort with so much to offer.
If you're planning a trip with your family and want to get the whole Virgin Islands experience, check out these US Virgin Islands all-inclusive family resorts that are massively popular and highly reviewed.
Gallows Point Resort
Located on the island of St. John, this beautiful resort overlooks the Caribbean Sea from the peninsula of Cruz Bay. Every room has a private balcony with a beachfront view, and the other amenities make for a dreamy family vacation spot.
With eateries onsite, available arrival and departure shuttles, concierge services, and more, Gallows Point is an excellent location from which to admire and enjoy the beauty of the island. It's also located a convenient five-minute walk from the town, where you can also find lots of options for restaurants, shopping, entertainment, and even ferries off the island.
The concierge service is available to help you plan all kinds of activities to keep the kids busy, from watersports and rentals to trips to the national park and advice about beachgoing.
For parents, there are options like spa treatments and, of course, shopping, as the nearby island of St. Thomas is the world's largest duty-free shopping port.
In all, Gallows Point offers tropical resort flair and elegance while also providing plenty of excitement for the kids, making for a great trip that the whole family can enjoy equally.
Marriott's Frenchman's Cove
Overlooking St. Thomas's French Bay, Marriott's Frenchman's Cove is a quaint, charming resort that resembles a beachfront village. You'll find secluded beachfront access, proximity to the historic town of Charlotte Amalie, and beautiful architecture that reflects the area's history.
Choose between staying at a villa or renting a room, depending on the size of your family. Either way, the lodgings are comfortable and accommodating. With self-prepared dining services as well as eateries onsite, Frenchman's Cove makes it easy to grab a snack or a full meal whenever you want.
A fitness center is also available, but you can get plenty of exercise from swimming in Pacquereau Bay, utilizing the resort's pool and waterslide, or enjoying the whirlpool.
When you venture off-site, there's plenty of shopping to be done and other attractions to enjoy. Between local museums, beautiful hiking trails overlooking the bay, an ocean park, and fishing boat chartering services, your whole family will find plenty to stay occupied for the duration of your stay.
Bolongo Bay Beach Resort
Another St. Thomas gem, Bolongo Bay Beach Resort, exemplifies the perfect Caribbean vacation. Family-owned and managed, this resort aims to provide a family-friendly experience that you'll never forget.
With a swim-up pool bar, onsite and beachfront restaurant, and an all-inclusive plan that covers all meals, drinks, and snacks, you don't have to worry about sticking to your budget when there are so many flavors to enjoy.
The resort offers sea turtle swim expeditions aboard its custom catamaran, and the concierge service can arrange for other watersports adventures and rentals if you decide to venture off-site.
Currently, the only true all-inclusive resort in the Virgin Islands, Bolongo Bay offers the amenities and experiences of a large resort but with all the perks of a smaller, more personable business built to give you the authentic Caribbean experience.
Frenchman's Reef & Morning Star Marriott Beach Resort
Adjacent to Frenchman's Cove on the island of St. Thomas, the Frenchman's Reef & Morning Star resort is an updated and upgraded location that lets you take advantage of everything the island has to offer from one convenient location.
With elegant suites, private balconies, and patios with fire pits, the Frenchman's Reef & Morning Star Beach Resort does a great job setting up spaces for your family to enjoy each other while surrounded by beauty.
The resort has onsite dining options and a lobby bar, juice bar, and open-air and beachfront restaurants. Utilize the outdoor pool, fitness center, and a full-service spa. The local area is also brimming with fun, family-friendly activities, like the Pirate's Treasure Museum, shopping in Charlotte Amalie, and ocean adventures like snorkeling, watersports, and cruises. This resort is one to check out in a great location and proximal to the pristine, white-sanded Morningstar Beach.
Sugar Bay Resort & Spa
Spanning 31 acres across the lush hillside of the island of St. Thomas, Sugar Bay Resort and Spa is a great compromise that will thrill both parents and kids. The location gives you access to three freshwater pools, a poolside jacuzzi, a resort shuttle, onsite dining and drinks, and even a Kid's Club.
Of course, the secluded beach access is a huge perk when it comes to this all-inclusive resort. Water Bay is shallow and perfect for swimmers of all ages; it's also home to many exotic fish species that you can appreciate while snorkeling or swimming.
You'll also have access to onsite tennis and basketball courts, a miniature golf course, an onsite shopping boutique, and a watersports complex. You may never find a reason to go off-site, but a virtual concierge service is available around the clock if you do.
The spa, spanning 10,000 square feet, is the real star of the show and an excellent way for parents to unwind and take advantage of their tropical vacation. If exercise is more your thing, then try out the fitness center.
Overall, Sugar Bay Resort and Spa is in a prime spot for access to St. Thomas and the neighboring island of St. John, with lots of shopping, dining, and entertainment options to suit the whole family.
But with so many options available onsite, it's perfectly fine to spend your vacation enjoying the resort!
Divi Carina Bay Beach Resort & Casino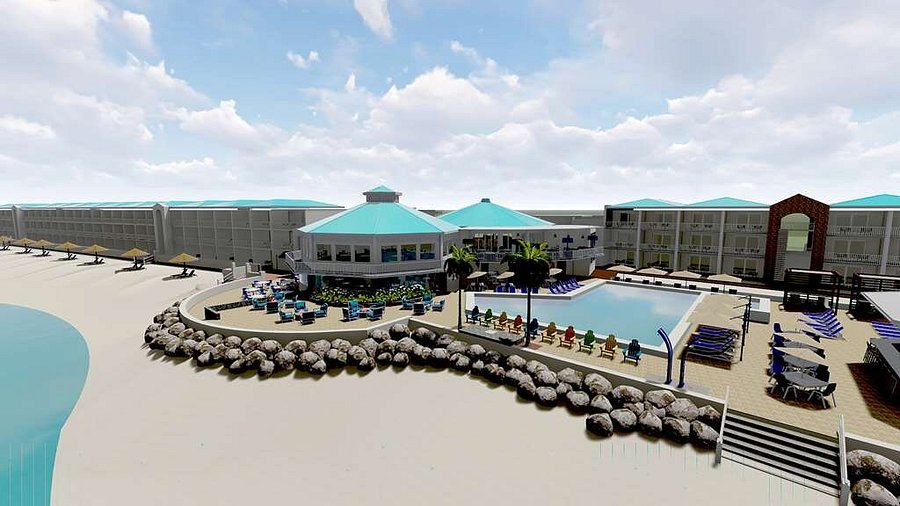 The Divi Carina Bay Beach Resort and Casino plan to shift to adult-only accommodations effective in February of 2022. Still, if you're planning a spur-of-the-moment trip for the whole family before then, you can take advantage of this fantastic location.
With a beachfront pool as well as a secluded hillside pool, lots of food and drink options available onsite, watersports, a white-sand beach, and active adventure activities, this resort offers tons of amenities to make for an exciting and memorable trip.
For families with older children, indoor and outdoor bars, as well as the casino, can provide a great way to pass the time and relax.
This resort is on the island of St. Croix, which offers a range of fun activities and events that you can plan through the resort concierge. While English is the official language, you'll find extensive French influence in the culture and architecture.
The island is also home to two unique bioluminescent bays, which illuminate with fluorescent blue light at night and are an unforgettable sight. Enjoy nature, take a diving trip or visit the easternmost point of the United States while staying here.
Emerald Beach Resort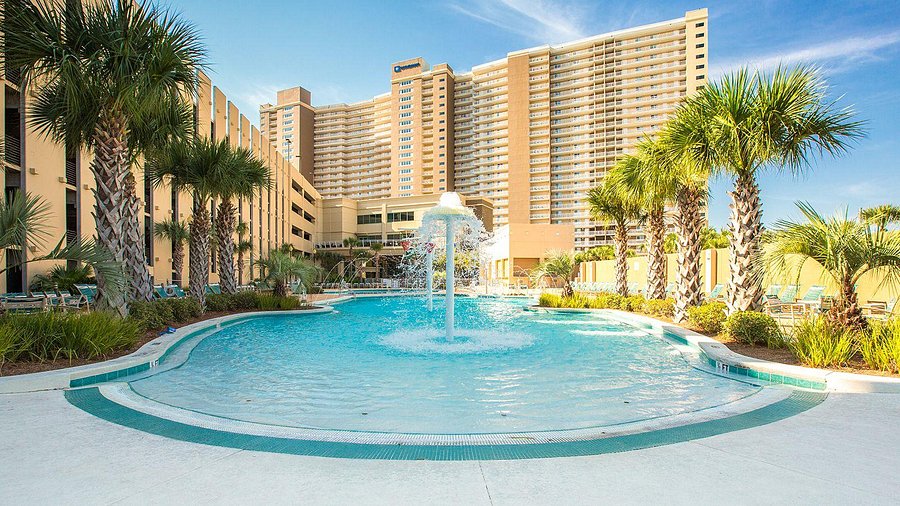 Overlooking Lindbergh Bay in St. Thomas, this laidback, relaxing resort is 100% beachfront, guaranteeing gorgeous ocean views from every room. With long stretches of beautiful white-sand beaches, the Emerald Beach Resort is the perfect place for the ocean-loving family who wants to lounge near the water.
The Emerald Beach Resort aims to simplify your vacation planning so you can get to the most important part: relaxing. A freshwater pool and waterfall, lush tropical garden surroundings, an onsite restaurant featuring signature island cuisine, and a helpful concierge service will give you the ultimate relaxation experience.
Of course, there are plenty of thrills to be had as well. Full watersport options and rentals are available, including snorkeling, jet skiing, paddleboarding, kayaking, and more.
Onsite dry cleaning is available, and there is also a resort boutique, fitness center, and multiple dining options for every meal of the day. The beautiful pristine beach is the real star here, so take advantage of the swaying palms and divine surroundings and enjoy the surf and sand.
The Buccaneer
Another St. Croix resort, The Buccaneer, offers fabulous amenities, a lovely location, and access to an 18-hole golf course.
From the resort's spot overlooking the Caribbean Sea and Christiansted Harbor, guests can enjoy three distinct, beautiful white-sand beaches. The luxury of the location also extends to the amenities, including two pools, eight tennis courts, a water sports center, a full-service salon and spa, a fitness center, three onsite eateries, and a shopping mall complete with luxury boutiques.
This elegant destination includes multiple packages that you can customize to cover the inclusive benefits you want to enjoy during your stay. The Buccaneer is family-owned and operated and keenly aims to provide a great, family-friendly environment.
The setting is country-club reminiscent and earned Forbes' recognition as one of the best family resorts. As it stretches across 340 acres, there are plenty of activities to keep kids busy, including lots of hiking trails, beachside games like cornhole and ping pong, horseback riding and kayak tours, and swimming suited to all ages. Accommodations can vary based on your family's needs, anywhere from a two-bedroom cottage suite to Luxury Beachside Dubloons.
The Buccaneer also provides children's beach toys and life vests; cots, cribs, and highchairs; DVD players and rental DVDs; as well as children's menus to accommodate all ages.
Final Thoughts
The Virgin Islands are a great getaway destination that can accommodate the whole family. From beautiful, pristine beaches and water sport activities to shopping, dining, exploring, and more, this tropical vacation spot along the Caribbean and Atlantic offers everything you could want from a family vacation.
When it comes to choosing between the different US Virgin Islands all-inclusive family resorts, ensure that you do your research in advance. Many resorts offer lots of deals when it comes to holiday or winter visits, so be sure to check for deals and discounts as you research your ideal vacation spot.
If you have trouble choosing one, narrow your search by picking a specific location and amenities you would like during your stay. Regardless of which one you choose, these US Virgin Islands all-inclusive family resorts will provide a Caribbean vacation experience that all of you will remember fondly for years to come.