The time has come and you and your family have decided you deserve to go on a trip. You have finally gathered all of the members together to take a poll to see which destination you will be venturing off into. The votes are in, and Aruba is the choice!
You have to consider so many different factors when planning your trip, and the first should always be the cost!
In this article, we will go over the total cost of a trip to Aruba in the Caribbean, the average plane ticket cost per person, which airlines are most cost-effective of getting to Aruba, the overall cost of a hotel versus a price of an Airbnb, should you choose a hotel or an Airbnb for your family vacation, the cost of entertainment, and last but not least and everyone's favorite, the cost of food!
The overall average cost of a trip to Aruba will be around $2,000 per person. And in this article, we will break down each section so that you can see exactly how much you will end up paying for a trip to Aruba for your family.
So, if you are ready to kick up your feet and enjoy the Aruban sunshine, then wait no more because we are here to help.
The Average Cost for a Plane Ticket
The first step that you need to take in determining the overall cost of your trip will be how you get there!
Some people that are ambitious enough will try to drive to Aruba. However, this option is very timely and can quickly dampen your mood when dealing with all of the traffic for days upon days. To put into perspective, it would take around three days of nonstop driving to arrive in Aruba.
So, the more viable option for arriving in Aruba is by plane. The average cost for a plane ticket to Aruba per person will be around $400 or more round trip.
Even though the plane ticket price is a little costly, there will be some better times during the year that you can travel to Aruba, which can save you a few extra bucks. 
The best times to travel to Aruba are during the off-season months, which is going to be in June or early July. So if you are looking to save money when visiting Aruba, you should consider traveling there during these times.
However, this average price does not take into account the airline you travel from or any upgrades that you may want, such as purchasing a business class seat. So, if you want a more cost-effective trip, you may want to keep the add ons to a minimum.
However, if you are in a "treat yourself" type of mood, then there is absolutely nothing wrong with upgrading to a business class flight for you and your wonderful family!
You'd want to keep in mind that if you and your family are going to be traveling first class, that will come with a hefty price tag. The average cost of a first-class ticket to Aruba will be over $800.
So, this may not be the best option if multiple people come on the trip.
Why not take a look at our guide to the best flight booking sites to help you find the best deals?
Best Airlines to Travel to Aruba With
Choosing the best airline for your family vacation will be vital in planning. You will want to make sure that the airport you are choosing will be the most efficient for you and your family by providing all of the necessities you need. All airlines are not made the same. 
Contrary to popular belief, some airlines will have a more smooth boarding process that may assist you if you have little ones that will be joining the trip. So, here are the best Airlines to travel from on your departure to Aruba.
These three airlines are the most frequent airlines that travel to Aruba. So because they are so frequent, it may be easier for you to book your flight through any of these three.
Most Cost-efficient Airline to Travel With
Now, just because you have settled on the airport that you will want to depart from, there is another factor that you need to take into account, which will be the most cost-efficient airline;
All airlines are not equal. Just because there will be some airlines that frequently fly to Aruba, it does not make them necessarily cheaper.
And if you are worried about the quality of a flight, just because a flight is cheaper does not mean that there is a lesser quality. Sometimes, flights often run deals if many passengers will be booking around the same time. There will also be additional savings for passengers who book specific seats.
If you want to sit with your family on the flight, it would be best to try and book your flight early. Finding a slightly cheaper flight may be beneficial for you in the long run, especially if you want to focus your attention on the activities you will be doing in Aruba and less attention on your flight there.
Some airlines offer extra amenities such as free checked bags or deals when you purchase tickets for a larger group, so there will be instances where one airline will outrank the others. 
The most cost-efficient airlines to travel from on your adventure to Aruba are going to be:
Hotel Cost
Now that you finally have your transportation all set and ready to go, no, you need to figure out where you and your family will lay their head.
A hotel will be the perfect option if you have a smaller family. Some hotels offer various amenities such as complimentary breakfast, complimentary valet parking, gyms, entertainment within the hotel, and many other things. 
So, if you do not have that many people who will be in attendance, a hotel will be the perfect option for you. Some of the best hotels in Aruba are going to be:
Hotel Riu Palace Aruba
Barcelo Aruba
La Cabana Beach Resort & Casino
When you are determining which hotel you and your family would like to stay at, you should keep in mind any attractions that you would like to put on your list, that way, you are in an appropriate commuting distance from the attraction so that you and your family can spend more time having fun and less time traveling to the fun.
There's also a hidden gem in booking a hotel near an attraction, because many times, hotels will offer discounts for attractions near their location as long as you book your hotel with them and for a certain amount of days. So you may find additional savings through booking a hotel.
The average cost for these hotels per night can range anywhere from $400 to $700 or higher. If you are planning a short trip, or your family is of smaller size, a hotel will be a great option.
For inspiration, why not take a look at our guide to the best all-inclusive resorts in Aruba for families?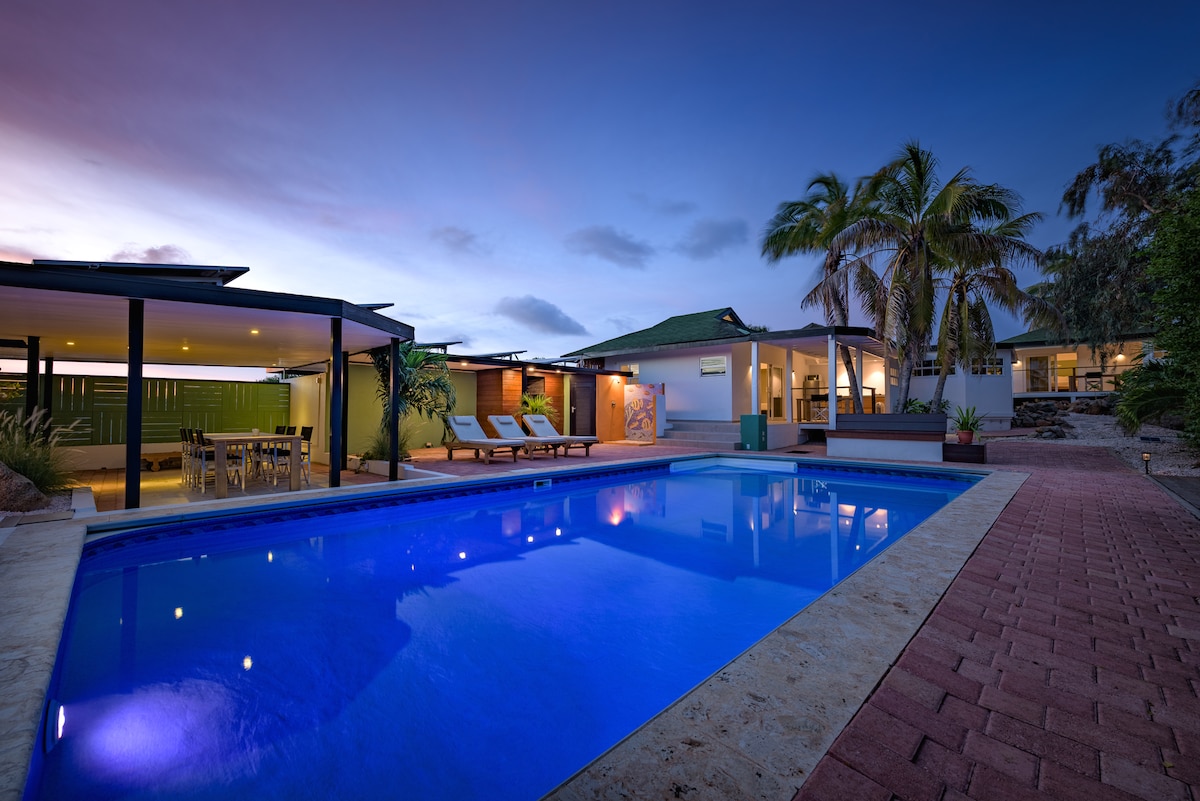 Airbnb Cost
If you are unfamiliar with what Airbnb is, have no fear. An Airbnb is one of the most trendy ways to experience your vacation. An Airbnb is a residence that is rented out to visitors that may be near attractions and will give you a more home feeling and the capability to experience your vacation like a local.
This option is going to be most suitable for larger families. If you have a more prominent family size, Airbnb will allow you to maintain your normal lifestyle while still enjoying your vacation.
If your family has particular dietary needs that need to be maintained even on vacation, having an Airbnb will be perfect because you have the option to cook your own meals as opposed to ordering room service at a hotel or consistently eating out.
You can gather the ingredients you need from the local markets and take them back home to prepare your family and nutritious meal.
With an Airbnb, you are not subject to Hotel policies, and if you have smaller kids that like to laugh and play, it will not be an issue because an Airbnb allows you the freedom to operate like normal. The average cost of an Airbnb in Aruba can range anywhere from $100 to $500 or more per night, depending on location.
If you are considering an Airbnb, you must do your due diligence and check out the scope of the neighborhood.
You're going to want to make sure that you are placing your family in a safe neighborhood that is kid-friendly, especially if there are going to be little ones coming along.
You also need to ensure that who you rent your Airbnb from will be a reputable person. So you should take note of any recent reviews that this listing has had so that you can make the best conscious decision when it comes to ensuring your family has a safe place to lay their head at night.
Hotel vs. Airbnb: Which Is Best?
So, now that you have a better understanding of how much a hotel costs instead of how much an Airbnb would cost, now is the time to decide which one will be best for you and your family. Considering the differences between both, a hotel or an Airbnb, the best one is going to be up to personal preference.
While a hotel will be suitable for smaller families, a more prominent family may find themselves a little more at ease as there is less work that has to be done while staying in a hotel as opposed to an Airbnb.
However, a hotel can become extremely pricey the more people that are in attendance. With hotels, you would have to get larger rooms, and depending on the size of the family; you would have to get more rooms. So, it is going to be up to personal preference.
With an Airbnb, even a smaller family would be able to enjoy it as an Airbnb may be more spacious, and it will feel more like a vacation for a smaller family that wants to still have that same feeling of being at home but still capable of experiencing Aruba like a local. So, whichever you choose, just know that you are making the best decision for your family.
The Overall Cost of Entertainment
Some people go on vacation to relax and break away from their day-to-day normal life; however, many go on vacation to experience the thrills that other places may have as opposed to their Hometown.
When you travel to Aruba, there are going to be so many different things that you can do—ranging from ravishing beaches to caves, as well as water parks. There are many things to do.
The overall cost of entertainment in Aruba will vary greatly. Again, it all depends on the size of your family, as well as what type of attractions you would like to see.
Are you looking for more sightseeing, as sightseeing is going to be a little less expensive than other main attractions such as scuba diving or bus tours. The overall cost of entertainment for a single person going to Aruba would be anywhere from $20 all the way up to $100 so, you can take that cost and just multiply it by the number of family members that will be in attendance.
Best Attractions in Aruba
Aruba is best known for its stunning beaches; there are going to be a few other attractions in addition to the beautiful blond beaches that well she's your fights and stations. Here is a list of the top 10 attractions in Aruba:
Malmok Beach
Aruba Streetcar
Aquaventure Waterpark Aruba
Mangel Halto Beach
Manchebo Beach
Bushirbana Gold Mill Ruins
Guadirikiri Caves
Donkey Sanctuary Aruba
Renaissance Island
Eagle Beach
The Overall Cost for Food
Who doesn't love food, right? Especially when you're on vacation. There is just something so satisfying about being in a new place, experiencing new things, and not having to cook.
When you think about the overall cost of food, there will be some things that you will want to consider.
First, you will want to identify how often and how frequently you plan to eat out. If you have a larger family, it may not be beneficial to your pockets for your family to eat out every day of your trip unless it is an extremely short trip.
The cheapest meal that you will be able to get in Aruba is going to be breakfast. There's no way around it; Aruba is going to be a very expensive place to eat. So, it may be beneficial for you to limit how much your family is going to eat out, such as Maybe once per day or twice per day.
You will want to ensure that you are filling up with nutritious and wholesome foods that will help keep you satiated throughout your day so that you are not spending as much on food and can enjoy the other attractions.
Although overall, Aruba is going to be expensive, the most expensive meal to have in Aruba is going to be dinner. Dinner costs can range anywhere from $20 to $40. So, by keeping these factors in mind, the average overall cost for food per person in Aruba is going to be $50 per person per day.
Best Food Spots in Aruba
Now that you have accepted that the food in Aruba is going to be a little bit on the pricey side, now is the fun part. You get to plan which restaurants you want to try.
Aruba is best known for its Keshi Yena, Which was rooted in need for survival. This dish was made of leftovers that were then poured into a cheese crust. Although some restaurants serve a more upscale version of this dish, the most common version of it is going to be made with beef.
There are many dining options in Aruba, from casual to more upscale. So, here is a list of the best food spots in Aruba:
Bugaloe Beach Bar and Grill
Daily Fish
Dianas Pancakes Place
Madame Janette
Moomba Beach Bar and Restaurant
Conclusion
Planning your family's dream trip does not have to be stressful. In this article, we went over some of the most important things that you need to include when determining the cost of a trip to Aruba.
We went over the average airline cost, the best airline, the hotel, as well as Airbnb cost, entertainment cost, and food cost. Move to one of the best destinations that you and your family could have ever chosen. Now that all of the hard work is done, it's time to take a breath, sit back, relax and enjoy the sun.
More about our TFVG Author
A seasoned traveller, Dad, and avid sports tourist, James foundered The Family Vacation Guide to share his expert vacation experiences- especially when it comes to being a travelling family man.
Featured in Travel articles such as Travel + Leisure, TripSavvy and SFGate, you know you're reading some of the best vacation tips online.